Usually, our daily makeup is quite simple, but sometimes we want to add more color, sparkles, or fun touches for special occasions. If you ever feel like doing something different, you might want to try a beautiful fairy makeup look. It's a cool trend that can add a playful and magical touch to any outfit.
More and more people really like dressing up as fairies and doing fairy-like makeup. This can be for dressing up in costumes, having fun at events, or even just for regular days. It's not surprising because fairy makeup looks are really beautiful, with shiny and sparkly details, plus jewels. The cool thing is, you can choose pastel colors, bright primary colors, or go with greys and blacks to match your style or costume.
Twilight Fairy Makeup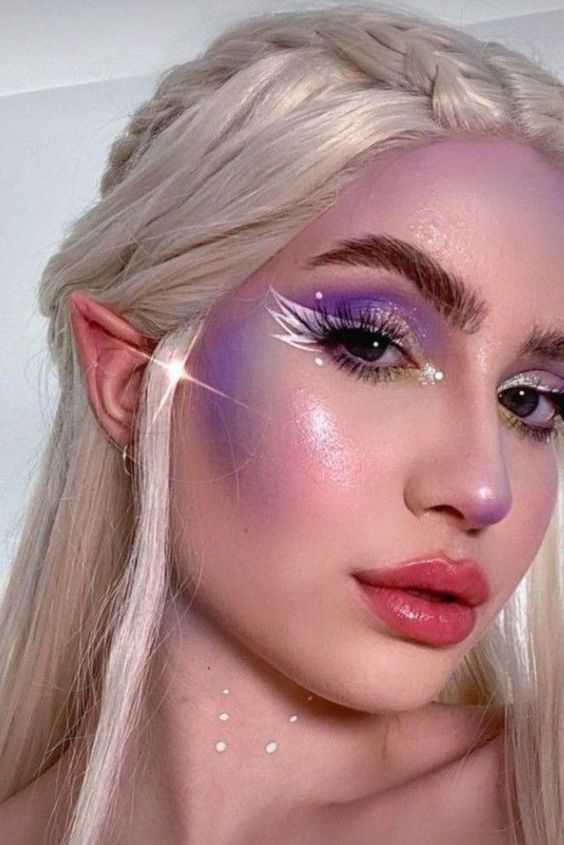 For a stunning fairy makeup look, begin with a white base, then add bold blue and purple colors using pencils and eye shadow. Don't forget the pink and create intricate swirls with eyeliner. Complete the magical look with the finishing touch of rhinestones
Cute Flower Fairy Makeup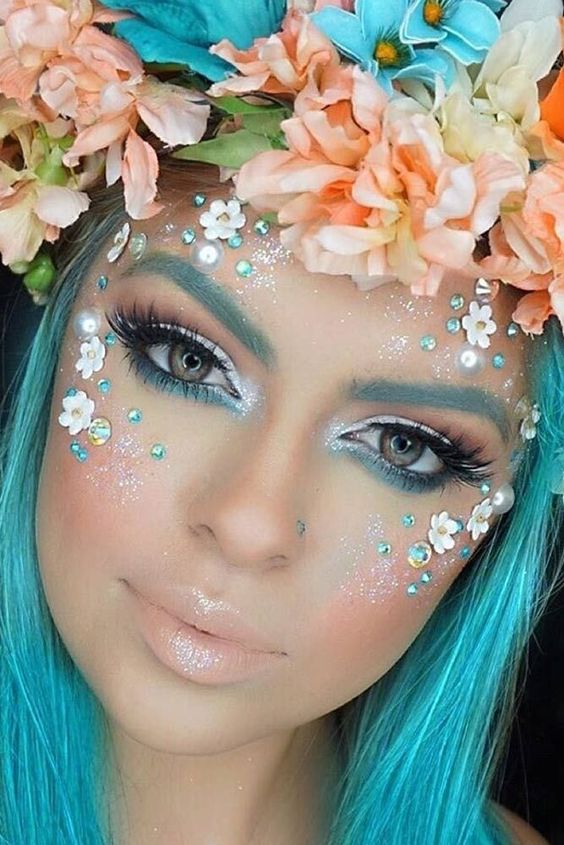 Look at this adorable flower fairy makeup! The artist painted the skin purple and did lovely eye makeup. They added a hand-painted crystal headband and purple floral hair to finish the look. It's a fun idea for makeup and costumes, especially if you really like flower fairies.
Forest Fairy Makeup
Forest fairies really like green, and this gentle look uses different shades of green on the eyelids, along the sides of the nose, and even on the cheekbones, forehead, and jawline. The delicate patterns were made using black and green eyeliner.
Glitter and Flower Eye Makeup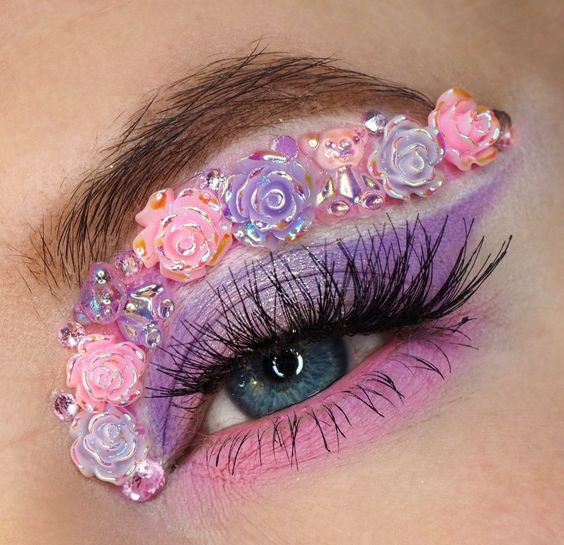 Making fairy makeup can be done in many ways, and this one is all about the eyes. The artist made beautiful eyes with bright purple eyeliner. Flowers and glitter cover the upper eye near the eyebrow, giving it a stunning and special look. If you wear makeup like this with a cute wig and fairy ears, you'll have an amazing costume.
Rainbow Fairy Makeup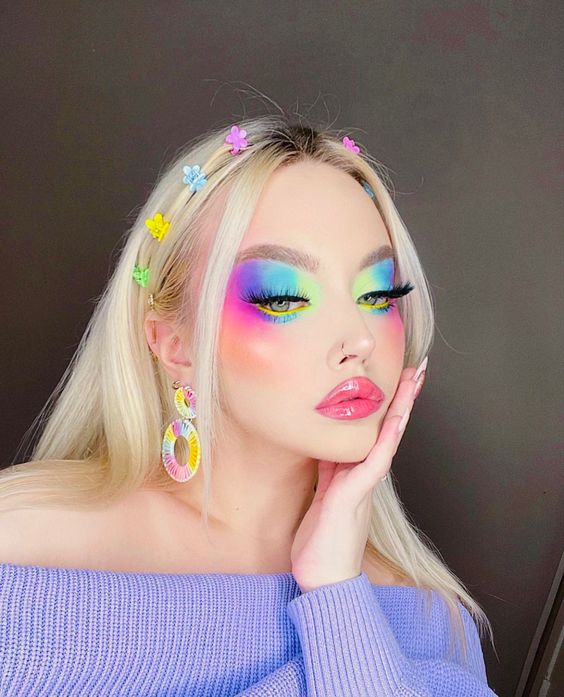 If you want a colorful but not too flashy look, go for a rainbow makeup style like this one. It has lots of colors, like pink cheeks and blue and green eyeshadow, but the gold eyeshadow, highlighter, and lipstick really stand out.
Butterfly Accents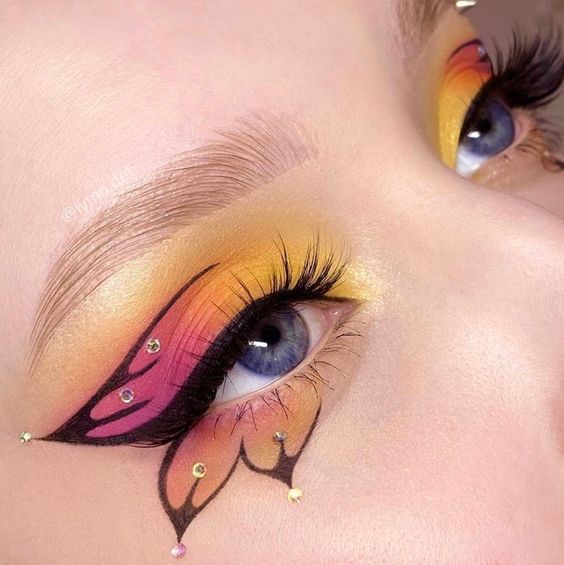 Elevate your style with Butterfly Accents Makeup! Add a touch of enchantment to your look by incorporating butterfly-inspired elements, like delicate wing patterns on your eyelids or colorful butterfly-themed eyeshadow. It's a whimsical way to embrace beauty with a fluttery flair!
Bright Blue Fairy Makeup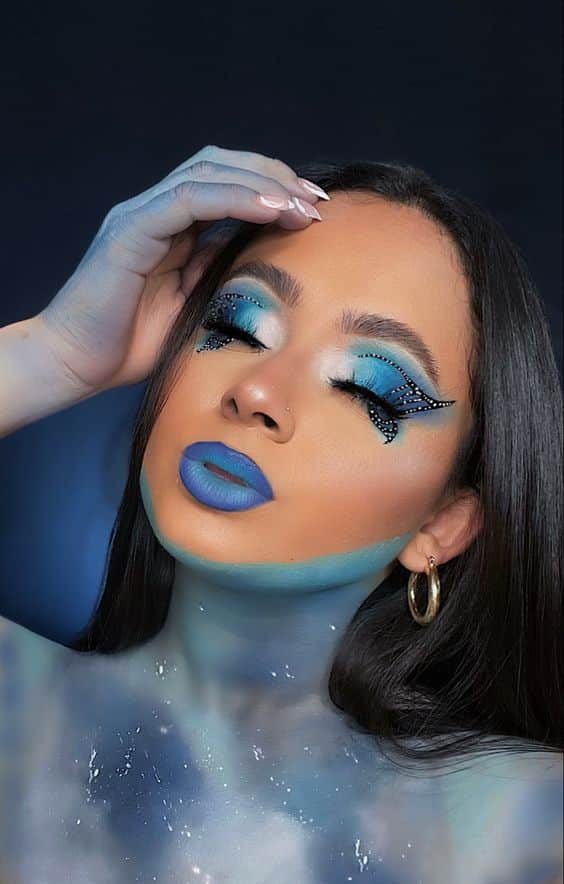 This look is really cool, especially if you like colder colors. To do it yourself, you'll need blue eyeshadow, bright pink eyeliner, white eyeliner for a special touch on the lid, and a few stick-on jewels under the eyes. Watch the video tutorial for step-by-step instructions on how to create a similar look. For a bit more magic, add shimmery highlighter on your cheekbones and nose tip.
Soft Fairy Makeup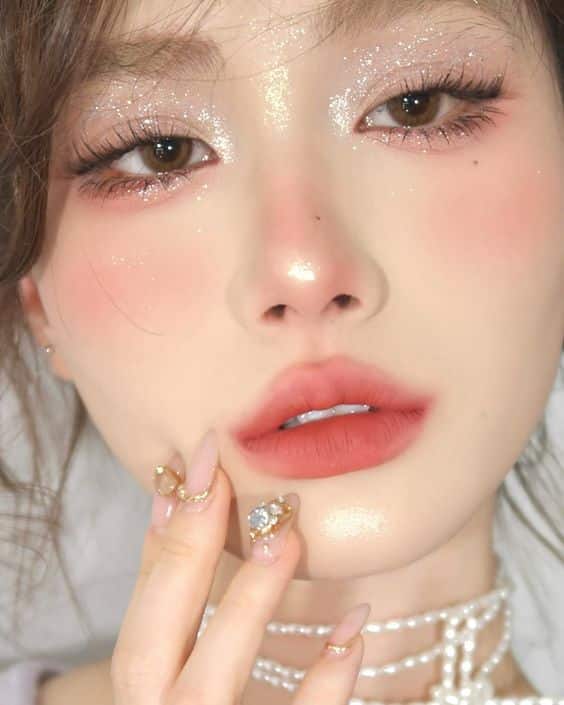 Embrace enchantment with Soft Fairy Makeup, a powerful blend of simplicity and magic. Enhance your natural beauty with warm tones on the eyes and lips, while delicate dots and a pastel wig create an effortlessly ethereal allure. This easy and last-minute option transforms you into a fairy with subtle yet impactful grace.
Fire Fairy Makeup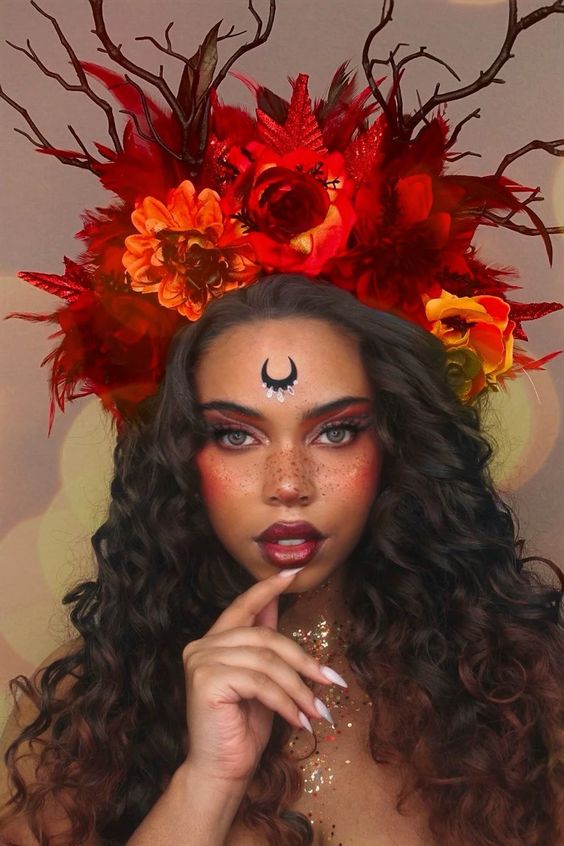 Get ready for hot fairy vibes with this fiery makeup look! Use lots of yellows, oranges, and reds, and cover your brows with some thick concealer. Add dramatic lashes to make your eyes stand out, especially if you're rocking colored contacts for that extra wow factor.
Pastel Makeup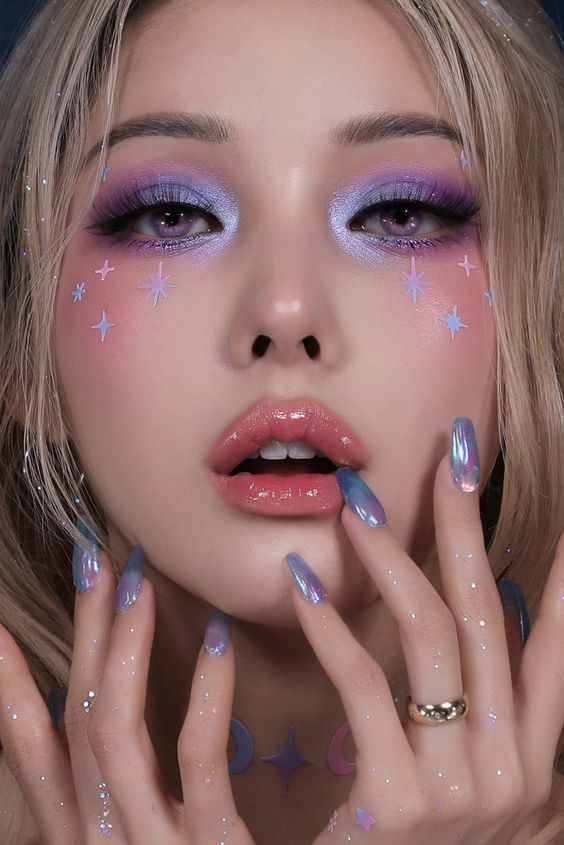 If you want an easy and cute makeup look,It's all about soft pastel colors with nude, glossy lips. The eyes have light purple and pink shades for a fun and simple style. Add a flower crown and fairy ears, and you're all set for a cool costume.
Pink, Shimmery, and Freckled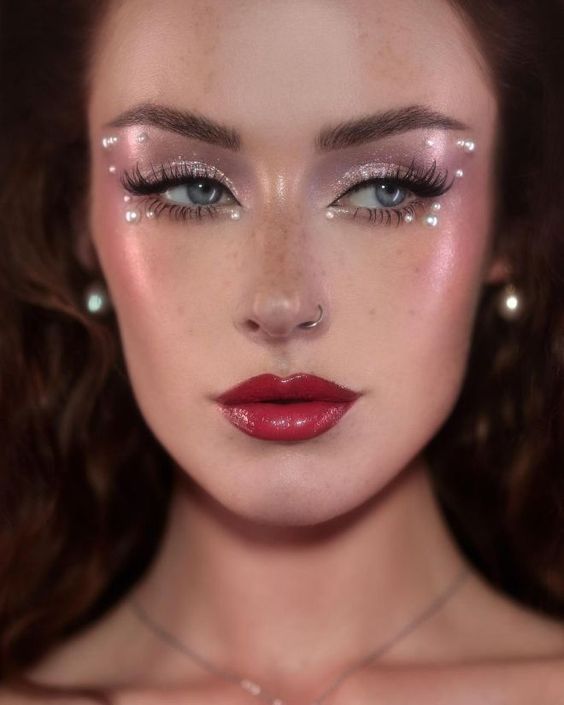 For a cute fairy look, focus on pink cheeks and lips. Use a water-based eyeshadow, like the one from Absolute New York, for a shimmery highlight around your eyes. Just dab it on your lids or in the corners, then blend with your fingers or a brush.
Make those freckles pop by using a brown or auburn brow pencil, like this one from NYX. Press it onto your skin and gently dab with a sponge to blend. If you want, you can also try a freckle pen from Colourpop for an extra touch.
Fairy Makeup in Liner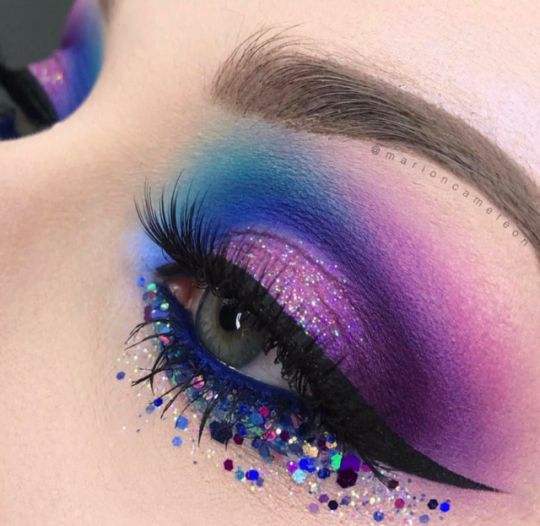 For a simple fairy look, make your eyes pop with a bold red liner. Use a super-thin brush and load it up with a pigmented eyeshadow, like this one from Clionadh Cosmetics. Swipe the brush along your lash line, just above your eye crease, and extend it from the outer corner upwards.
Dark Fairy Makeup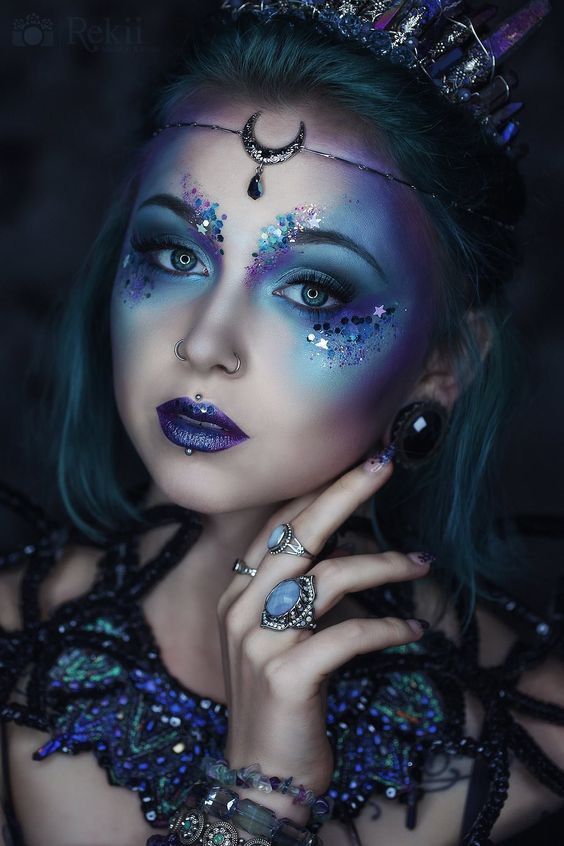 If you're into dark and mysterious fairies, this look is for you! Go for deep purple eyeshadow all over your lids, black on the lips, and super dramatic fake lashes. It's intense and perfect for Halloween, or even if you're going for a witch or vampire vibe
Ethereal Makeup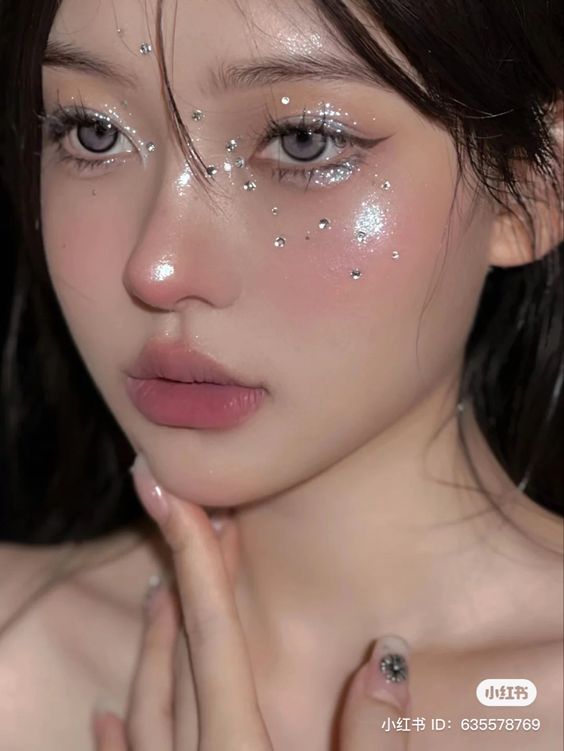 Check out this magical makeup idea that's like something from another world! The artist made stunning purple eye makeup and paired it with a darker purple lip color. It's perfect for a fairy costume! Just add a pretty flower crown and fairy ears, and your costume will look amazing. We totally love this makeup look.
Colorful and Unique Makeup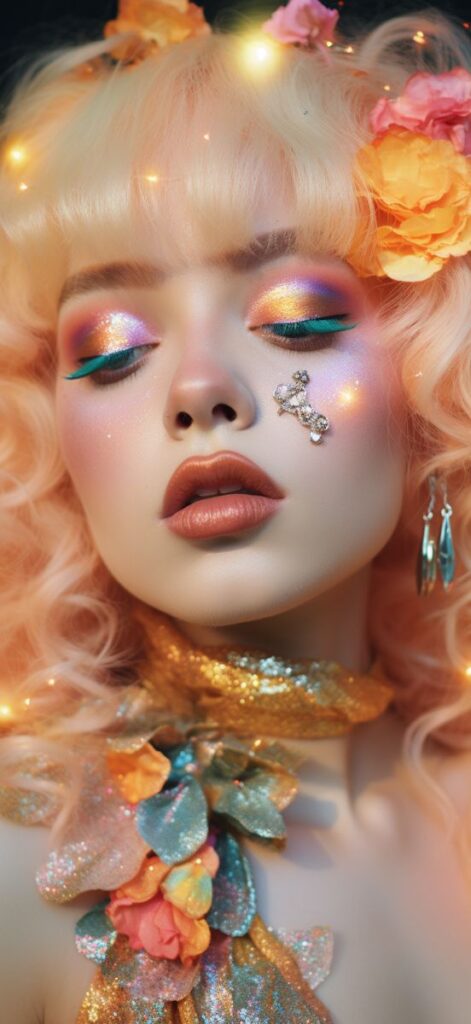 It's a cool and colorful version of a fairy. Her face has bright patterns, and she's rocking fairy ears. It's a unique idea, and you'll definitely stand out. Pair it with wings and a wig in one of the face colors for a super cool fairy costume.
Conclusion
In the enchanting journey through "A Touch of Magic: 15 Explore Radiant Fairy Glamour," discover a world of whimsical beauty. From ethereal and otherworldly makeup ideas to unique and colorful fairy transformations, each look unveils a touch of magic that captivates the imagination. Whether embracing the traditional charm of flower fairies or venturing into the realms of dark mystique, this collection promises to inspire and delight, offering a radiant spectrum of fairy glamor that sparks creativity and brings a touch of magic to every moment.