Your wedding is approaching, and you want to radiate beauty like never before. While your natural glow is stunning, the right makeup will elevate your look to new heights, ensuring you dazzle on your special day. If you're seeking inspiration, we've explored some of the finest makeup ideas for black brides in this post. Looking for makeup tips to rock your black bride makeup? We've got you covered! Discover easy-to-follow suggestions to enhance your natural beauty on your special day. From foundation to highlighting your features, we've got the essentials covered. Get ready to shine with these expert tips.
Black Bride Makeup Ideas In Pink Tones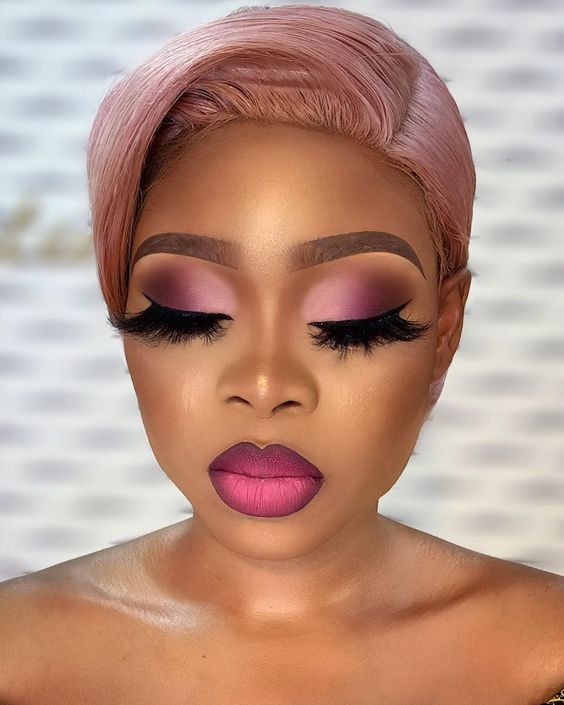 Pink is a timeless, feminine shade for black bride wedding makeup. Its versatility makes it a great fit for any theme. You can go for a subtle touch of dark pink on the lips, cheeks, and eyes for a natural look. Or, make a statement with a bold pink lip paired with nude eyes. For a fresh, modern look, try a smoky mauve-pink combo. Complete the look with pinkish nude lipstick and a soft blush.
Soft Peachy Wedding Makeup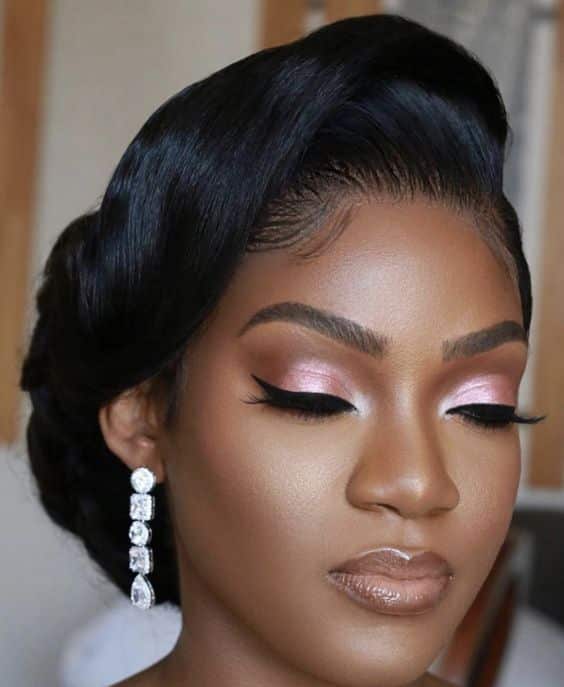 For a lovely black bride makeup, consider using peach tones to match your natural skin tone. It keeps the look fresh and simple. You can also try peach eyeshadow with a soft pink lipstick for a gentle, spring-like vibe. Blend it darker at the corners, and add winged eyeliner for a polished touch. Finish by using pink matte lipstick or go for red or nude lip stains to complete the look.
Elegant Wedding Makeup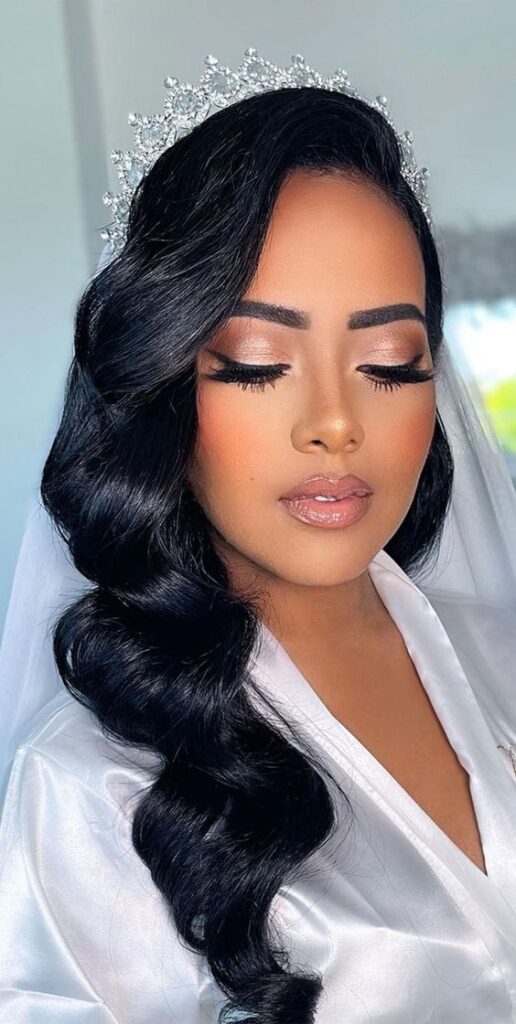 For a classy black bride look, go for softly defined eyes, rosy lips, and a touch of highlight for a beach wedding. Or, opt for a flirty vibe with gradient eyeshadow, glossy lips, and natural brows. Add rhinestone jewelry for extra sparkle. For a bold look, try dark copper eyeshadow for smoky eyes and nude lips. For a romantic Parisian glow, go for red-orange lipstick with defined eyes and highlighted cheeks.
Fresh And Natural Black Bride Makeup Ideas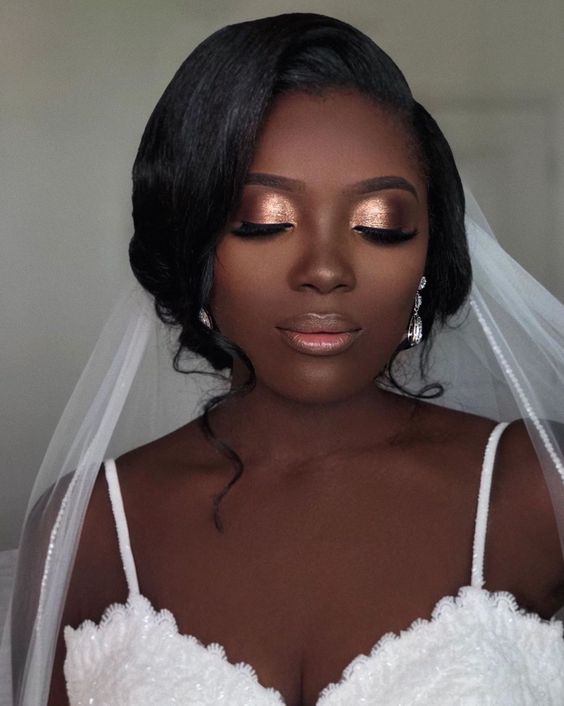 Achieving a natural wedding makeup for black brides is all about looking effortlessly flawless. It takes a bit of creativity and skill. Enhance your eyes with fluffy false lashes and use a brownish, pinky nude lip shade for an elegant finish. For a warm, glowing look, apply cream highlighter under your foundation and choose a nude lipstick that matches your skin tone. Or, go for a peachy natural look with subtle winged eyeliner, flushed cheeks, and peachy nude lips for a fresh and radiant appearance.
Wedding Makeup With Dark Smokey Eyes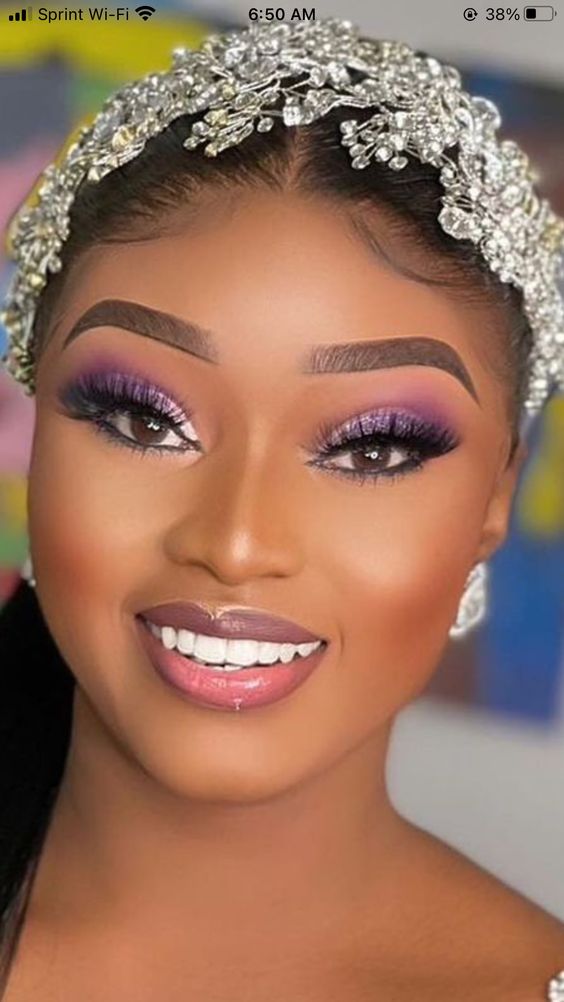 For brown-skinned black brides, a trendy choice is the smokey eye. It's all about blending dark, medium, and light eyeshadow shades for a dramatic and romantic look. For an enchanted or coastal-themed wedding, try a dark smokey eye with shimmery nude shadow, bold winged eyeliner, and darker shades for a polished finish.
The classic black smokey eye involves using darker eyeshadows on your lids and blending upward with a lighter shade near the brow bone. This makes your eyes stand out and appear wider. Dark smokey eyes for black skin look great in shades like black, gray, chocolate, and deep gold.
Trendy Burgundy Black Bride Makeup Ideas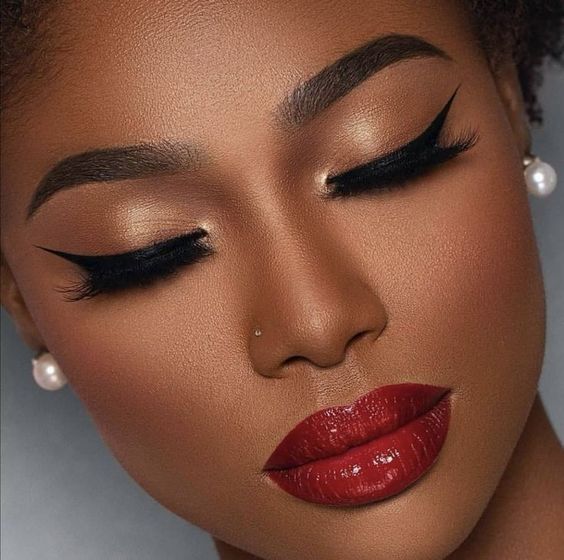 Choosing a burgundy makeup look is a great option for black brides. This deep reddish-purple shade works well in different lighting and settings. It suits vintage, industrial chic, garden, and glam weddings. You can incorporate burgundy by using glittery eyeshadow on your lids and blending it for a sultry effect. Or, try a bright pink smokey eyeshadow with full burgundy lips for a classic romantic vibe. Finish the look with sleek center-parted hair and a sequined dress for added glamour.
Vampy Red And Gold Wedding Makeup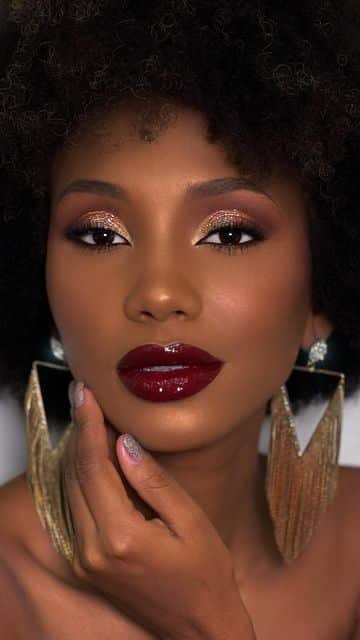 For black brides, a gold and red wedding makeup is perfect for fall, sunset weddings, and glam occasions. Here's how to achieve it: blend red eyeshadow into your crease, then add a touch of chocolate brown for depth. Apply gold eyeshadow and connect it with black eyeliner. Add red eyeshadow under your lower lashes, apply mascara, and finish with a dark berry lip stain. This look complements classic chignons, tousled buns, half-up styles, and vintage hairstyles.
Bronze Skin Wedding Makeup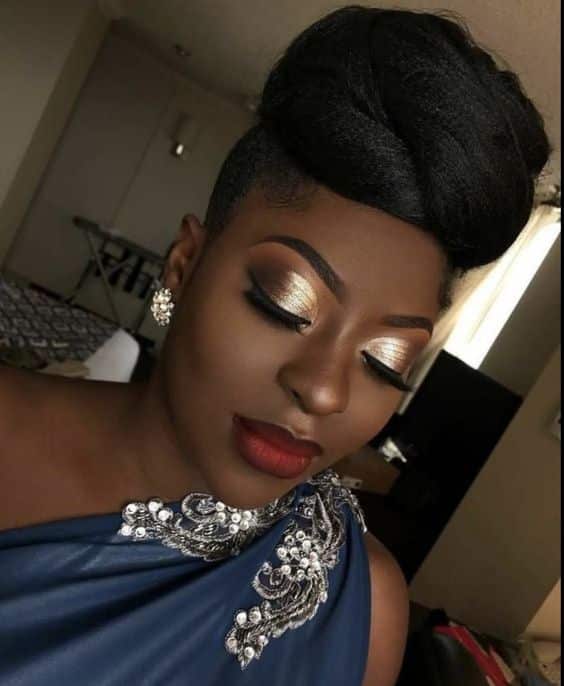 For a bronze look, start with a shimmery skin perfector on your face. Use a glowy foundation that matches your skin tone or is slightly warmer. Conceal under your eyes, nose, and chin with a concealer that matches your skin. Apply translucent powder to areas that might get shiny.
Then, add bronze blush or bronzing powder to your forehead, nose, upper lip, cheeks, and chest. Choose a shade that's dark to medium for a natural glow. Finish with a dark or slightly pink-toned blush on your high cheekbones, and you're good to go!
Black Bride Makeup Ideas With Long Lashes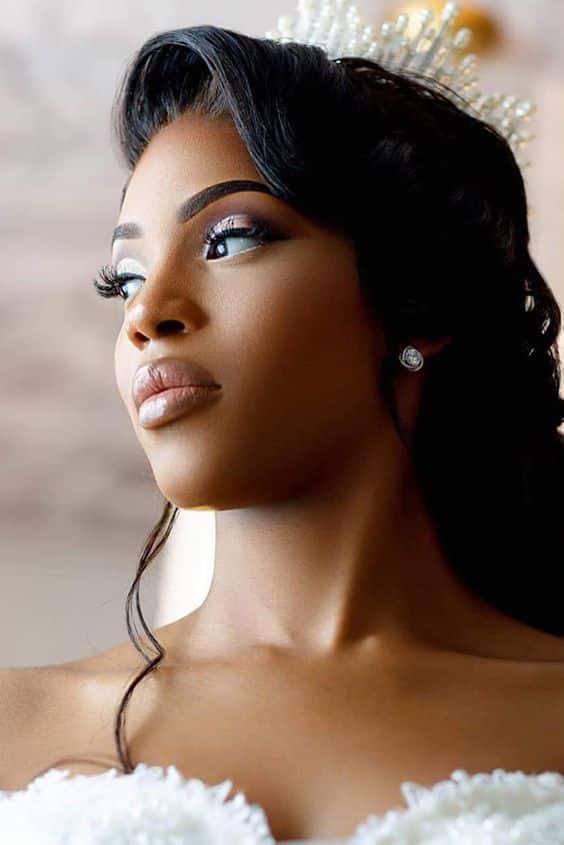 For a chic black bride look, add false lashes. They can enhance your natural beauty or create a bolder style. Use powder eyeliner, mascara on the lower lashes, and choose oil-free eyeshadows. Apply primer, concealer, powder, and finish with red lips.
Complete your look with a stylish hairdo like a bun, chignon, or loose waves. Pair it with a lace mermaid dress or a sheath/silk gown. Finish off with ivory-colored stilettos or sandals.
Colorful Bridal Makeup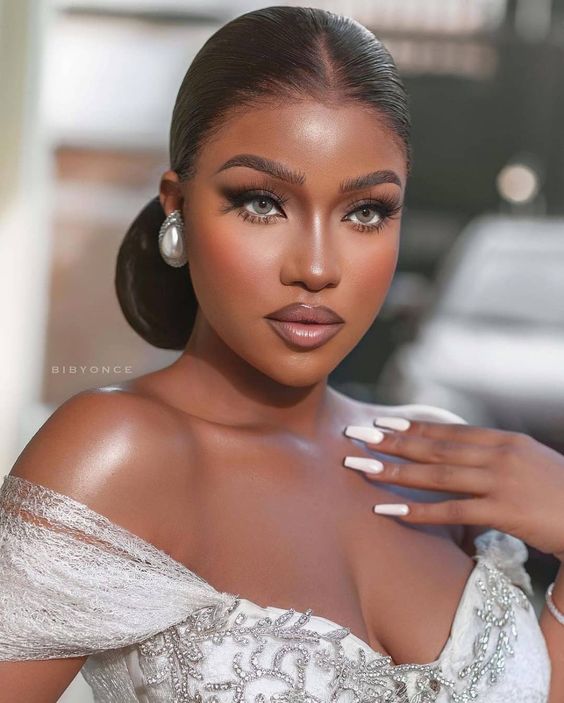 For black brides, there are various makeup ideas to consider. You can go for matte eyeshadow and well-defined brows for a sultry, romantic look, paired with nude lips. Or, try full false lashes with pink lips for a standout effect. A soft, smoky look with depth can also be beautiful. Many black brides like the bold, bushy brow trend.
To enhance your brows, use a pencil in a matching or slightly darker shade to frame your face. This complements any eye color nicely. For a classic look, opt for a smoky eye finished with a matte black winged liner for a touch of drama. If you have crystals, rhinestones, or luminous stars on hand, consider placing them beneath your brows or at the corners of your eyes for added flair.
Conclusion
We've put together some great makeup ideas for black brides that will suit your skin tone. So, if you're looking for wedding makeup inspiration, you're in the right place. Just remember to moisturize your skin and test the foundation on your arm before buying. Concealer is perfect for covering dark circles and blemishes. And don't be afraid to try out the trendy glitter tear ducts for a brighter eye look on your big day.