A black woman's beauty is defined by her unique and diverse features, including a wide range of skin tones. In the past, it was hard for black girls to find makeup that matched their skin color because there weren't many options. But things are changing now. The world is becoming more diverse and inclusive, and this is true for the beauty and makeup industry too. People from the black community are now creating makeup products for people with different skin tones. Models from different backgrounds are also trying new styles and makeup looks. This means that now, no matter your skin color or what you like, you have lots of choices when it comes to makeup. However, there still aren't many tips available for doing makeup specifically for black girls.
The Right Foundation… Always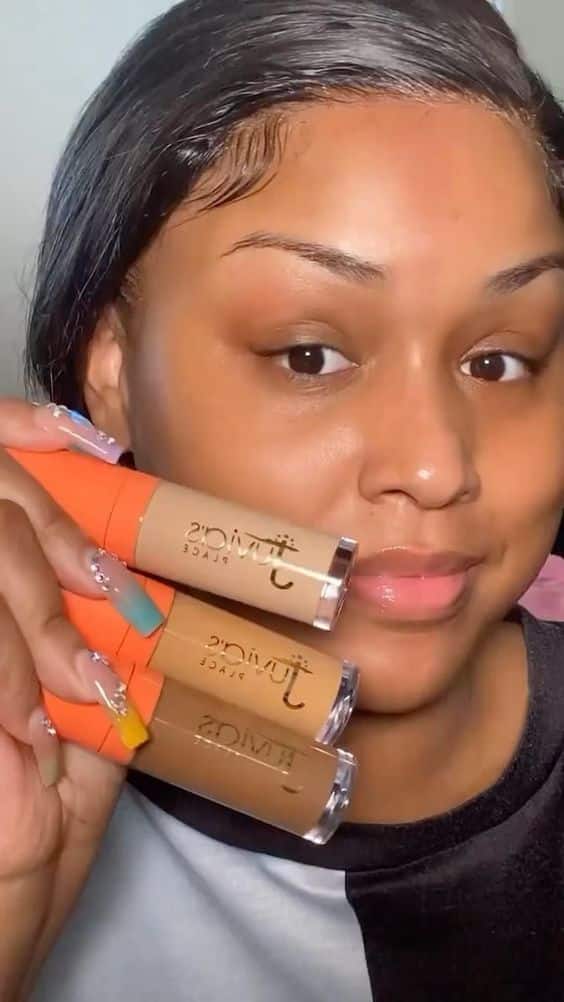 Before you start with any makeup, finding the right foundation is crucial. To enhance your natural beauty, not mask it, you need to understand your skin's undertone—whether it's warm, cool, or neutral. If you're not sure, you can ask an expert to help you identify it. Brands like Fenty Beauty, LYS Beauty, UOMA Beauty, and NARS offer a wide range of foundation shades suitable for African American women.
Find Your Right Shade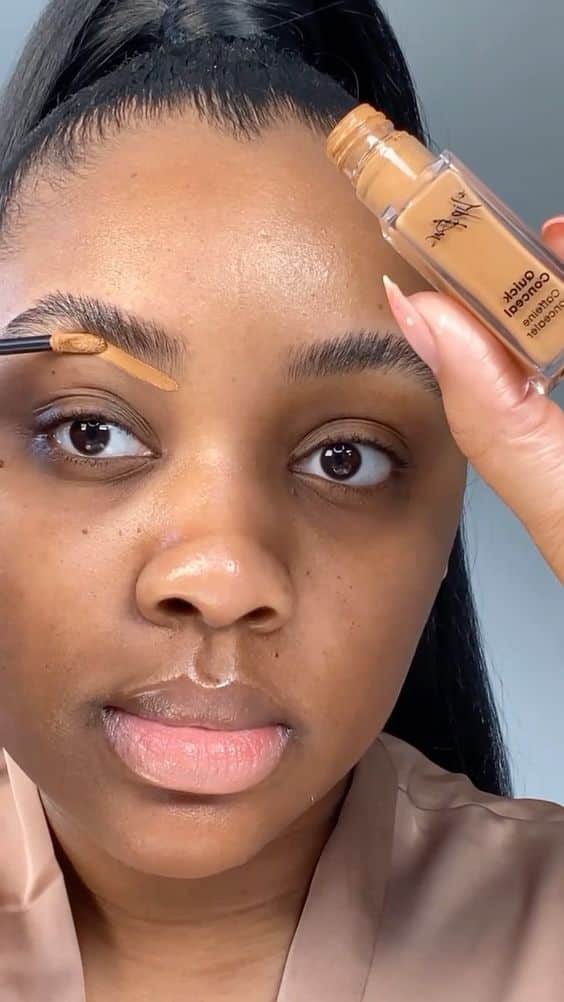 If you're having trouble finding the right foundation color, look to your neck and the center of your face for guidance. Match the foundation to the shade of your neck or the center of your face, rather than trying to even out your whole complexion with a single shade. Brands like NARS, The Ordinary, Juvia's Place, and Pat McGrath Labs offer diverse shade options. Begin applying the foundation in the middle of your face and blend it outwards, using less as you go towards your hairline.
NUDE MAKEUP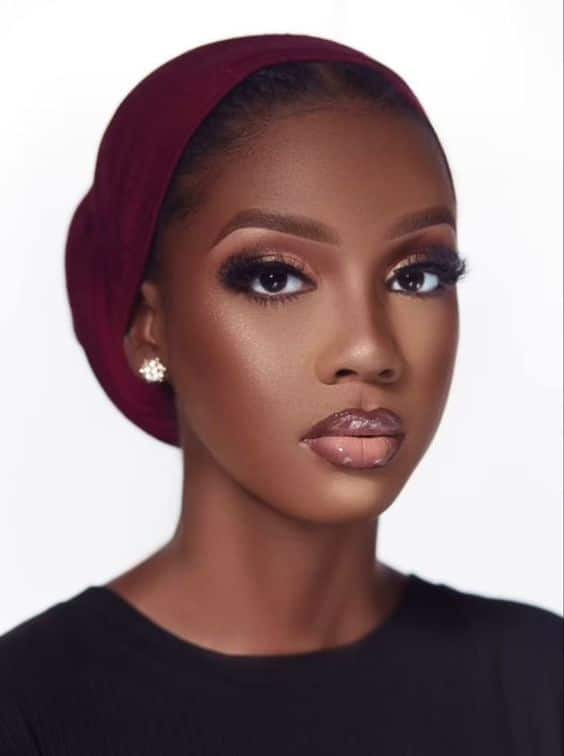 We really like a makeup style for Black women. Some people think nude means light skin, but that's not true. Nude makeup has colors for everyone. It's a great way to show off your beautiful skin tone.
Start with the Primer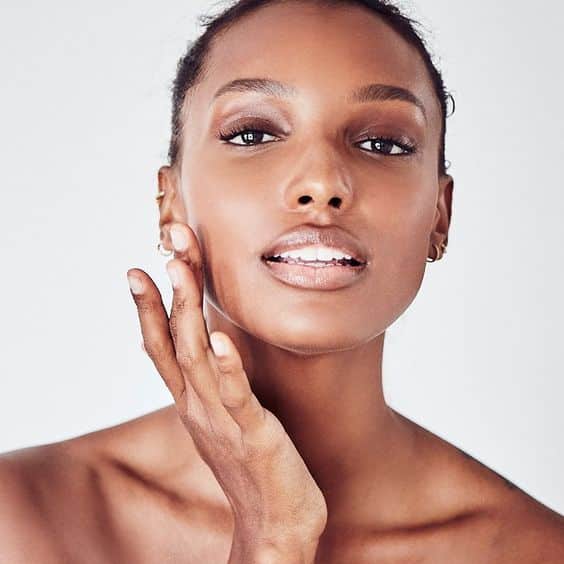 To get a nice and natural makeup look, you should have primer in your makeup bag. Put it on before your foundation or concealer to cover up any imperfections. Primer helps your makeup stay in place for a long time and reduces shininess on oily skin.
BRONZED MONOCHROMATIC MAKEUP
If you're a Black woman and want makeup that enhances your natural radiance and brings out your features, try bronzed monochromatic makeup. Bronze colors are great for adding warmth to your skin and giving your makeup a sun-kissed look.
Warm Up Your Skin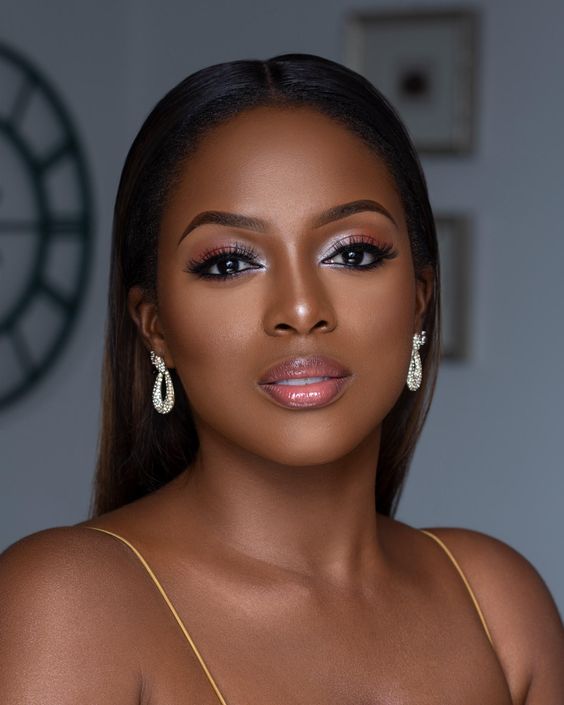 Bronzer is a bit trickier than blush. Choose a bronzer that's a bit darker and matches your skin tone. MAC's Refined Golden Bronzer is great. Mented Cosmetics and The Lip Bar have good options too. You can even use powder foundations as bronzers. Apply the bronzer in a "3" shape on your forehead, temples, cheeks, and jawline to blend everything together, especially if you missed your hairline with foundation.
Use a Creamy Highlighter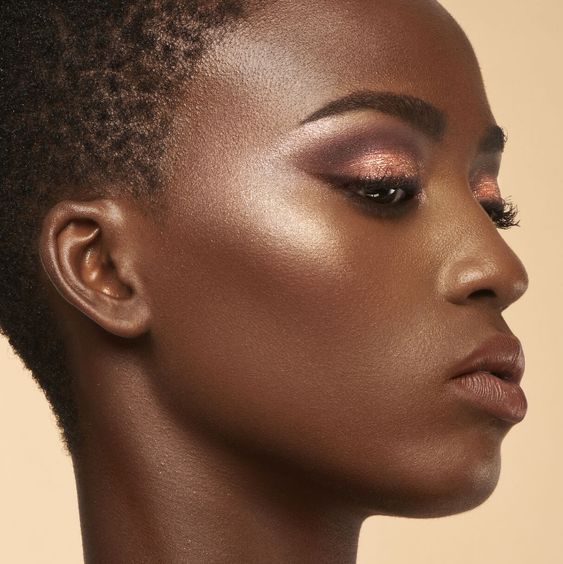 Creamy highlighters are good for a softer glow that you can make stronger if you want. But powder highlighters need more practice to use. Black women should choose gold and bronze highlighter shades that match their skin. Put it on your cheekbones, nose, and upper lip.
Classic red lip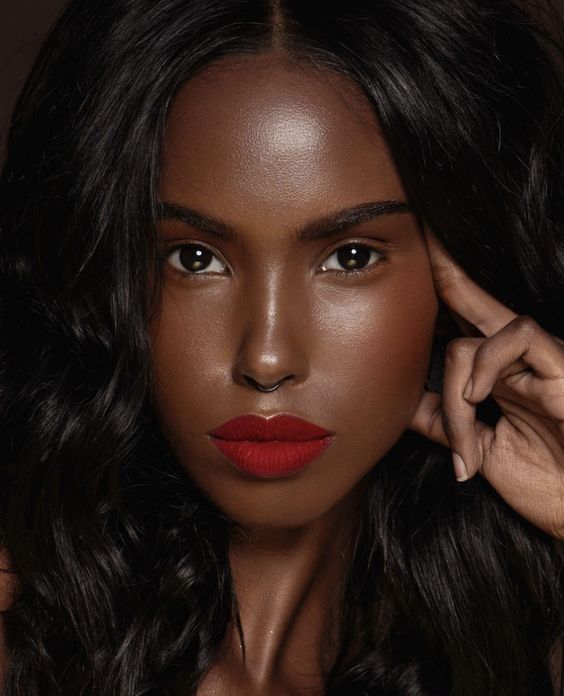 Many black women are blessed with naturally full and beautiful lips. An excellent way to highlight this feature is by applying a classic red lipstick color that complements and accentuates their natural allure.
FULL BROWS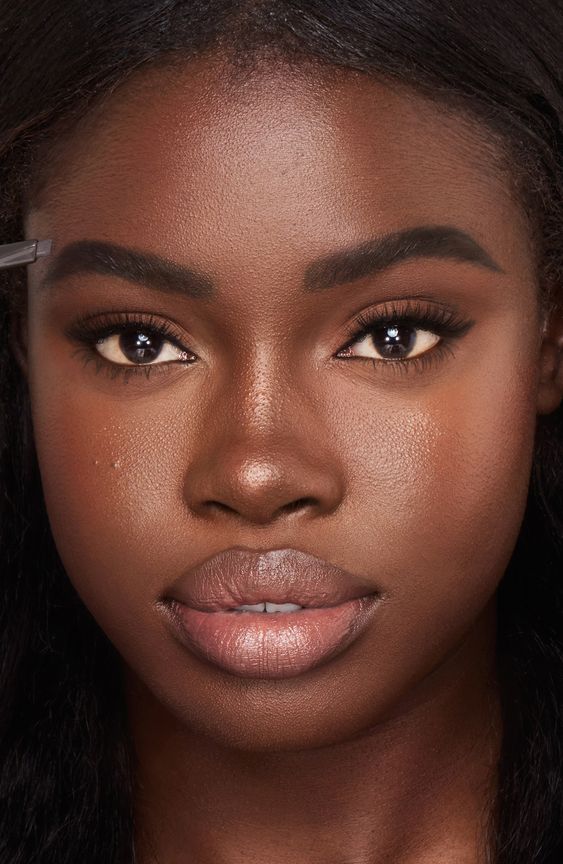 Brows are super important to shape your face, especially in Black girl makeup. Full brows are the norm and go well with any eye makeup style.Begin with clean brows, use the brow gel to fill in any thin spots. Then, use an angled brush to outline your brows and create a nice shape with gentle strokes. Finally, brush your brows with a spoolie, and you're done with your look.
Smoky eye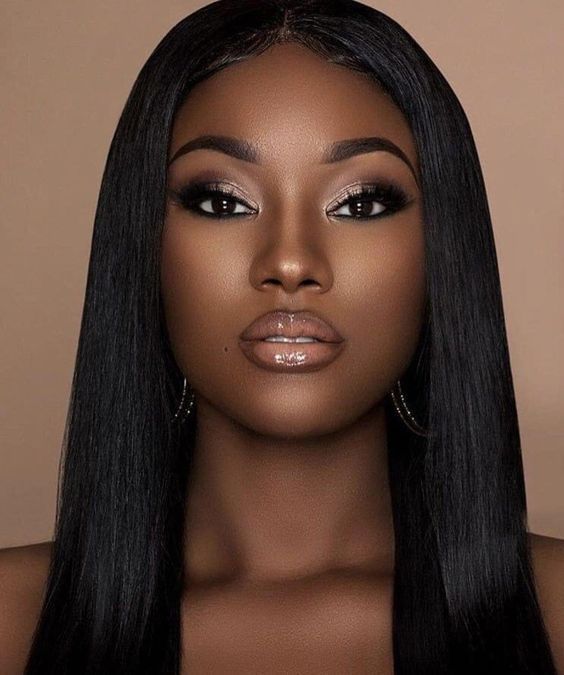 When you're going for a night out, smokey eye makeup can make brown or hazel eyes look captivating and mysterious. It's a great way to enhance your look and create an alluring vibe.
Shiny brown eyeshadow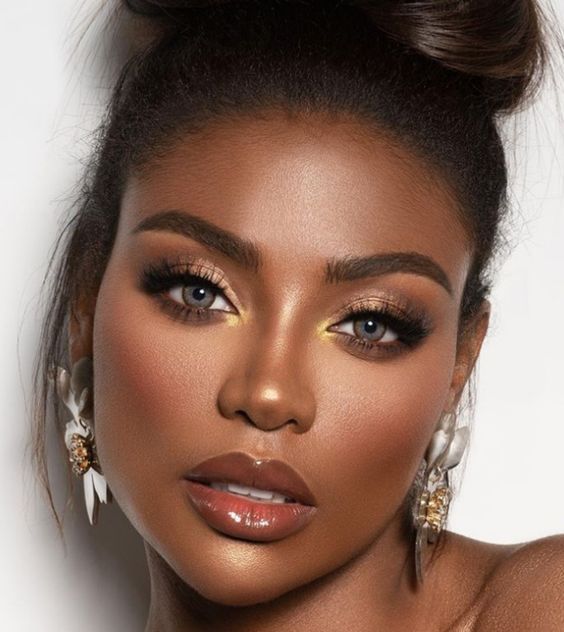 This is like shiny metallic makeup, but it's copper-colored. Wondering how she made her face look so shiny? Some eyeshadows are already shiny, or you can use a little Vaseline on your eyelids before applying makeup. 
WHITE EYELINER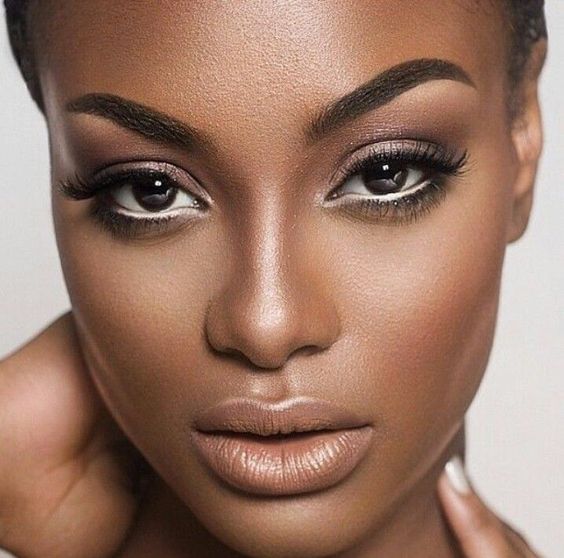 White eyeliner is becoming really popular in the beauty world, and it's a great choice for Black women. Even though you might have heard not to use white or light shades, white eyeliner can actually make your eyes stand out and look fresh and bright by creating a nice contrast.
SOFT CONTOUR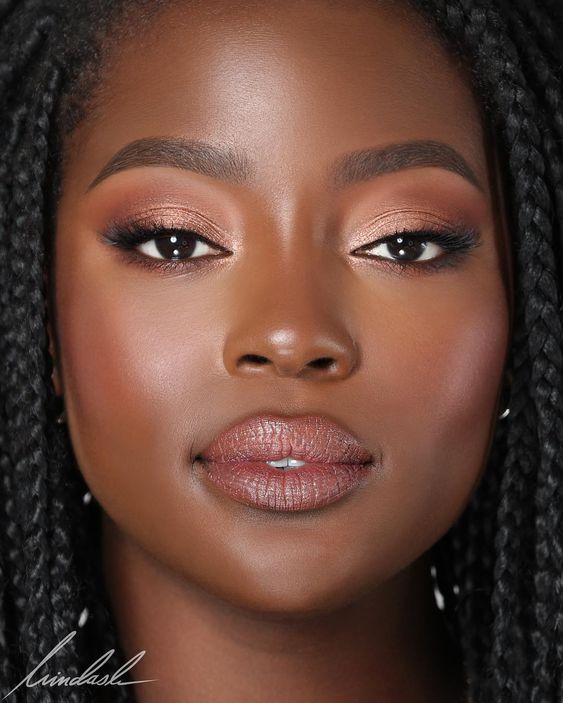 A perfect contour can make your face look better and highlight your features. Some people like a really defined contour, but for dark skin, a softer one works great.
Dramatic face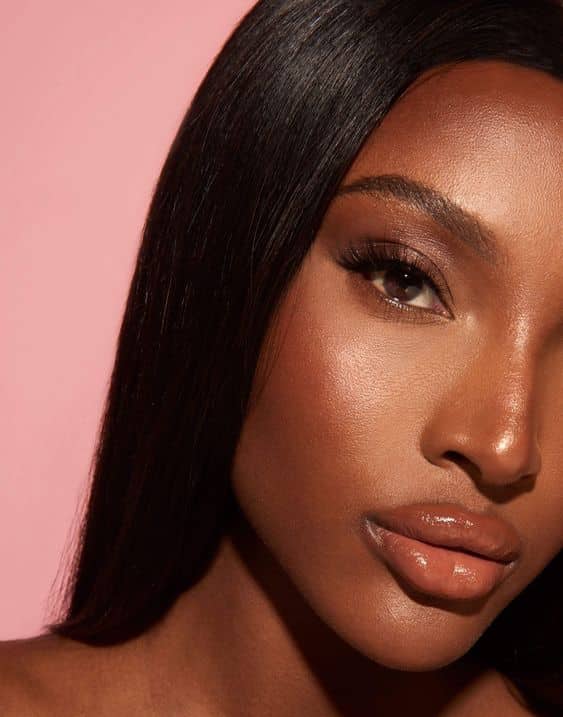 If you love makeup and have a fancy event, go for a dramatic look. Use purples, pinks, and greys on your face to create a striking and unforgettable shimmer.
conclusion
"Makeup Magic: 20 Stunning Looks For Black Skin Tones" is a title that celebrates the beauty of black skin. It says that everyone should feel good about themselves, especially in a world where the beauty industry often forgets about people with dark skin. This title tells us that makeup can help people with dark skin feel more confident and express themselves. It encourages people to be creative with their makeup and feel proud of their unique beauty, not just in the black community but everywhere.