For a long time, creamy soups with potatoes and leeks have been loved in cooking all around the world. One very famous soup is the Potato-Leek soup Vichyssoise, made known by a French chef at the Ritz-Carlton Hotel in New York City. They served it cold. Our version of this classic soup is hot, and we're using two types of potatoes – one in the soup and another as a topping. We're also adding carrots to make it look beautiful and add a bit of sweetness. This creamy and rich stew is super comforting, whether it's warm or cold outside.
What is potato leek soup?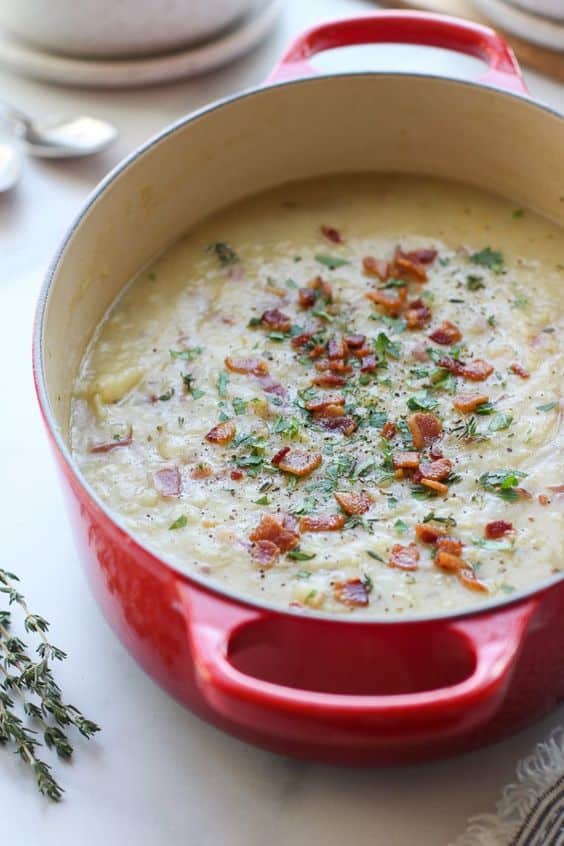 Potato leek soup is a cozy classic, blending the earthy goodness of potatoes with the subtle sweetness of leeks. This comforting Potato-Leek soup often stars in culinary traditions worldwide, offering warmth and satisfaction in every spoonful. Its creamy texture, achieved with a hint of cream or milk, makes it a comforting delight. Whether served on a chilly evening or as a soothing lunch, this simple yet flavorful soup never fails to bring comfort and nourishment to the table.
WHAT YOU'LL NEED TO MAKE POTATO LEEK SOUP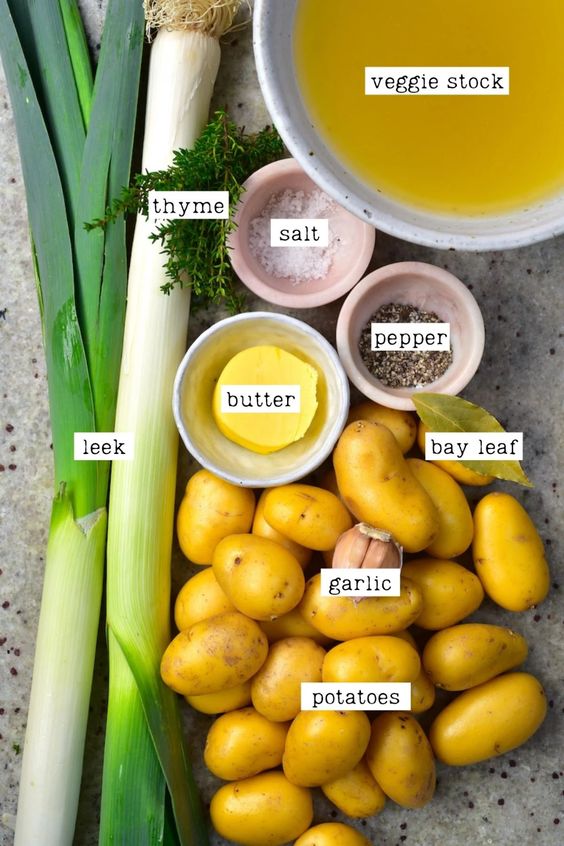 To whip up a delicious Potato-Leek soup, gather some basic ingredients. You'll need fresh leeks, potatoes (two types for extra flavor if possible), vegetable or chicken broth, butter, onions, garlic, salt, pepper, and a touch of cream or milk for that creamy goodness. With these simple ingredients, you're all set to create a comforting and flavorful pot of soup that's perfect for any time of the year
HOW TO MAKE POTATO LEEK SOUP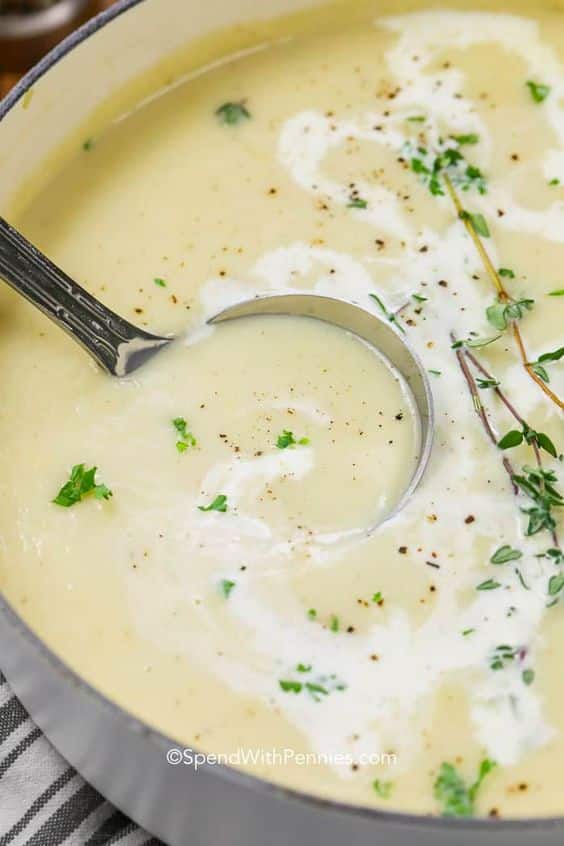 Making potato leek soup is easy, but the leeks need some attention first. They can be really sandy and dirty, and they're sneaky about it, so give them a good wash. Begin by cutting off and throwing away the root ends and the really dark green parts. Slice the leeks in half lengthwise and wash each half under cold water, separating the layers to get rid of any hidden dirt.
Here are some instructions for potato leek soup:
1:Prepare the Ingredients:Clean the leeks thoroughly, as they often have dirt trapped between the layers. Chop the white and light green parts of the leeks, and dice the potatoes, onion, and garlic.
2:Cook the Vegetables:in a large pot, melt the butter or heat the olive oil over medium heat. Add the chopped leeks, onion, and garlic. Cook, stirring occasionally, until they soften (about 5-7 minutes).
3:Add Potatoes and Broth:Stir in the diced potatoes and pour in the vegetable or chicken broth. Bring the mixture to a boil, then reduce the heat to a simmer. Cook until the potatoes are tender (about 15-20 minutes).
4:Blend or Mash:Once the potatoes are soft, you have a couple of options. For a chunkier soup, use a potato masher to mash some of the potatoes right in the pot. For a smoother texture, use an immersion blender or transfer the soup in batches to a blender and blend until smooth.
5:Season and Finish:Season the soup with salt and pepper according to your taste. If using, stir in the heavy cream or milk to add creaminess.
6:Serve:Ladle the soup into bowls and garnish with fresh herbs, a drizzle of olive oil, or a sprinkle of grated cheese, if desired.
How To make Potato Leek Corn Chowder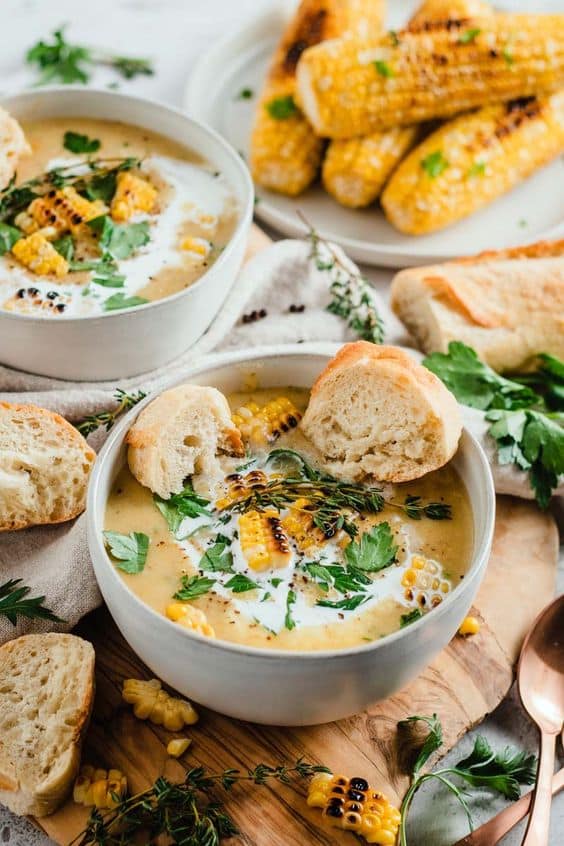 Using a Dutch oven or any big pot works well for this recipe. First, melt some butter and olive oil together. Add the leeks, celery, and bell pepper. Cook them until they're soft, which should take about 5 minutes. Stir often while they cook.In a big mason jar with a lid, mix the milk and flour really well by shaking it (or use a medium-sized bowl to whisk them together). Slowly pour this mixture into the pot while stirring constantly.After that, add the broth, corn, potatoes, paprika, bay leaves, salt, and pepper. Let it all come to a boil. Then, lower the heat and let it simmer for 20-30 minutes until the potatoes are soft.Once it's done simmering, take it off the heat and add in the parsley and chives. Now, it's ready to be served and enjoyed!
Certainly! Here's a simplified version of how you might make potato leek soup:
Ingredients: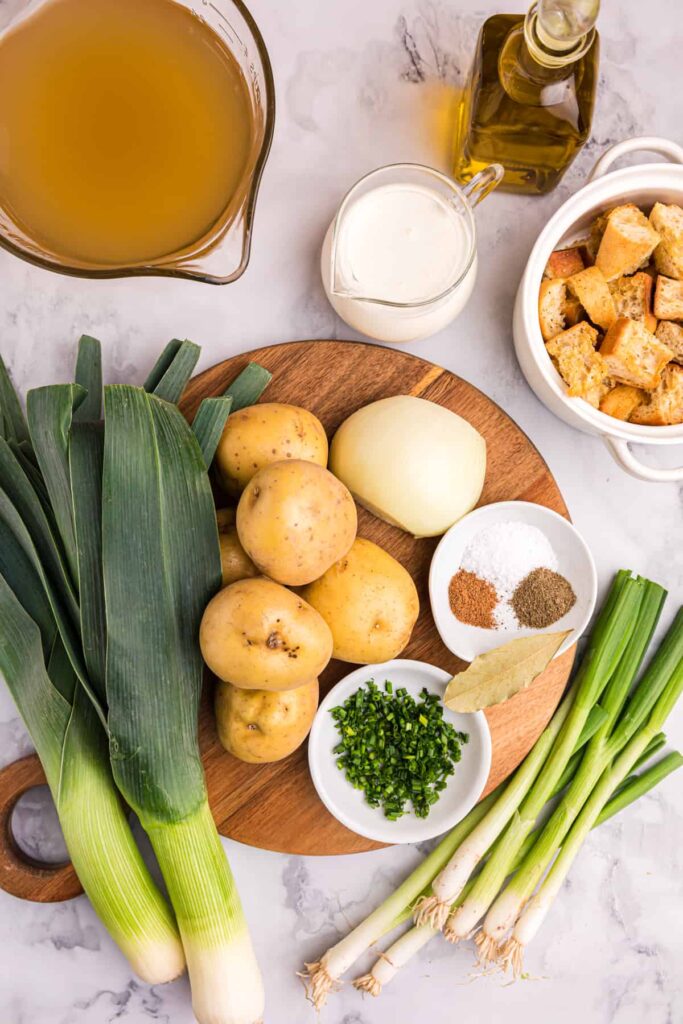 2 tablespoons butter
2 tablespoons olive oil
1 large leek, coarsely chopped about 2 cups
1 red bell pepper, finely chopped about 1 cup
1 celery stalk, finely chopped about 1/2 cup
2 cups whole milk
3 tablespoons all purpose flour
3 cups vegetable stock
2 cups corn kernels about 3-4 ears if using fresh, you can also use frozen
1 1/2 pounds red potatoes, rinsed and quartered
1-2 teaspoons paprika
2 bay leaves
1 teaspoon salt
1/4 teaspoon black pepper
1/4 cup fresh parsley, chopped
3 tablespoon fresh chives, chopped
Conclusion
Mastering the ultimate Potato-Leek soup experience is about harnessing the flavors of these humble ingredients to create a comforting, flavorful dish. By mastering the art of cleaning and preparing leeks, and combining them with potatoes in various ways—be it in soups, stews, or other dishes—you can unlock a world of culinary delights. Experimenting with different spices, herbs, and cooking techniques allows you to personalize this classic combination, transforming it into a dish that reflects your taste and style. With patience, practice, and a touch of creativity, you'll elevate the potato-leek experience to a mastery that brings warmth and satisfaction to every meal.