Indulge in the ultimate tomato soup experience with this Roast Tomato Basil bisque! Bursting with rich flavors from roasted tomatoes and garlic, it offers a depth that's simply unmatched. Its velvety texture promises a delightful dining experience. Enjoy it alongside a classic grilled cheese, your go-to sandwich, or a refreshing side salad, perfect for either lunch or dinner. Plus, it's a fantastic make-ahead dish and freezer-friendly, ensuring the deliciousness lasts beyond just one comforting bowl.
Fresh Tomato Basil Soup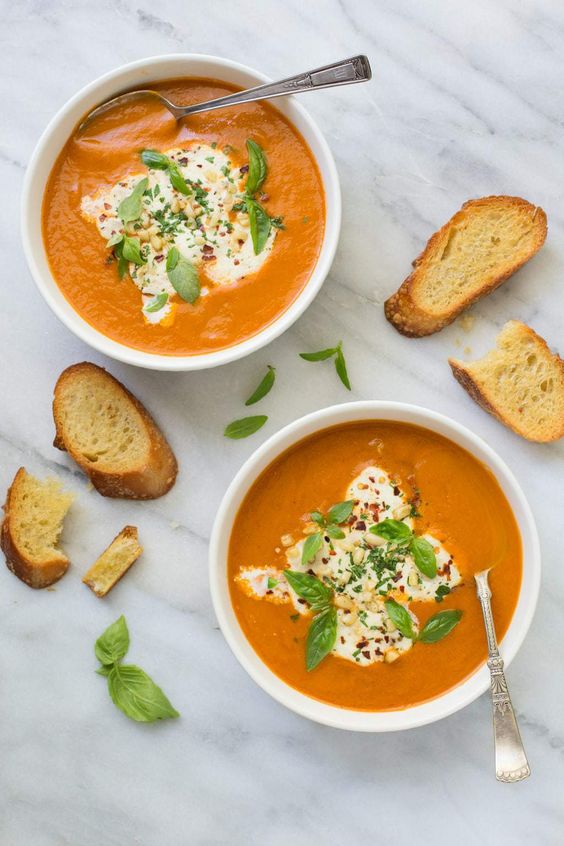 Get ready to elevate your summer dinners with this incredible soup that's bound to steal the spotlight. It's the perfect solution for utilizing those abundant garden-fresh tomatoes. With just a handful of ingredients, this recipe delivers exceptional results! Gather several pounds of vibrant, ripe tomatoes, a generous amount of fragrant basil, and just enough garlic to infuse the soup with a wonderfully fresh taste. It's a simple yet magical combination that promises a bowlful of summer's essence in every spoonful.
Tomato soup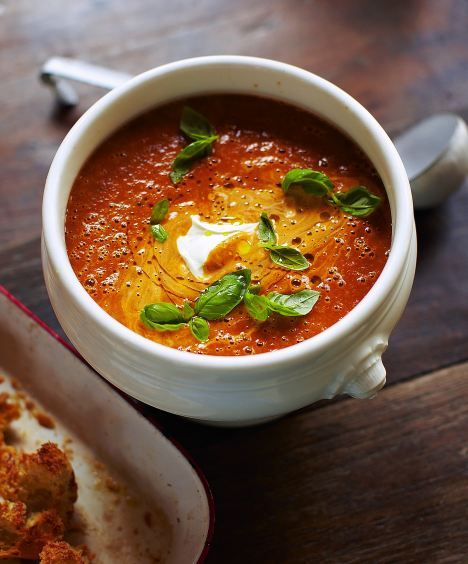 This soup's got lots of basil and a hint of garlic, making it a likely favorite every week, no matter the season. I spruced it up with roasted tomato pieces, Parmesan shavings, and fresh basil on top. You can make it early and freeze it or serve it right away.It's great to kick off a meal or to have as the main dish. And guess what? It's creamy without any heavy cream or thick stuff—there's a sneaky ingredient that does the trick!
Made with Fresh, Roasted Tomatoes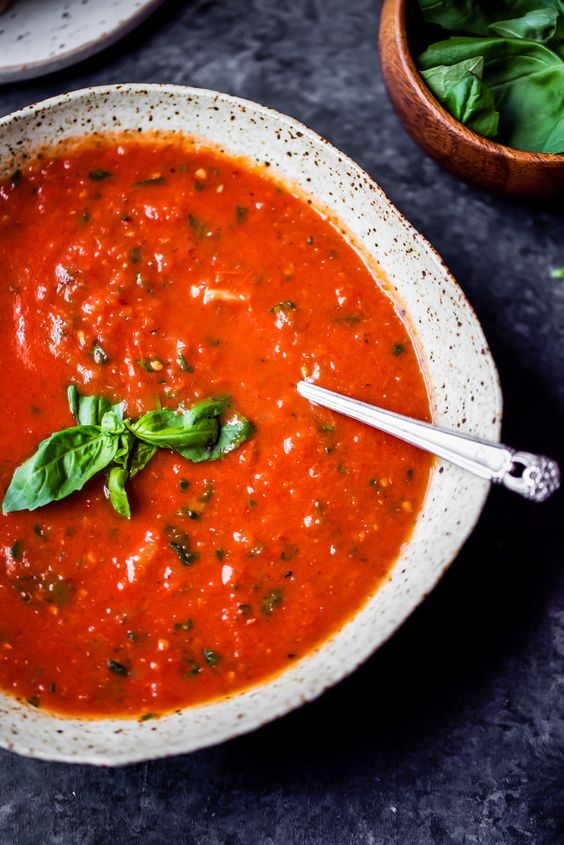 In this recipe, we add a touch of canned tomatoes mostly for extra color and texture, but the real heroes are the roasted roma tomatoes. Roasting these tomatoes brings out their natural sweetness and makes their flavors richer, even when they're not in season. It helps take away extra moisture and gives them a caramelized outside. Roma tomatoes are perfect for roasting because they're not as watery as other types, which makes them ideal for this. They're sweeter and pack a stronger flavor punch compared to other kinds of tomatoes.
Blend Roasted Tomatoes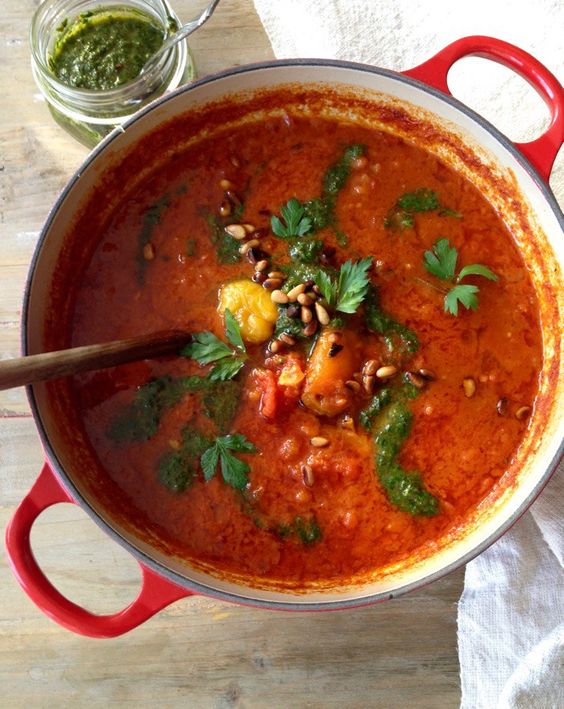 Once the roasted tomatoes have cooled a bit but are still warm, put them in a blender. Also add the garlic, the juices, and oil from the tray. Put in some crushed black pepper (about half to one teaspoon, depending on how you like it), add salt as much as you need, and a little sugar (around a quarter teaspoon or adjust to your liking). Blend everything together.
Instructions:
1:Prep the tomatoes:If using fresh tomatoes, chop them roughly. If using canned tomatoes, no chopping is needed.
2:Saute Aromatics:In a large pot or saucepan, heat the olive oil over medium heat. Add chopped onions and sauté until translucent, then add minced garlic and cook for another minute until fragrant.
3:Add tomatoes:Add the chopped tomatoes to the pot. If using canned tomatoes, include the juices from the can as well. Cook for about 10-15 minutes until the tomatoes start to break down and release their juices.
4:Simmer:Pour in the vegetable or chicken broth and bring the mixture to a simmer. Let it cook for another 10-15 minutes to blend the flavors.
5:Blend:Remove the pot from heat. Using an immersion blender or transferring the mixture to a regular blender (in batches if needed), blend until smooth. Be cautious when blending hot liquids.
6:Season:Return the blended soup to the pot using a regular blender. Season with salt, pepper, and sugar (if desired). Adjust the seasoning according to your taste preferences.
7:Add Basil:Stir in the chopped fresh basil leaves. This adds a lovely aroma and flavor to the soup.
8:Finish(optimal creamy version):If you prefer a creamy soup, stir in the heavy cream. This step is optional but adds richness to the soup.
9:Serve:Ladle the soup into bowls. Garnish with a few fresh basil leaves on top. You can also add a drizzle of olive oil or a dollop of cream for presentation.
10:Enjoy:Serve the Tomato Basil Soup hot and enjoy it with a side of bread or crackers if desired.
Ingredients Notes: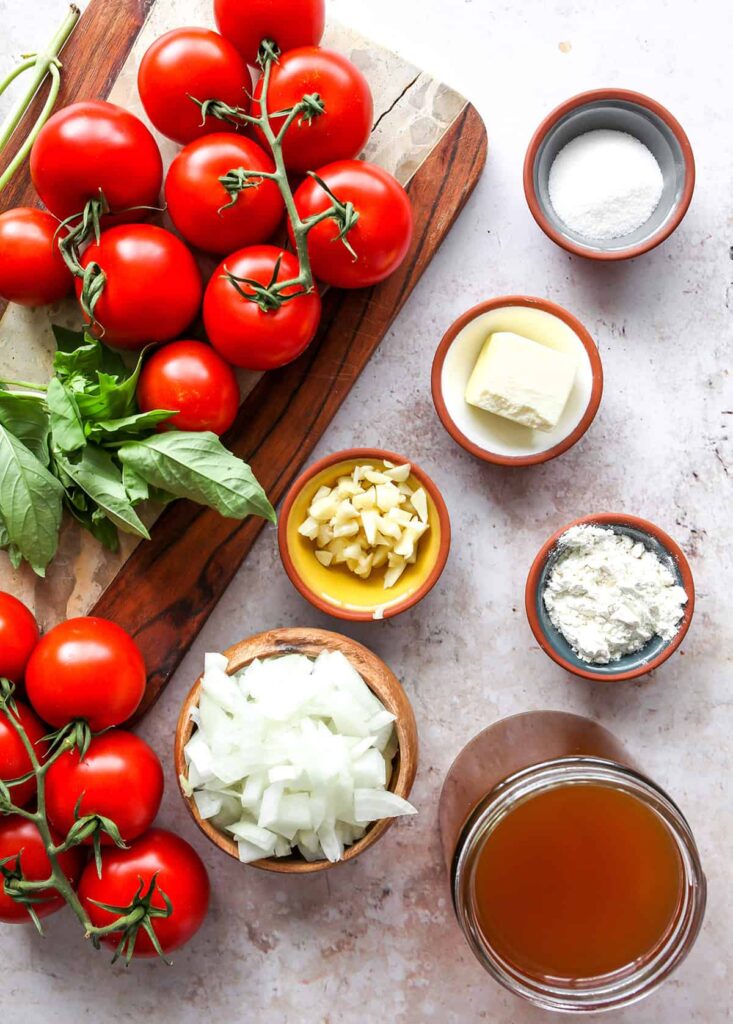 Certainly! Here's a basic recipe to make Tomato Basil Soup:
2 pounds fresh tomatoes, chopped (or canned tomatoes)
1 onion, chopped
3 cloves garlic, minced
2 tablespoons olive oil
1 cup vegetable or chicken broth
1/2 cup fresh basil leaves, chopped (plus extra for garnish)
Salt and pepper to taste
1 teaspoon sugar (optional, to balance acidity)
1/2 cup heavy cream (optional, for a creamy version)
Conclusion
The title "A Taste of Luxury: Butter-Enhanced Tomato Bisque Delight" hints at an exquisite culinary experience. It suggests a rich, velvety tomato bisque elevated by the addition of butter, promising a luxurious and indulgent flavor profile. The combination of the words "luxury," "butter-enhanced," and "delight" evokes an image of a sophisticated, flavorful dish that tantalizes the taste buds while providing a comforting and satisfying experience. Overall, the title sets the expectation of a high-quality, sumptuous soup that offers a taste of opulence and culinary pleasure.