Cat makeup is a super popular beauty trend that's not just for Halloween anymore. There are cool cat-eye looks and even more fancy ones for Halloween. This guide is for both makeup experts and beginners who want to get creative. It has different Feline cosmetics styles for all skill levels and tastes. So, if you're into makeup, check out this guide and find the perfect cat-inspired look for any time.Cat makeup typically involves creating a feline-inspired look that accentuates the eyes and features. This often includes dramatic winged eyeliner to mimic cat eyes, coupled with bold eyeshadow colors like smoky blacks and deep browns.
Realistic Cat Makeup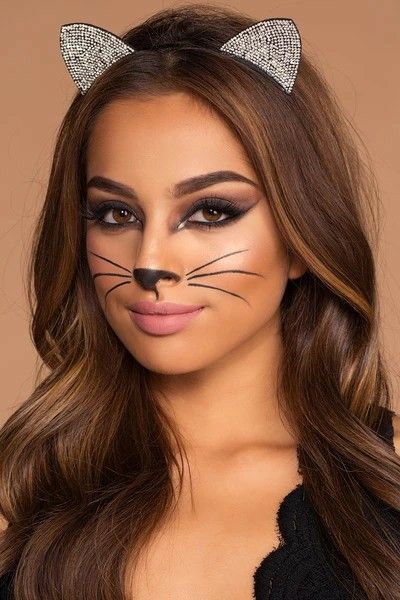 This remarkably realistic cat face paint is versatile and suitable for both boys and girls, ensuring a captivating appearance for everyone at the party or during trick-or-treating. Its lifelike details are bound to make heads turn, adding an extra layer of fun and intrigue to any Halloween celebration.
Cute Cat Makeup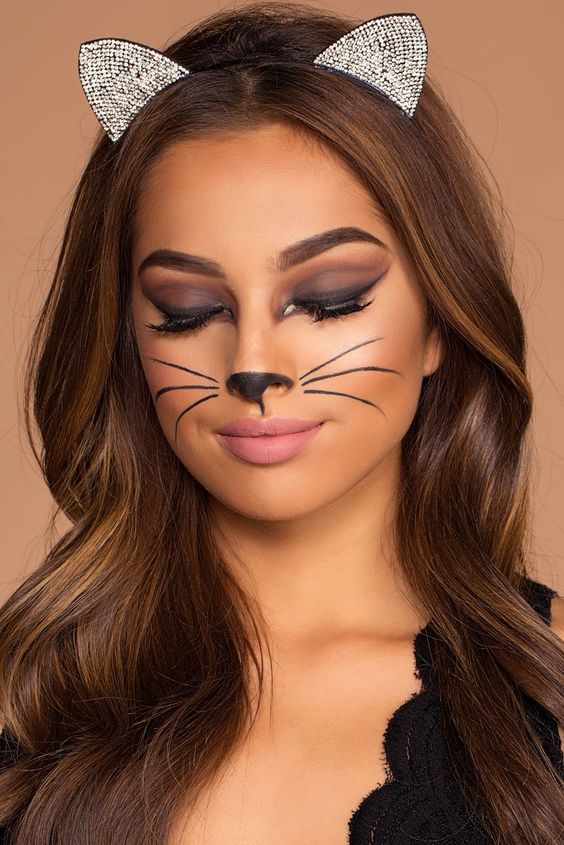 Cute cat makeup brings a whimsical charm to any occasion, with soft pastels and playful accents enhancing a sweet feline look. Adorable whiskers, a button nose, and delicate eyeliner create an irresistibly charming cat-inspired visage. Perfect for those who want a delightful and endearing touch to their makeup, this style adds a touch of feline cuteness to any event.
Cheshire Cat Makeup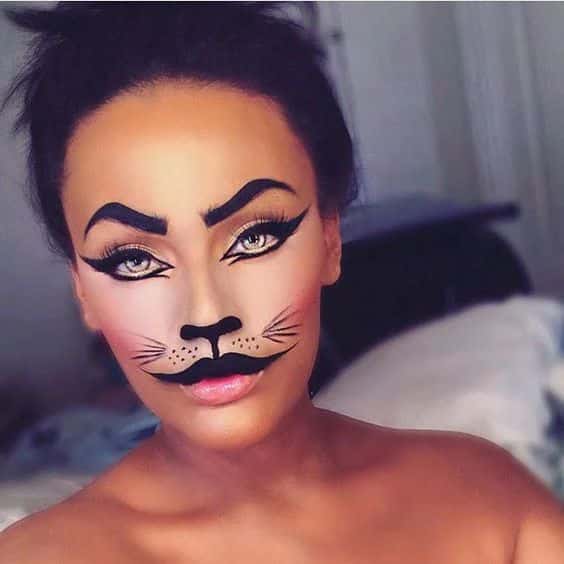 People love the mysterious Cheshire Cat, known for its grin that stays even when it disappears. The bright pink and purple colors from Disney's Alice in Wonderland have influenced Halloween looks. From actress Danielle René Green's cool outfit to Ellie's spooky makeup, the Cheshire Cat is a popular choice for those who want a playful and eerie makeover.
Pretty Kitties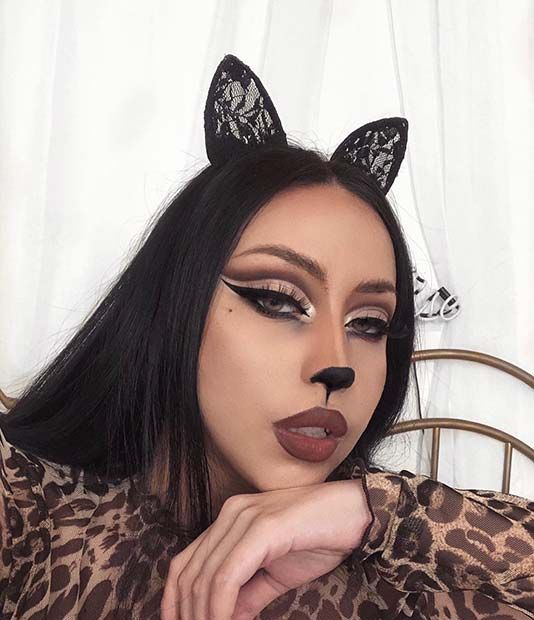 For those days when you want a touch of feline flair without going all out, the "pretty kitty" look is a purrfect choice. Makeup artist Chante crafted a chic black cat ensemble, featuring glamorous cat-eye makeup, a sophisticated lip, and stylish whiskers on her cheeks—an office-friendly cat costume we'd all welcome. Saby T. put her spin on the look, incorporating playful purple tones and adorable fluffy ears for a charming variation.
Lion King Simba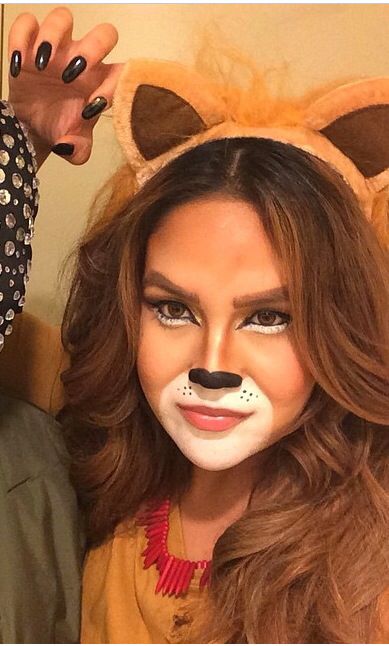 Try out a cute Simba cat makeup look inspired by The Lion King! Use golden colors to get that brave lion vibe and add a playful name for a fun touch. It's an easy and delightful way to bring a bit of Disney magic to your makeup routine.
Combination Purrfect makeup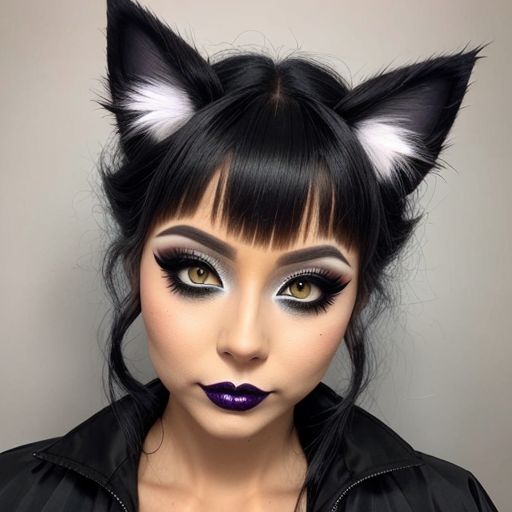 Halloween is not just about candy; it's about surprises too! You can make your costume spooky instead of just pretty. Look at Poline Rodrigues—she created a cool cat face with creepy stitches, making it look like the cat got sliced and stitched up. Jessica Kelly took it a step further by becoming Schrödinger's Cat, with one side a cool cat and the other side a spooky cat skull.
Fierce Felines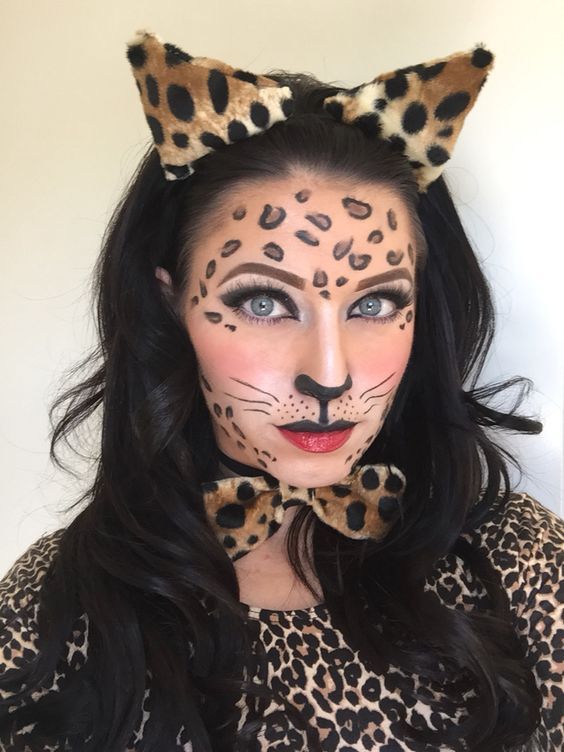 Sometimes you want to look really bold and powerful. Sheila Ybarra, a top makeup artist in Houston, brought the Halloween Kitty face paint to a whole new level with her stunning Cheetah Woman. Her special effects eyes and beautiful spots make her look amazing. On the other hand, Ashleigh Jane's fierce kitty has a bit of a scary twist—more like a cat that's really good at catching mice! At least she's not wearing her dinner!
Cat Eye Makeup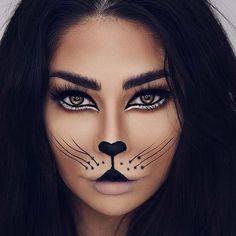 Cat eye makeup unleashes a fierce and commanding elegance, transforming your gaze into a captivating masterpiece. The bold precision of the winged eyeliner creates a striking allure, effortlessly commanding attention with every glance. It's not just makeup; it's a statement, an unapologetic declaration of confidence and power.
 Smokey Cat-inspired beauty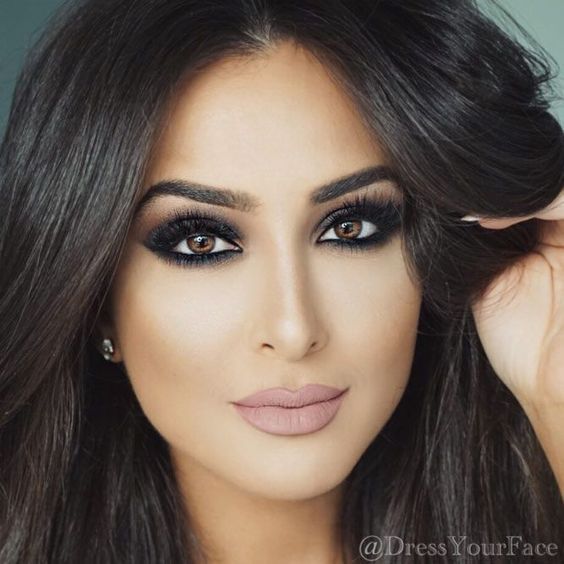 A smoky eye is when you blend different eyeshadows to make your eyes look soft and kind of hazy. It gives a sultry and a bit messy vibe, different from the neat lines of a classic cat eye.
Rainbow Kitty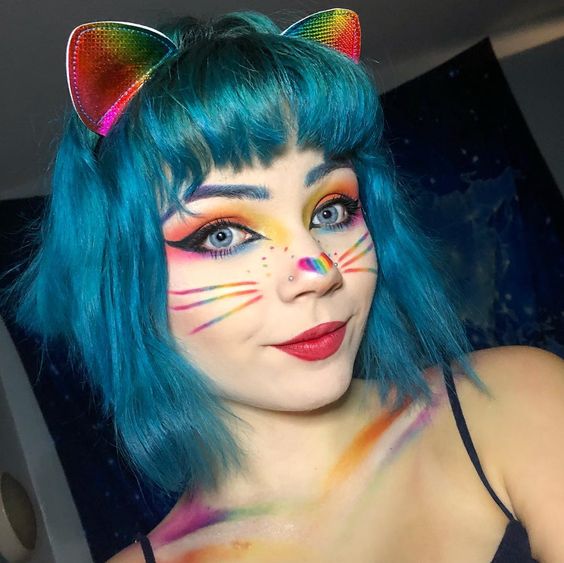 Rainbow Kitty Cat Makeup is a joyful and lively way to bring color to your look! Using a variety of bright and vibrant shades, you can create a playful cat face that radiates fun and positivity. With a mix of colors, you'll transform into a whimsical feline, adding a delightful and creative touch to your makeup routine. It's a perfect choice for those who want to embrace a cheerful and colorful vibe with their cat-inspired transformation.
Cute Cat Makeup for Kids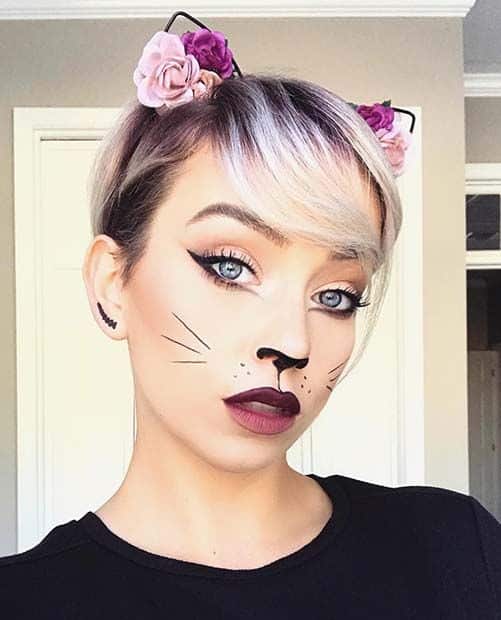 For the little ones who love cats, creating a cute cat makeup look can be a source of joy and excitement. To start, use hypoallergenic face paint or a makeup base to make sure it's safe for their sensitive skin. Use a fine brush and black face paint to draw adorable whiskers on their cheeks. For the finishing touch, draw a small heart shape on the tip of their nose to create a charming cat nose. It's a simple and delightful way to add a touch of feline fun to their day.
 Leopard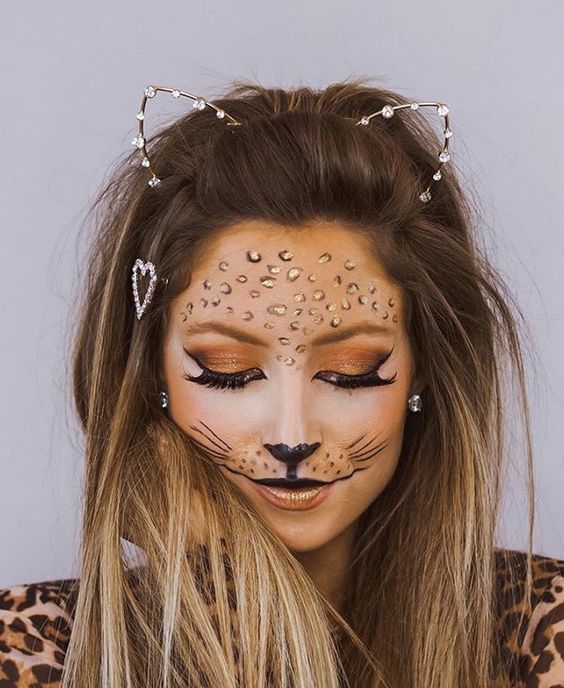 Leopard Cat Makeup is a cool and bold choice if you want to look like a wild leopard. First, put a neutral base on your face. Then, make dark spots and rosettes to copy the leopard's pattern. Add some drama with bold eyeliner and cool whiskers. This makeup lets you feel like a jungle leopard with a touch of glamor and a bit of wildness. It's a brave and exciting pick for anyone who wants to show their inner feline side.
 Scary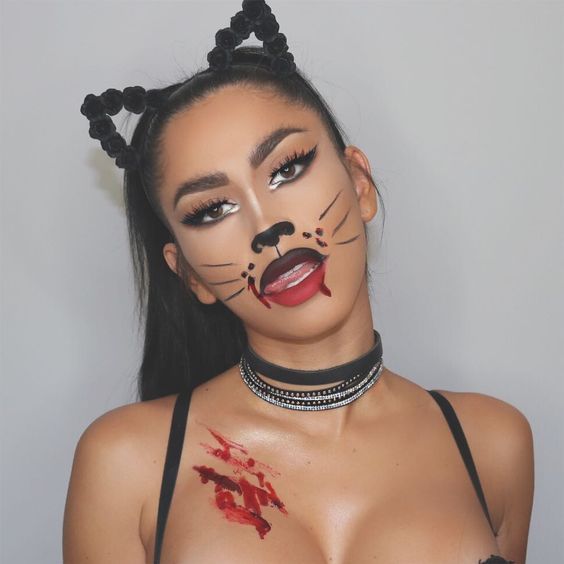 Scary Kitten cosmetics is a cool and spooky way to look like a scary cat for Halloween or parties. Use dark colors like black and deep purples to make a mysterious cat face. Add dramatic eyeliner and intense whiskers to make it extra spooky. This makeup is great for people who want to be a bit creepy and cool, turning into a scary cat with some makeup magic. Get ready to give everyone a Halloween scare with this fierce and spooky cat look!
Green Eyes Cat Makeup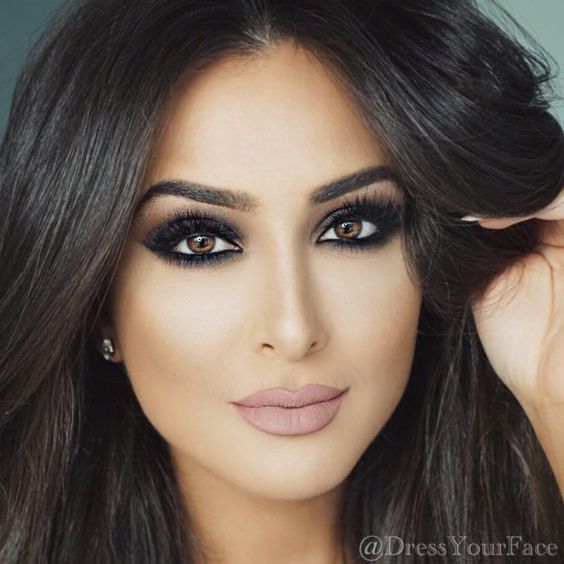 Green Eyes Cat Makeup is a fun way to make yourself look like a cat with a bit of green magic. Use green eyeshadow or eyeliner to make your eyes pop, and add black eyeliner for a classic cat-eye look. Draw cute whiskers on your cheeks to complete the playful cat style! This makeup is great for anyone who wants to be a playful cat with a touch of green. Get ready to show off those green eyes with this easy and fun cat makeup!
Glam Cat Face Makeup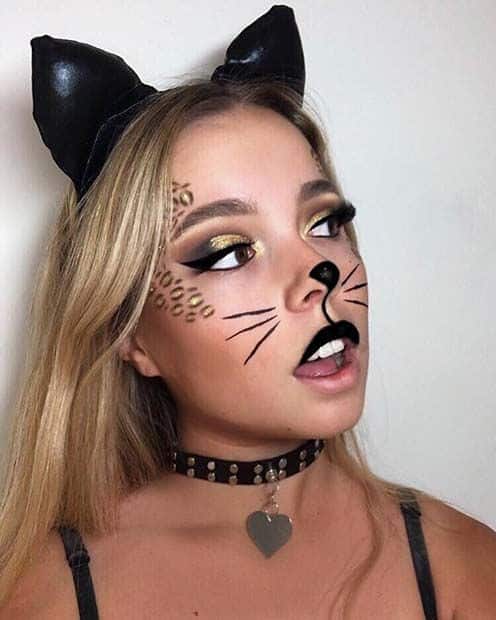 Glam Cat Face Makeup is a super stylish way to make your face look fancy and cat-like. Use glamorous colors like gold and shimmering shades for a chic touch. Add dramatic eyeliner to create a bold cat-eye look, and don't forget to make your lips stand out with a fancy lipstick. This makeup is perfect if you want to feel like a fashionable feline, adding a touch of glamor to your overall look. Get ready to shine with this glam cat face makeup and show off your stylish side.
conclusion
In conclusion, "Meow Makeovers: 15 Cat-Approved Makeup Ideas to Steal the Spotlight" promises a whimsical journey into the world of feline-inspired beauty. From playful and cute to bold and glamorous, these makeup ideas offer a diverse range to suit every style. Whether you aim to embody a mischievous kitten or a fierce panther, these cat-approved makeovers provide a fun and creative way to steal the spotlight and embrace your inner feline allure. Get ready to transform with these delightful cat-inspired makeup ideas and leave a lasting impression at any event!