Harira is indeed a delightful soup! The combination of tomatoes, chickpeas, and lentils creates a hearty base, while the spices like ginger, pepper, and cinnamon add depth and warmth to the flavors. That sounds delicious! Harira's blend of lentils, chickpeas, and aromatic spices makes it a flavorful and nourishing dish. Its ability to improve in taste after sitting for a while makes it an ideal choice for gatherings or preparing in advance. Serving it with lemon slices adds a lovely tangy contrast, while warm pita bread complements it perfectly. Do you have any secret tips or variations that you add to your Harira recipe?
What is harira?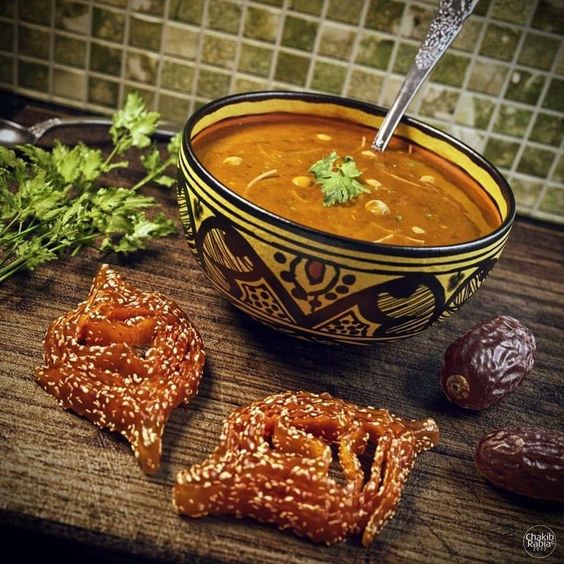 Harira is a staple in Moroccan cuisine and holds a special place during Ramadan. The combination of lentils, chickpeas, and the blend of warm spices like turmeric, cumin, and cinnamon creates a rich and comforting flavor profile. The addition of broken vermicelli pasta or rice as a thickening agent gives it a heartier texture. It's versatile enough to be enjoyed throughout the year but holds particular significance during Ramadan as a traditional dish to break the fast. Have you had the chance to try making it yourself?
Vegetarian harira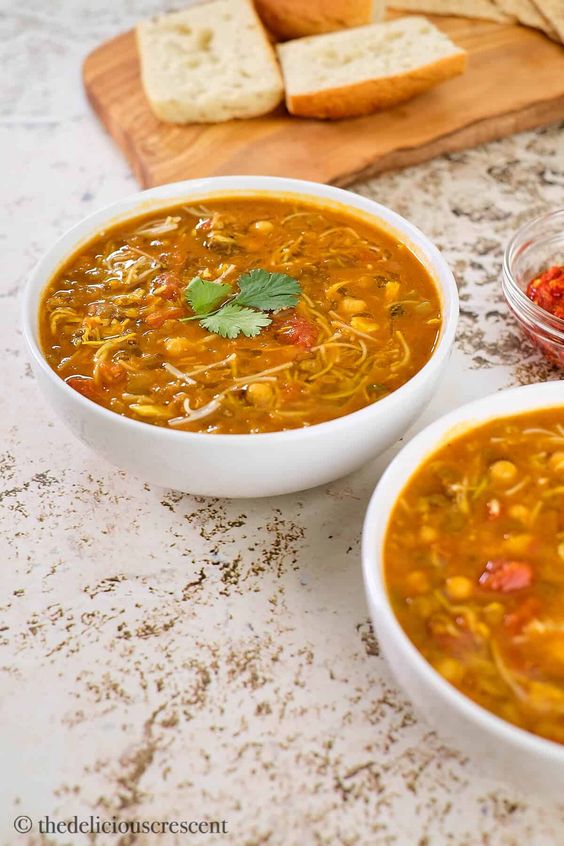 That's the beauty of Harira—it's quite adaptable! Your blend of green and red lentils alongside chickpeas adds wonderful texture and depth to the soup. Introducing vegetables like celery and carrots not only enriches the flavor but also enhances its nutritional value. The subtle sweetness from carrots is indeed a delightful touch. Substituting vermicelli pasta with long grain or basmati rice not only makes the soup gluten-free but also offers a different texture and taste. Have you found any other unique ingredients or variations that you enjoy incorporating into your Harira soup?
How to make harira soup?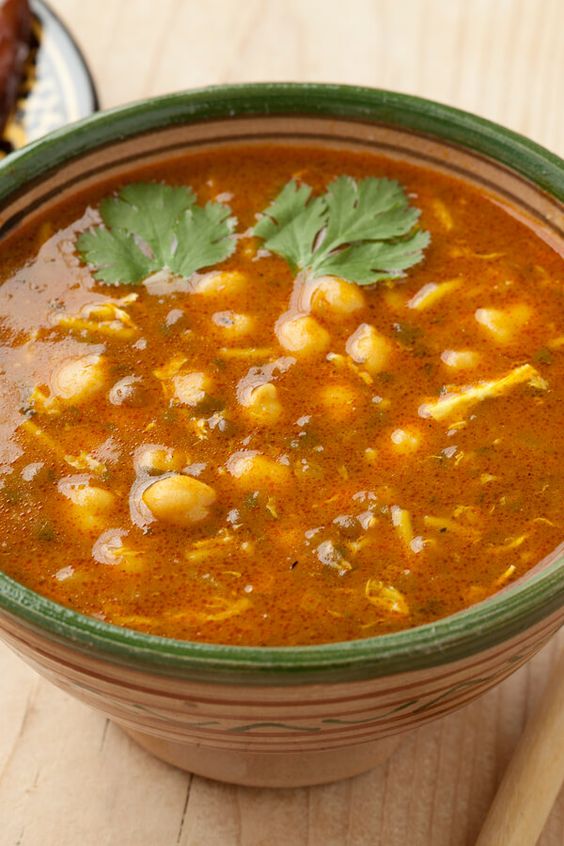 Here are step by step instructions for harira soup:
1:Prepare the legumes:If using dried chickpeas, soak them overnight. Rinse and drain before cooking.
Rinse the green and red lentils thoroughly.
2:Sauté the vegetables:In a large pot, heat some olive oil over medium heat.
Sauté the chopped onion, garlic, celery, and carrots until they soften.
3:Add the spices and tomatoes:Stir in the ground turmeric, cumin, and cinnamon, and cook for a minute until fragrant.
Add the diced tomatoes to the pot and cook until they start breaking down.
4:Simmer with legumes and broth:Add the drained chickpeas, green lentils, and red lentils to the pot.
Pour in the vegetable or chicken broth. Bring the mixture to a boil, then reduce the heat to a simmer.
5:Season and cook:Season the soup with salt and pepper according to your taste.
Cover the pot and let the soup simmer for about 45 minutes to an hour, or until the legumes are tender and the flavors meld together.
6:Finish with fresh herbs:Stir in the chopped parsley and cilantro during the last few minutes of cooking. This adds a burst of freshness to the soup.
7:Adjust consistency and serve:If the soup is too thick, you can add more broth or water to reach your desired consistency.
Serve the Harira soup hot, accompanied by lemon wedges for squeezing over the soup just before eating. It adds a wonderful brightness to the flavors.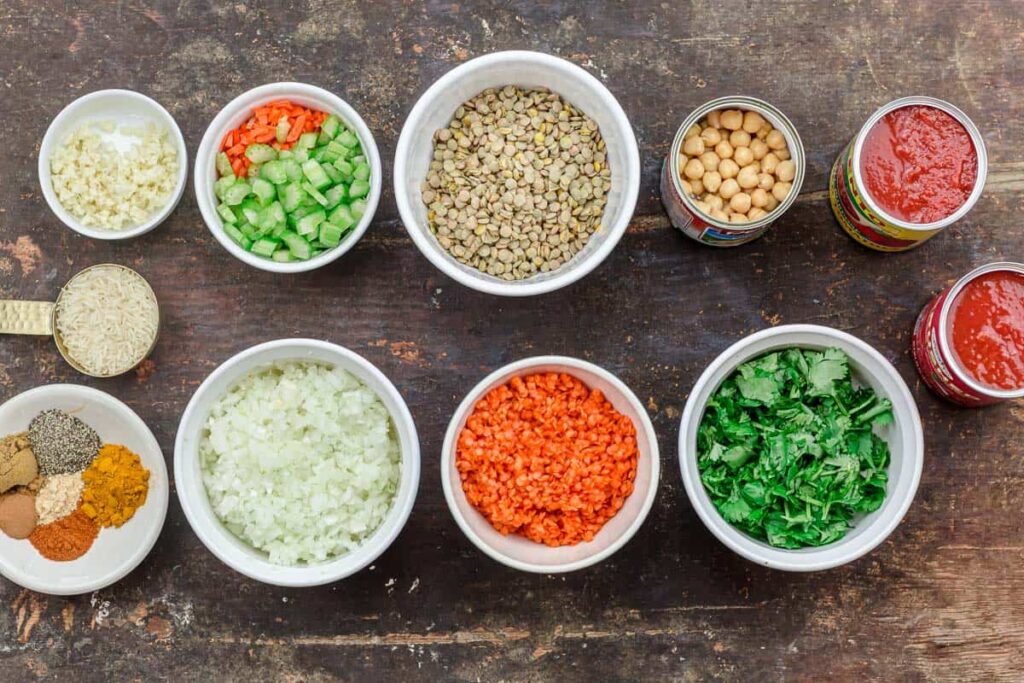 how to make harira in a pressure cooker or instant pot :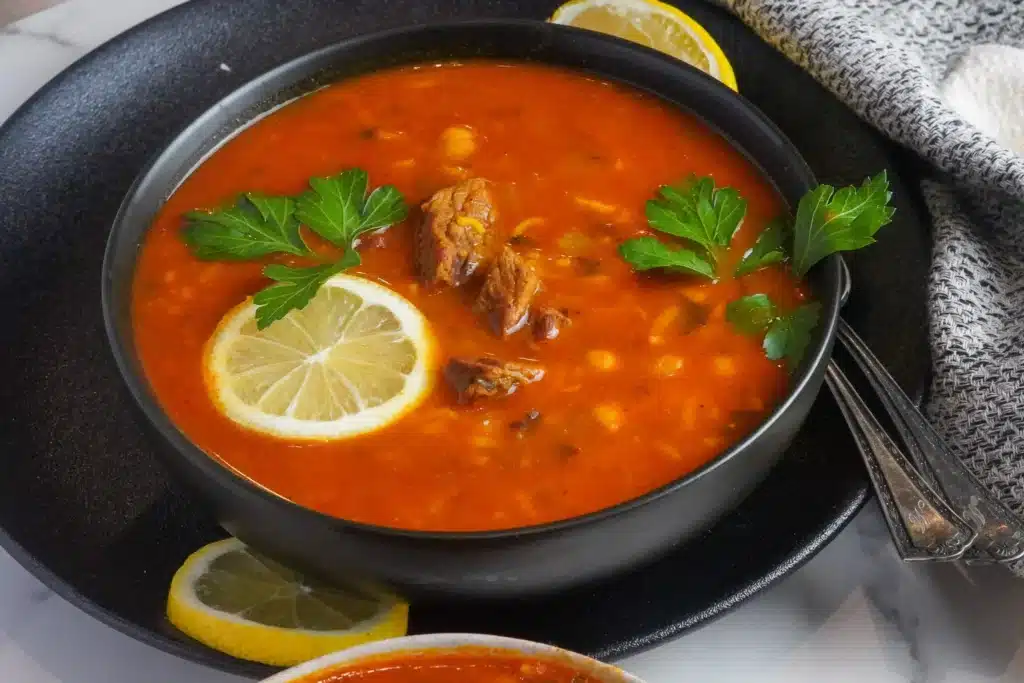 Making Harira in a pressure cooker or Instant Pot is a time-saving method that doesn't compromise on flavor. Start by heating your appliance on the sauté setting and adding a bit of olive oil. Utilize a food processor to finely mince celery and onion for a consistent texture, then add this mix to the pot and cook for about 5 minutes. Next, incorporate your choice of spices, legumes, diced tomatoes, and broth. Seal the pressure cooker and set it to high pressure, allowing it to cook for around 15-20 minutes. Once done, release the pressure naturally or perform a quick release, depending on the recipe. Finish by adding fresh herbs like parsley and cilantro. This efficient method retains the richness of flavors and creates a hearty Harira soup in a fraction of the time. Adjust the seasoning according to your taste, and enjoy this comforting dish!
Ingredients:
1 large onion
3 celery stalks
2 tbsp olive oil extra virgin
2 tbsp tomato paste
2 cup dried chickpeas soaked in water overnight
3/4 dry green lentils
10-11 oz blade chuck roast cut into medium sized cubes
8-10 cups water
1/4 cup minced coriander
1/4 cup minced parsley
1/2 cup spaghetti broken to small pieces
1 tbsp butter or ghee
Salt & Pepper to taste
Thickener:
1 tbsp all purpose flour
2 cups lukewarm water
Spices:
1 tsp paprika
1/4 tsp cardamom
1/2 tsp ground cumin
1/2 tsp ground ginger
1/2 tsp turmeric
Serve with:
Lemon wedge
Some fresh coriander
https://www.pinterest.com/pin/406168460148239148/
Conclusion
In the end, making real Moroccan Harira is a wonderful cooking adventure with lots of tasty ingredients. This guide helps you mix different spices, beans, and fresh plants to make a cozy soup that's very special, especially during Ramadan. You can cook it the usual way or use fast kitchen gadgets like pressure cookers. Harira brings people together because it tastes so good and connects with traditions. Have fun trying different flavors and making this special soup—it's a warm and yummy part of Moroccan cooking!