Experience breakfast bliss with our Pecan Whipped Cream Cheese. Creamy and packed with nutty goodness. Your taste buds will thank you!
"Are You Ready To Make Pecan Whipped Cream Cheese? Get ready to elevate your culinary skills and taste buds with this heavenly creation that combines the silky richness of cream cheese with the irresistible crunch of pecans. Follow our easy recipe and treat yourself to a symphony of flavors and textures in every bite."
Ingredients You'll Need
Before we dive into the procedure, let's gather our ingredients: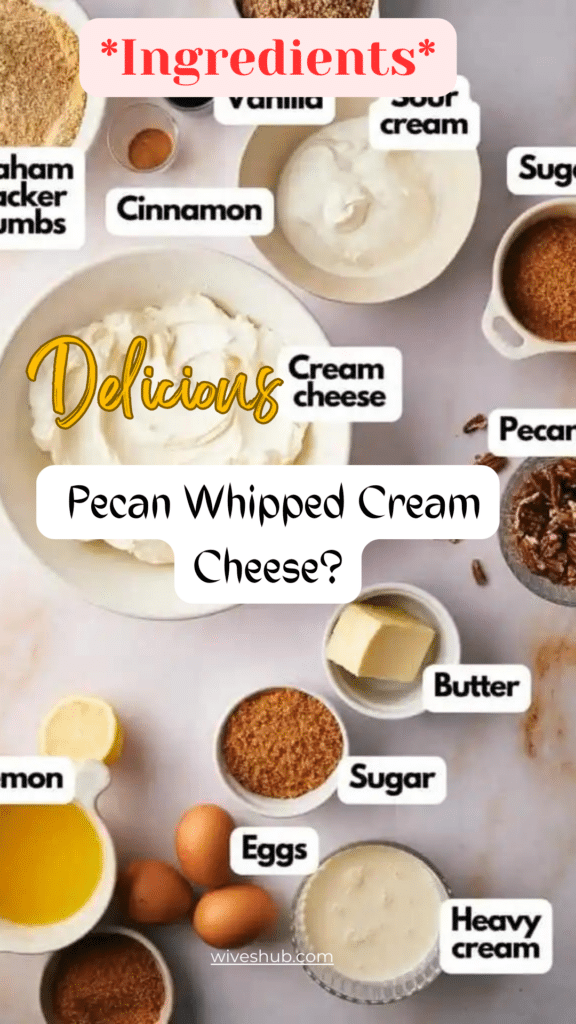 8 ounces (about 1 cup) of cream cheese, softened.
1/4 cup of finely chopped pecans.
2 tablespoons of powdered sugar.
1 teaspoon of vanilla extract.
A pinch of salt.
2 tablespoons of heavy cream.
Step 1: Prepare Your Ingredients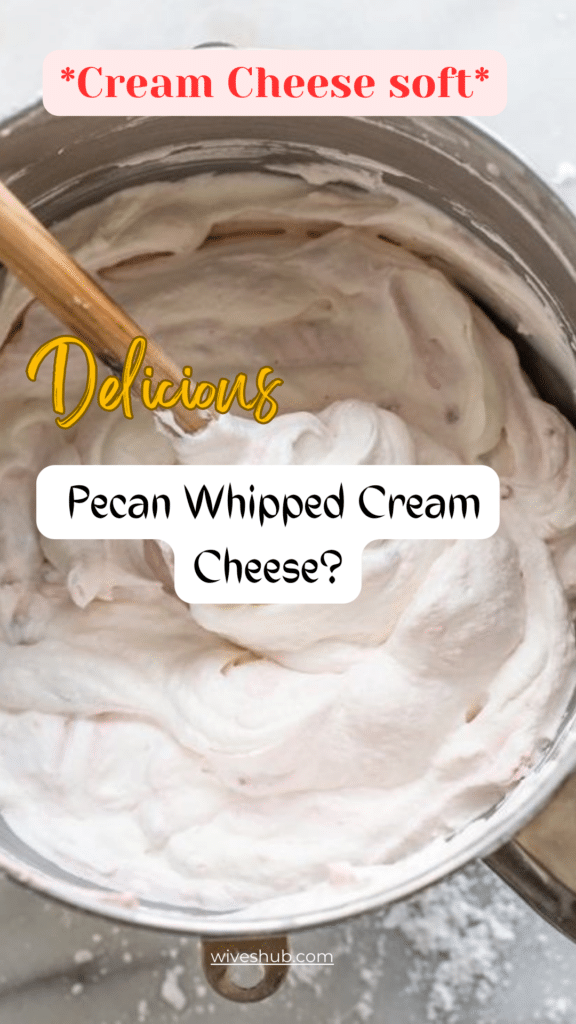 Start by ensuring your cream cheese is softened. Leave it out at room temperature for about 30 minutes to an hour, or you can soften it in the microwave at a low setting for short intervals, making sure not to melt it completely.
Chop the pecans finely to ensure they blend well into the cream cheese mixture.
Step 2: Combine Cream Cheese and Pecans
In a mixing bowl, add the softened cream cheese and finely chopped pecans. This is where the magic begins.
Step 3: Sweeten the Deal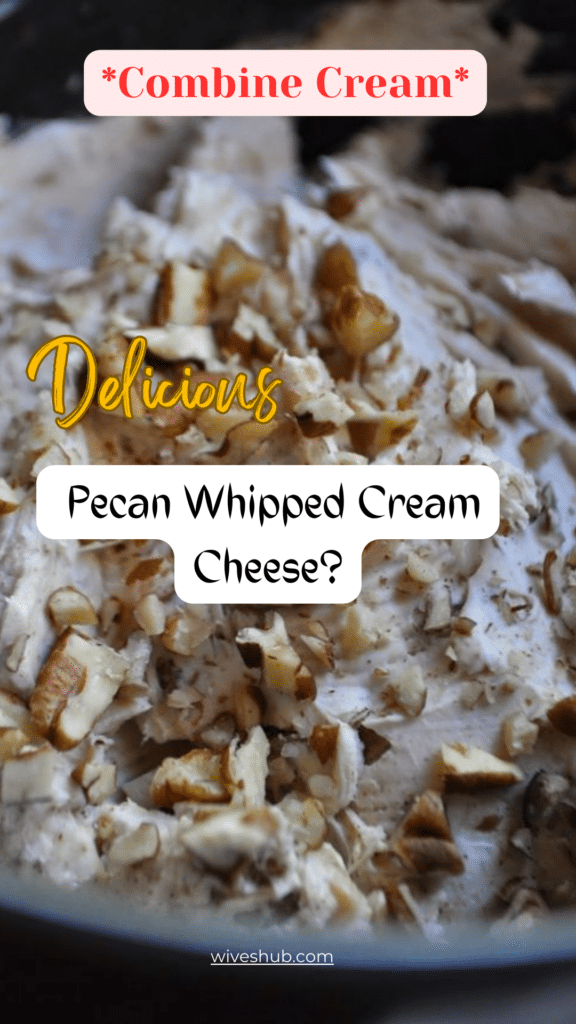 Add the powdered sugar and a pinch of salt to the bowl.The sugar adds a delightful sweetness that balances the savory cream cheese, meanwhile, the pinch of salt enhances the overall flavor profile..
Step 4: Flavorful Touch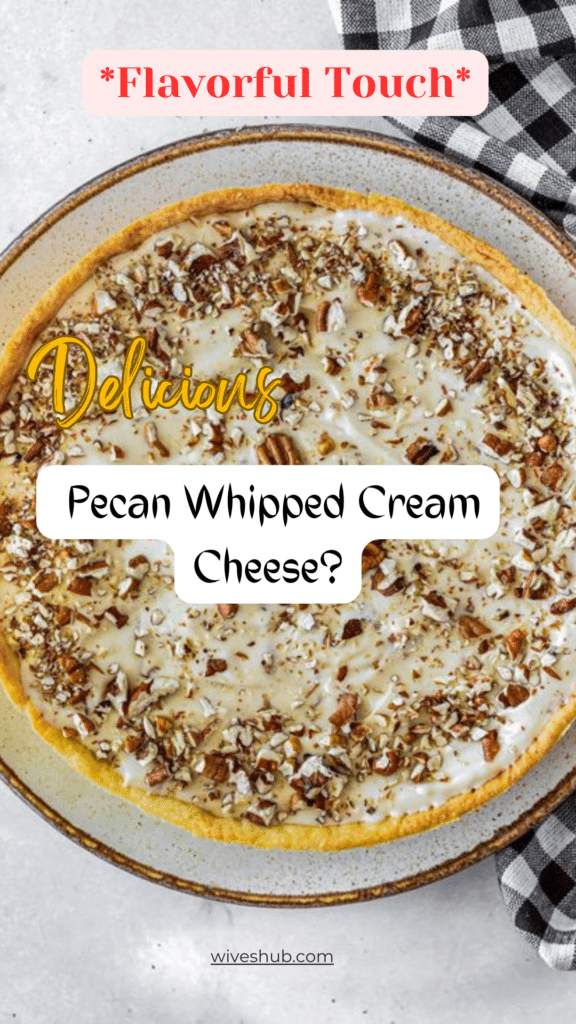 Pour in the teaspoon of vanilla extract. This aromatic ingredient will infuse the mixture with a heavenly vanilla essence that complements the nutty pecans perfectly.
Step 5: The Whipping Begins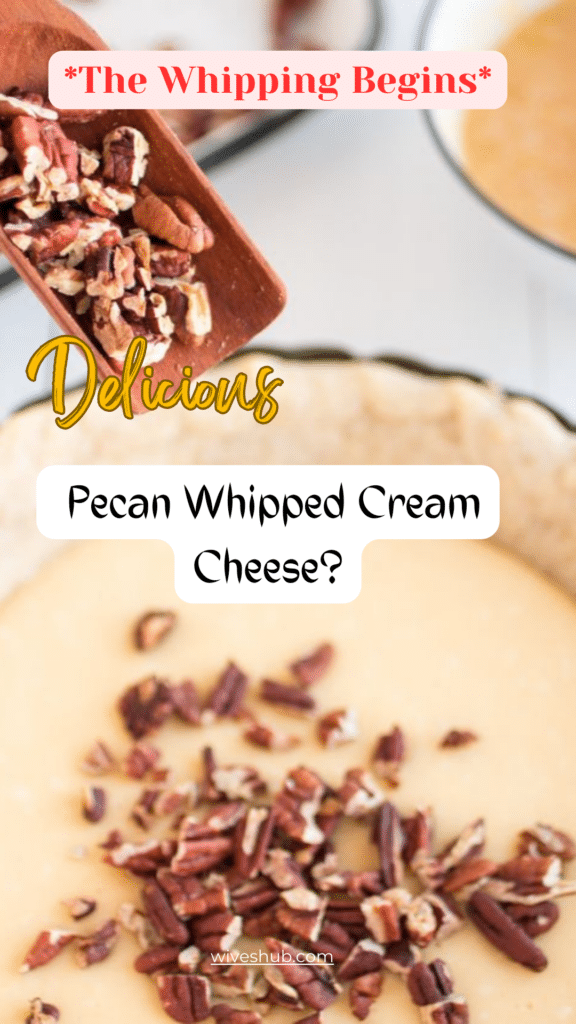 Now, it's time to bring everything together. Using a hand mixer or a stand mixer, beat the mixture on medium-high speed until it becomes light and fluffy. This should take about 2-3 minutes. The cream cheese will transform into a velvety, airy consistency.
Step 6: Creamy Luxuriousness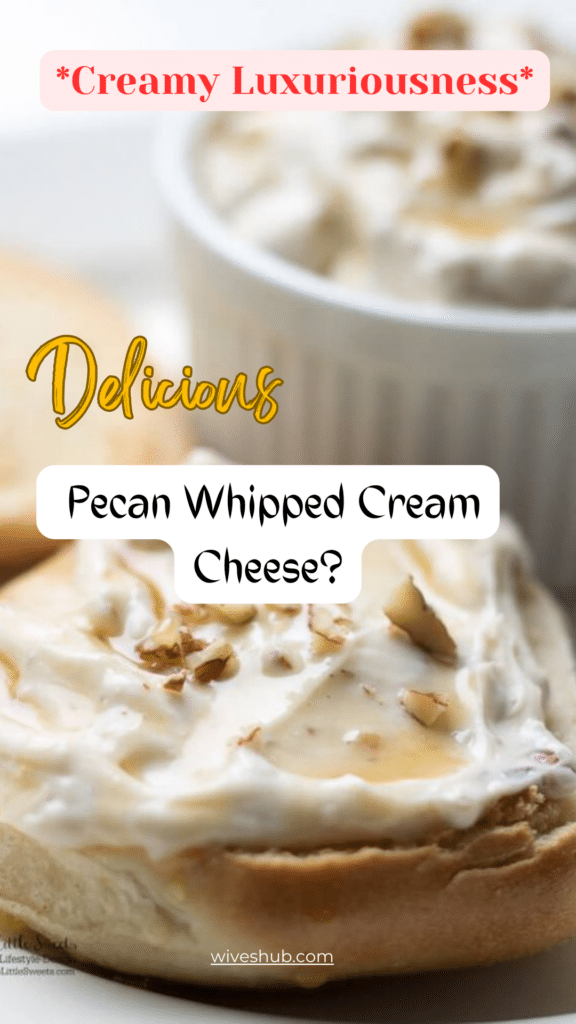 As the cream cheese and pecans become a harmonious blend, drizzle in the heavy cream. Continue to beat for another minute or so until the mixture reaches the desired whipped texture. The heavy cream adds an extra layer of richness.
Step 7: Taste and Adjust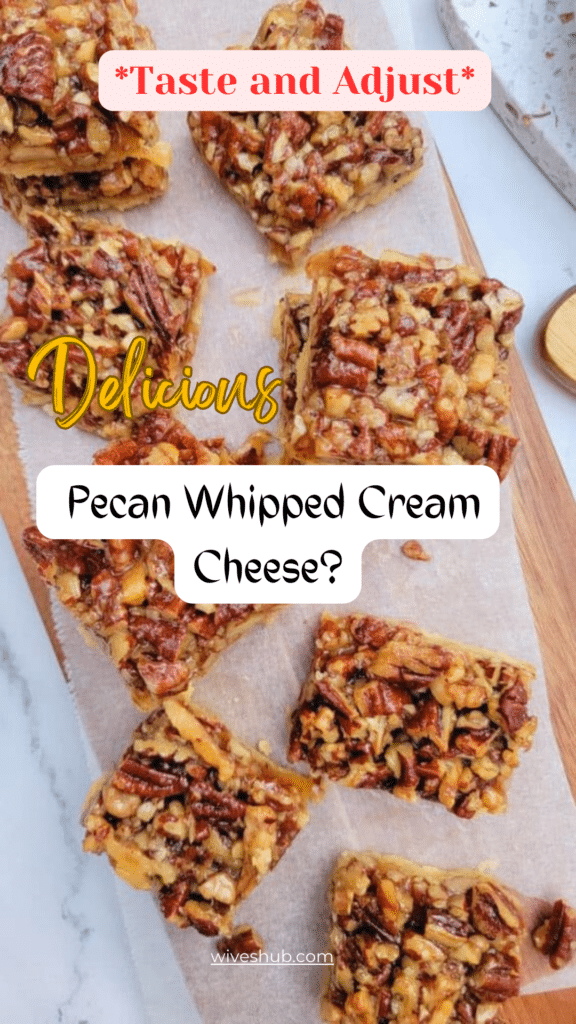 Before you finalize your creation, give it a taste. Depending on your preference, you can adjust the sweetness or saltiness by adding more powdered sugar or a pinch of salt if needed.
Step 8: Presentation is Key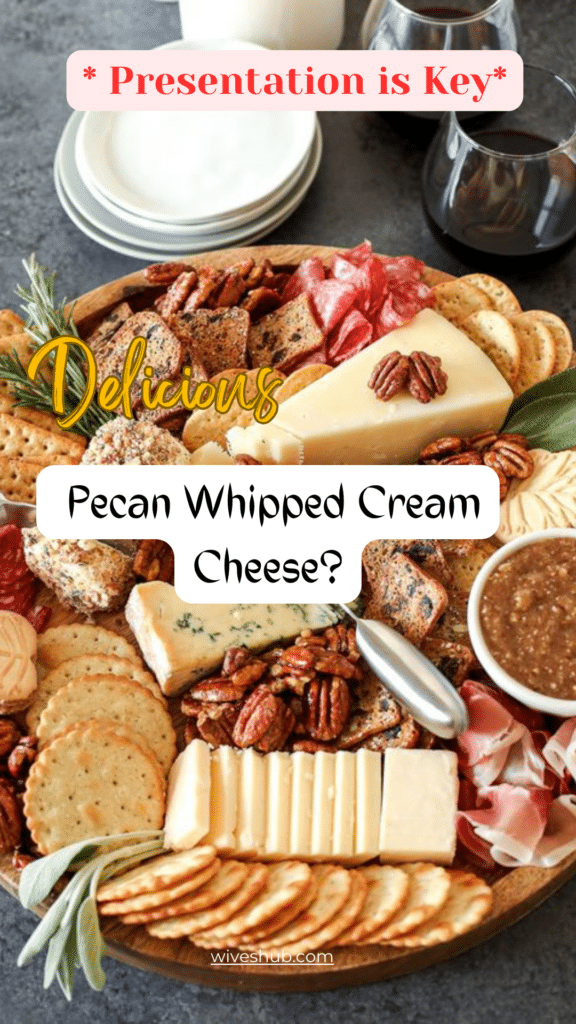 Transfer your Pecan Whipped Cream Cheese into an airtight container or a serving bowl. For an extra touch of elegance, garnish the top with a few chopped pecans. This not only adds a visual element but also hints at the delightful crunch within.
Step 9: Refrigerate and Serve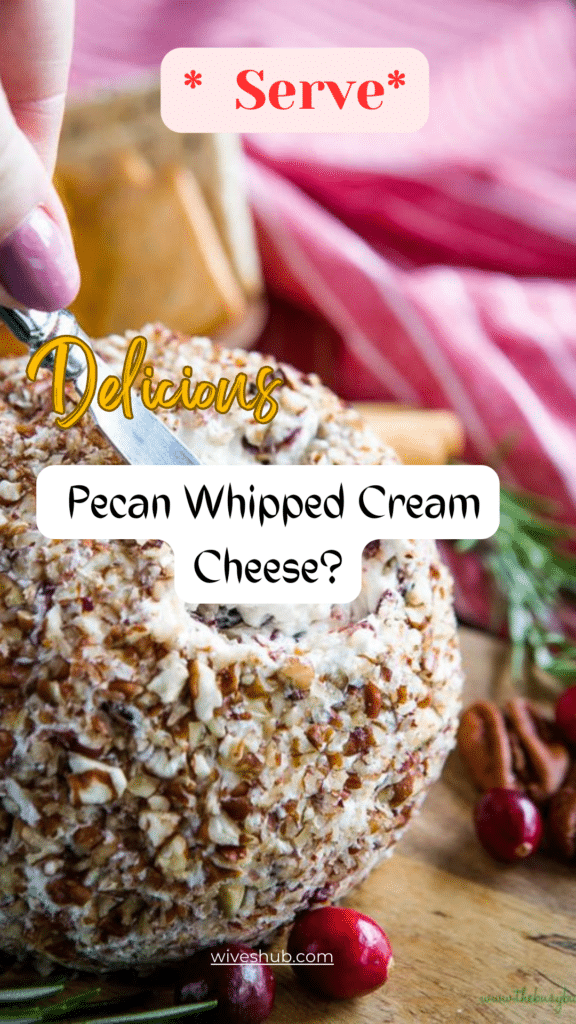 To let the flavors meld together and the mixture firm up slightly, furthermore, refrigerate your Pecan Whipped Cream Cheese for at least an hour before serving.
Enjoying Your Pecan Whipped Cream Cheese
Now that you've mastered the art of making Pecan Whipped Cream Cheese, it's time to savor it. Here are some delectable ways to enjoy this creamy creation:
1. Breakfast Bliss
Spread a generous dollop of your Pecan Whipped Cream Cheese on your morning bagel or toast. The combination of the creamy cheese and the nutty crunch will make your breakfast a heavenly affair.
2. Snack Sensation
Use it as a dip for apple slices or graham crackers. The contrast between the crisp, fresh apple and the creamy, nutty spread is a snack sensation you won't be able to resist.
3. Dessert Delight
As a dessert component, pair it with a slice of carrot cake or a warm slice of banana bread. The sweet and savory notes of the cream cheese will enhance the flavors of your dessert.
4. Gourmet Garnish
Add a spoonful to your next salad for a gourmet touch. The creamy texture and nutty flavor will take your salad to a whole new level.
conclusion
In conclusion, making Pecan Whipped Cream Cheese is a delightful journey of flavors and textures that will not only elevate your culinary skills but also impress your taste buds.With a few simple steps and quality ingredients, you can create a versatile spread that enhances a variety of dishes. So, are you ready to indulge in the creamy, nutty goodness of Pecan Whipped Cream Cheese? Go ahead, give it a try, and let your taste buds revel in the magic of this culinary masterpiece. Enjoy!