The Best Ever Garlic and Herb Whipped Cream Cheese is a savory and creamy spread, boasting rich garlic flavor and aromatic herbs. Dive into the delectable realm of Garlic and Herb Cheese, a mouthwatering masterpiece that's an absolute cinch to prepare. Whether you're a novice or a culinary virtuoso, this recipe is an ideal choice. So, let's get ready to immerse ourselves in a delightful adventure as we explore how to whip up this creamy work of art.
Certainly! Here's a step-by-step guide on how to make Garlic and Herb Whipped Cream Cheese
Gather Your Ingredients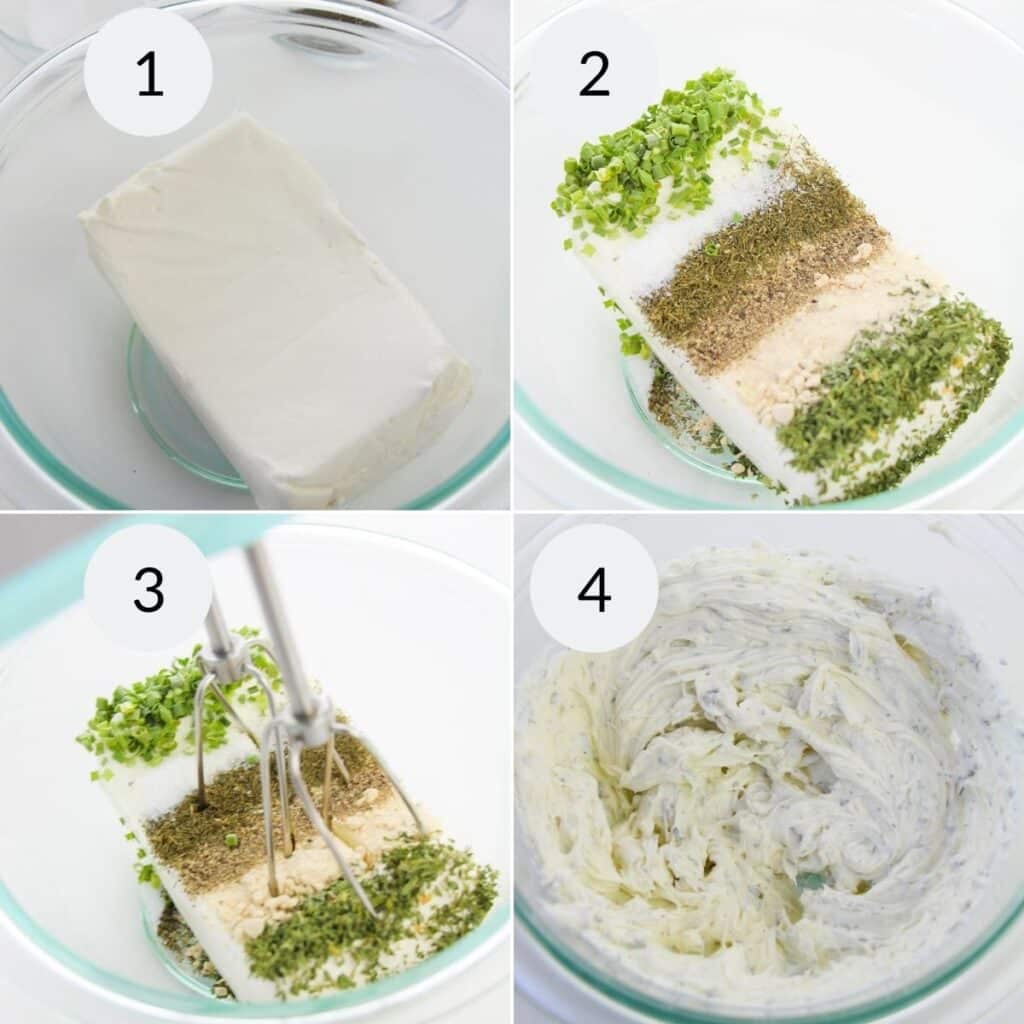 First, ensure you have all the necessary ingredients. You'll need:
8 ounces (1 cup) of cream cheese, softened to room temperature.
2 cloves of garlic, minced finely.
2 tablespoons of fresh herbs (such as parsley, chives, or dill), chopped.
1/4 teaspoon of salt.
1/4 teaspoon of black pepper.
1/4 cup of heavy cream.
1 tablespoon of olive oil
Prepare Your Equipment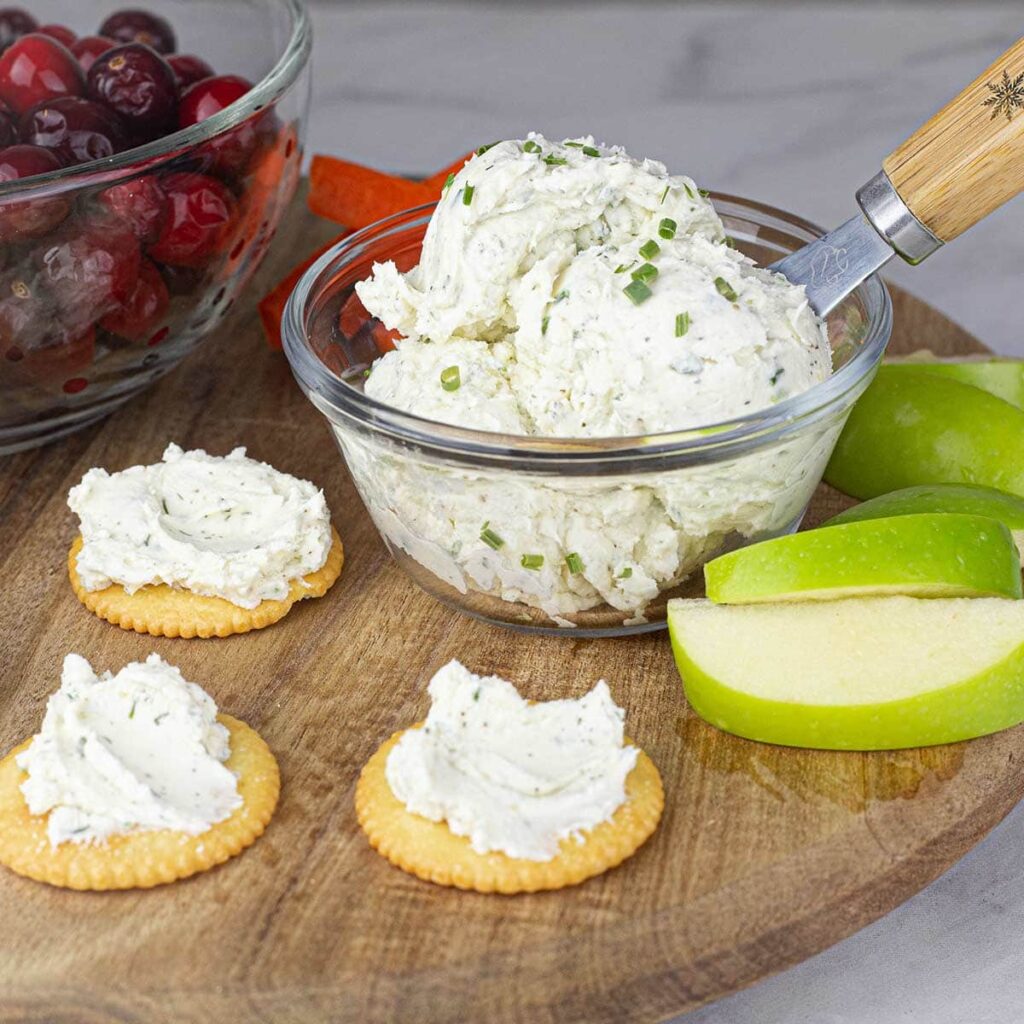 Get a medium-sized mixing bowl, a hand mixer or stand mixer, a spatula, a cutting board, and a sharp knife. These tools will help streamline the process and ensure a smooth cooking experience.
Soften the Cream Cheese
Leave the cream cheese at room temperature for about 30 minutes to soften it. This makes it easier to whip.
Mince the Garlic and Chop the Herbs
Take your two cloves of garlic and mince them finely. Then, chop your fresh herbs finely as well.
Combine the Ingredients
Place the softened cream cheese in the mixing bowl.
Add the minced garlic, chopped herbs, salt, and black pepper
Whip the Mixture
Using a hand mixer or stand mixer on low speed, start whipping the cream cheese mixture. Gradually increase the speed as it begins to combine.
Add Heavy Cream
While continuing to whip, slowly pour in the heavy cream. This will make the cream cheese light and fluffy. Continue mixing until the mixture is smooth and creamy.
Taste and Adjust
Taste the whipped cream cheese and adjust the seasoning if needed. You can add more salt or herbs to suit your taste.
Optional: Drizzle with Olive Oil
For an extra layer of flavor and a silky finish, drizzle a tablespoon of olive oil over the whipped cream cheese. Gently fold it in with a spatula.
Serve or Store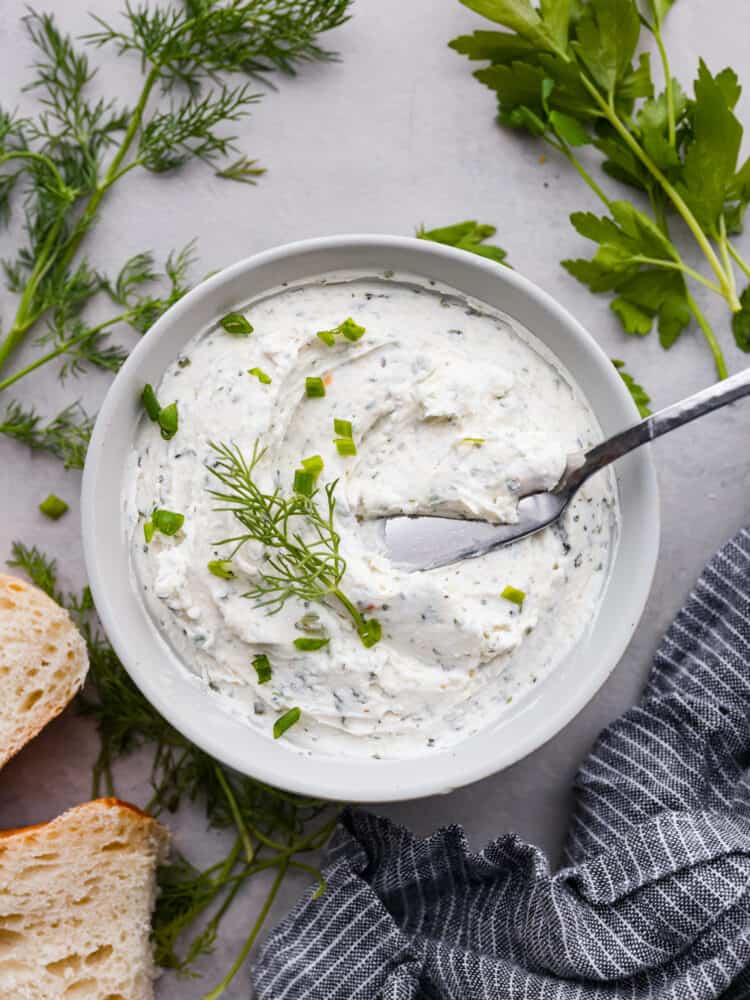 Your Garlic and Herb Whipped Cream Cheese is ready to enjoy! Serve it as a spread on bagels, crackers, or as a dip for fresh vegetables.
To store, transfer the whipped cream cheese to an airtight container and refrigerate. It can be kept in the fridge for up to a week.
Clean Up
Wash your utensils and equipment promptly to make cleanup easier
Enjoy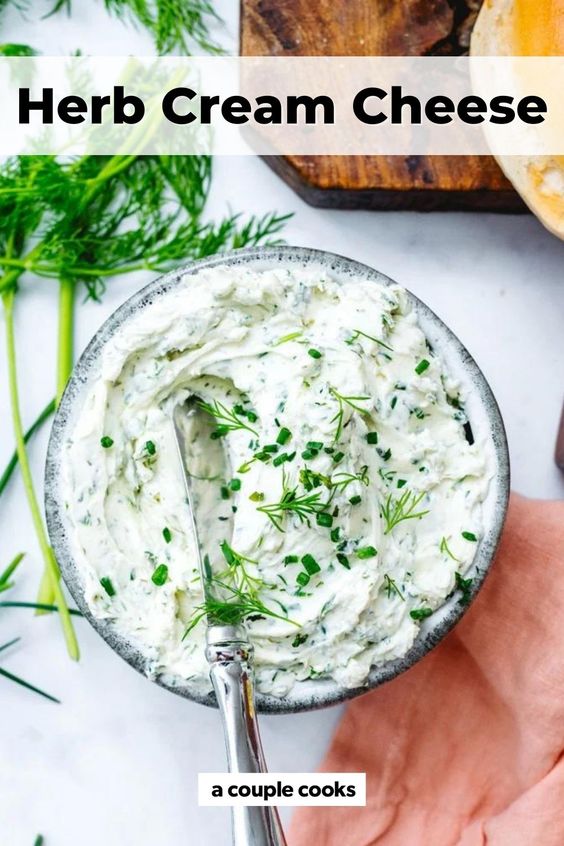 Finally, savor your delicious homemade Garlic and Herb Whipped Cream Cheese as a delightful addition to your meals or snacks.
Additional Tips
Certainly! Here are some additional tips and variations to enhance your Garlic and Herb Whipped Cream Cheese:
Variations of Herbs
Experiment with different herbs to create unique flavors. Try basil, thyme, rosemary, or cilantro for a twist on the classic recipe.
Zest it Up
Consider adding a teaspoon of lemon zest for a hint of citrusy brightness. It pairs wonderfully with the garlic and herbs.
Spice It Up
If you like a bit of heat, add a pinch of red pepper flakes or a dash of hot sauce to give your whipped cream cheese a spicy kick.
Customize Texture
Adjust the amount of heavy cream to achieve your preferred consistency. Less cream will result in a thicker spread, while more cream will make it lighter and fluffier.
Make it Vegan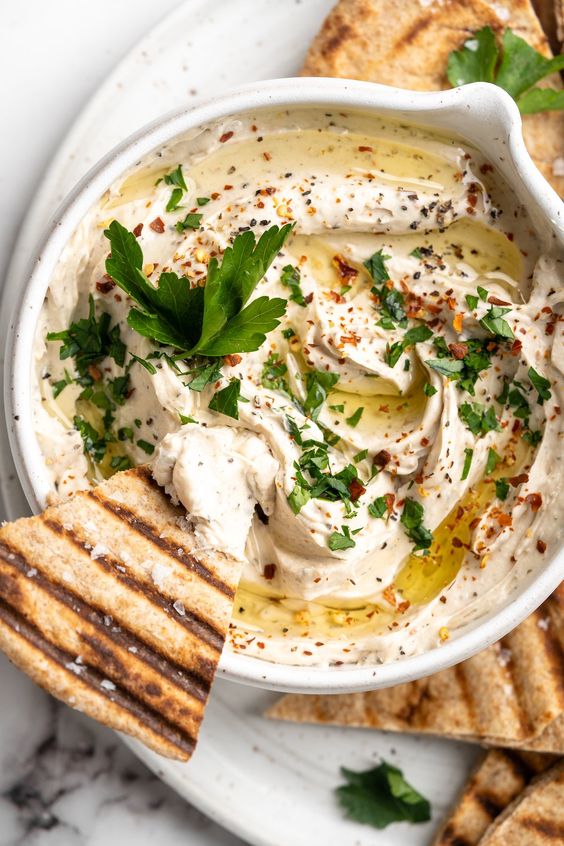 Use a vegan cream cheese alternative and substitute the heavy cream with a non-dairy milk (like almond or soy) to create a vegan-friendly version.
Sweet and Savory
Add a touch of honey or maple syrup for a slightly sweet and savory fusion, perfect for pairing with fruits and crackers.
Roasted Garlic
Instead of raw garlic, roast a head of garlic in the oven until soft and caramelized. Squeeze the roasted garlic cloves into the cream cheese for a milder, sweeter garlic flavor.
Nutty Twist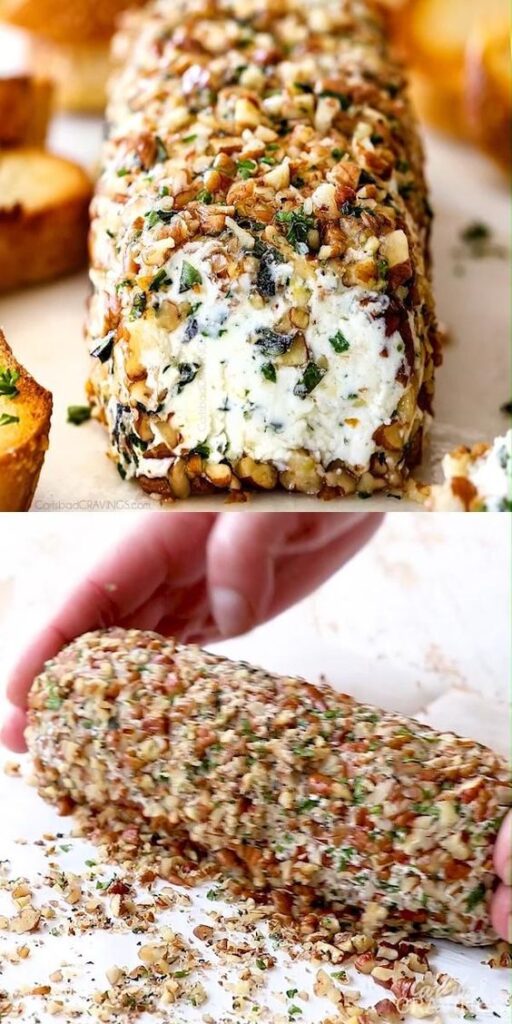 Incorporate finely chopped nuts, such as almonds or pecans, for added texture and flavor.
Storage Wisdom
To maintain freshness, press plastic wrap directly against the surface of the whipped cream cheese in the container before sealing it with a lid. This helps prevent air exposure and preserves its creamy texture.
Party Platter
Create an attractive herb and spice garnish by mixing additional herbs, a pinch of salt, and a dash of paprika. Sprinkle it on top of the whipped cream cheese for a colorful presentation.
Pairing Suggestions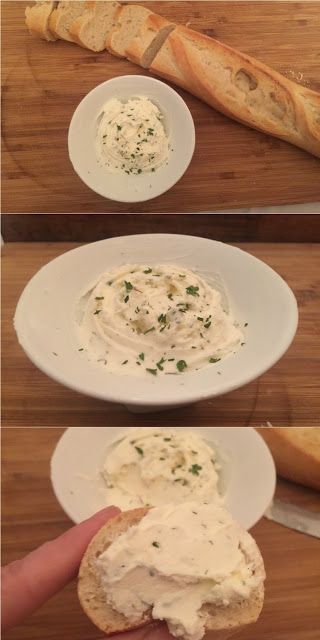 Serve your Garlic and Herb Whipped Cream Cheese with an assortment of accompaniments like bagels, pita bread, cucumber slices, or cherry tomatoes for a versatile snack or appetizer spread.
Planning Ahead
Whip up a double batch and freeze portions in an airtight container for longer storage. Thaw in the refrigerator before use.
Homemade Bagels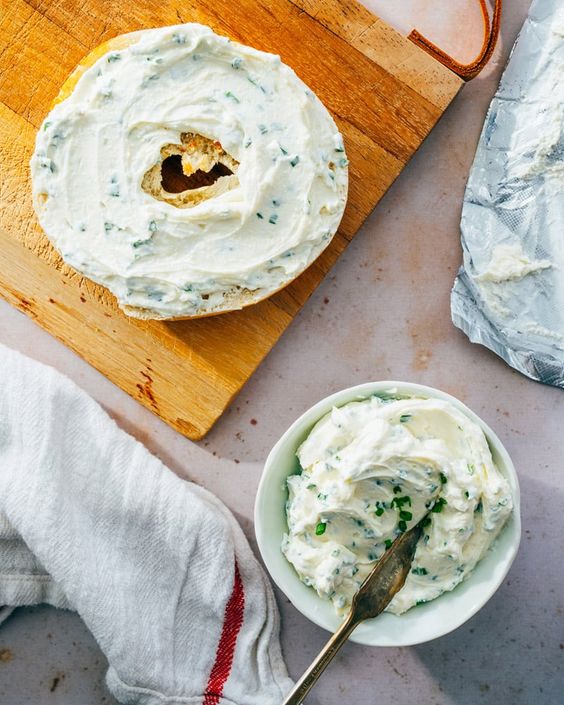 For the ultimate homemade experience, consider baking your own bagels to complement your Garlic and Herb Whipped Cream Cheese.
These additional tips and variations allow you to tailor your whipped cream cheese to your taste preferences and use it in various culinary ways. Enjoy your culinary adventures!