One-pot dinners truly combine the best of both worlds! Consider this: you receive a great completely prepared home supper with (the best part!) little dirty dishes! And if done correctly, you'll only have one filthy pot to clean! What a fantastic lazy chick hack (ha ha)!
With this One-Pot Rigatoni Bolognese, supper preparation is quick and simple. Everything cooks in one pot, including the pasta, which is cooked directly in the sauce!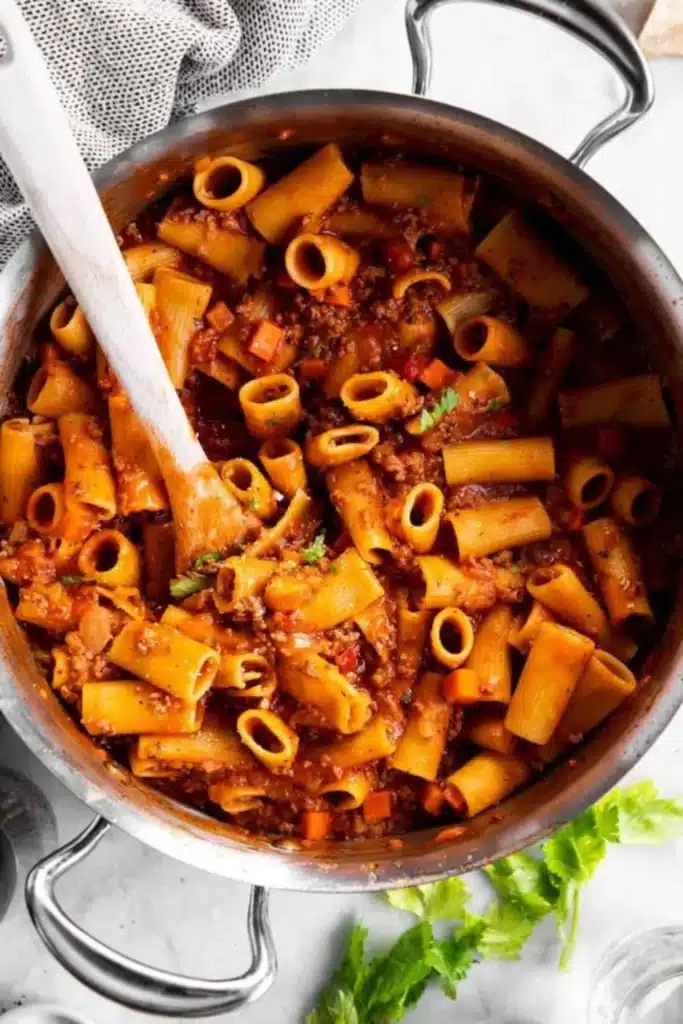 On those busy days, one-pot pasta dishes are always my go-to. This One-Pot Rigatoni Bolognese is what I usually want when I don't feel like pulling out the Instant Pot because supper preparation is so quick and simple.
Ingredients you need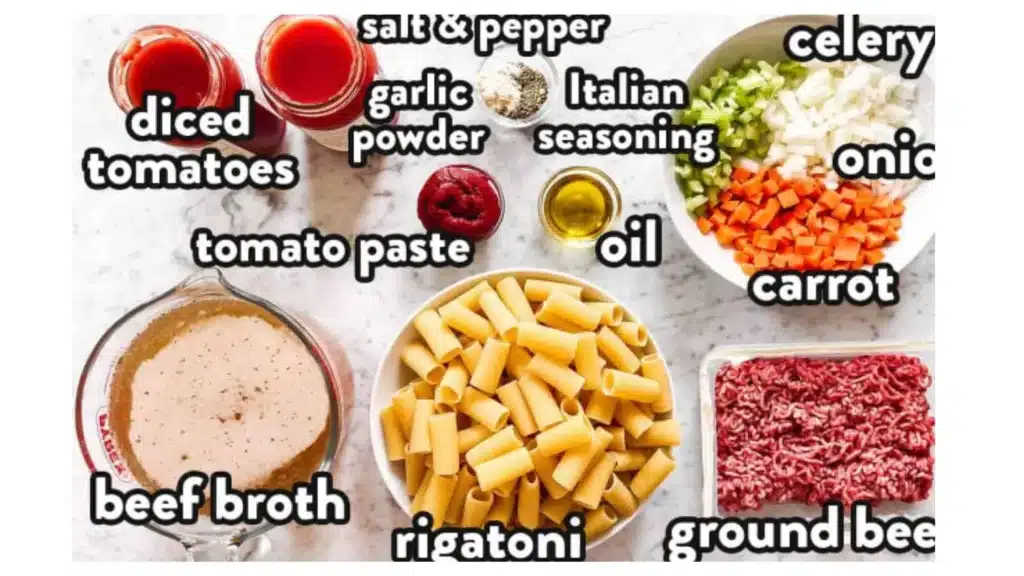 Ingredient notes
Ground beef: Always use lean ground beef for this, but you can use ground Italian sausage in place of the beef as well. If you want to make a lighter meal, then ground turkey is also an option.
Pasta: This recipe works with most pasta shapes that cook in around 10 minutes (Very small or thin shaped pastas are not recommended; they usually need less liquid to cook and the pasta will stay soupy), though I do love rigatoni a lot with bolognese sauce.
Broth: Feel free to use chicken broth if you don't have beef on hand. The flavour will be a little different, but still delicious. But beef broth is recommended.
How to make One-Pot Rigatoni Bolognese
Start by cooking the beef in a little olive oil with salt and pepper until it's browned and crumbled. If you have a lot of grease emerging from the meat, feel free to drain it at this point .
Next, stir in the vegetables and sauté for a few minutes, until the onions have softened .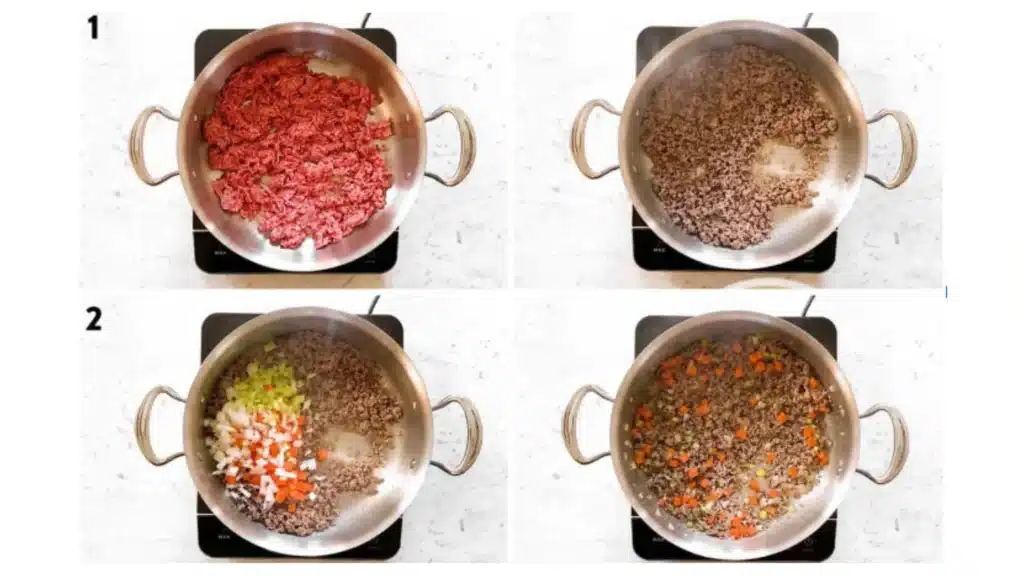 3. Now add the herbs, seasoning and tomato paste. Stir them well until the tomato paste is fragrant.
4. Add the beef broth, scraping any browned bits off the bottom of the pot.
5. Finally, stir in the diced tomatoes and uncooked rigatoni.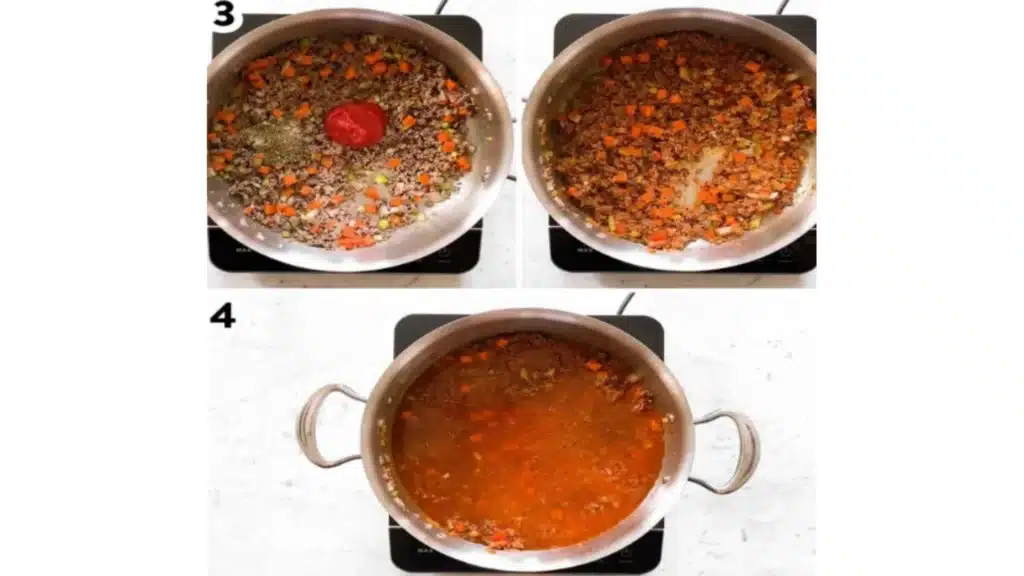 Now, you'll want to bring the liquids to a boil, then reduce the heat to a simmer and cook the pasta until the rigatoni are done to your liking. Stir from time to time to make sure the pasta doesn't stick and burn on the bottom of the pan.
Once the rigatoni are cooked, the liquids should have reduced to a saucy consistency. If you feel like it needs more broth, add more during the cooking – but don't overdo it or you'll end up with bolognese soup.
I recommend serving the pasta right away – the sauce thickens as it sits, and it's really best eaten straight away.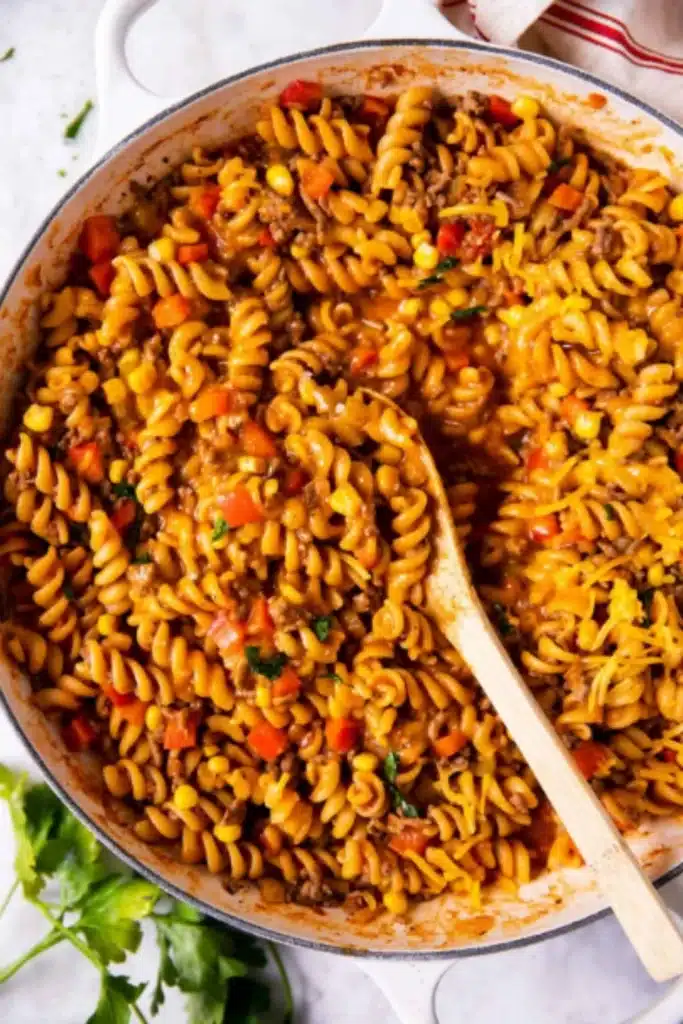 Make dinner easy tonight with this One-Pot Cheesy Taco Pasta! It comes together in a single pot (even the pasta cooks right in the sauce!) for super speedy cleanup. This one-pot meal like others is also quite fun to make and to eat.
Ingredients you'll need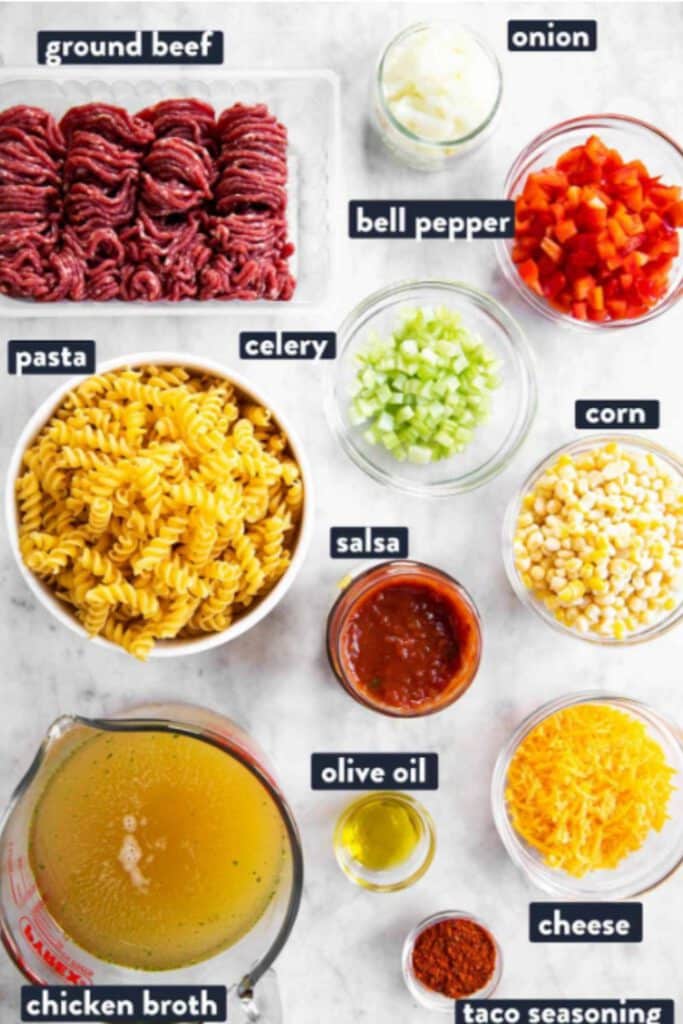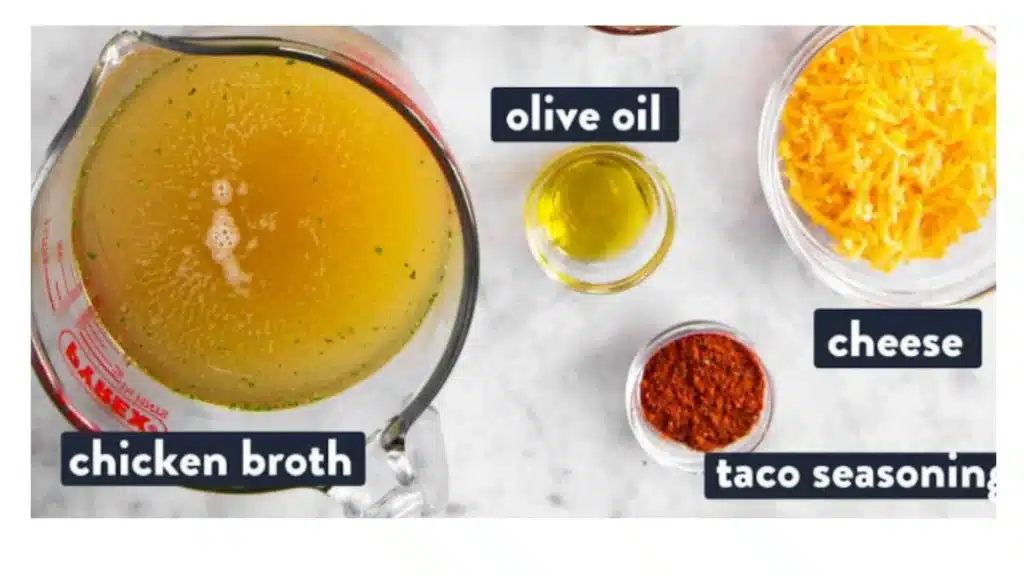 Ingredient notes
Beef: Use extra-lean ground beef, because it doesn't seem good when it is overly greasy and if it is extra-lean there is no need to drain it (which is great on a busy night!). Feel free to use a higher fat ground beef, but draining off the extra fat after browning it is highly recommended. You can also use ground turkey in place of the ground beef, if you prefer.
Taco seasoning: Any taco seasoning you like is fine here; otherwise make homemade Taco Seasoning to make it extra mild for my children.
Pasta: Make this with spirals because they're easy for the kids to eat and go well with the other ingredients in this recipe. Elbow macaroni or shells are other shapes that work really well. If you use any other kind of pasta, keep in mind that they can have different cooking types and some types need more broth to cook than others. If you make it with spaghetti, you'll have Mexican spaghetti and meat sauce 😉.
Chicken broth: This is the favourite liquid for maximum flavour. You can also use beef broth, which will make the sauce a little darker. If you don't have any broth on hand, the recipe also works with water. You may need to add a little extra taco seasoning and salt.
Salsa: Use a plain, mild, chunky salsa from Old El Paso (not sponsored). Feel free to use a hot salsa if you prefer more spiciness. I do not recommend using a salsa with fruit added for this recipe.
Corn: Both frozen or canned corn works. No need to defrost frozen corn, please drain canned corn well.
Bell pepper/celery/onion: Feel free to leave either of these out if you don't have them/don't like them. They all add flavour and bulk up the dish with vegetables, so be mindful of that if you make any alterations.
Ingredients for tacos seasoning: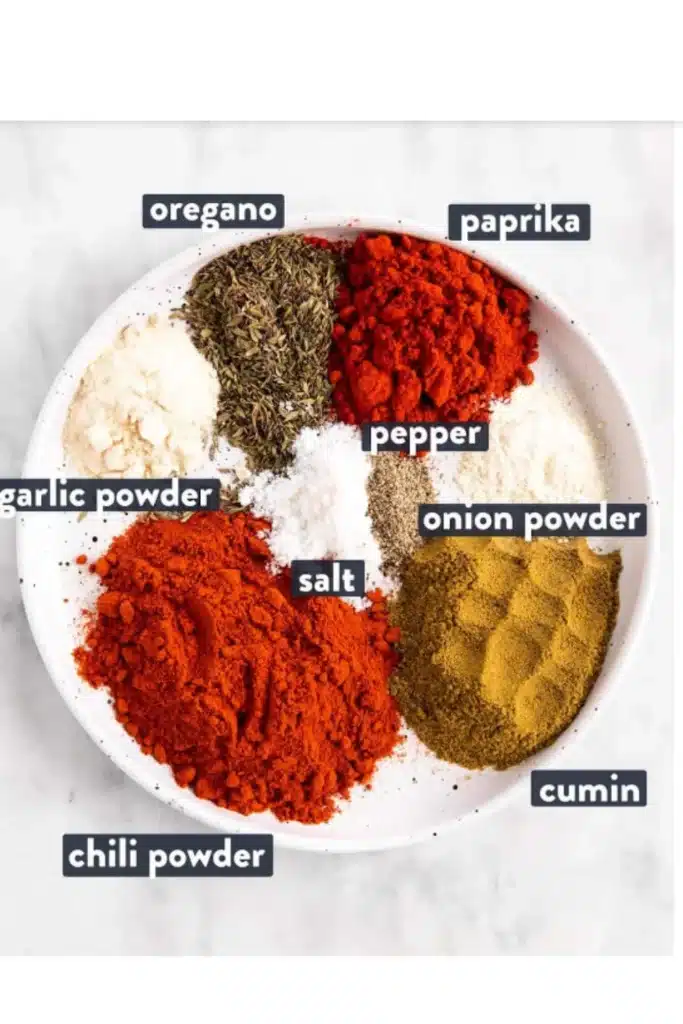 How to make Taco Pasta
1.Start by sautéing the celery and onion in olive oil until fully softened, but not browned.
2.Ad the ground beef and cook until browned, breaking it up as it cooks to crumble.
3.Stir in the taco seasoning until it is fully coating the beef and vegetables, then stir in the chicken broth, scraping any browned bits off the bottom of the pan.
4.Add the remaining ingredients (except for the cheese).
5.Stir well, then bring to a boil once. Stir again, reduce the heat to a simmer and cover with a lid. Cook for 10-15 minutes, until the pasta has cooked and the sauce has thickened. Open the lid every 2-3 minutes to stir – check on the pasta doneness and make sure it's not sticking to the bottom.
6.Finish simmering without the lid for 1-2 minutes right at the end, then stir in the cheese and serve.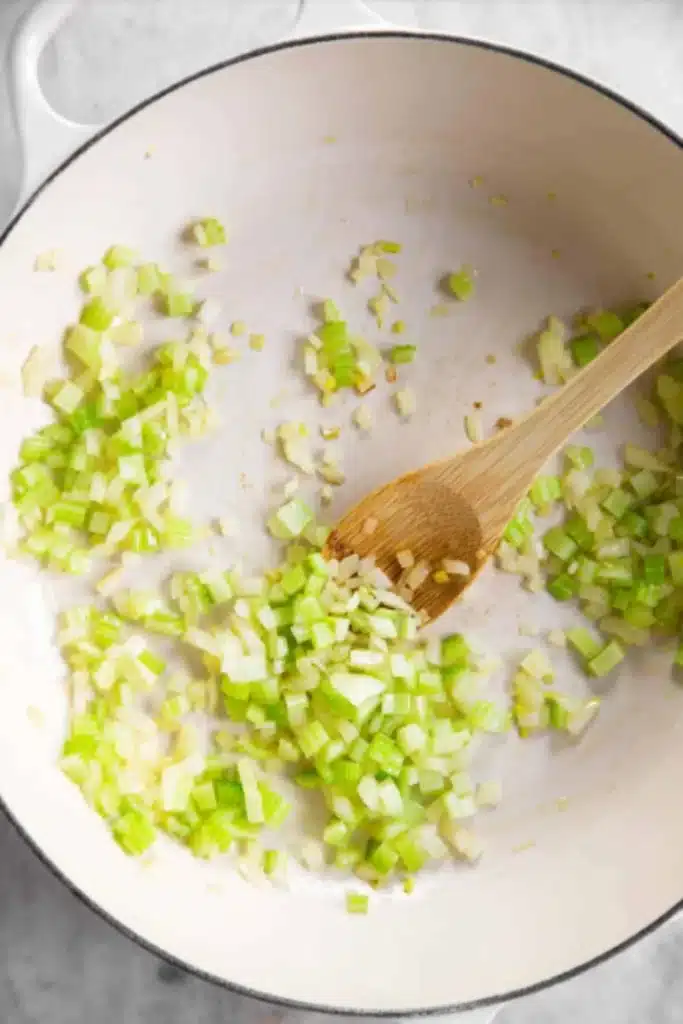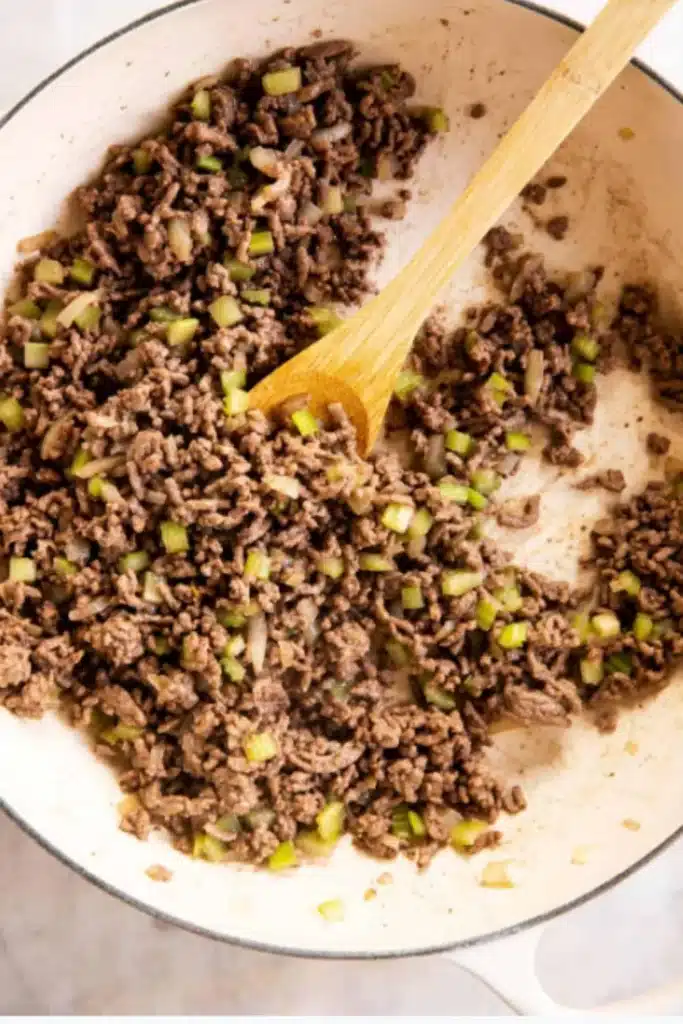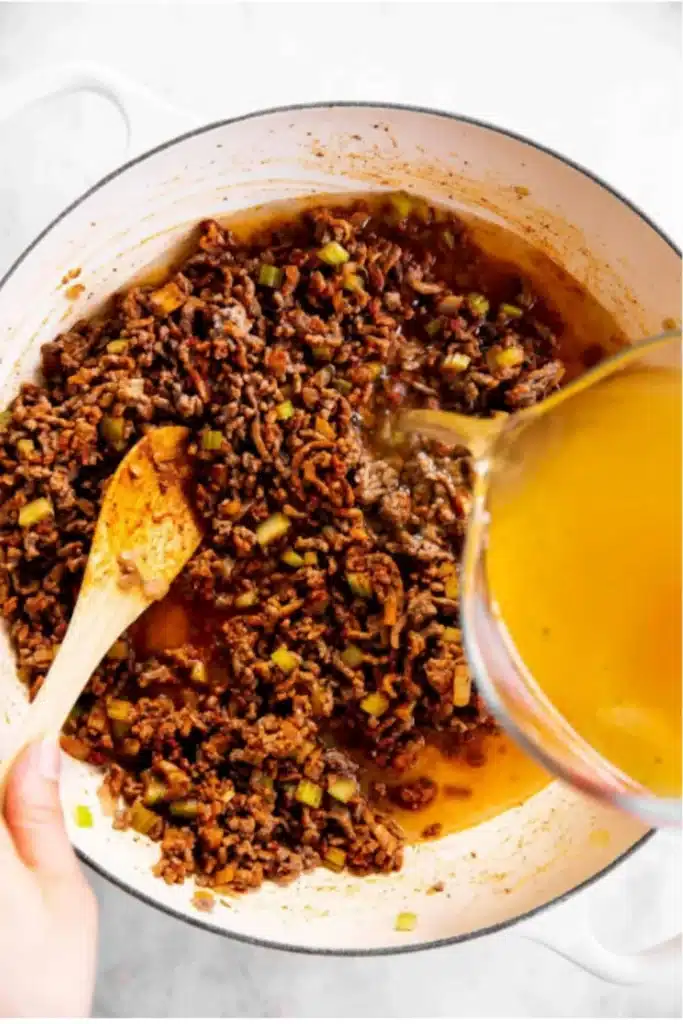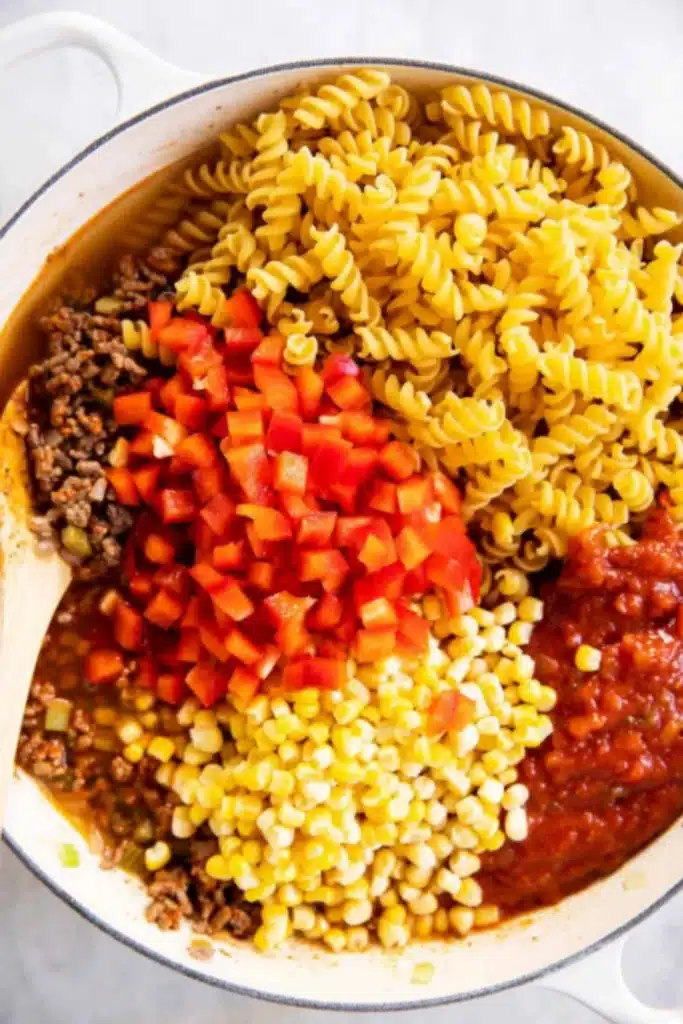 For best results, try to dice the vegetables equally; I like to dice mine so that each piece is approximately the size of a kernel of corn or slightly larger. This produces the nicest texture for the spaghetti dish. If you're unsure of how to finely dice a pepper, go to my article on how to cut a bell pepper.
To prevent the spaghetti from burning on the bottom, toss it frequently.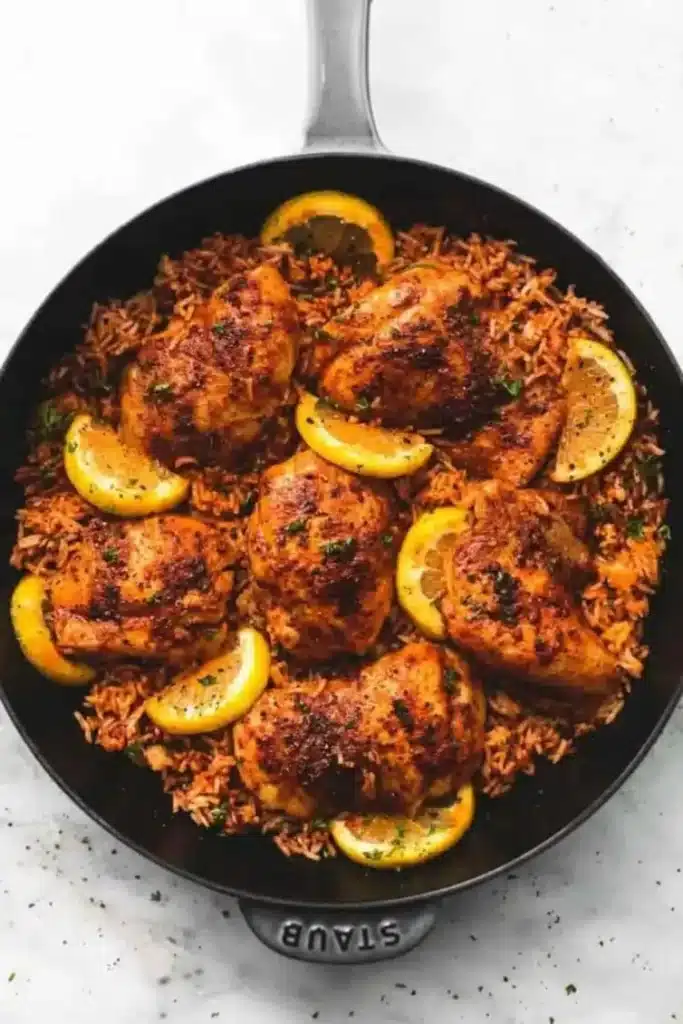 Easy one pan Spanish chicken and rice is made with simple seasoning that comes together with zesty, bold flavours in this one pot, 30 minute meal.
There is one component that you might not be familiar with, and that is coriander. If you've never used coriander in cooking, it's somewhat identical to cumin. If you don't have any coriander and don't want to make a special trip to the shop just for that one item, you can actually use an equal quantity of cumin as a really good substitute. It's simple to find in the spice area of any grocery store. If you attempt this recipe.
Ingredients
4 boneless skinless chicken breasts – OR 6 chicken thighs
3 tablespoons vegetable or canola oil
1 cup uncooked white rice
2 ¼ cups low sodium chicken broth
1 lemon
chopped cilantro or parsley – for garnish
Spanish seasoning mix
2 teaspoons smoked paprika
1 teaspoon garlic powder
1 teaspoon salt
1 teaspoons ground cumin
1 teaspoon chilli powder
1 teaspoon coriander – (see note)
¼ teaspoon Italian seasoning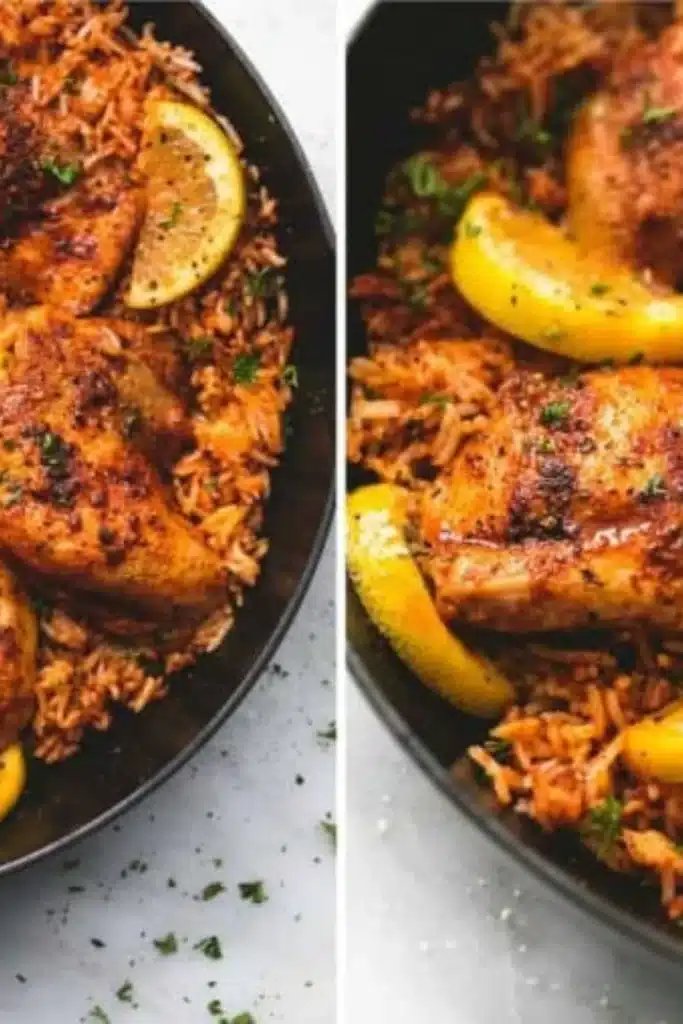 Instructions
In a small bowl whisk together all ingredients for the Spanish seasoning mix. Divide in half and set aside. Cut the lemon in half, then thinly slice one half (for garnish) and reserve the other half for juicing later in the recipe.
Place chicken in a medium bowl. Drizzle with 2 tablespoons of oil, then toss to coat well. Use half of the prepared seasoning mix to rub on both sides of each piece of chicken.
Drizzle a large pan with remaining 1 tablespoon of oil and bring to medium heat. Cook chicken for 2-3 minutes on each side until browned. Transfer to a plate. (It won't be cooked through at this point)
Add rice, chicken broth, juice from 1/2 of the lemon, and remaining seasoning mix and stir to combine. Return chicken to the pan on top of the rice. Cover and cook for 20-25 minutes until liquid is absorbed, rice is tender, and chicken is cooked through.
Garnish with lemon slices and freshly chopped cilantro or parsley.
Serve immediately.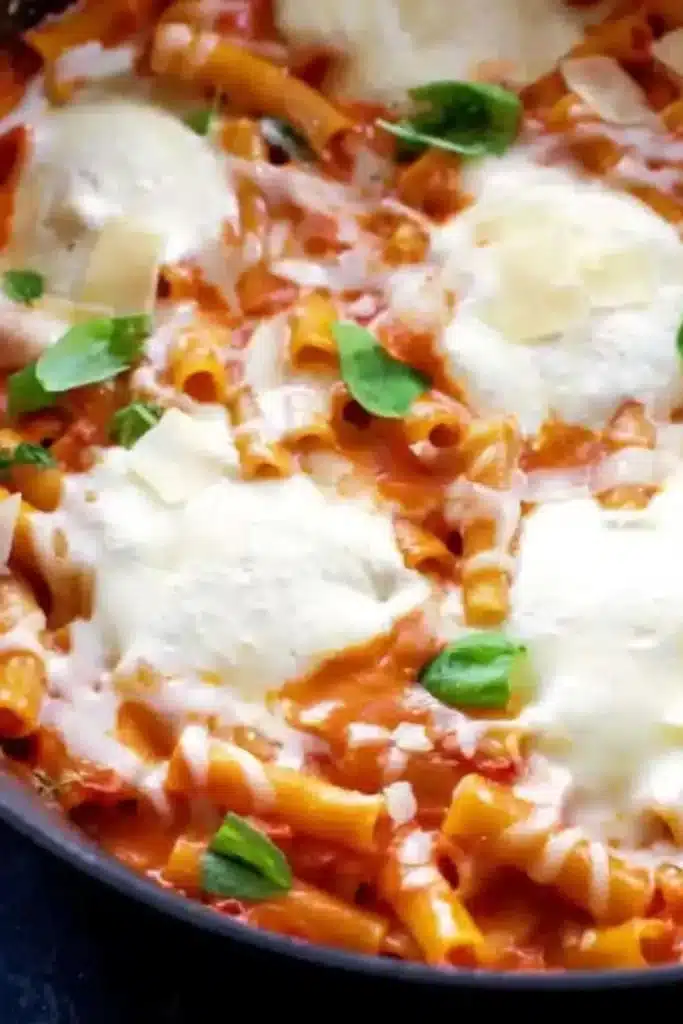 INGREDIENTS
6 garlic cloves minced
4 teaspoons olive oil divided
¼ teaspoon red pepper flakes
salt and pepper
1 (28 ounce) can crushed tomatoes
3 cups water
12 ounces ziti pasta 3 ¾ cups
4 ounces 1/2 cup whole-milk ricotta
3/4 cup grated Parmesan cheese divided
½ cup heavy cream
¼ cup chopped fresh basil
1 cup mozzarella cheese shredded
INSTRUCTIONS
Adjust oven rack to middle position and preheat oven to 475 degrees.
Combine 1 tablespoon oil, garlic, pepper flakes, and 1/2 teaspoon salt in a 12-inch oven safe nonstick skillet and saute over medium-high heat until fragrant, about 1 minute.
Add crushed tomatoes, water, ziti and 1/2 teaspoon salt.
Cover and cook, stirring often and adjusting heat as needed to maintain vigorous simmer, until ziti is almost tender, 12-15 minutes. Make sure you don't cook it too much. It will continue to cook in the oven.
While the pasta is cooking, combine ricotta, remaining 1 teaspoon olive oil, 1/4 cup of grated Parmesan cheese, 1/4 teaspoon salt, and 1/8 teaspoon pepper in a bowl. Set aside.
Stir in cream, 1/2 cup Parmesan, and basil into the pasta and season with salt and pepper to taste.
At this point if your skillet is not ovensafe, transfer the pasta mixture into a shallow 2-quart casserole dish before sprinkling with the ricotta and cheese and baking. If you're really against turning on the oven you could cover the skillet with a lid and melt the cheese that way but it won't get browned and toasty.
Add dollops of the ricotta mixture with a spoon on top of the pasta and sprinkle mozzarella evenly over ziti.
Transfer skillet to oven and bake until cheese has melted and browned, about 5-10 minutes. Let cool slightly and sprinkle with the remaining tablespoon of basil. Serve.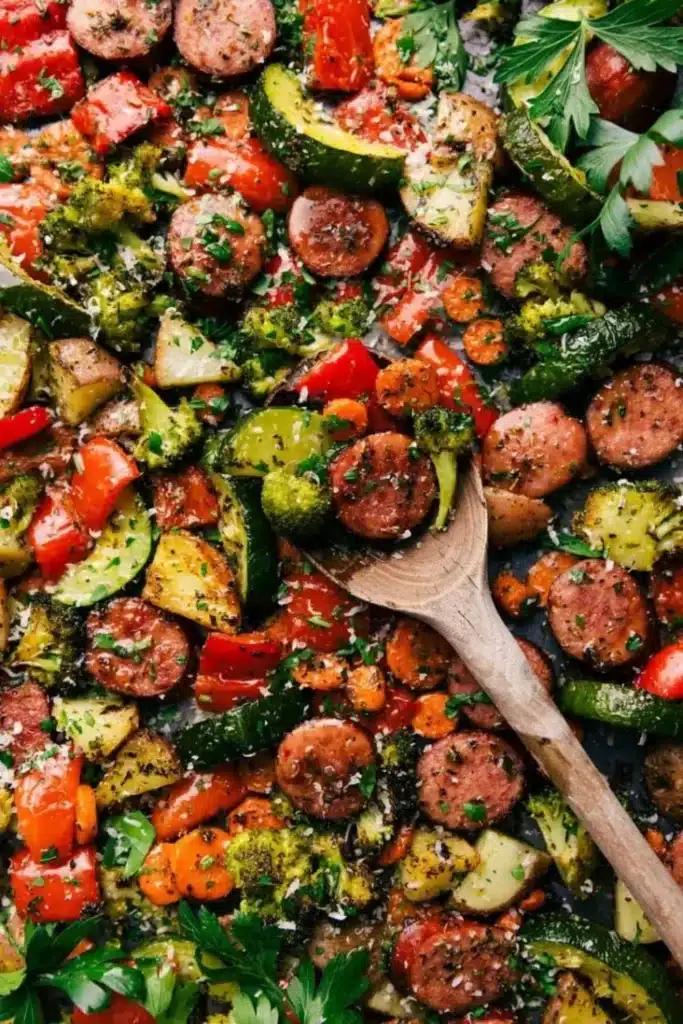 This one-pan Italian sausage and vegetable dish is not only quick and easy to make, but it's also high in nutrients. It's a simple midweek meal recipe that's packed with healthy vegetables like broccoli and zucchini, as well as other common items…
The ingredients in One-Pan Italian Sausage and Veggies are nutritious and beneficial for you. Smoked sausage with zucchini, carrots, red peppers, potatoes, broccoli, and a flavour blend inspired by Italy. For a satisfying, uncomplicated, healthful supper, top with Parmesan cheese and herbs.
INGREDIENTS
2 large carrots (~1 and 1/2 cups; 186g)
2 small red potatoes (~2 cups; 285g)
1 small-medium zucchini (~2 cups; 264g)
2 red peppers (~2 cups; 248g)
1 head broccoli (~1 and 1/2 cups; 80g)
13 ounces (368g) Smoked Italian Turkey or Chicken Sausage
SEASONINGS
1/2 tablespoon EACH: dried basil, dried oregano, dried parsley, garlic powder
1/2 teaspoon EACH: onion powder, dried thyme
1/8 teaspoon red pepper flakes optional
Fine sea salt & freshly cracked pepper
1/3 cup Parmesan cheese freshly grated
4 and 1/2 tablespoons (59g) olive oil
Optional: fresh parsley
Optional: serve over cooked quinoa/rice/cauliflower rice
This dish is very forgiving and can easily be customized to fit your personal preferences or needs.
Below are some variation options:
Sausage: Smoked turkey sausage best in this One-Pan Italian Sausage and Veggies meal. Also use Italian-flavoured chicken sausage and thoroughly enjoy that. Smoked beef sausage also works great in this meal.
Veggies: Use whatever veggies you like best, but keep in mind that root veggies typically take longer to bake. Because of that, you'll want to cut them especially small so they'll cook at the same rate as the other veggies. Some other options that would work great in One-Pan Italian Sausage and Veggies are cauliflower, brussels sprouts, green bell pepper, summer squash and cherry tomatoes.
Swap potatoes: We love baby red potatoes, but baby gold (Yukon) potatoes are another favourite and work well in this meal.
Add some heat: If you like a hit of spice, increase the amount of red pepper flakes or sprinkle red pepper flakes on individual plates.
Add a sauce: While we love this dish as is, if you'd like some sort of sauce, I'd recommend a good basil pesto, creamy cilantro sauce or a homemade chimichurri.
We love smoked turkey sausage best in this One-Pan Italian Sausage and Veggies meal. We've also used Italian-flavored chicken sausage and thoroughly enjoy that. Smoked beef sausage also works great in this meal.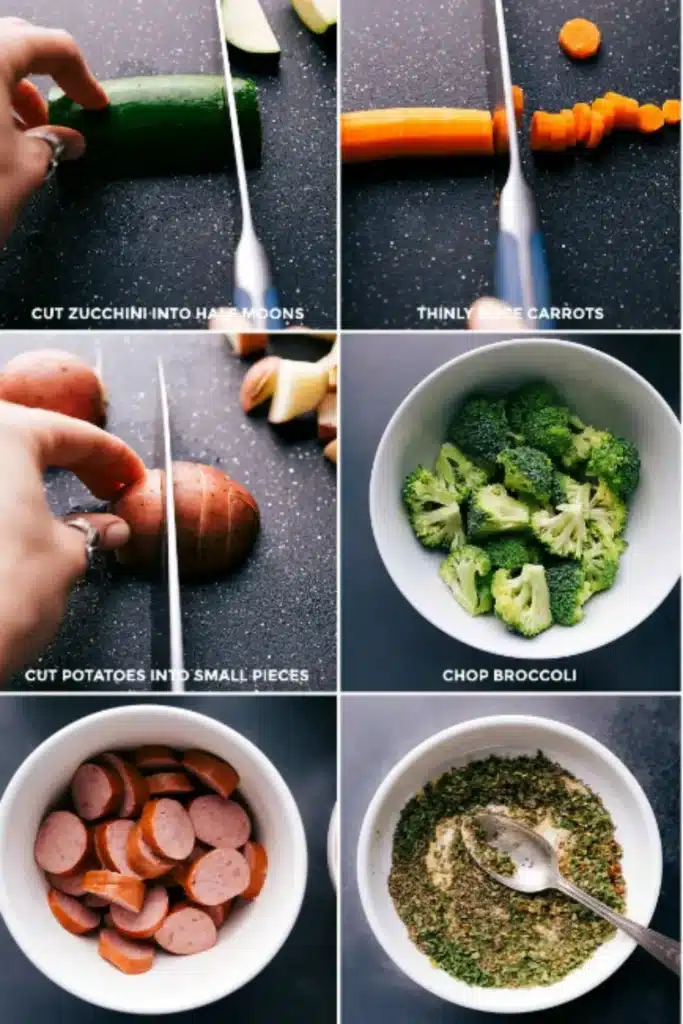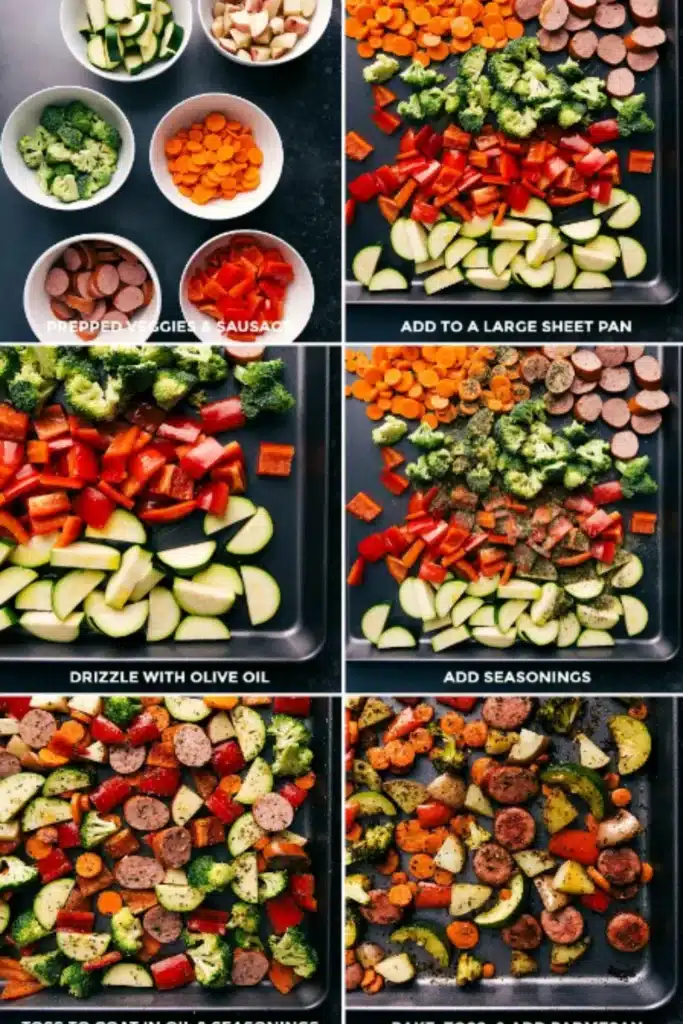 Tips for One-Pan Italian Sausage and Veggies
Make use of a LARGE sheet pan.
The more space the vegetables have (or are crammed into), the better they roast.
When veggies are overlapping or crammed into a sheet pan, they steam rather than roast.
This has a significant impact on the final taste/texture.
We use this 15×21 inch sheet pan and I can't suggest it enough.
Every time, you'll receive perfectly caramelised roasted vegetables!
For the finishing touch, sprinkle with Parmesan cheese.
I recommend using a microplane to grate the Parmesan, which gives it a lovely texture and melts beautifully into the veggies and sausage.
Pecorino Romano is a firm, salty Italian cheese that adds a nice finishing touch.
Cut the vegetables into the sizes suggested.
It may appear strange to cook root vegetables like carrots and potatoes alongside more delicate vegetables like zucchini and broccoli.
However, it works when cut to the indicated sizes!
The potatoes must be chopped into little pieces, and the carrots must be coined very thinly.
The broccoli is left in bigger florets, while the zucchini is chopped into thick half-moon slices.
To achieve consistent cooking, cut the vegetables evenly.
INSTRUCTIONS
PREP: Preheat the oven to 400 degrees F. Line a very large pan (I use this 15×21 inch pan)(or use 2 smaller sheet pans) with parchment paper or foil and set aside.
PREP VEGGIES: It is important to prep the veggies according to directions to ensure they all cook at the same rate. Peel and thinly slice the carrots (1/8th inch thick). Wash and chop the red potatoes (leave the peel on). You want the pieces quite small here. (I halve the potatoes and then dice each half. This yields a total of 10-12 pieces per potato)
PREP VEGGIES CONT.: Halve the zucchini lengthwise and then cut thick half-moons about 1/2 inch thick. Coarsely chop the broccoli into florets. Remove the stems and seeds from the peppers and chop into 1-inch pieces. Chop the sausage into thick (1/2-inch) coins.
SEASON: Place all the veggies and sausage on the prepared sheet pan. Drizzle the olive oil over everything. Add the seasonings right on top: the basil, oregano, parsley, garlic powder, onion powder, thyme, and optional red pepper flakes. Season to taste with salt and pepper (I use about 1/8 teaspoon pepper and 1/2 teaspoon salt). With your hands, toss to coat all the veggies and sausage in the seasoning/oil mixture. Once well coated, quickly space the veggies/sausage so none are overlapping and everything has plenty of space to roast. If everything is overlapping, cooking time will be longer and veggies will steam, not roast.
BAKE: Place sheet pan in the oven and roast for 15 minutes. Remove and toss/flip the veggies and sausage. Return to the oven for another 10-20 minutes or until the veggies are crisp-tender.
TOP: Remove pan from the oven and top, if desired, with freshly grated Parmesan cheese and fresh chopped parsley.
SERVE: Serve as is out of the oven or on top of rice, quinoa, or cooked cauliflower rice.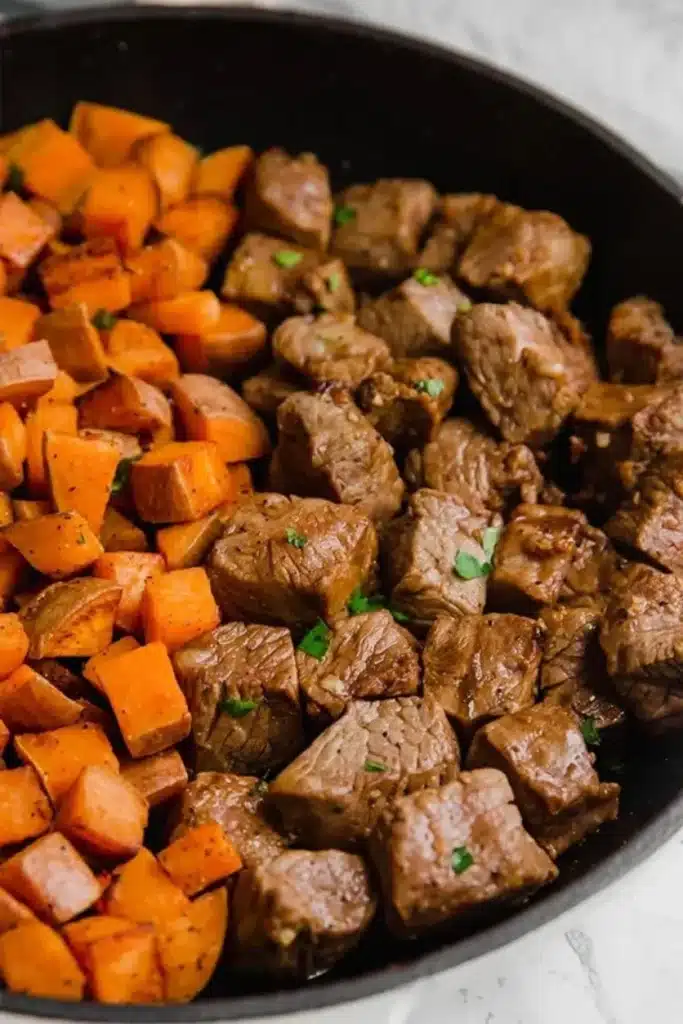 If you're looking for a one-pan meal that's a little bit healthier, this one pan steak pieces & sweet potatoes is ideal!
It doesn't get more basic meat & potatoes than this simple one-pan dinner! I like having easy go-to meals in my plate. For times I want something tasty but not stuffy, and this dish is ideal for that.
Steak and potatoes are usually a good combination, and this one-pan steak bite with sweet potatoes is ideal if you're following a paleo, whole30, AIP, or just looking for a quick nutritious supper at home.
HOW TO MAKE ONE PAN STEAK BITES & SWEET POTATOES
Prepare the steak by slicing into bite-sized pieces and seasoning. Marinade by mixing 2 tbsp of avocado oil, coconut aminos, and minced garlic. Allow marinating on the counter for 15-20 minutes while you prep the sweet potato
Prepare the sweet potatoes by scrubbing well and slice into small 1″ cubes. Heat about the oil in a pan. Once the pan is hot, add the sweet potatoes. Lightly season and stir for 10-12 minutes or until the sweet potatoes and cooked to liking and lightly crisp. Set aside.
Cook the steak by heating the oil in the pan. Once the pan is hot, add the steak and cook for 3-5 minutes or until the outside has browned. The internal temperature should be 145 F for medium-rare or 160 F for medium. Reduce the heat and move the steak to one side of the pan. Add the sweet potato to the other side and lightly reheat for less than a minute. Top steak with parsley and serve fresh.
Ingredients
1 1/2 lb sirloin steak
1 tsp sea salt, divided
1/2 tsp black pepper, divided (omit for AIP)
1 tbsp coconut aminos
2 tbsp avocado oil
4 garlic cloves, minced
2 tsp onion powder
2 medium sweet potatoes
3 tbsp ghee, divided (sub avocado oil for AIP)
2 tbsp parsley, chopped
INSTRUCTIONS
Cut the steak into bite-sized pieces, removing and gristle and lightly season with salt and pepper.
Prepare the marinade by mixing 2 tbsp of avocado oil, coconut aminos, onion powder and minced garlic. Allow marinating on the counter for 15-20 minutes while you prep the sweet potato.
Scrub the sweet potatoes well and slice into small 1″ cubes.
Heat about 2 tbsp of ghee (or avocado oil) in a pan. Once the pan is hot, add the sweet potatoes. Lightly season and stir for 10-12 minutes or until the sweet potatoes and cooked to liking and lightly crisp. Set aside and lightly clean out the pan.
Using the same skillet, heat 1 tbsp of ghee (or avocado oil) over medium heat. Once the pan is hot, add the steak and cook for 3-5 minutes or until the outside has browned. The internal temperature should be 145 F for medium-rare or 160 F for medium.
Reduce the heat and move the steak to one side of the pan. Add the sweet potato to the other side and lightly reheat for less than a minute.
Top the skillet with parsley and serve fresh.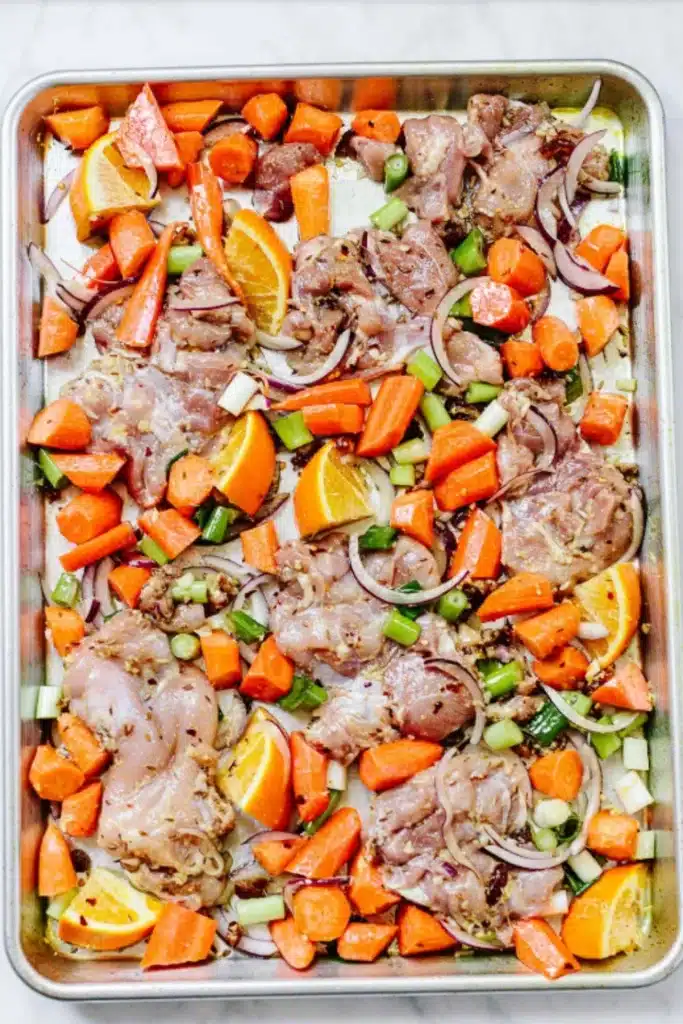 This is NOT your everyday sheet pan recipe. This North-African style dish is filled with flavour that comes from the bold mix of spices and ingredients. But still surprisingly, this meal is one that's easy to achieve!
A tasty sheet pan chicken that is perfect for a quick weekday meal.
Boneless chicken thighs are seasoned with North African spices, carrots and fresh orange. This is a quick and simple dinner meal that your family will enjoy. Serve along with buttered couscous and homemade harissa paste for a great supper.
This delicious recipe is inspired by the tastes of a traditional Moroccan chicken tagine, but it is made much easier by cooking on a sheet pan.
A real tagine is essentially a form of stew cooked slowly in a clay pot.
It's a traditional North African meal made with meat, seafood, and/or vegetables, with rich flavours derived from a blend of pungent herbs, spices, and citrus.
Herbs and Spices for Moroccan Orange Chicken
Simple seasonings add layers of aromatic flavor to this dish. Here's what you need:
Cumin seed: Whole cumin seed has a bold, earthy scent and flavour that is essential in many global cuisines, especially Middle Eastern, Mediterranean and South American dishes. You can substitute an equal amount of ground cumin.
Ground coriander: The seed that produces the herb cilantro. This spice has a lovely citrus note and floral aroma.
Ginger: Use a knob of fresh ginger and grate it finely on a rasp (Microplane) grater to release its peppery, lemony flavour. Tip – use a spoon to easily scrape off the skin.
Crushed red chilli: Add up to a teaspoon to taste of this hot dried chilli for a layer of heat. If you have the milder Aleppo or Turkish Marash pepper in your pantry, use that instead.
Cilantro: Tear the tender leaves off the stems and scatter over the finished dish. You can also use flat leaf parsley or mint leaves.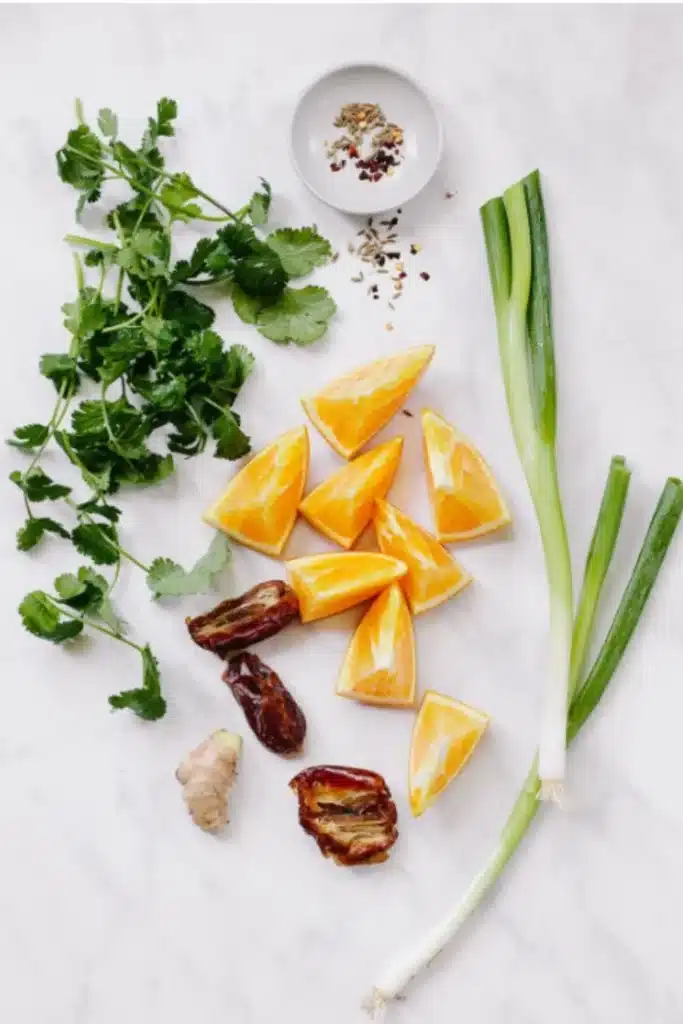 Making sheet pan chicken:
Instead of a lengthy braise on the burner, cook this meal in the oven with a few simple steps.
First, prep and slice your vegetables – it's the most time-consuming part, but shouldn't take more than 15 minutes.
Arrange everything onto a rimmed baking sheet, preferably a half-sheet size.
Equipment:
INGREDIENTS
2 pounds (1 kg) boneless, skinless chicken thighs
½ red onion, thinly sliced
1 pound (450 g) peeled carrots, cut into 1 1/2-inch chunks
1 navel orange or 2 small tangerines, cut into 2-inch wedges
3 green onions, white and green parts sliced 1/2-inch thick
2 garlic cloves, sliced
2 pitted Medjool dates, finely chopped
1 2-inch knob ginger, peeled and grated
¼ cup (60 ml) extra-virgin olive oil
2 teaspoons cumin seeds
2 teaspoons ground coriander
1 ½ teaspoons kosher salt
½ – 1 teaspoon crushed red chili flakes
½ cup (8 g) fresh cilantro, mint or parsley leaves
Green sauce, optional
INSTRUCTIONS:
Preheat the oven to 450 (230C) degrees.
Arrange the chicken on a large rimmed baking sheet
Add the red onion, carrots, orange, green onions, garlic, dates and ginger to the chicken. Pour over the olive oil and sprinkle everything with the cumin, coriander, salt, and chili.
Toss well with your hands so that all the ingredients are evenly coated with the oil and spices (go ahead and use tongs if you don't want to touch the raw chicken). Space the chicken and vegetables so they are in a flat, even layer.
Roast 22-25 minutes. The orange should be charred in spots, the carrots tender and the chicken nicely golden brown and cooked through
Squeeze the orange wedges with tongs, or press on them with the back of a spoon to release their juices. Sprinkle the cilantro over and serve.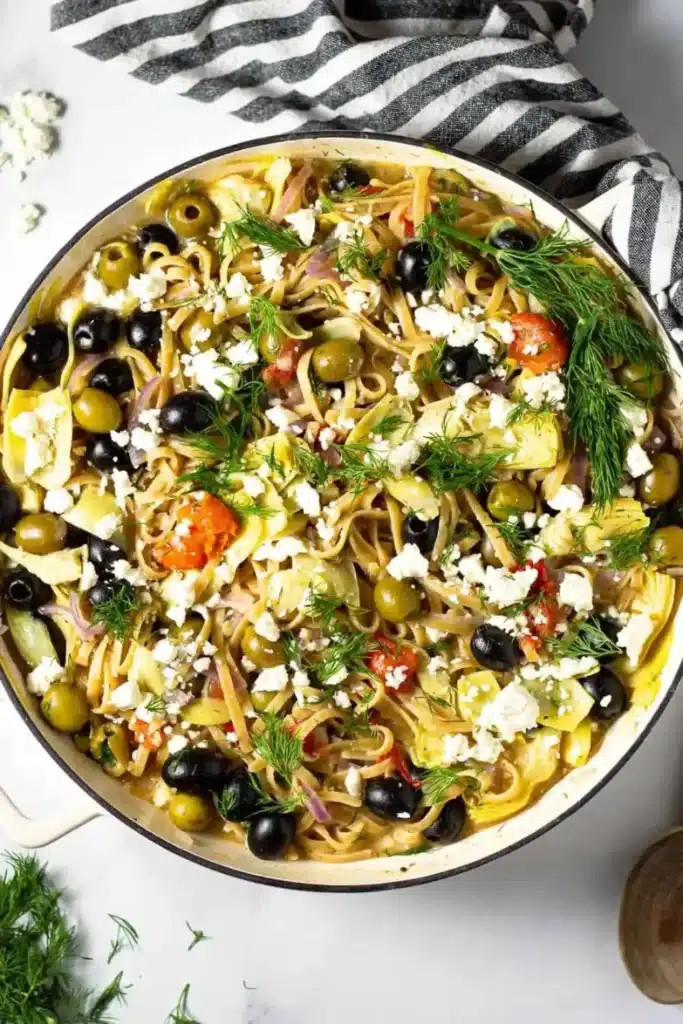 Ingredients:
16 oz. linguine, uncooked
6 cups vegetable broth
1 small red onion, diced
4 cloves garlic, minced
½ cup pitted green olives
½ cup pitted black olives
1 pint grape tomatoes
1 (15 oz.) can artichoke hearts
½ cup fresh chopped dill + more for garnish
½ cup crumbled feta + more for garnish
INSTRUCTIONS
Add linguine, broth, onion, olives, tomatoes, artichoke hearts and garlic along with a couple large pinches of salt and a large pinch of pepper. Stir to combine.
Turn to high and bring to a simmer.
Simmer, uncovered, over medium low heat for 10-12 minutes or until pasta is al dente and most of the liquid has been absorbed.
Stir in fresh dill and feta. The feta will begin to melt and mix with the remaining pasta water, coating the noodles in a light sauce.
Garnish with fresh dill and a bit more feta and serve!
Prep Time: 5 minutes
Cook Time: 15 minutes
Total Time: 20 minutes
Yield: 8 servings 1x
Category: Main Dish
Method: Stove Top
Cuisine: Mediterranean/Greek