Many of us are aware that WD-40 is the ideal solution for freeing a stuck screw or quieting a noisy door hinge. Yet, there are numerous surprising and unfamiliar applications of this versatile product.
Loosens Rings
People who often wear rings may have encountered the distressing situation of attempting to remove a ring that has become stuck on their finger. Even after using soap and vegetable oil, the ring refuses to budge. However, there is a faster solution to this problem that people should be aware of. By applying a small amount of WD-40, the ring can be loosened within seconds, allowing for an easy removal.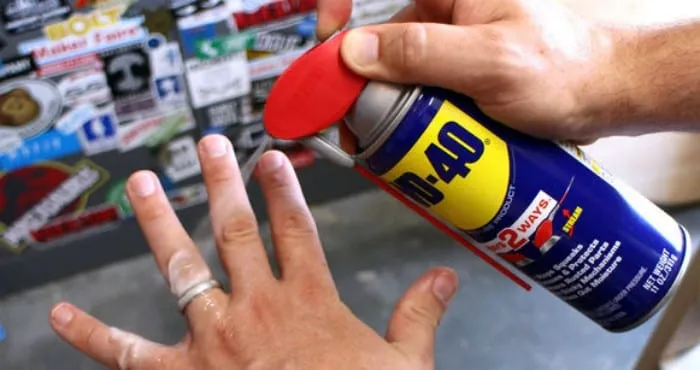 Polishing Fishing Lures
People who love fishing may be amazed to discover that WD-40, a commonly stored item in their shed, can assist them in catching bigger fish. Although it cannot be used as bait alone, the versatile substance can be employed to refine lures, resulting in a more reflective and successful fishing experience.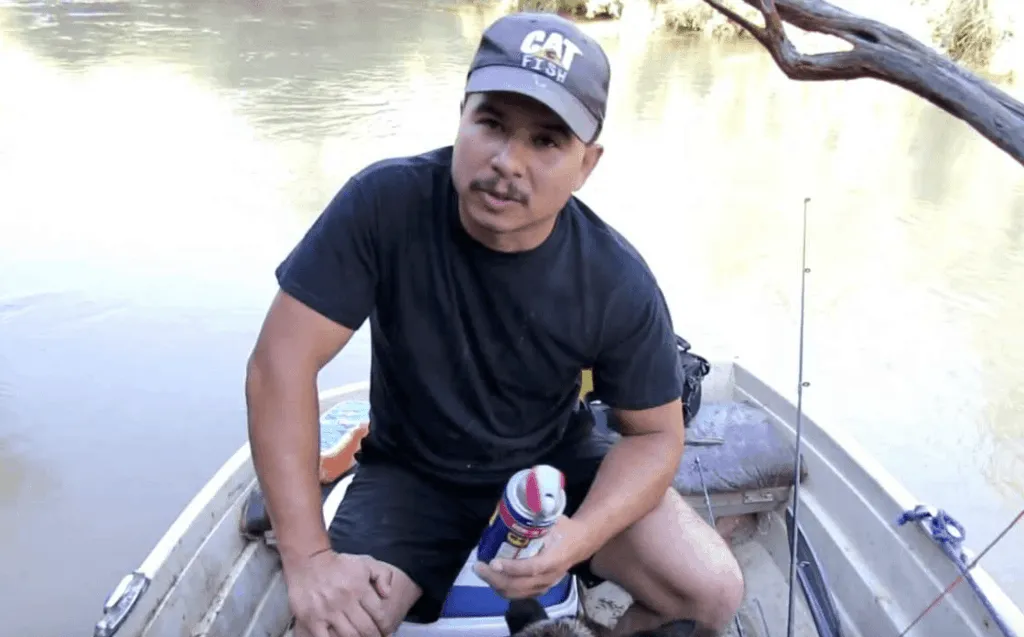 Prevent Wasps From Nesting
This useful tip can be very helpful to those who fear bees as it provides a clever way to remove wasp nests. WD-40 is not only water-resistant and long-lasting but it also works effectively as an insect repellant, which many people may not know. If you've observed wasps consistently building their nests in a specific area along your gutter, simply applying WD-40 once annually should solve the issue.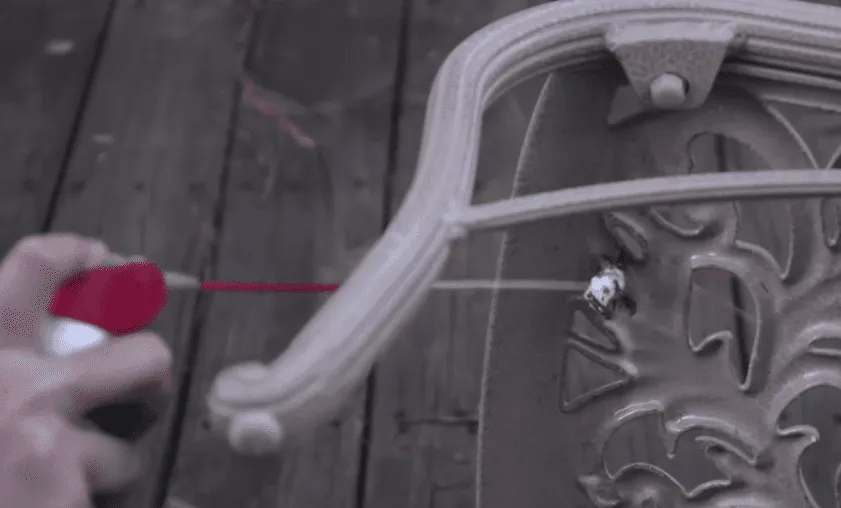 Cleaning Toilets
Cleaning the bathroom is something that everyone dislikes because it is a difficult and unpleasant task. The process can be messy and challenging, and commonly used cleaning methods for the toilet usually don't work well. By using WD-40 in your regular toilet cleaning routine, you will see benefits like finishing the task in less time, and the toilet bowl staying clean for a more extended period. Give it a try to see how it can transform your cleaning experience.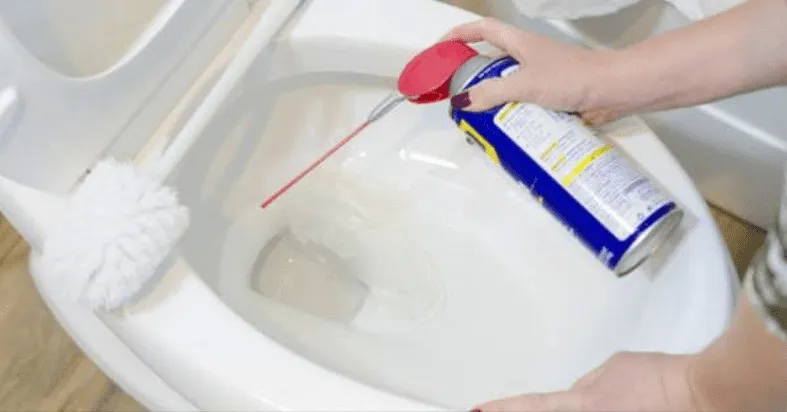 Prevent Grass From Jamming A Lawn Mower
Frequently, the finest lawn mowers in the market encounter the issue of grass clumps sticking to the underside of the mower's blades, resulting in the mower system getting jammed. This situation causes inconvenience for the lawn mower operator, who has to shut down the machine, take it to the garage, and manually remove the grass clumps. An effortless approach to resolve the problem of grass sticking to the blades involves applying WD-40 to the bottom of the mower both before and after each use.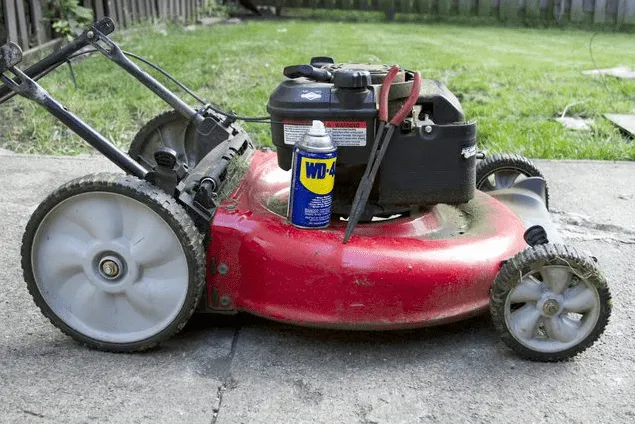 Defrosting Ice
People living in cold weather regions know the annoyance of waking up 15 minutes early to warm up the car and wait for the windows to defrost before heading out for work. However, an unlikely solution to this issue is WD-40, which can prevent ice from sticking to the windows. By applying the spray on each window and wiping off the excess, one could save time and skip the early wake-up call.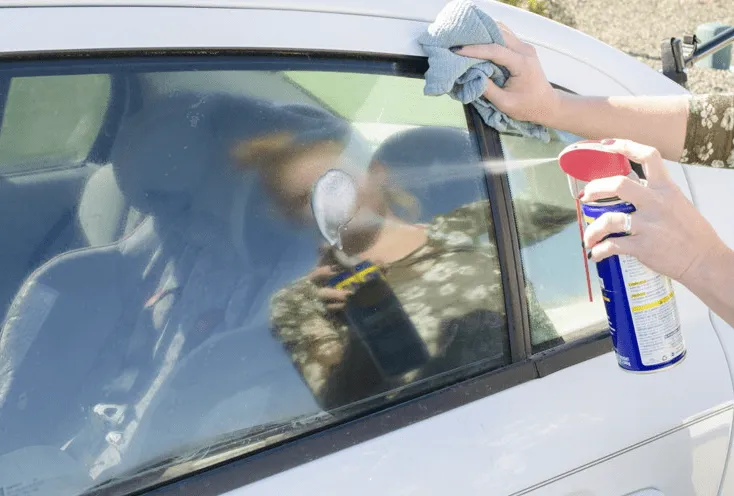 Removing Water Stains
Have you ever thought about how something like a cleaning tool can get so filthy? It can be very aggravating and boring to remove water stains from the shower door, walls, and floor. This task not only demands time but also requires a considerable amount of effort. Fortunately, you can use WD-40 as an alternative solution. After completing your usual cleaning routine, spray the impacted areas with it, and you'll see that the water stains vanish like magic.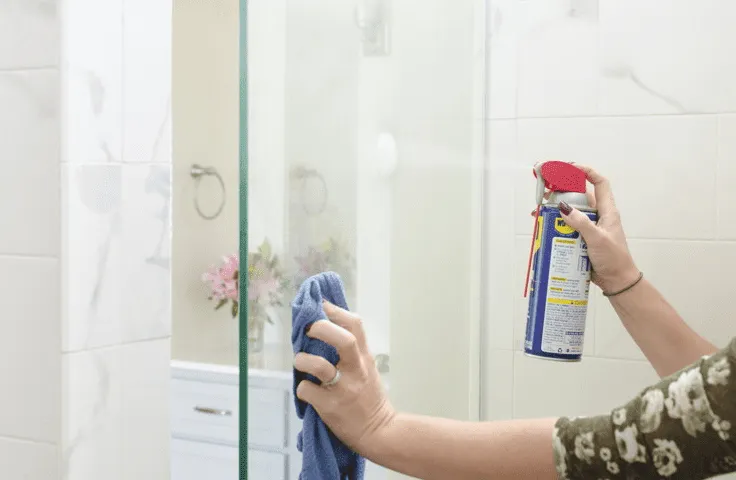 Polishing Scissors
As a creative individual who often employs scissors for artistic purposes, you may have experienced the accumulation of residue on them, leading to stickiness and unreliability. Rather than purchasing a new pair each time this problem arises, one can apply WD-40 into the crevices and gaps of the scissors to alleviate the stickiness, resulting in effortless and seamless cuts.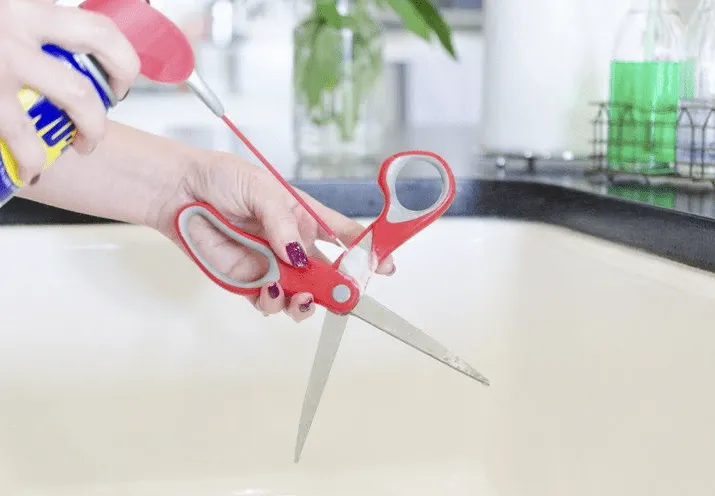 Cleaning Glue And Candle Wax From A Carpet
It is not an easy task to remove glue or candle wax from a carpet, as many people have experienced. Several self-proclaimed specialists have proposed various cleaning solutions for this problem, but most of them have not been successful in real-life situations. However, there is a lesser-known method that involves using WD-40. Spraying a small amount on the affected region, waiting for it to penetrate, and then cleaning with a sponge is recommended.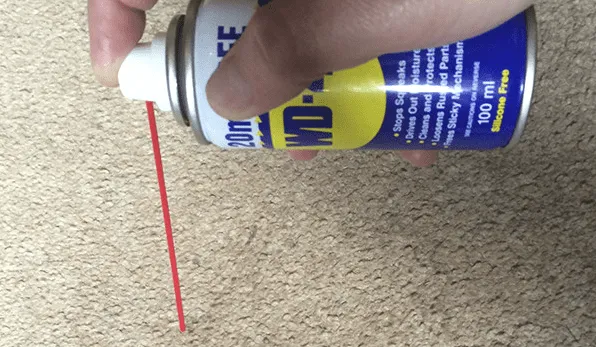 Removing Stickers And Price Tags
Removing a bumper sticker from your car can be quite bothersome. Even if you're able to successfully remove it without any bits of paper left behind, you may still encounter difficulties when it comes to eliminating the sticky residue that remains. A simple solution to this problem is to use WD-40 while carefully removing the sticker. This will make the process significantly easier, as the sticker will come off effortlessly.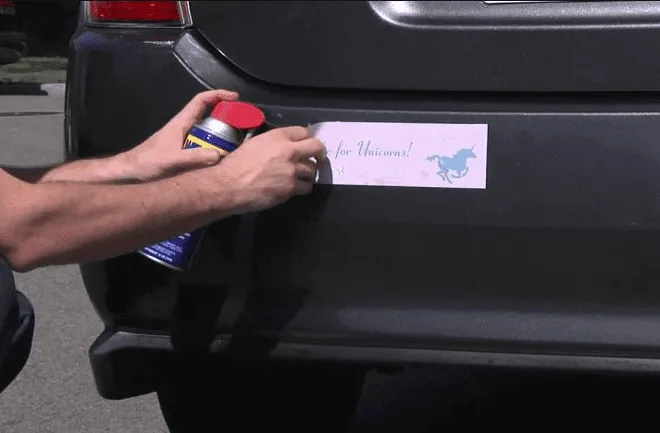 Removing Beverage Stains
In case your house has untreated wooden surfaces, you may have observed that any spillage from your preferred morning beverage has discolored your elegant hardwood, spoiling its beauty. However, you can use WD-40 to resolve this issue. Simply apply a few sprays of this excellent liquid on the stain, then proceed to clean the remaining part of the wooden surface regularly. You will be amazed at how effortlessly the stain disappears, restoring your beautiful hardwood table to its original condition.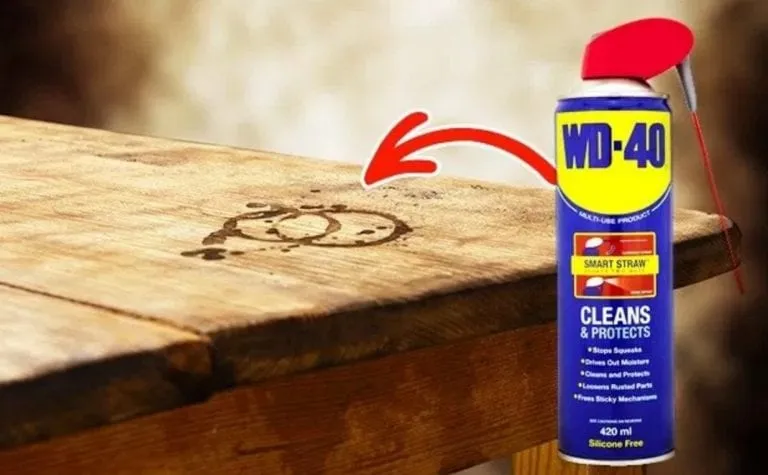 Extending A Showerhead's Life
At a certain stage in the life of many bathrooms, the showerhead may break down. This can be particularly aggravating if you have invested in a premium showerhead and expected it to be durable. Fortunately, applying WD-40 can help prolong the life of your showerhead, regardless of whether it is a high-end or ordinary model. By spraying a small amount of WD-40, you can ensure that your showerhead endures for many more years.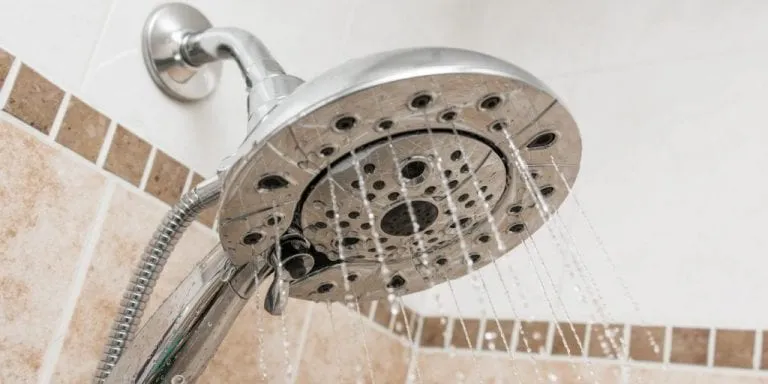 Dust Filter
Air conditioning systems, whether they are single room units or central air systems, are prone to accumulating dust in their filters. To prevent this, it is important to maintain the filters regularly. However, this task can be tedious and bothersome. A solution to this is to use WD-40 spray on the filter, which will help to reduce the amount of dust in the air and make maintenance easier.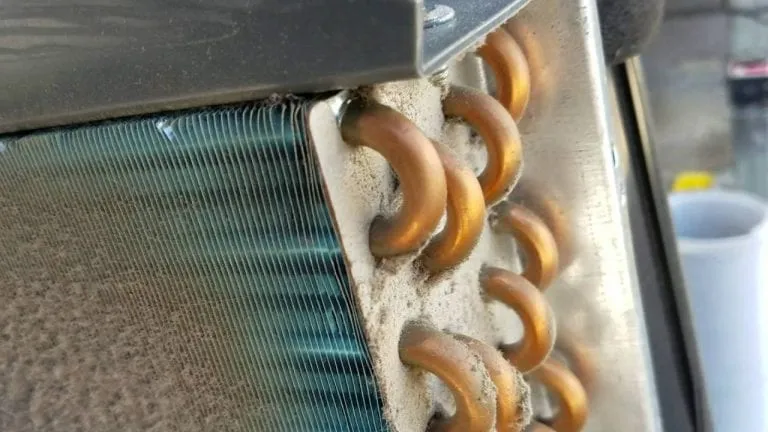 Lubricate A Shovel
Many of us have experienced this situation where we decide to start a backyard garden on a beautiful spring day. However, the task of breaking the ground with our office-softened hands proves to be more difficult than expected. But there's a simple solution to make soil removal easier – just spray WD-40 on the blade of your shovel or spade. This will prevent the dirt from sticking and rolling right off, saving you from straining yourself.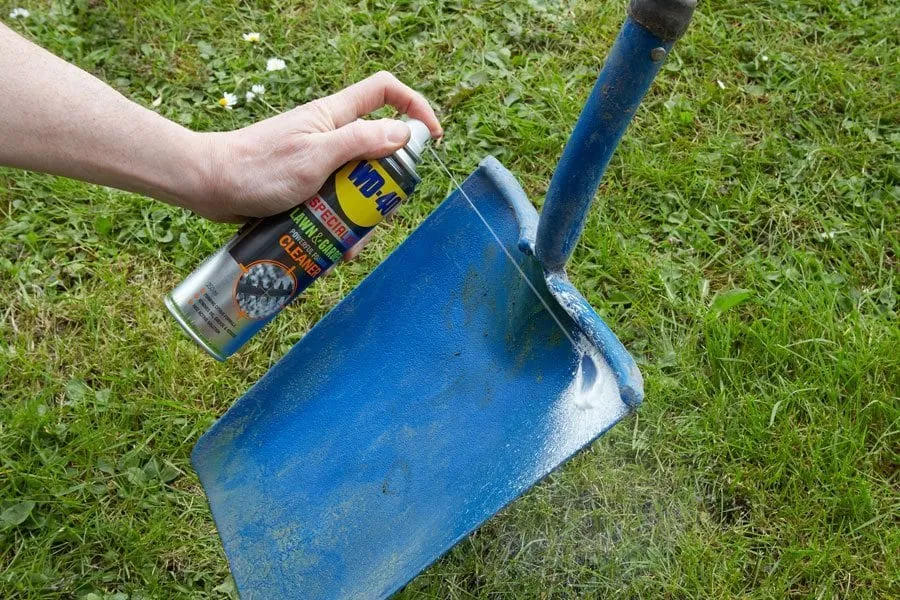 Breaks Down Rust
Before discarding any rusty tools found in your garden shed or garage that may seem beyond repair, consider salvaging them. WD-40 can be used to break down rust and restore the tool's functionality. This technique can even be used on kitchen knives that appear discolored from rust. Just apply WD-40 and watch the rust dissolve.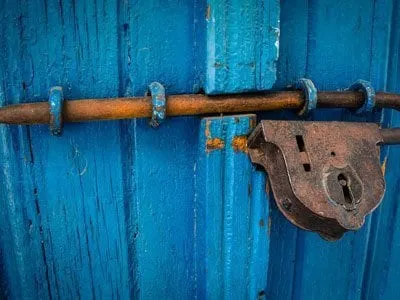 Removes Mildew
Undoubtedly, mildew is revolting, and it not only ruins the aesthetics of a place but also leaves a foul odor. However, if you stumble upon concealed mildew patches in places such as an ancient refrigerator, don't lose hope. By using WD-40, you can not only eliminate the unpleasant mildew but also prevent any future mildew growth in that area. The method is straightforward: merely spray the solution, let it rest, and then wipe it clean.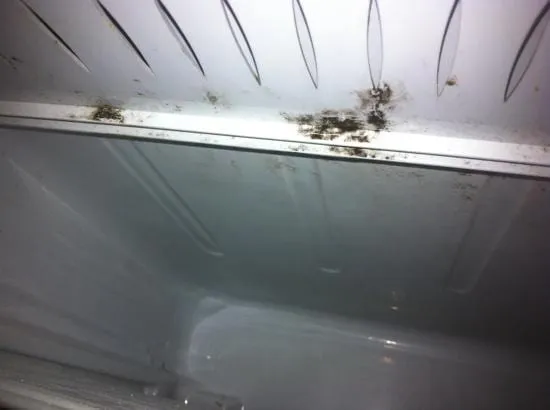 Removes Lipstick Stains
Lipstick is a necessary element of every makeup set, although it can turn into an annoying issue when it accidentally smudges our attire, rather than sticking to our lips. You don't have to spend money on specialized cleansing solutions to extract the intense hues from your favorite wardrobe items. Just using WD-40, as a preliminary cleaning agent, is an effective solution. Once you spray it on the affected spot, let it sit for a bit, and then wash the garment as usual according to the provided instructions.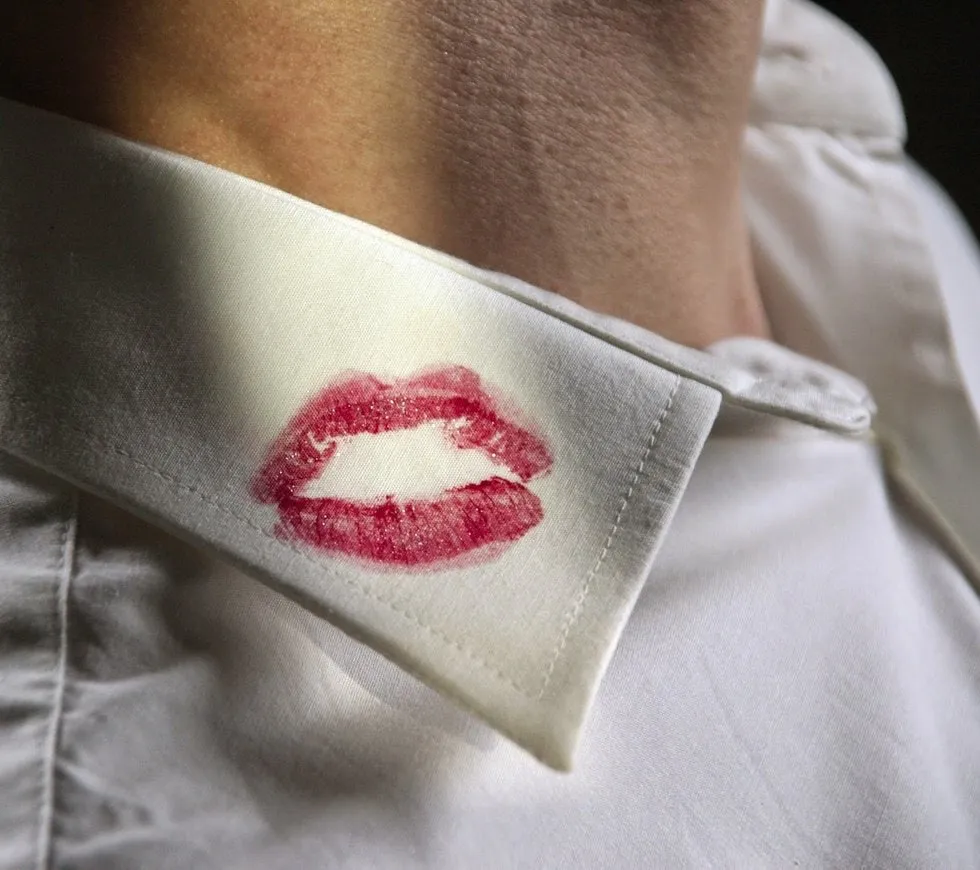 Gets Rid Of Tar Stains
Have you observed the unattractive dark lines forming at the lower portion of your vehicle? These are probably blemishes caused by tar present on the roads worldwide. You don't have to spend long hours stooping and cleaning the underparts of your car to eliminate them. Simply make use of WD-40 which requires minimal effort. Spray the affected areas with it and witness how effortlessly the marks are wiped away.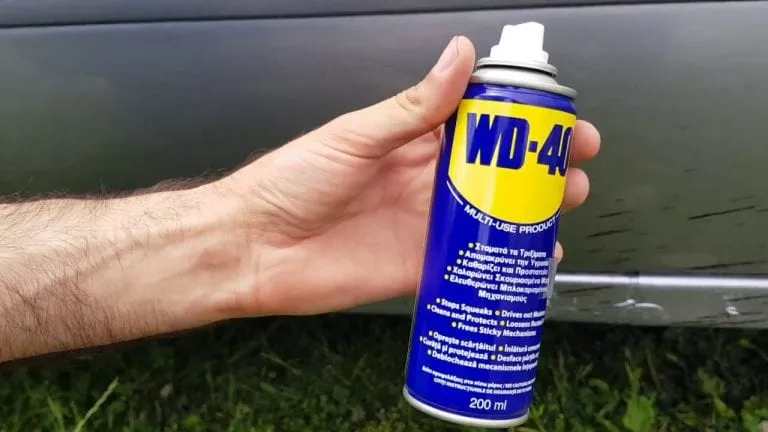 Unsticks Zippers
If you ever believed that your beloved bag's zipper becoming completely stuck meant that it was hopeless, then think again. Fortunately, with the help of WD-40, you no longer need to have that fear. Simply direct the spray onto the pulley using the nozzle and move the zipper back and forth carefully. While you gradually apply the WD-40 into the internal parts of the zipper teeth, you will observe that it somehow loosens its tight hold.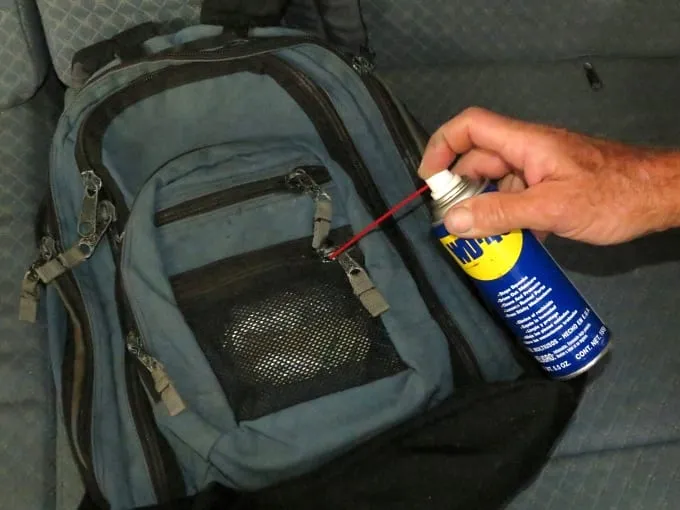 Waterproof Outdoor Chalk
Even if you are not a professional chalk artist, you probably do not want your art to be ruined by an unexpected rain. To ensure that your chalk creations last longer, whether they are aesthetic pieces or temporary guidelines for an event, you can spray them with WD-40 to keep them intact on the pavement, regardless of the weather.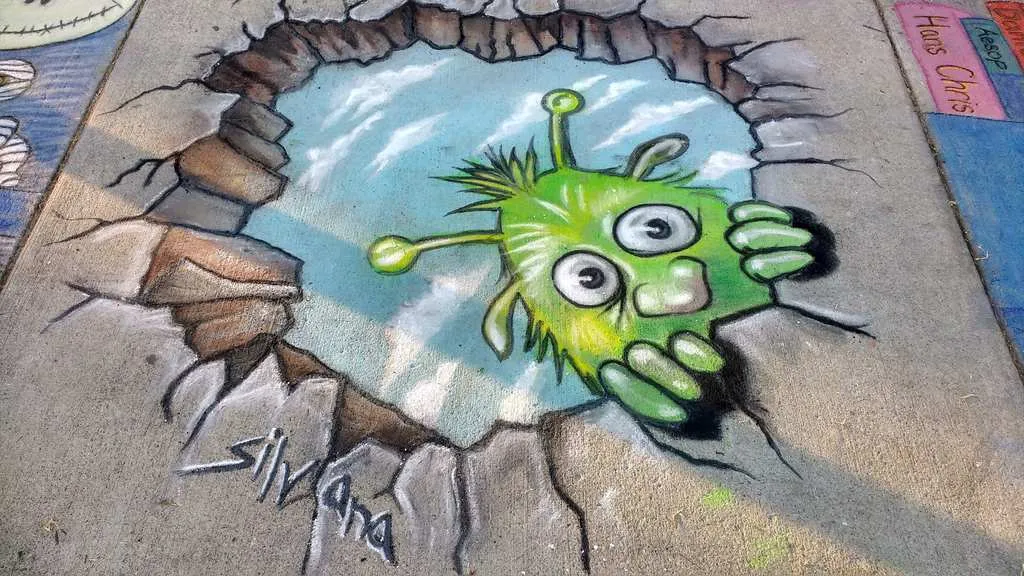 Clean Tiles
Cleaning the tiles on a floor or in a shower can be a tough chore that needs effort. It's crucial to keep a bathroom clean for people who appreciate a clean house but it shouldn't make you feel too exhausted. Instead of using an old toothbrush to clean grout, WD-40 can be used to spray the affected region, and then washed with soap and water. This product can even remove unexpected spills of nail polish or makeup quickly.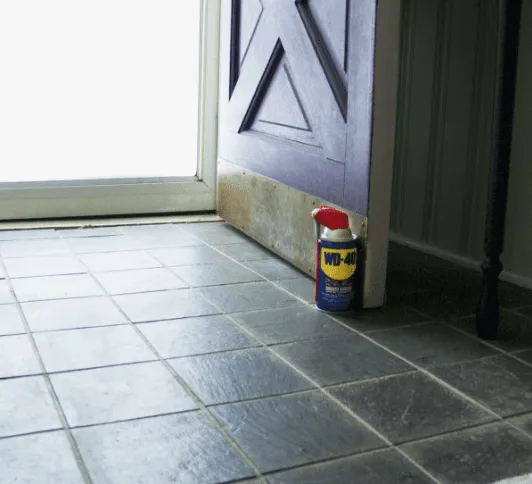 Unstick Legos
Sometimes, we want our lego structures to be permanent but other times, we are eager to dismantle them and begin anew. It may be frustrating when the pieces are stuck together and impossible to separate, leading to outburst of annoyance from family members. In such instances, using WD-40 can be a lifesaver. With a simple aim from the straw, it can save valuable time and effort in prying the pieces apart, sparing you unnecessary tantrums.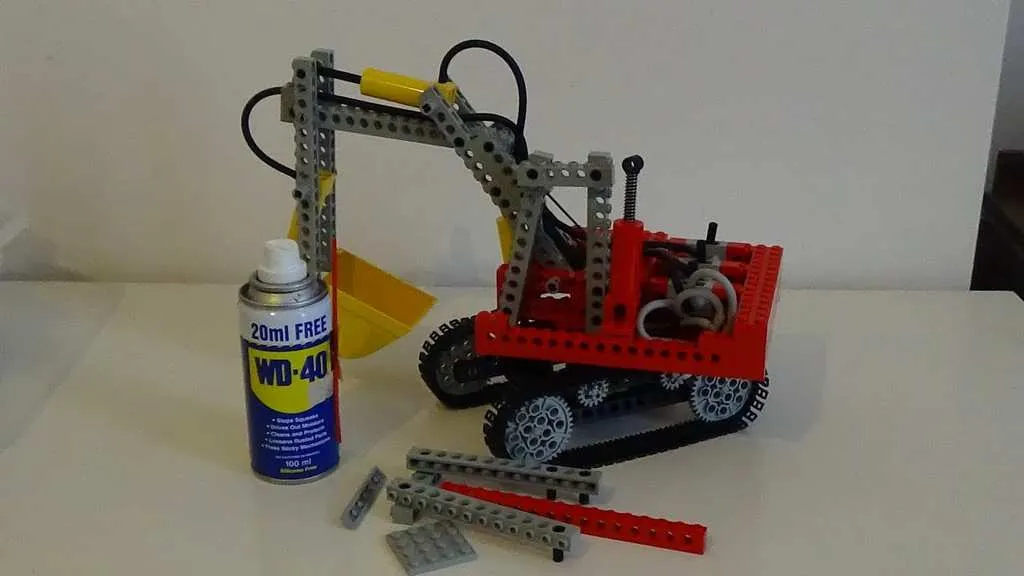 Keeps Records From Skipping
Although digital music is limitless in today's world, vinyl record collections have gained newfound popularity. Yet, those who owned collections know the downside: the records are vulnerable to scratches that can cause the music to skip. But there is a solution- you can restore them by using WD-40 to lubricate and smoothen the surface, so the needle won't miss a beat.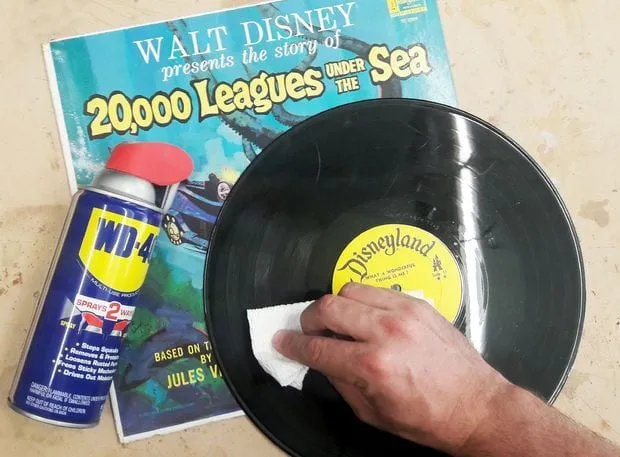 Clean A Hairbrush
Getting rid of hair from a hairbrush is a tedious chore that can be avoided due to the amount of effort it requires. However, there is a simpler method to maintain the cleanliness of your hairbrush. You don't need to struggle to remove the knotted strands from the bristles of your brush anymore. With the use of WD40, you can spray it over the entire brush and effortlessly run a comb through it afterwards. The hair and dust will easily come off.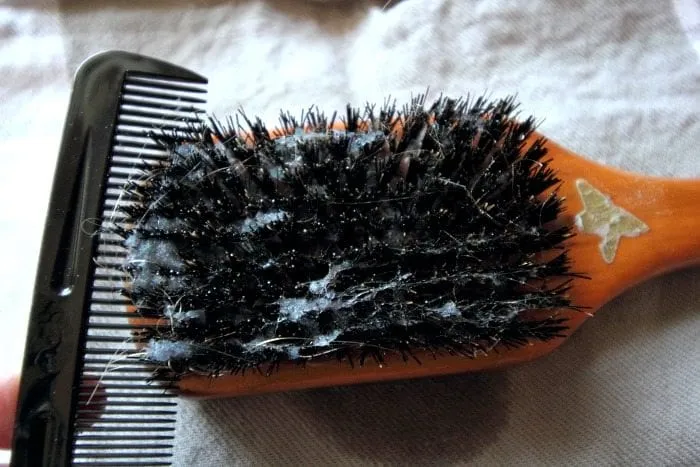 Polishing Silver
It is common knowledge that WD-40 is the ideal solution for unjamming a screw or quieting a squeaky door hinge. But besides these uses, there are countless other ways to use WD-40 that you may not have thought of. One such use includes using it to polish silver, which antique collectors may find particularly useful. To prevent the beautiful silverware from tarnishing, simply spray WD-40 onto it and carefully clean it.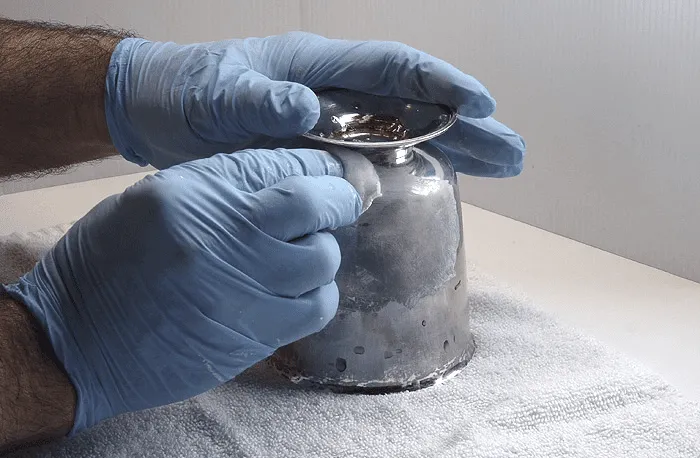 Removing Crayon Marks
If you have young kids in your house, you probably know how difficult and tiring it is to remove crayon marks from walls, floors, countertops, and furniture. If you are tired of spending hours cleaning with paper towels, sponges, and soap, there is a solution. Simply spray some WD-40 and gently wipe with a cloth, and your crayon marks will be cleaned off quickly and effortlessly.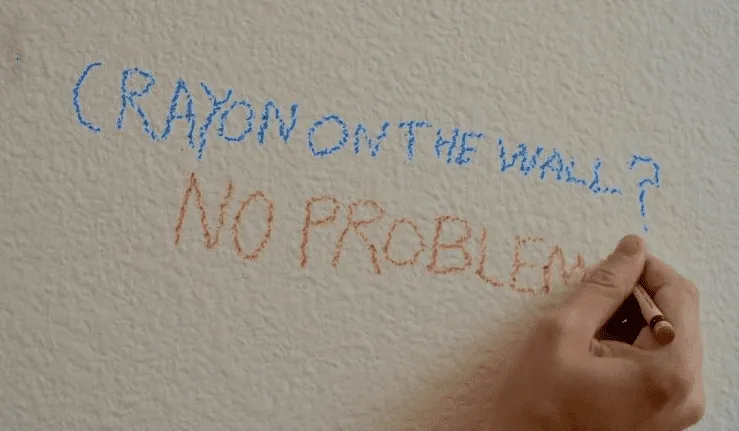 Clean Piano Keys
Piano keys, like any other objects exposed to the environment, are prone to accumulating dirt and grime in their small crevices. Due to the residue from the hands of players, along with dust and other debris, these gaps between each key can become quite bothersome for experienced pianists. However, using WD-40 to spray on the keys and in between them can effectively remove the gunk, thus preventing the sharp chords from going flat.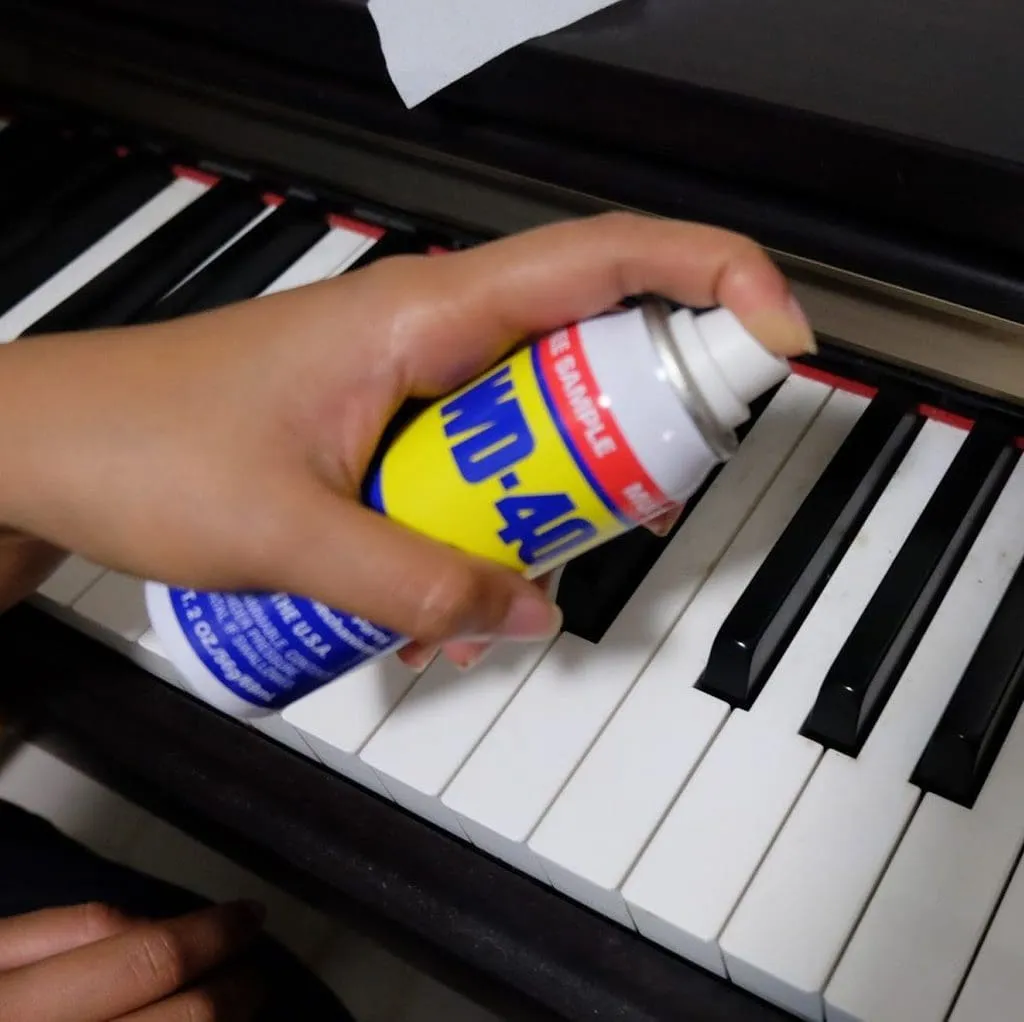 Separate Glassware
Glass is an incredible substance that possesses several fascinating characteristics. When glass is subjected to warm, humid conditions like those found in dishwashers, it has a tendency to expand. However, after washing, if you stack the glasses on top of one another, they may annoyingly stick together because the glass contracts again. Rather than attempting to forcefully separate the glasses which may result in breakage, you can use WD-40 to spray between them, and you will be pleasantly surprised as they effortlessly slide apart.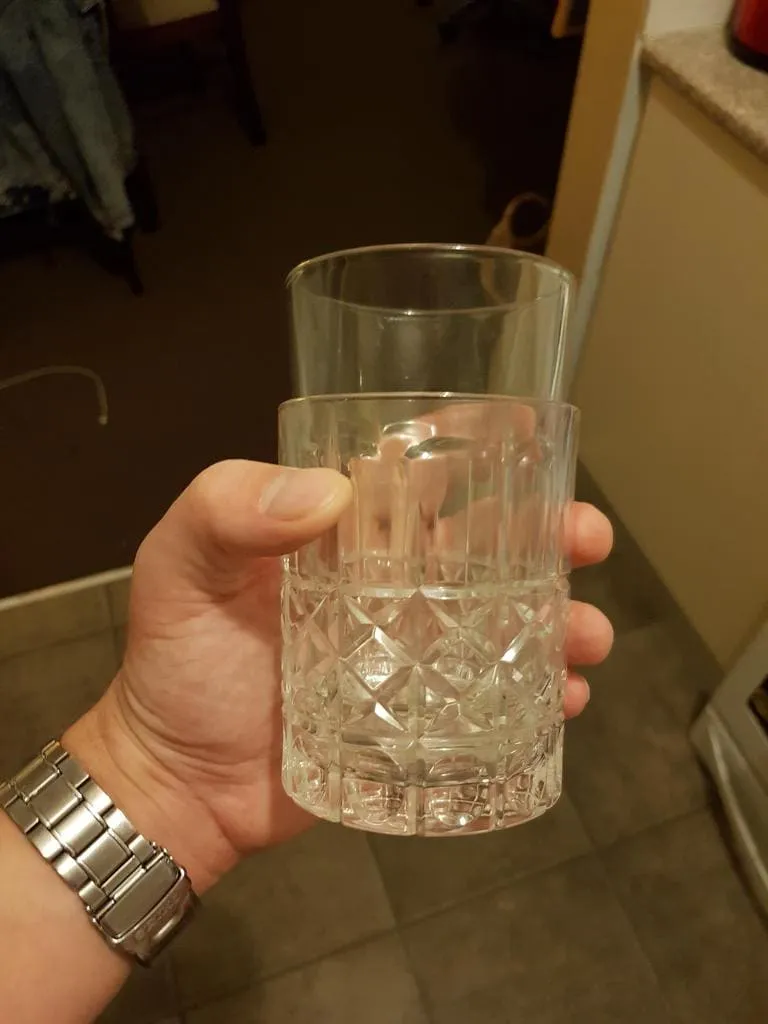 Condition Leather Furniture
WD-40 is a versatile material that effectively maintains the quality of leather products, whether it be a baseball glove or a pair of cowboy boots. It has the ability to preserve the softness, flexibility, and resilience of the leather. With the same efficacy, it can also be used for leather furniture that often experiences harm from weather exposure and frequent use. By applying WD-40 onto the leather and massaging it with a cloth, your couch will remain supple, smooth, and aesthetically appealing for an extended period of time.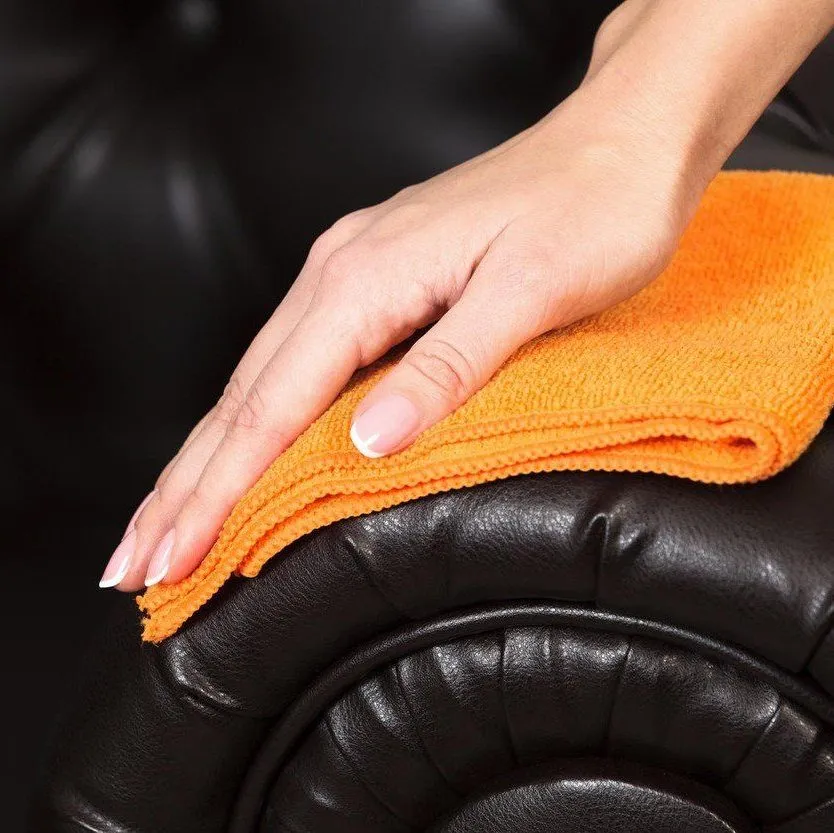 Keep Bugs Out Of Car Grille
If you have ever traveled through places that have a lot of bugs during summer, you would be familiar with the problem of dead bugs accumulating on your car's grille. In such a scenario, you can use WD-40 in two ways. Initially, spray WD-40 and clean all the dead bugs stuck on your car. Once done, leave a light coat of WD-40 on the grille to prevent bugs from sticking onto it.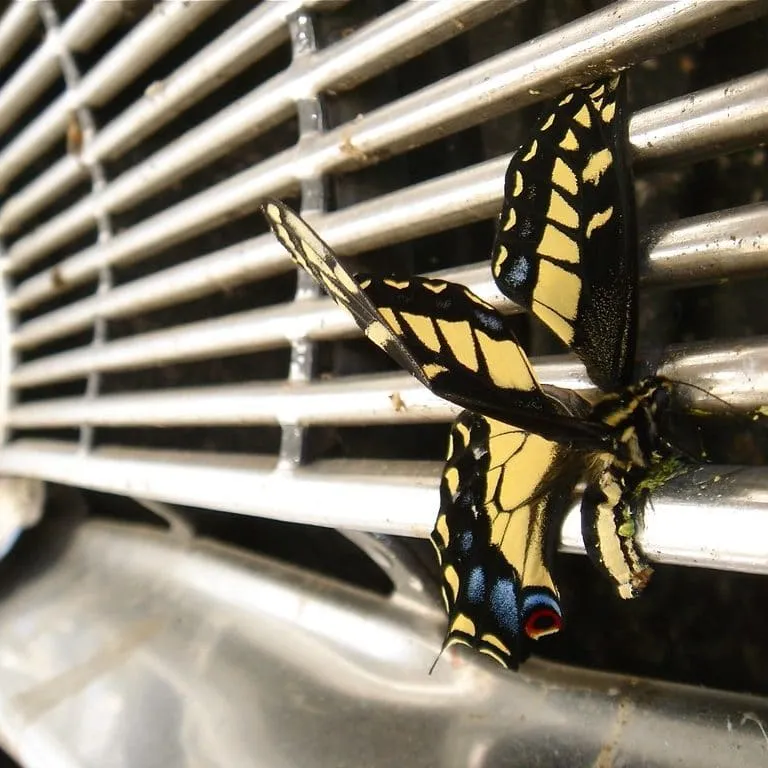 Restore Faded Plastic Furniture
During summertime, when guests come over and you need extra seating, many individuals prefer using plastic furniture. However, because of exposure to the sun and other outdoor elements, the furniture may become worn out. Instead of disposing of the chairs, you can restore their appearance by cleaning them with WD-40.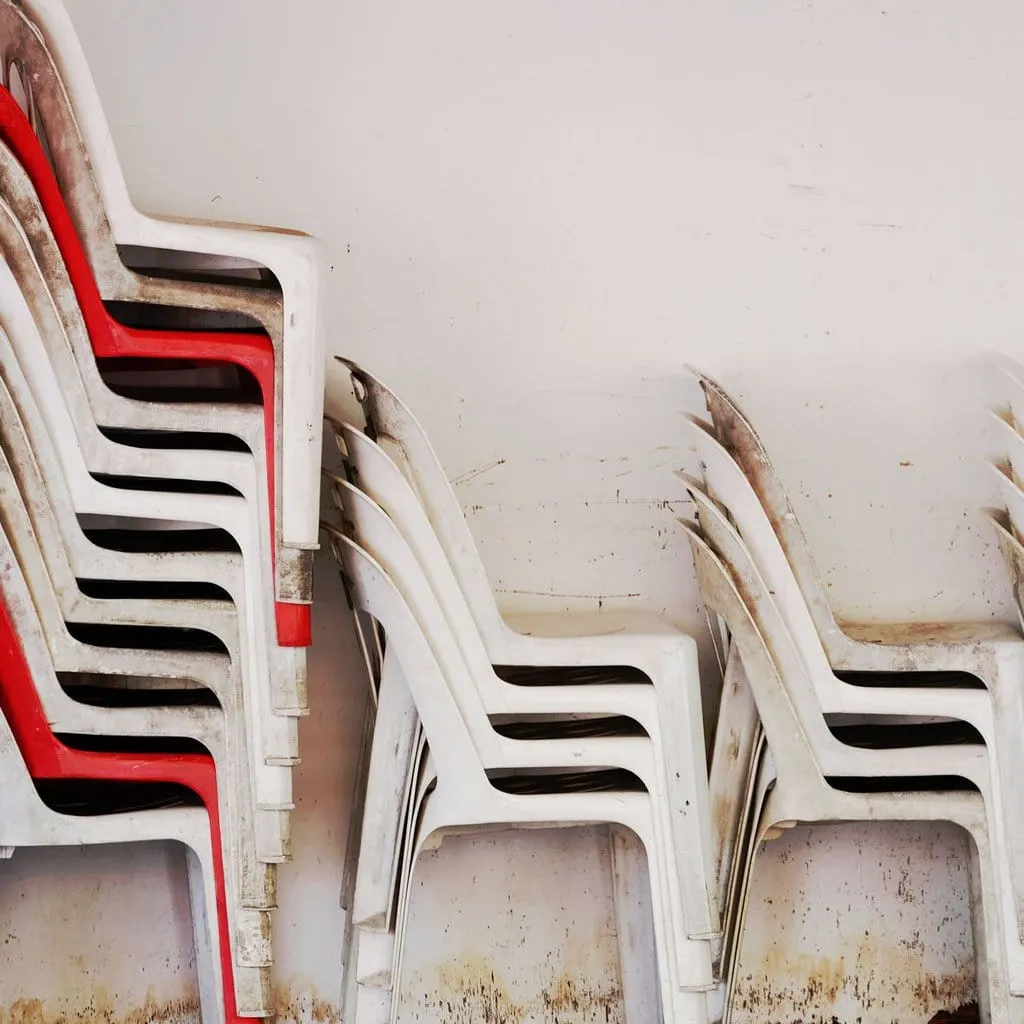 Remove Old Wax from Skis and Snowboards
Any winter sports enthusiast will tell you that waxing your skis and snowboards is extremely important. It helps them glide across the surface of the snow smoothly and quickly, ensuring your skiing or boarding session is fun and safe. However, after a while, that wax can start to build up, which harms the effectiveness of the board. WD-40 cuts right through the wax for easy cleanup, so you can apply a fresh coat and fly down the slopes once again.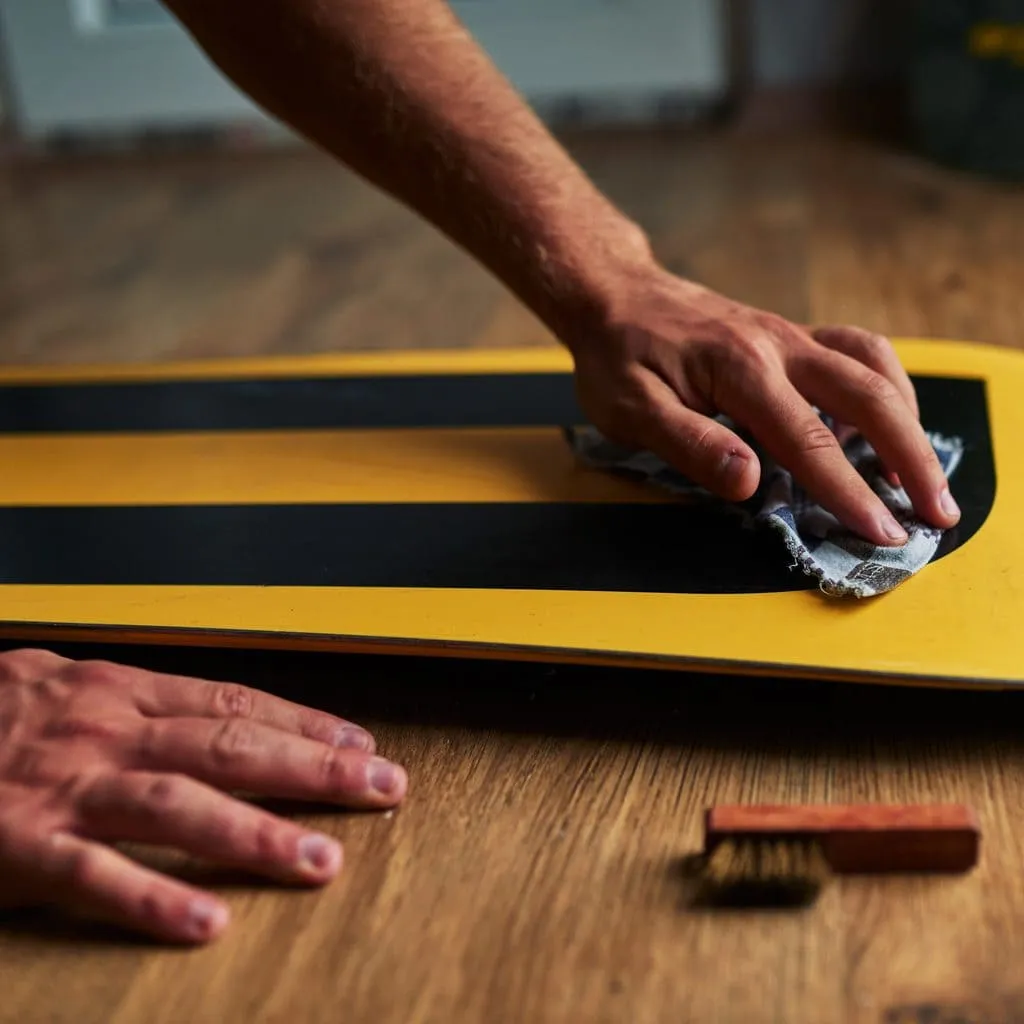 Remove Barnacles from Your Boat
Barnacles are a type of crustaceans, and they can be a real hazard for boats. They tend to accumulate on the boat's hull, and unlike mussels and algae, which can be easily scraped off, barnacles literally grow into the boat's surface and form calcium deposits underneath the paint. They can slow the boat down which means more energy is needed to propel it in the water. But if you take some WD-40 and apply around the mass, you can kiss those barnacles goodbye.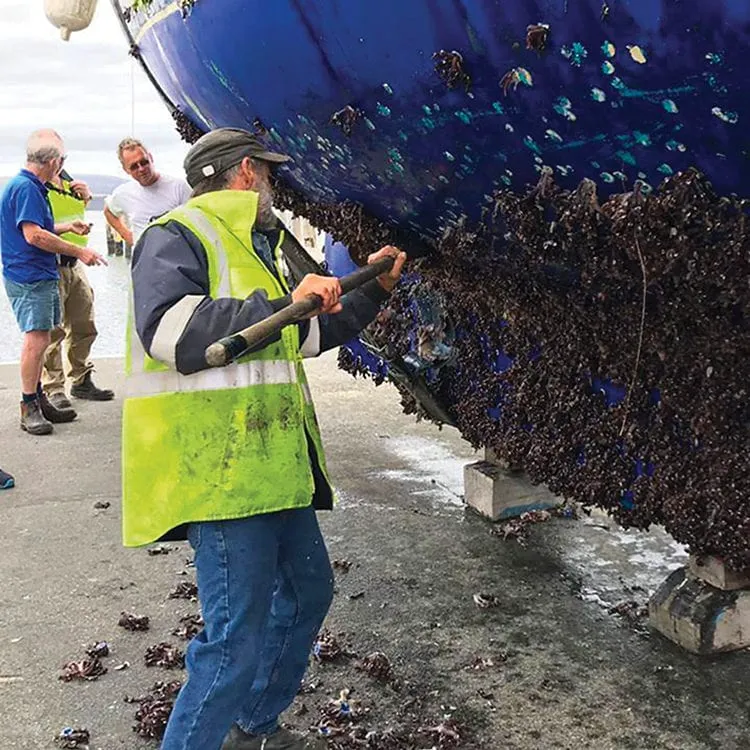 Detangle Fishing Lines
All the "a-fish-ionados" out there who tend to collect lots of types of fishing lines, probably know the headache involved when you open your tackle box and find a tangled mess of lines knotted together. Often times you just end up throwing the whole mess out and using a new line, but that's such a waste. Why waste line when you can spray on some WD-40 and use a pin to undo any small knots? Your line will be good as new.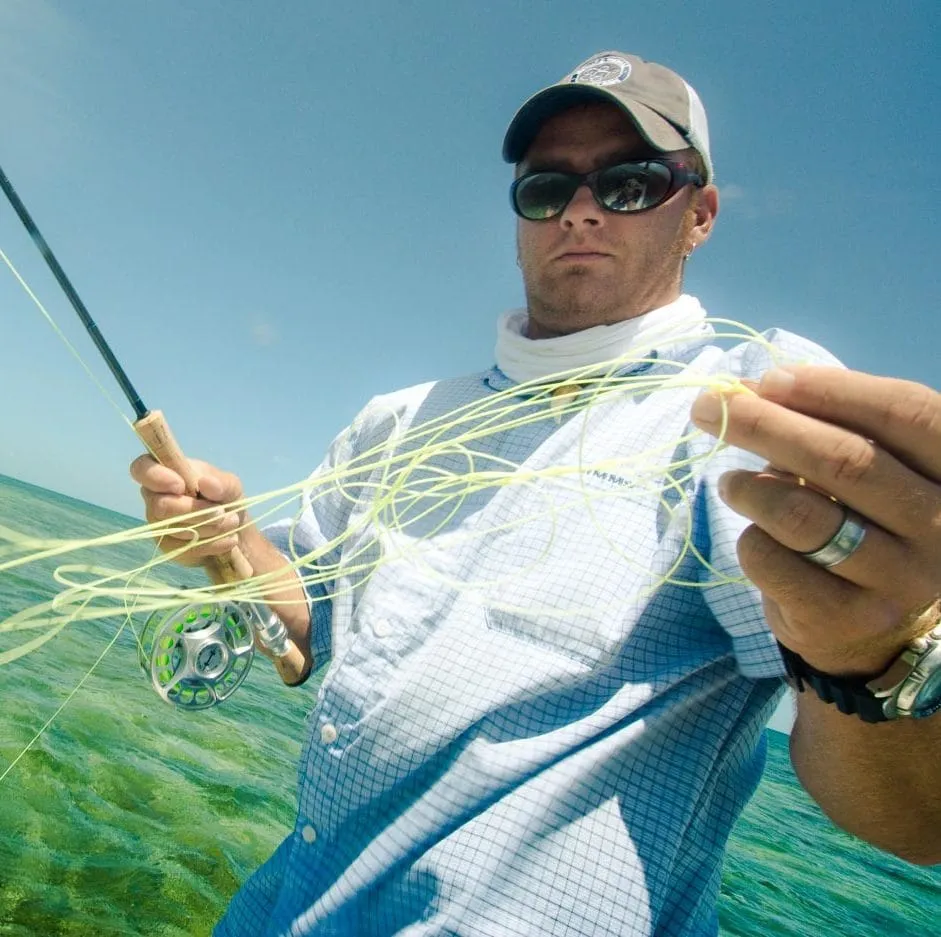 Kill Thistle Plants
Weeds are the enemy of any gardener. Although some varieties can be pretty to look at, they tend to grow at the speed of light, taking over and ruining the other plants in your garden. Some types of weeds are more annoying than others, and thistle plants are especially tricky, as when you go to pull them out their sharp thorns will make your life a living hell. Just spray some WD-40 on those bad boys, and they will die in record time and be much easier to remove.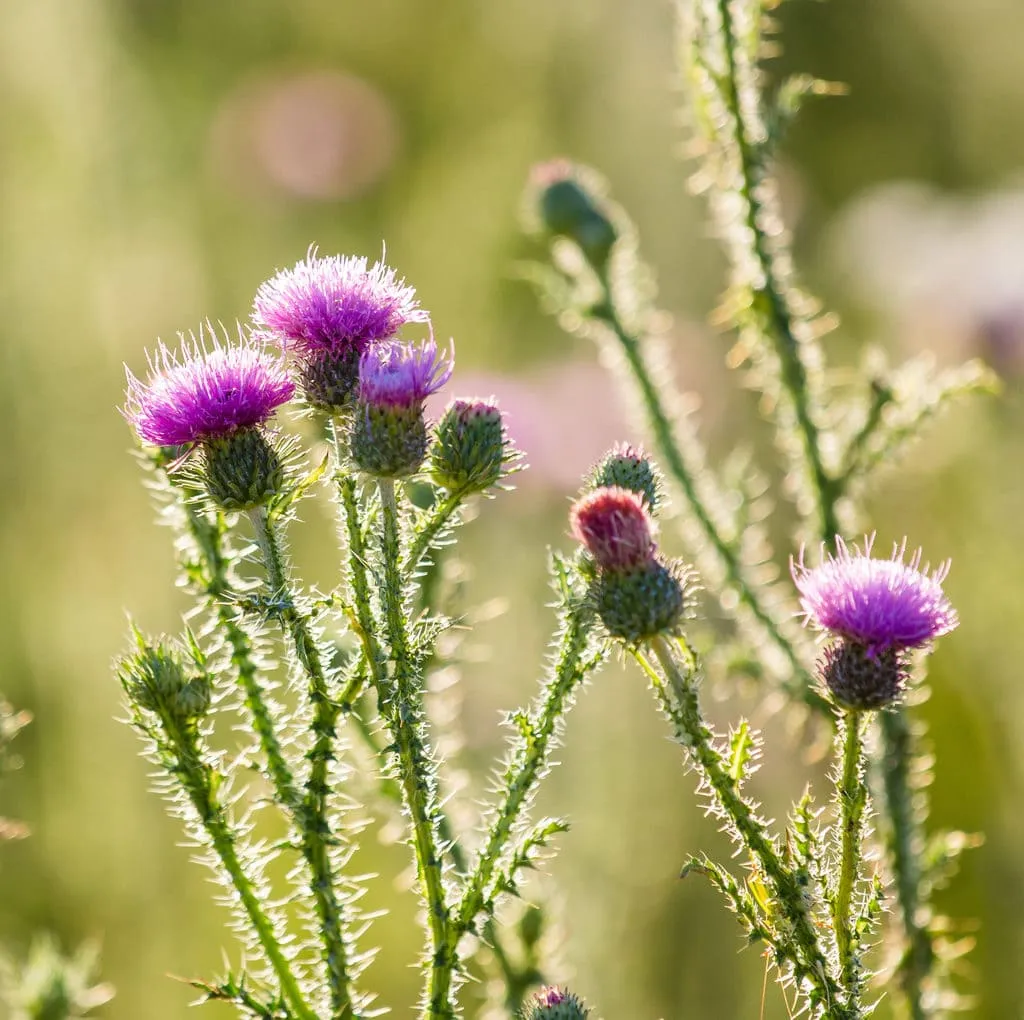 It Can Help Fix Cracked Phone Screens
Some of the things that WD-40 can help fix is absolutely remarkable, making it a true miracle worker in the world of DIY. One of the coolest things it can help fix is cracked phone screens. Although the cracks and scratches won't be completely fixed by the WD-40, there is no doubt that the screen will look a whole lot better after usage. All you have to do is spray it on the screen, wipe it with a dry cloth and voila.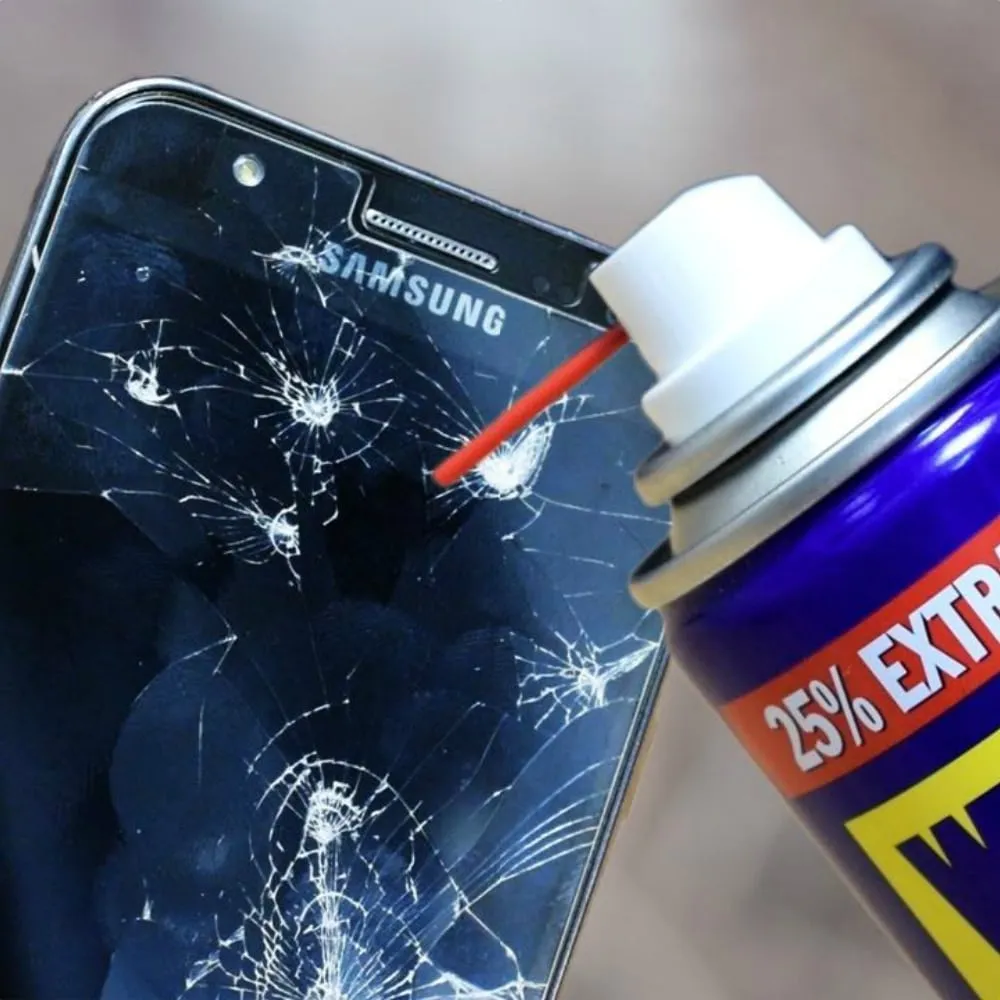 Unsticking Gum
We all know that terrible feeling. You're walking down the street and all of a sudden you step in something sticky. At first, you assume that it will remove itself from the bottom of your shoe if you simply keep walking. You soon realize that the sticky sensation isn't going anywhere because you've stepped in gum. Luckily, as long as you've got some WD-40, everything will be okay. Simply spray around the affected area and the gum will come right off!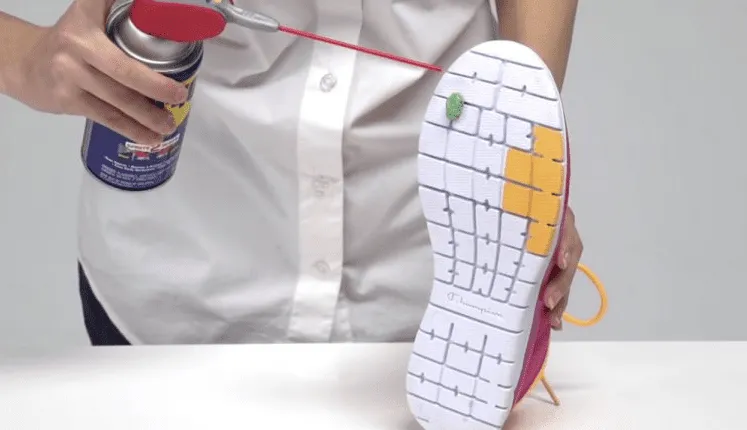 Cleaning Shoes
If you've been racking your brain, searching for creative ways to get rid of those stubborn stains on your sneaker, look no further. WD-40 can be used to eliminate pesky rock salt spots that build up during the winter months. By simply spraying the multi-use product and wiping off the residue with a towel or rag, you'll be amazed at how easy it is to clean your shoes. You can even make your shoes waterproof by spraying the entire surface!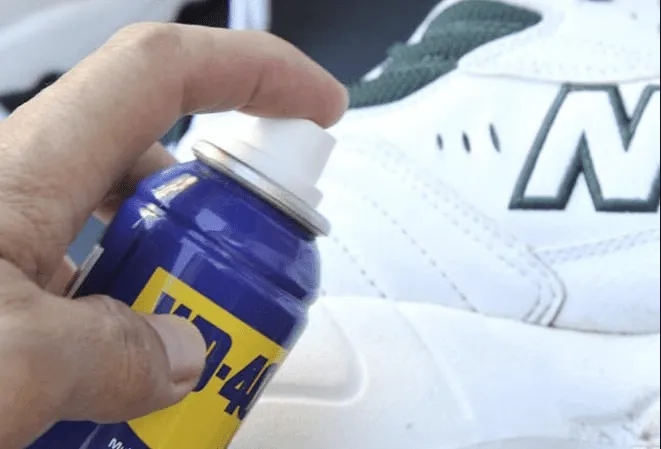 Splinter-Proof Wooden Handles
For all the fans of DIY and gardening in your life, this tip will especially come in handy. Sometimes when wooden-handled tools get old, worn, and exposed to the elements, they can begin to splinter off – a tool user's worst nightmare is getting a splinter while working. WD-40 comes in handy once again – just spray it on, work it into the handle, and it will restore the smoothness of the wood and ensure that your hands stay splinter-free!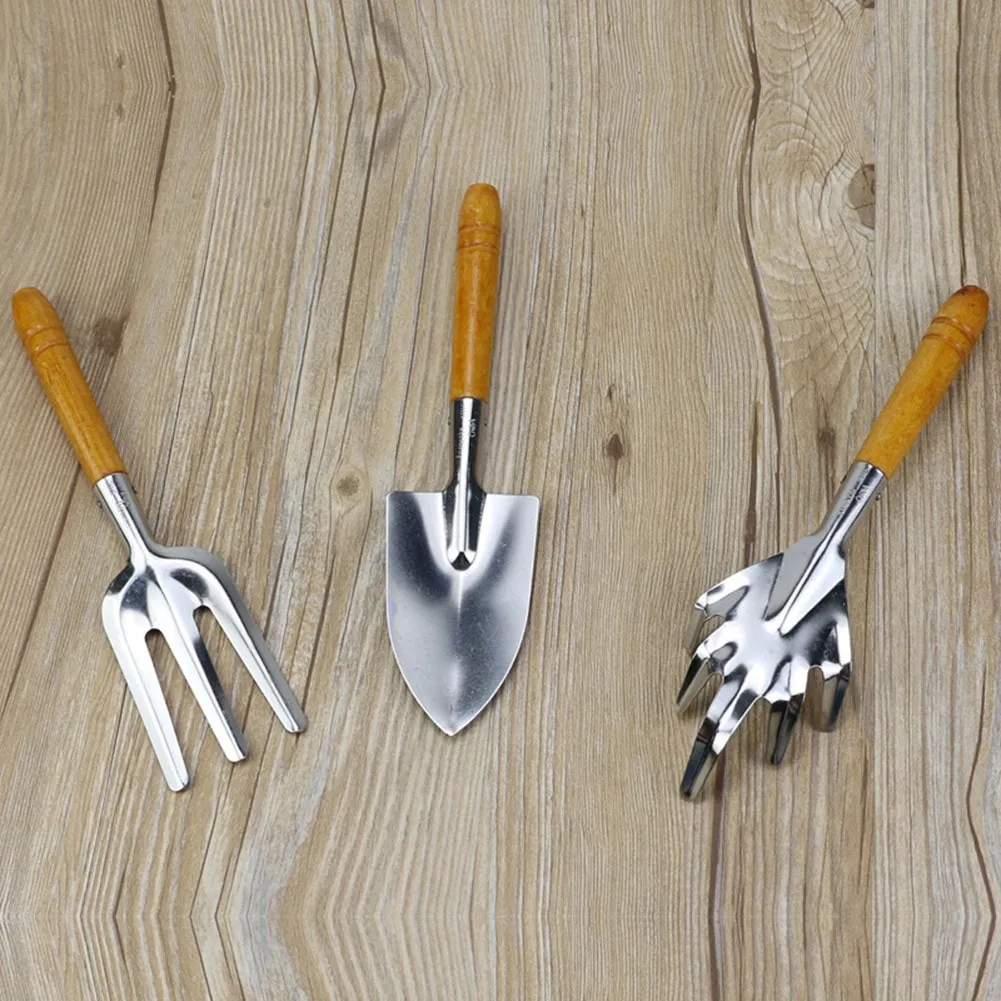 Rubik's Cube
This may come as a surprise to you, but you should never use WD-40 on a Rubik's cube. Hardcore cubers will lubricate their cubes with vaseline or CRC silicone. They will never use WD-40, which contains petroleum distillates (paint thinner), that can damage and melt your stickers. The effects of the spray are permanent and, after a month, will slow down your cube completley. The spray will eventually bind to the plastic of your cubes and ruin its texture permanently.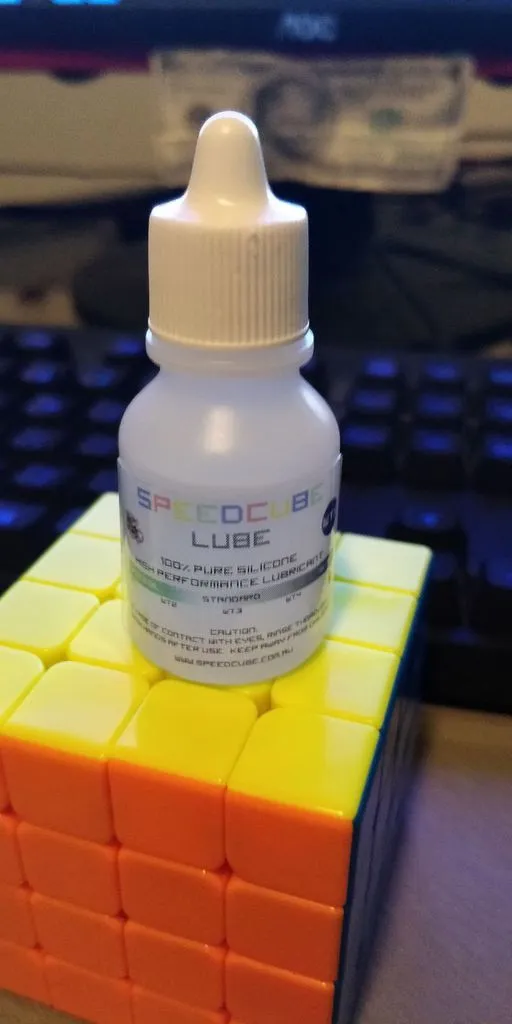 iPhone and iPads
We mentioned earlier that WD-40 could help fix cracked phone screens. That does not mean you should use the spray without caution. They will not repair the Home button on iPhones and iPads. It may do the opposite, the spray can cause the plastic on the covers of these devices to break down. That is the least of your problems with WD-40, and these electronics, if some of the spray gets inside the devices, it can damage the parts inside.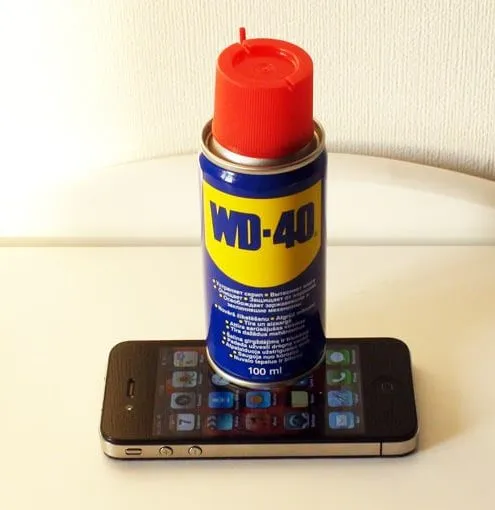 Bike Chains
WD-40 is known for many lubricating items, so naturally, you would think you could use it on your bike chain. The truth is, WD-40 can cause dust and dirt to stick to the chain. If and when this happens, that dirt can ruin the chain, taking out the gears along with it. To grease up your bike chains, use bike-specific lubricates which typically contain Teflon, a substance that creates a nonstick surface.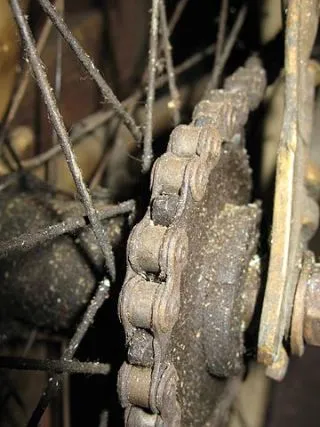 Locks & Door Hinges
Another thing you should steer clear of if you are using WD-40 are locks. The spray can wear down the internal mechanisms faster than they would usually wear down, especially the pin tumbler locks that are found in door locks and padlocks. If you're looking to lubricate a lock, you should opt for graphite powder. You should also refrain from using WD-40 on door hinges, as we said earlier, it attracts dirt and will turn your hinge pins black.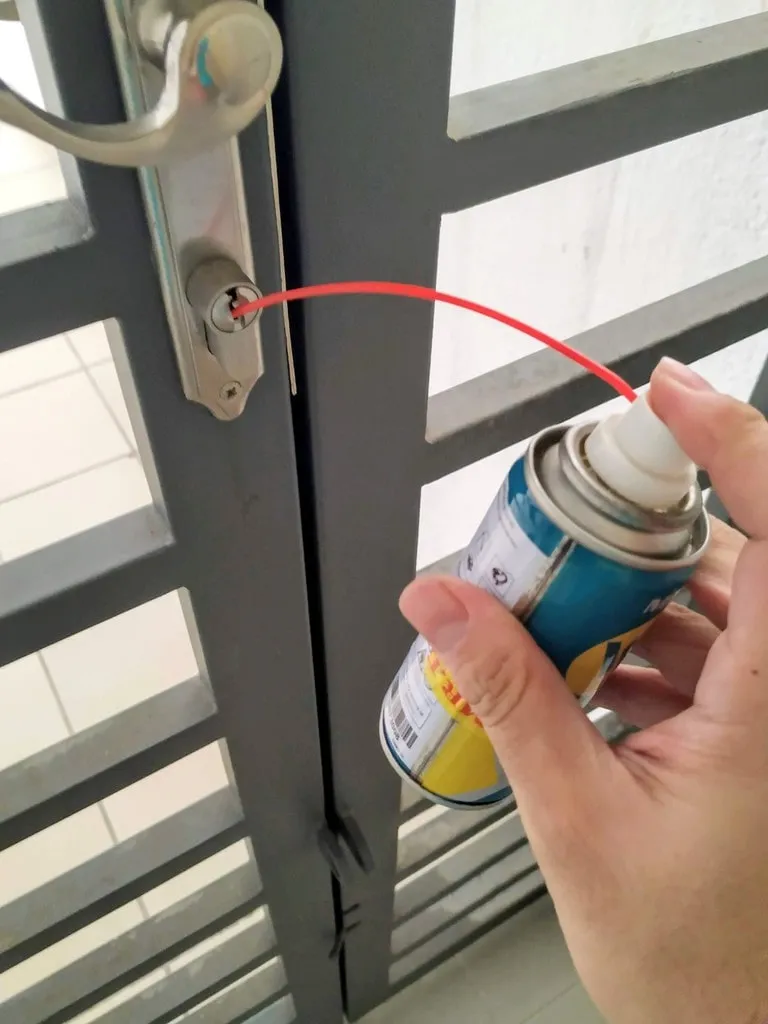 Musical Instruments
If you are a musician or know anyone that is a musician, this next one is for you! Someone posted about how their sister works at a music store, and that a Dad ruined his child's $800 clarinet by using WD-40 on "the squeaky part." It makes sense that one would think that using the spray could help lubricate their instrument, but there are special sprays and greases for that. When it comes to expensive instruments, we recommend you stick to the right stuff.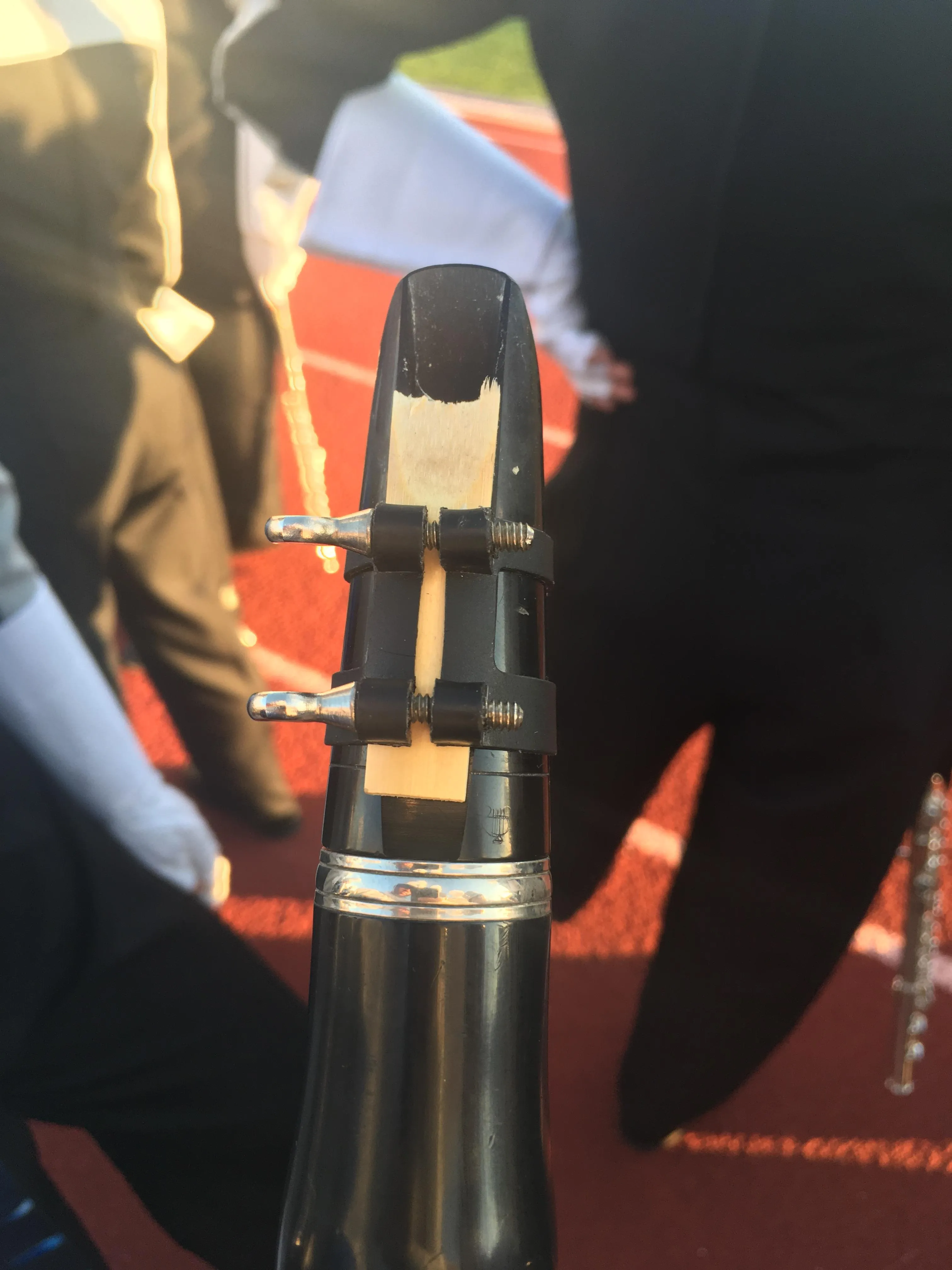 Don't Replace Your Car Engine Oil with WD-40
Lastly, we're going to show a couple of ways WD-40 definitely won't improve your life. A group of friends wanted to see what would happen if they replaced their car's engine oil and with this iconic water displaying spray. Unsurprisingly, it didn't go well, at all. Although it seemed like they could drive the car perfectly fine, it was just a few minutes before the car started to smell weird, smoke started to come out of the hood and then finally, the engine blew up into flames.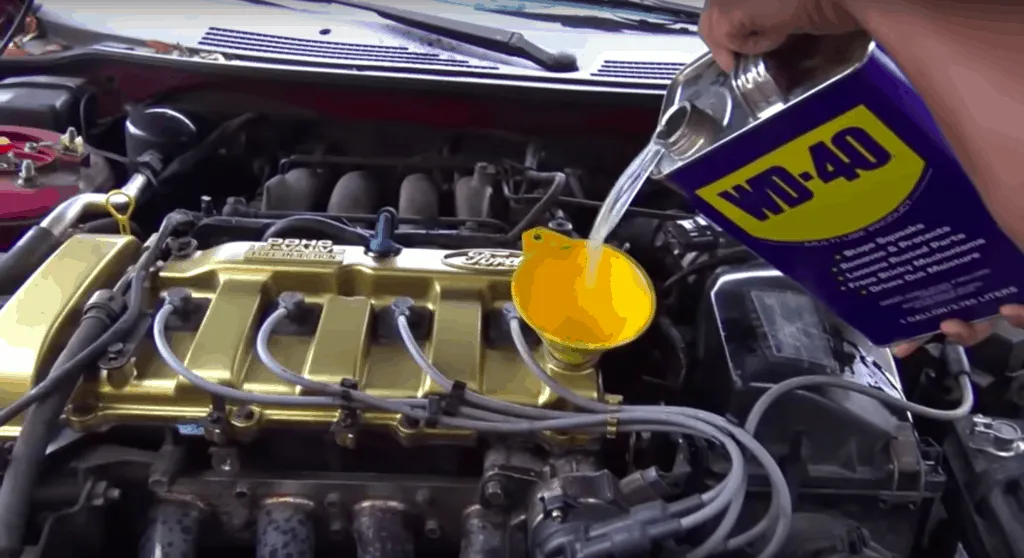 Protecting Bird Feeders
For those of us who live in close proximity to the woods, placing bird feeders in the backyard is a great way to bring some of mother nature's beauty to the view from your living room or kitchen window. Unfortunately, squirrels will often eat the birdseed and even ruin the feeder itself. In order to make your bird feeder squirrel-proof, spray WD-40 down the center pole. This way, the rodents won't be able to climb up without slipping off.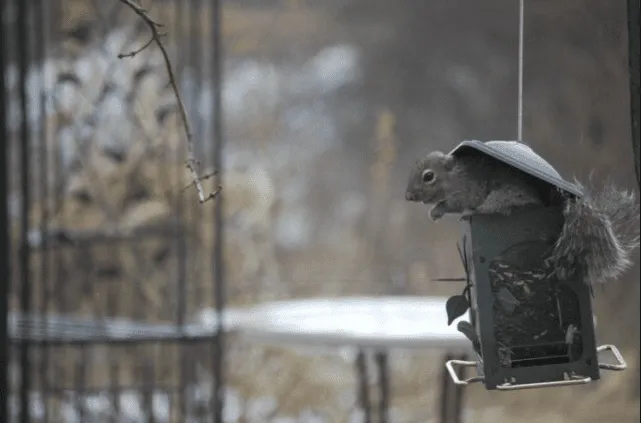 Protect Plants From Slugs And Snails
If you're sick and tired of slugs and snails ruining the plants on your patio or deck, try spraying some WD-40 on the outside of the pot. Bugs can't stand the stuff, so they'll steer clear of your precious flowers. Not only will it keep these pesky critters far away, but the material is waterproof, so it will stay even through rainstorms. The only thing you'll need to focus on is making sure those plants get plenty of water and sunlight.