If you've got curly hair, you've probably heard people say, "Wow, your hair is so nice! I wish I had curls like yours!" They mean it as a compliment, but having a good hair day with curls can be tricky. Curls can be unruly and hard to control, and some days, you might wish for smoother hair instead.
If you have naturally curly or wavy hair, short hairstyles can make your curls look even more beautiful. When your hair is shorter, it's lighter, and this makes your curls appear livelier, fuller, and bouncier.
Short haircuts are not only easy to care for but also timeless and stylish, especially in the warmer months. We've compiled a list of our favorite short curly hairstyles for women of all ages in 2023.
Short Curly Ringlets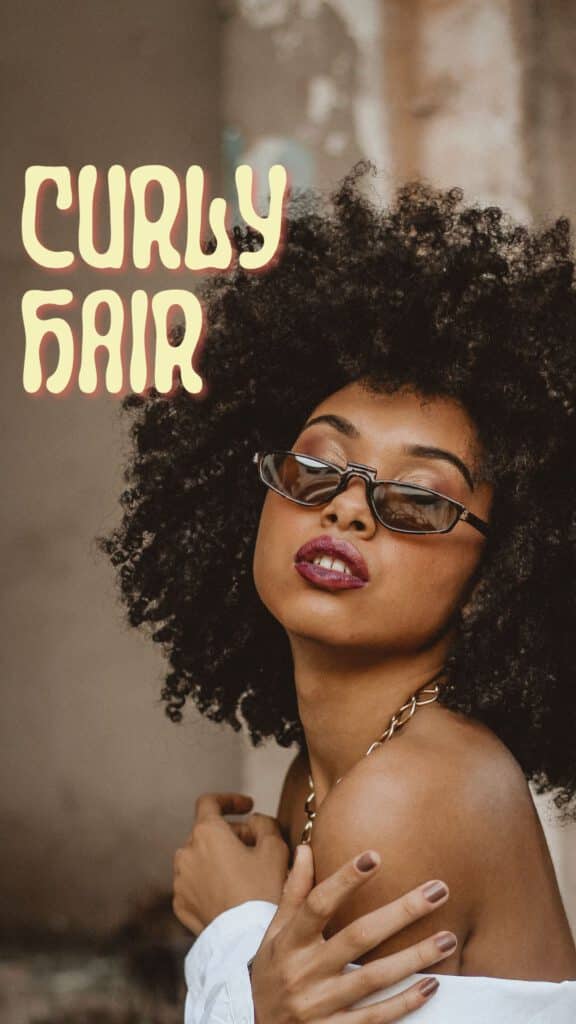 Ringlet curls are super versatile for short curly hair. You can rock a classy and sophisticated look or go for something flirty and sexy. If you're into that seductive vibe and want the choice to pull your hair back while letting a few curly tendrils frame your face, just leave your curls a tad longer.
Short Curly Pixie Cut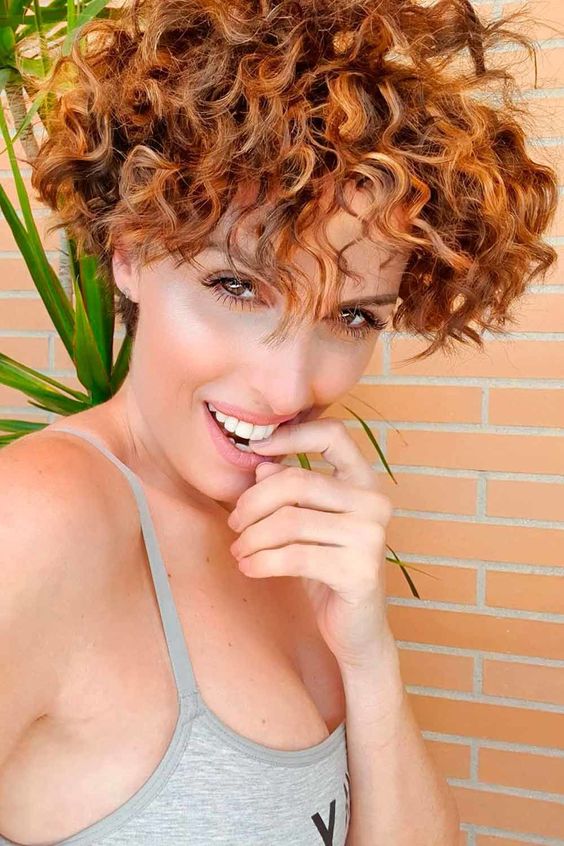 Hey there, if you want a fantastic way to style your short curly hair, consider getting a pixie cut. It's a timeless and stylish choice for women because it's easy to take care of and looks effortlessly cool. Plus, it works well with various hair types and can be customized to match your face shape perfectly.
CHOPPY LAYERS WITH BALAYAGE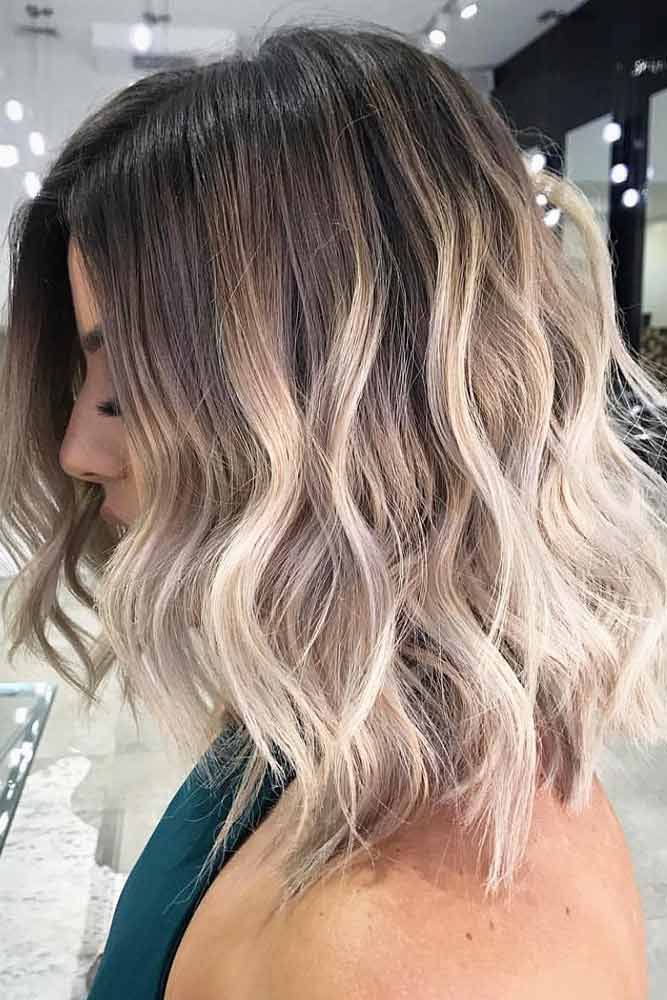 This cool ash blonde hairstyle with balayage highlights looks carefree. It's got choppy layers for that textured style. When you style it, just use a good texturizing product to bring out the cool texture.
This cool hairstyle has a sweet brown base with light brown balayage, and it looks carefree. It gets that relaxed vibe with choppy layers, giving it a textured style. When you style it, focus on bringing out the texture, not hiding it. Use a good texturizing product when you wave your hair. And if you want those bouncy curls, consider trying the Curly Girl method; it makes a big difference!
Short Curly Thick Hair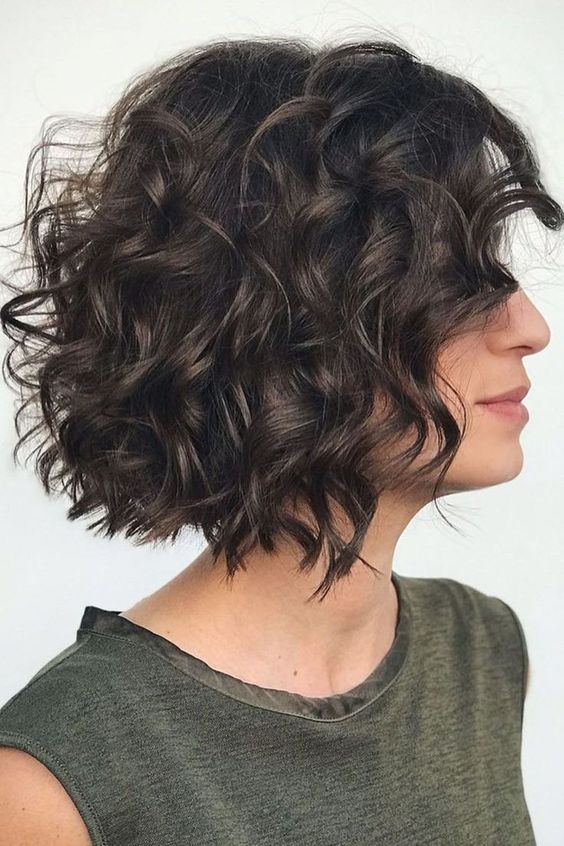 If you've got thick, curly hair, this short curly hairstyle is a fantastic choice for 2023. It won't make your hair feel heavy and take away those lovely curls. It might seem a bit short, but the volume and bold definition of the curls are so striking that you won't even miss the length. Plus, it's super easy to take care of. You can either blow-dry it with a round brush to give your hair some extra fluff, or you can let your beautiful locks air dry for that timeless, sexy look.
Short Curly Lob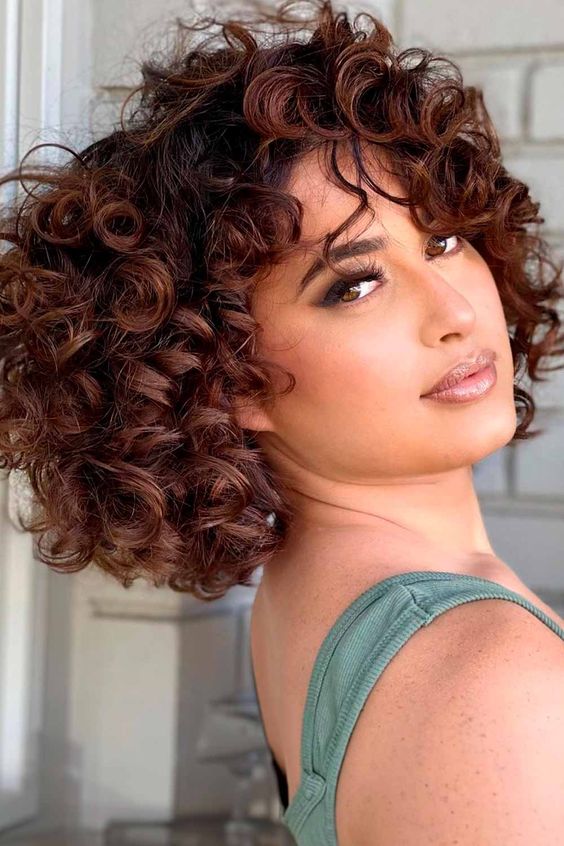 Short curly hairstyles like the lob (a long bob) are a great option if you want a cute haircut without all the fuss. Styling curly hair can be tricky, so choosing a simple cut like the lob is a smart move. It gives you the ease of short hair but still looks like you've got some length.
Short Curly Hair with Undercut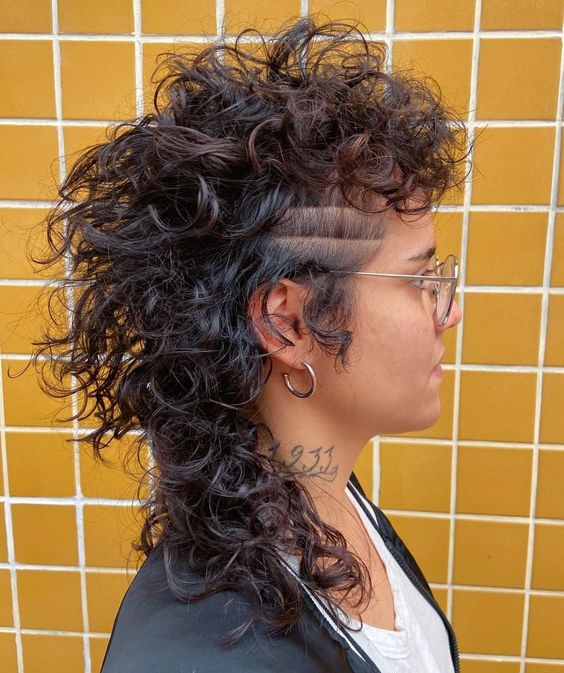 If you're into trying bold and edgy looks, check this out! Short curly hairstyles with an undercut are super cool and will definitely make you stand out. By keeping the hair longer on top and shorter on the back and sides, you not only get a stylish vibe but also make your hair lighter and less bulky. Cool, right?
Short Wavy Curls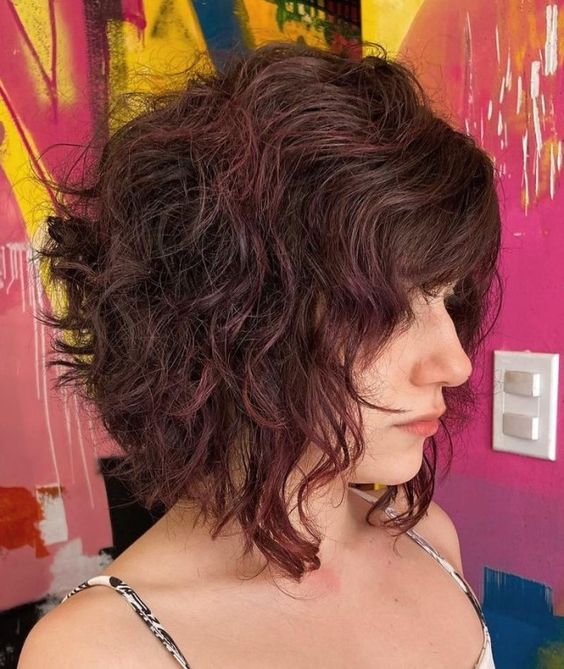 Not everyone has perfect ringlet curls, and that's okay! Soft waves are equally fashionable. If you're short on time and don't want to use a curling iron, just apply some hair product and let your hair air dry to show off those beautiful waves. Easy and stylish!
Classy Wavy Bob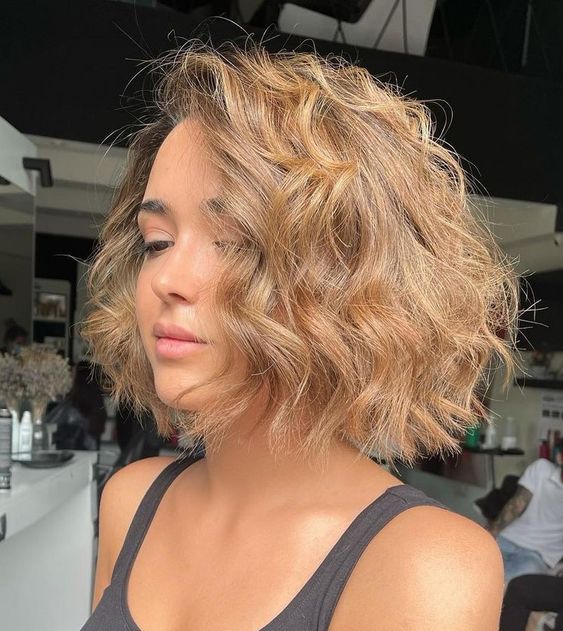 This short bob works for anyone, no matter your age. It has subtle layers that give your hair more volume and a natural flow. Just apply a bit of product, run your fingers through your hair, and you're good to go. These charming waves are classic and stylish, and they'll always be in fashion.
Short Platinum Blonde Hair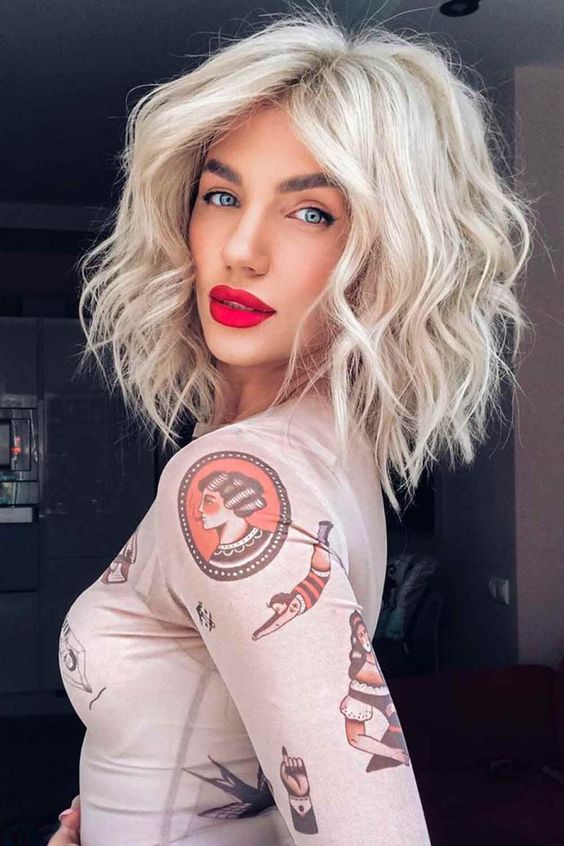 You don't need a daring haircut to make your short curly hair pop. Just a great color can do the job. Platinum blonde hair is attention-grabbing because it's super light. It does require some work to achieve and maintain, but the results are worth it. This cool color can really enhance your curls and make them shine.
Short Curly Hair With Bangs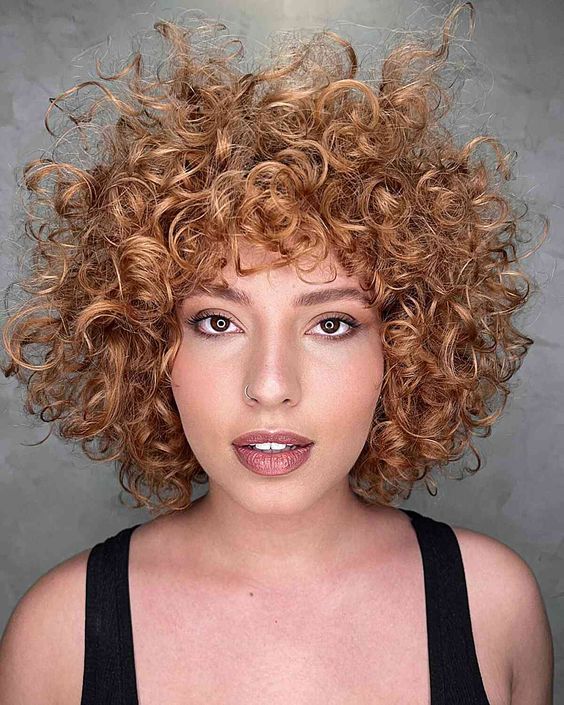 Bangs have their fashion moments, but they always look great with short curly hairstyles. Whether you go for straight-across or side-swept bangs, they bring a touch of intrigue to your lively curls.
Short Layered Curls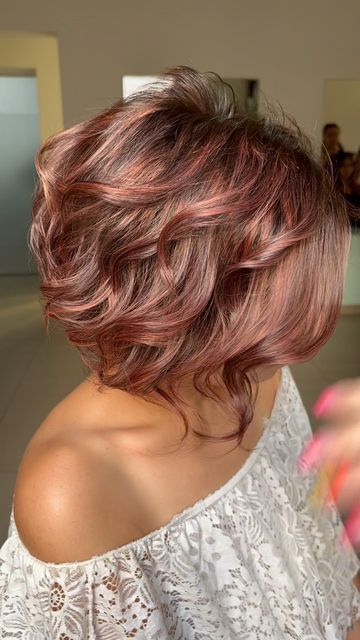 Contrary to what you might have heard, you can definitely add layers to short curly hair. This adorable short style includes layers of different lengths to give your hair texture and volume, creating a playful and timeless look that's always in fashion.
Tousled Curls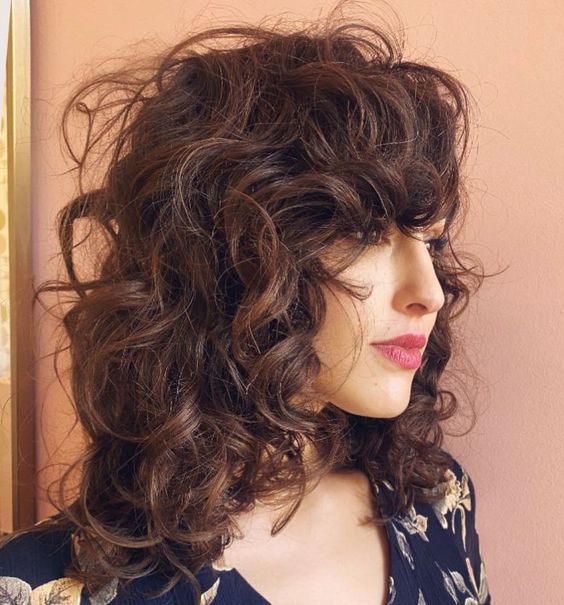 Short curly hair in 2023 is perfect for that carefree, tousled look. The best part about this look is that it requires little to no effort. Simply wash your hair with a good curling shampoo, conditioner, add a little product such as a curling wax or serum and go. Tousled curls are fun and sexy.
Side Swept Curly Hairstyle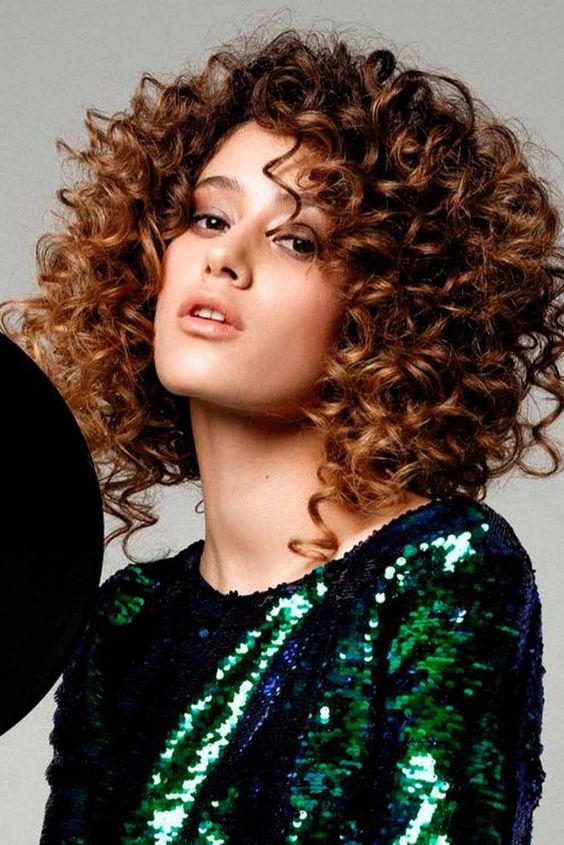 This hairstyle is forever classy and elegant. If you have a round face, avoid pulling your hair straight back as it may not complement your face shape. Instead, sweep your bangs to one side for a playful and flirtatious appearance. The loosely styled hair will give your hair extra volume and bounce.
Part A-Line Short Curly Bob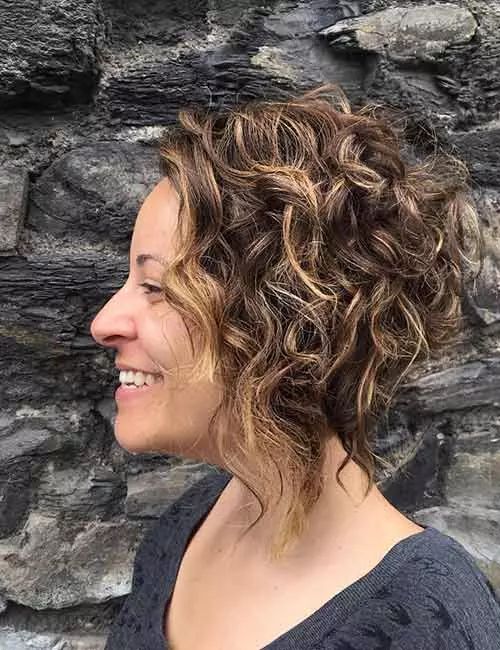 This hairstyle suits people with an oval-shaped face. The middle part and relaxed ringlets create a sexy and sophisticated look. The shoulder-length curls allow you to pull your hair back if necessary, but it looks best when the loose ringlets delicately frame your face.
VINTAGE UPDO WITH A HANDMADE FLOWER CROWN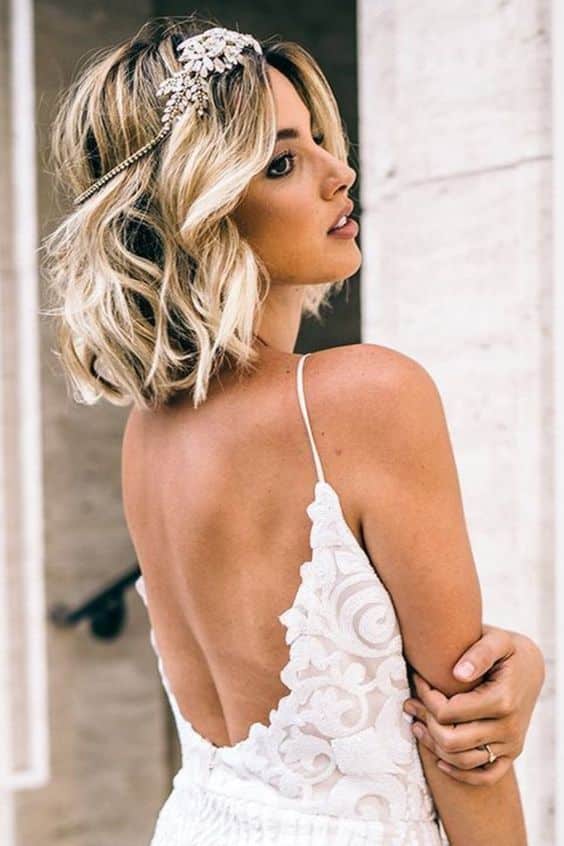 Enhance your classy updo with a flower crown for a romantic touch. Brides adore this style because it makes them look beautiful and blooming. It's a lovely choice instead of tiaras, headbands, or veils.
Curly Pixie With Headscarf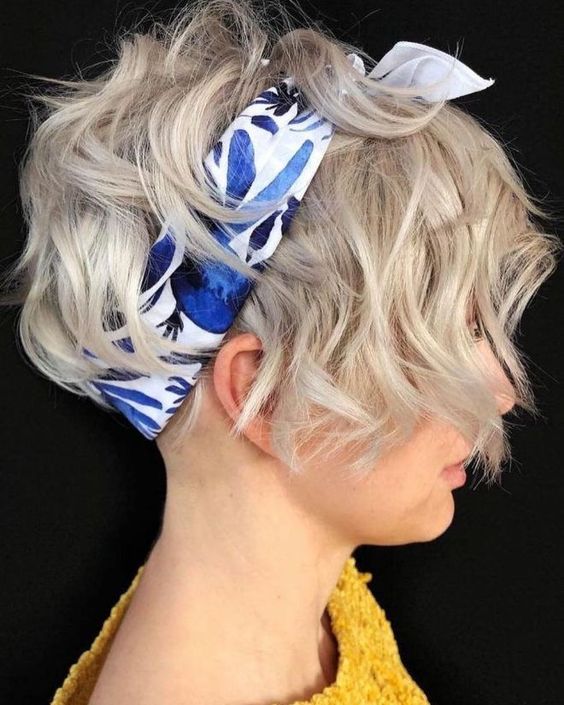 Adding some chic accessories can highlight your great style. There are days when we feel too lazy for anything more than a simple bun or ponytail, but we still want to look good. Here's a super easy trick that takes less than a minute to give you an awesome look. Just put your pixie hair up, use a cute headband to hold it, and you're all set to flaunt a creative hairstyle.
Short To Medium Curly Bob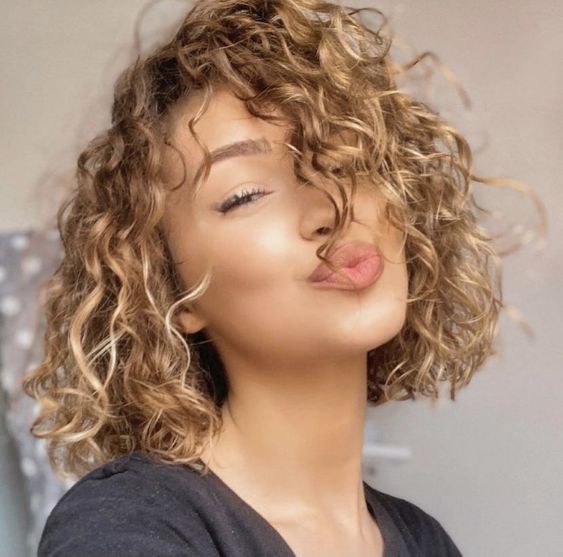 Want hair like a doll from your childhood dreams? Easy! Add some light whitish highlights to your dark brown curls. It'll make your hair look stunning, and you'll get lots of compliments.
Curly Layered Bob With Bangs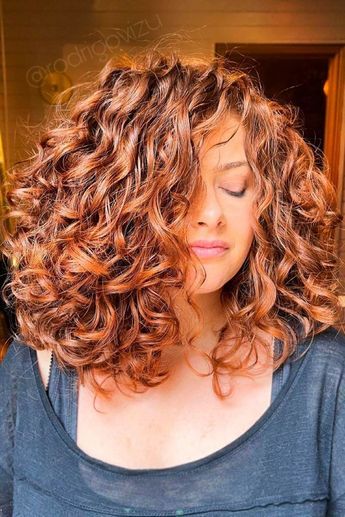 Some folks don't realize how awesome layers and bangs can be. Who doesn't want hair with lots of texture and volume, right? Well, a layered curly bob with cute face-framing bangs is a great way to get that full and luxurious look. Plus, the bangs help hide a wide forehead. So, it's like getting several benefits in one stylish package!
Inverted Grey Bob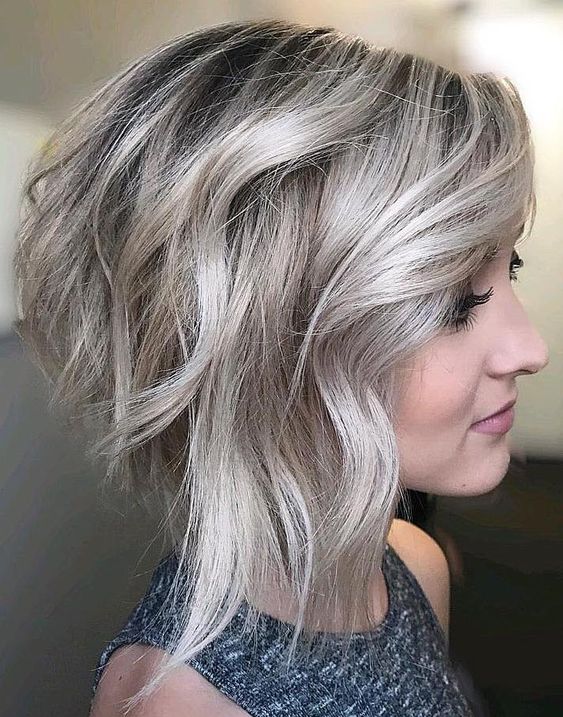 A chic haircut can really highlight your femininity. An inverted bob with added grey curls looks absolutely stunning and charming.
SEXY MODERN TEXTURE FOR SHORT CURLY HAIR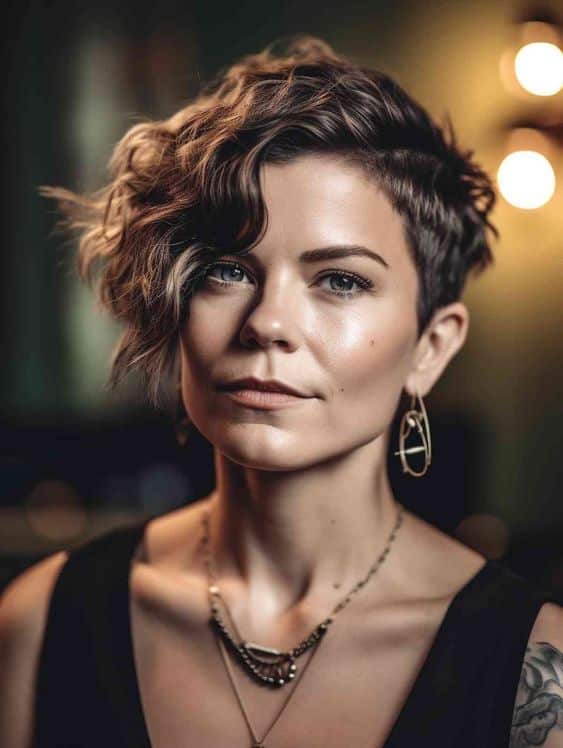 A chic haircut can really highlight your femininity. An inverted bob with added grey curls looks absolutely stunning and charming.
BEAUTIFUL WAVY BLONDE BALAYAGE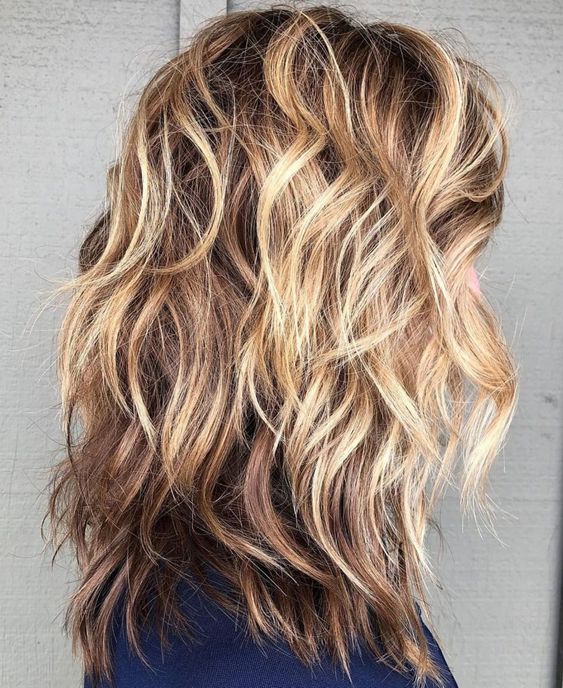 This hairstyle is perfect if you want more volume in your hair. Simply add some gentle waves to your straight hair for a stylish look. To enhance the texture, blend blonde, caramel, and chocolate shades. It's a versatile style you can wear every day or for a special occasion.
Very Short Curly Hairstyle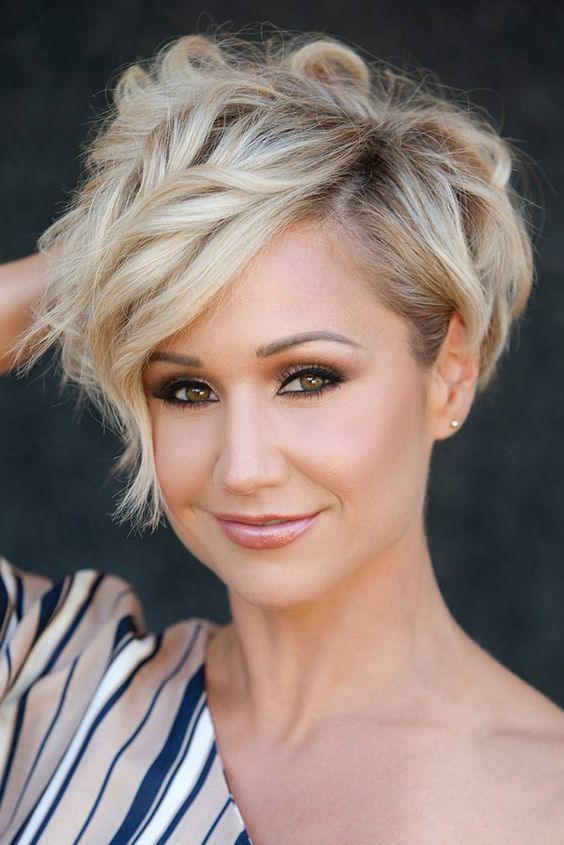 Got really short curly hair? Well, there might be fewer styling choices, but that's a plus! It means you can have a chic and easy-to-care-for look. No more struggling with detangling and pricey products! This super cute style looks best with a bit of length on the forehead, which can be quite flattering.
Peach Volume Curls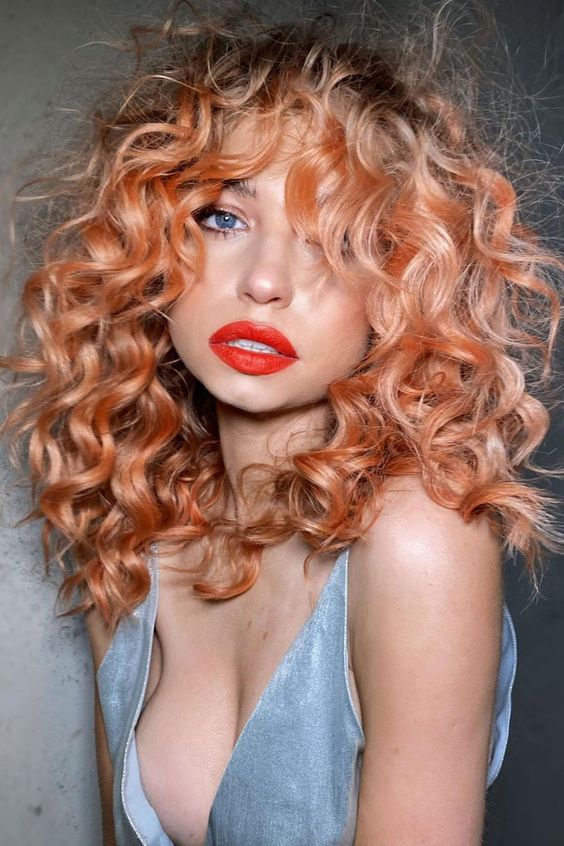 For those who want a playful and alluring look, peach curls are the way to go. They give off a sweet and sexy vibe that many love. So, what are you waiting for?
In conclusion If you want a timeless and ageless style, short curly hairstyles are the way to go. They offer lots of options, from chic bobs to playful curls, allowing you to express yourself and look great at any age. Whether you love your natural curls or want to try something new, there's a short curly hairstyle for you. It's a simple way to look stylish and elegant, no matter your age. So, give short curly hairstyles a try and enjoy their timeless charm.