If you're searching for reasonably-priced and high-quality furniture, IKEA is likely the first brand that pops into your head. What's great about their products is that you can use your creativity to craft unique and amazing home decor. So, if you're interested in discovering some of the most innovative ways to use IKEA furniture, read on!
Stylish Accents
The furniture available at IKEA is generally plain in both color and design, which could suit a modern or contemporary interior. However, if you desire a more unique look, you may need to employ your own imagination and crafting abilities to achieve it.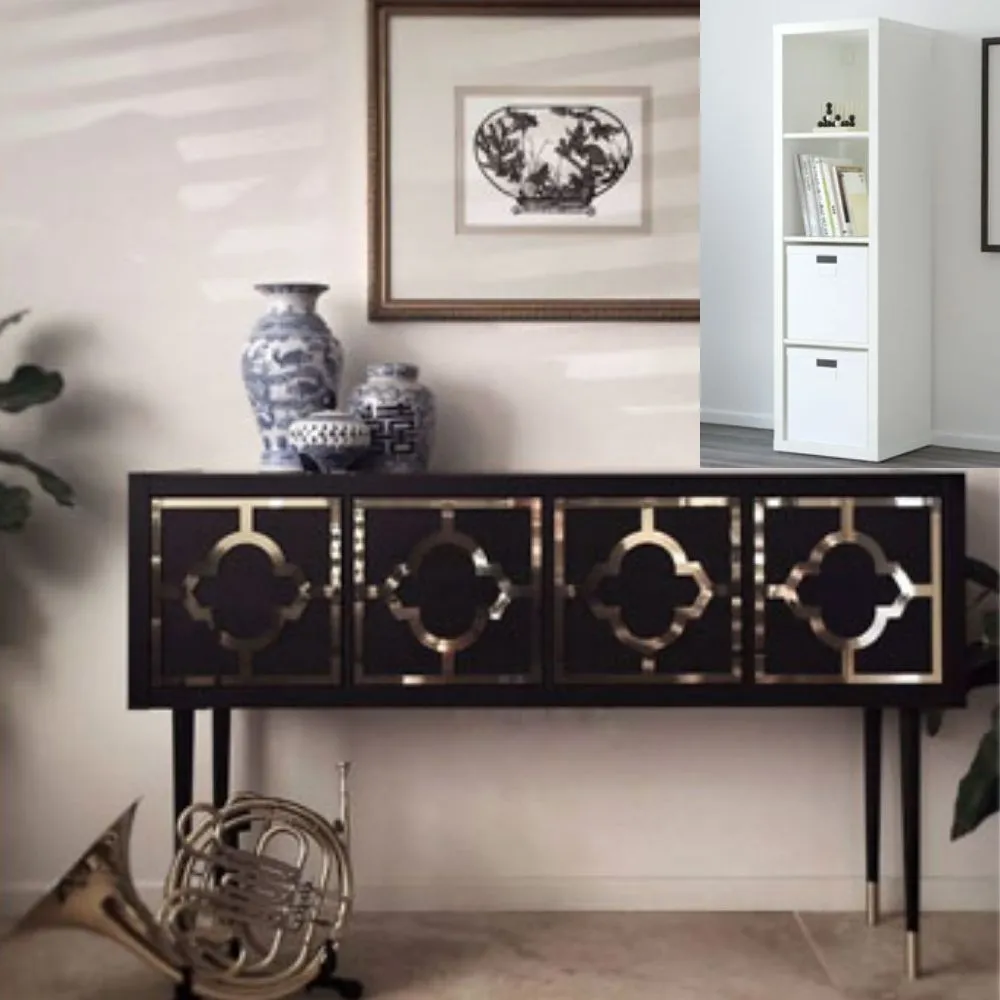 Just like how someone repurposed an IKEA Kallax furniture by flipping it over and adding legs, painting it with intricate details, and transforming it into a stunning art deco-inspired shelving unit.
Window Seat
It's a wonderful experience to have a comfortable spot near the window where you can relax and read a great book. However, if you have a big window without a built-in seat, you might feel like you have to compromise on comfort.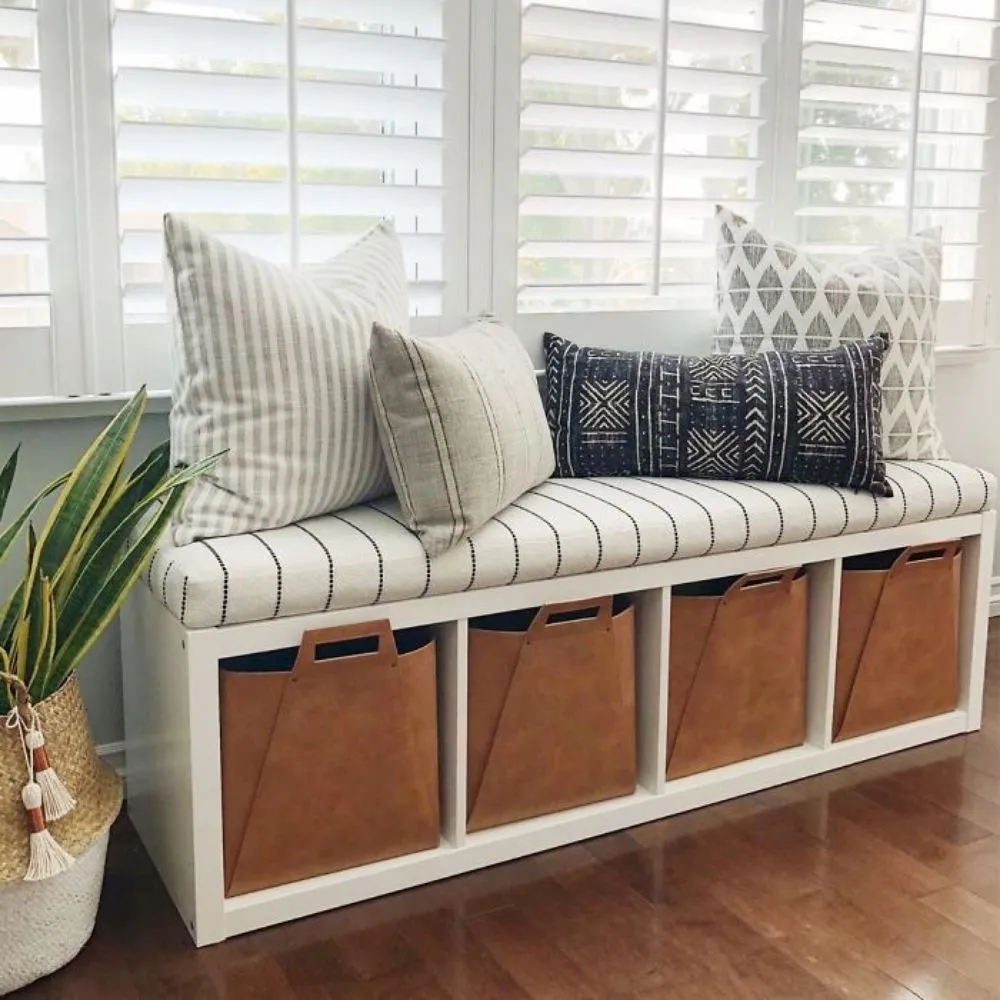 Great news, you don't have to spend too much money. By using the Ikea Kallax and adding some cushions and accessories, you can turn it into a stylish and practical seating area. The once ordinary shelving unit can now be transformed into a comfortable corner where you can enjoy the view from your window.
Antiqued Drawers
The accents in a room can really stand out, particularly if they have an antique appearance. This can be a great way to enhance your space. To achieve this, you can purchase the Ikea Card File Drawers.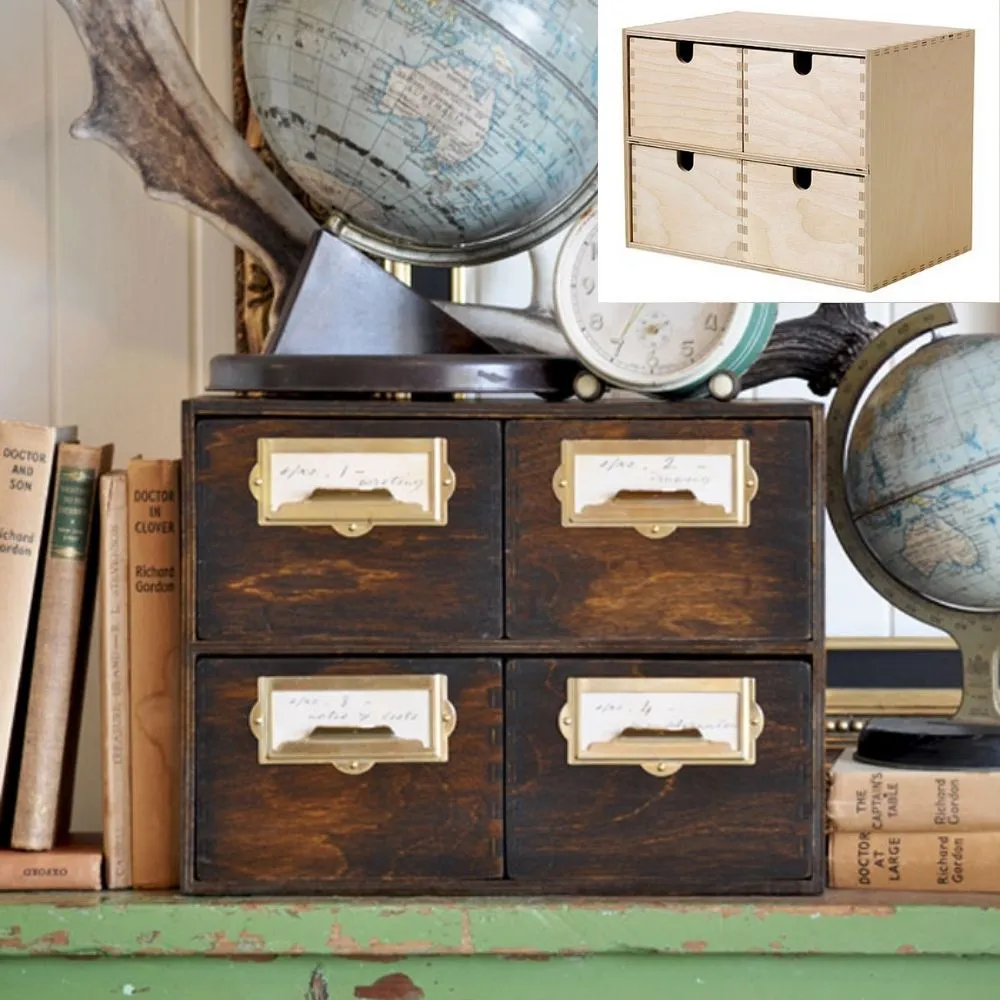 Afterwards, apply your desired paint on the containers and attach label holders that correspond with the selected paint. It might require some effort, but the final result can look similar to this.
Chic Storage
Customizing your furniture can involve drastic alterations, such as using a saw to make significant changes to a purchased piece. This is precisely what this person did to craft a stunning and distinctive cabinet.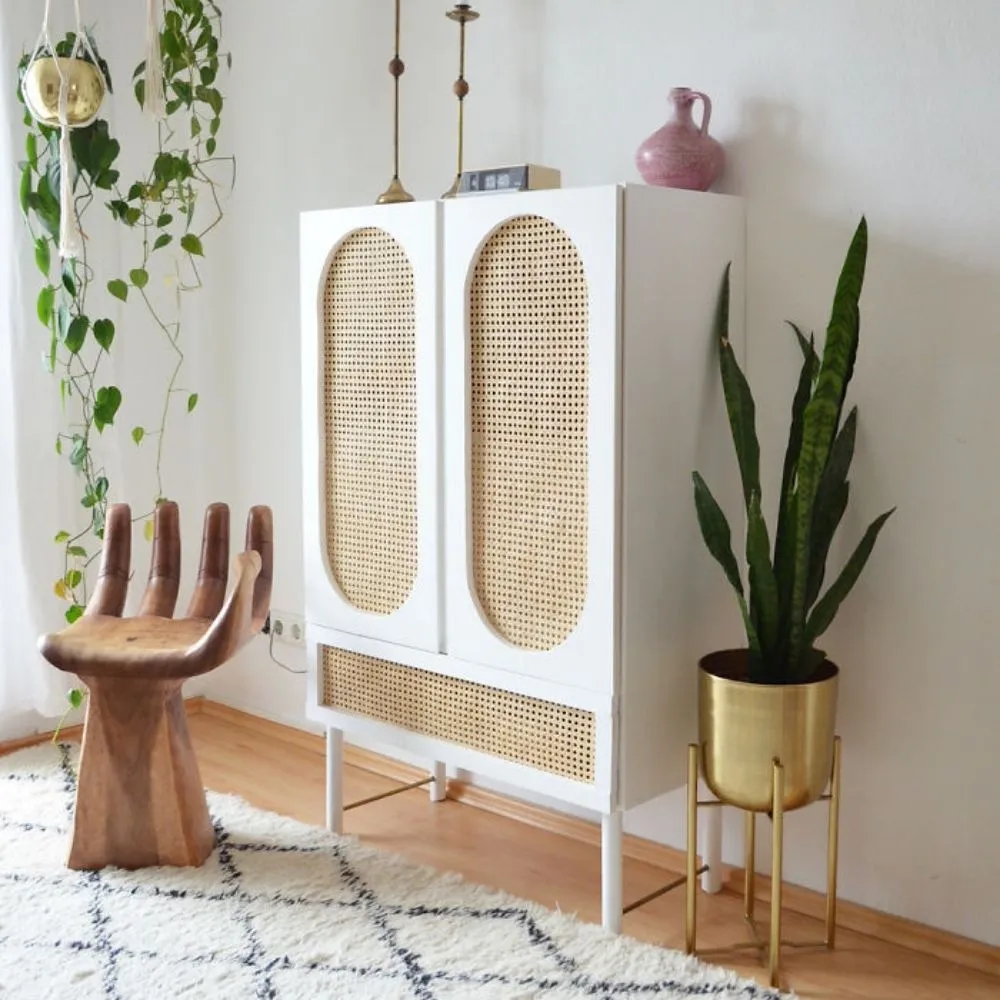 They modified an Ivar Cupboard by cutting out curved patterns on the doors and incorporating rattan mesh. The outcome is an impressive cabinet. While this hack requires more work compared to others, the end result is definitely worth the effort.
New Bed
Are you into a rustic and country-style decor? No problem! You can easily transform your simple and modern IKEA bed into a trendy country bed. It's easier than you imagine, all you require is a bit of paint and some wooden planks.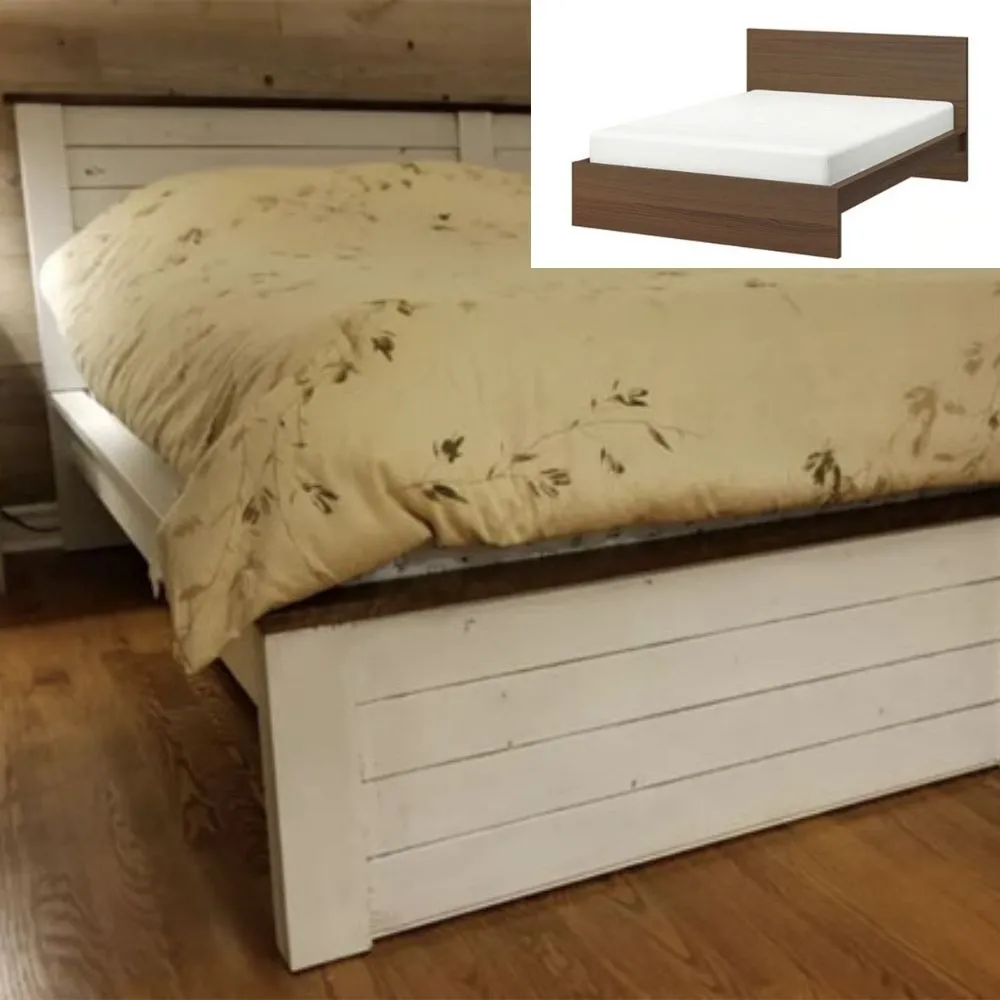 This individual affixed wooden boards to the structure of the IKEA Malm Bed, and subsequently applied a swift coat of paint to the entire frame. As a result of their efforts, they produced a remarkably charming piece.
Fun Dresser
If you are looking to add a pop of color and storage space to your living area, this next tip is worth considering. Simply grab an IKEA dresser and get creative with either a paint job or some playful contact paper.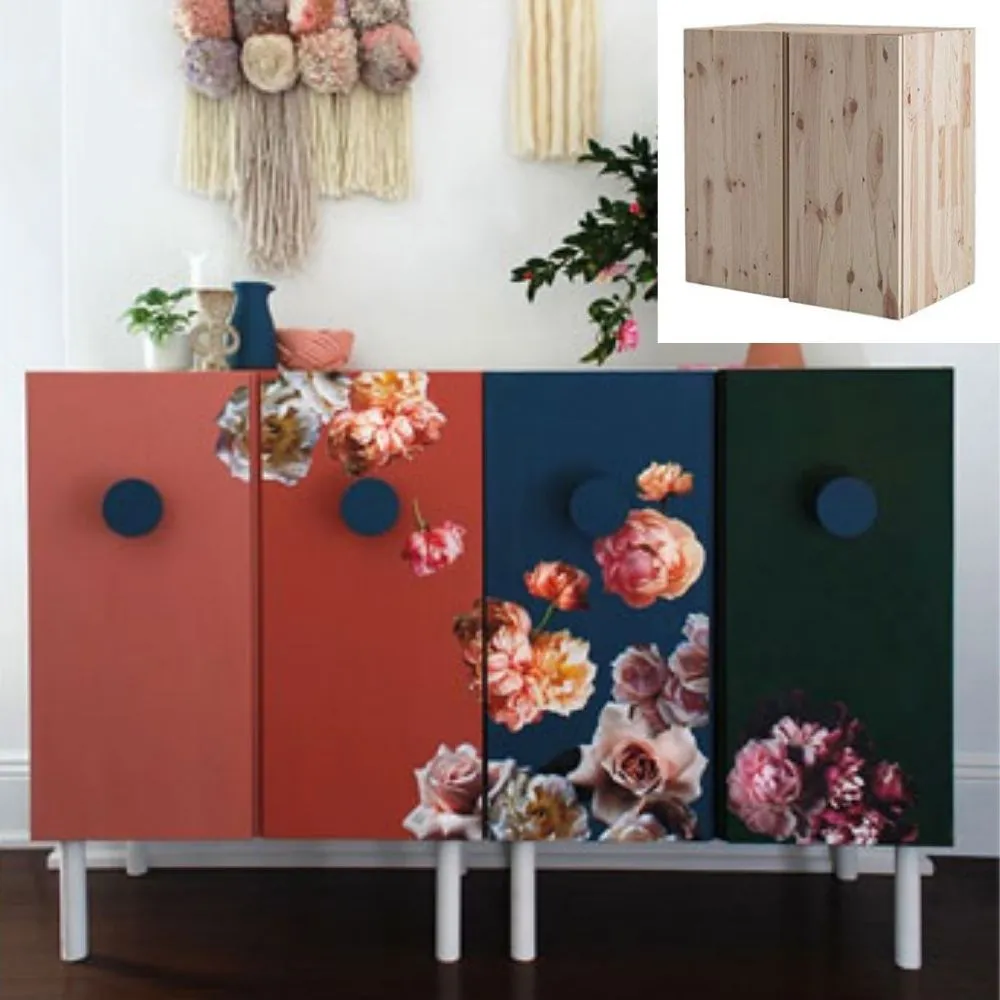 Firstly, affix a few legs to the dresser, and then decide on the picture you wish to put on it. After you have painted or pasted the image onto your dresser, you can include a playful handle to complete the appearance of the dresser.
Cat Tree
A common belief about cats is that they're just lazy pets, but that's completely untrue. In fact, they have a great fondness for play and climbing. Therefore, if you're a cat lover, a beautiful feline tree is a must-have addition to your home. This individual showcased some creativity.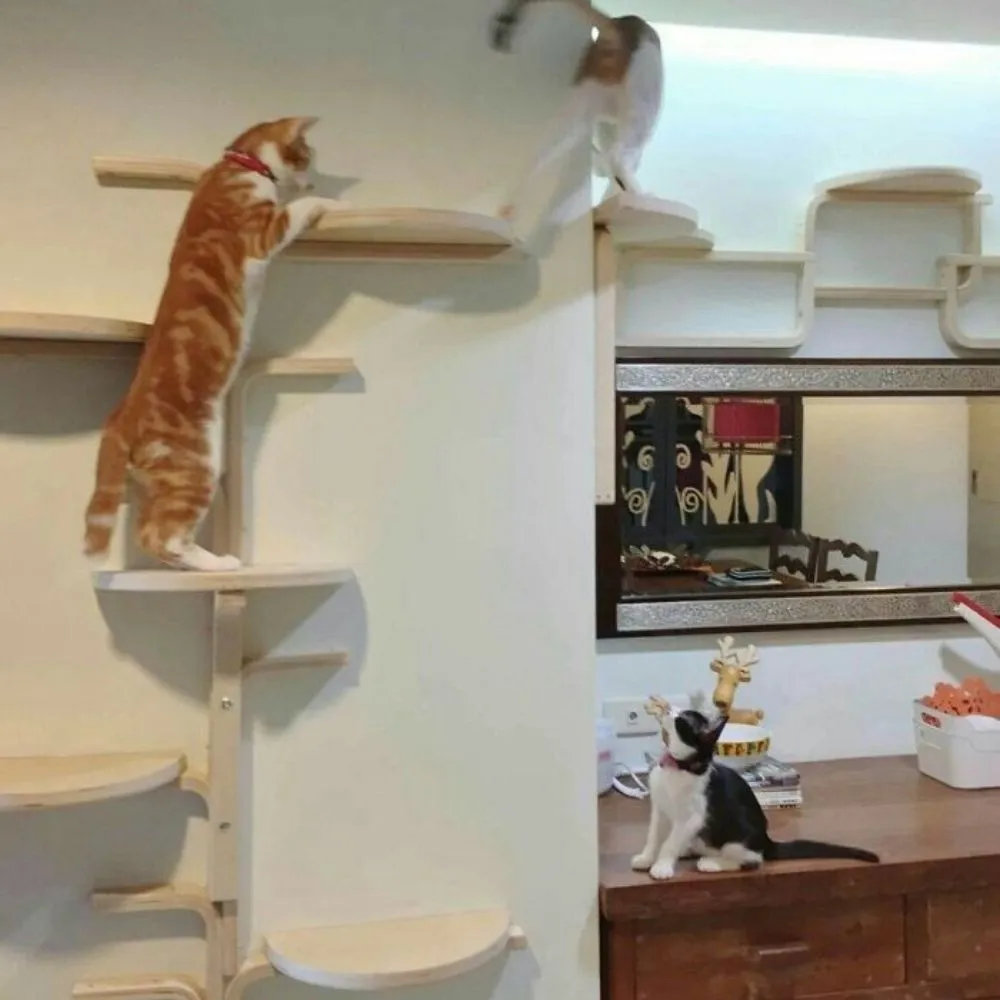 To avoid occupying much space in their house, they made the tree more complex by affixing IKEA Frosta Stools onto the wall. They cleverly constructed a captivating interconnected design by utilizing several of them.
Fantasy Bed
A lot of young girls enjoy fairytales, which leads to their interest in embellishing their rooms with princesses and castles. These parents have taken that idea further by exploring unique ways to incorporate those elements into their children's rooms.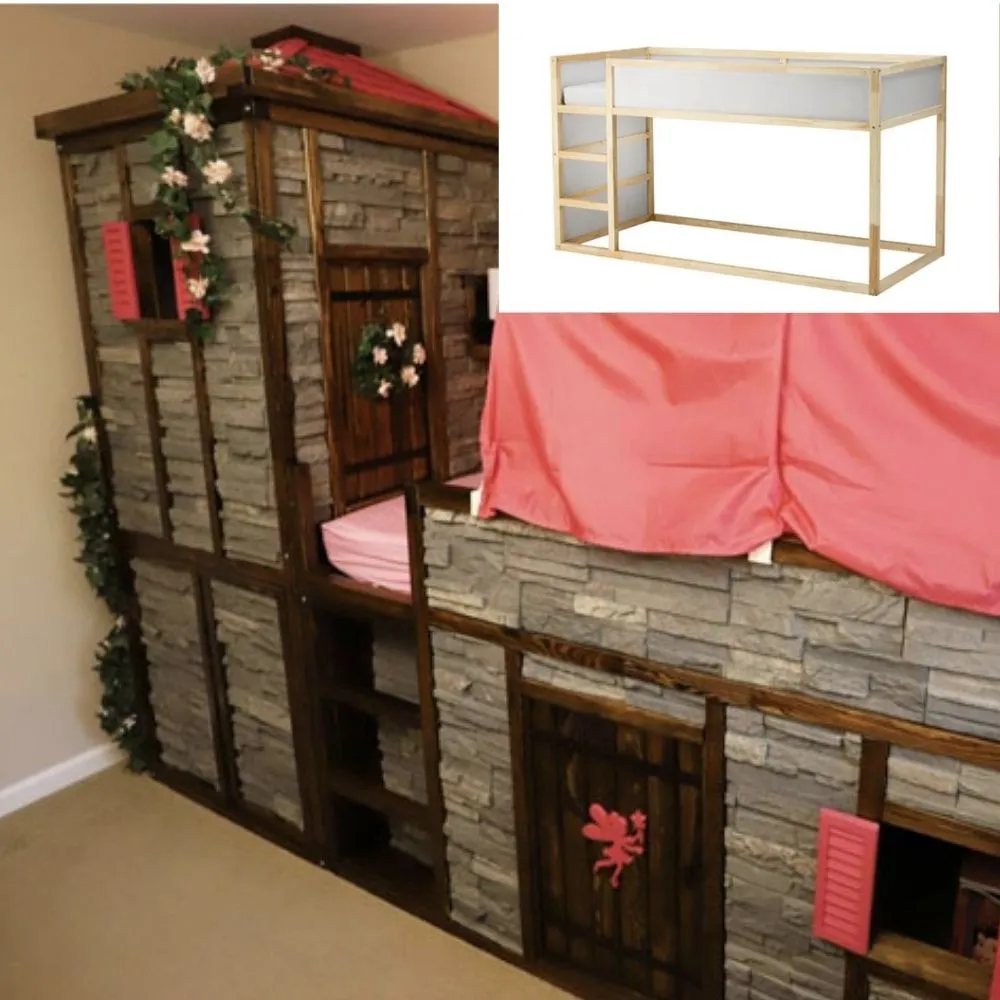 Boys typically have beds adorned with race cars and superheroes, whereas this young girl's bed is designed to resemble a castle. Her parents transformed the IKEA Kura Bed with their imaginative skills resulting in a stunning fairytale castle bed.
Unique Cubby
Do you need a designated area to keep items such as your wallet, phone, and keys that you carry around in your pocket? Although placing them on a table or nightstand is an option, it can be uninteresting. Therefore, why not showcase your creativity by constructing a customized cubbyhole?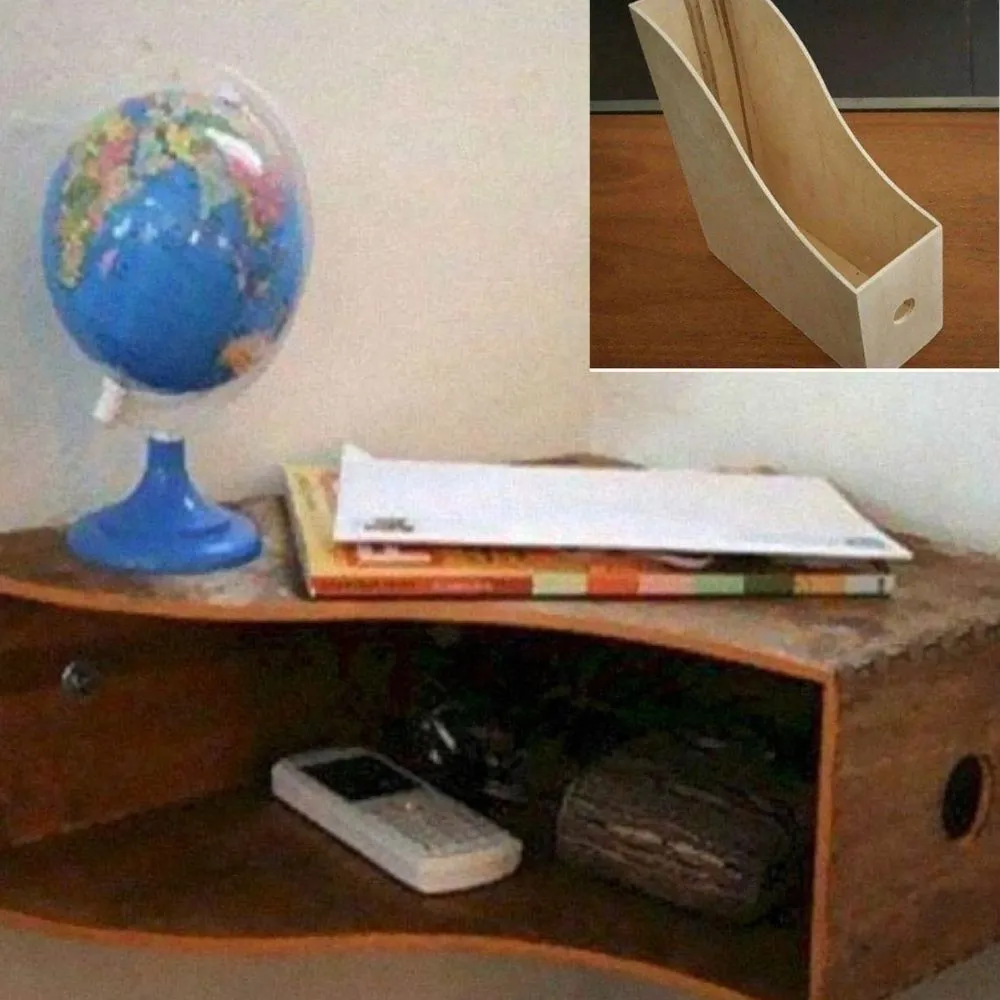 This individual utilized the Hack Magazine Holder by fixing it onto the wall, resulting in a convenient compartment for storing various belongings right away.
Kitty Bunk Bed
If you are a pet owner, chances are you have purchased several beds for your furry friend. However, they all seem quite similar, consisting of a large circular cushion that may not be aesthetically pleasing. But it doesn't have to be that way. By putting in some imagination and effort, you could have a bed similar to this one.

The cat owner desired to provide her feline companion with a space where he could host a friend comfortably. To accomplish this, she assembled a bunk bed for cats by fastening two Duktig Doll Beds together.
New Dresser
It's acceptable to customize a piece to your liking. It could be the color combination doesn't suit the room's color scheme or the design doesn't match your personality. If you have a Hemnes Dresser and you want to personalize it, this hack might be helpful.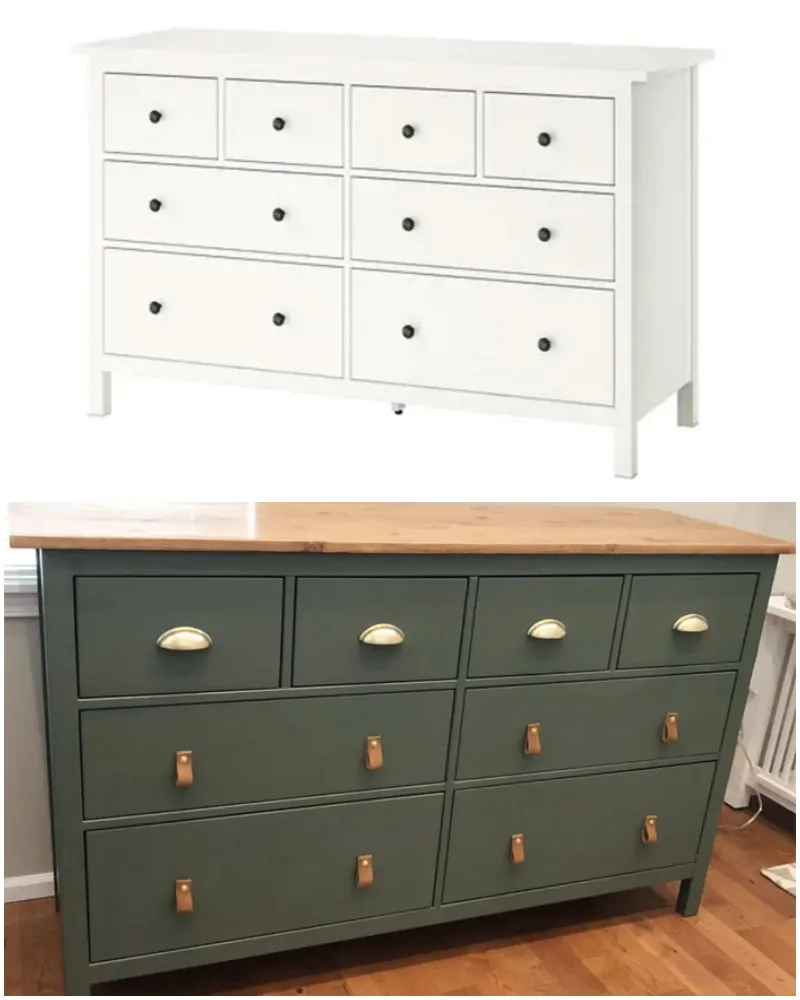 The person smoothed the surface of the dresser using sandpaper, and subsequently gave it a fresh coat of paint to suit their preferences. Furthermore, by replacing the drawer handles, the dresser looks completely new and very trendy.
Collectible Shelves
If you possess fascinating collectibles, you may wish to exhibit them. Although there are a variety of collectible cabinets available, you might need to create your own if you want something special and enjoyable.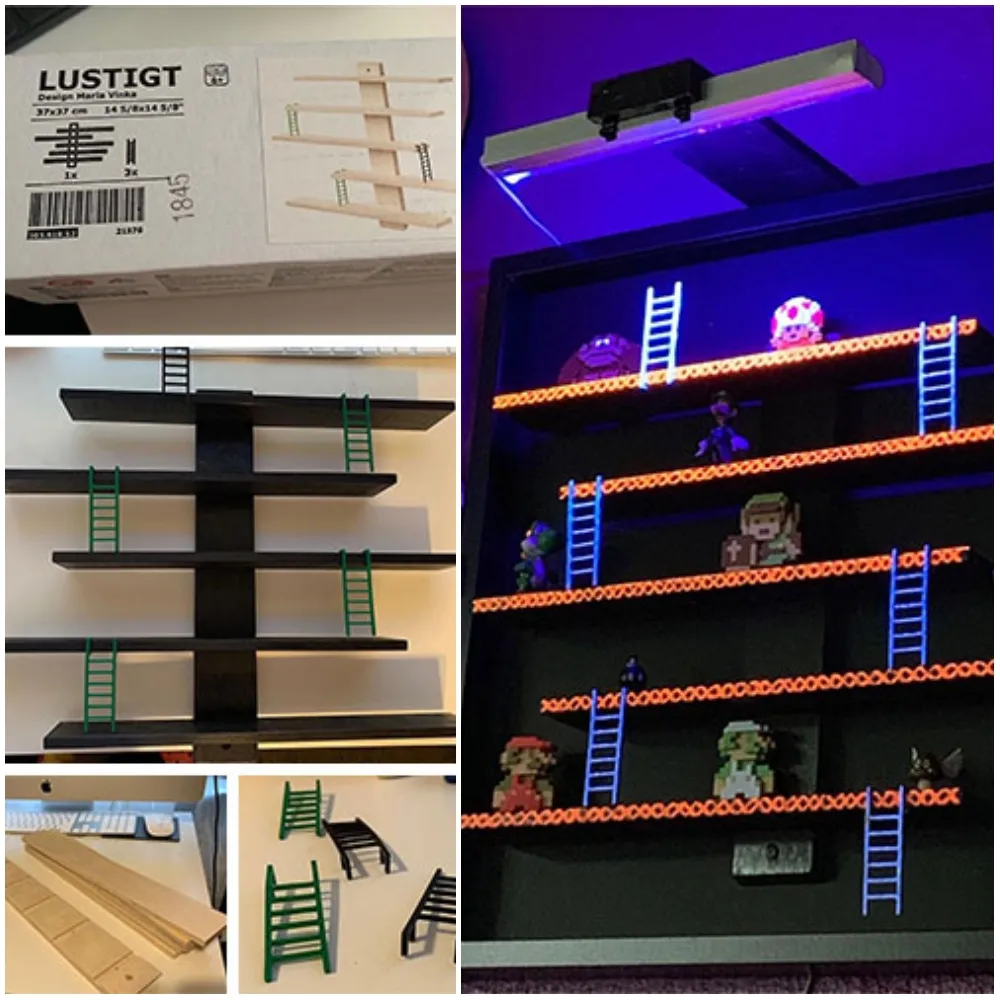 Perhaps you could follow in the footsteps of this person by utilizing IKEA's Ribba Frame and Lustigt Shelves in a similar way. This wall display is both enjoyable and inventive! With only some glue, paint, and a little bit of time, this individual has created a fantastic collection of treasures.
Narrow Bureau
In case you have restricted space, you might believe that you have to compromise on the style of your furniture. However, as depicted by this slender entryway bureau, that is not true at all.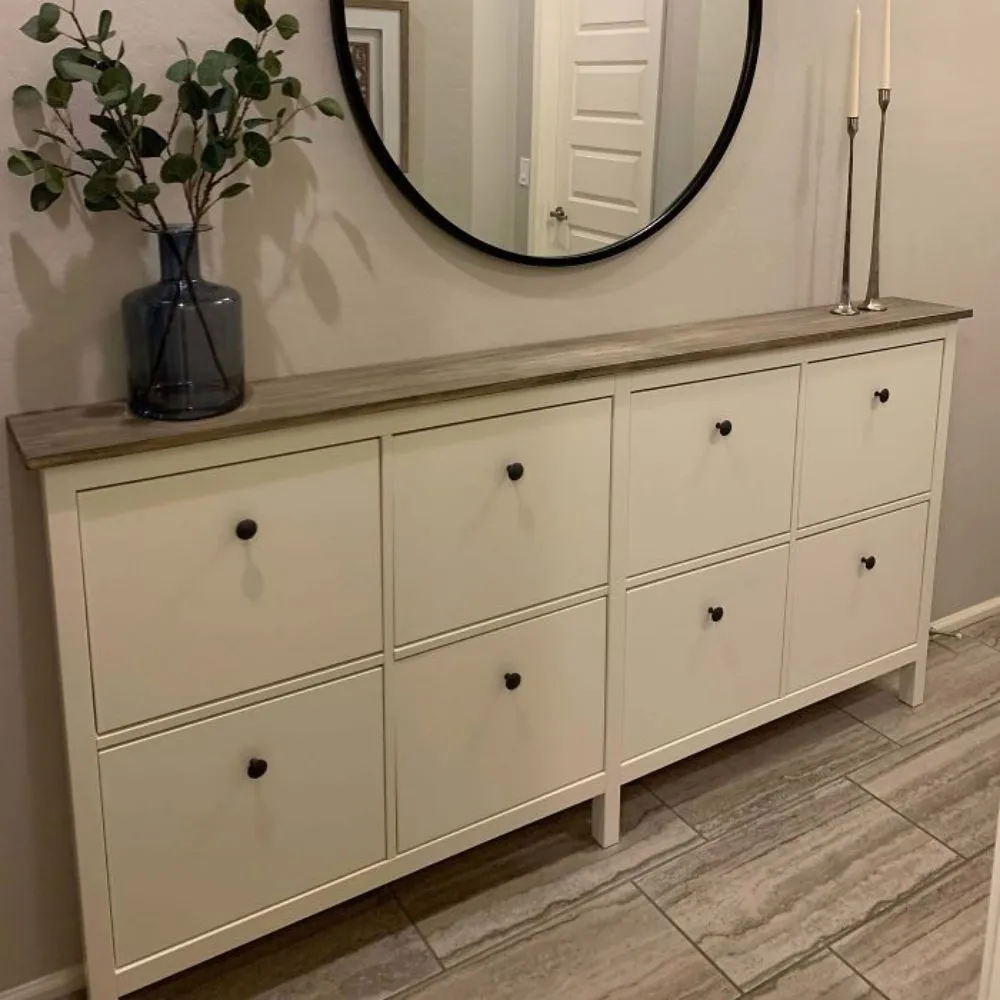 By merging a pair of Hemnes Shoe Cabinets and topping them with a stained wood surface, you can create an eye-catching and enchanting doorway piece for your residence. This task is uncomplicated and merely requires a short amount of time to accomplish.
Kitty Station
Having both a cat and a dog can be problematic when it comes to feeding them as one or both might not be allowed to eat alone. The other pet likes to intervene and try the food. This was the case in one household until the owner devised a clever solution.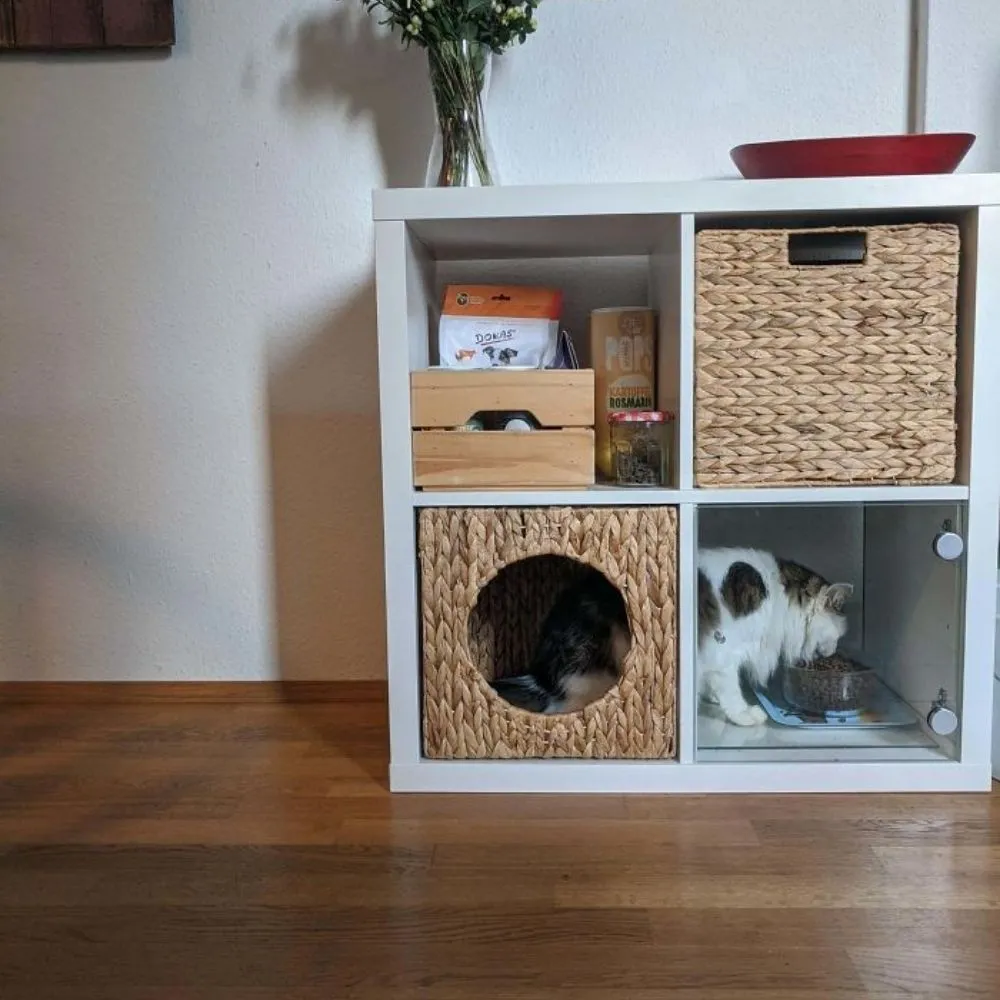 They utilized the Kallax and customized it according to their needs by integrating wicker baskets in the compartments and utilizing one of them as a safe storage for the cat's treats and food. This not only made their furniture well-organized but also pet-friendly.
Zen Table
Searching for a reasonably priced and fashionable item to adorn your patio can be a daunting task, but you can solve this problem by strolling through the aisles of IKEA and devising a clever and practical scheme.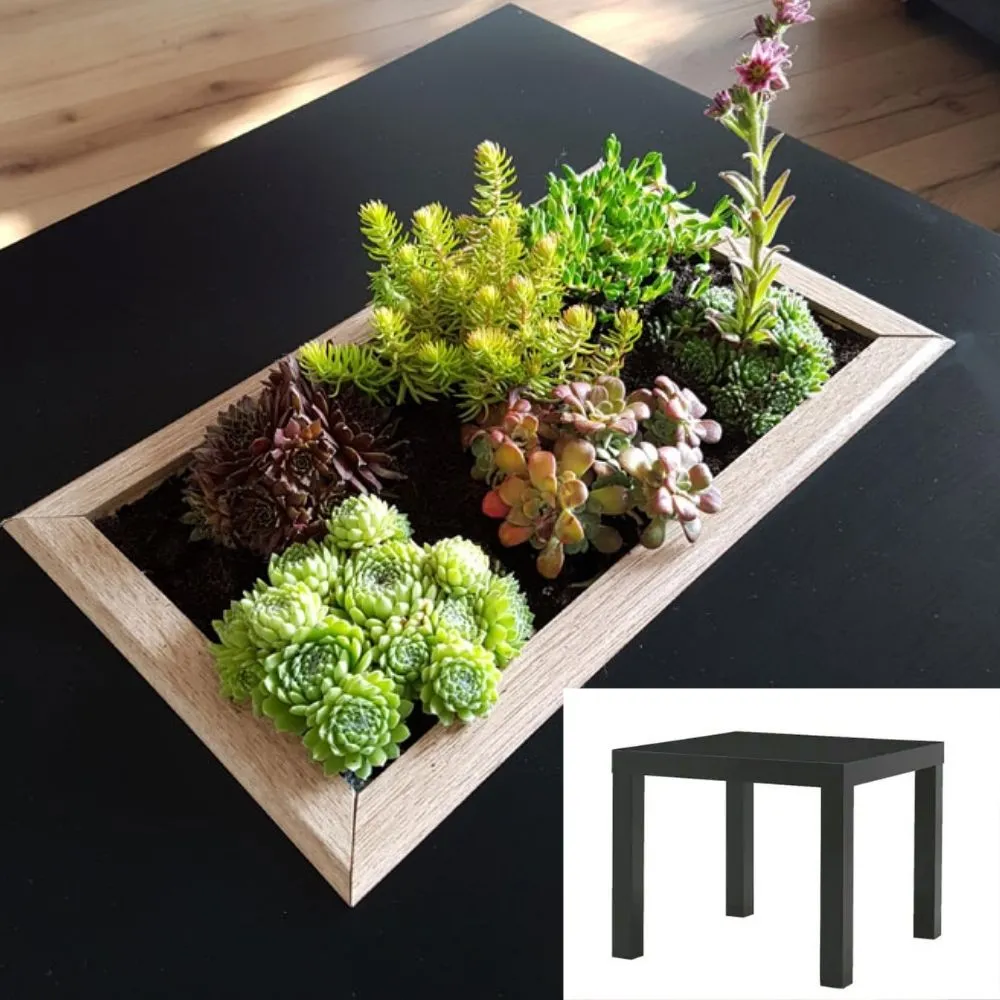 By incorporating a piece from the Lack collection and designing a cozy corner for some succulents, the entire ambiance of the table has shifted. As a result, the person now has a serene table that adds vibrance and charm to the surrounding area.
Library
Do you enjoy reading? Are you in the process of establishing a new school? If your answer is affirmative to either of these inquiries, you might want to contemplate the upcoming hack as an alternative. Stocking bookshelves with books may seem like a simple task for some, and you might require a significant amount of space for it. However, it can also be reduced to meet your specific requirements.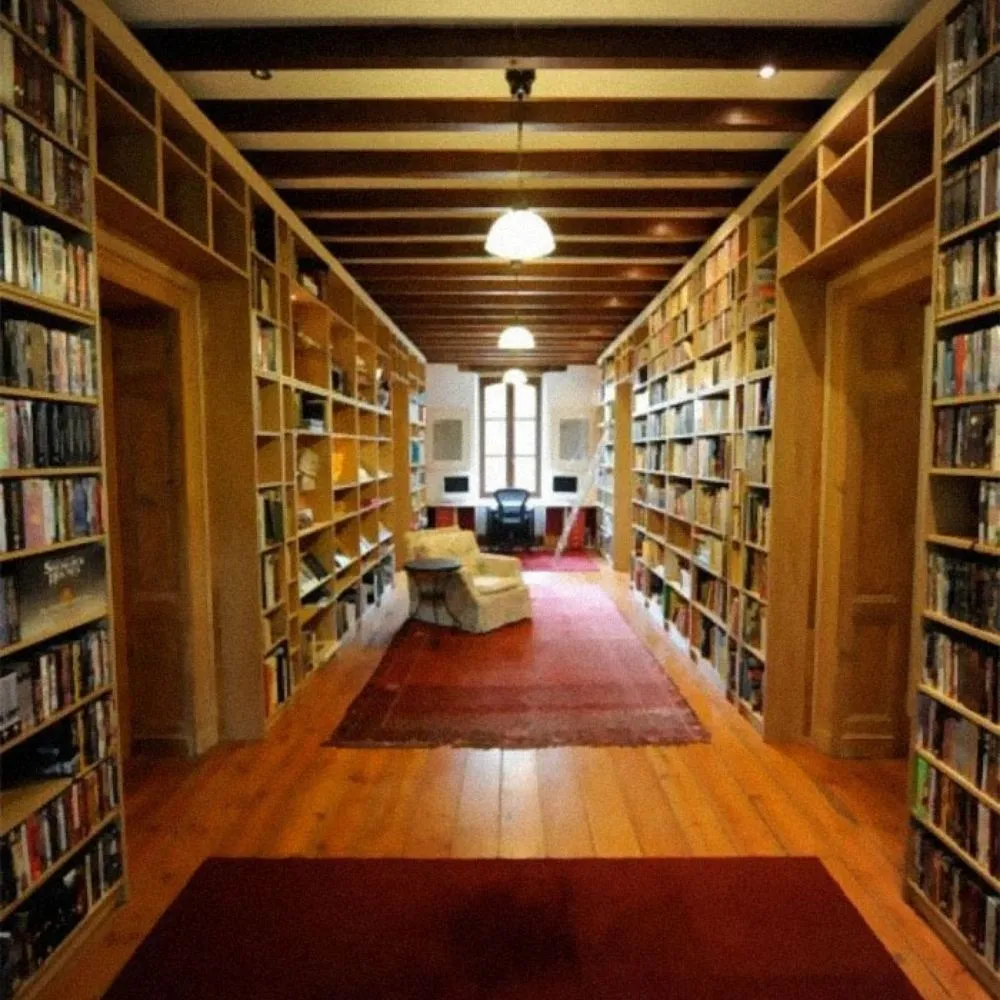 If you take IKEA bookshelves, apply some stain to them, and fix them to the walls, you can create a built-in look.
Accessories and Keys
If you are tired of misplacing your keys or sunglasses often and hoping to find a unique solution, rest assured that someone has already found one for you. The solution is very simple, and it also adds a cute touch to your belongings.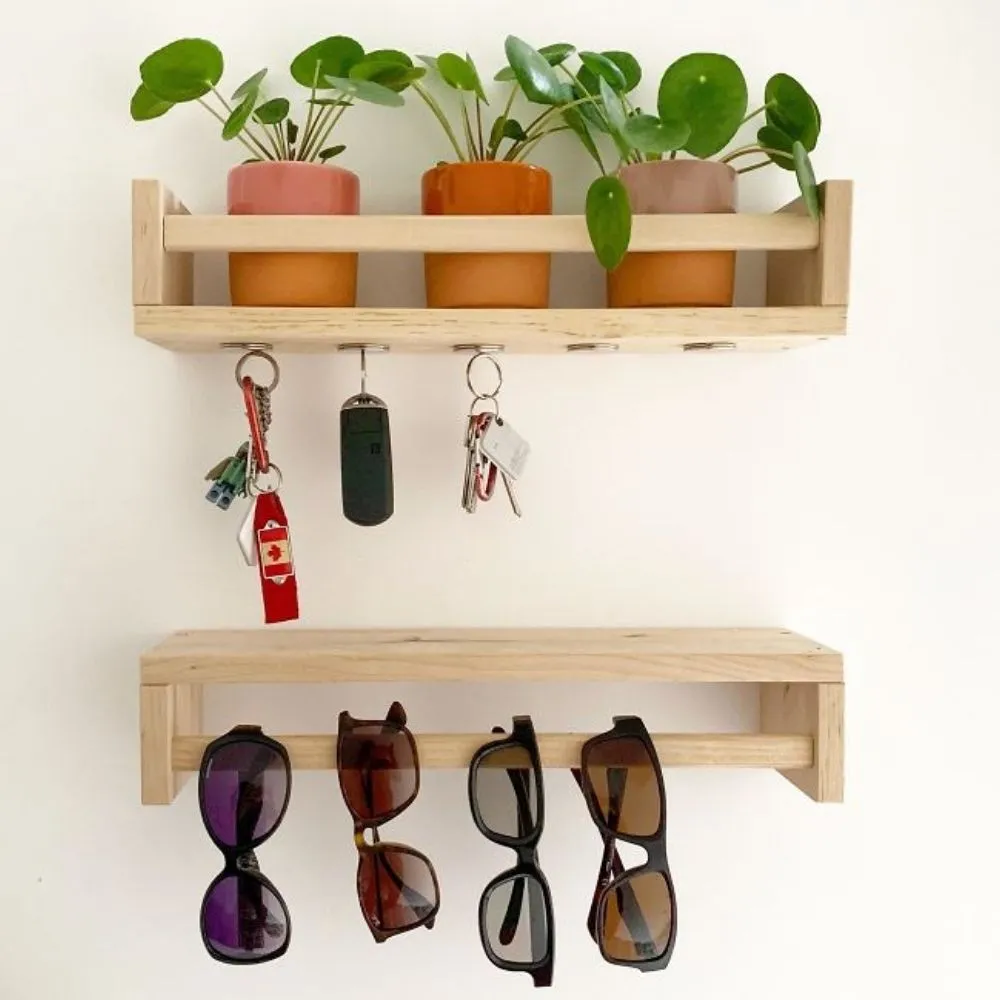 By attaching magnets to a set of Bekvam Spice Racks, this individual was able to create adorable shelves for storing their sunglasses and keys. Although they chose to keep the natural wood finish, you could also opt to paint them.
Hidden Litter
One of the most frustrating aspects of owning a cat is dealing with the litter box. It's always difficult to find a suitable location where it's not easily visible or noticeable by its odor.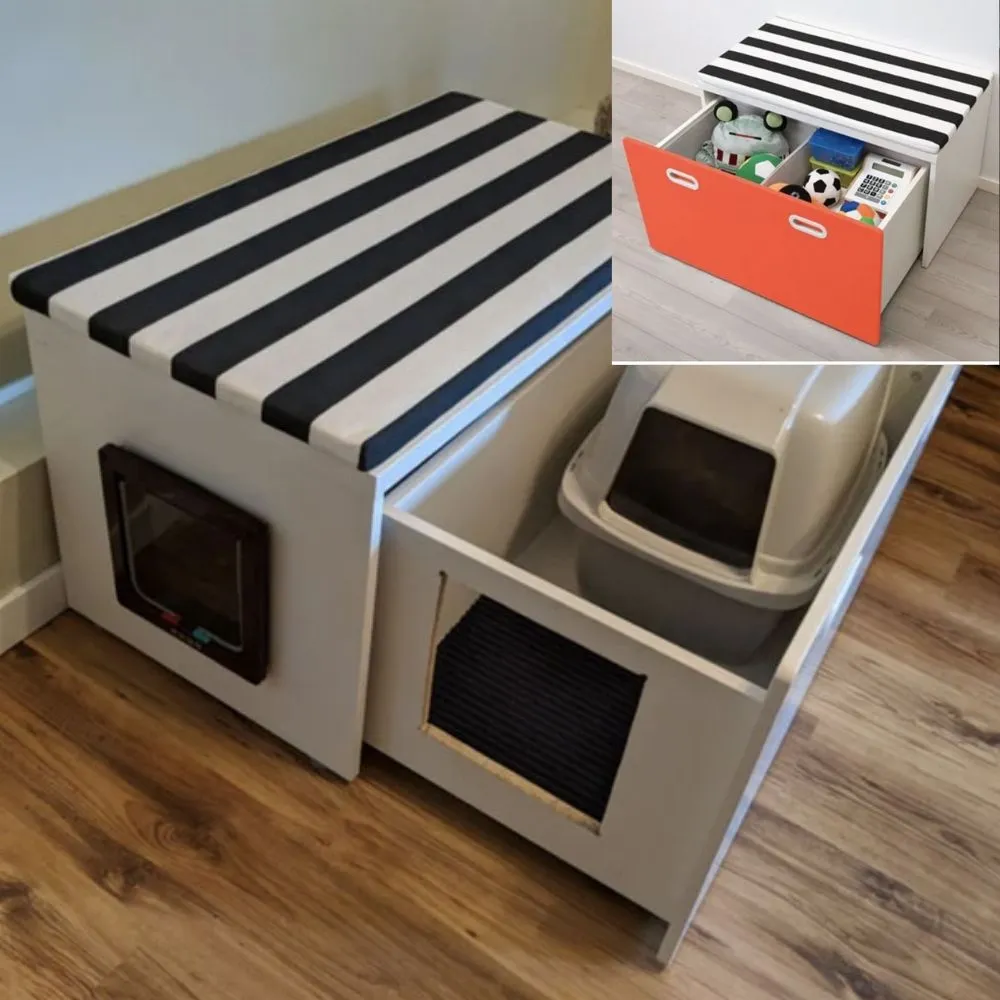 This individual was able to make use of the Fritids furniture to create a concealed litter box and a bench. This not only allowed them to save on space but also eliminated an unpleasant sight. They simply had to create an opening on the side of the furniture for their cat to enter and exit easily.
Detailed Shelving
It's pleasant to save money on furniture, but often you may end up with ordinary and unremarkable pieces. However, by utilizing additional tools, even the most uninteresting furniture item can be transformed into something captivating.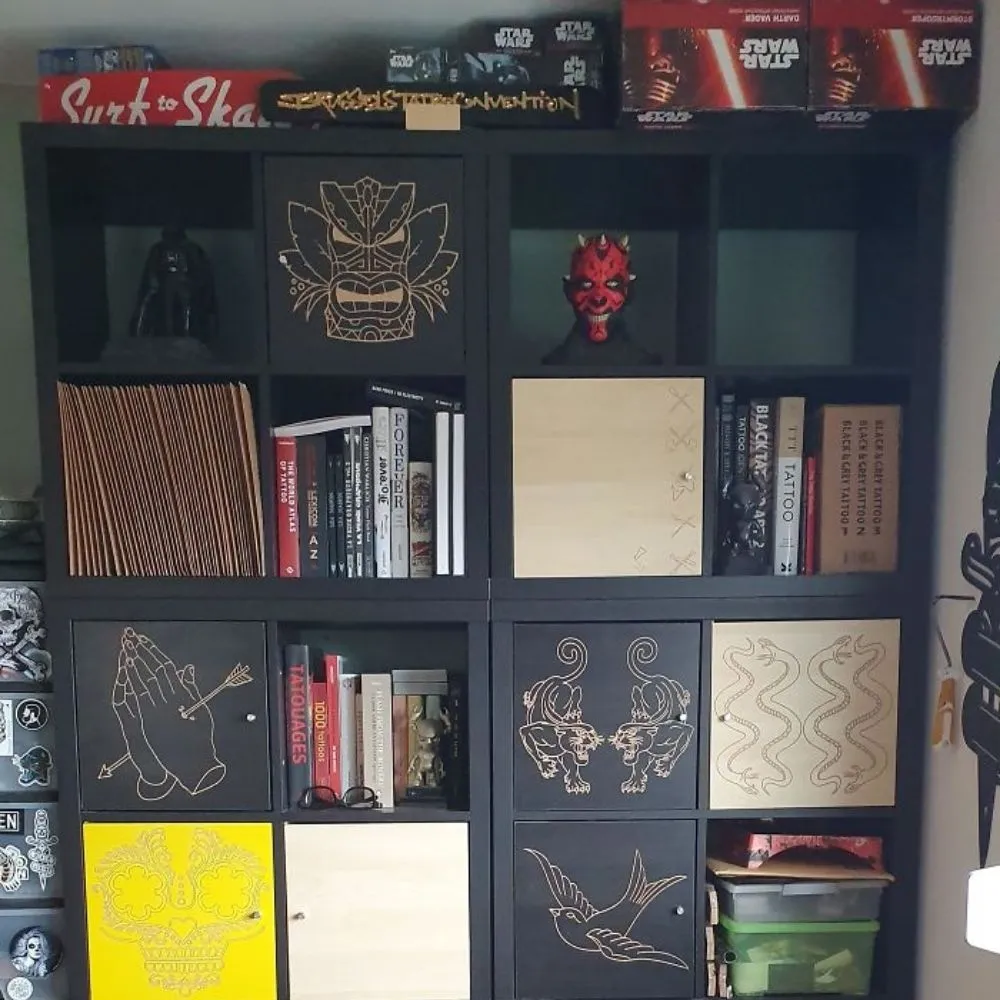 This individual incorporated their personal style by utilizing paint and a CNC cutter to etch designs onto the wood, resulting in a seamless integration.
Treehouse Bed
This is another innovative approach to convert the Ikea Kura Bed. Who doesn't love treehouses among kids? The maker picked to construct one within the security and coziness of their kid's room, and it certainly seems awesome.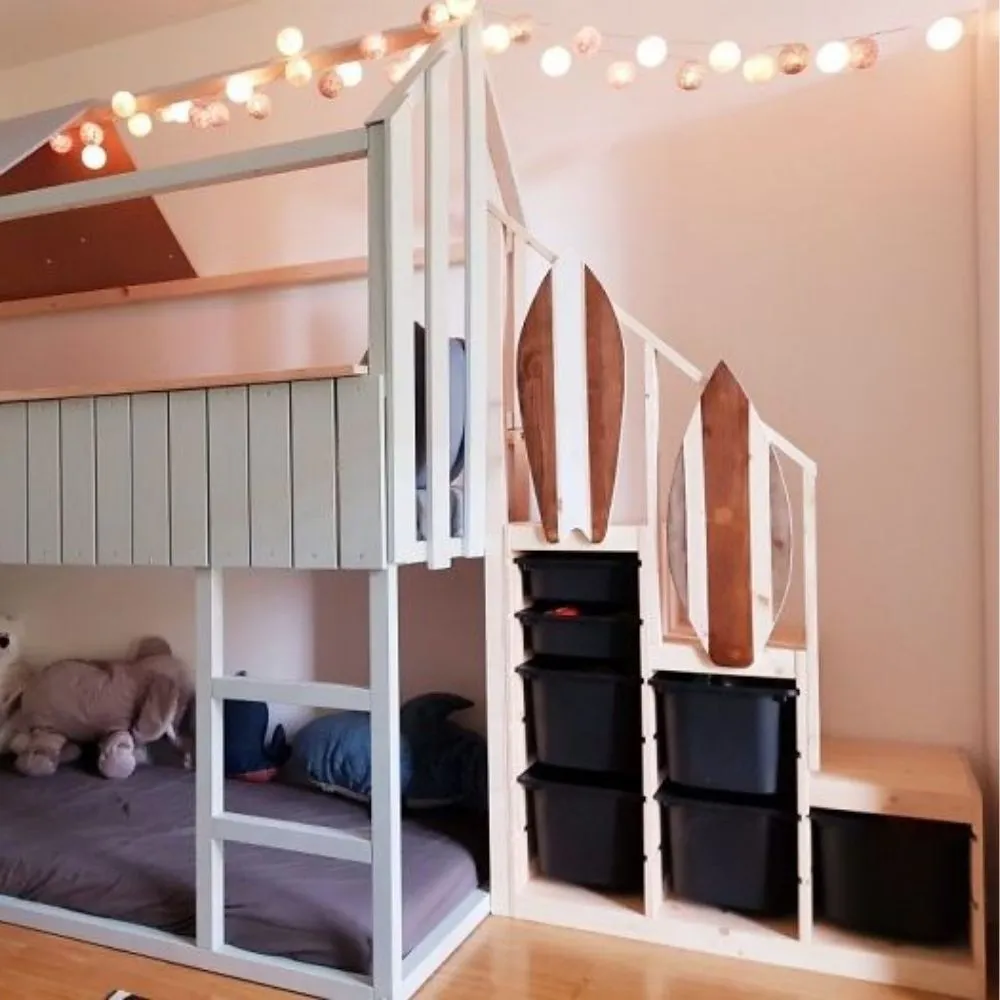 By attaching the Kura bed with Trofast steps, giving it a fresh coat of paint, and adding wooden planks, they transformed it into a remarkable piece. It has now become a popular gathering spot for kids, although it was previously just a basic bed.
Marble Table
Are you interested in converting your modern coffee table to a more classic look with minimal effort? If so, this following trick could be an excellent choice. The materials required are marble contact paper, gold paint, and a Vittsjö Coffee Table.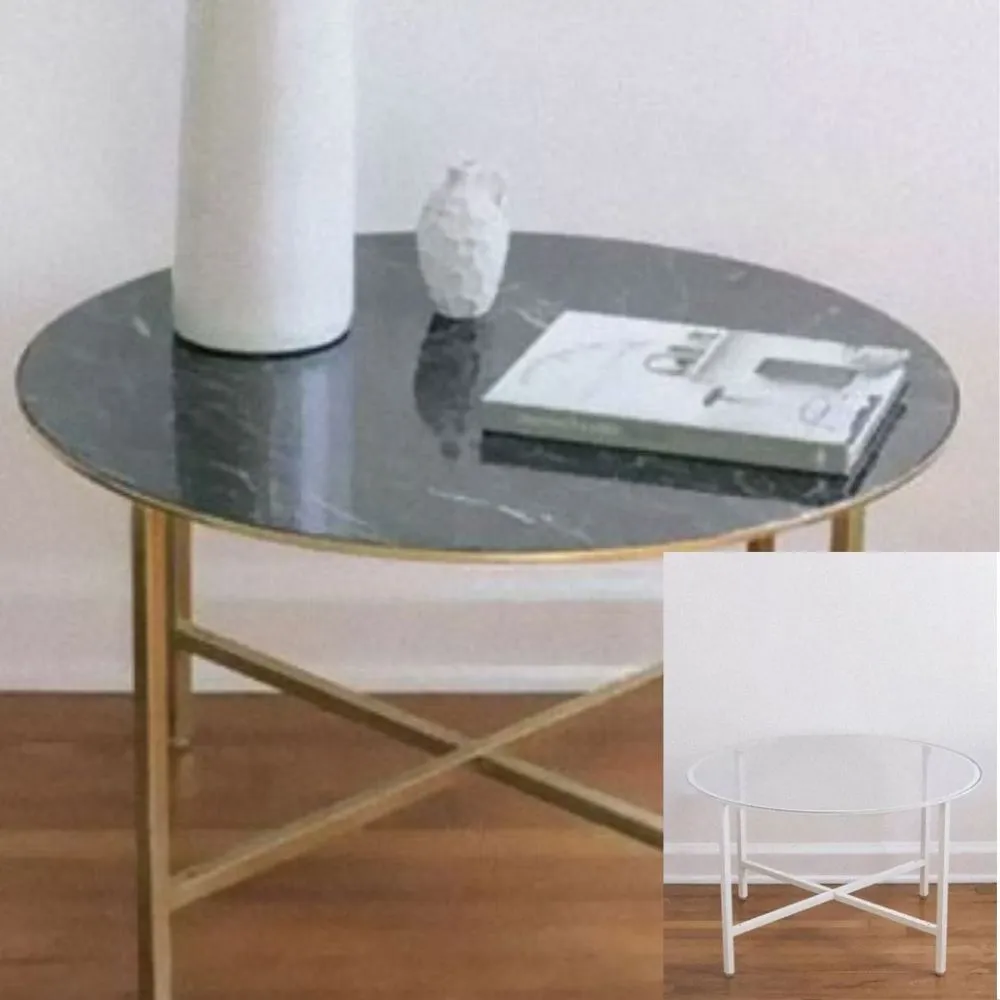 Use the gold paint to coat the frame of the table with a sprayer and wait until it dries. Next, apply the marble contact paper on the glass to make it look classic, and your coffee table will serve as an excellent room accent.
Organized Laundry Room
Keeping your laundry room nice and organized will help make this often frowned upon chore easier and less time-consuming. To do this, you may want to add some counter space for folding and a set of cabinets to store everything you need.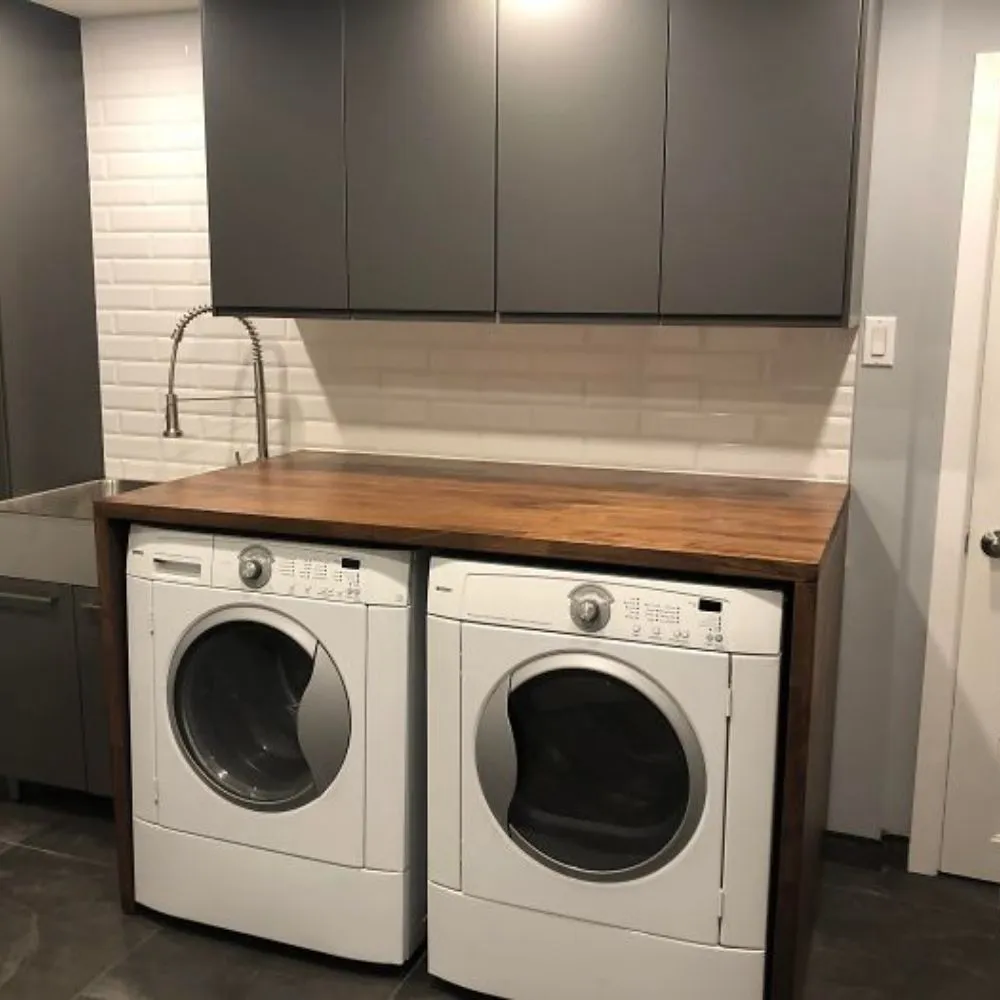 This person has made their laundry room look really modern and clean. They used a Karlby Countertop and a Voxtorp Cupboard system. Looks really good, right?!
Outside Cat Area
Cats still have the instinct of their long distant wild relatives, and therefore they love to go outside and play. But often, we try to keep them inside. There's a way to have the best of both worlds. Just take a look at this hack.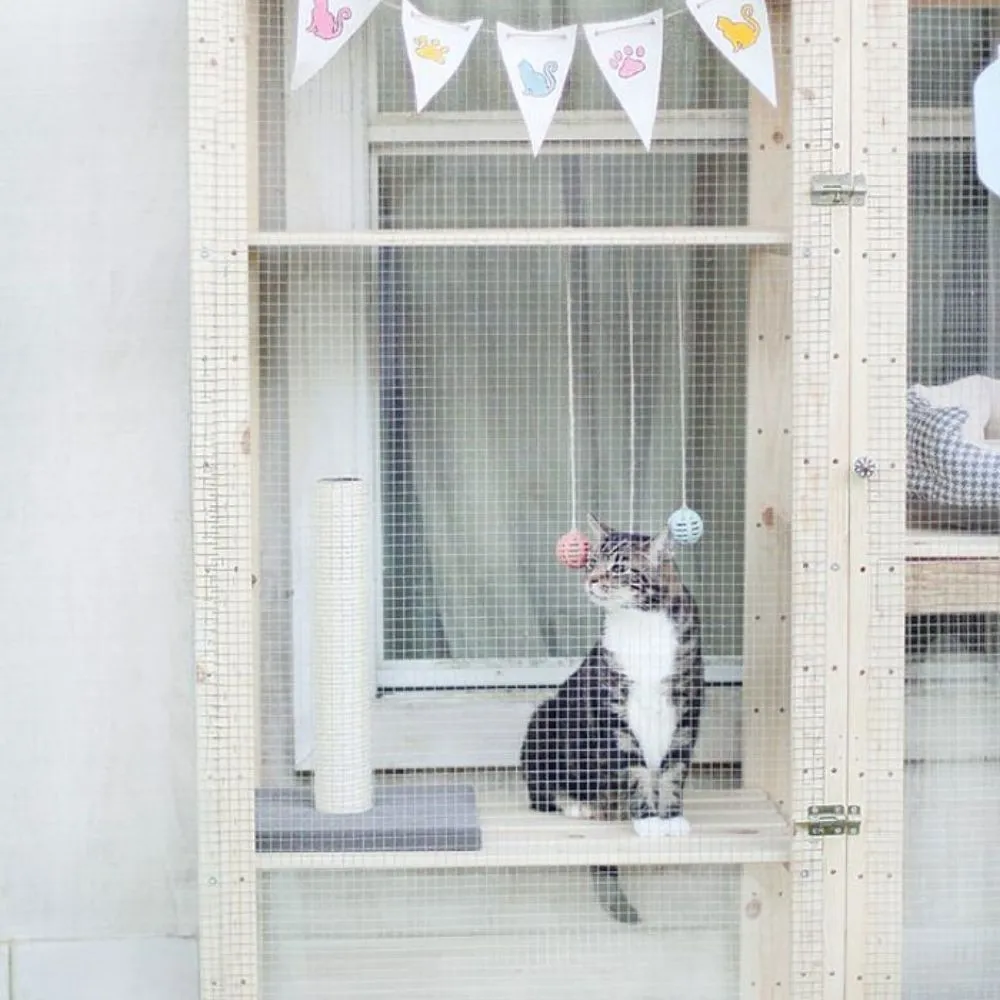 This person wanted to give their cat the ability to get a little fresh air, so they used two Hejne Shelves and some mesh wire to craft this walking space for their four-legged friend.
New Cabinet
Creating a look, vibe, and style in your personal space can help you feel more at home. But, sometimes we don't think that we can get the exact look we're envisioning when we have to go with prefab furniture.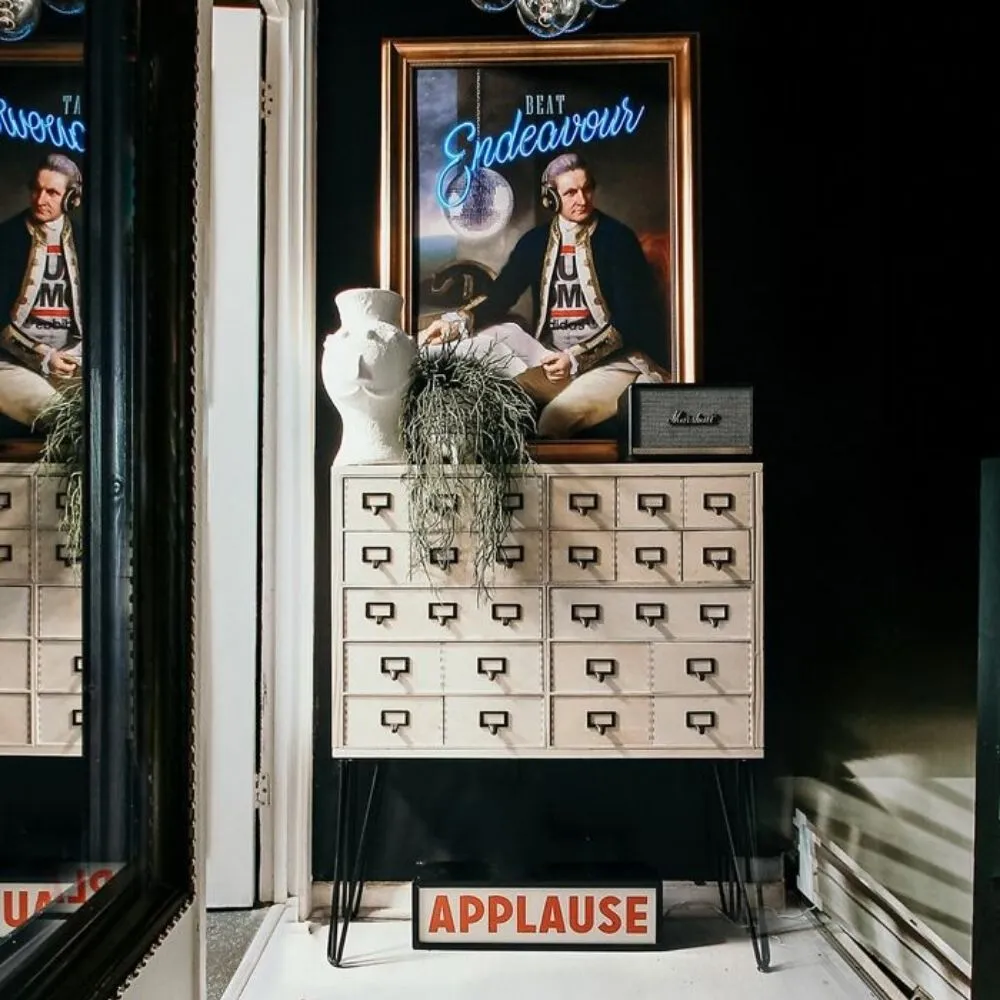 Luckily, this isn't necessarily the case, as you can see with this stunning cabinet. Using the Moppe Cabinet, this person created a stunning piece that no one would guess started out from IKEA.
Drink Station
Having a place in your home where you have a drink station is always a nice and welcoming feature of any home. So, this person figured out a hack that would allow them to look like they spent more money than they actually had.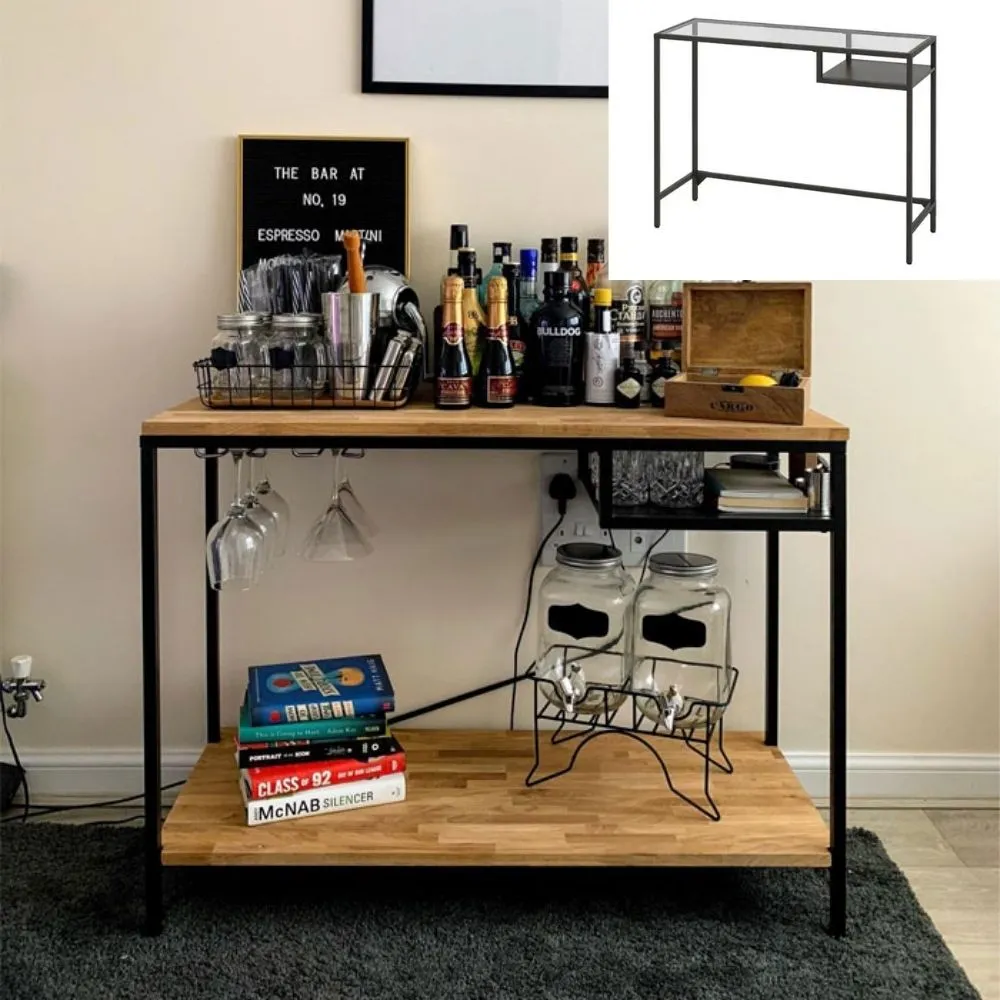 By taking the Vittsjö table and adding a wood top and bottom to it, this individual instantly created a drink station with all the works. You can even mount some pegs to the underside of the table in order to hang some glasses.
Workstation
Having enough light when you're working from home is crucial. It'll not only help with productivity but also with mood. So, why not set up your work station under the window. Like with anything else, you can go for a simple look, but why not make it a little unique?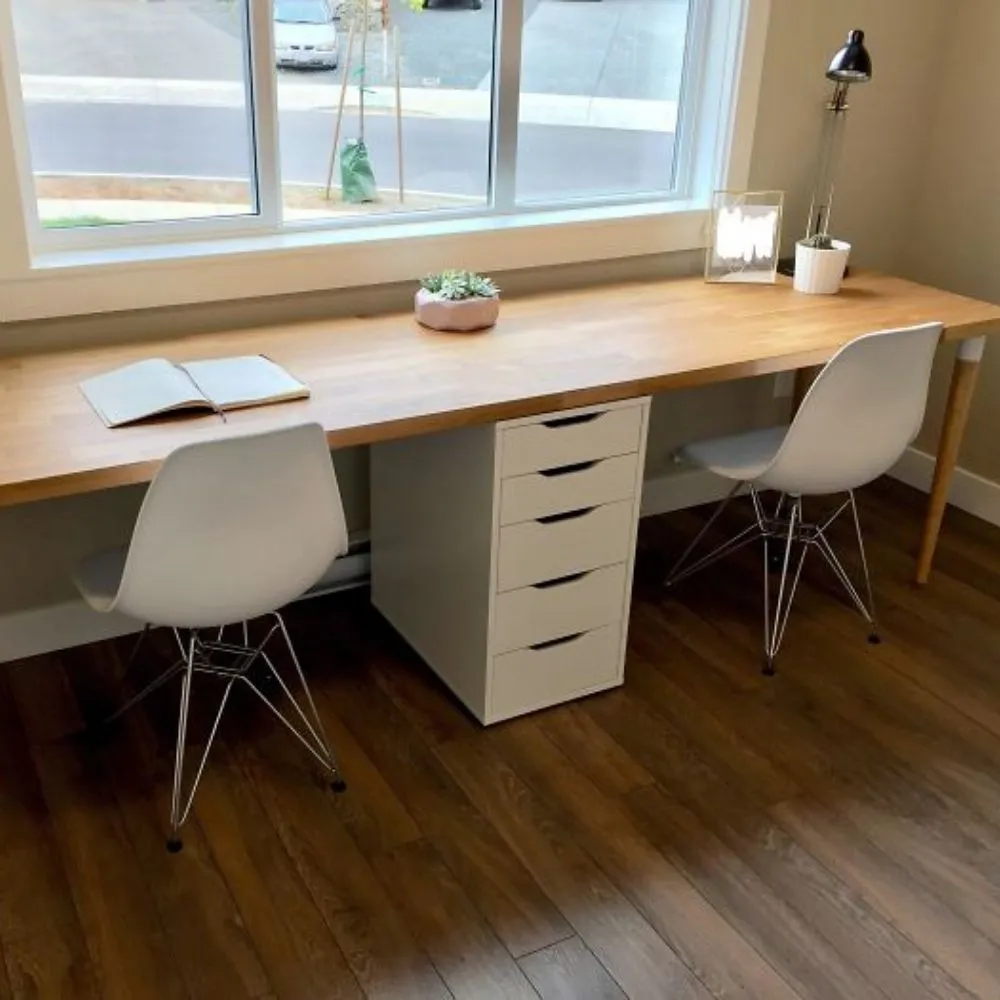 Combine a Karlby Countertop with a drawer system and attach some legs to create a nice, spacious workstation for you and significant other or roommate.
Modern Sideboard
You always want the furniture in your home to say something about you. You also want it to match the interior style you have created in your home. So, prefab furniture is not always a good fit for either of these two things.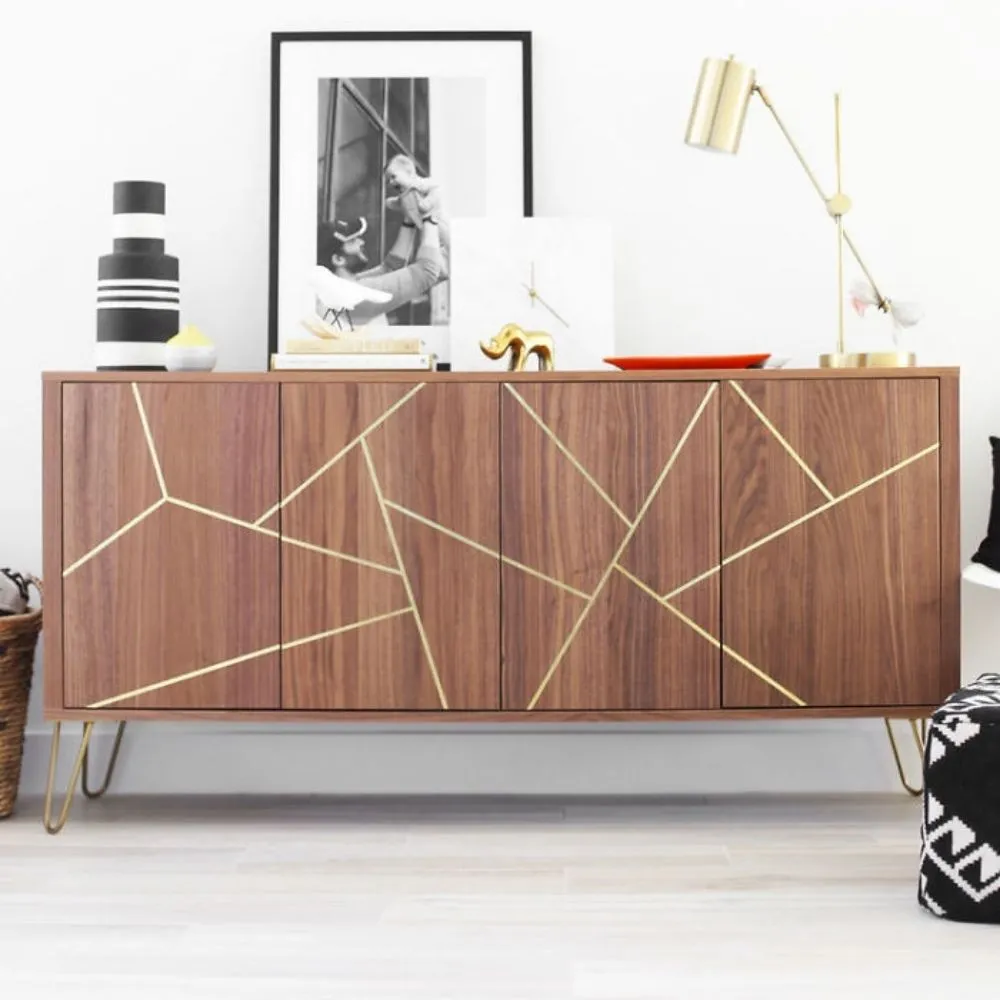 But, if you take a little time as this person did, you'll be able to hack the furniture you do have and make it work. This creative genius took one of the IKEA sideboards and added a little character to it. In the end, they wound up with a mid-century modern piece that you wouldn't be able to find anywhere else.
Baby Changing Table
When you're preparing to bring a little one into the world, there's quite a lot of prep work to do. One of the biggest is setting up the nursery. Of all the things in that nursery, having a good changing table may be the most important.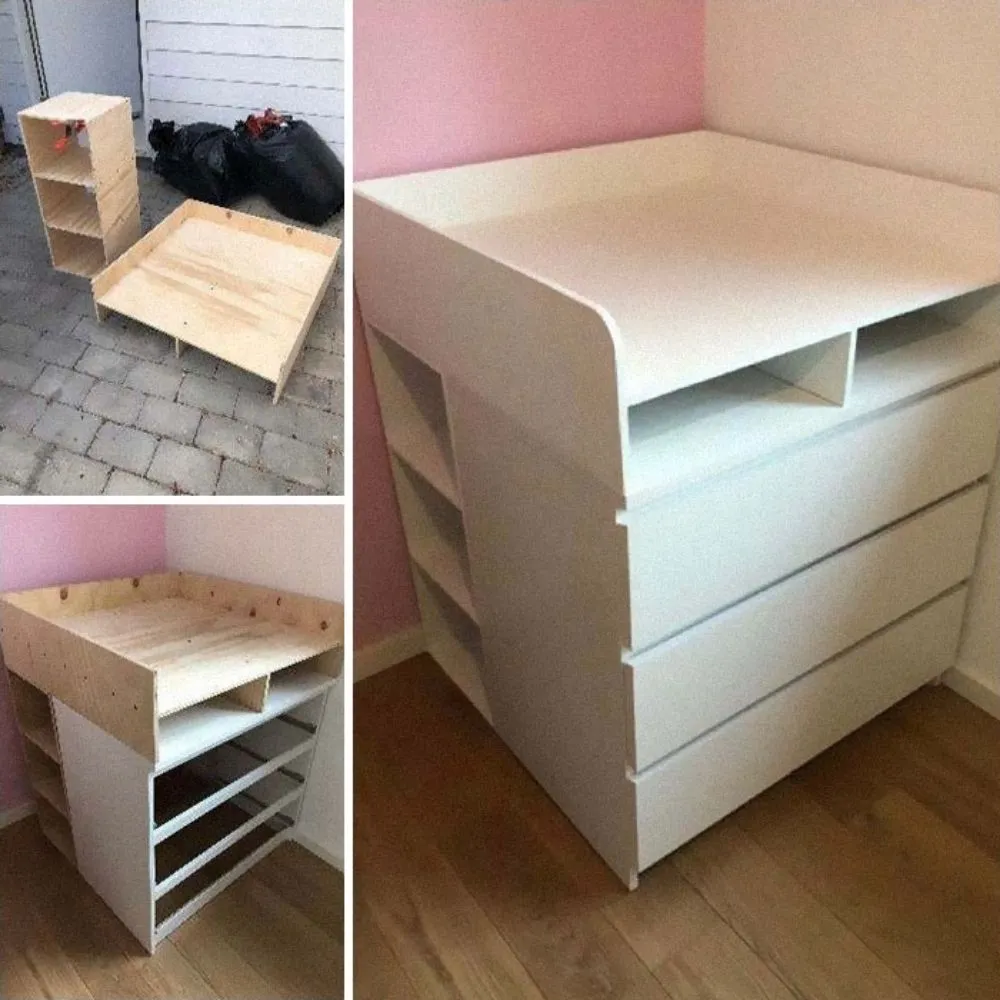 But, not all of them will work with your vision, so why not create one of your own? By taking two pieces of IKEA furniture and merging them together, this parent-to-be created a super functional and efficient changing table.
Music Station
Having a place to store and play music in your home is important for a lot of individuals. After all, music can help you relax, be more productive, and boost your mood. So, why not make it a centerpiece in your home?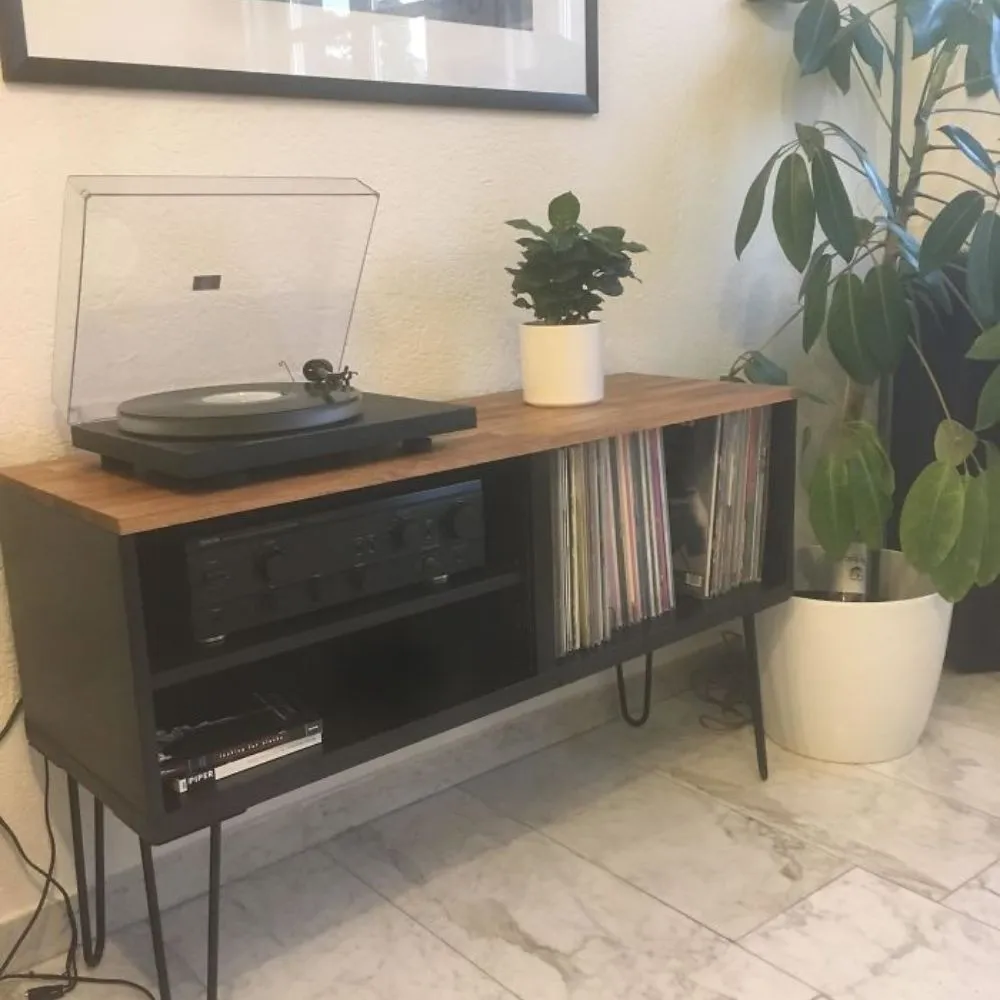 This music connoisseur clearly feels that way as they took a simple piece of IKEA furniture and added some legs — as well as a wooden top — to create their very own music station.
Personal Care Organization
The bathrooms in many homes are small and don't have nearly enough space to house all the products that many of us use on a daily basis. Utilizing the space you have is important in this case. This is when being crafty comes in handy.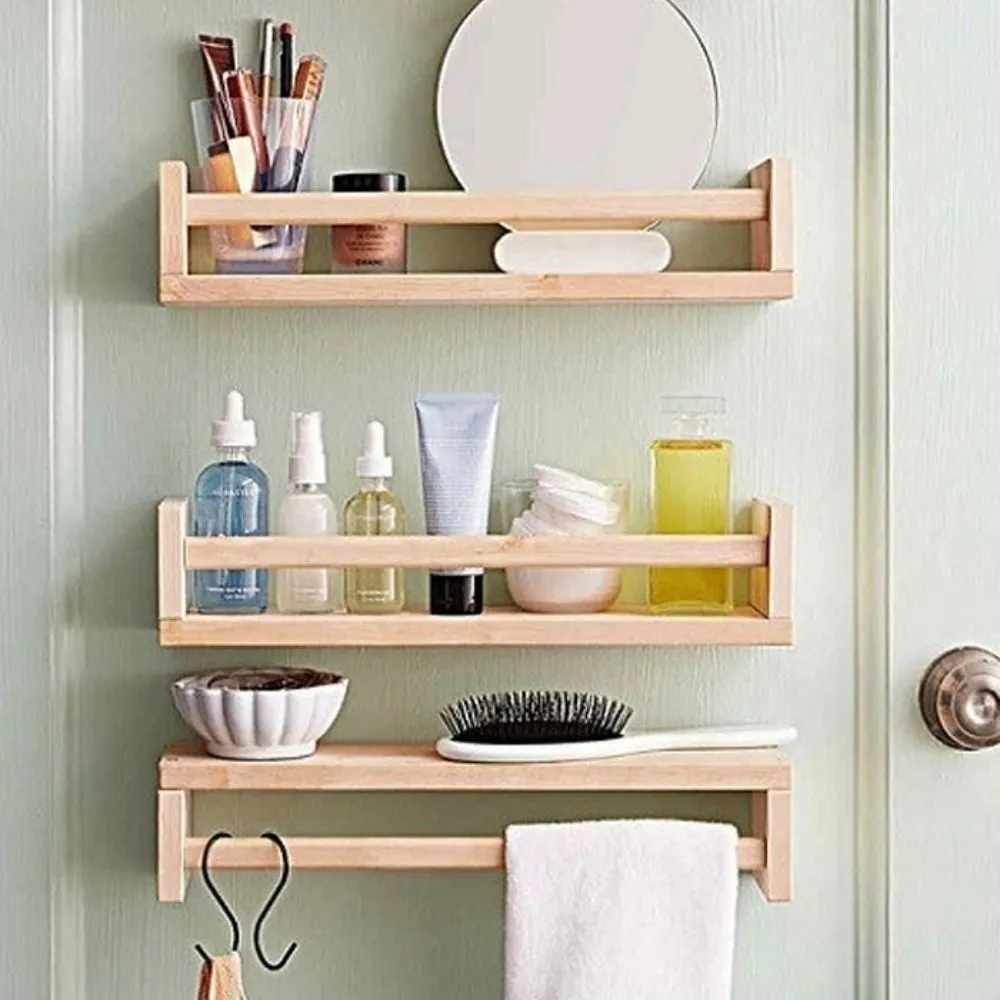 By taking IKEA Spice Racks and mounting them to the bathroom door, this person has done an awesome job using what they have. Plus, now everything looks tidy as well as organized.
Coat Closet
Maybe your closet isn't big enough, or you have to share it with someone who seems to take up all the space. If this is the case, it's time to get those creative juices flowing, so you can design your very own wardrobe.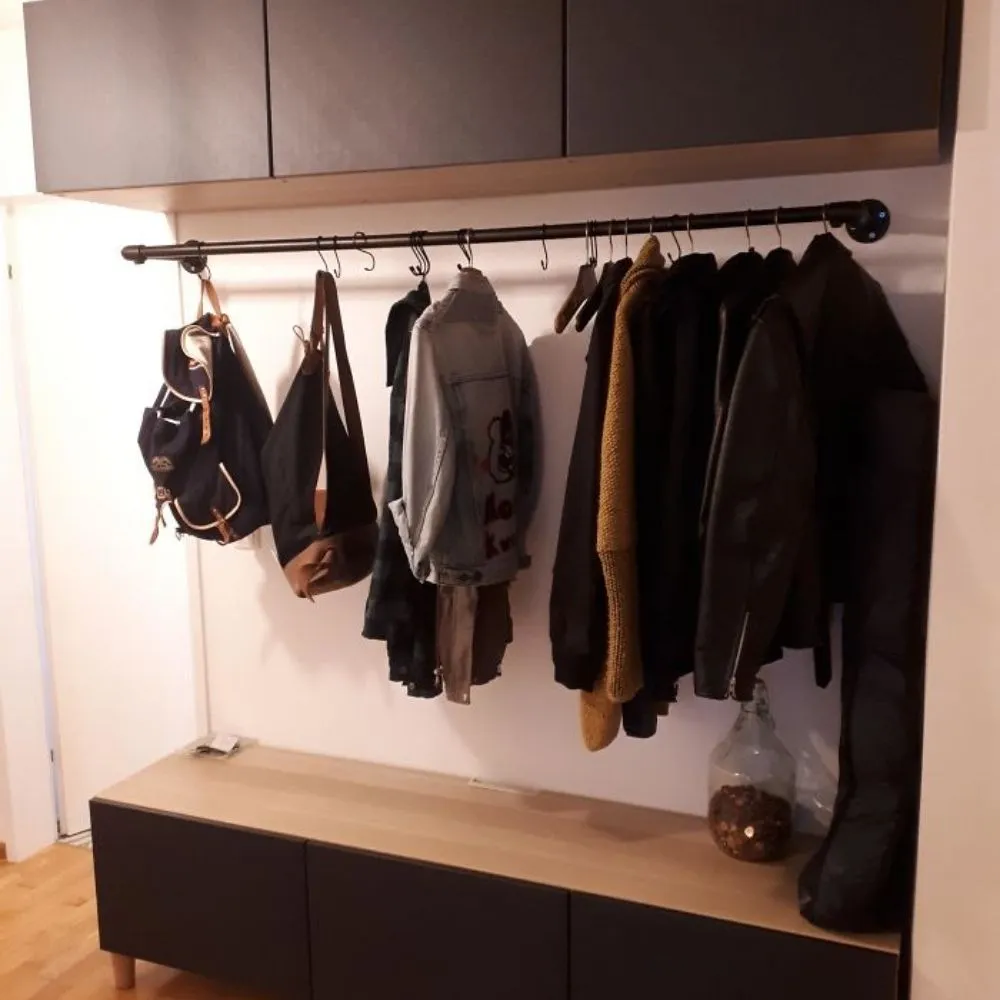 This person has used two Besta TV Cabinets to create an area for their clothes. The addition of the hang bar — in which people can hang their sweaters, jackets, and coats — in the center is a nice touch, too.
Bench Space
Maybe you want to create a workspace and get a bunch of extra seating space, too? Using this hack, you'll be able to do just that. All it takes is a few pieces of IKEA furniture and a drill.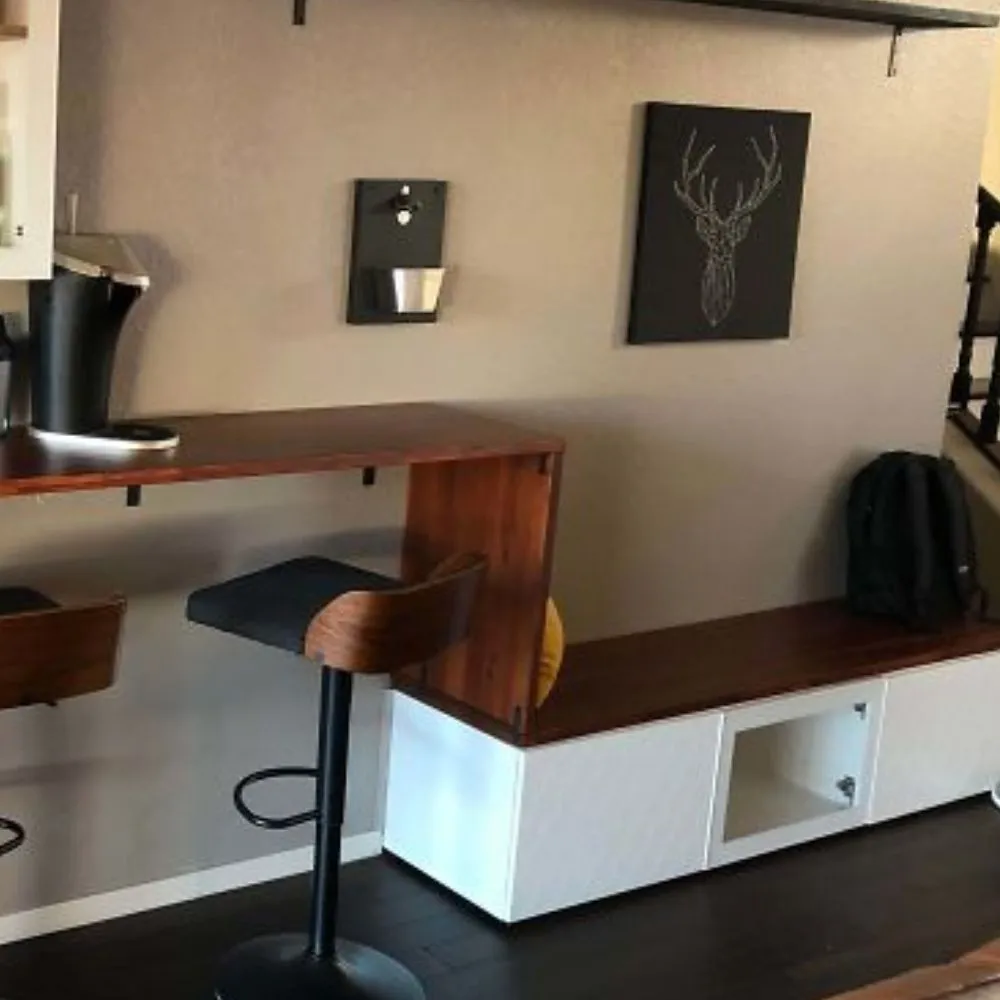 Using a wooden countertop and a few shelving systems from IKEA, you can create this bar and bench space with little to no work. Accentuate it with fun touches, and it will be a truly unique space in your home.
Bench Pillows
Your IKEA hacks don't only have to involve furniture. In fact, you can use some of the accessories to create some pretty cute and nice-looking accents for your home — kind of like this person did with these pillows.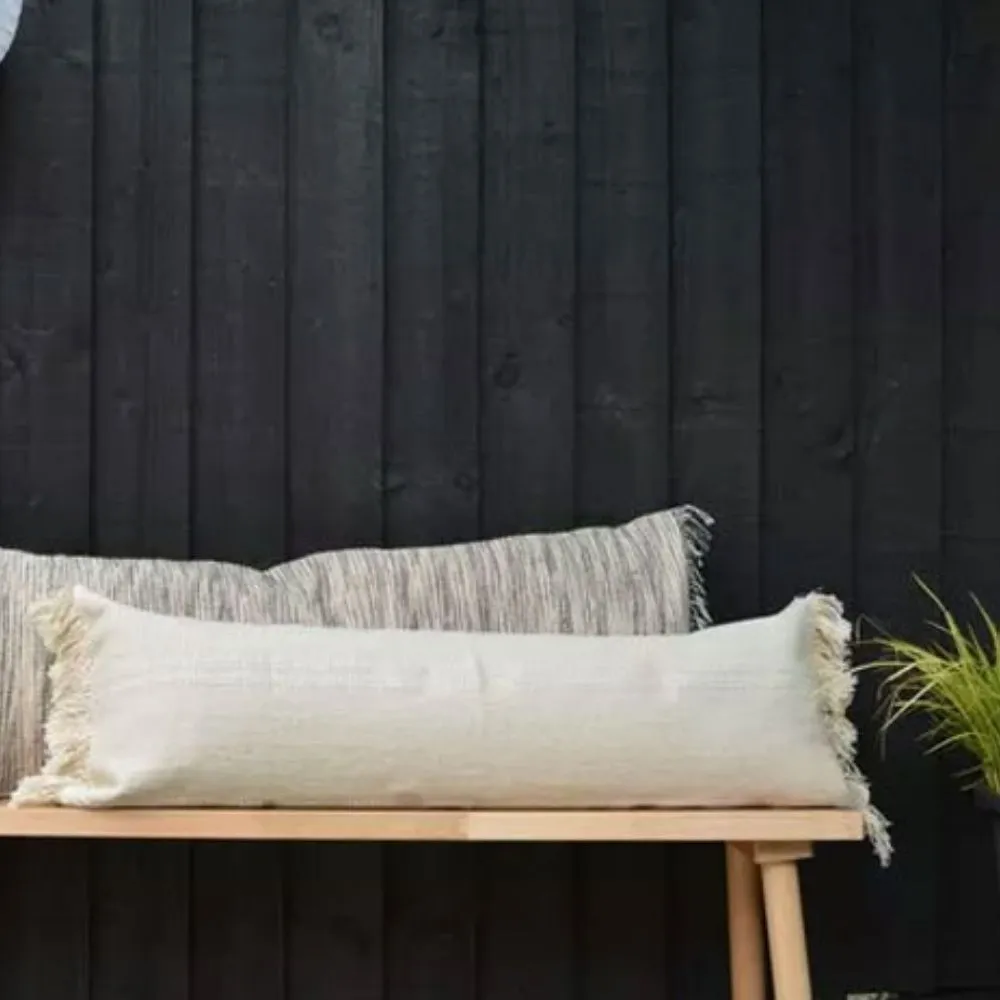 Using one of the many rugs that IKEA sells and a nice sewing machine, you can truly do wonders. That's what this gal used to create fringed bench pillows for her home.
Kid's Kitchen
Kids' toys are expensive and made of plastic half the time. If you want something that's a little more environmentally friendly and easy on the wallet, then you might want to consider making your own toys. One of the pretty popular ones is the kitchen set.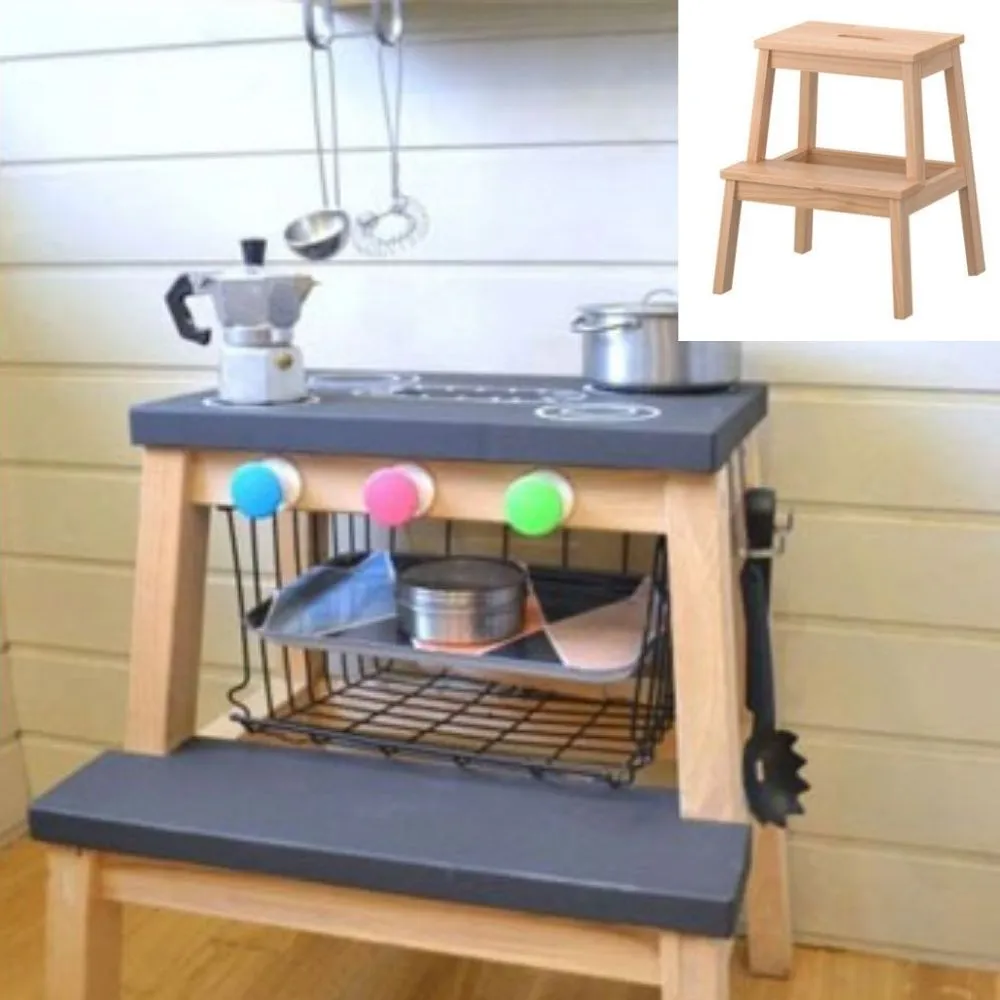 By taking a wooden step stool from IKEA and some chalk paint, you can create this fun play kitchen for your little one. Add a basket to hold all their kitchen supplies and let them whip you up a delicious imaginary meal.
Display Shelves
Finding inventive ways to display photos and other pieces of art can be challenging. You don't always want to mount them on the wall, especially if you're looking to create a more modern vibe for your space.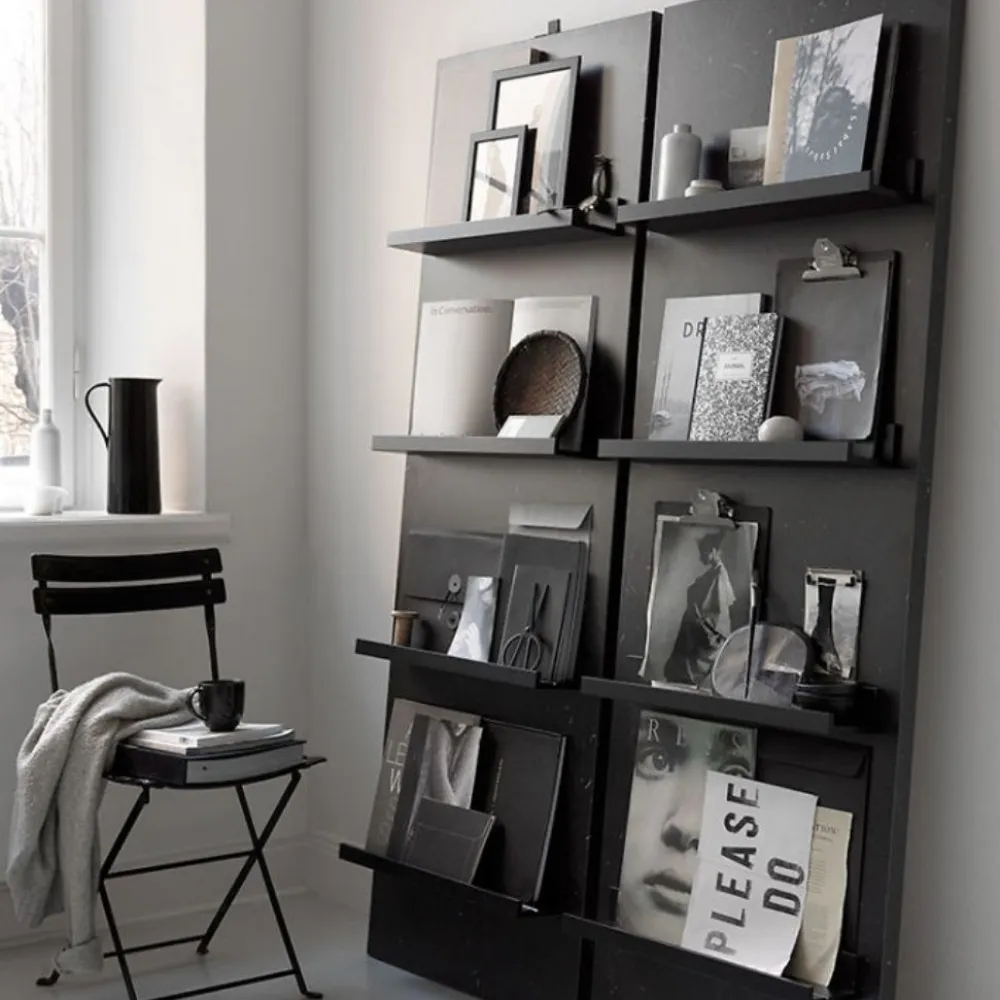 But, by using the IKEA Magasinhylla in the way this person did, you'll be able to attain that unique and one-of-a-kind look you're looking for. And that makes this a great hack.
Detailed Ceiling Lamp
Okay, IKEA furniture is fun to hack but so are their accessories. Things like lamps and so forth can make a big impact on the overall look of a room. So, why not upcycle that simple lampshade to fit your personality?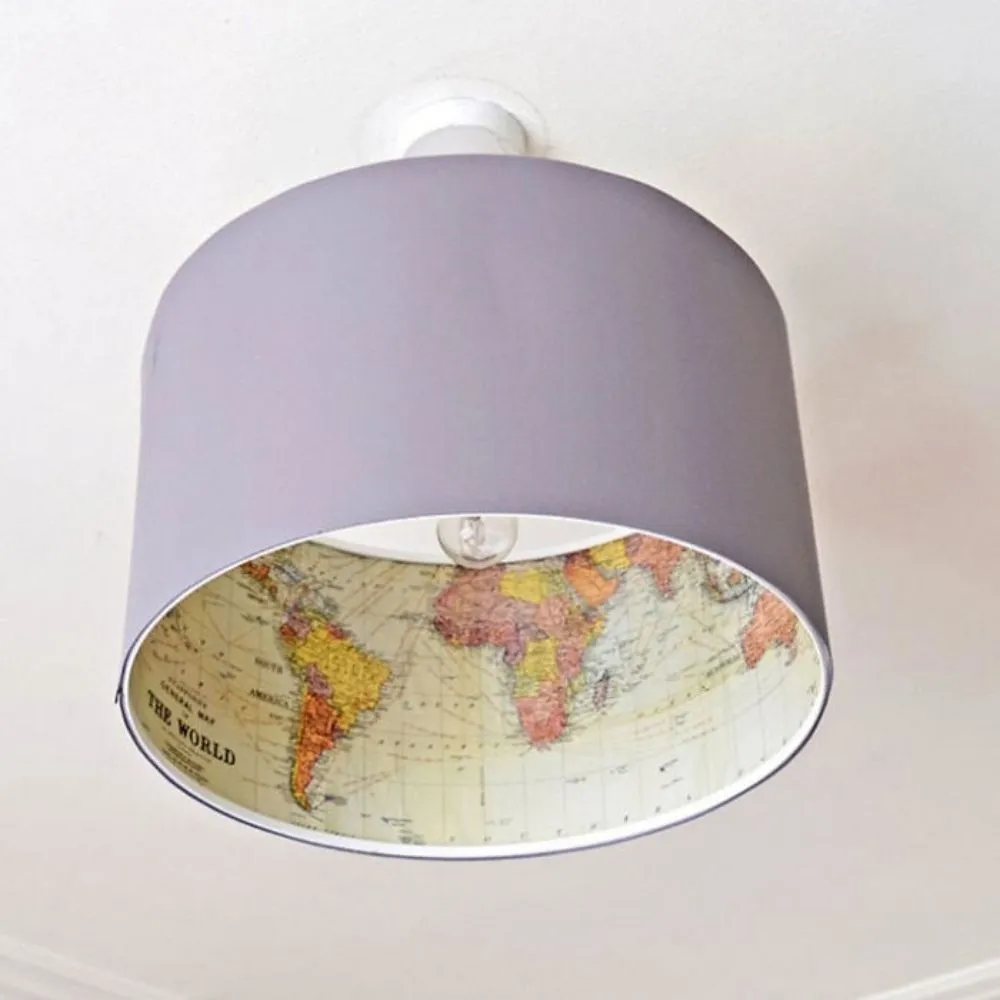 Maybe you don't want to use a map like this person did but adding an interior image can be just the extra touch of something special to tie your room or house altogether.
Bedside Table
Maybe you want to keep a clean and clutter-free bedroom but still want a bedside table. Of course, there are a couple of options, but this fun hack could be a great option. Not only does it give you a tabletop but a little cubby to store the current book you are reading.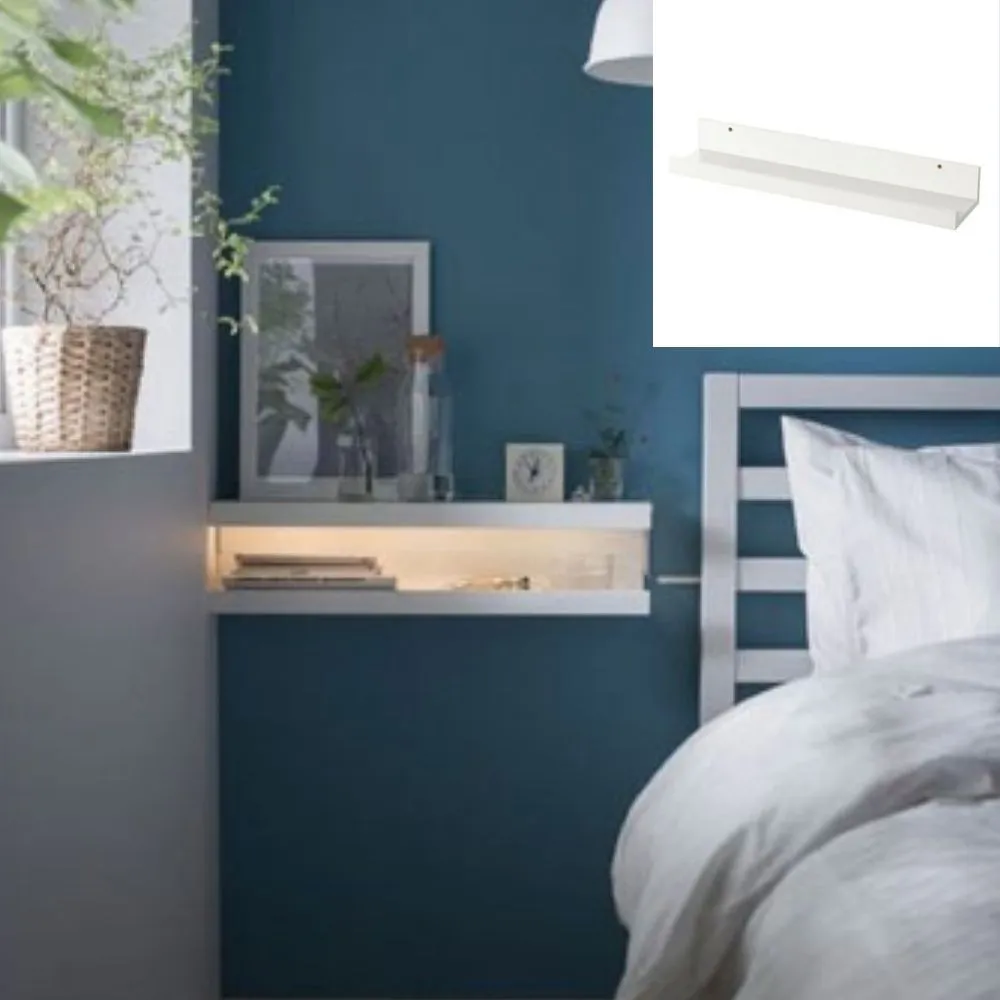 Taking two small shelves and mounting them on top of each other with the tips facing each other is what makes up this ingenious hack.
Compact Island
Living in a small apartment but still want to have one of those fancy little kitchen islands? They can help your kitchen look way more interesting and can add counter space as well as storage space. So, why not use IKEA furniture to build yourself one?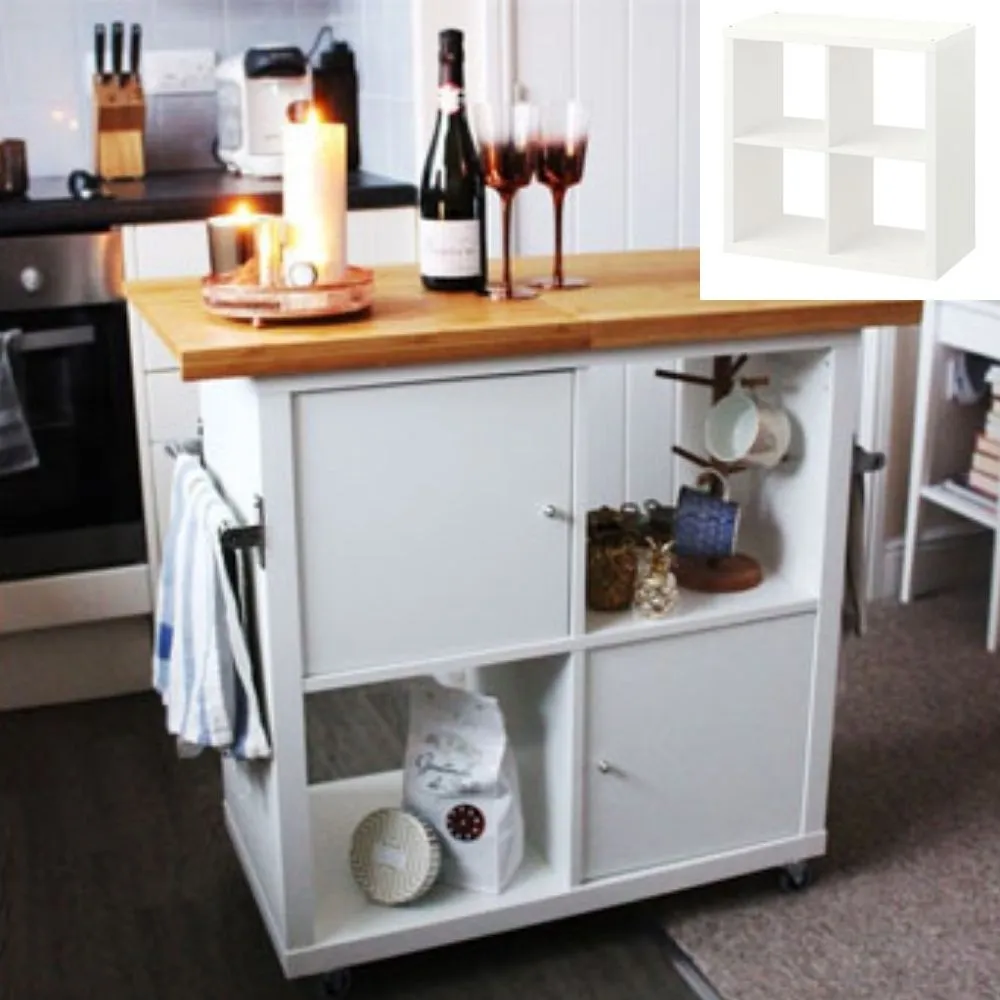 By taking one of these shelving systems and adding a wooden countertop — plus, a couple of doors — you can end up with an inexpensive yet stylish island such as this one.
Extra Cabinet
No matter what, we can all use extra storage space. It's just a bonus when it can look as good as this cabinet. But, getting a piece that looks like this is not as hard as you might think — it takes a little craftiness, patience, and time.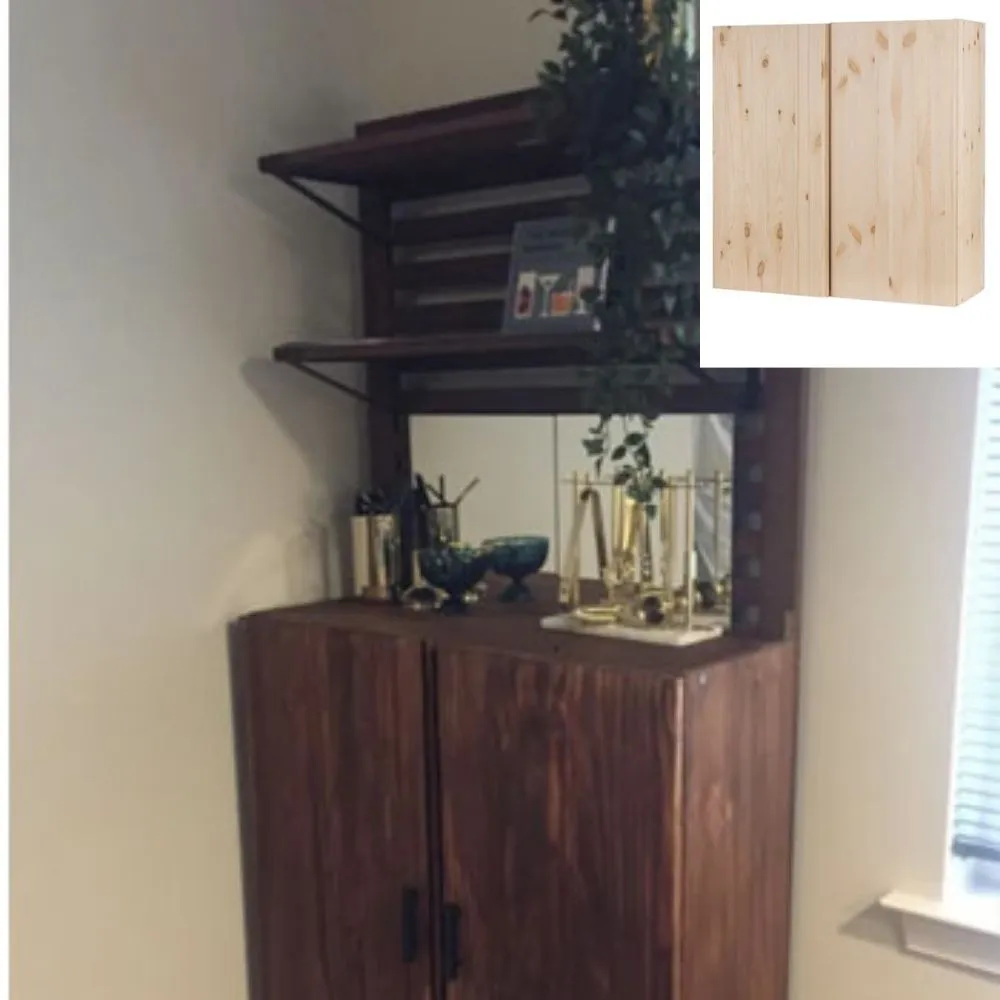 Combine an Ivar Cabinet with an Applaro Wall Panel, before adding some shelves. After that, you can stain the cabinet or use paint to create the look you want for your new (and improved) piece.
Office Nook
Many of us are working from home nowadays, and that means we need a nice work area. But, if you're dealing with a small space, you may have to utilize that nook. That's okay, though, because if you can use a few pieces from IKEA to do just that.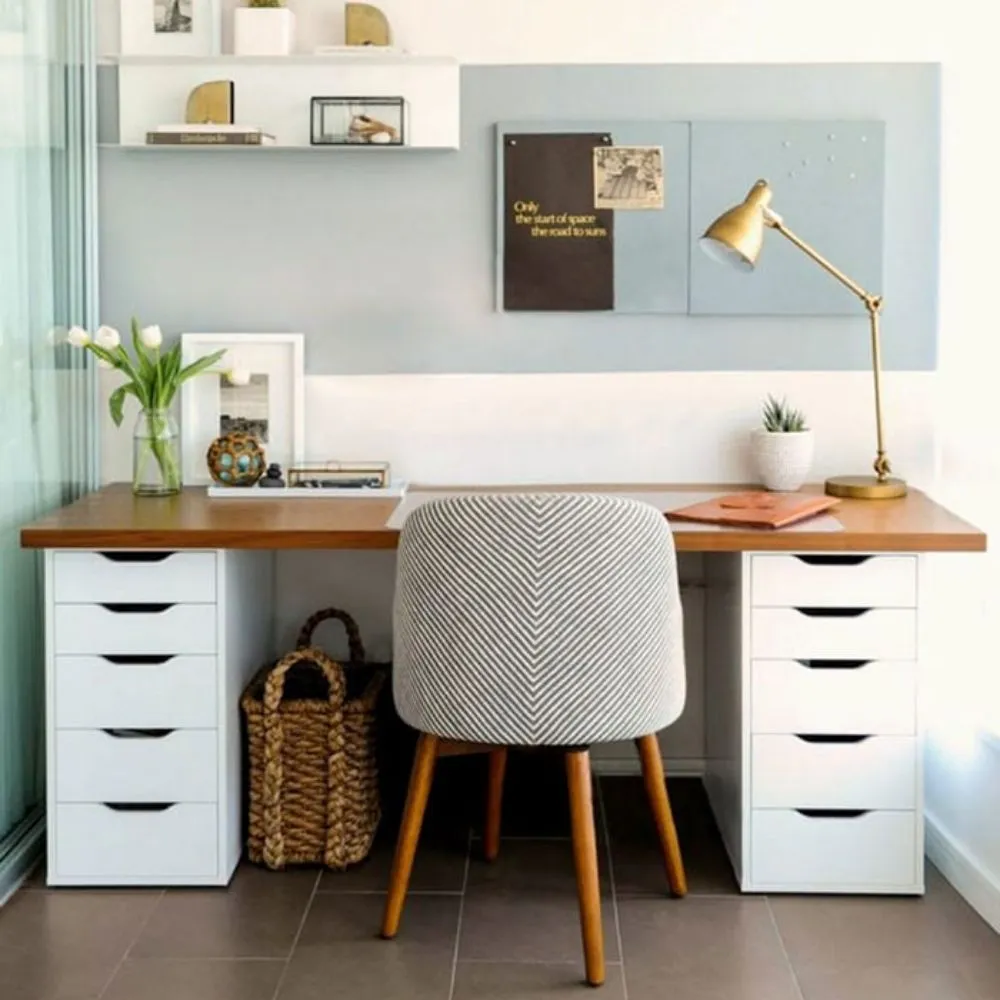 You can take two Helmer and Alex Filing Systems and top it with a wood tabletop. When it's all put together, you have yourself a nice and efficient workspace.
Open Shelves
Making unique shelving systems that can be mounted to your wall is a nice accent to any room. Still, they can also be boring oftentimes. With that, if you're looking for a fun hack, tray using some IKEA lid dividers and a few wood planks to create this shelving system.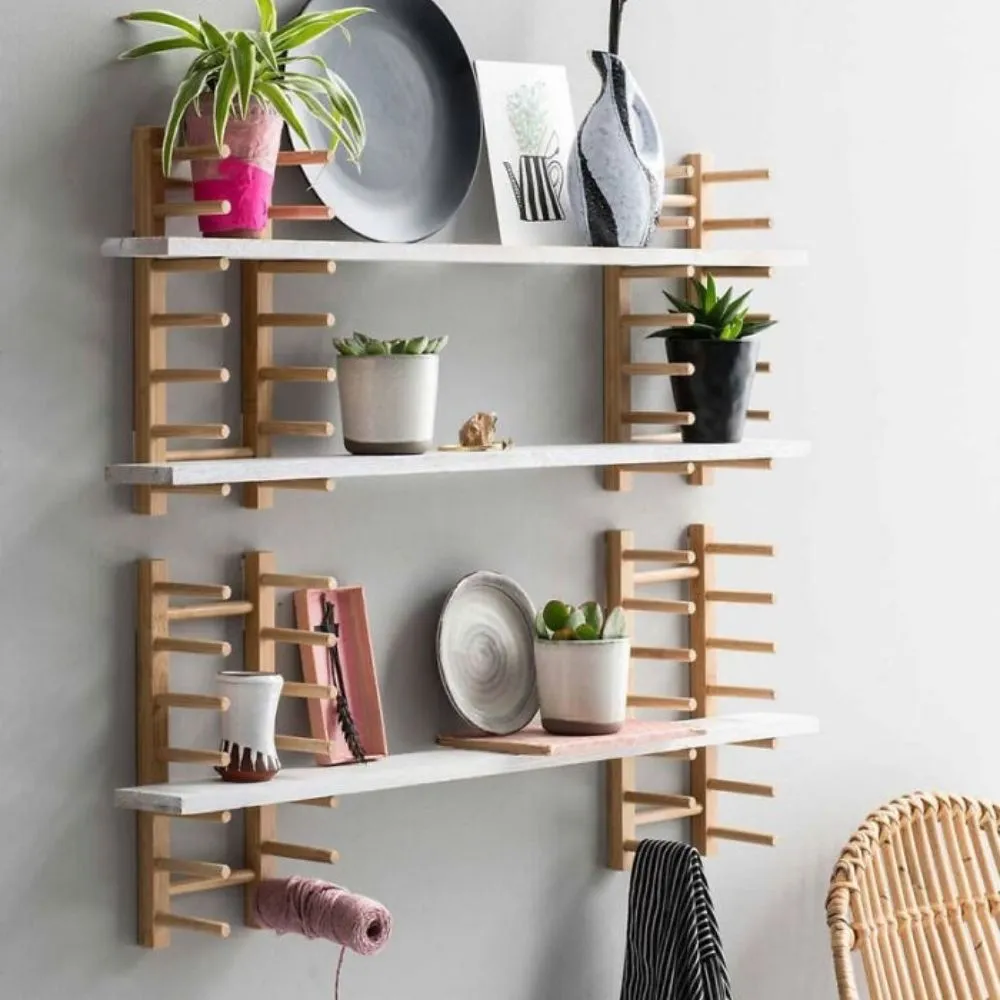 Mount the lid divider to the wall, take a few thin wooden planks (painted or not), and place them at the intervals you wish.
Breakfast Nook
Once again, using your space is crucial, especially when dealing with a small space. This person has taken that into consideration and crafted this cute little breakfast nook. What a great place to have your morning coffee, or just sit with a friend and yap the day away.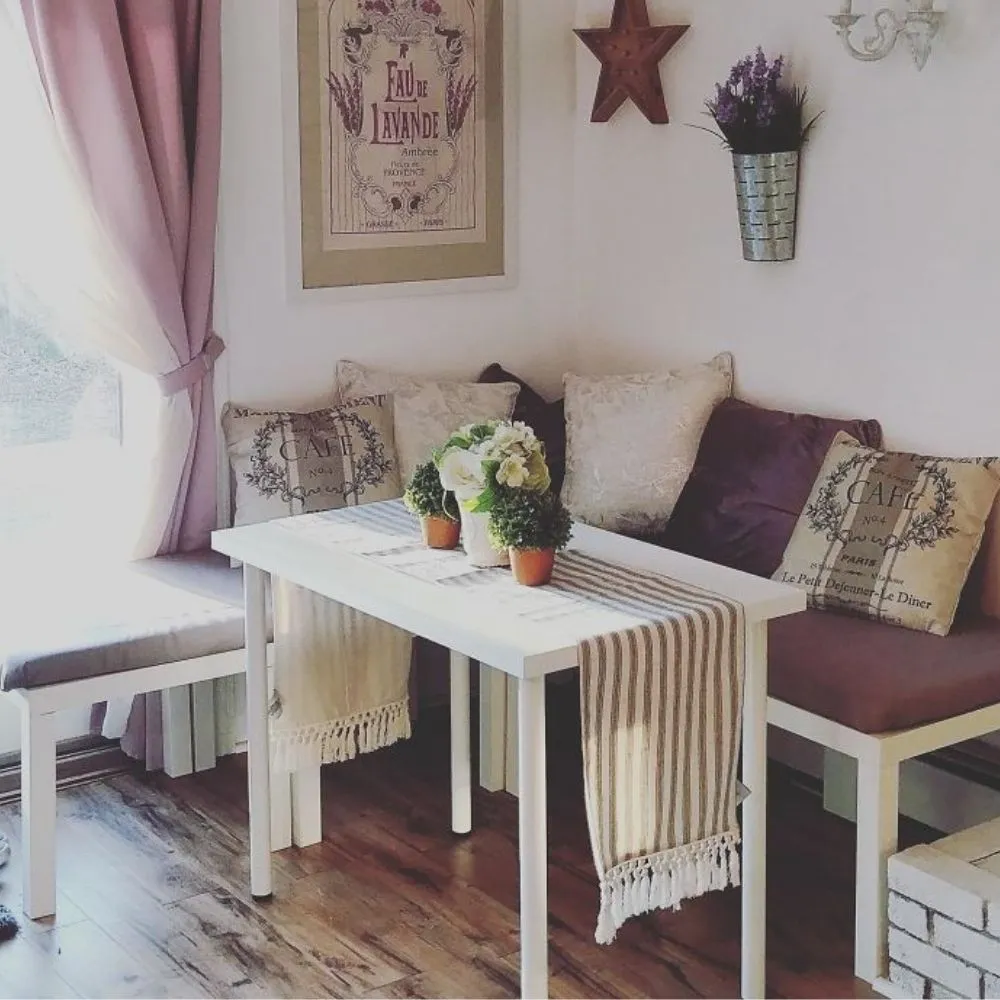 This person took a few Lack tables and added cushions — as well as pillows — to transform them into a cozy bench. Then, they threw in another table to round out the whole nook.
Stylish Coffee Table
Coffee tables — and tables, in general — don't always have to be boring or dull. You can, like this person, take something that fits your style and make a masterpiece out of it with a bit of work and patience. And who knows; it may become a conversation starter.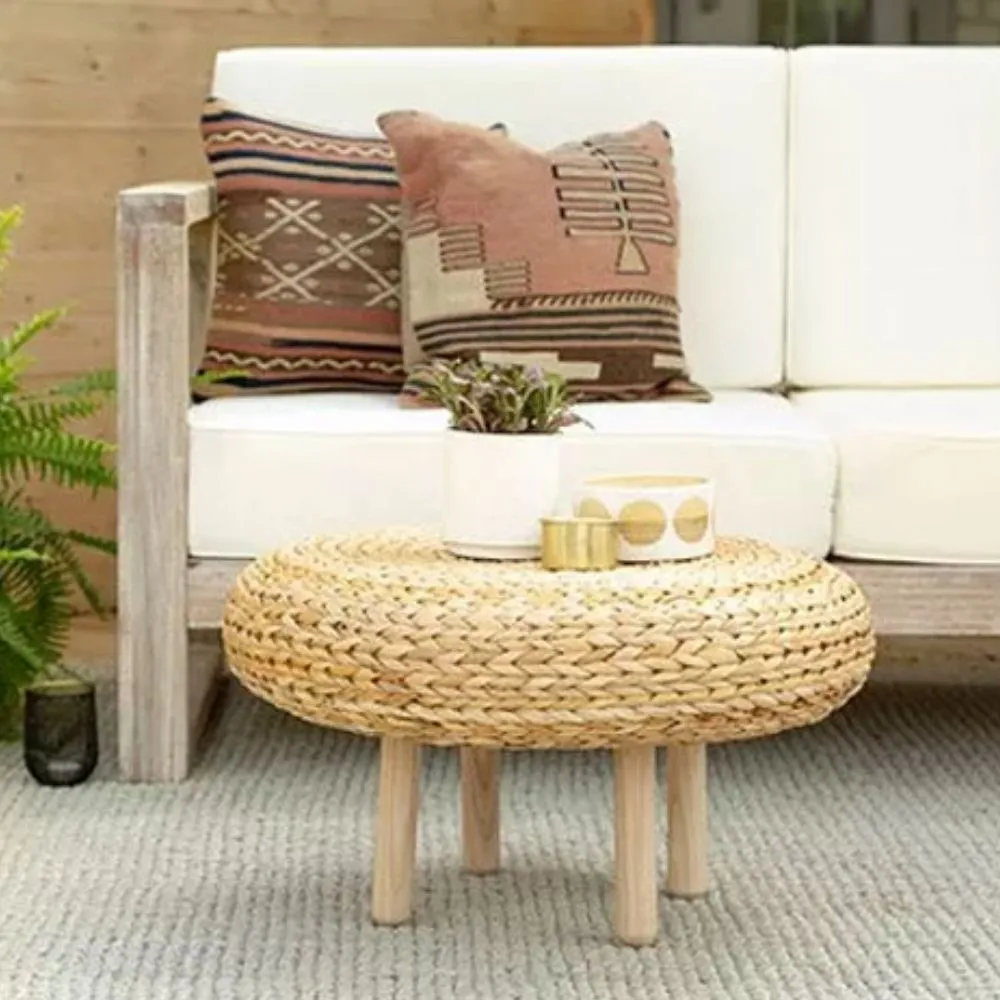 All this person did was take the Alesda Stool and add some legs to it in order to raise it off the floor a few inches. What came of that idea was this fun boho-styled coffee table.
One of a Kind Lamp
Sometimes it's not the furniture itself that needs a little hack but instead, the furnishing on or around that piece. Take, for instance, this amazing terrarium lamp. If it wasn't there, this table would look very bland.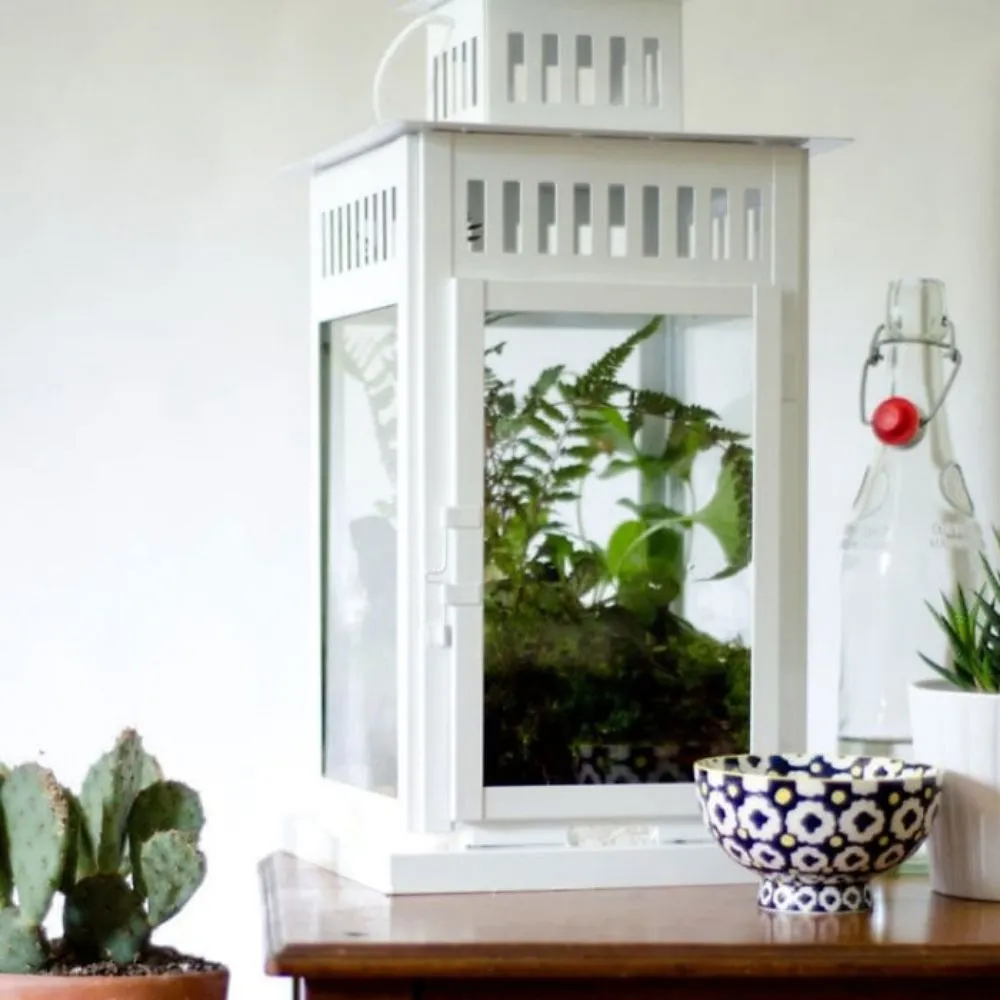 So, this person decided to grab an IKEA lamp and paint it. Then, they add some plant life inside to give it a unique look. You could try this same hack but with a seascape theme or perhaps, a desert. Whatever you think will work with your motif.
Headboard Storage
Always looking for more space? Well, why not add some storage to your headboard? This might even alleviate the need for a bed stand if you want a cleaner aesthetic in your bedroom.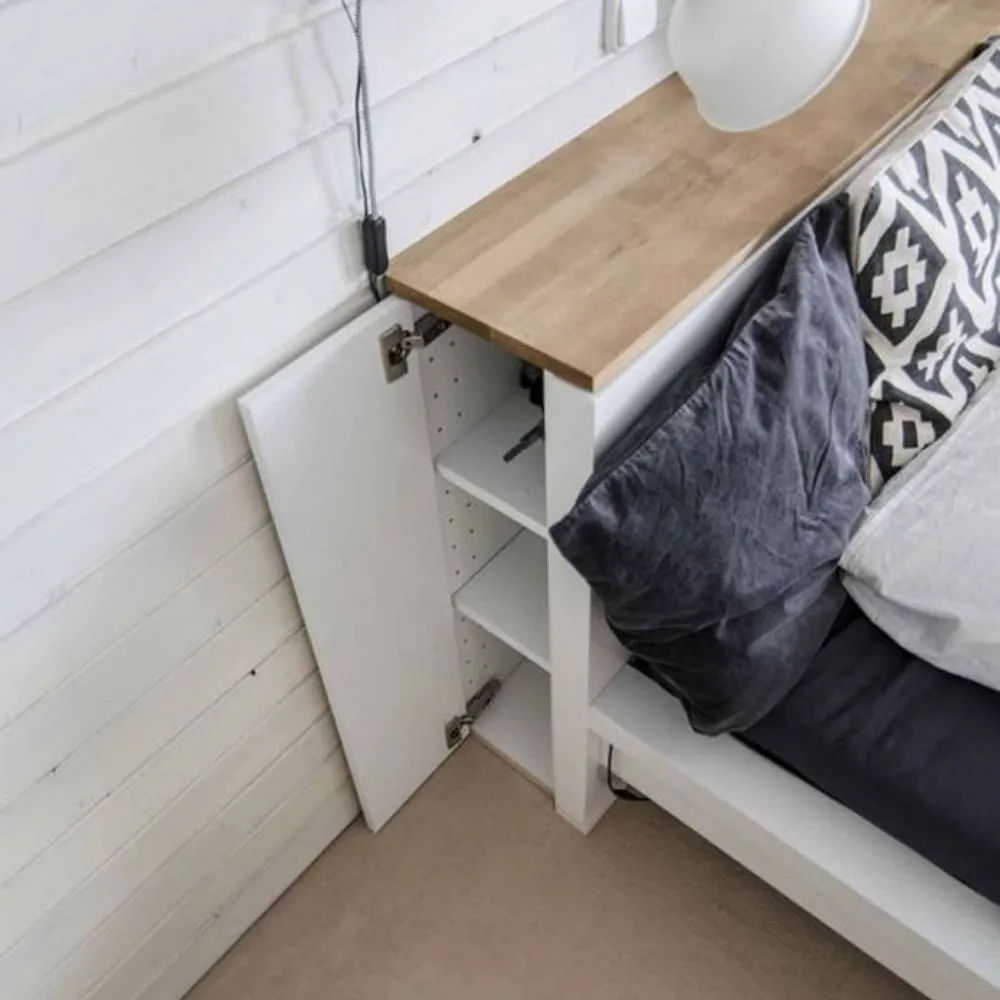 By taking a Malm headboard and mounting it against the wall, you can get a nice little cubby where you can store things out of sight.