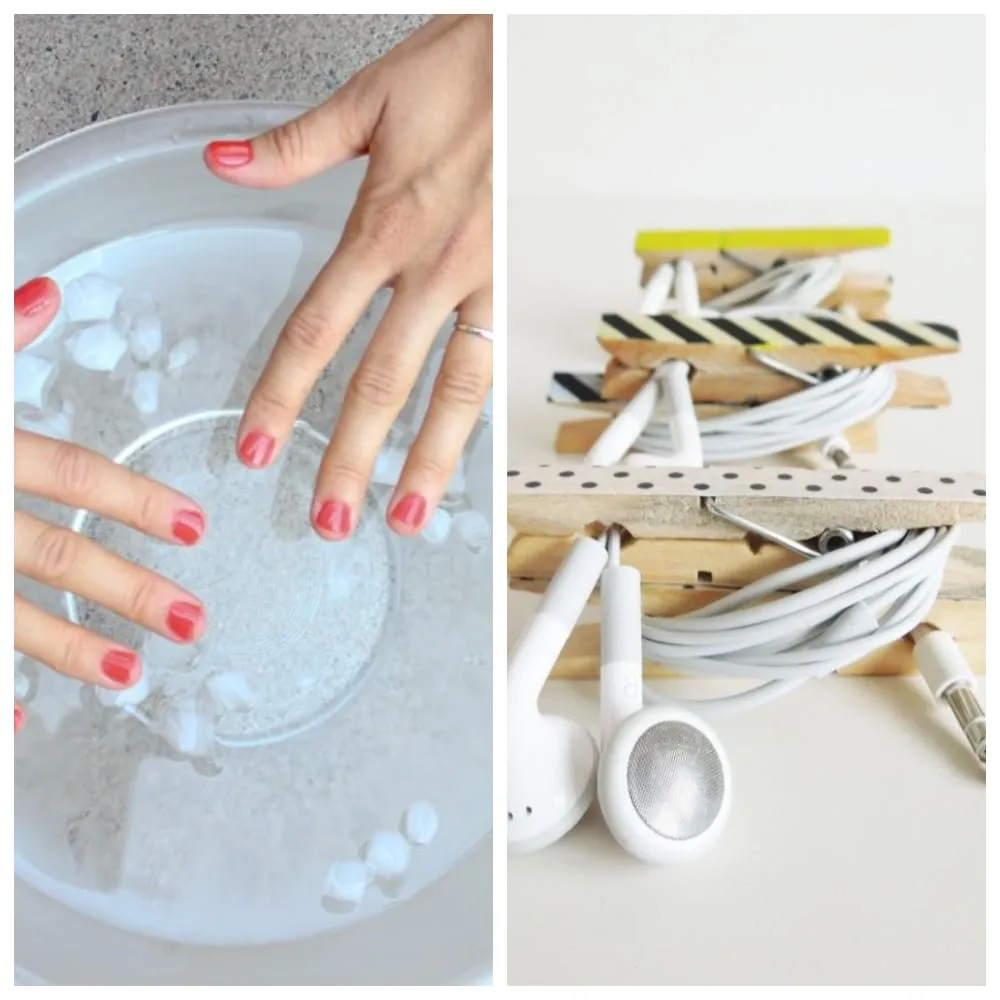 Do you want to have a nice manicure before your interview but are short on time? Is your lethargic routine causing you to become disorganized? Instead of advising you to become more disciplined, we have some unconventional tips that women have tried and can vouch for. These suggestions will help you navigate through the day smoothly and still allow you to sleep in until brunch.
Spooning with Lashes
Even if you have dressed up and had your breakfast quickly, you should take at least five minutes to apply mascara to your beautiful eyes. You apply the mascara very carefully, but unfortunately, your hand suddenly twitches and ruins your makeup.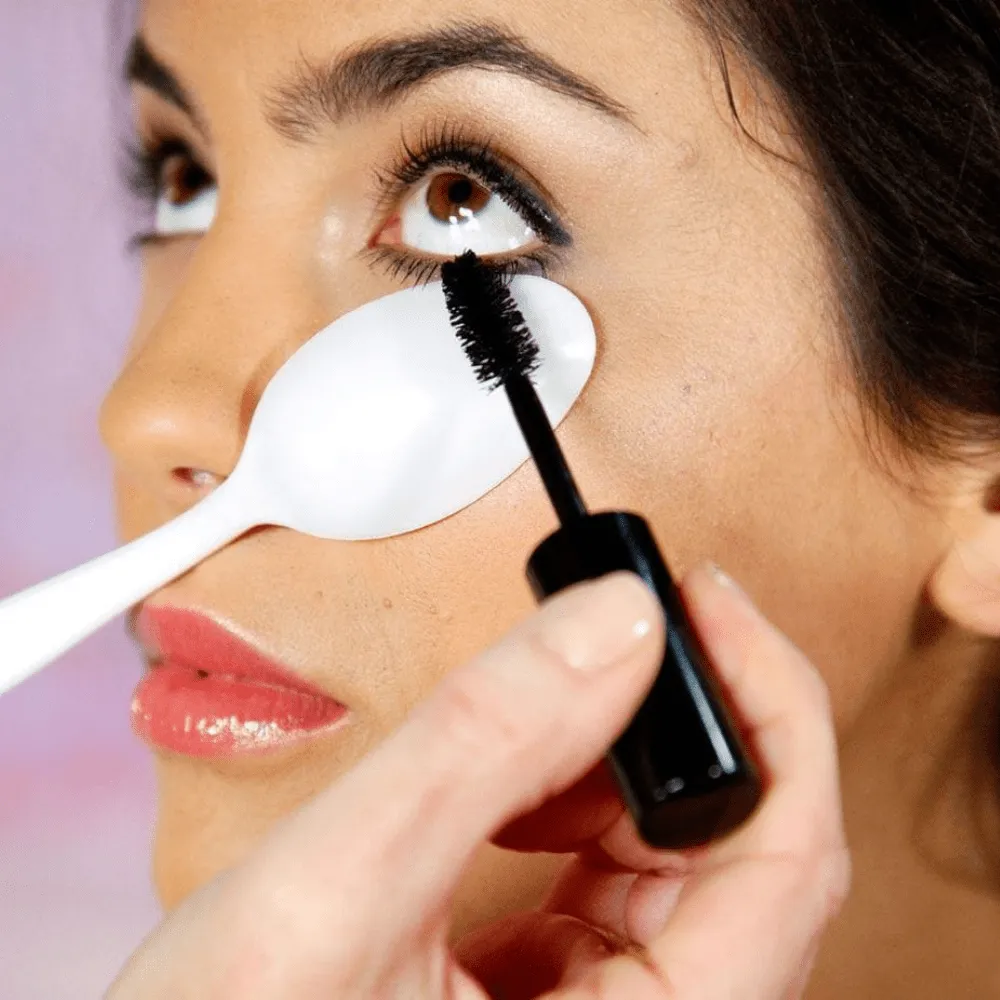 To reapply mascara properly without ruining the existing powder around your eyes, you should use a spoon. Position the spoon above your eyelashes to act as a protective barrier and aid in mascara application.
Keep 'em Straws
Plastic straws are known to be a detrimental environmental pollutant as they are often used for only one beverage and then thrown away. However, there is a simple solution – take them home with you. Even though it may seem odd, keeping the straws can prove useful in unexpected ways.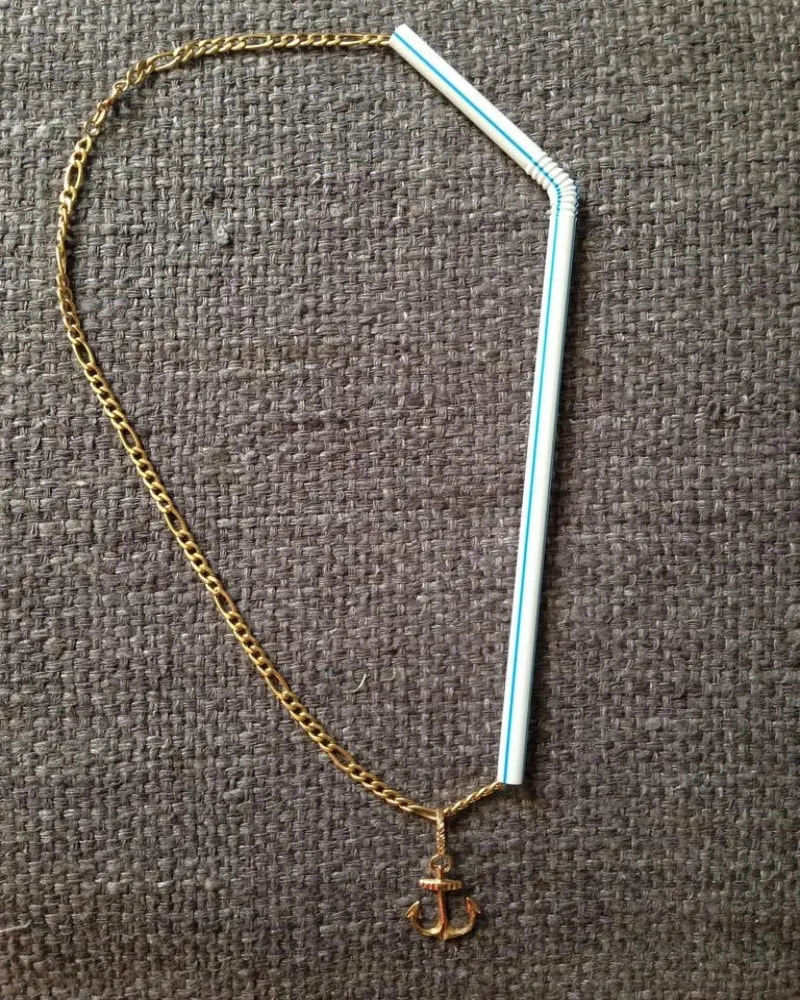 Do you notice the tangled cluster of necklaces in the metal sphere? Unravel them completely by placing each one into a plastic straw. Voila! The lovely necklaces will now be arranged neatly in the straws, ready to be taken out and worn whenever you want.
On Behalf of Color Corrector
Do you need a new color corrector because you're running out? Before purchasing a new one, try using red lipstick instead. Applying bright red lipstick under your eyes can help counteract and disguise dark circles.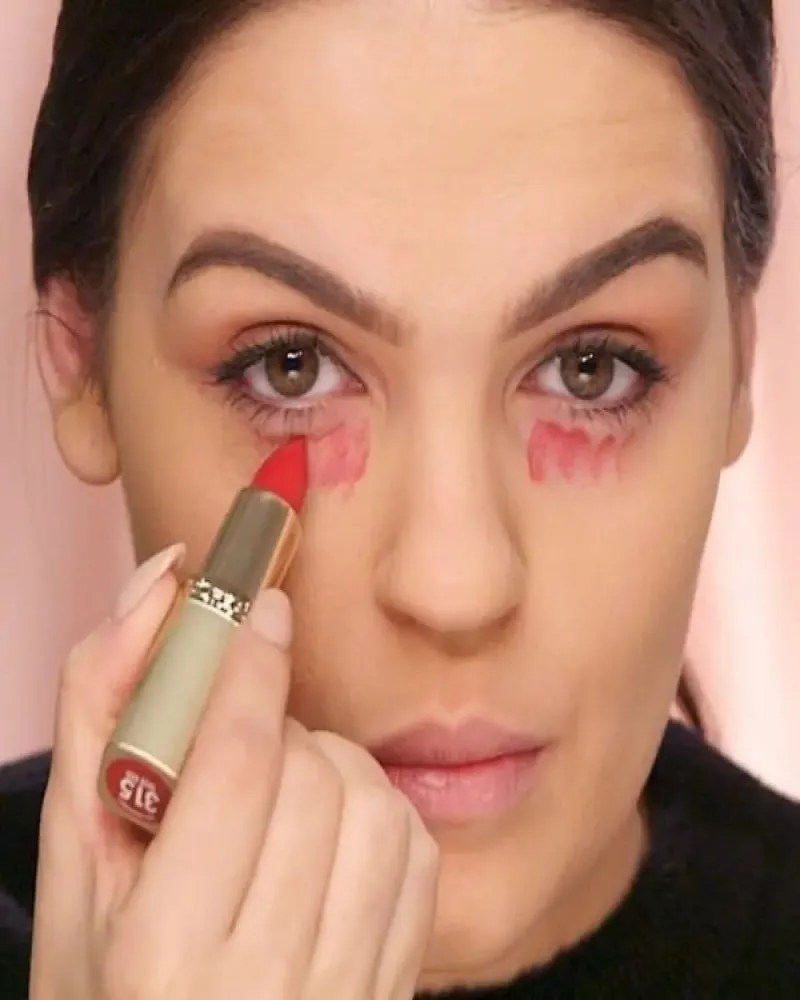 Simply blend the lipstick to create a smooth consistency and apply some concealer on top. It is highly likely that you will not want to return to your previous color corrector after trying out this technique.
Magnetic Magic Board
Do you find it tedious and uninteresting to rummage through your makeup drawer every morning, only to end up looking disheveled when you leave the house? Here's a simple do-it-yourself solution: Cut a piece of metal to fit the size of your frame.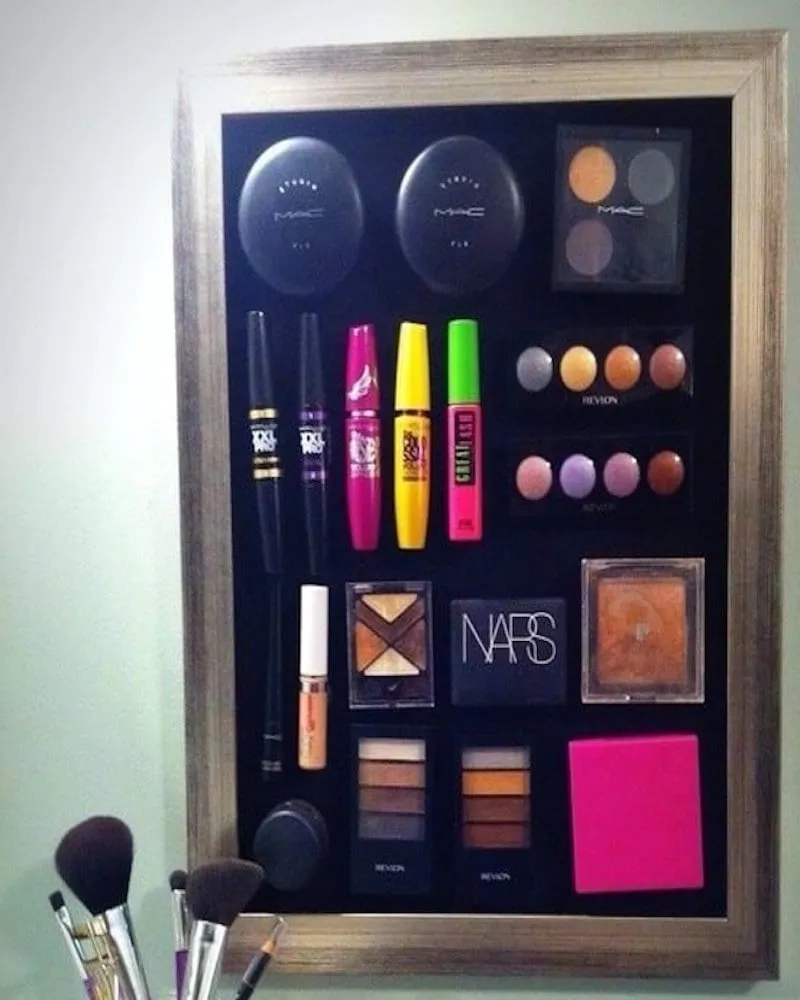 Insert the metal component into the given frame. Affix the magnets at the rear side of your daily makeup essentials using a glue gun, and there you have it! The magnetic board for your makeup is all set to come to your rescue!
Vaseline for a Long-Lasting Perfume
Do you find it frustrating that your perfume doesn't last long and disappears quickly? Here's a little suggestion for you: Apply a small amount of Vaseline on your skin before you spray the perfume.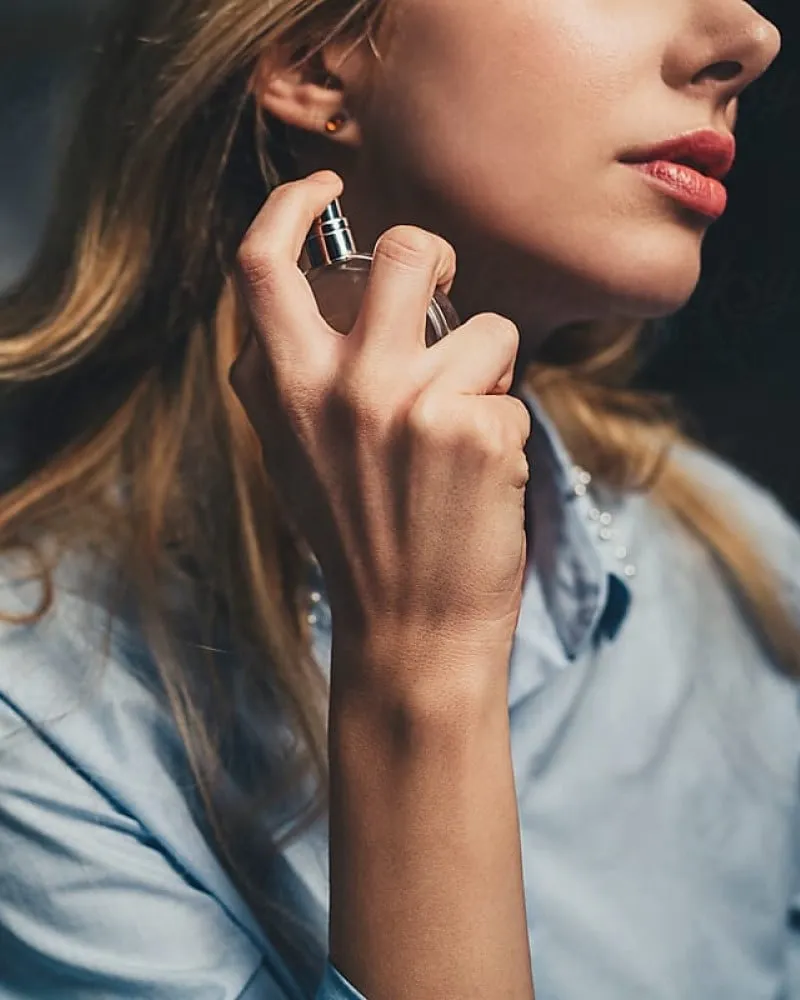 Using Vaseline on your skin will make your perfume last longer. This trick will eliminate the need for frequent reapplication, and the scent will linger throughout the day.
Smile Bright Like a Diamond
Why go to the dentist and spend thousands of dollars if you can use a simple banana peel to get the same result? Next time you eat a banana, try rubbing the peel on your teeth instead of throwing it away. Keep the peel against your teeth for a couple of minutes, then wash your mouth with water.

Your teeth will become immediately whiter. For optimal outcomes, perform the procedure once per week and avoid selecting an overly ripe banana.
Banging Bottles
As someone who tries to have the trendy "it" girl image, it's important for you to accessorize yourself with stylish trinkets. You have multiple bracelets and bangles scattered around your bed, couch, and bathroom, and they require a new storage space. The elegant holders available at the mall seem quite costly, don't they?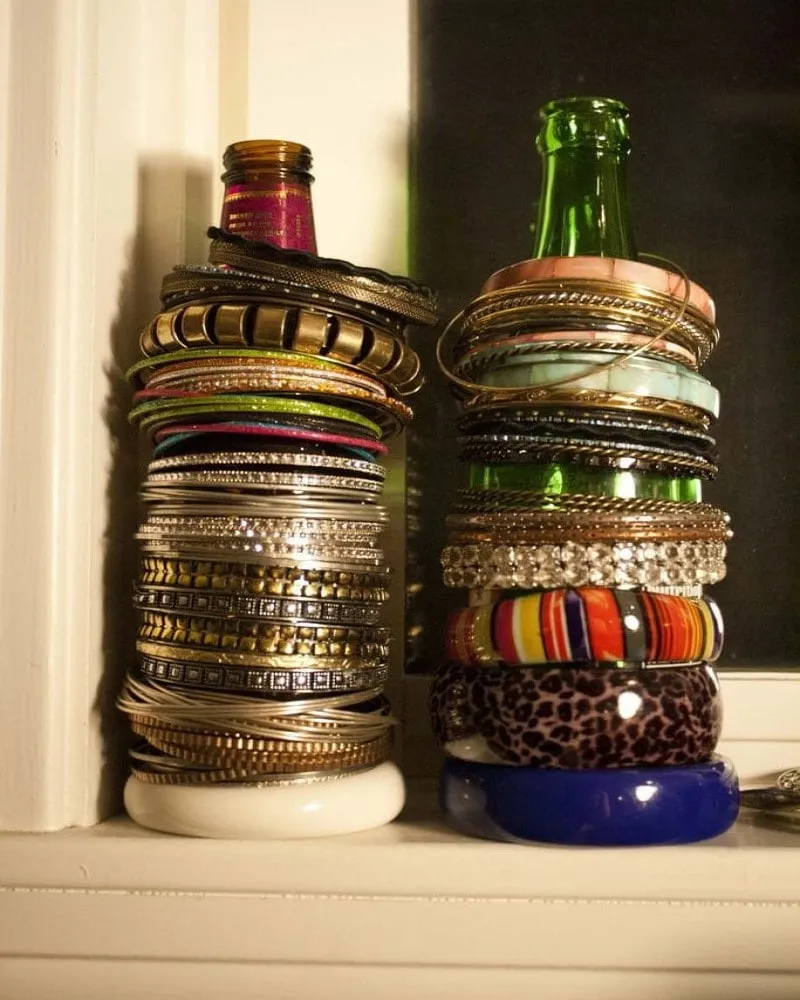 The suggestion is to repurpose the next glass bottle you come across by transforming it into a holder for bracelets. You can enhance its appearance with some glitter or painted designs. At the end of the day, simply place your bangles around the bottle's neck for safekeeping.
Lazy Schedule
Have you ever frantically searched through all of the television channels and then suddenly realized an hour later that you were supposed to attend a meeting? This is a common occurrence that happens to many people. However, to prevent such missed opportunities from happening, all you need are a piece of string, several clothes pegs, and some paper.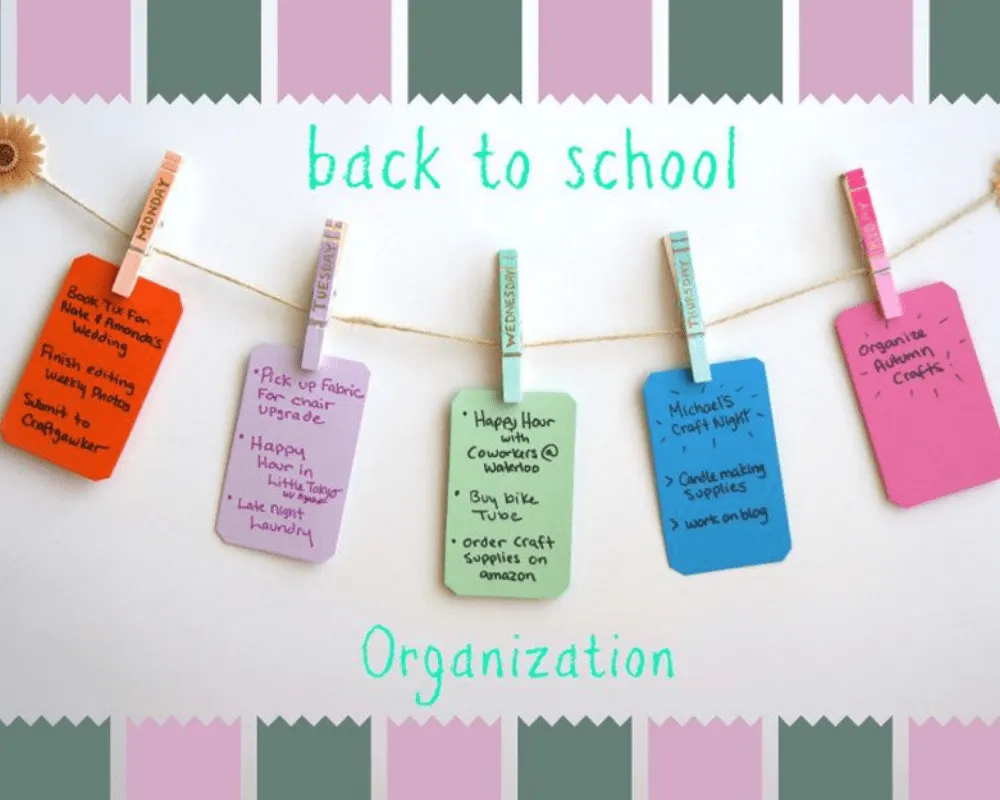 To never miss an important task, fasten a string onto a wall and use clothes pegs to hang notes containing important events or activities that need to be completed.
Bun Support
Retrieve your tic tac container from the recycling bin immediately! Here is a useful tip that will make you question why you haven't attempted it earlier. Notice the numerous hairpins scattered throughout your dresser?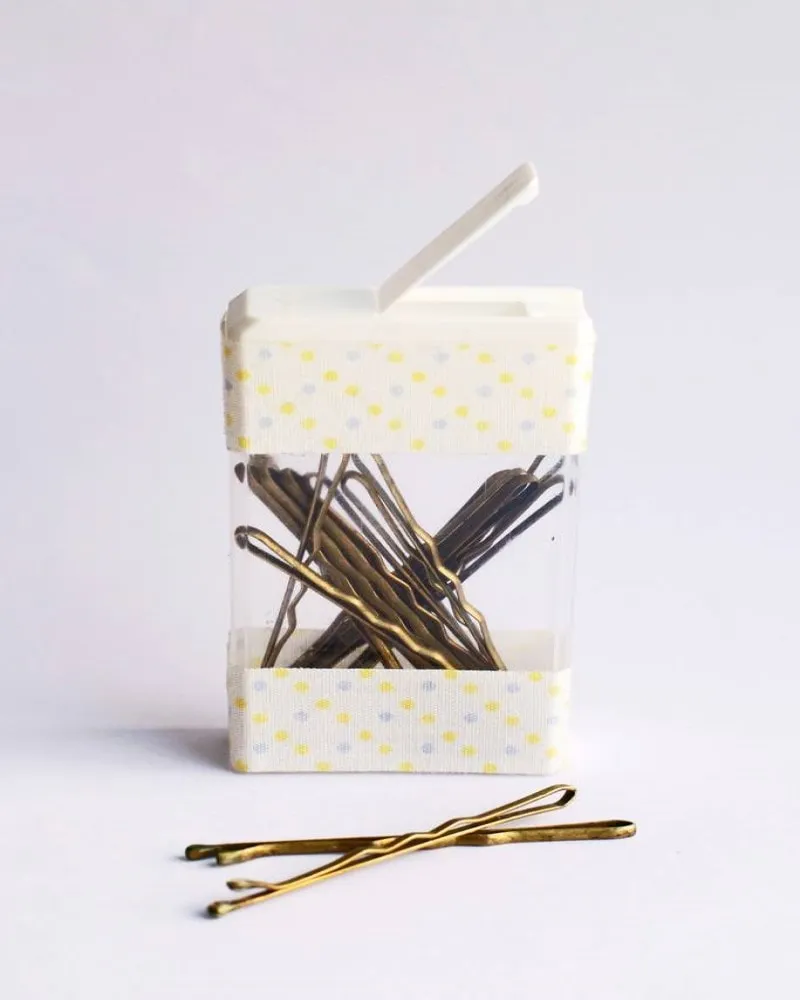 It's likely that you misplaced the original packaging of your bobby pins. To tidy up your dressing table and avoid having to search for bobby pins with one hand while holding a hair bun with the other, a solution is to put all your pins in a tic tac box. And just like that, your problem is solved!
Detangled
You could encounter a mess of tangled wires mingling with your unclean clothes on the floor. It's imperative to give these wires a designated space, and simply keeping them in a container won't suffice. Our recommendation is to tidy them up by suspending them.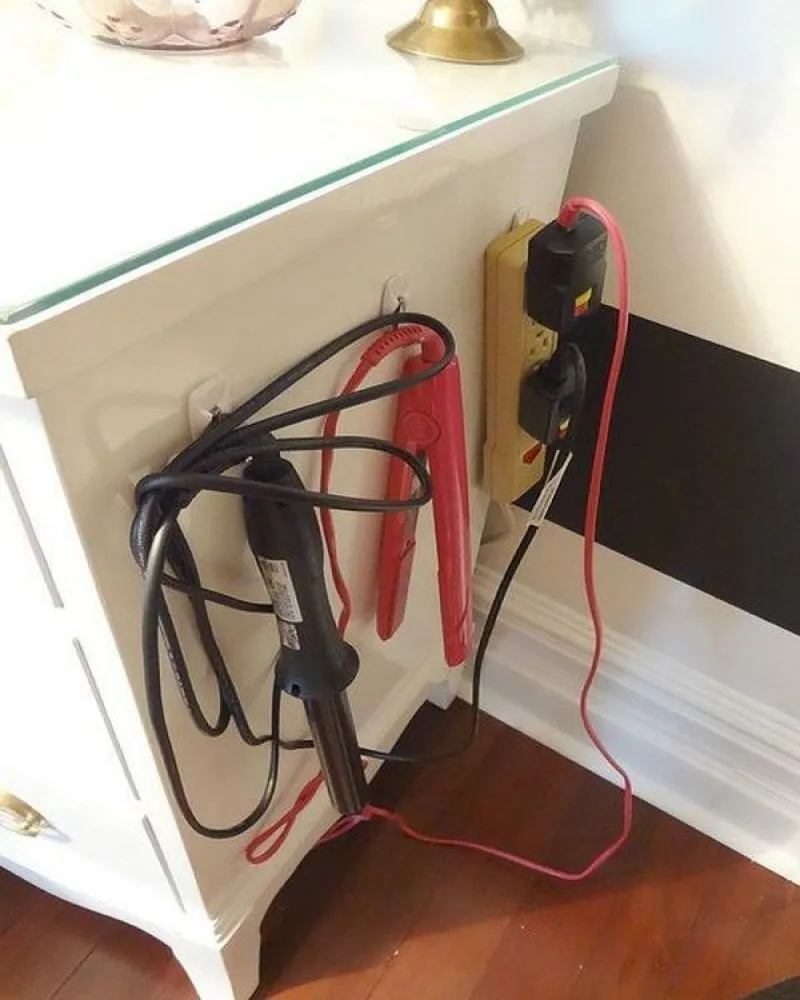 Collect a large number of command hooks and affix them to the walls, doors, and closets. Place any cords you come across, such as charging cords, headphones, hair dryers, or straighteners, onto the hooks. This will alleviate some of the burden.
Lemon Law
The exclamation, "My eyes! My eyes!" is often heard when someone wakes up next to you and sees your unshaved underarms as you cozy up in bed. It's a realization that you have yet to remove the unsightly hair, even if you do shave it off, the area can still appear dark.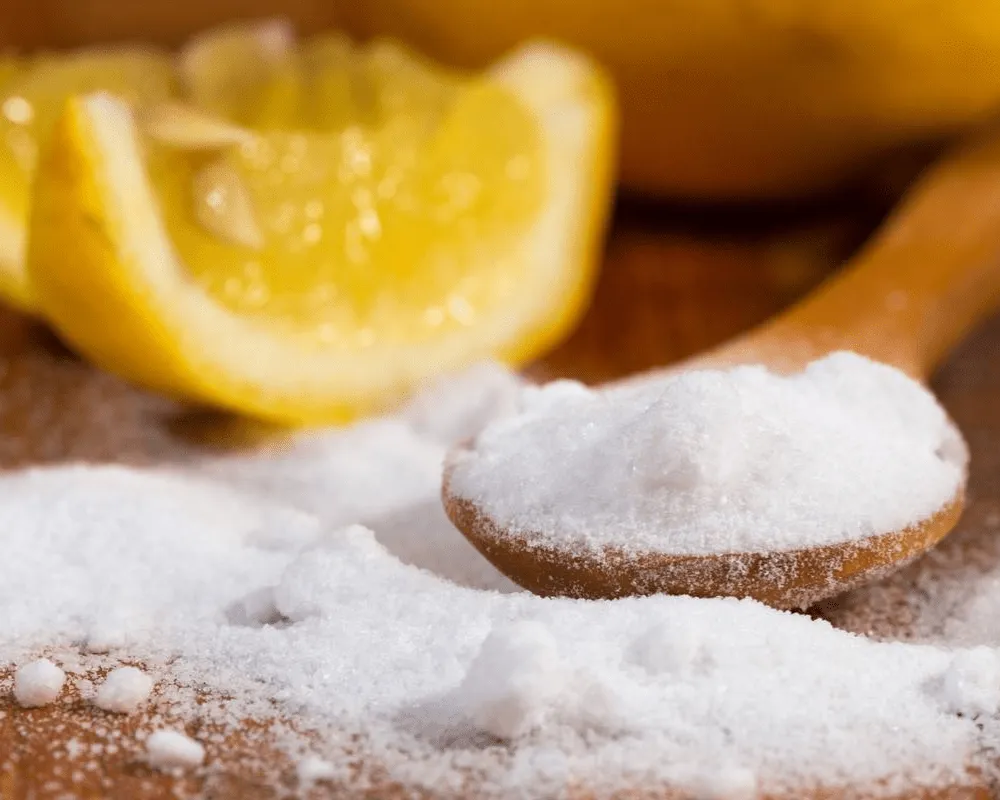 Instead of attempting to conceal it with larger sleeves, you can experiment with a common solution of combining baking soda and lemon juice. Blend the two components and use it regularly for a couple of weeks. Observe the impact for yourself!
Lipstick on Point
Regardless of the type of food you eat with a glamorous appearance, it's not acceptable to have smudged lipstick. In order to maintain flawless lipstick all day, it's recommended to carry Mac lipstick in your bag. However, if your bag is smaller than your patience, you may need to choose between carrying either your power bank or lipstick.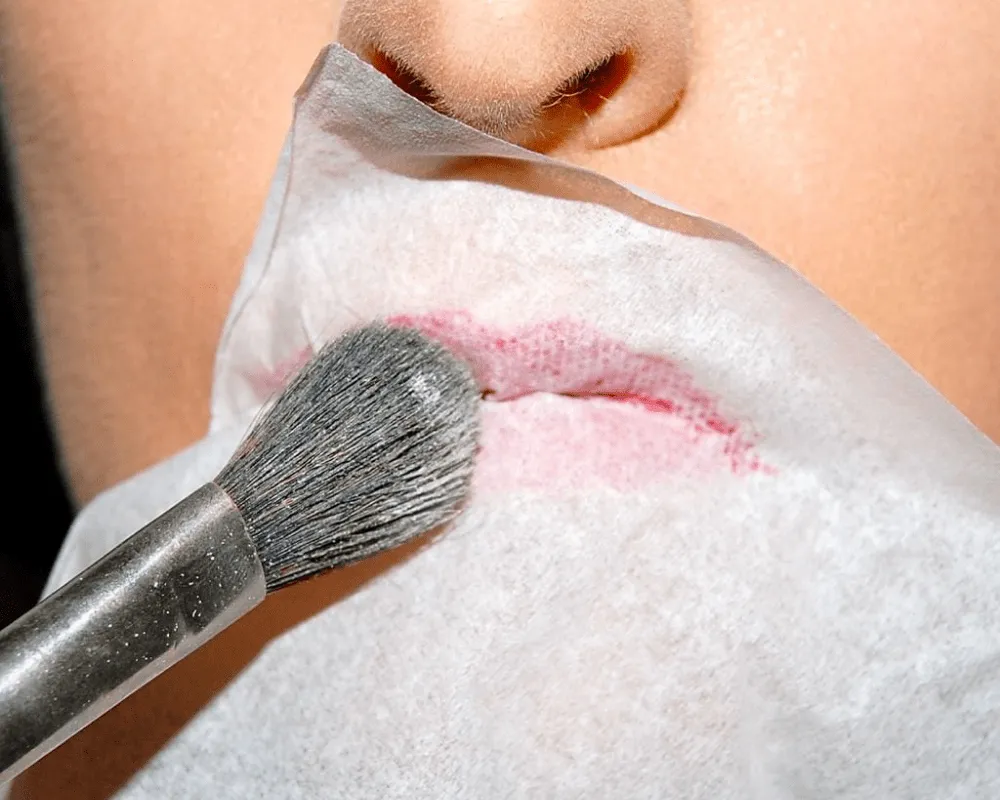 To have attractive and eye-catching lips throughout the day, apply a thin paper towel over them and use some powder (preferably translucent) over the towel. This will help enhance the beauty of your lips.
Not Just for Witches
This trick demonstrates how useful a broom can be. You might notice various small items scattered on your desk. However, we are not suggesting that you should use a broom to tidy up the area.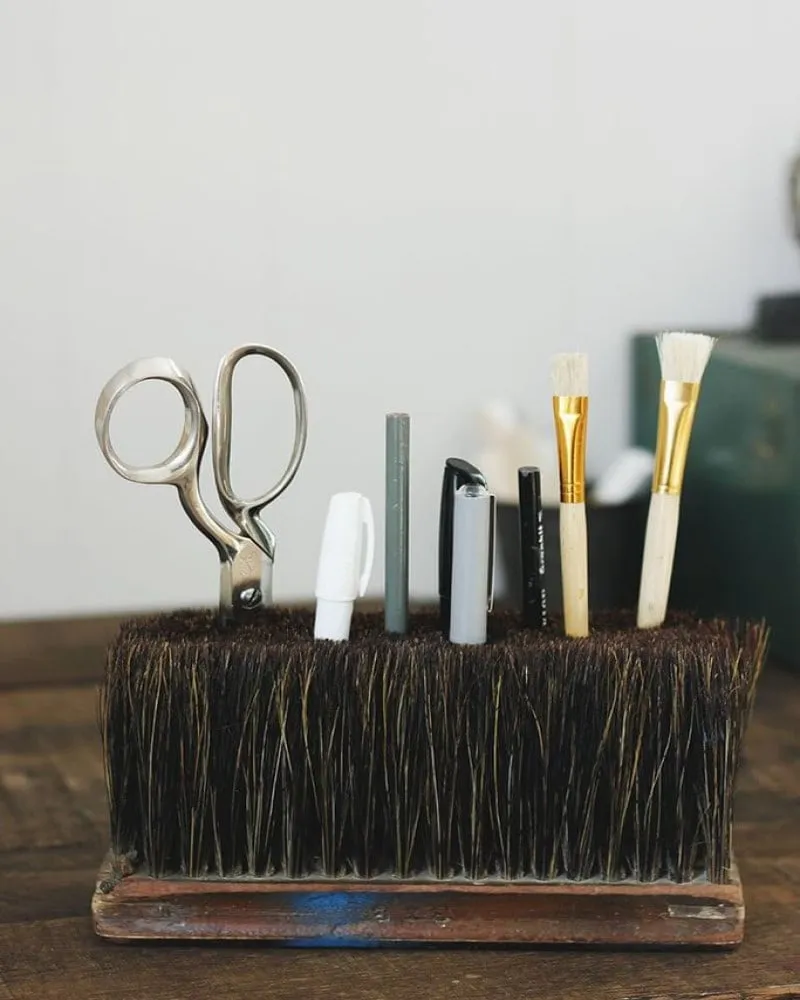 In case you happen to possess a used broom, detach its head and flip it over onto a desk. Then, proceed to arrange all your small items on its bristles, and it will resemble a lively fall-inspired garden.
Nail Those Curls
This advice is intended for fashion enthusiasts who have faced disappointment due to technology failure just before a big event. If you also desire to have the same wavy hairstyle that models flaunt, you don't need to excessively curl your hair.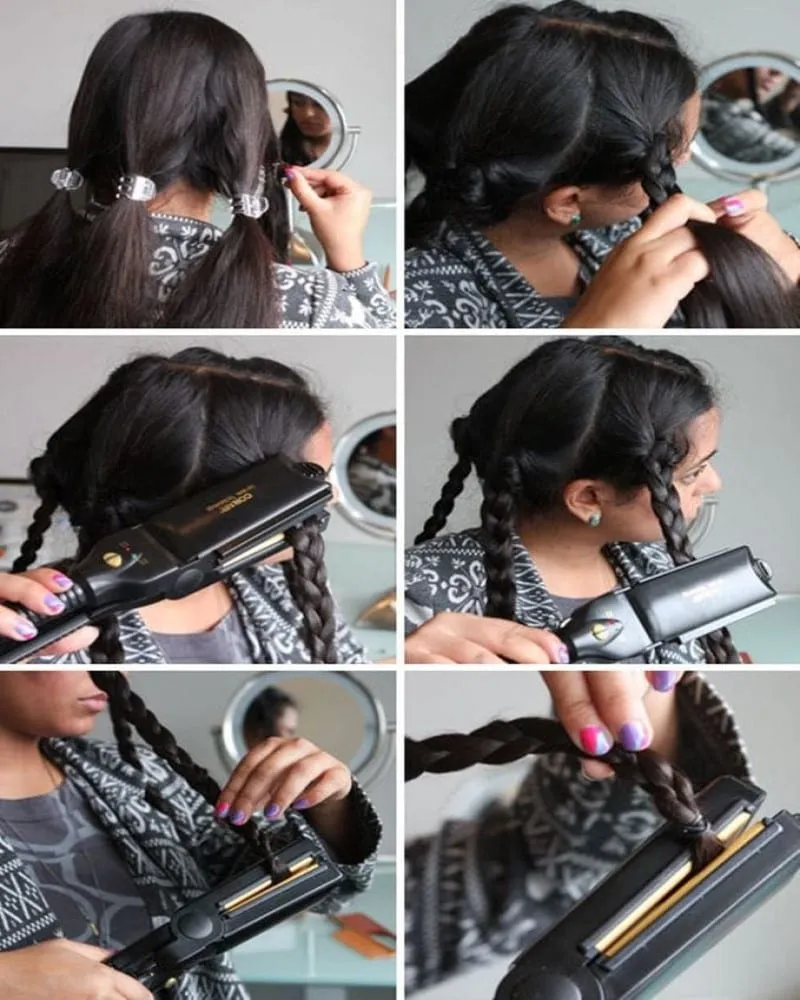 To keep your curls intact all day long, you can follow a simple, affordable, and effortless method. Start by braiding your hair and laying your head flat on a smooth surface. Then, use a hair iron on the entire length of the braid. By doing so, your curls will remain perfect for the day. This is a valuable trick that is both speedy and economical.
No More Eyesore
If you are someone who often has webs covering the wires under your desk, it is important to manage and maintain them properly. We are here to provide guidance on how to do so. Rather than using multiple adapters for various wires, it is advisable to gather all plugs and connect them to a single adapter.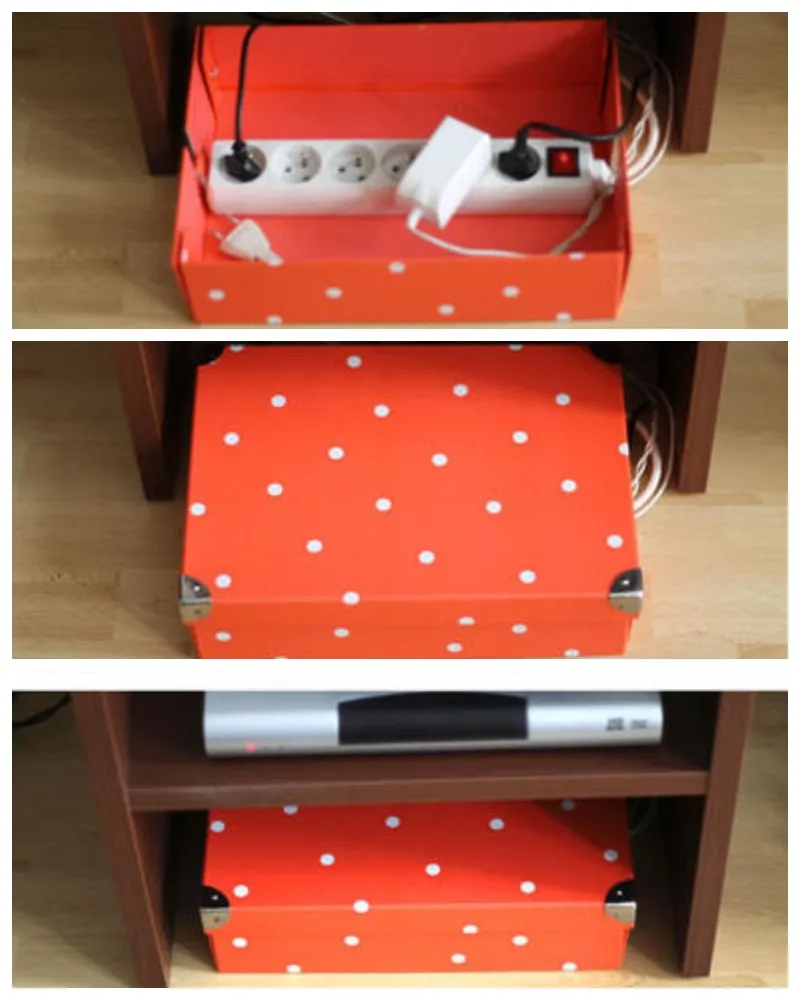 How can you conceal the adapter? You can use a firm container such as a shoebox or a case, and make some appropriately sized holes. Then decorate it as you wish. After, place the adapter inside and pass all the plugs through the holes to connect them. Your setup will be invisible!
Earring Holder
Did you exhaust all your funds buying shoes? Are you looking for ways to dispose of the shoeboxes? Instead of discarding them, why not upcycle them? The initial thing that requires cleaning is likely your drawers. Despite possessing an exquisite and costly earring, you may never locate its matching pair.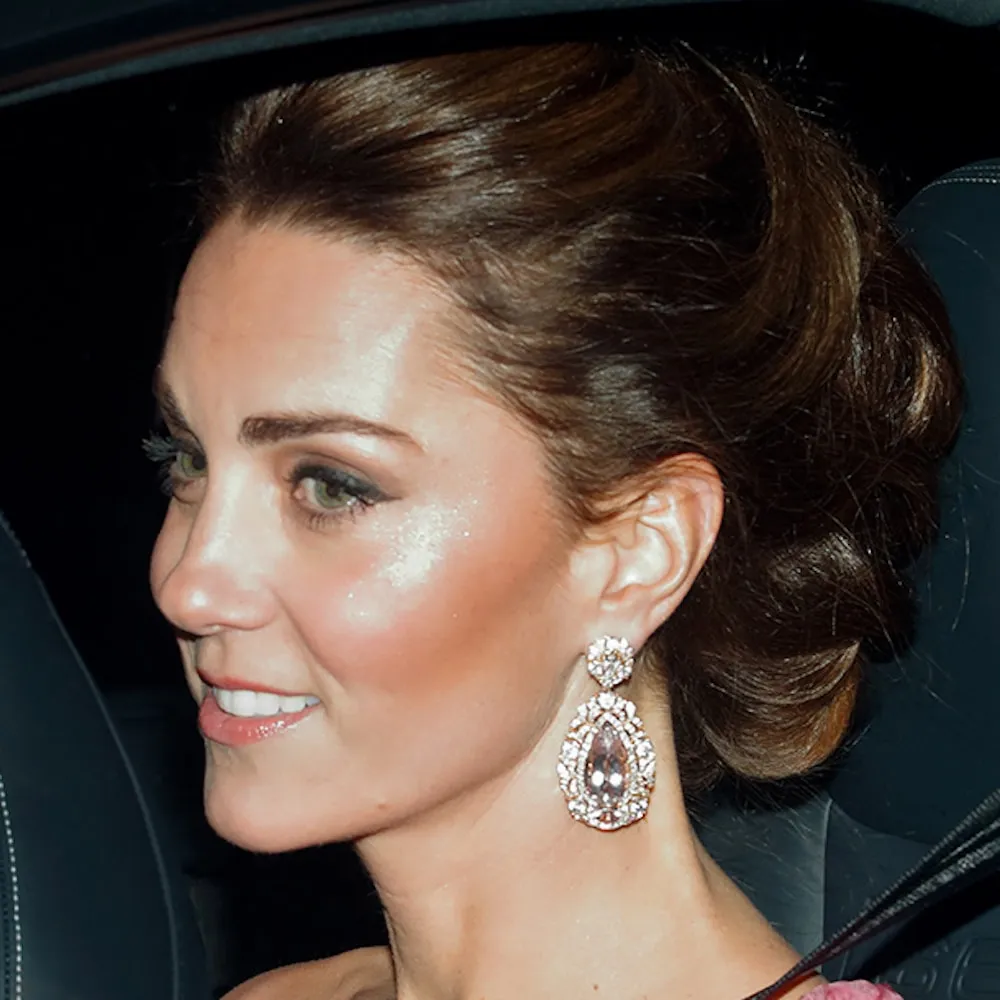 Select a specific hour and collect all of the earrings that you can locate. Affix them onto the cover of your secret storage box for shoes. Adding a layer of golden hue on the cardboard would enhance its visual appeal.
Label Your Keys
Have you ever found yourself in a situation where you unintentionally locked your bathroom door and attempted all the keys you could gather to unlock it? Similarly, if a friend requested the keys to your home and you gave them a set of keys, you could return home later to discover that your friend has fallen asleep outside the entrance.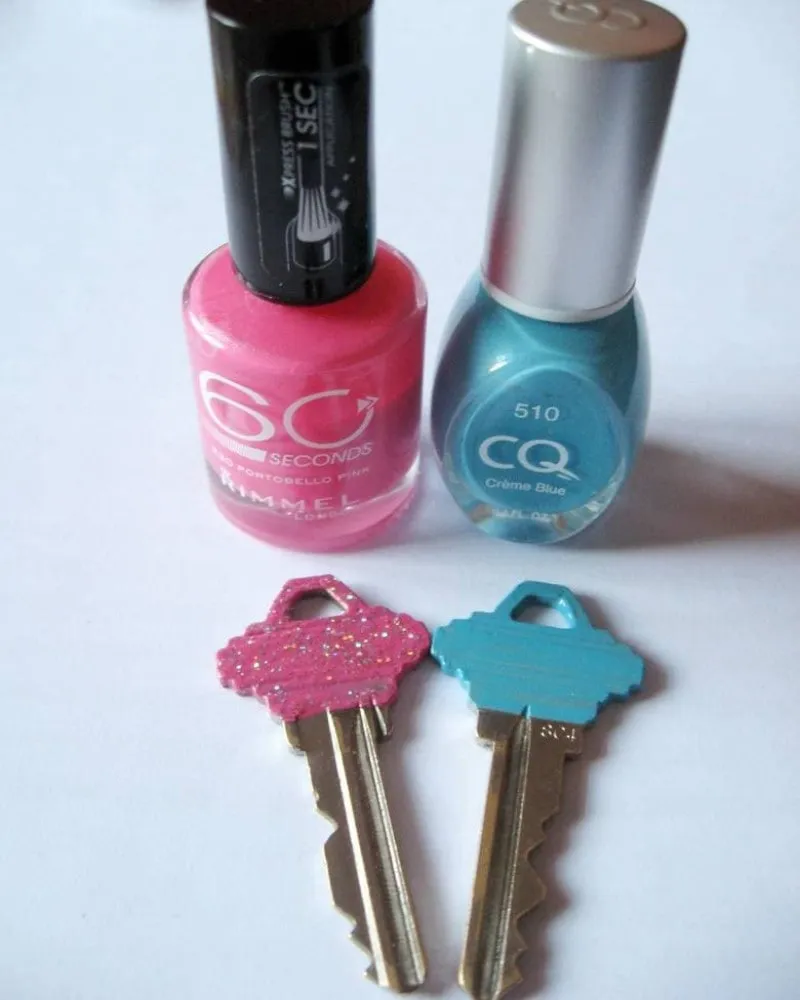 It is important to label keys due to our lack of patience. You can simply use nail polish that you don't really use and paint the head of your keys to act as labels.
Mani-Pedi at Home?
Maintaining a typical nine-to-five job can lead to physical symptoms such as swollen cheeks, worn-out hands, and tired eyes, which can be quite concerning. A relaxing day at the salon, receiving a soothing manicure, can greatly alleviate these symptoms. However, if you're too busy to schedule an appointment or even attend one in person, there are still ways to address the issue of untrimmed nails.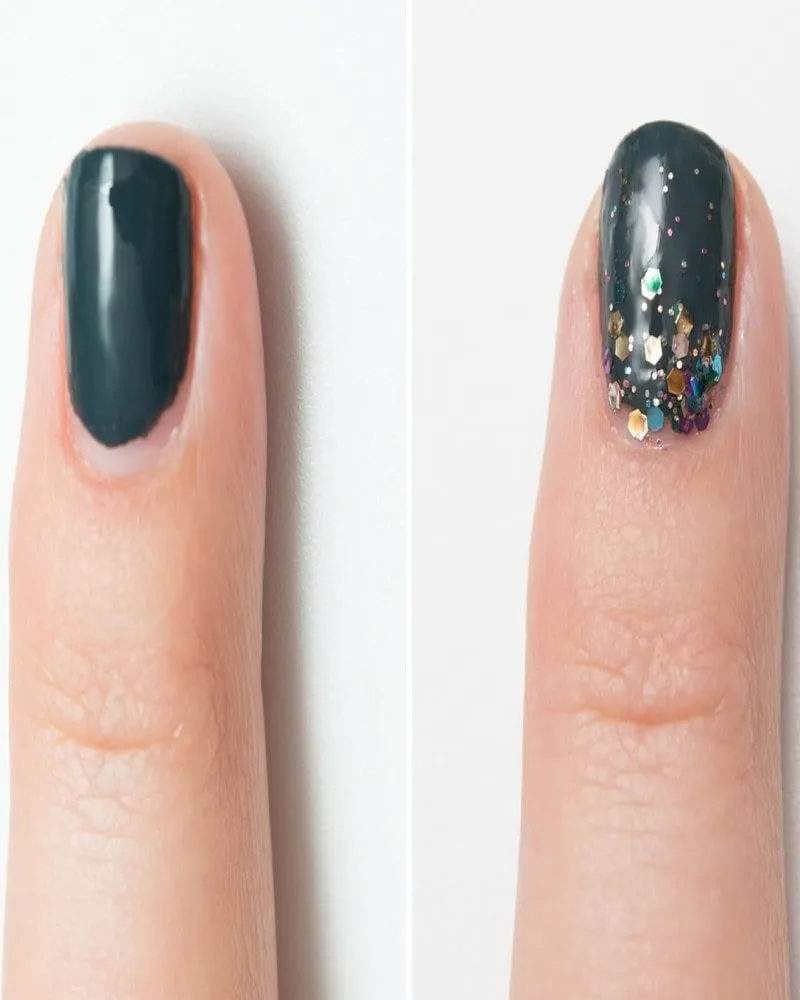 Apply glitter nail polishes on the upper part of your cuticle to witness an inflow of compliments.
Ribbon Knots
Both floating ribbons and chargers are unpleasant to look at. Although they are essential, there are no practical uses for them once they have served their purpose. They just remain idle with no real function. However, with this hack, you can solve two problems at once.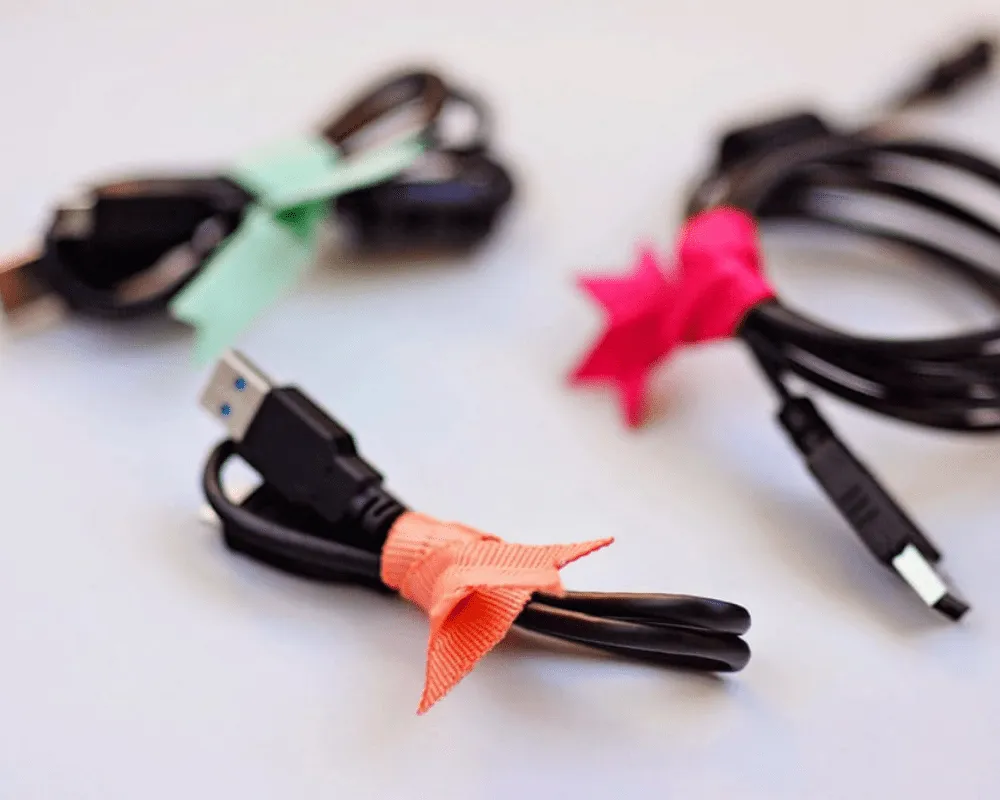 Wrap your chargers with your ribbons and place them in any location you prefer. In case you have excess ribbons, attach them to your chargers to balance it out. Try tying some ribbons to your earphones and give them an elegant look.
Bathing Not Allowed
It can be quite bothersome to wash your hair, especially when you have a tight work schedule of 30 hours a week. Skipping a day of shampooing means dealing with hair that is dirty and greasy. Ideally, it would be best to not wash your hair while taking a bath. However, without regular washing, how can you prevent the build-up of oil?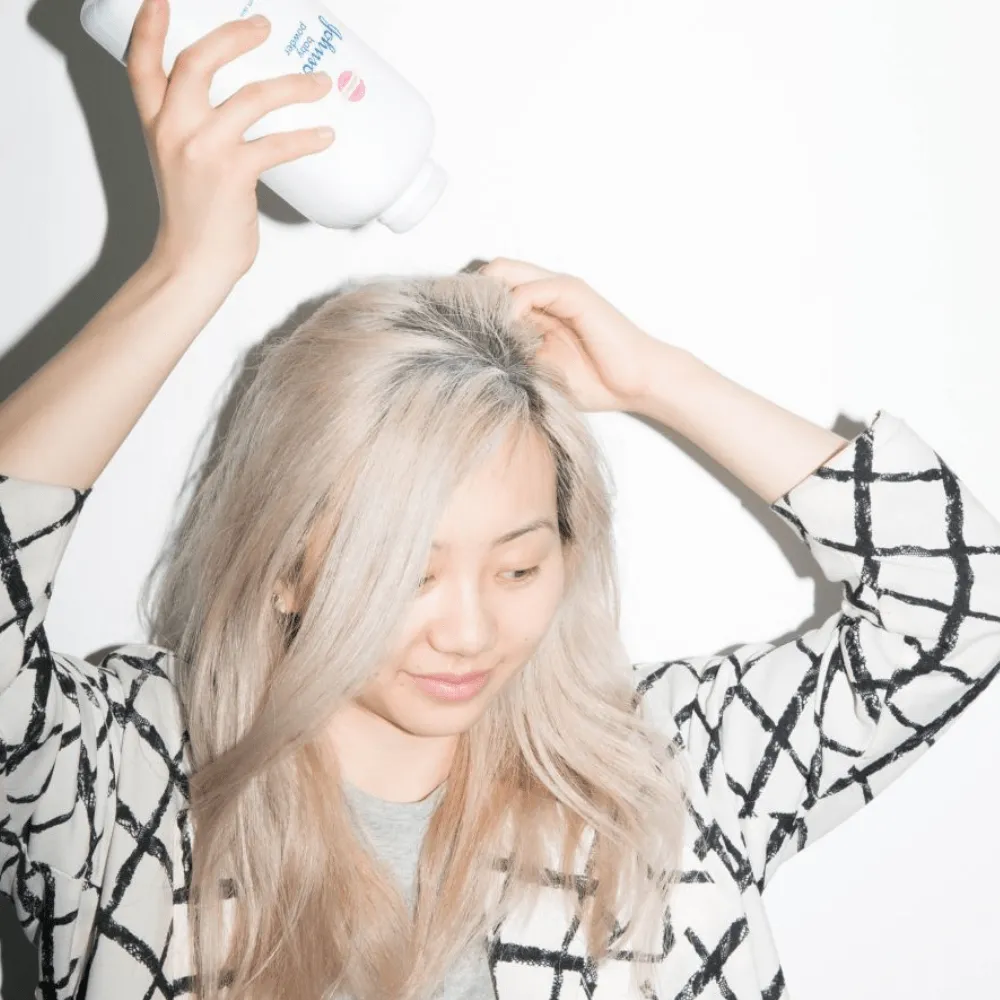 To achieve similar results to drying your face, apply some baby powder to the roots of your hair and scalp before going to bed. This will result in fresh-smelling hair that feels like a cool winter breeze in the morning.
Hair or Clothes?
If you are someone who doesn't want to spend time ironing clothes in the morning and prefers a sharp and crisp look instead of a regular one, you can try out this tip. Since you straighten your hair with a flat iron anyway, it's already hot and ready to use before you leave for work.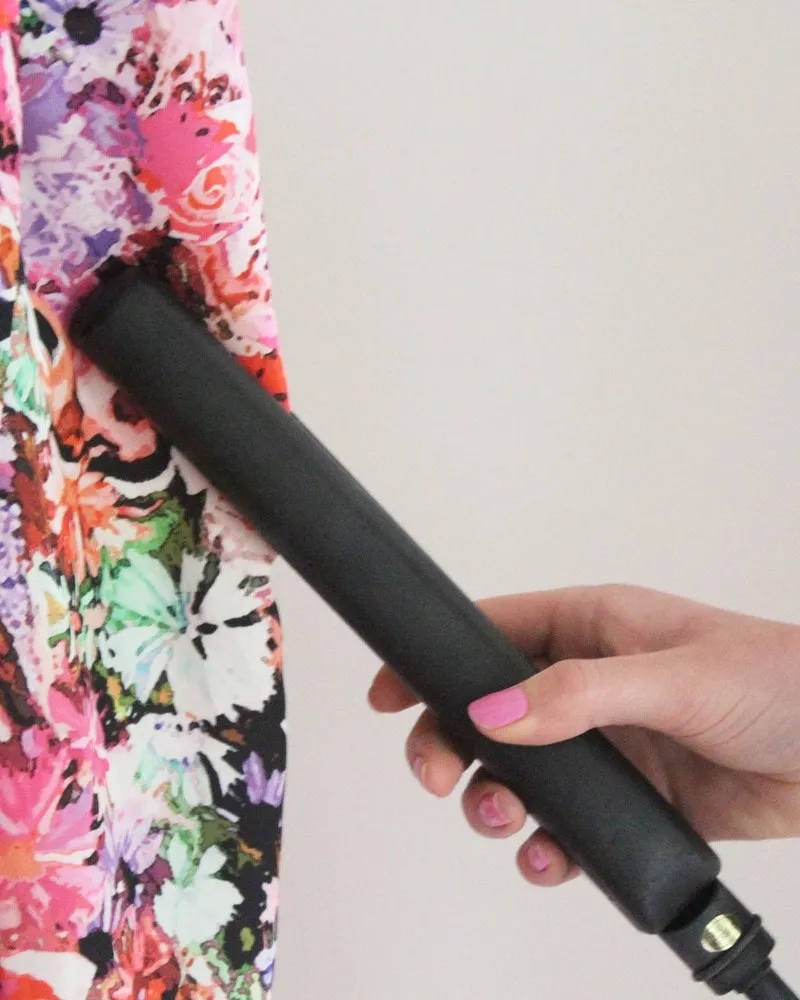 You can effortlessly eliminate wrinkles from your work attire by running it through the fabric, without requiring an iron or an ironing board. This quick and easy method will enable you to have smooth clothes for both work and a date in a short amount of time!
Shoe Packing Guide
While organizing your belongings for travel, you carefully arrange your clothing, accessories such as jewelry and cosmetics, and undergarments. However, the perplexing issue of where to store your shoes persists, as cleaning them in advance of your departure could result in encountering damp and odorous footwear within your compact luggage.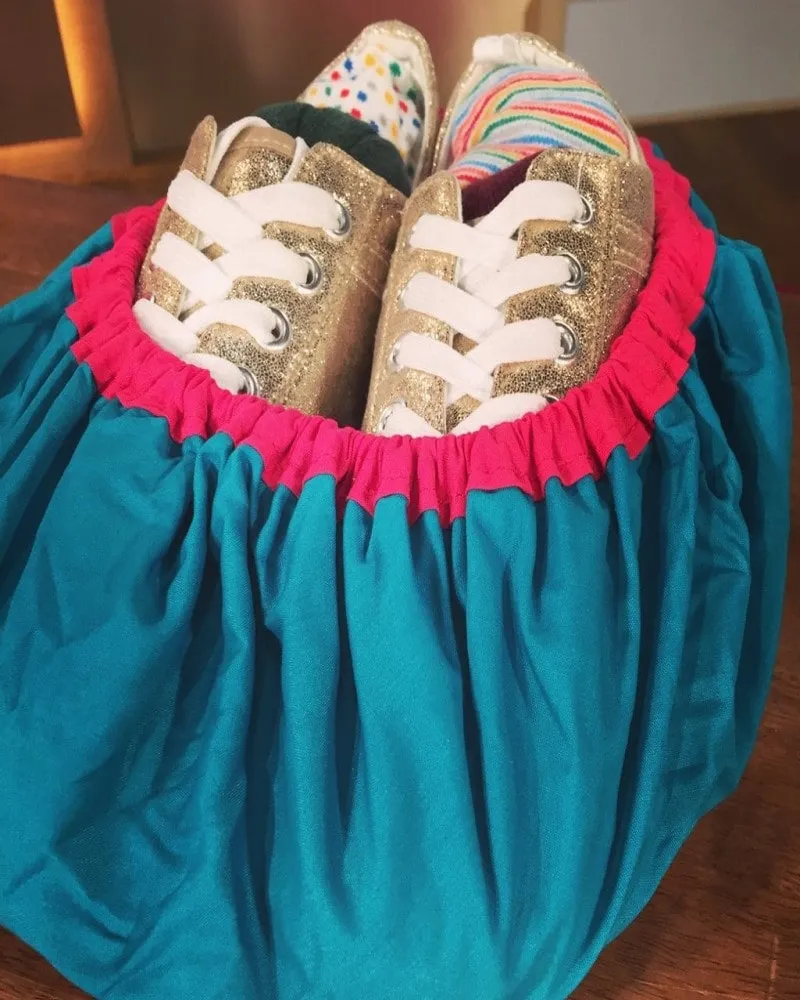 Just picture the strong, perspiring scent that will emanate upon opening it. To avoid getting any dirt on your clothes, it would be best to use a shower cap, which you can easily wash later on.
Frozen Caps
You have never probably tried this technique, but this is a solution to everyday headaches. Frozen caps! Do you want to apply some good old nail color but the nail polish container's cap does not come off?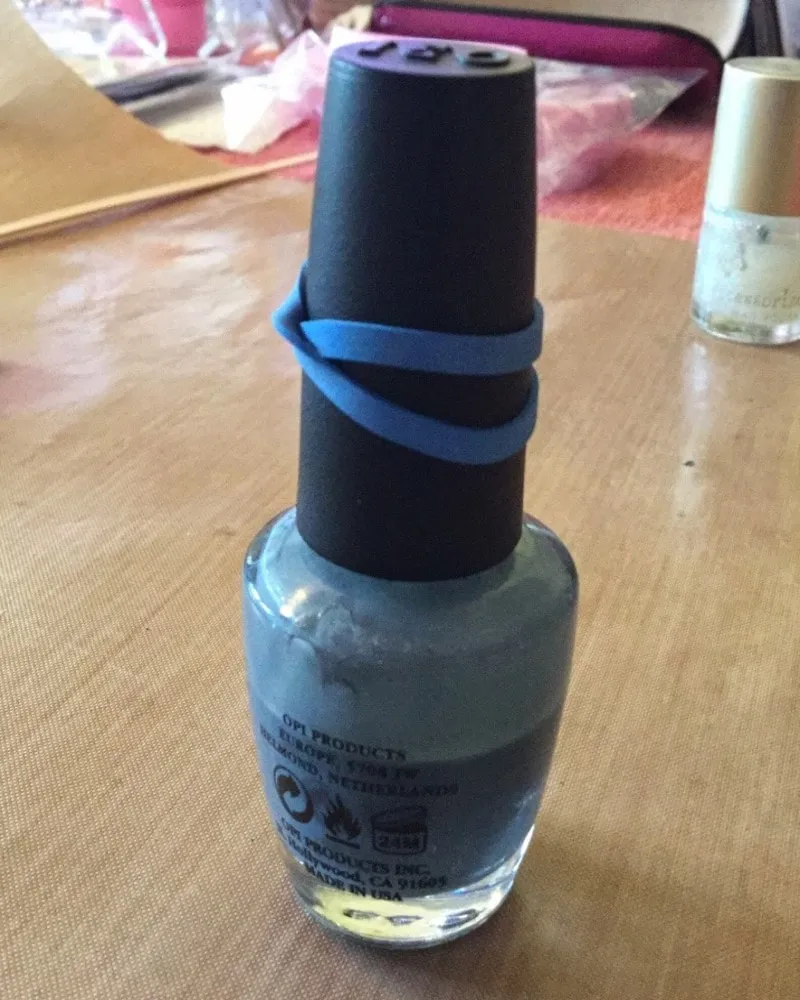 It's probably stuck due to the dried-up polish with a delightful combo of your sweaty hands. Here is what you do: tie a rubber band onto the lid of the case and pull. Voila! How good is pivoting! You can try this out for other lids as well.
Good as New
For those of us who love window shopping, bringing home chunks of finger rings is never surprising. They make our daily outfits shine like happiness coming out of a lamp. It's a shame they don't last long.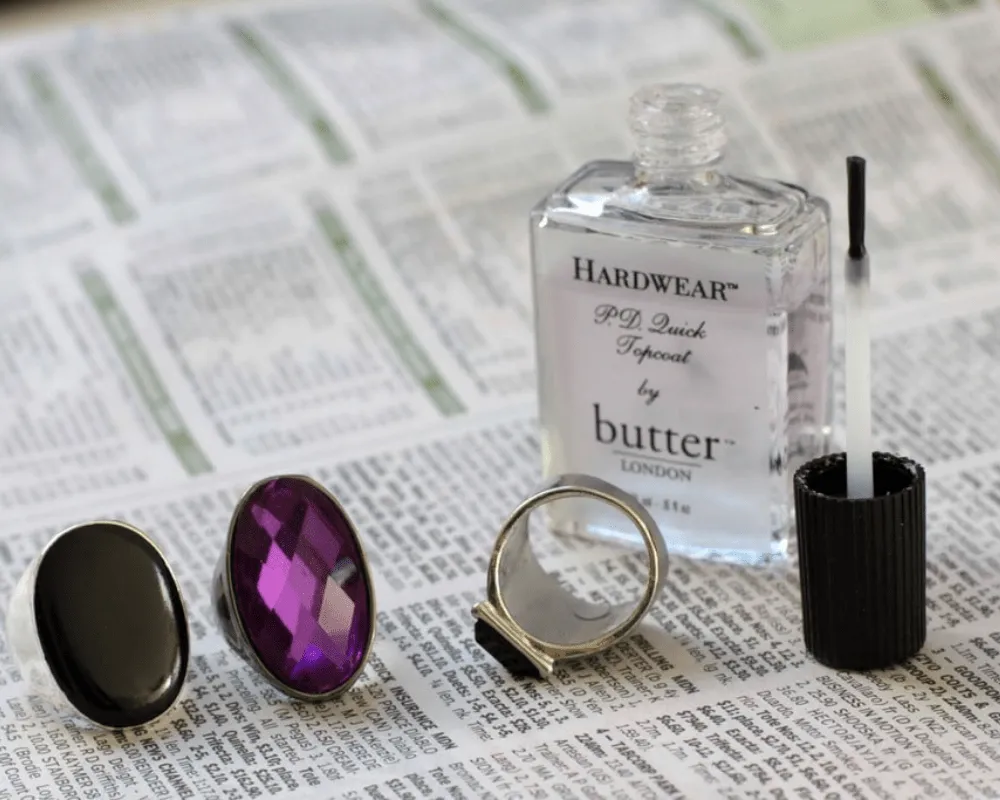 Be it silver, gold, or copper, these pieces of jewelry usually lose their color and go green. There is one thing you can do to preserve them, though. Just add a bit of clear nail polish all over the rings. This way, you retain the actual color, and that too for years.
Feel the Music
Who doesn't love jamming their head to heavy metal all day? Not everyone, but the point is, you need some decent earphones if you want to listen to music all day. You take them out of your pocket and start detangling the mess.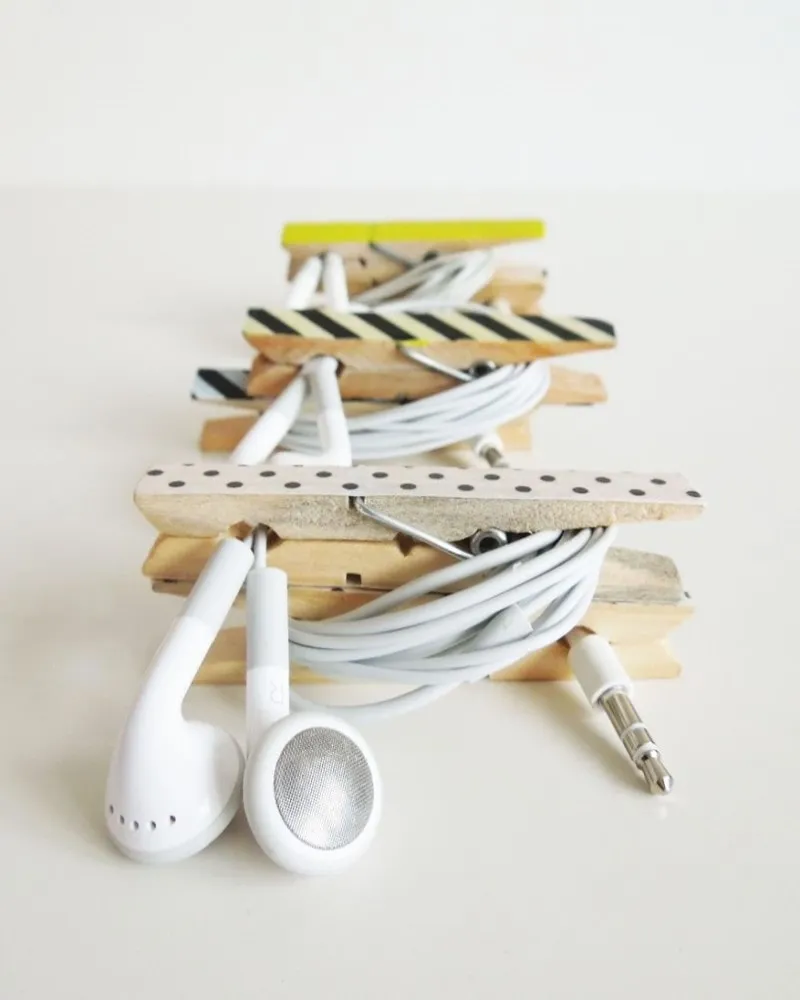 Detangling every time can feel like a leap closer to drive your sanity away, but you have no choice. Or do you? After you wrap up your headphones, attach two clothing pegs from two sides. That way, it doesn't lose its form once in your pocket.
Purse Holder
As a woman, the biggest atrocity we face is the incredibly low space we have to keep our belongings, especially purses. If you keep them on a shelf, the shelf is full. If you keep them on the desk, there's no space for your laptop.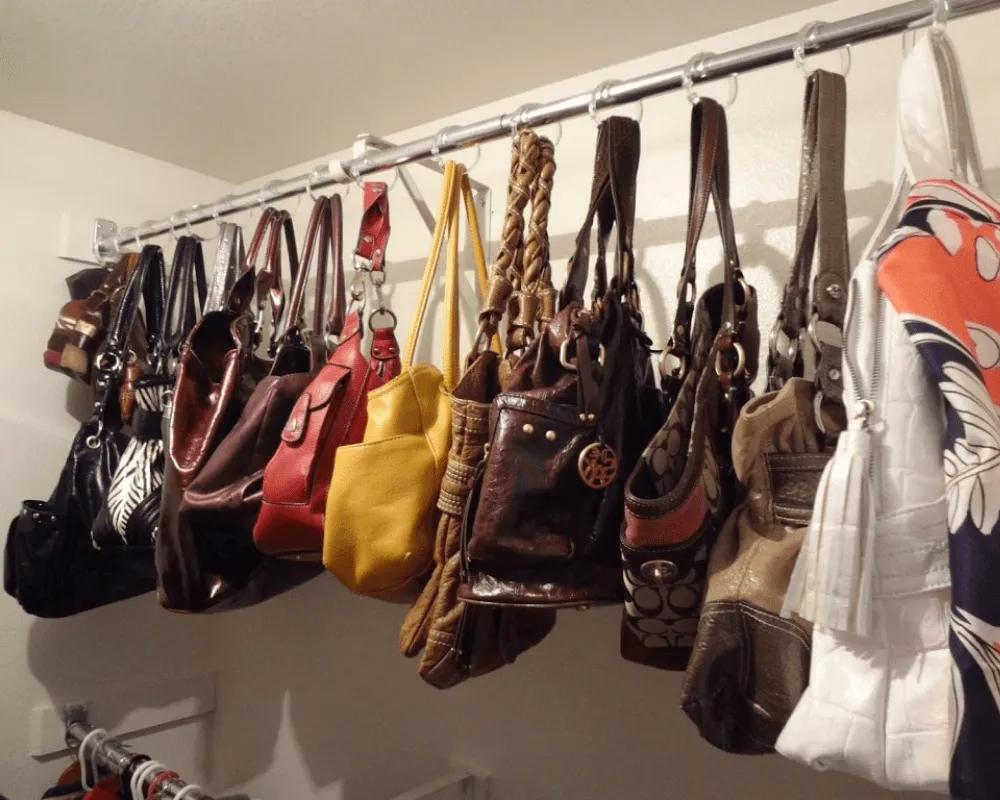 So where do you keep your purses? You might have a rail in your closet. Grab a few shower curtain hooks and attach them to the rail. Hang your purses to each of these hooks. No more purses lying in corners of your room!
No More Floppy Boots!
Are your boots all slumped over and starting to wear out? Don't you worry, because there are pool noodles to the rescue! If you love wearing long boots, chances are that you already know how easy it is for them to get all folded and wrinkled.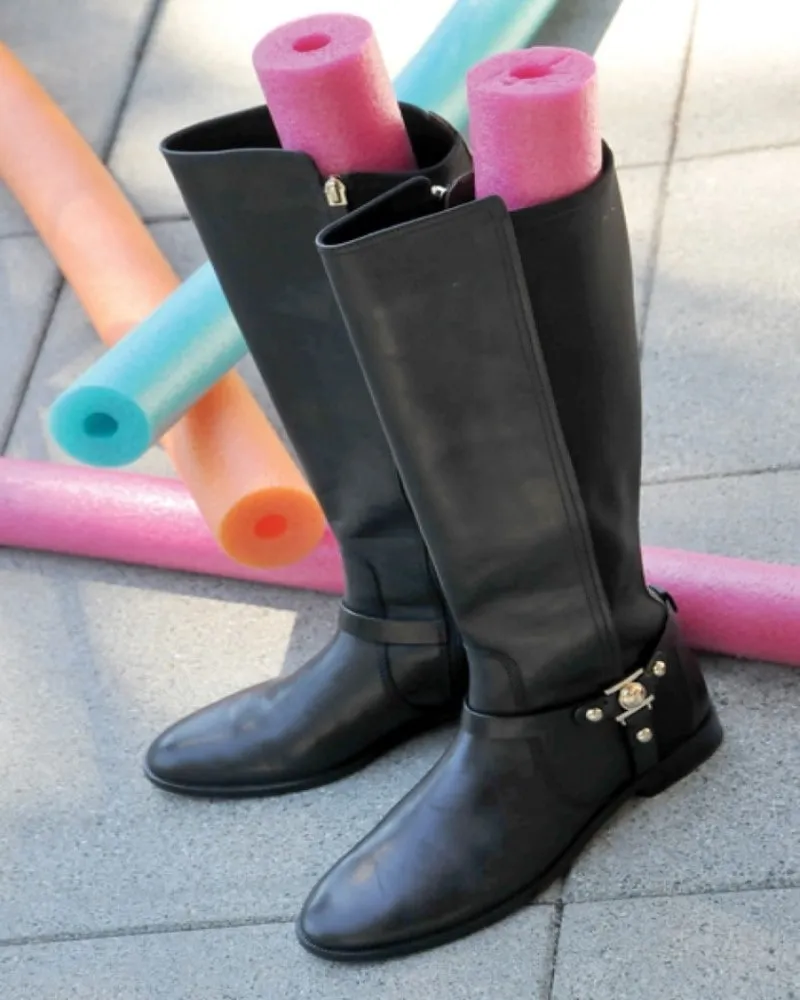 Instead of splurging on a fancy boot holder, here's what you can do. Take an old piece of pool noodle from your garage and cut it up. Just place it on your boots to keep them upright!
Goodbye Smelly Shoes
Here is a super easy trick to keep shoes odor-free for girls who have to run errands all day long. All you need is a tiny piece of cloth and some baking soda.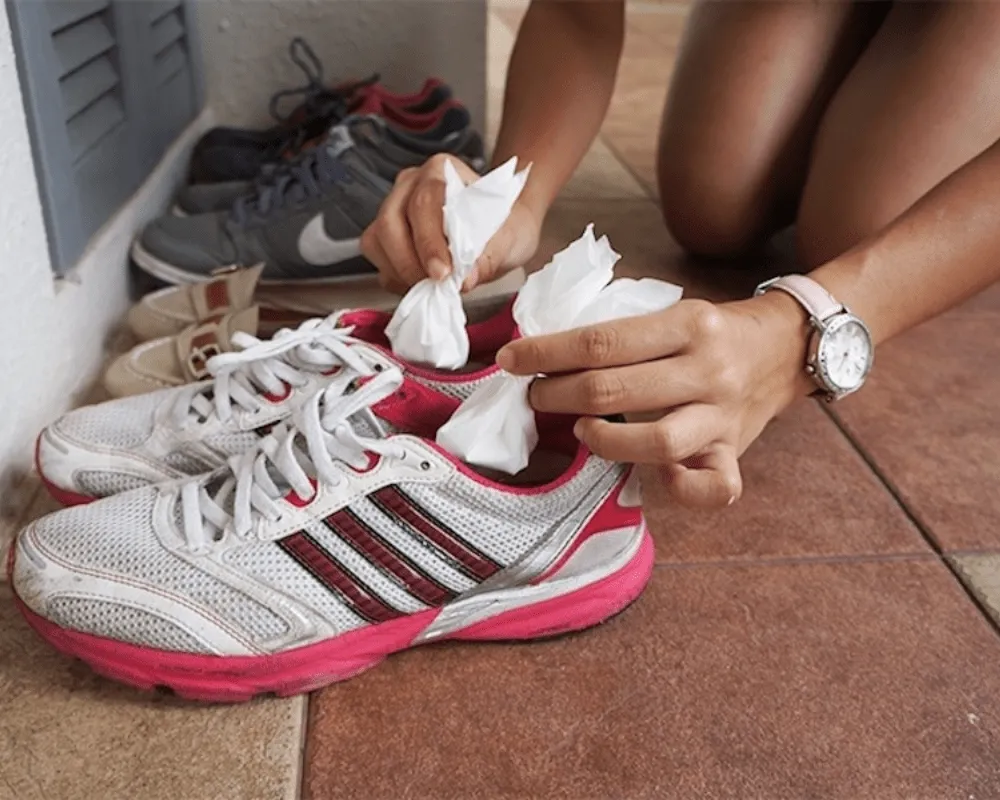 Pour the baking soda into the cloth and tie it real tight to turn it into a cute tiny sachet. Slide the sachet inside the shoes after every use for a nice and fresh smelling shoe every time.
Strips for Tweezers
Do you always somehow lose your tweezer or nail cutter in the messy drawer of yours? Giddy up as we've got the ultimate hack to help you keep track of them.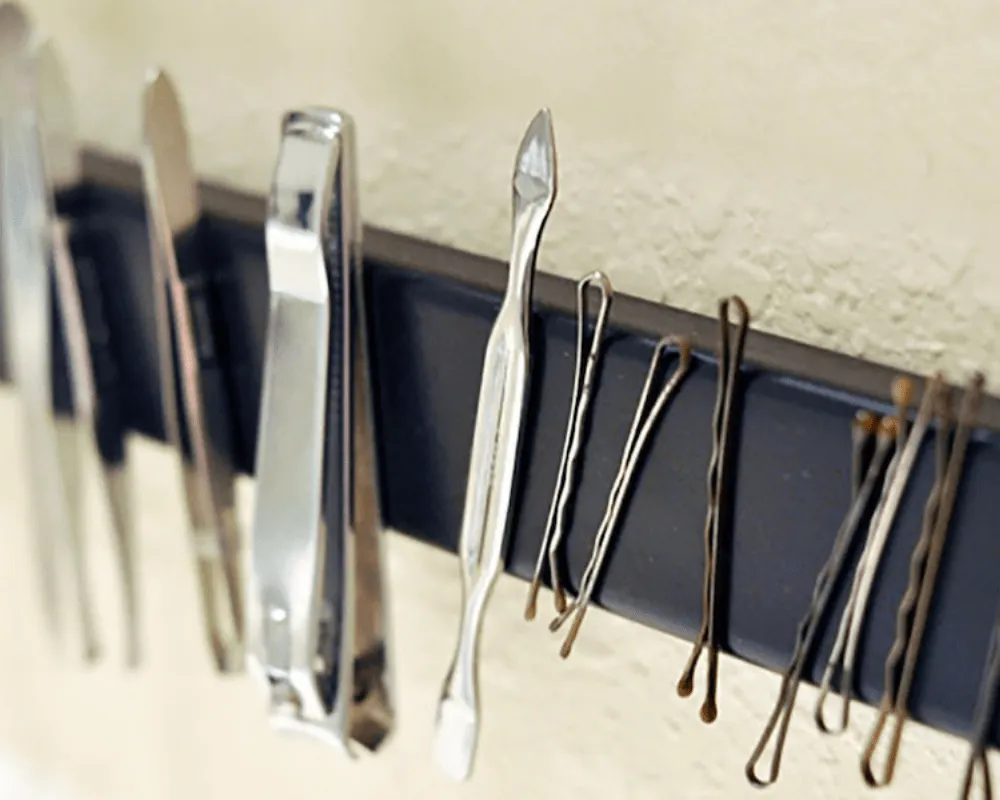 Take a magnetic strip roll and cut the strip to your desired size. Attach the strip to the wall or mirror and press the tweezer and nail cutter against it. This way, you'll always have them tidily lined up!
When Makeup Meets Utensils
If we girls had a nickel for every time our winged liner was uneven, we'd all be millionaires. It's beyond a shadow of a doubt one of the toughest tasks out there. To create an even winged eyeliner you've always dreamt of, all you need to do is head to the kitchen and grab a spoon.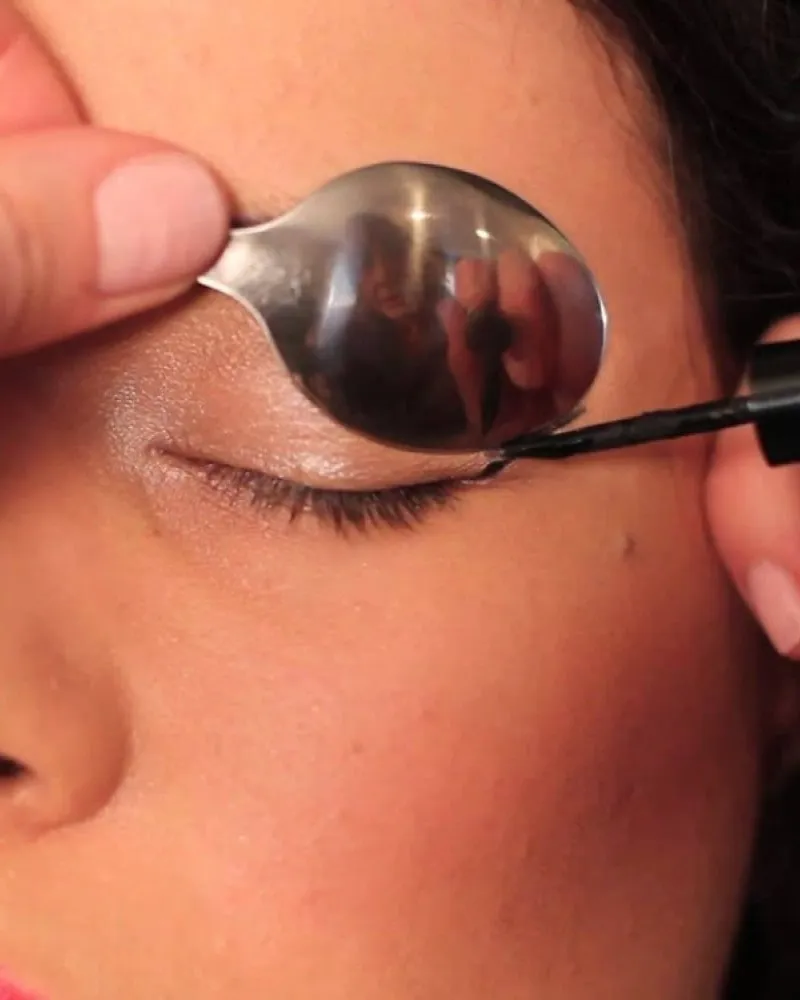 Place the round edge and curved side of the spoon against your eyelid to draw two lines. Just fill in the lines and you're good to go!
Sock Bun for the Win
If you are looking for the easiest way to do a fuller bun, try a roll-up sock next time. First thing first, take a knee-high sock and cut off the toe part of it. Then roll it up until it looks like a donut.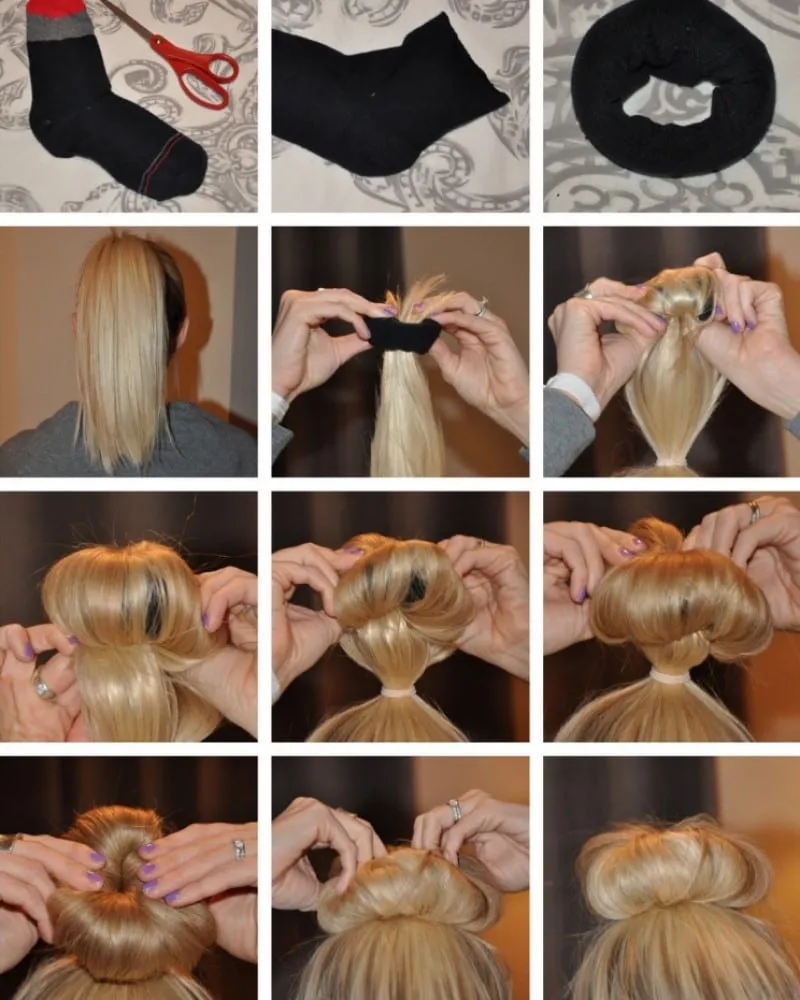 Tie your hair up into a tight ponytail and pull it through the rolled-up sock. Keep on wrapping your ponytail with the bun until your hair is completely covered, and that's it! You are all set to rock the sock bun!
Eyeshadow for Thicker Hair
Do you want your hair to instantly look thicker? An eyeshadow about the same color or a shade deeper than your hair can make the process a breeze. Start dusting the eyeshadow where your hair part begins and gently rub it against your scalp.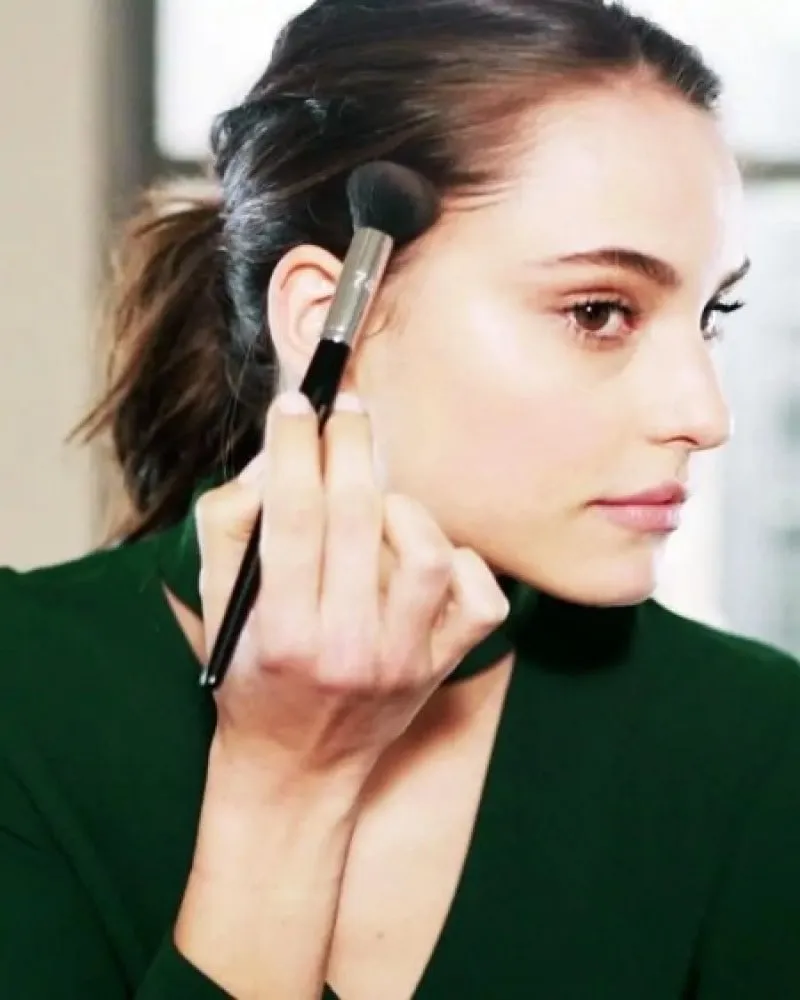 If you don't part your hair, just simply dust the eyeshadow down your hairline for that extra zing of volume. The difference it makes will leave you in shock!
No More Chapstick
If your lips look more like a "crispy bacon" during winter, give this simple lip balm recipe a try. Take a spoonful of honey, sugar, and olive oil in a bowl and stir it all together until it forms into a thick paste.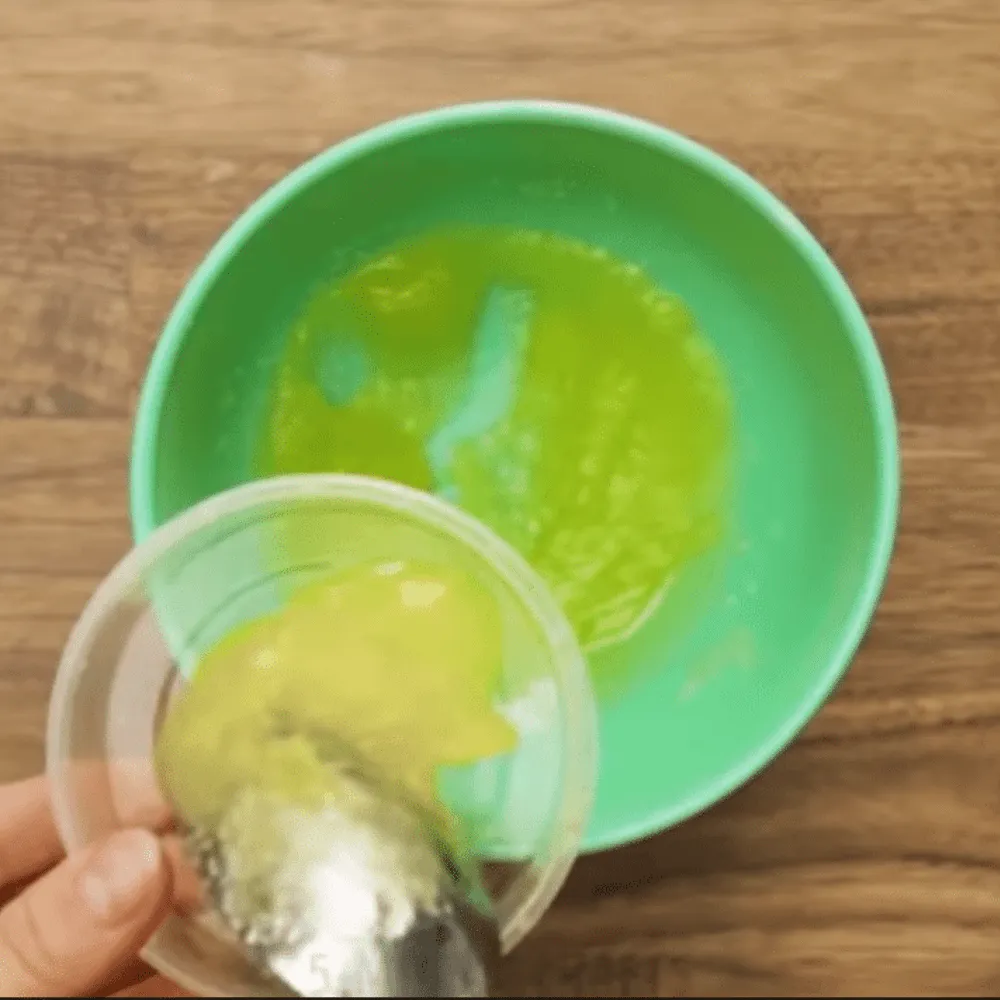 Gently rub the paste into your lips and leave it there for a good few minutes. Wipe it off with a damp cloth and wave goodbye to the chapped lips!
The Three Shape Method
Can't seem to find an easy way to contour your face? Try this classic method right away! Dust your brush into a bronzer and draw a shape of the number "three" on each side of your face.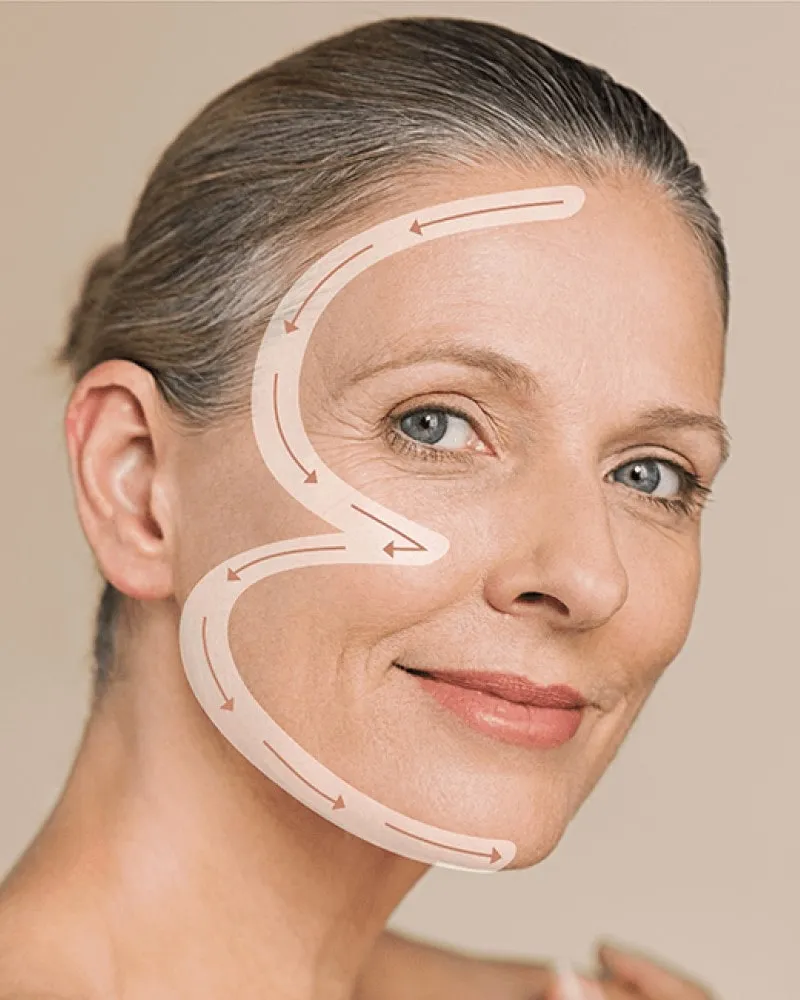 Make sure that the shape hits your forehead, jawline, and cheekbones and blend it until your face looks sculpted. For a perfectly contoured face in a snap, no other method can beat this one!
Cold Water for Quick Drying
The days of furiously blowing on your nails have come to an end. Take a bowl full of ice-cold water and dip your freshly painted nails in it. Dip your fingers in there for at least a few minutes.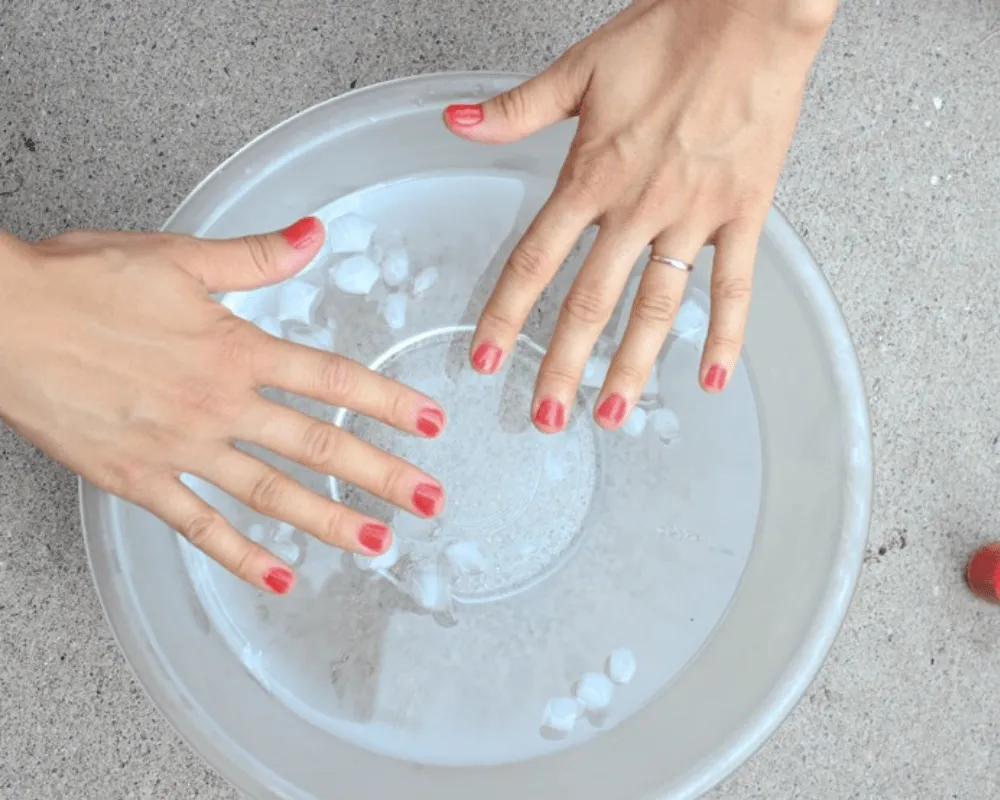 It may seem weird at first, but the cold water sets the paint to the nails and helps them dry a lot quicker. Just give this trick a shot and see how easy it is to dry painted nails.
Baking Soda for Blonde Hair
If you are a blonde, you must know how hard it is to deal with your hair in summer. If your hair goes all green after hopping in the pool, you are surely not the only one.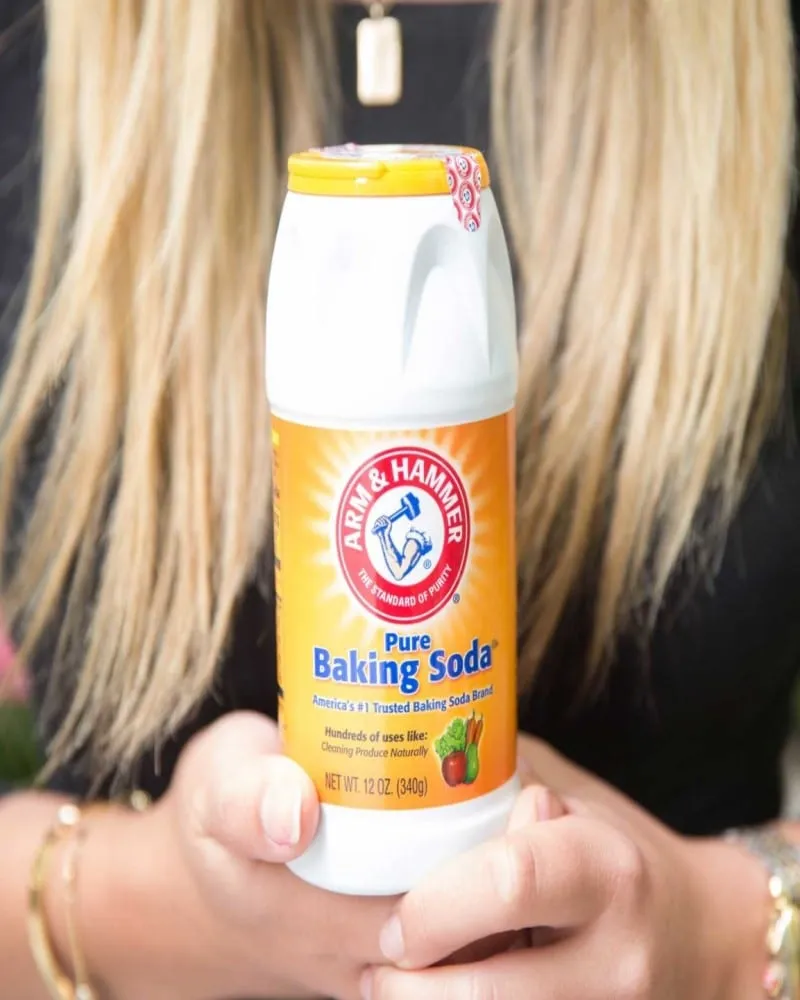 To save yourself from this mishap, directly apply a thick paste of baking soda and water. Let the paste sit there for a while before rinsing it all off with a regular shampoo.
Pillows for Puffiness
If your face tends to get all puffed up in the morning, and you are sleeping on only one pillow, you are not really doing your face any favor. Sleeping on two pillows helps in minimizing the effects of gravity and drains water from your face.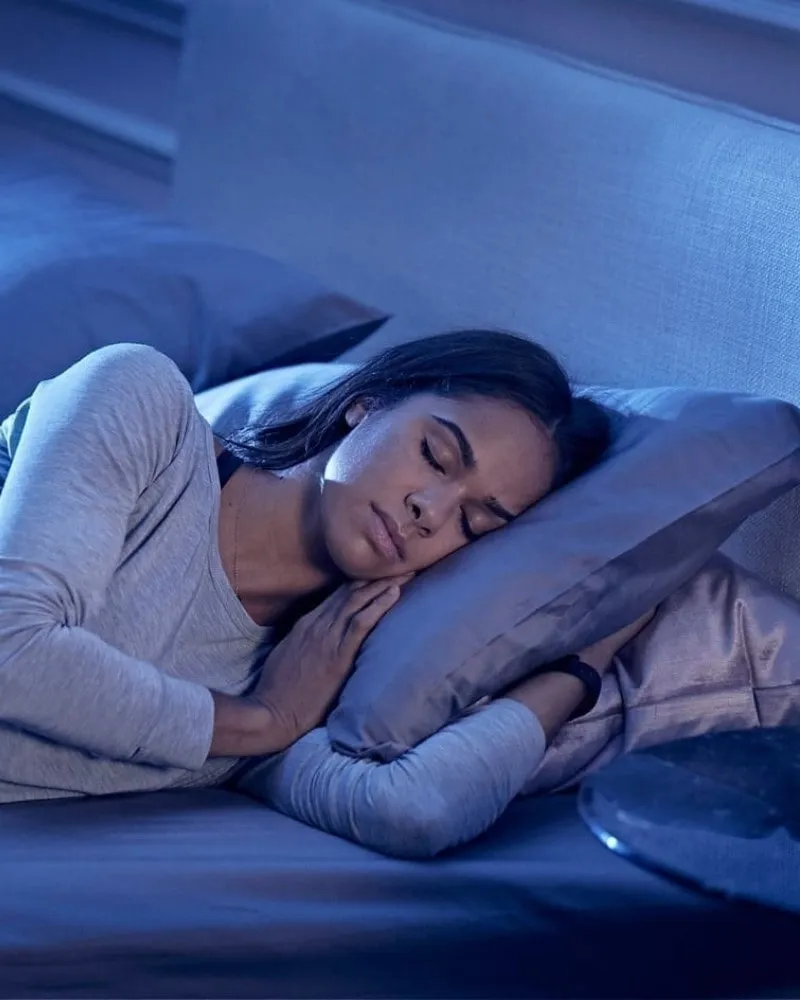 If you cannot afford to splurge thousands of bucks on a high-end serum or a jade-roller, this super simple hack could be your go-to solution!
Band-aid for Nail Art
Don't want to sit for hours to get your nails done? Try out this band-aid hack for unique nail art in a snap! To begin with, paint your nails with a base color and wait until it dries completely.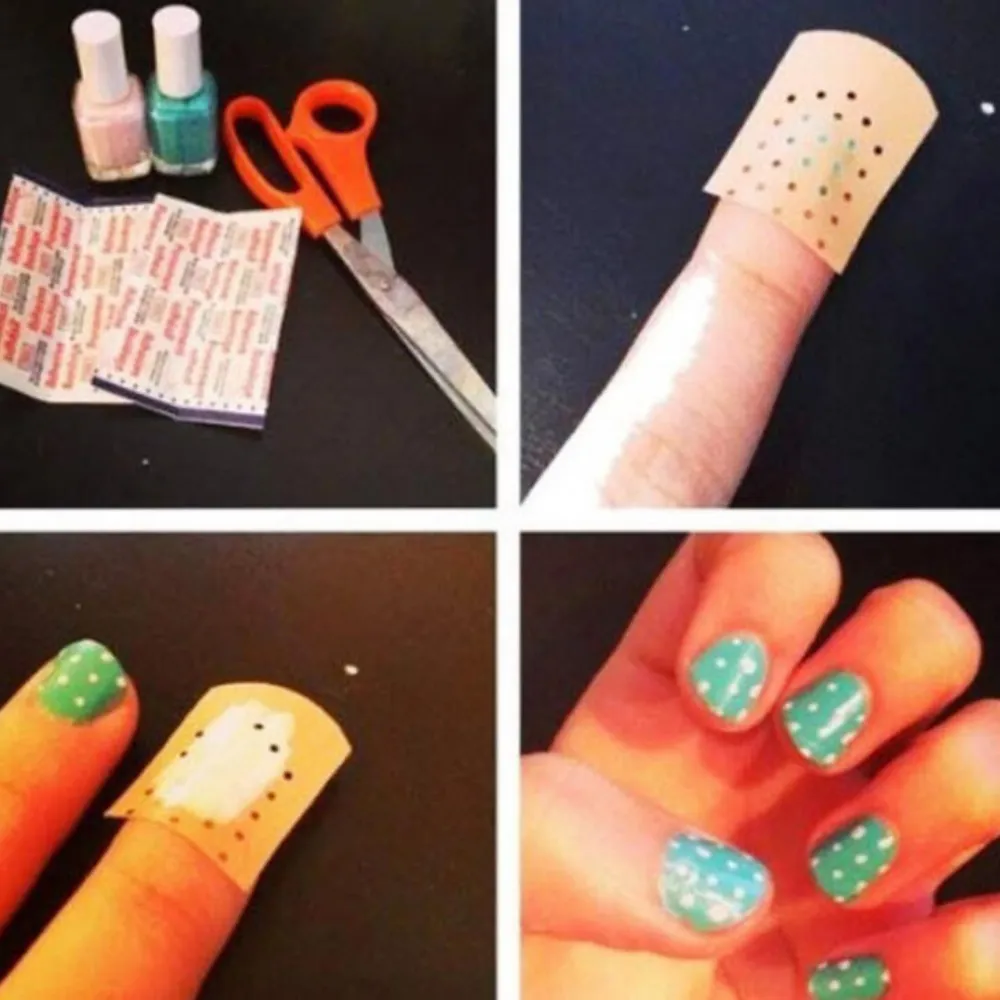 Cover up your nails with a bandage and paint another layer of a different nail color through the holes. Rip the band-aid off of your nails, and bam! Enjoy cute polka dot paint on your nails!
The Hashtag Hack
Even with tons of tutorials loitering on the internet, not many of us can pull off the sought-after smokey eye look. If you want to master the art of creating smokey-eyes, this hashtag hack is worth trying out.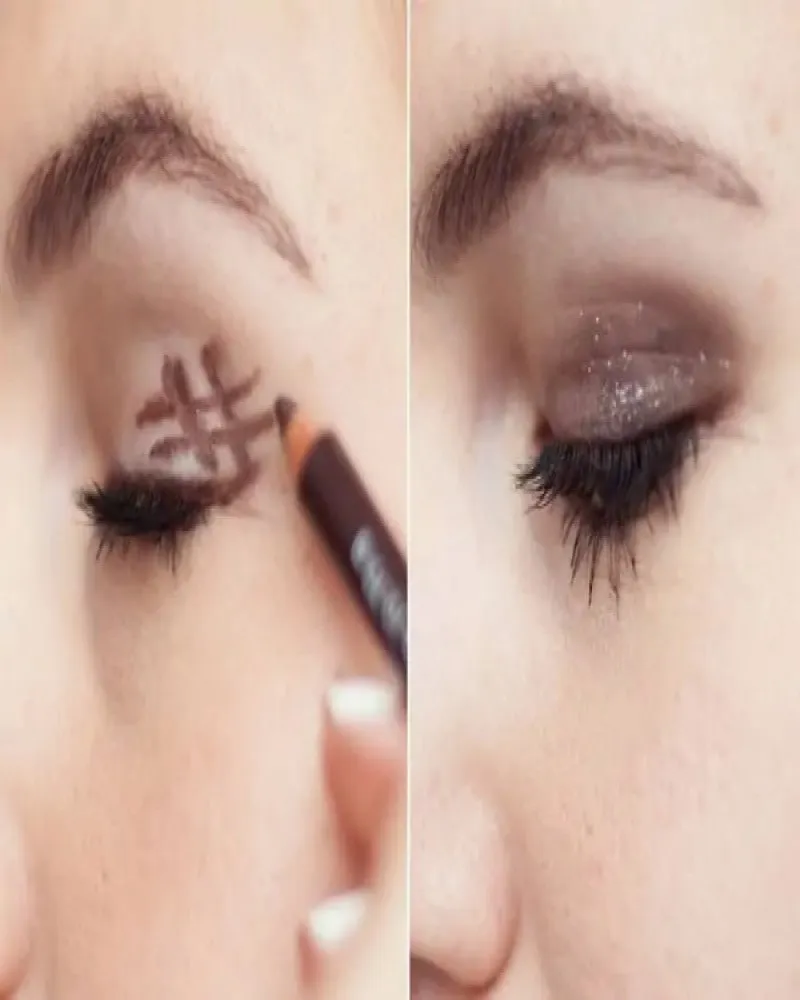 Start off by drawing a hashtag on the eyelid of each eye. Smoothly blend the hashtag and draw a new hashtag on top of it. Keep on drawing and blending until your smokey eyes are on fleek.
See You Stubborn Stain
The days of freaking out for leaving smearing foundation stains on the neckline of your clothes are way in the past. Here's an easy trick to remove stains. Apply a dollop of shaving foam to the stained region and leave it to soak.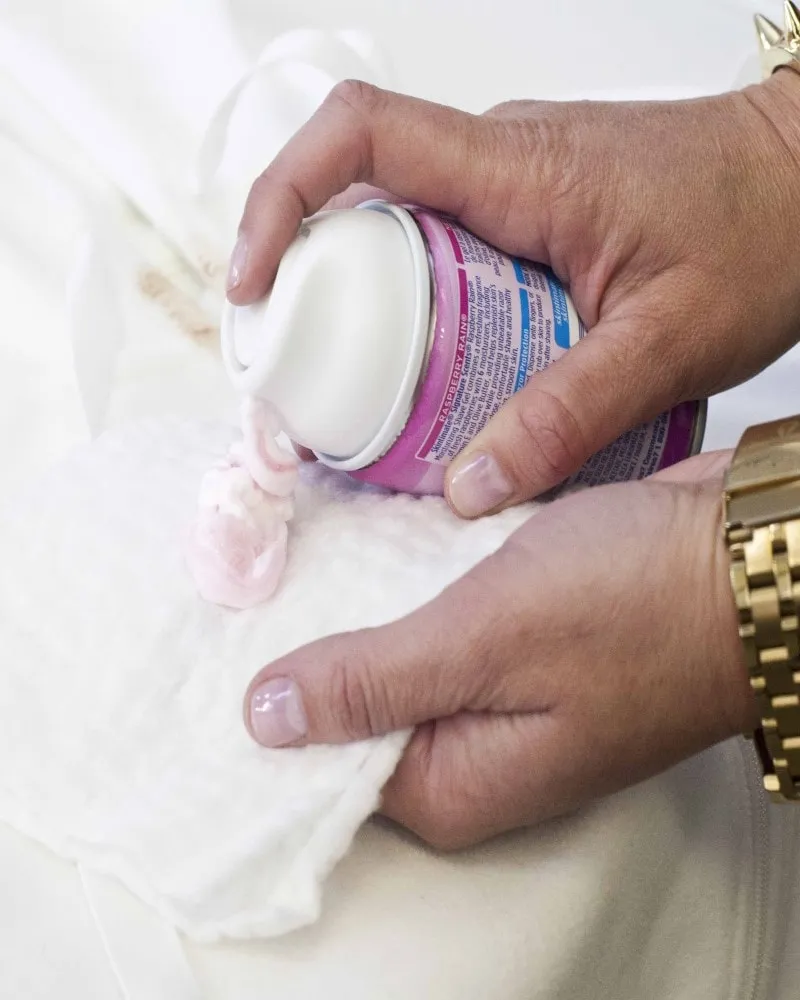 Rub it with your fingers until the stain comes off and rinse the stain with cold water. Keep on repeating the process as much as required until your shirt is completely free of stains.
Use Coffee Beans to Hold Makeup Brushes
There are plenty of ways to create DIY holders for makeup brushes. And yet, the following hack might be the easiest and most effective version we have ever seen. It might sound strange, but filling a container with coffee beans acts as the perfect holder for brushes.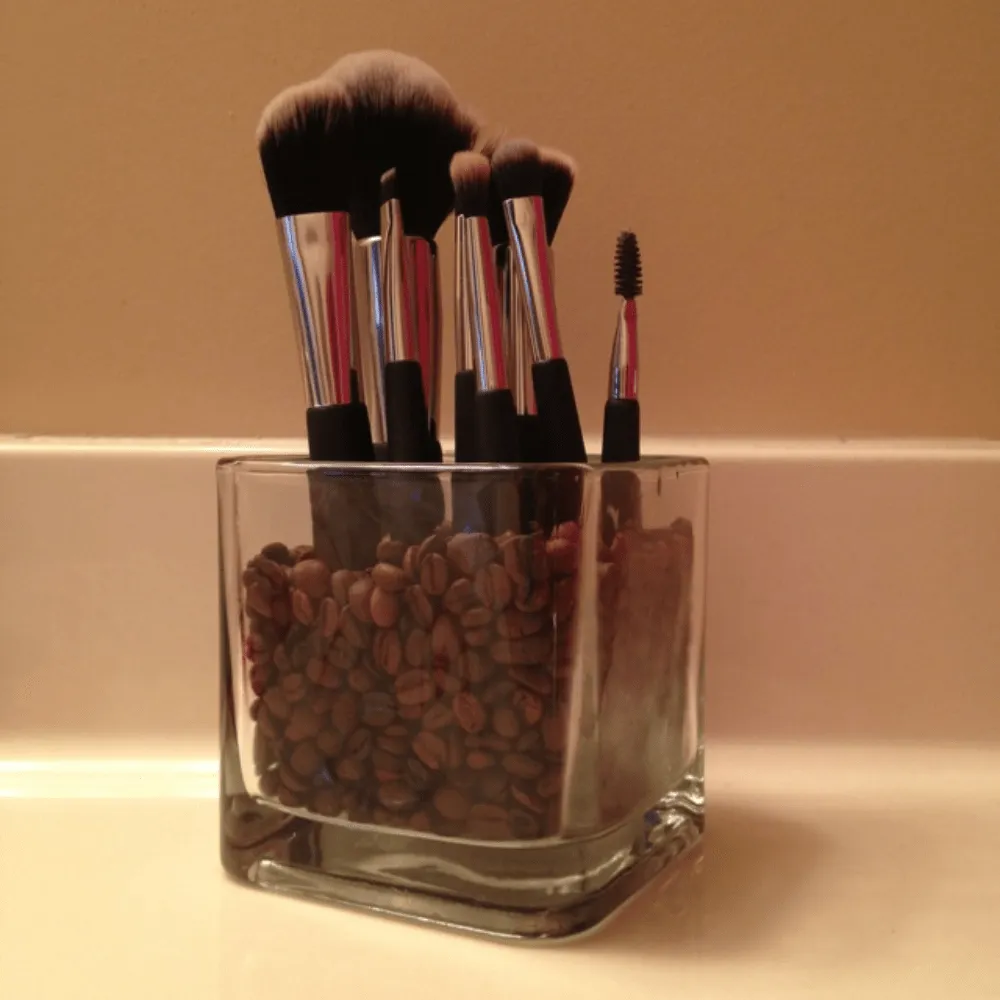 They perfectly keep the brushes in place and look pretty stylish. Just don't consider grinding the beans later on, it's best to just let them be.
Use Concealer to Draw Triangles Under Eyes
Many people who apply concealer know there are certain do's and dont's in how to effectively make the most of it. The following hack though is something that all makeup users should know.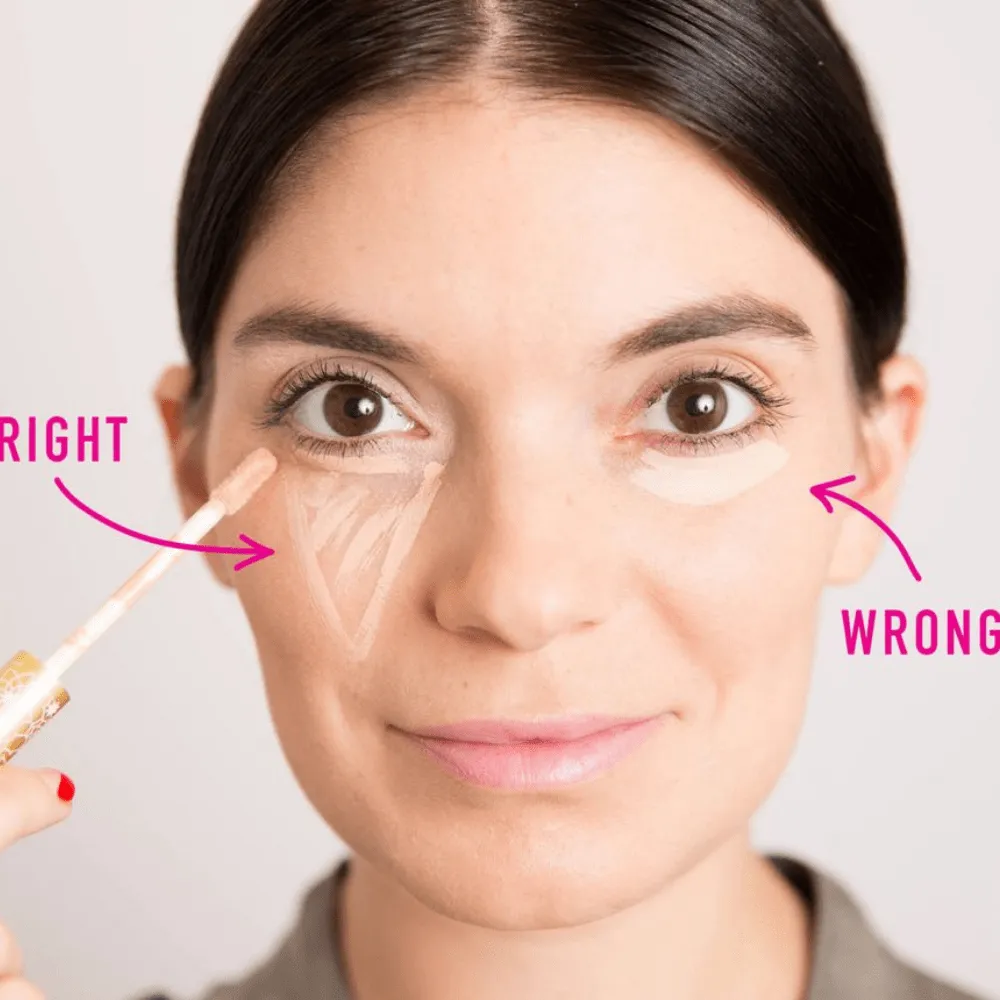 When concealing dark circles under the eyes, many will go with the technique on the right, simply brushing in a circular motion. However, it is believed that drawing a triangle instead is a much more effective use of concealer.
Remove Shoe Scuffs With a Nail File
While not everyone is a fan of suede shoes, they certainly have a large fan base and more often than not, at least one of your pairs will be made in this material.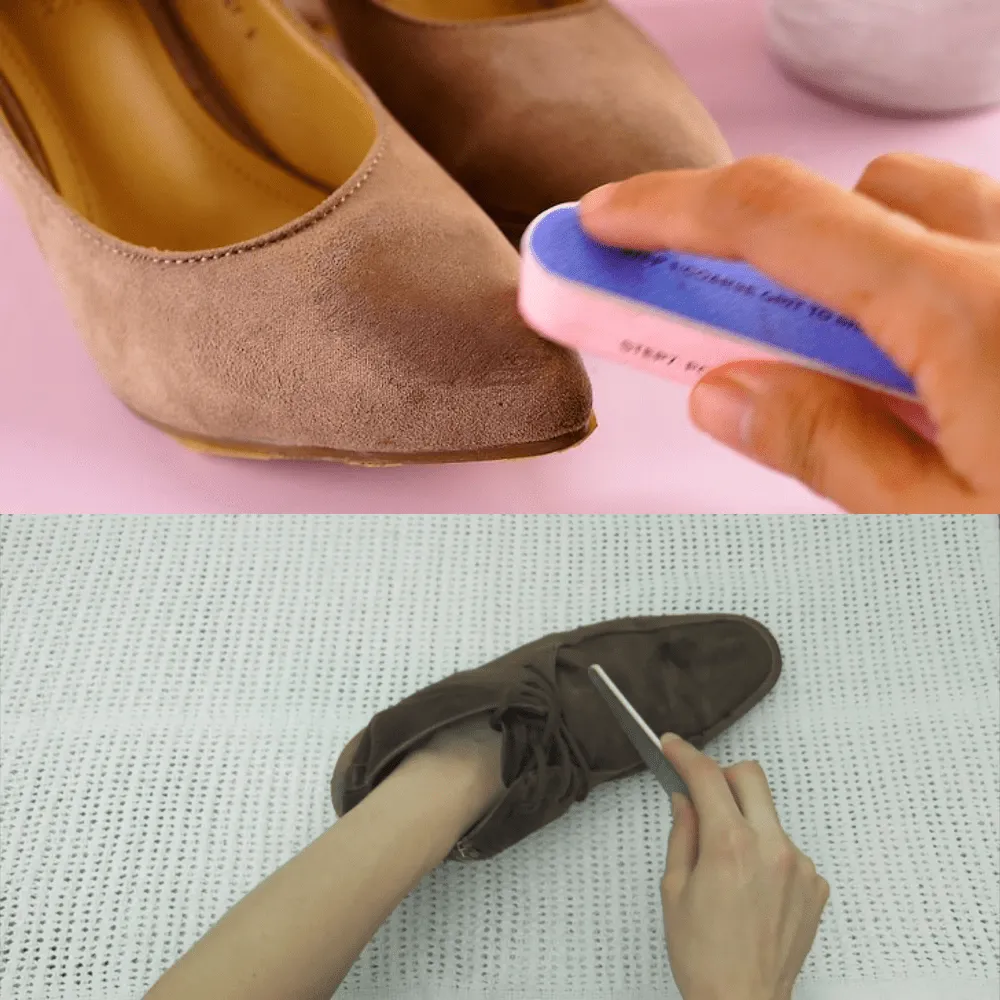 Most are aware that these kinds of shoes are prone to showing stains and can be difficult to keep looking good as new. If you use a nail file though, this is the perfect way to remove stains.
Protect Hair With Tap Water
It might sound counterproductive to apply tap water to your hair before swimming, but trust us, there is some magic behind this hack. It is no secret that chlorine in pools can be a nightmare for long hair.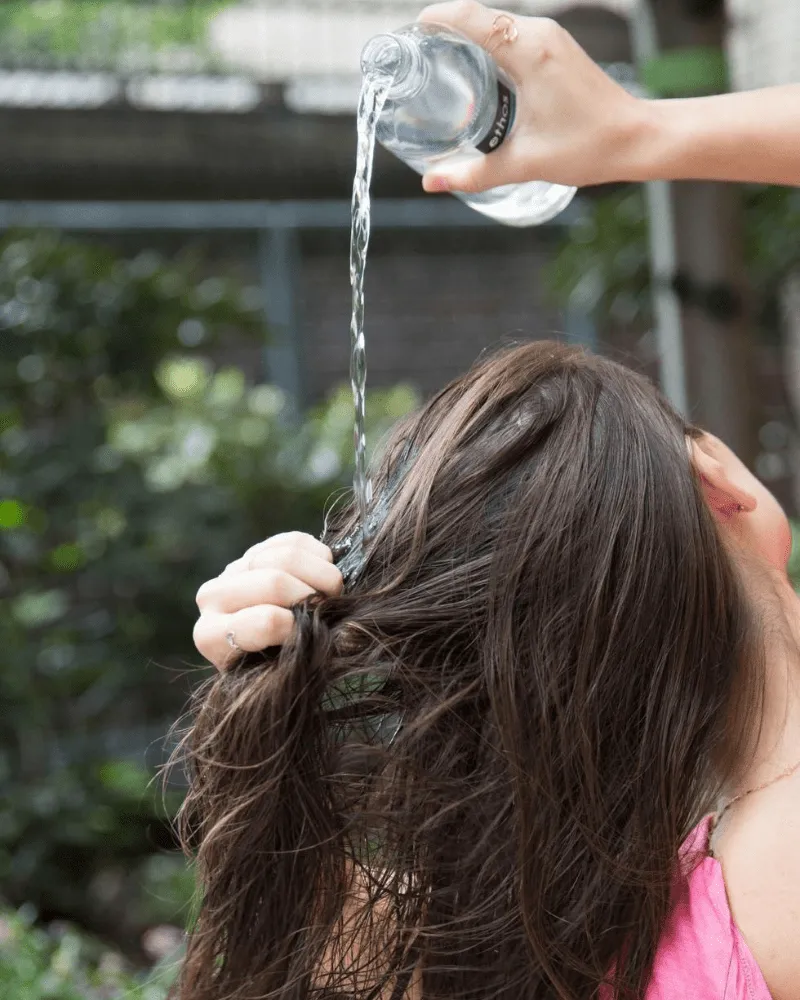 In order to protect your hair from this chemical, pour some tap water over your locks before you dive in. The water is absorbed by your hair and acts as a protective layer from the chlorine.
Experiment With Light Using Phone's Flashlight
Don't you feel like you can never get the right level of light to hit your skin while you apply makeup? Thankfully, many of us are blessed with flashlights on our smartphones. This is a perfect tool to help hit every corner of your face while you apply makeup.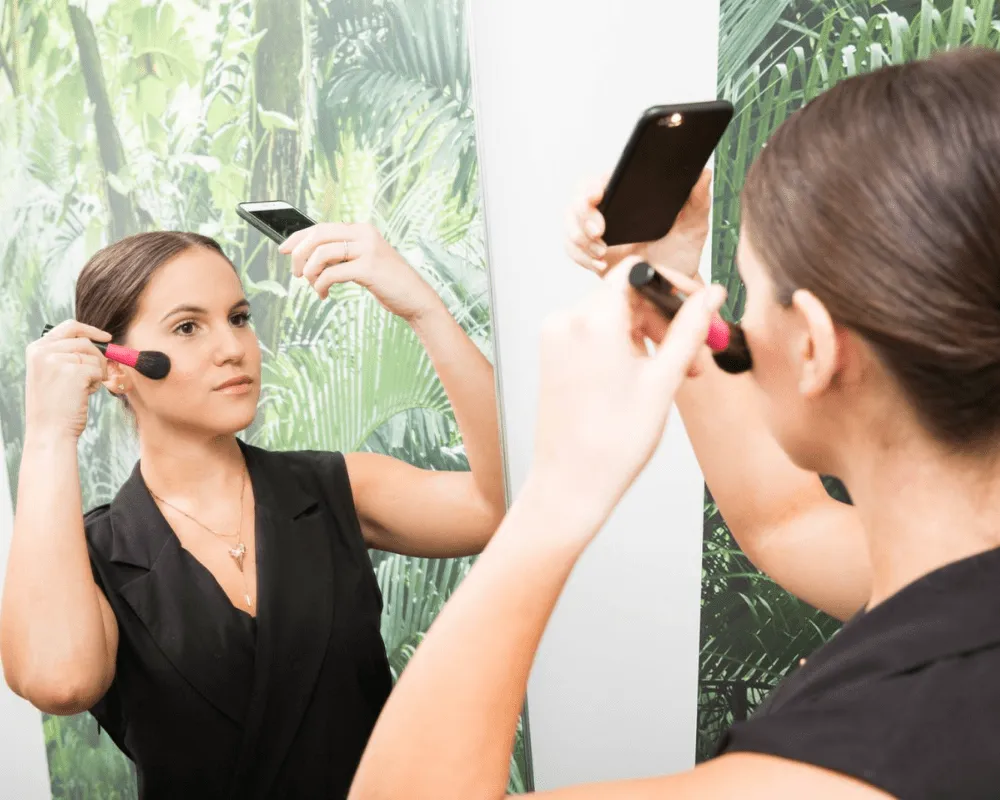 Gone are the shadows that prevent you from getting an accurate depiction of how the makeup should look. Simply hang the phone over your head and adjust throughout.
Wash Makeup Brushes With Gentle Face Wash
It is no security that makeup brushes can be a hotbed for all sorts of gross things such as germs and bacteria. This is not what you want to apply to your face anytime soon as bacteria can be dangerous for your skin.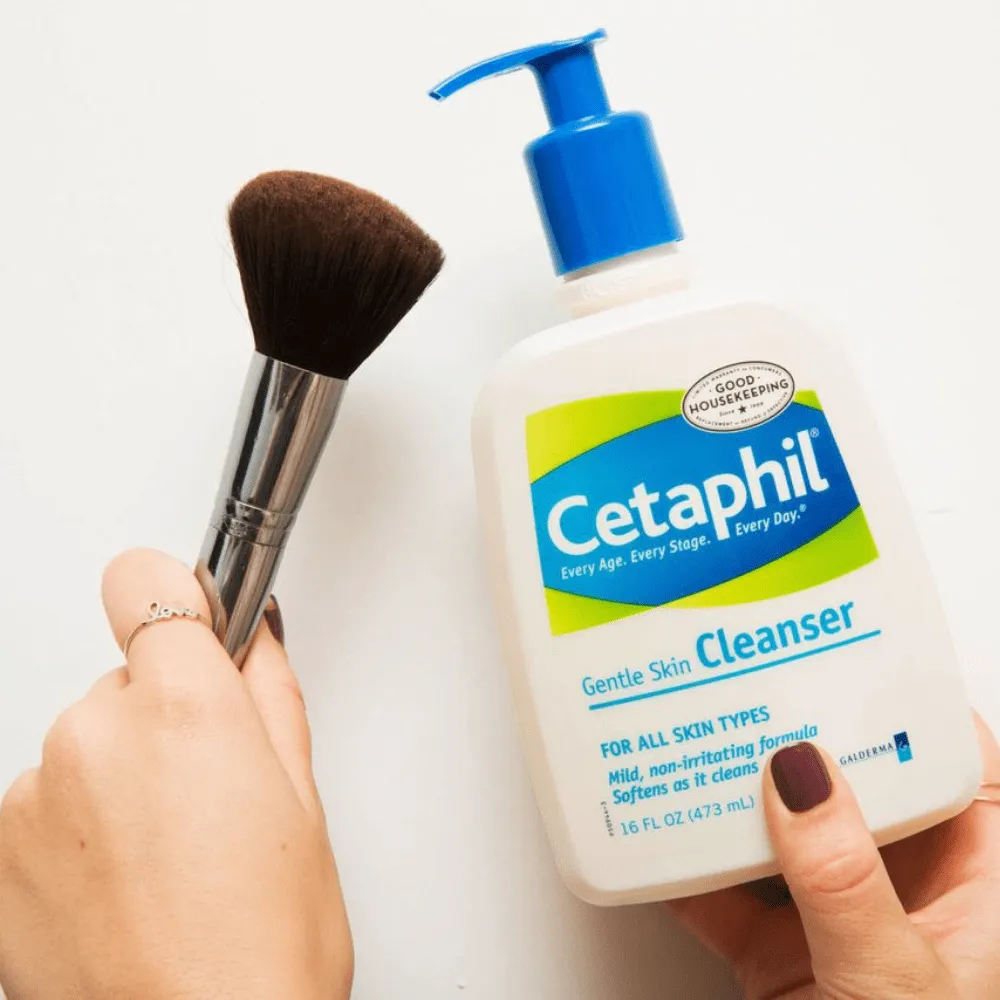 In order to avoid having to throw away your brushes on a regular basis, simply apply some gentle face wash to the brushes to give them an effective clean. After applying it, leave it for a few minutes and then rinse with water.
Freshen Shoes With Tea Bags
There are plenty of ways to prevent your shoes from reeking with foot odor and unpleasant smells. But have you ever heard of using teabags to achieve this? It might sound out of the ordinary, but trust us – it works!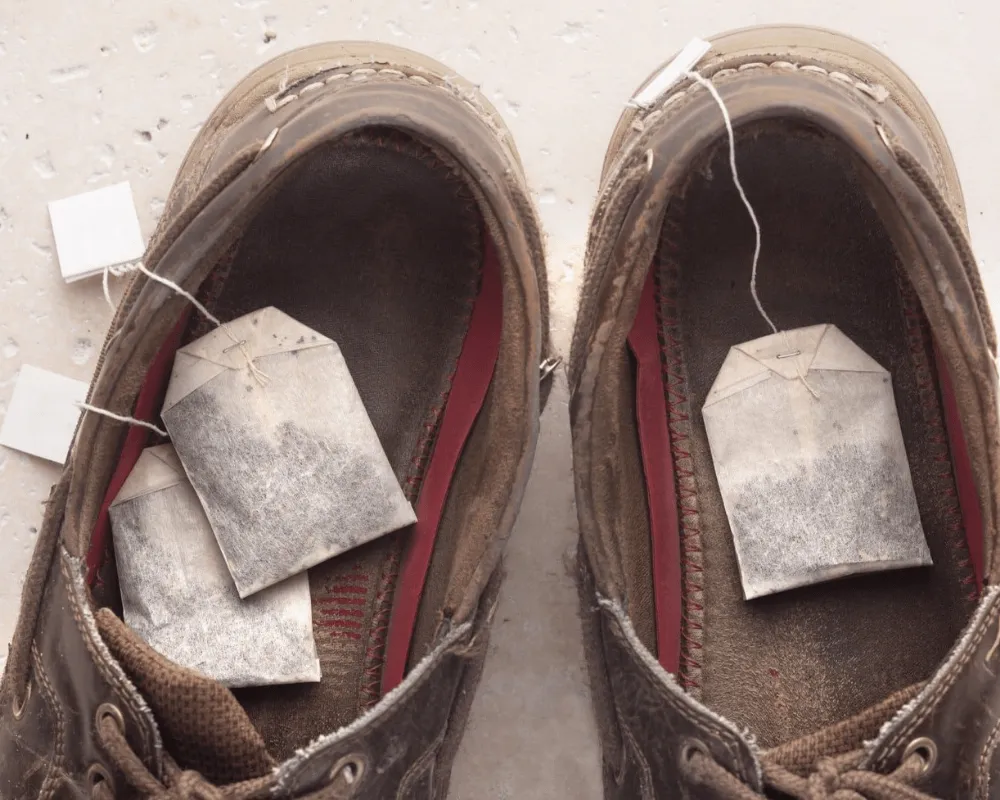 All you have to do is insert the bags, and keep your shoes at room temperature or cooler. Wait overnight, remove the bags the next morning and you will be good to go!
Use Toothpaste to Strengthen Nails
Our nails can feel brittle from time to time. So why not apply some toothpaste to them to give them some much-needed revitalization? Why toothpaste though, you ask? Simple. Toothpaste provides the same kind of benefits for our nails as it does for our teeth.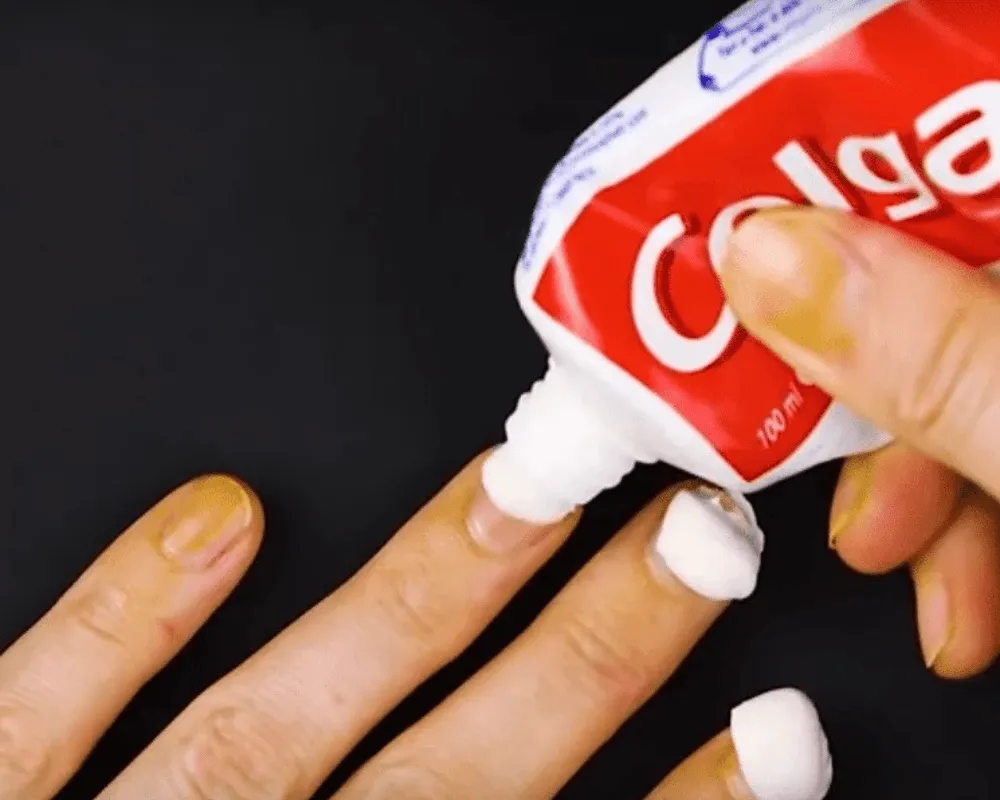 Not only that, but it will also help whiten your nails in the right places, making them look healthy. After a week of applying toothpaste once a day, you will see the results.
Get Rid of Sweater Fuzz With a Comb
Sweaters can be so annoying from an aesthetic point of view. They get fuzzy, and while this doesn't make the top any less comfortable, it doesn't look particularly good. All you need to do is get yourself a comb and run it through the sweater a couple of times.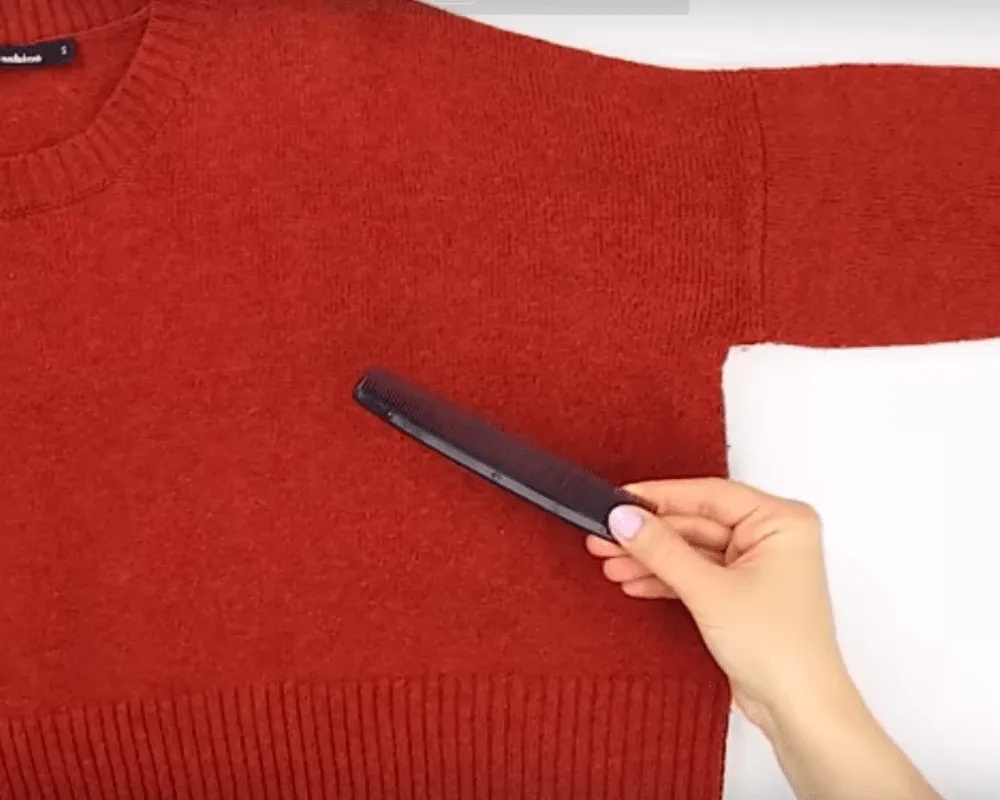 The fuzz should be extracted pretty easily and only takes a couple of minutes. They will look like you just bought them again!
Dry Hair With T-Shirts
We assume that the best way to dry our hair is by using a hairdryer or a towel. However, there is another way that is just as effective, but it doesn't necessarily sound like the most logical alternative.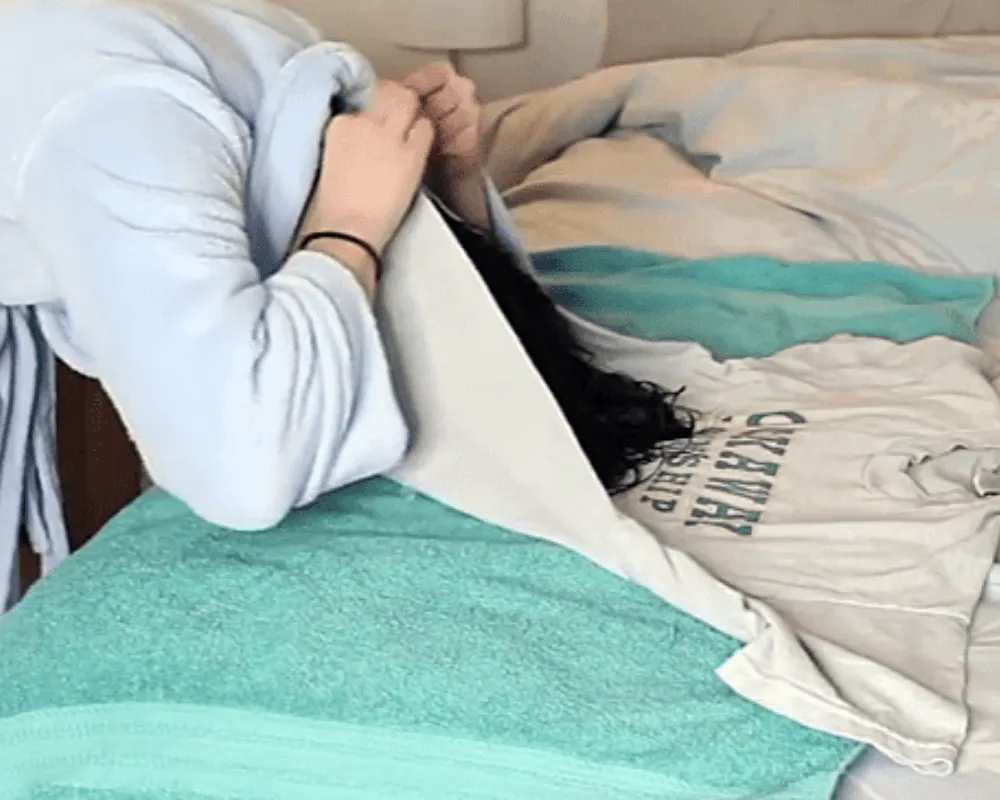 Basically, you need to take a cotton t-shirt and wrap it around your hair. This is because the material absorbs much better than your average towel. Therefore, your hair will dry more quickly in the process.
Green Tea Bags for Eye Bags
Do you pull an all-nighter on a regular basis and are now dealing with puffy under-eye bags? Using green tea bags is the simplest and cheapest method to get rid of eye bags.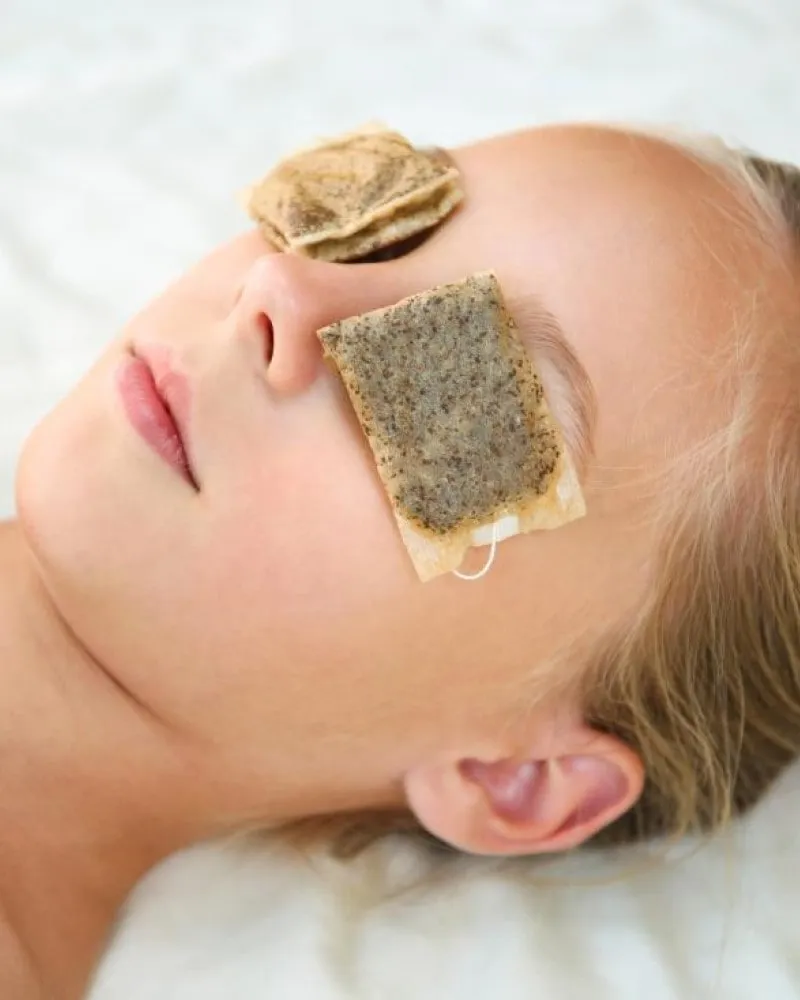 Slip a few bags of green tea in boiling hot water and sip on the tea until the tea bags cool down in the refrigerator. Put the bags under your eyes and leave them on for at least five minutes, and voila!
Say Yay to Gelatin
Are the pesky blackheads driving you crazy? Give gelatin masks a shot! Even though the process is straight-up painful, it will pull out the gunk trapped in your skin in no time. Take a spoonful of gelatin and milk into a bowl and bring it to boil.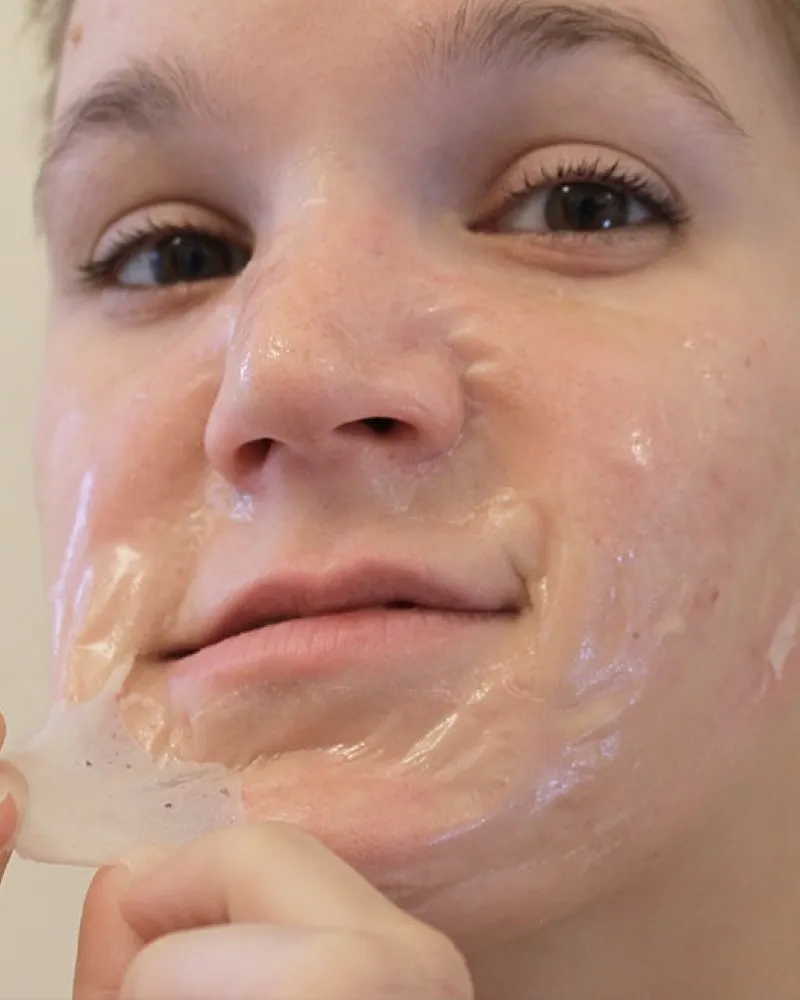 Keep on stirring until it forms into a thick paste. Let it cool down to the regular temperature. Apply it over the blackheads and leave it till it dries. Last but not the least, pull the mask off for a much clearer skin!
Trick for Longer Lashes
False eyelashes always make you look glamorous. For girls who want longer lashes without sticking glue in their eyes, here's an easy hack. Turns out your hair is not the only thing to be benefited from your hairdryer.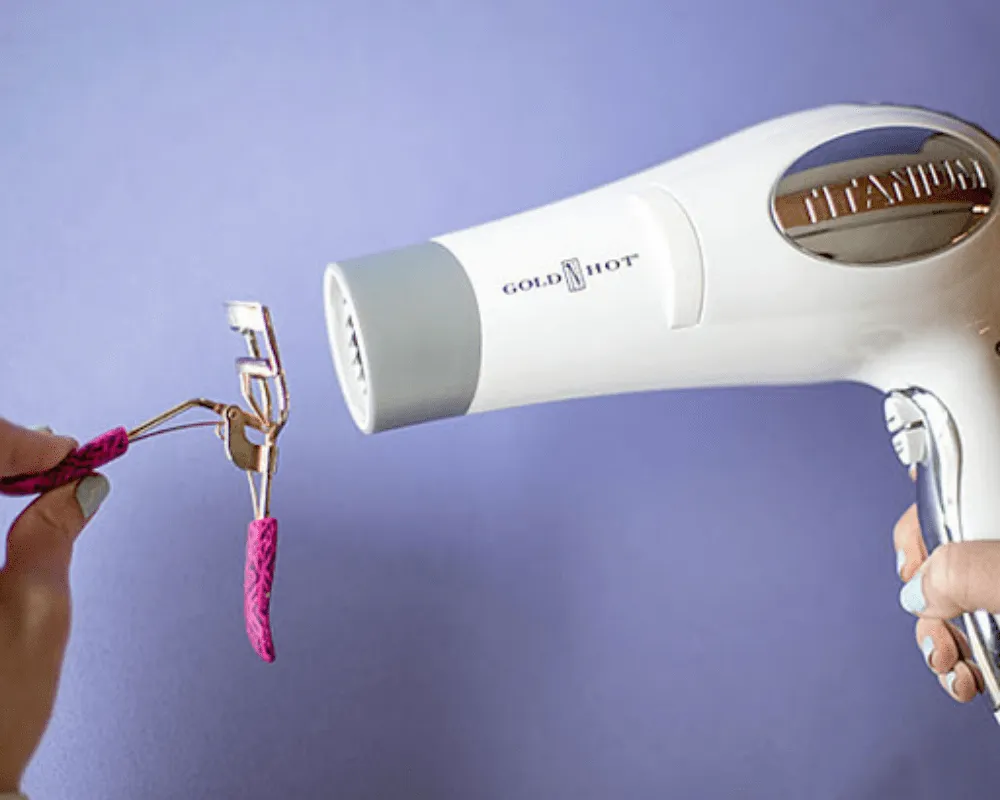 Place your eyelash curler at your blow dryer until it feels slightly hot. Now, clamp down the lashes for a longer-looking lash. Just make sure the curler is not too hot to burn your lashes, and that's it!
Bring Your Mascara Back to Life
If your mascara is drying out and getting all clumpy, consider adding some eye drops in the bottle. As eye drops are formulated for eyes, it won't cause any irritation and rather comfort your eyes. Just squeeze a few eyes drop into the bottle and give it a whirl using the wand.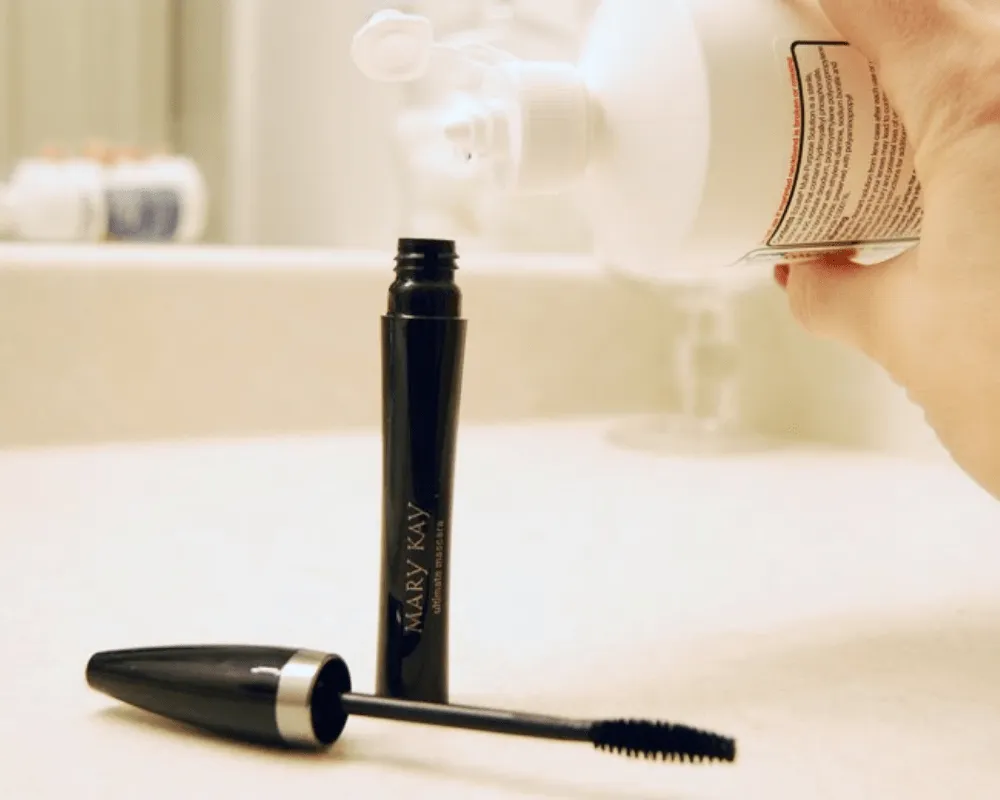 Your clumpy and dried out mascara is going to get back to a normal consistency! The trick is not to put too much – or else, your mascaras would go runny.
Vinegar for Toner
If you have oily skin, you may believe that it's best not to include a moisturizer in your regime, but not hydrating your face only leads to more damages. In order to achieve healthy and hydrated skin, apply apple cider vinegar before slathering moisturizer on.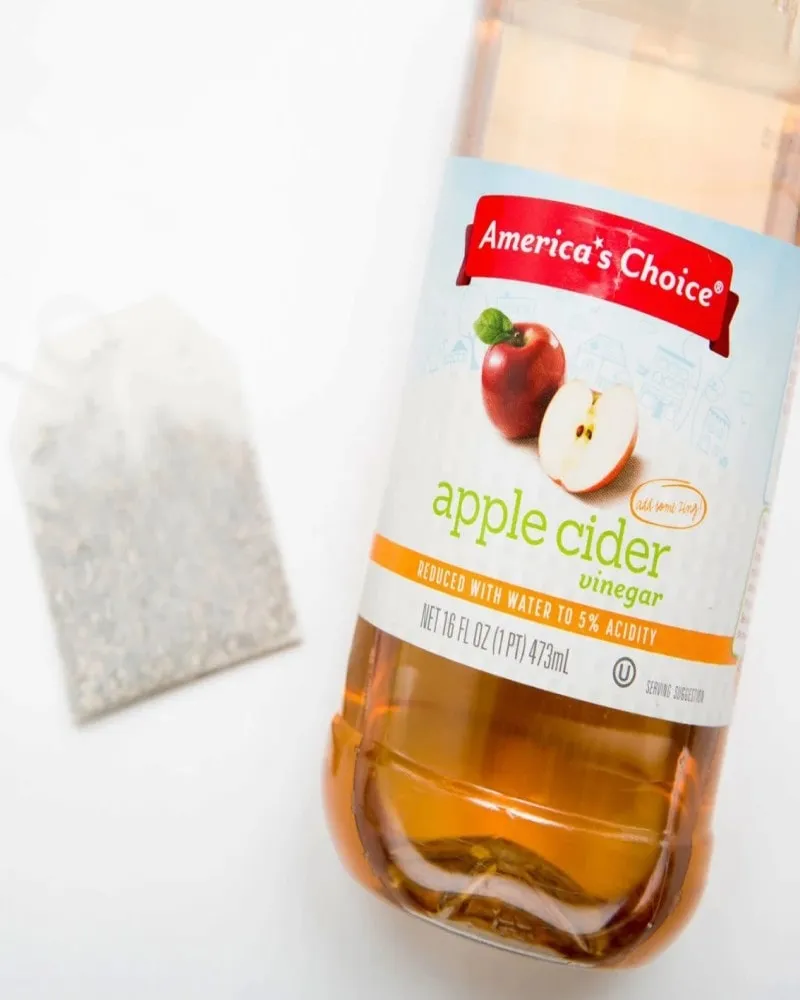 When added to the skincare regime, apple cider vinegar works as an astringent. It balances the pH levels of skin while keeping oil production in check – basically functioning as a toner.