Organizing a small bedroom without sacrificing space is a challenging job. Disorganized mess is a common issue in every household, but it can be particularly frustrating when dealing with limited space. Nonetheless, by utilizing some creative problem-solving techniques and innovative approaches, you can optimize the available space. Refurbishing furniture, capitalizing on unused areas, and incorporating functional accessories are all means of improving practicality. The following are a few tips you can put into action to create an illusion of more space in your cramped bedroom and elevate the ambiance of your living area.
Increase Closet Space With Crates
The act of adding crates to your closet has the potential to expand its storage capacity and is sometimes referred to as a crate wardrobe. This allows for more efficient vertical stacking of items and can be a budget-friendly option for giving your bedroom a new look.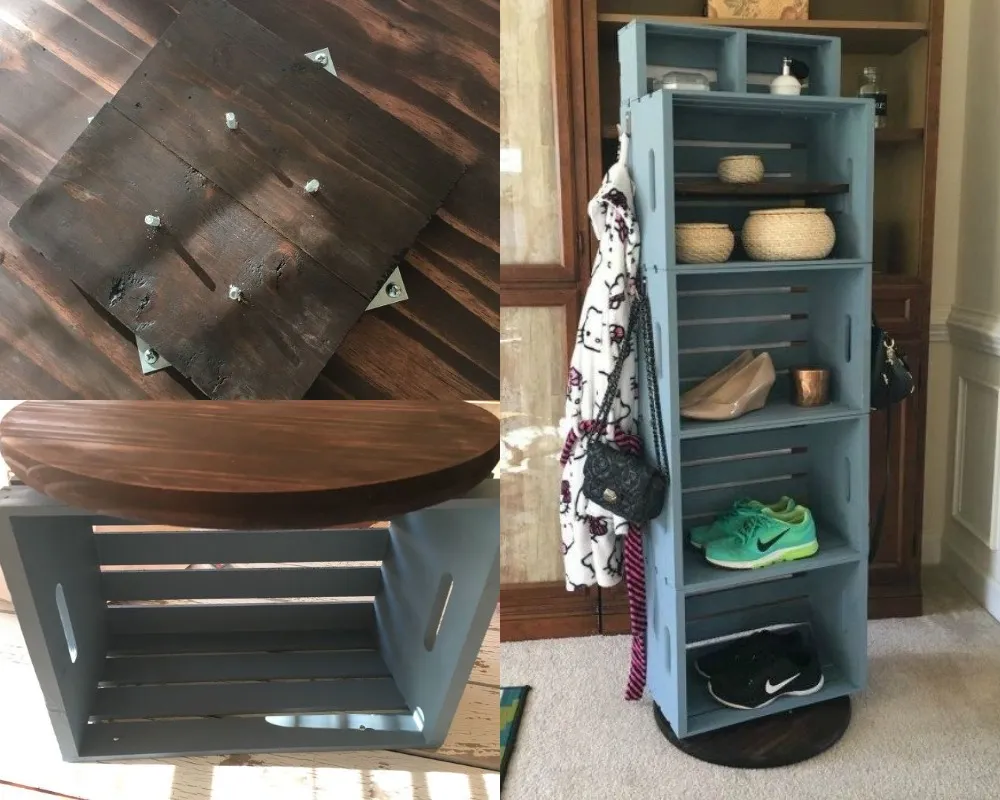 If you wish to do so, it is possible for you to construct your own wooden crates with just a few basic tools. Furthermore, these crates can be fashioned to be detachable, allowing you to personalize them as per your preferences.
Make Use of "Bed-Shelves"
Here's a smart solution for a limited space bedroom – construct bed frames at the edges where you can also have extra storage space. These are known as "bed-shelves" that serve as a shelf built directly beneath the bed.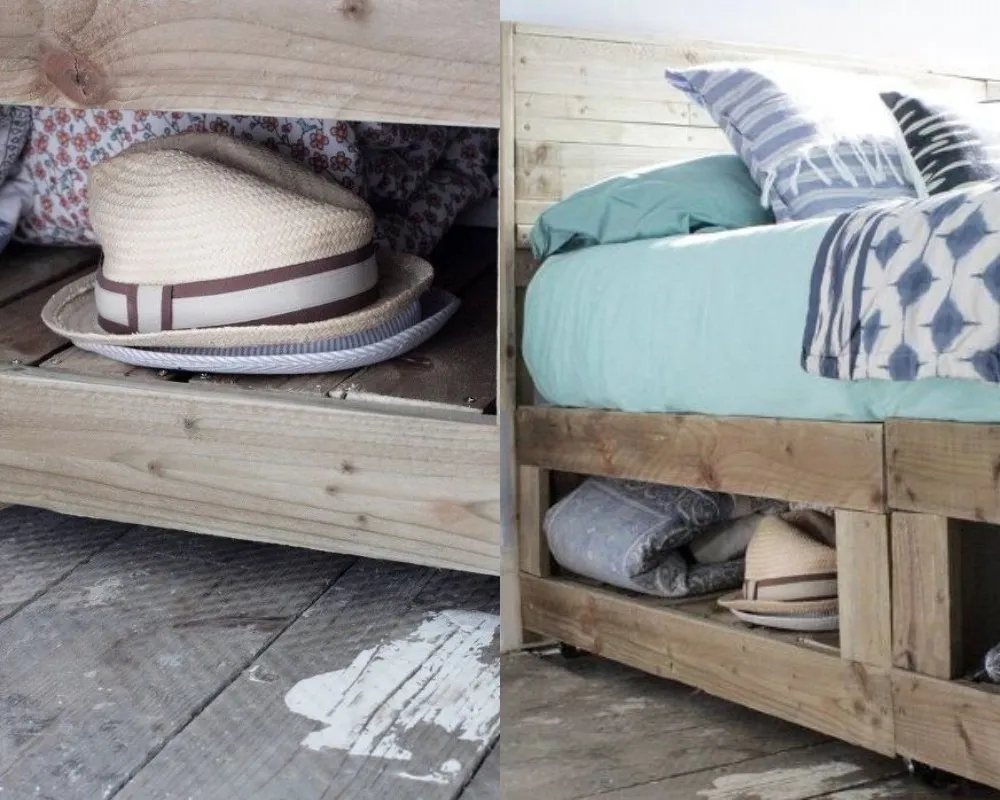 By implementing this method, you can make the most of the available area. Utilize it to store various items such as blankets, pillows, or clothing. It is a suitable approach if you prefer a bed that is slightly above ground level, allowing for more space to create shelves.
Valance Holder or Scarf Hanger?
Keeping scarves in a tiny bedroom closet can be quite challenging, as they often get tangled and are not easy to fold neatly when stored inside a drawer. In such situations, it would be best to utilize a valance holder to store them efficiently.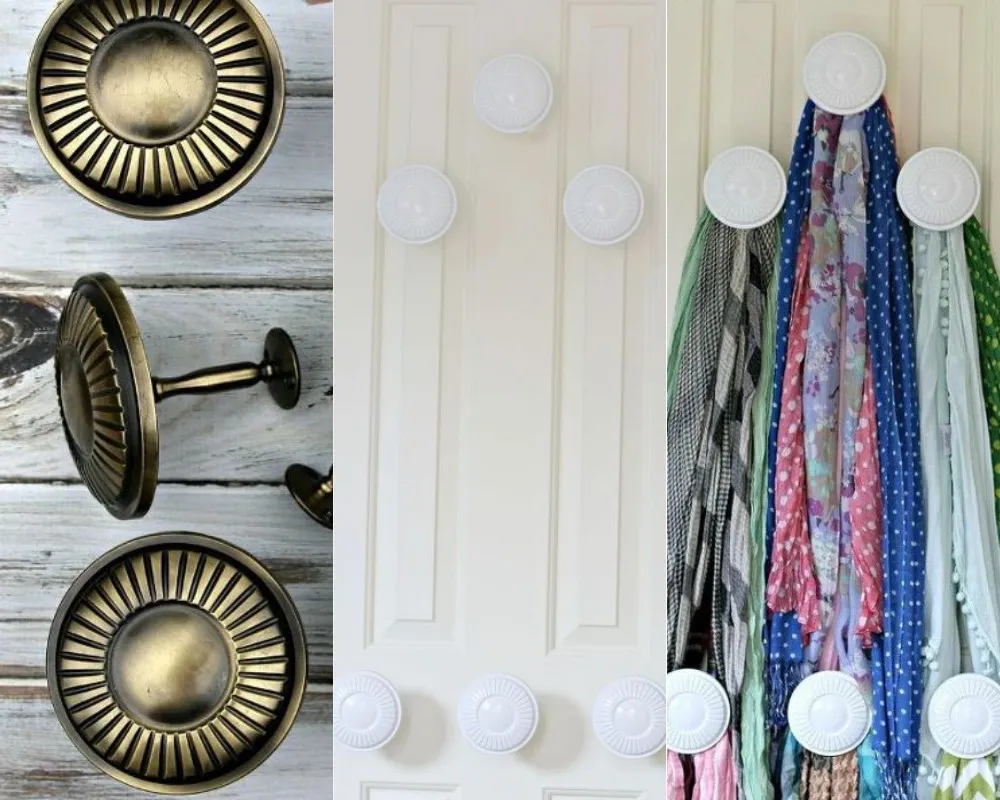 These straightforward knobs serve as a convenient storage solution for hanging various cloth items, such as scarves, and can be easily affixed to either your closet or bedroom door. Additionally, these scarf hangers not only provide practical utility but can also enhance the aesthetic appeal of your sleeping quarters.
Flip-Up Beds With Storage Underneath
Due to their size, beds can occupy a significant portion of a bedroom, thus prompting many creative solutions to optimize wasted space. Among the many ingenious ideas out there, flip-up beds are a great option for recovering lost space. Essentially serving as large storage compartments, they are a clever way to maximize the utility of your room.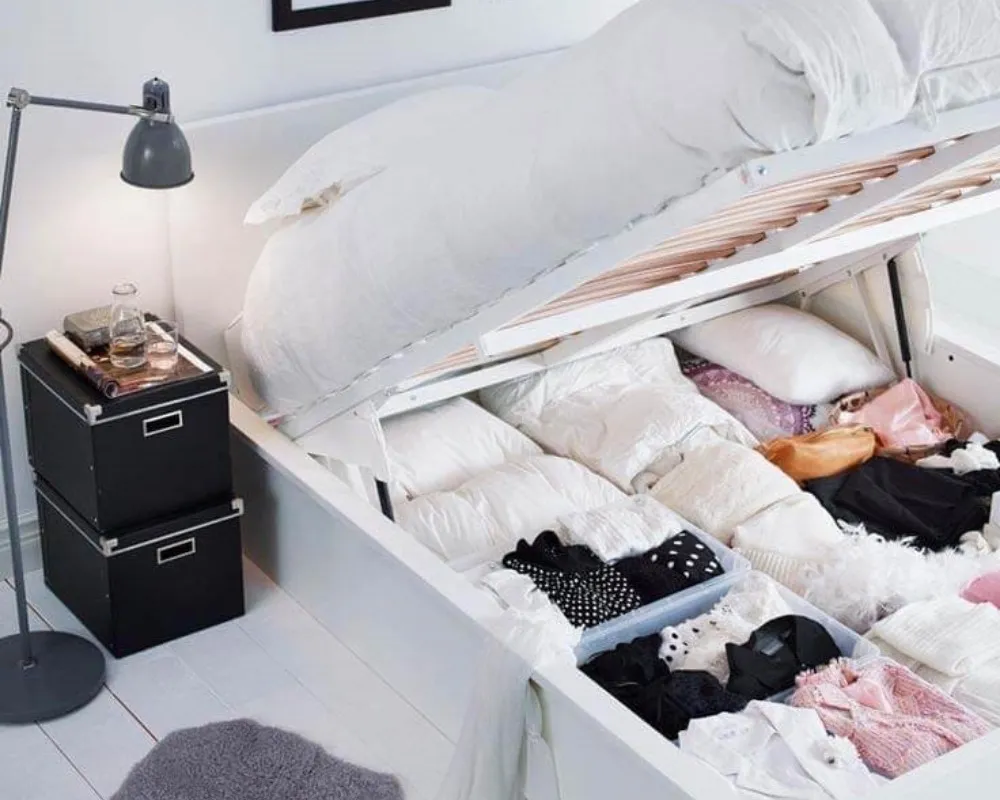 It's possible to flip them upwards or downwards. There are compartments located right underneath the top cover where you can keep your belongings. Nevertheless, it's important to note that flip-up beds and Murphy beds are unlike each other as the latter doesn't have any storage containers beneath them.
Ladder Bookshelf
One suggestion for beautifying your bookshelves is to combine them with vases, pots, and other decorative items on a painted ladder. This method not only adds decoration but also saves room. We feel this is an excellent approach to enhancing the appearance of your home.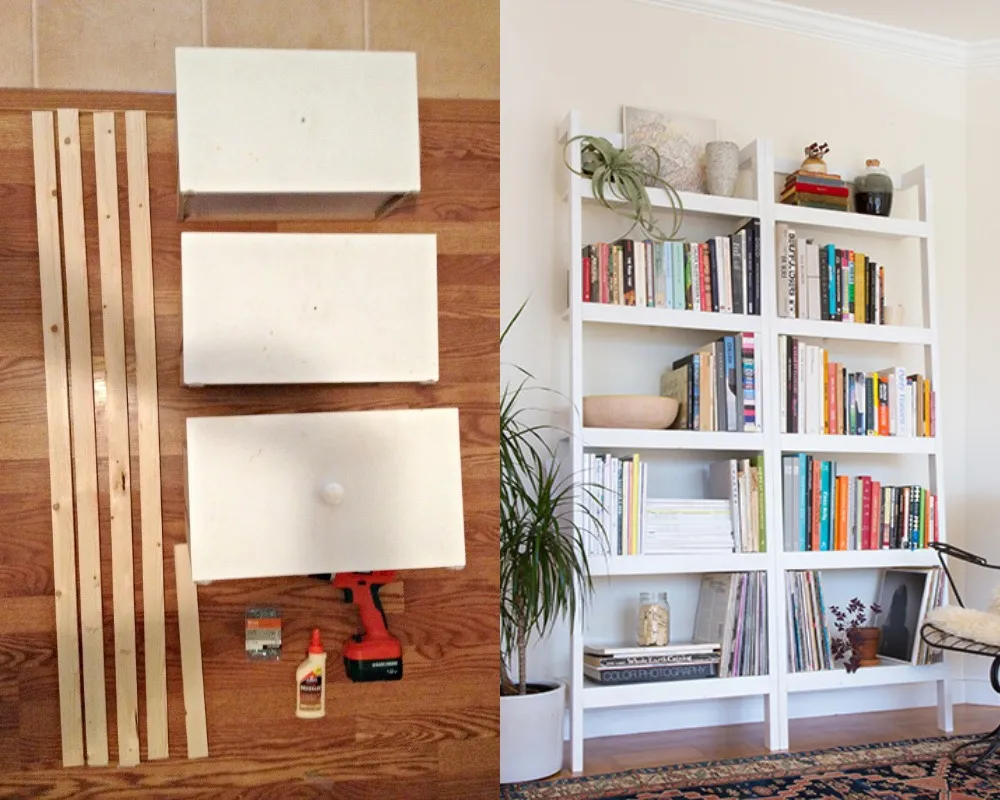 We would certainly enjoy passing multiple hours relaxing on that comfortable chair, while reading one or two books in the presence of that stunning ladder bookshelf.
Laundry Bag
If you're not familiar, this is a laundry bag. It can be used to store wet clothes straight from the washer until you're ready to dry them. Unlike other bags, this one is very portable, making it easy to save space.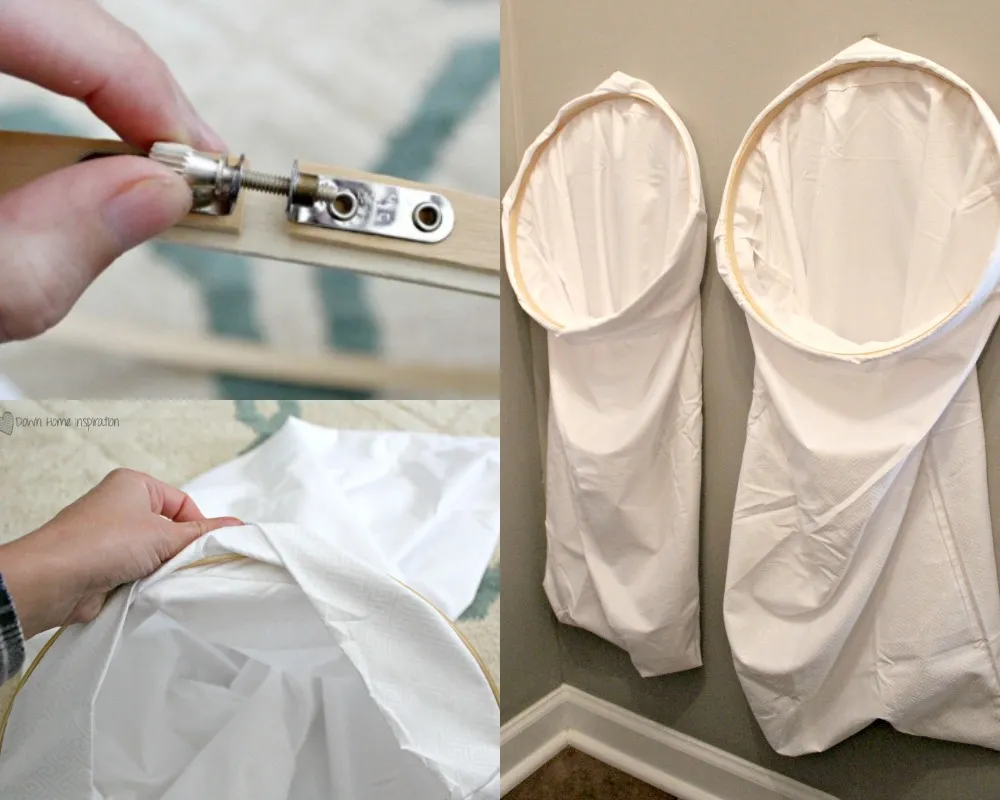 By using the bag, you can prevent the water droplets from your wet clothes and avoid any concerns of your laundry leaving wet floors. It's effortless to create one for personal use.
Table Foot Electric Socket
For some individuals, this may seem unusual while for others, it is highly groundbreaking. The table's base has been utilized to secure and organize the electrical socket.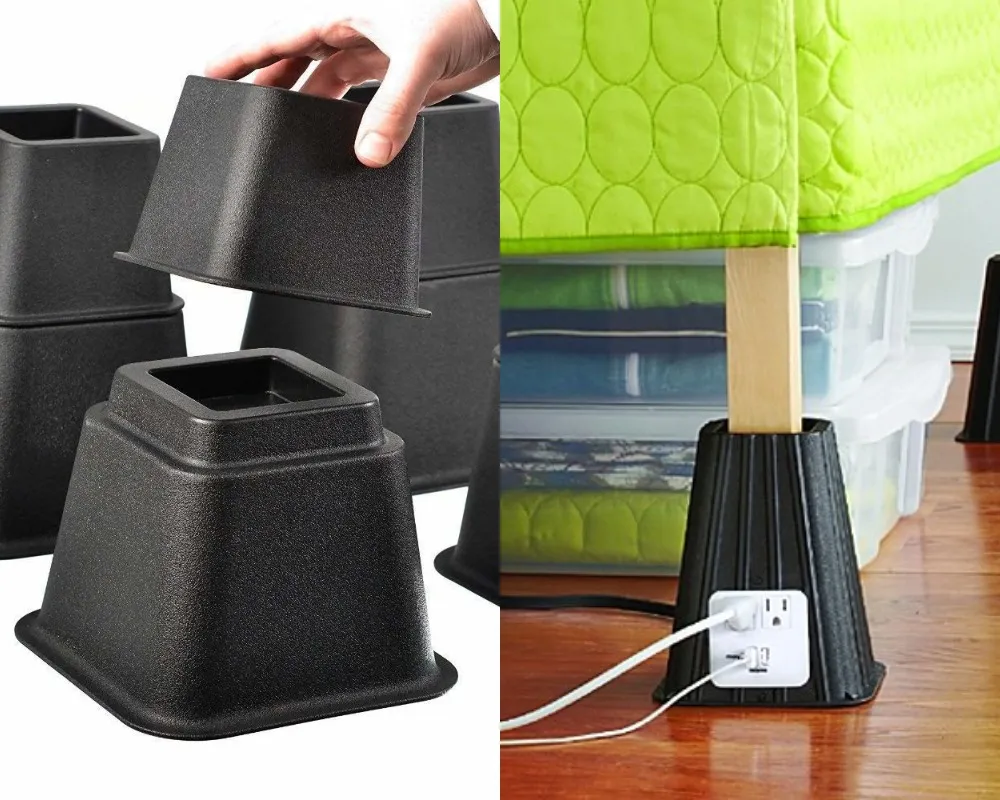 The table appears to be firmly attached to the ground and has sockets that you can utilize to charge your phone, power your laptop, and other things while you work right in front of the table. This is particularly advantageous as the sockets are linked to the desk, which is uncommon compared to the usual wall sockets.
Simple Clothing Racks
Having a small bedroom and closed closets can make it difficult and inconvenient to access your clothes on a daily basis. Rushing to take out clothes from a closet often leads to cluttering. To avoid this, consider using a clothing rack for better organization.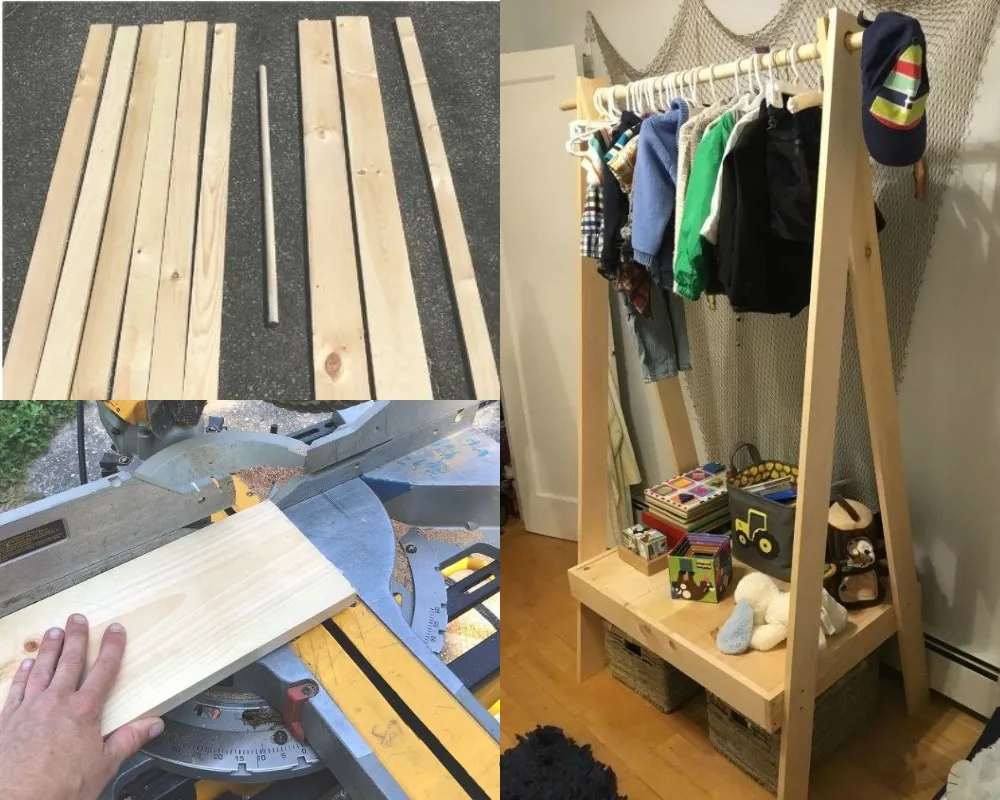 In case you enjoy Bohemian-inspired decoration, these racks can provide a means for incorporating a boho flair into your bedroom. Additionally, the racks have room beneath them that can be utilized for storing baskets or carrying bags related to work.
Cable Organizing Chamber
This trick can aid in efficient organization of your cables. You may create a compartment within your desk that has openings for the cables to exit. The cables can be linked to a socket at the back of your desk, which will remain hidden.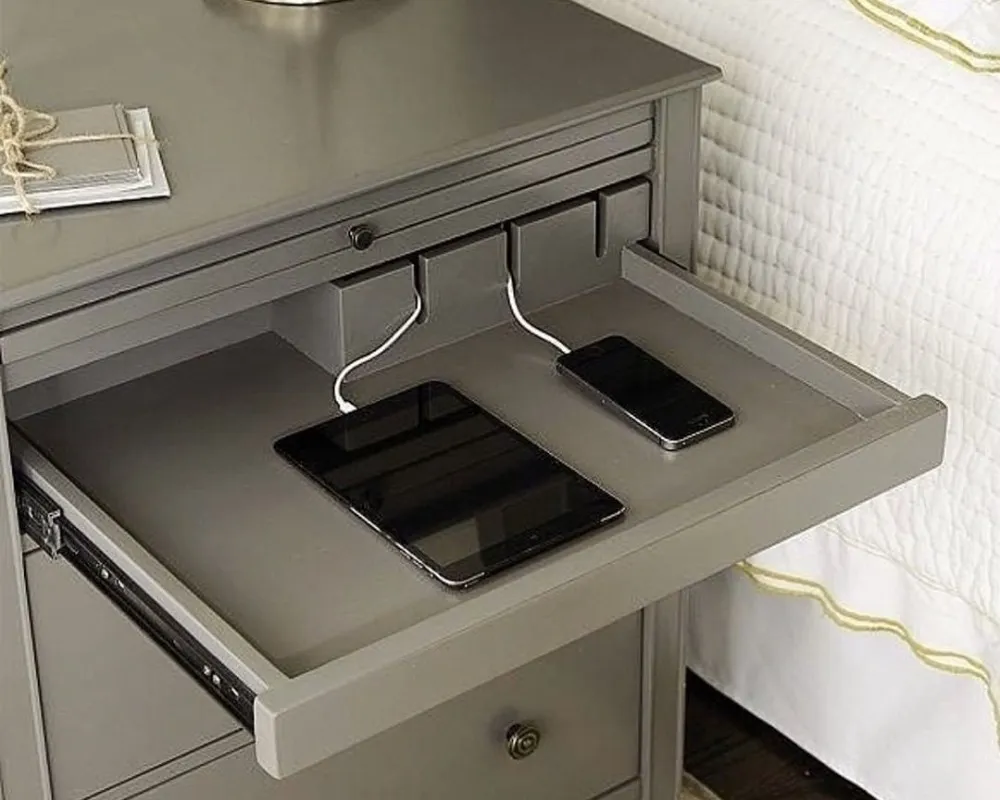 Bid farewell to the mess of entangled wires and cables scattered around. With this trick, you can conceal all the tangled cables and keep only the essential parts visible for practical access.
Include Drawer Spaces Under Bed
If you don't like having open shelves under your bed, you can use this trick to have a drawer under your bed. Instead of using a closet to store clothes, you can save space by using the drawers underneath the bed. Simply measure the height and width of your bed and install the drawers.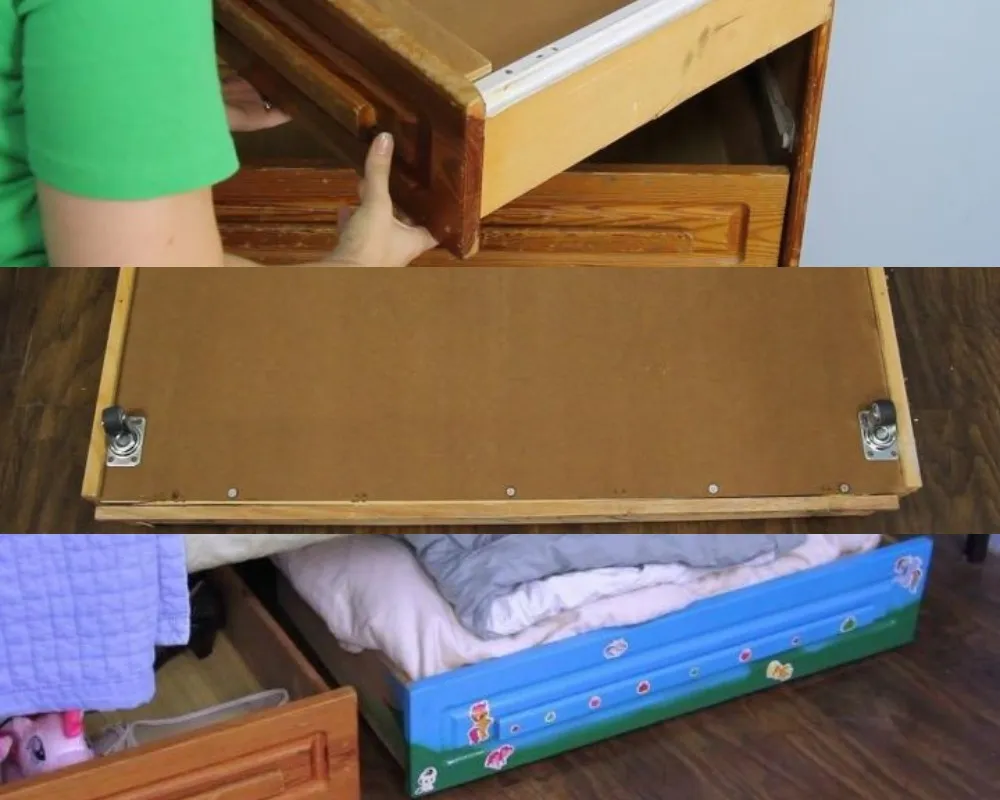 These drawer spaces can be made of either plastic or wood. In addition to using them to store clothes, you can also use them to store luggage, which can be quite cumbersome. It's even more convenient if you can modify the drawer spaces to fit your luggage and use them to store winter clothing.
Stay Organized With Bedside Station
Have you ever experienced being tangled in numerous charging cables or damaged your mobile device due to insufficient space? If so, then bedside stations are an excellent solution for you. In compact bedrooms, it can be challenging to have room for bedside tables or headboards.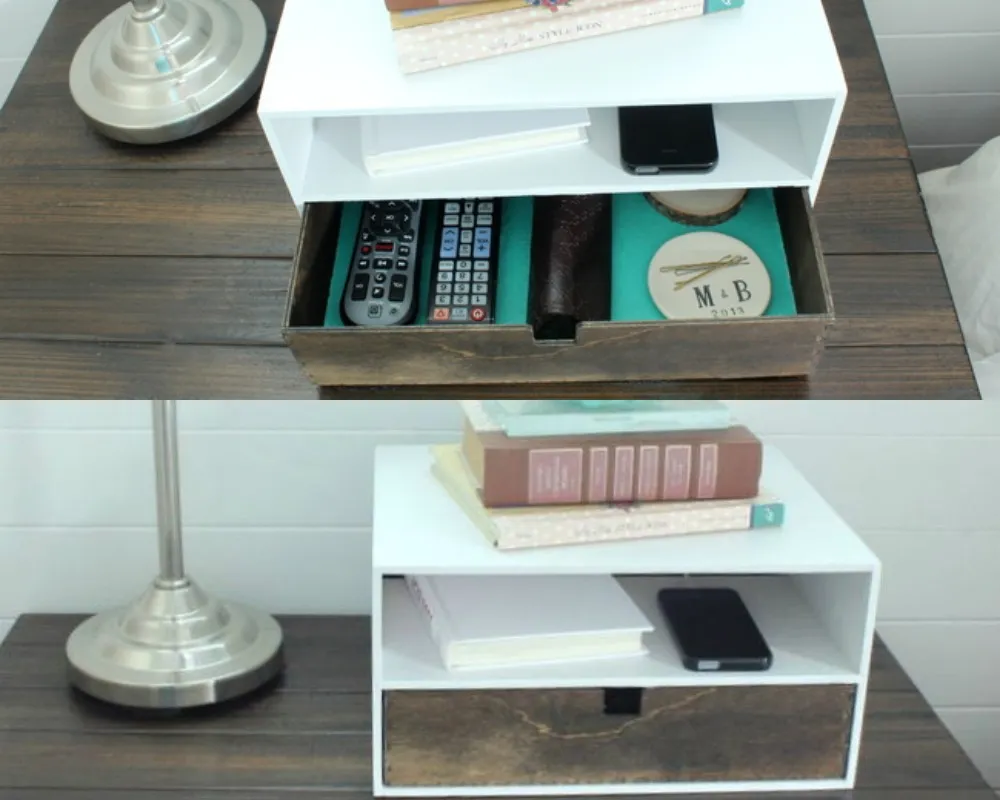 The stations resemble petite shelves that exclusively facilitate the storage of your phone and cables. In case you have a habit of journaling prior to your bedtime, then it is advisable to purchase a station that also comprises of an area to accumulate a tiny notebook and a pen.
Designed Makeup Palette
Makeup is a skill that requires artistic talent. But did you know you can also arrange your makeup supplies in an artistic manner? Simply obtain a steel board and embellish it to resemble a framed artwork.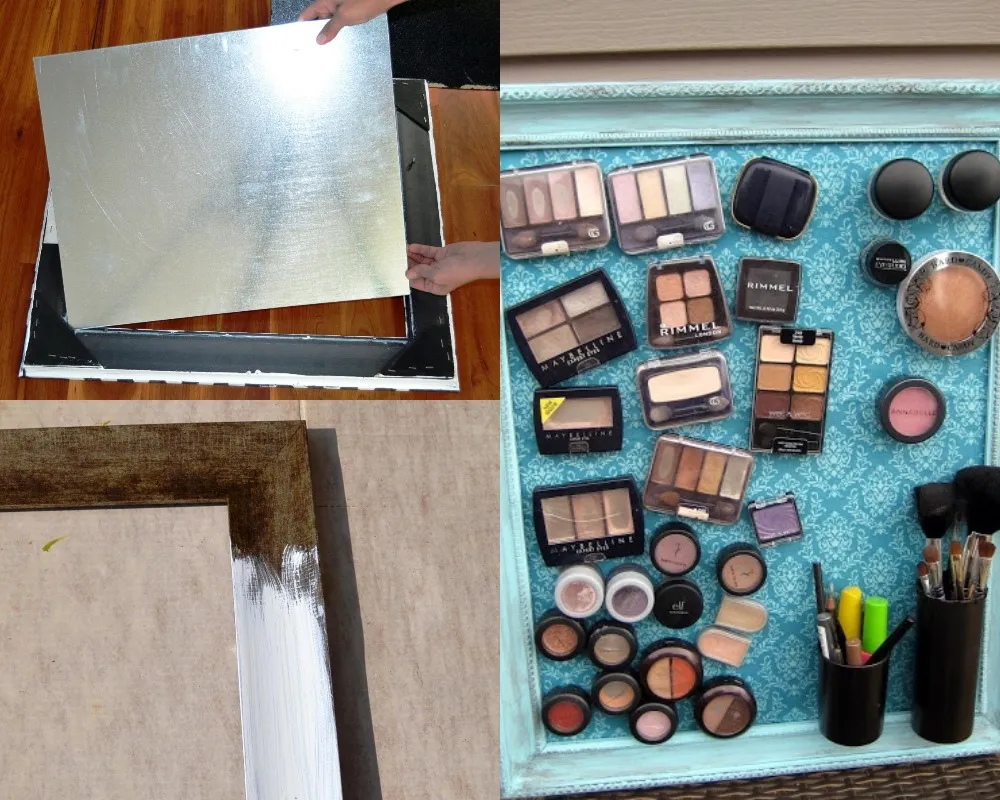 You can affix miniature magnets to your makeup sets and stick them onto the frame like how you would stick fridge magnets. Similarly, you can attach magnets to brush holders and stick them to the frame too. This creates the impression of a large three-dimensional painting.
Wall Desk
Consider purchasing a wall-mounted desk if you feel that you do not require an excessive amount of desk space, avoiding the need to purchase a large desk that takes up a significant amount of room in your space.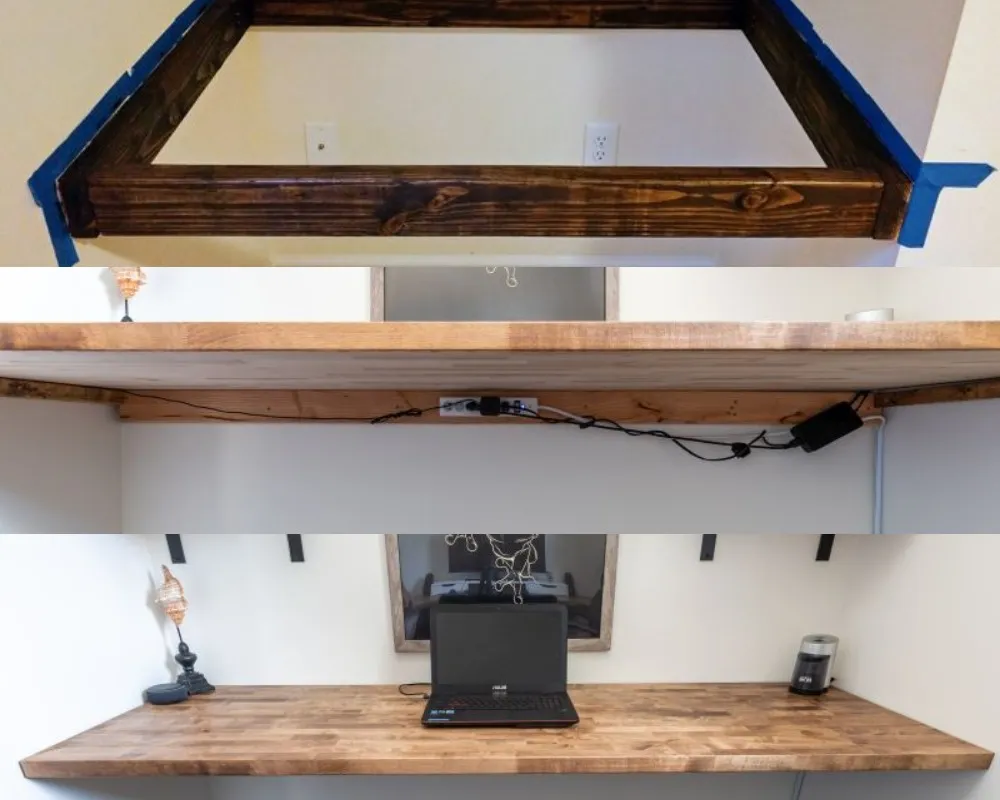 To create more table space and save room in your area, simply fasten a tabletop of your choice onto a wall, connect it to a wall-mount, and secure it onto the wall with screws.
Rolling Wire Basket
Are you unsure about how to deal with extra blankets and pillows when you have limited storage space? It can be challenging to store blankets, particularly in a smaller room. However, a rolling wire basket can be a useful solution in such situations. These baskets are typically rectangular and wide enough to accommodate your items.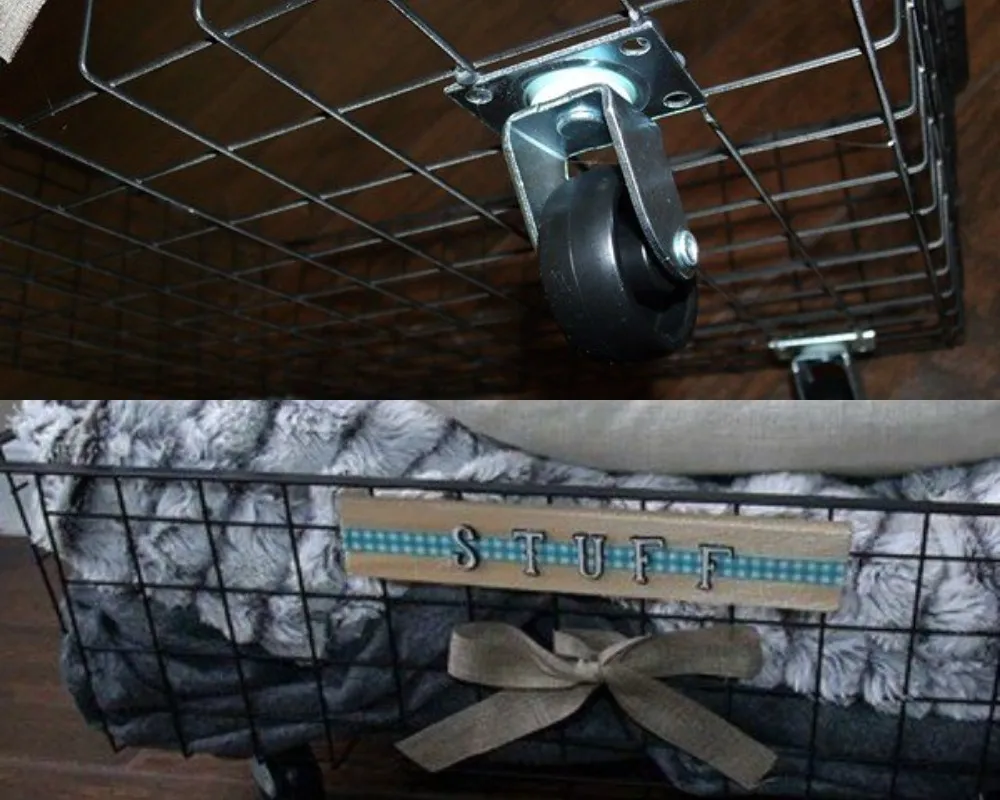 These items can be conveniently stored beneath the bed or in a room's nook because of their rollers, allowing for storage of more than just pillows and covers.
Stack in Wooden Crate Baskets
Utilizing wooden crate baskets for containing scattered loose items can be an effective solution for conserving valuable floor space. With the ability to select from various shapes and designs, crate boxes can also enhance the aesthetics of a room and function as impressive decorative elements if chosen thoughtfully.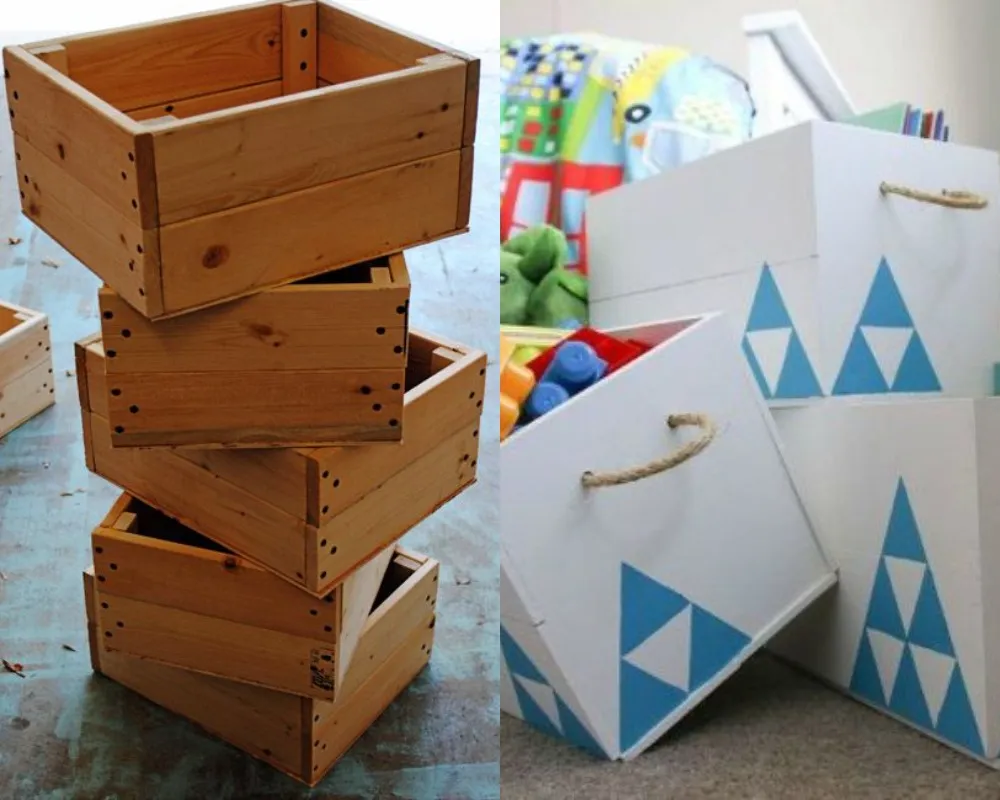 These crate boxes are versatile and can store toys, shoes, and books. You can position them conveniently in the room, especially in the corners. Additionally, some crate boxes are equipped with lids which convert them into small side tables.
Curate Wooden Book Ledges
For people who love books, having limited space can be quite frustrating as it provides inadequate storage for their collection. Nonetheless, there are ways to tackle this issue. Instead of having bulky bookshelves that take up a lot of space, one could opt for a book ledge.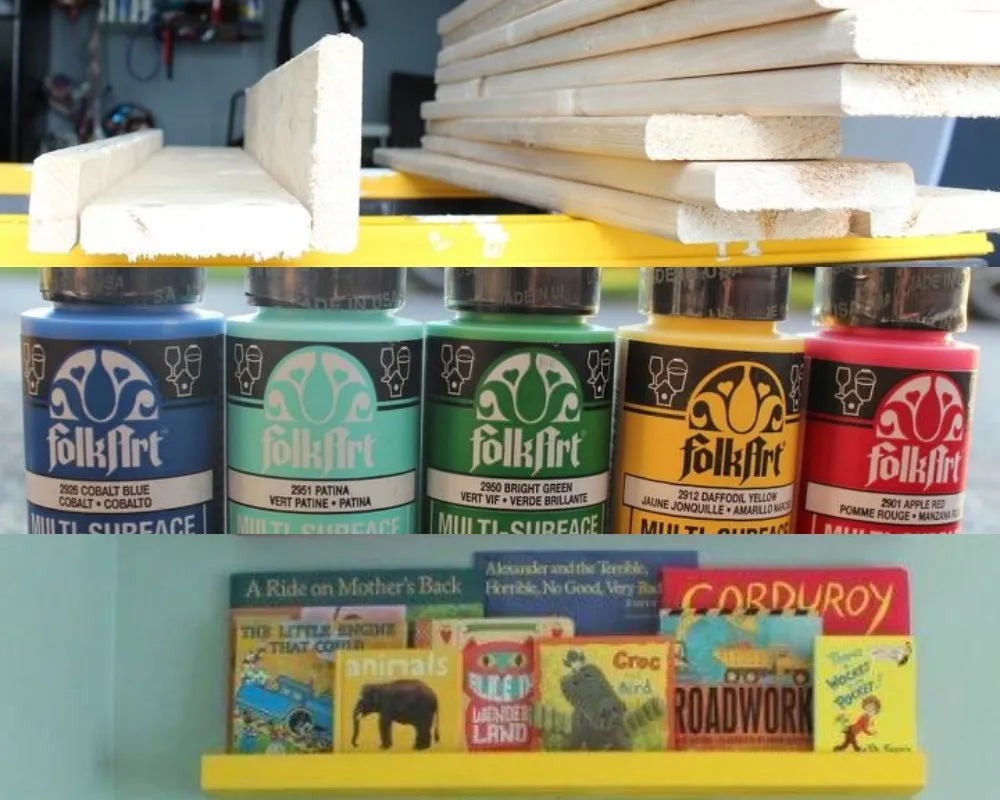 Typically crafted from timber, book ledges offer the flexibility to be mounted anywhere on a wall. These ledges can be stacked vertically to provide a space-saving storage solution for books. Moreover, book ledges tend to have a more pleasing aesthetic appeal than traditional bookcases and are often placed in corners.
Get Creative With Pretty Pegboards
Pegboards offer a clever solution for maximizing small areas with flexibility. These versatile boards are constructed from either metal or wood and feature perforations to accommodate hooks or hangers. By utilizing pegboards, you can effectively hang essential items and conserve space. The most advantageous aspect of pegboards is the ability to customize them according to your preferences with a DIY approach.

You can fasten them to the back of your closet door to store items like socks or scarves. Additionally, you can also affix decorative objects to them to enhance the aesthetic appeal of your room.
Hanging Wooden Slab Side Table
Why invest a lot of money in finely-made furniture when you can simply take a piece of wood, sand and polish it slightly, and use it as an inexpensive hanging side table? This option requires less effort than making a complete table and is a more economical choice.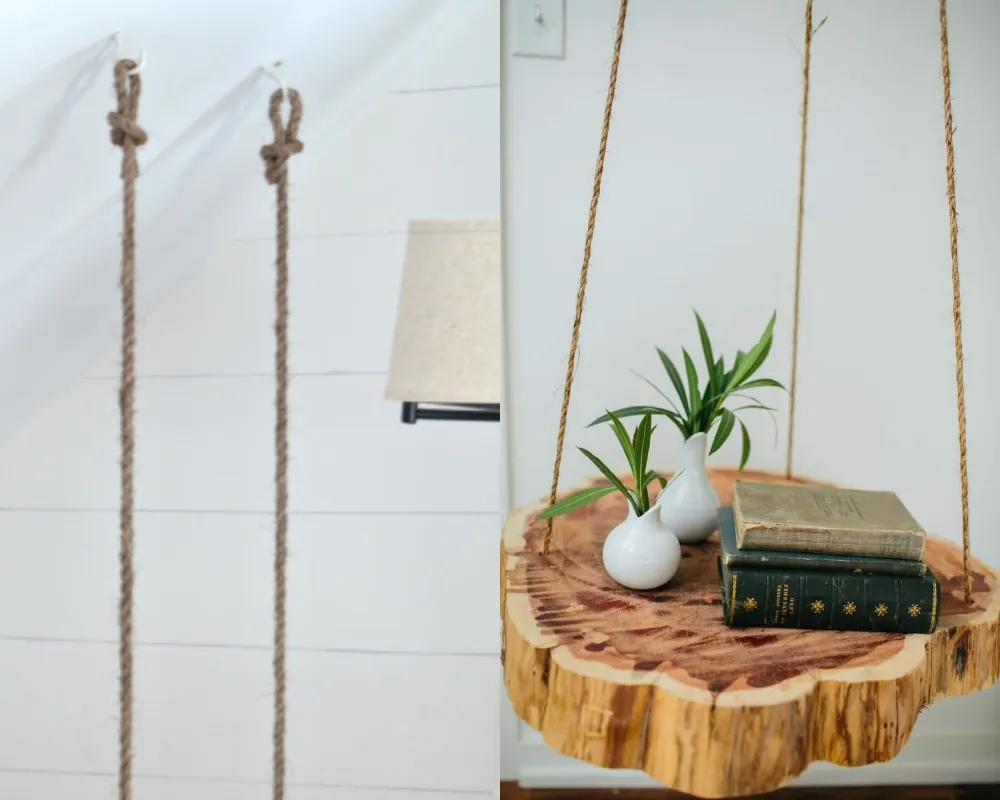 All you need is a big piece of wood, cut it to a circular structure, sand it, and smoothen it a little, and then hang it from the ceiling using steel wire ropes. You can keep vases, books, and decorative pieces on it.
Rolling Clothes in a Basket
Rolling clothes is always more convenient than folding them. Moreover, the best part about this is that you actually save much more space when you roll your clothes in comparison to when you fold them.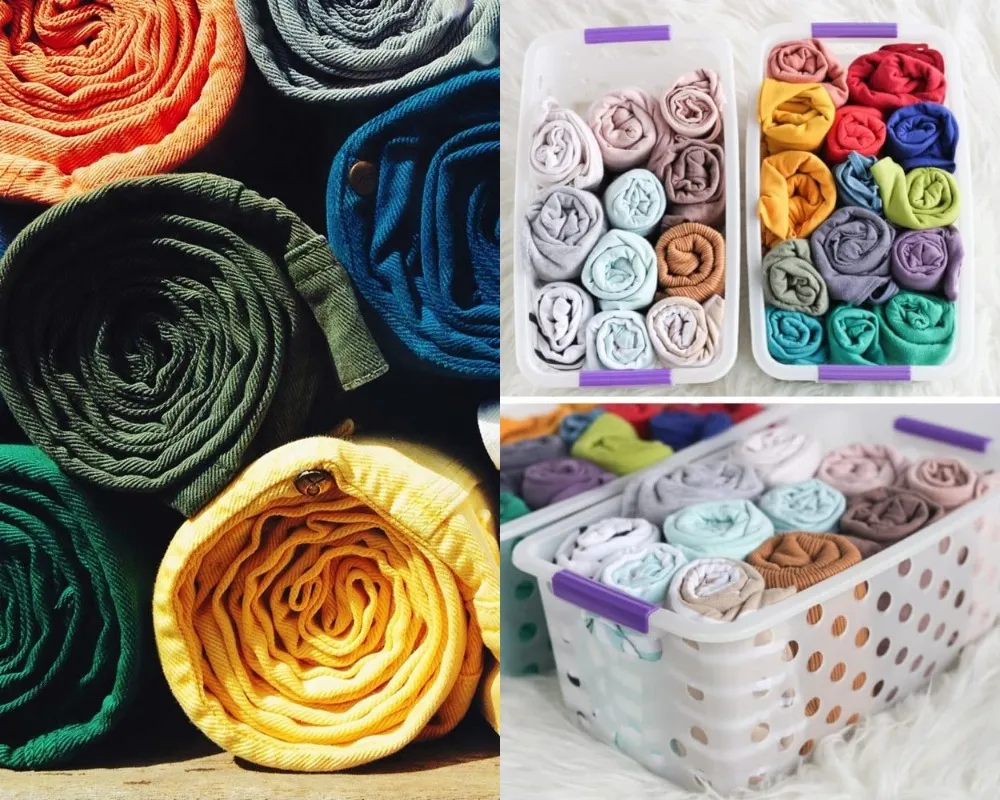 So, roll up all your tees, tops, pants, and everything else, and put them in these cute baskets to organize them. You will be saving more space than you think and you might actually like the way they look.
Plastic Crates for Cleaning Clutter
Are your floors cluttered with toys and LEGOs? If you have kids at home, this is the biggest headache to sort in a small space. Consider installing plastic crates to make some extra space and declutter your home. You can set them high up the walls and stack toys there.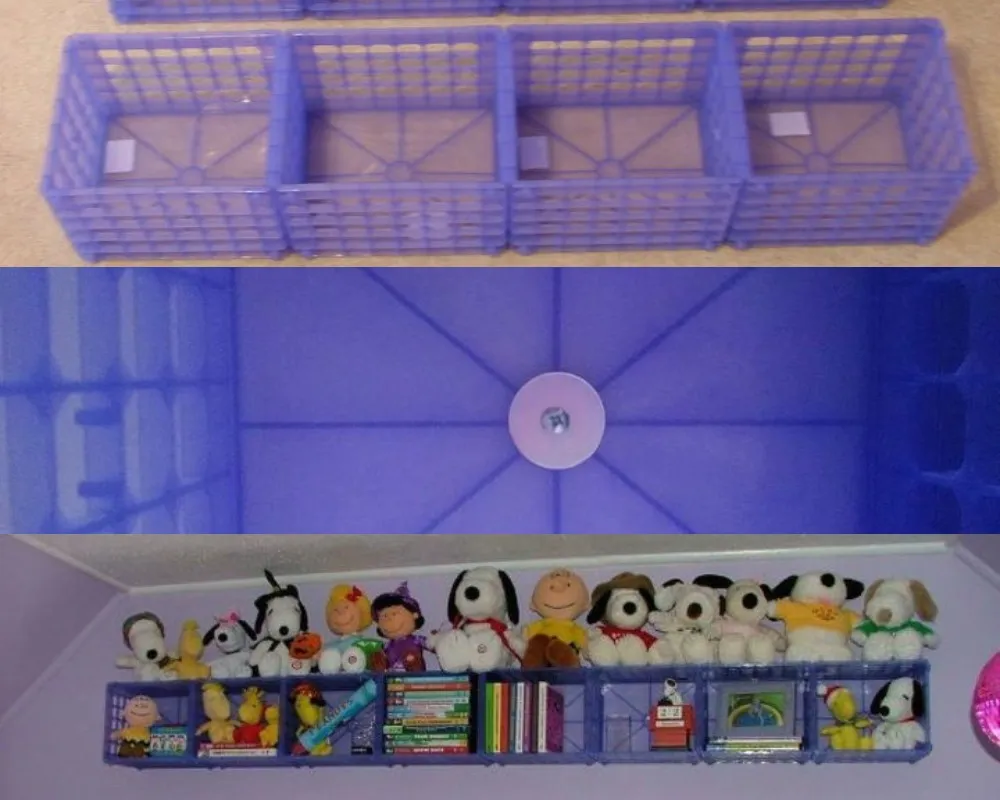 This is a nifty hack for a small bedroom to store small kinds of stuff. Plastic crates can come in different shapes and colors, so make sure to experiment with it and match your bedroom walls.
Cabinet Inside a Bench
This one is an amazing hack to reduce clutters in files and folders in your house. You are able to organize your folders in a hidden cabinet inside a bench. The seat of the bench works as the door of the cabinet.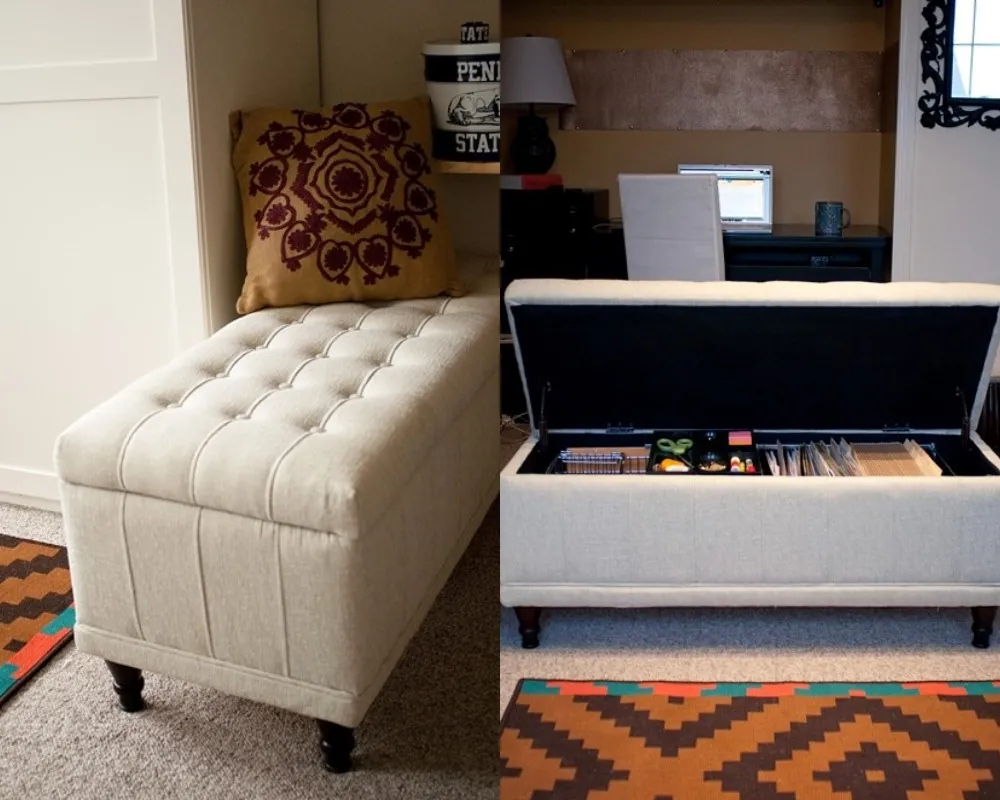 Inside there are necessary compartments and partitions to help you organize your stuff! This hack is perfect for those who have a tough time keeping files and folders in order. You can organize them while saving space in your house.
Staircase Closets Saves Space
Imagine how much space can be saved if you could use the space occupied by the staircases. Cupboards under the stairs are a common space hack in many homes. You can take it up a notch by installing a chest of drawers instead.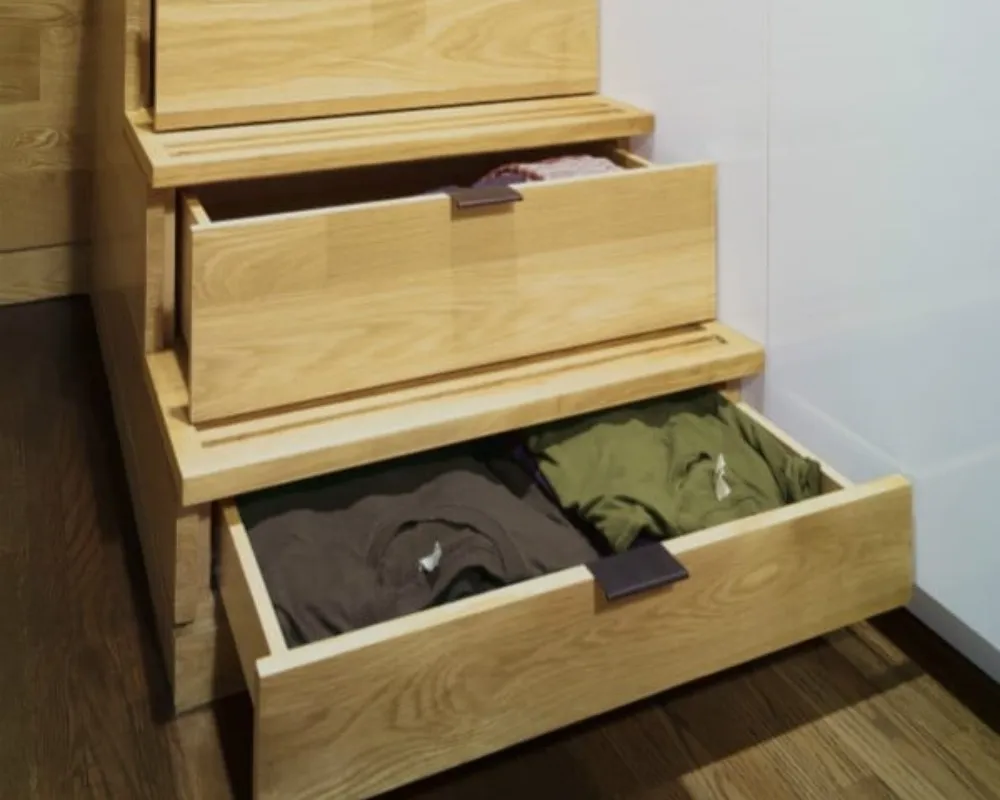 Store clothes in these drawers and eliminate large closets eating up all the empty spaces in the bedroom. There is no need to install an extra shelf if you have a staircase closet.
Hanging Shoe Shelf
How about you hang your shoes on a hanging shoe shelf? As bizarre as it sounds, this is actually a pretty useful hack that can save you space.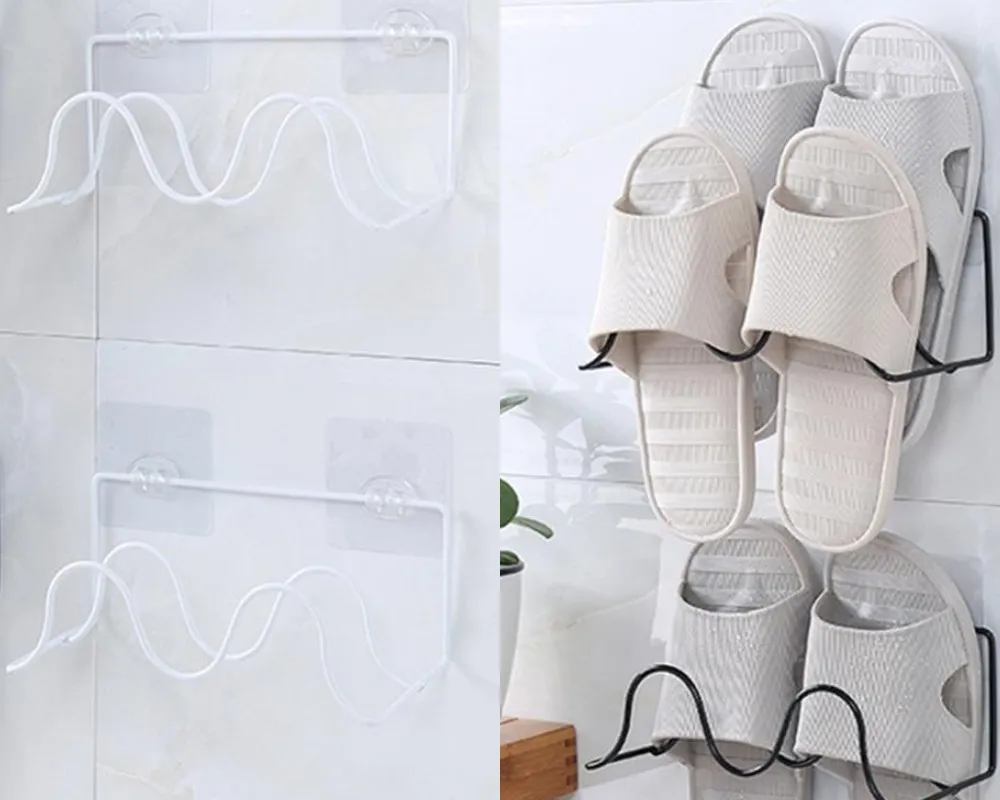 If you have some space on your wall that isn't spacious enough for a whole cupboard to fit, attach plastic hanging shelves to the wall. Then you can hang all your shoes on that hanger rod. This not only saves space and money but it looks rather nice!
Stacking Towels
This one is a bit of a no-brainer. Instead of hanging towels separately, how about stacking them on top of one another? Hang the largest towel directly on the towel hanger, then stack the other small towels on top of each other.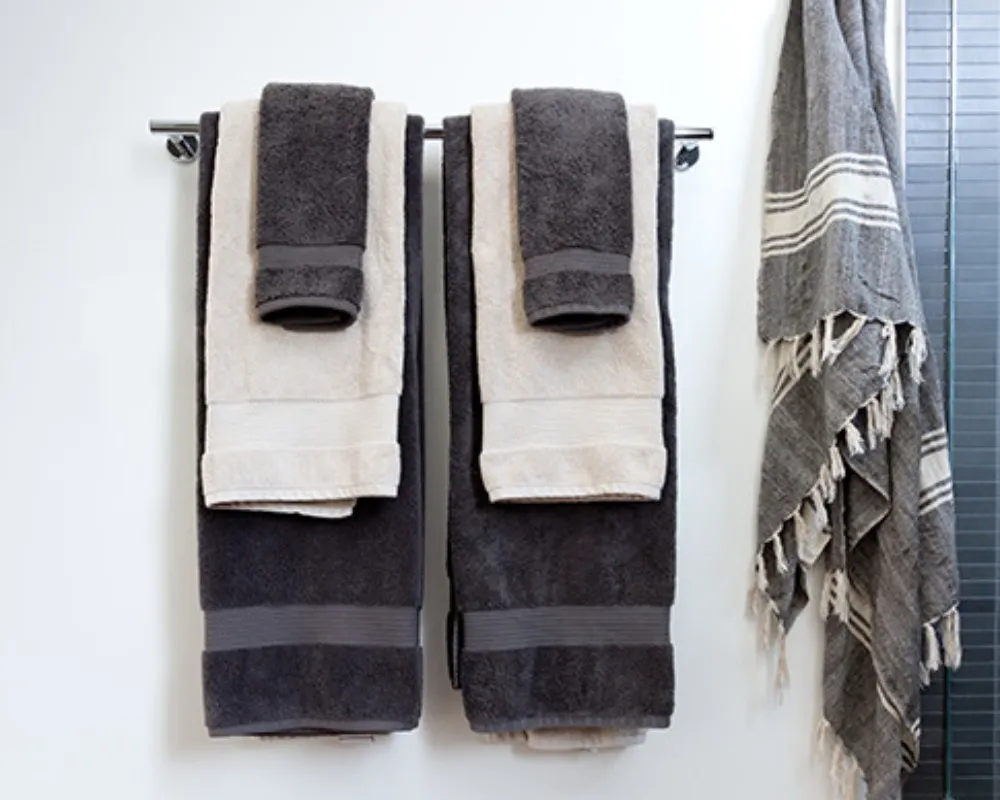 This allows you to save space while remaining highly organized and it even looks appealing to the eye. Nicely stacked towels on the hanger would not only keep your towel hanger clutter-free but also make you feel better about how pretty it looks.
Bedroom Cart
Why not use a cart for keeping stuff in a bedroom? You can use these carts as side tables beside your bed or even beside your mirror as a dressing table and keep your combs, brushes, skincare products, makeup, etc.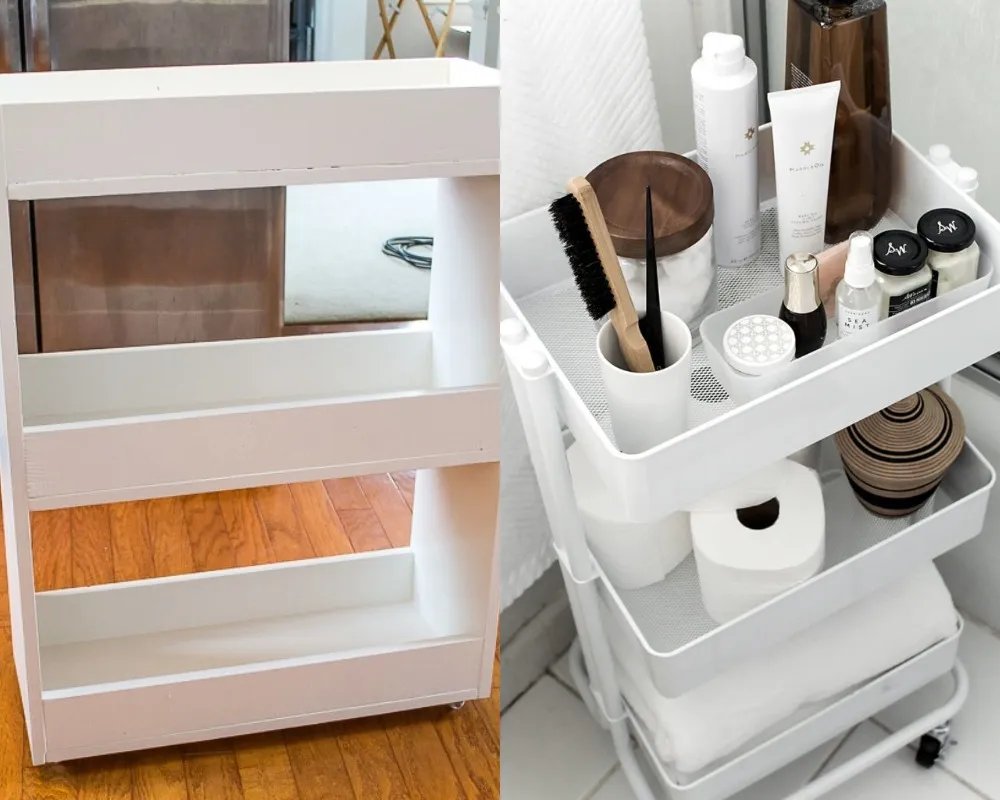 The best part about this hack is that you can use this cart in any way you like. As it has wheels at the bottom, you can move it around if required.
Turn Trunks Into Coffee Table
Have old trunks that you're planning to sell? You might reconsider and use them as coffee tables. Modern home décor styles are all about this hack, be it minimalist style or Boho style. Having trunks is no longer a woeful experience; you can store stuff and score a vintage coffee table.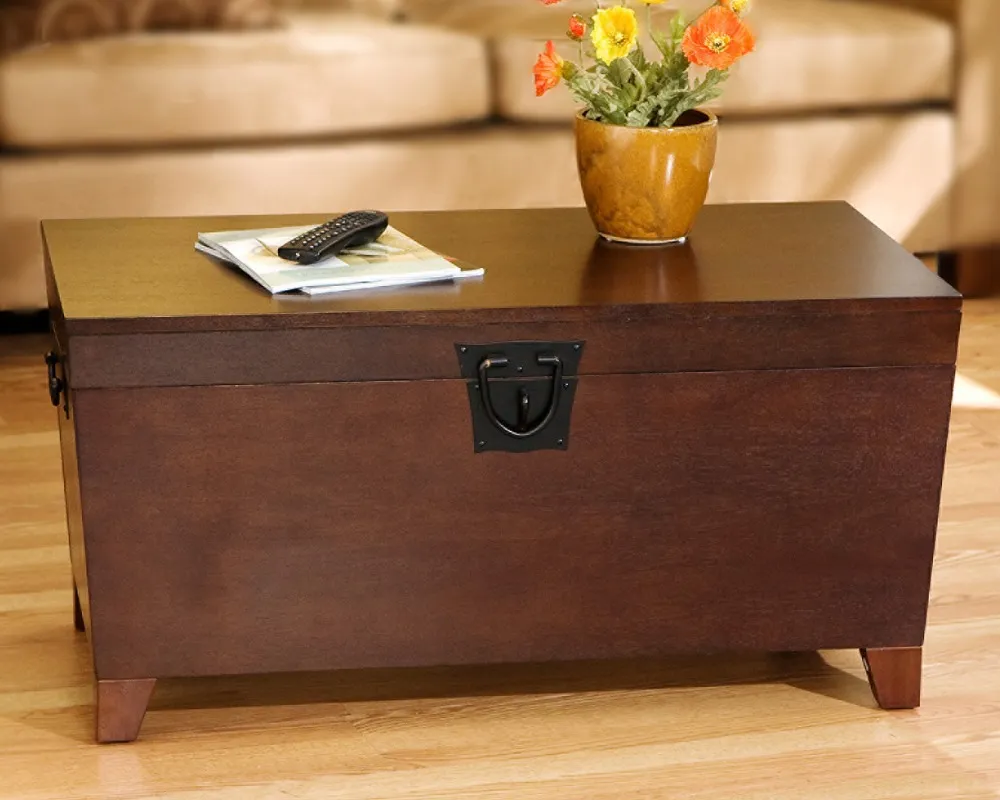 You can customize these trunks by making them colorful or refurbish the texture to fit an older age antique look. Don't restrict them as coffee tables only; you can use them as a nightstand or dressing table placed at the corner.
Organize Jewelry With Thread Racks
Even in small homes, you can end up losing jewelry. They may end up in the nooks and crannies of your closet space without even noticing. A great solution for this can be a thread rack. These racks are usually made of wood and are flexible to set up anywhere.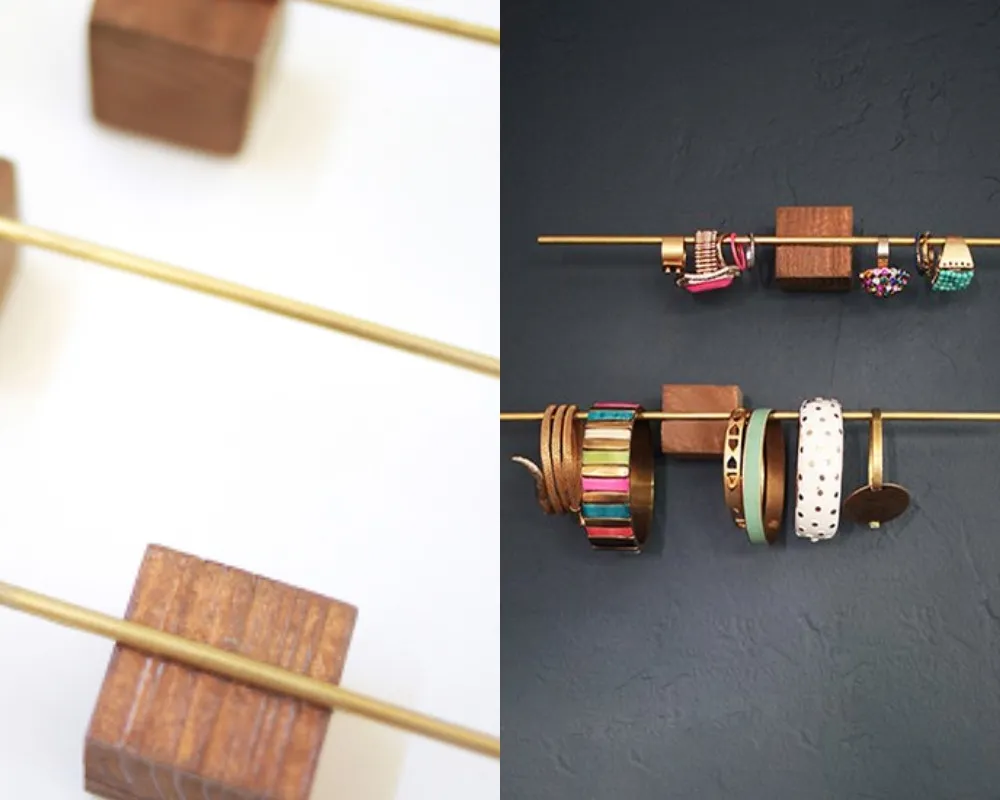 You can attach them to a wall or inside of your closet rack. A thread rack right beside the mirror or dressing table creates an amazing look for your bedroom.
Make Belt Racks Stylish
Strewn belts lying haphazardly over the bed is a nightmarish scene of every small bedroom. Keep the belts organized with a stylish belt organizer. You don't need any fancy shelf or crate for this hack.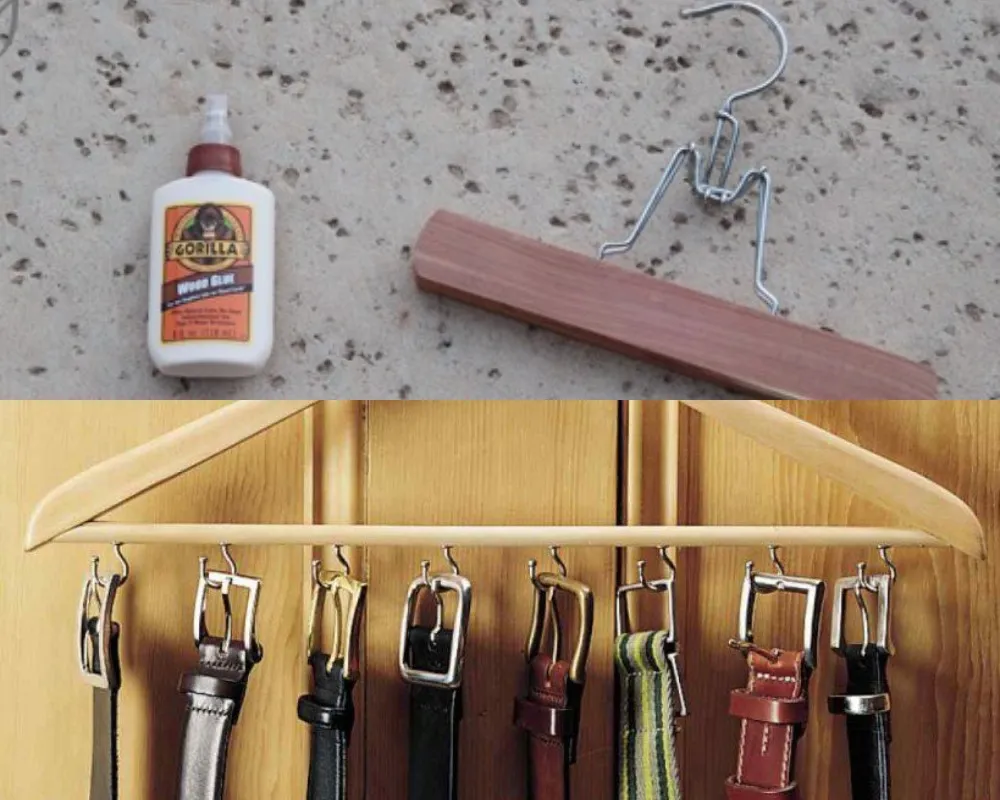 All you need is a hanger with garment hooks, to hang your belts. Place the hanger at your back door or inside your closet. Choose the color of your hanger carefully to match the overall décor.
Vertically Arranging Clothes by Folding
Folding and arranging clothes can be a hassle sometimes. This hack is particularly for the lazy people who usually stack their clothes on top of that one chair.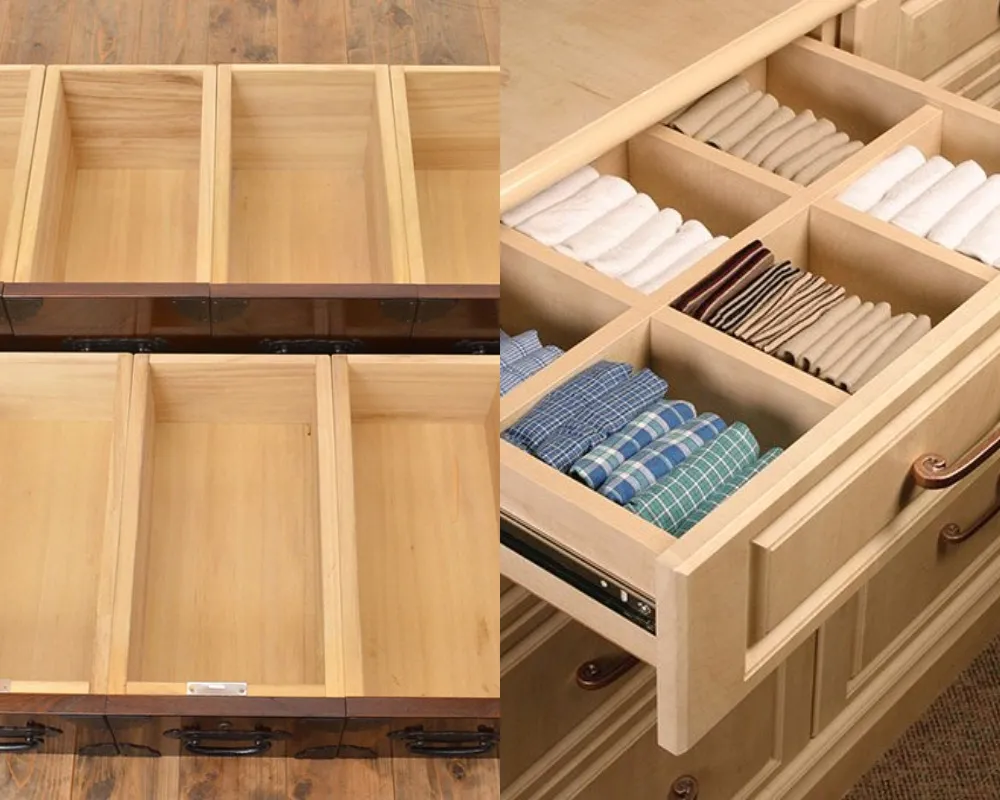 You still keep your clothes inside the drawer, but you arrange them vertically instead of horizontally. This can actually save way more space than putting them folded on top of each other. You can fit more clothes inside your drawer by using this hack!
Convertible Bed
Don't you just love things that are convertible? The concept of being able to use one object in multiple ways always amuses us. This cupboard has a table and bed inside it which you can take out when necessary, and then put them back in the cupboard just by folding them.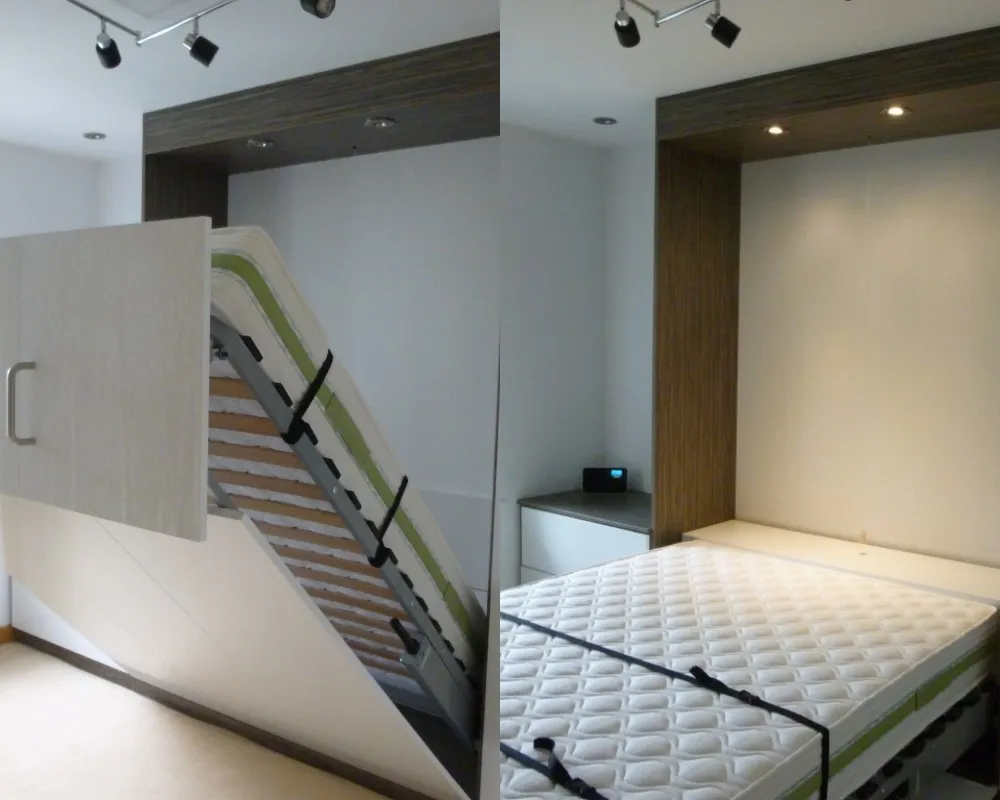 This is convenient at its peak! If you want this level of convenience and save this much room, get a cupboard like this.
Door Bag/Hat Hanger
Similar to the door coat hanger we talked about earlier, you can use a hat/bag hanger behind your door. This makes organizing your bags and hats much easier. You can just grab your stuff from the hanger behind the door and head out hassle-free.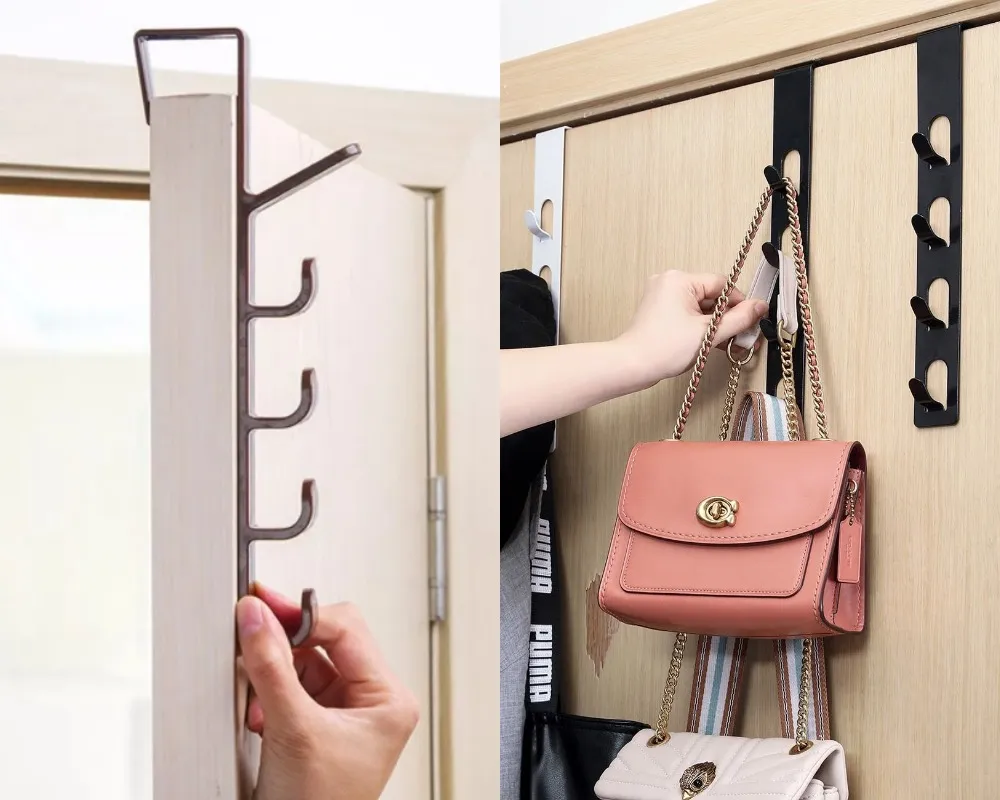 These door mount hat hangers look pretty nice as well, so it will make your room look better too! Use this hack to organize your bags and hats more conveniently.
Put a Boot Hanger
Boots can get scrunched up ruined if you store them under heaps of clothes. If you hate to see your prized items get ruined like this, consider setting up storage space for your boots. It might seem like using extra space, but if you use wall-mounted hangers, it boosts up your décor while saving space.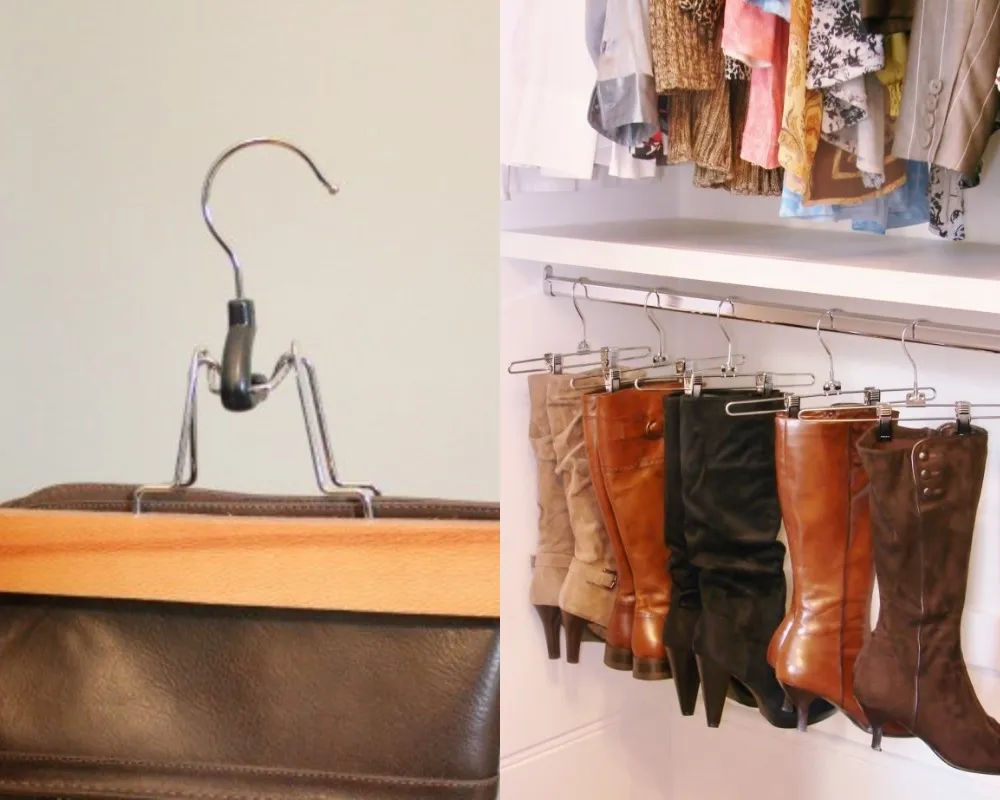 Just use small hangers attaching the boots and hang them in open shelved closets and you're done saving the boots from a disaster.
Boho-Style Wicker Baskets
Wicker baskets are often used in Boho home decor and are a great hack for small bedrooms too. You can use these baskets for storing pillowcases and blankets or use them to store newspapers and books and save some tablespaces.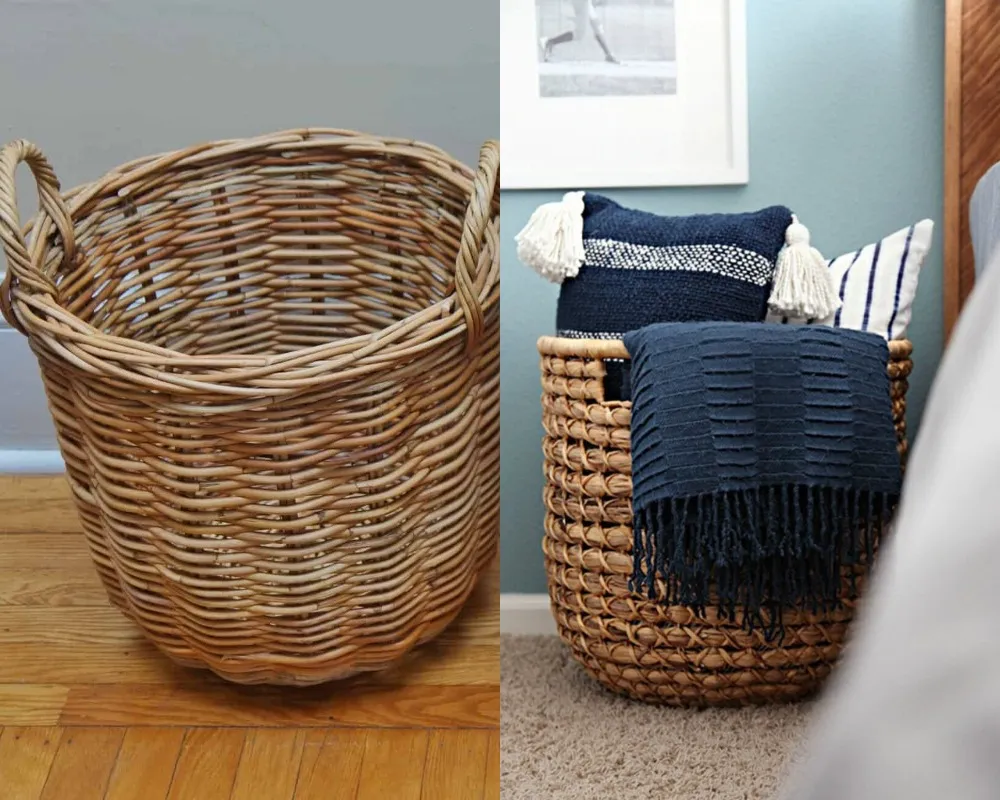 Wicker baskets have a woven texture and they last a long time. These are also great as pet baskets so that you can use them for multiple purposes.
Make the Most of Your Door Organizers
Are you running out of space to keep your books or keys? Door organizers can be your savior. You can buy a door organizer or make one for yourself. Usually made of woven cotton, bamboo, or wickers; these organizers have pockets where you can keep your notebooks, keys, specs – basically anything you need frequently.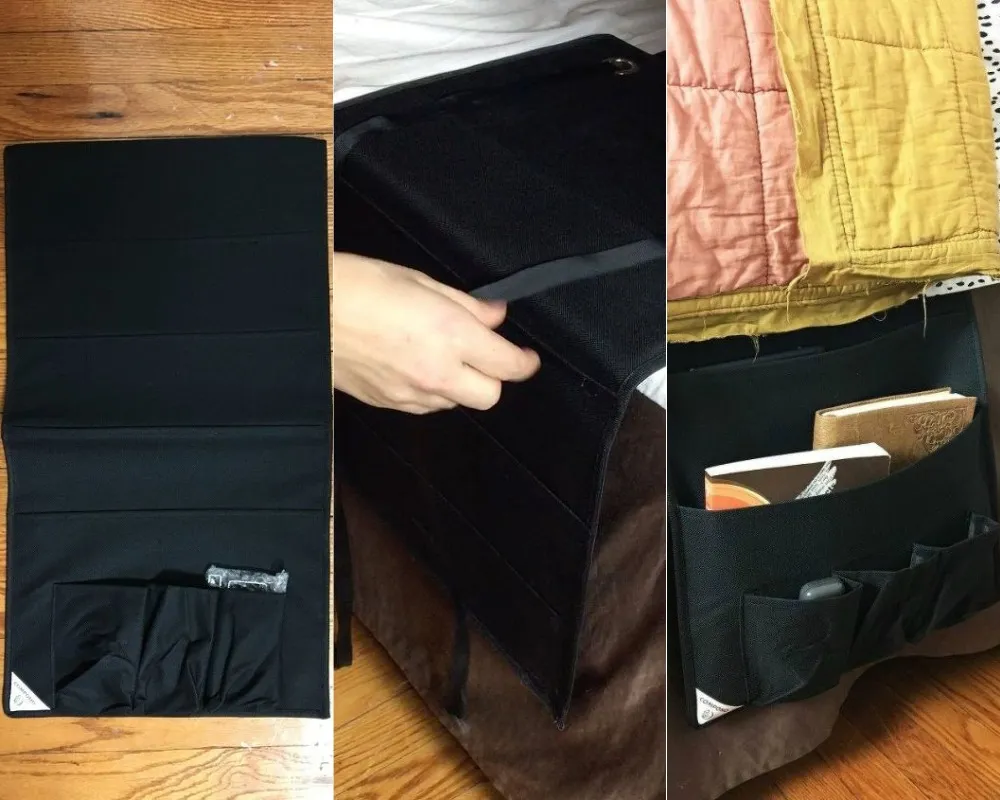 These are flexible and stylish; hence you can hang it beside the bed or anywhere on the wall. They come in funky colors and designs; a bonus for bedroom décor.
Clothing Hanger That Is Also a Mirror
How about we make your process of getting ready much faster and more convenient? This bedroom hack will surely catch your attention. This mirror that is also a clothes hanger allows you to hang your favorite shirts and try them on to see in the mirror on the go.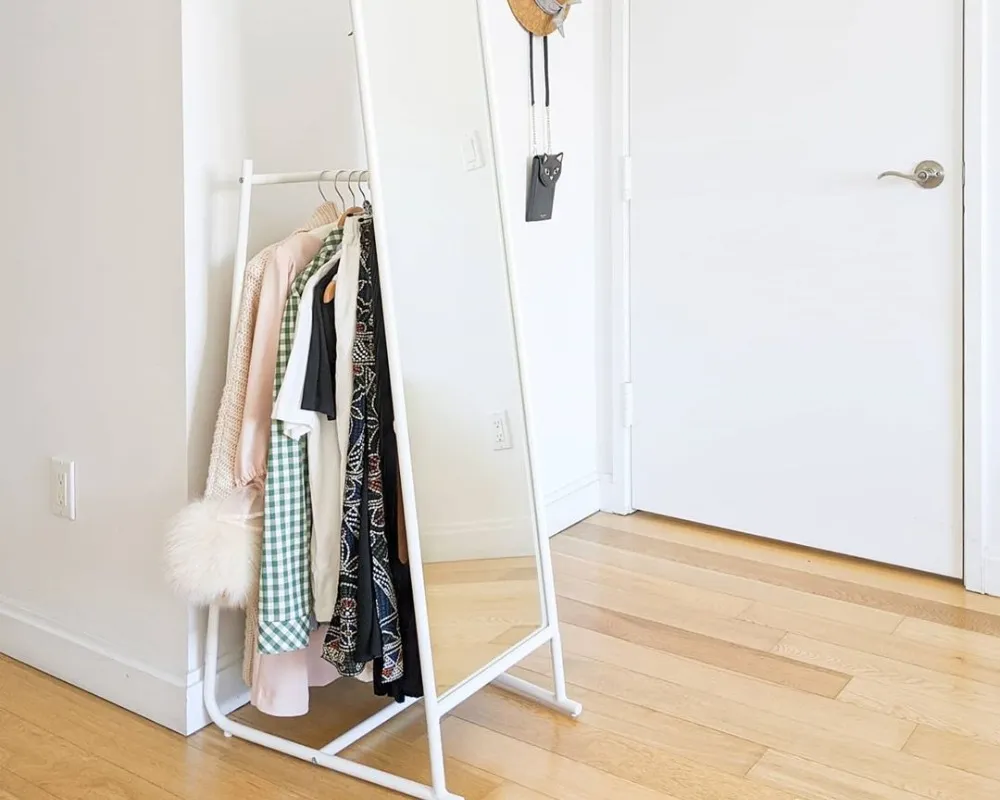 It is very hassle-free and saves not only time but also money. This mirror costs far less than a full-sized cupboard. This is why we love this hack so much.
Upgrade With This Jewellery Hanger
You can also go with a jewelry hanger instead of a thread rack or just use both. There are many rustic jewelry hangers in Amazon and Etsy but you can always carve one out by yourself. You can go with a plastic hanger or go with farmhouse wooden ones.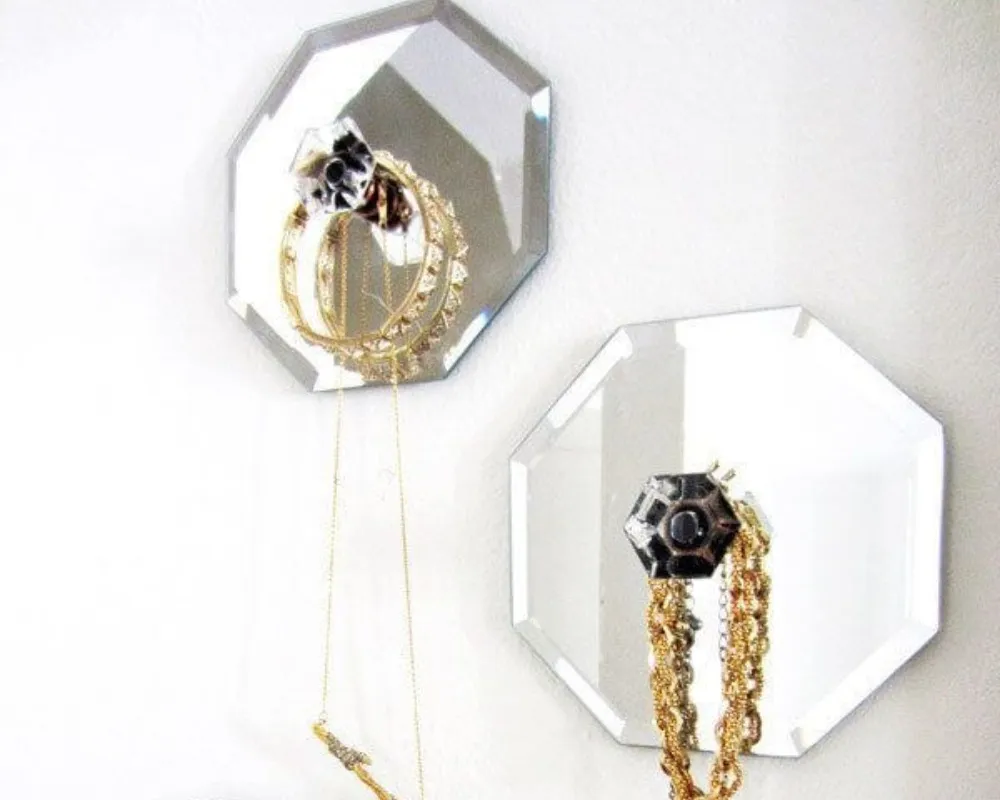 Instead of stacking it up inside a tiny jewelry box, place your necklaces, earrings, and bracelets in these hangers and mount them on the walls to maximize the usage of wall spaces.
No Storage Space? Try Crate-Shelf!
Another crate hack here. Crates are the greatest hack item for small spaces as you have realized by now. They can be used solely for clothes storage if you don't have any space for a closet. Install crate-shelves on the walls and store as many cloth items as you can.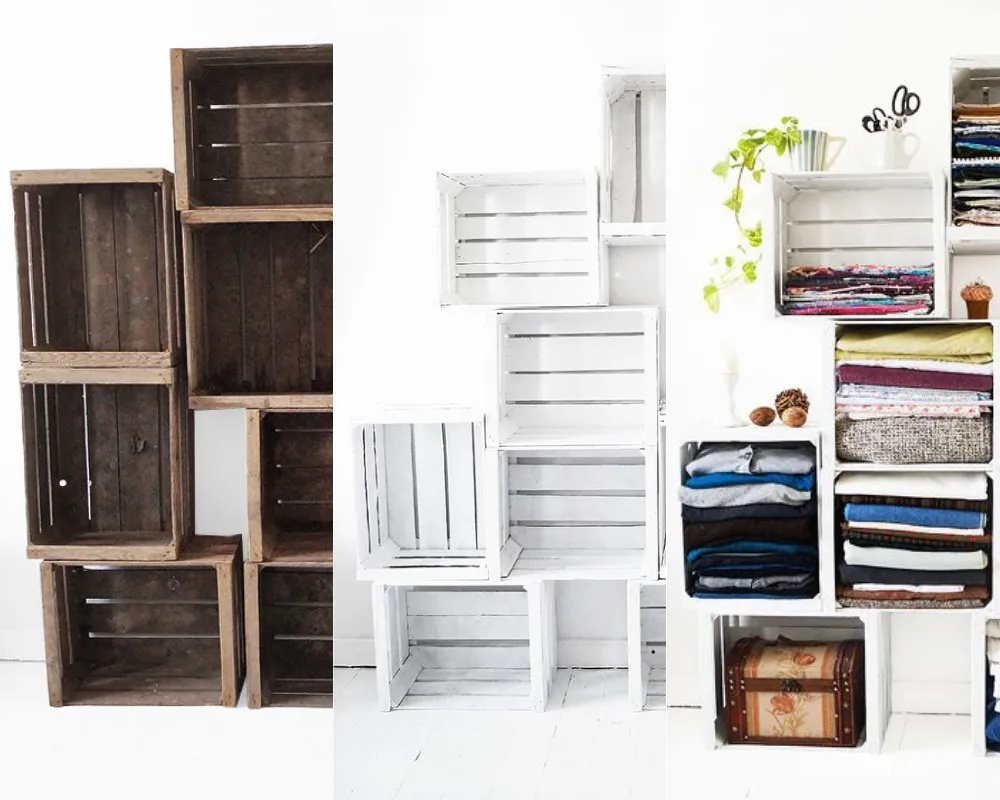 Square shaped box crates allow you to keep cloth items separated and categorized. Crate shelves are usually removable and portable so that you can adjust them according to your need.
Bed Table
Breakfast in bed! Is that not what everyone wants in life? We do too and to make this dream come true, this hack comes to the rescue. This bed table is small and lightweight, and can be easily moved.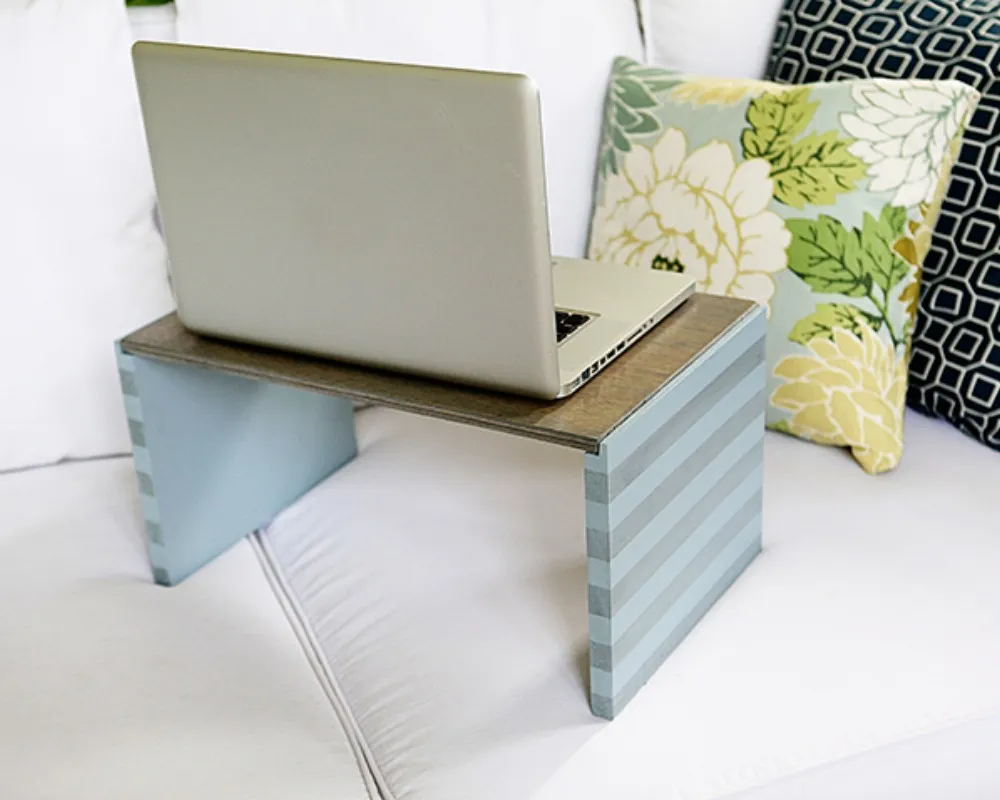 Therefore, you can bring it closer to you while resting on the headboard and eat stuff, or even work on your laptop by placing it on this table. For it's portability, every household must have one of these!
Corner Wall Shelves
Setting up or designing your shelves to match the corner of your room can save you a lot of space. You can design it in a way to go with the aesthetic of your room and make it look pretty.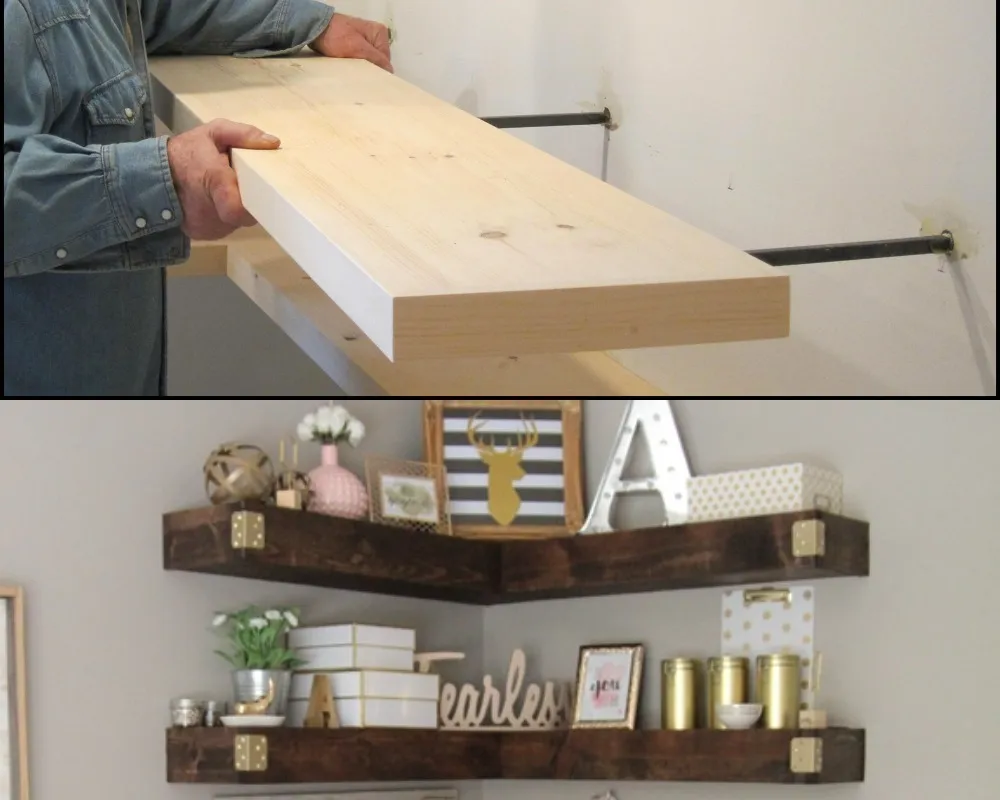 Setting up furniture in the corners of your room can provide you with more space at the center of the room. So, try out this hack while setting up furniture in your house.
Tools on the Wall
Modify your garage and tool shed to make it look like this. Keeping tools all over the toolshed can be pretty messy, and even if you try to organize them and put them in compartments or shelves, you might lose some room in the shed.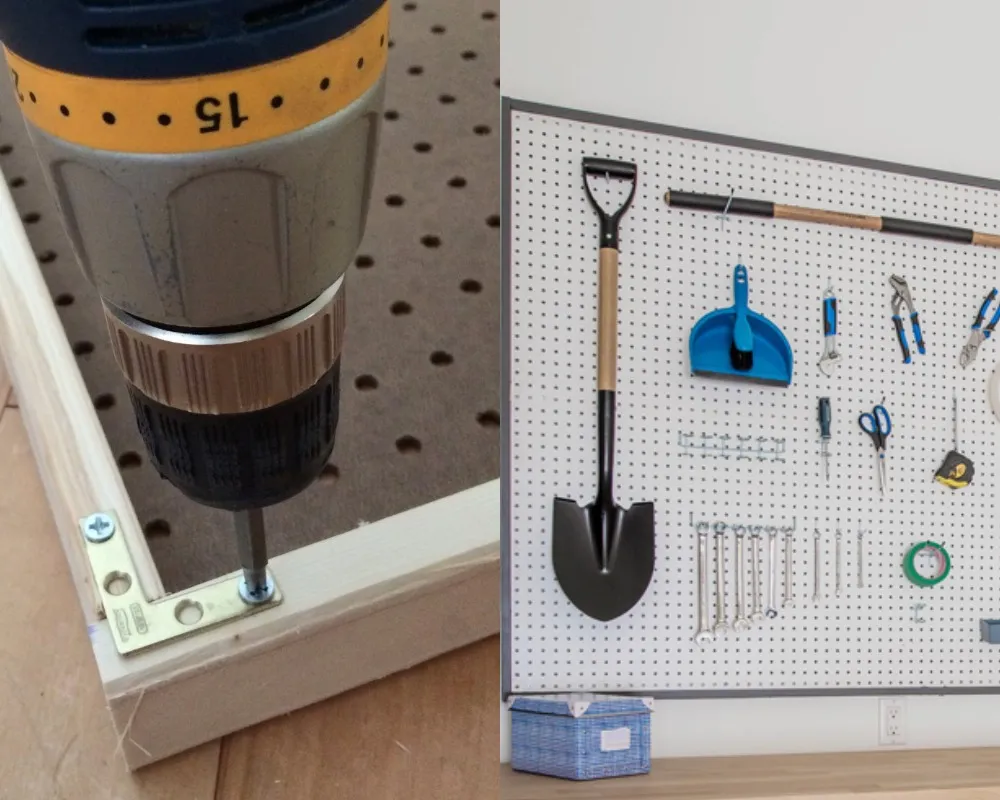 Instead, opt for wall hangers for your tools. Attach little holders to the wall to be able to attach your wrenches, hammers, screwdrivers, shovels, and other stuff.
Reuse Empty Cereal Boxes
If you're looking for a DIY project, plus a way to organize odds and ends, then this is the perfect hack for you. Rather than chucking those empty cereal boxes in the trash, why not upcycle them?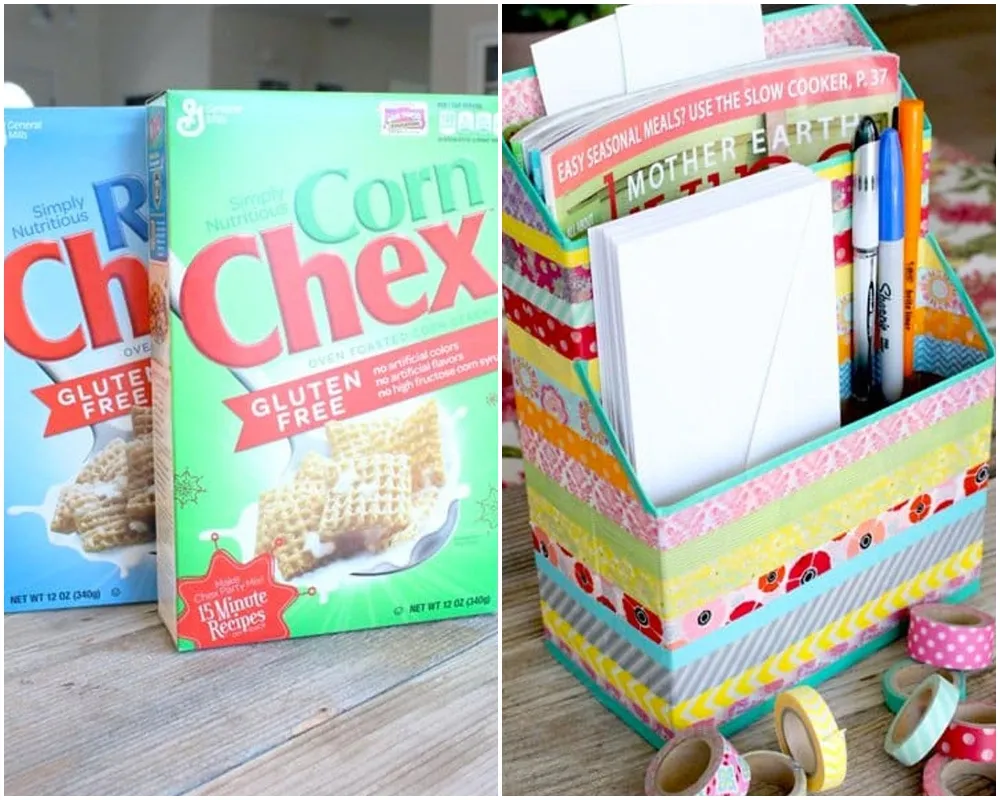 You can transform these boxes into the perfect storage space for magazines and other stationary supplies. In order to reinforce the cardboard, and add an extra flare, you can use washi tape — a decorative adhesive tape.
Hang Your Cleaning Supplies
Cleaning is an inevitable chore that everyone has to do, unless you're someone that enjoys living in your own filth. If you're reading this article, though, chances are that you regularly clean your house.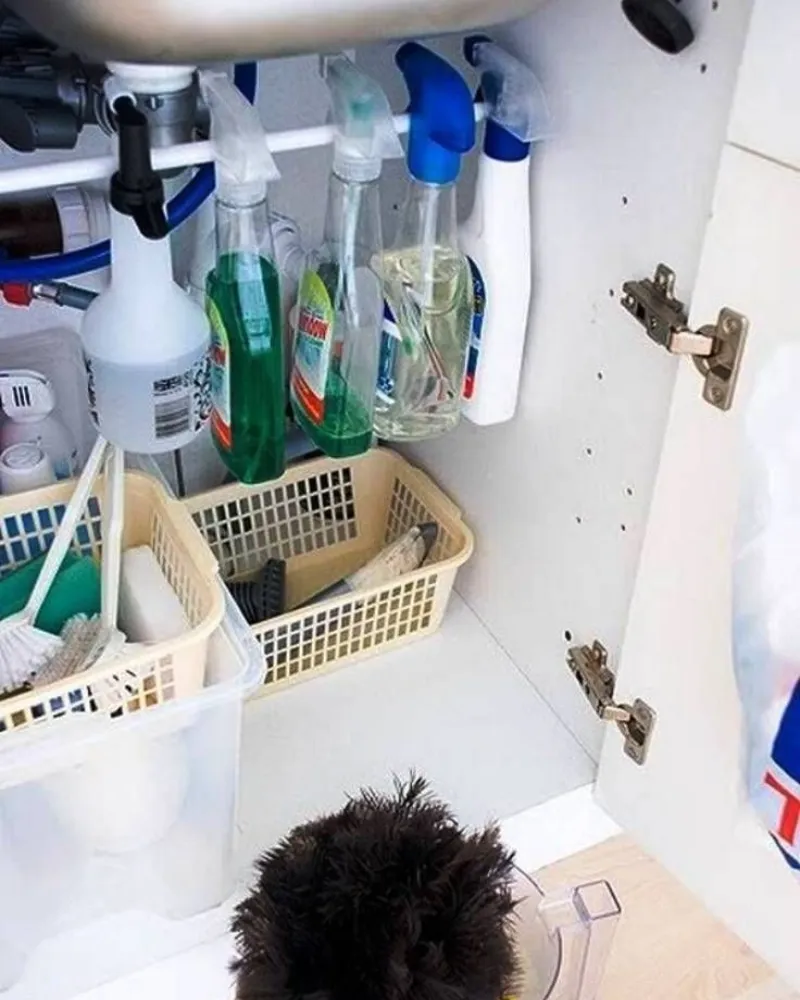 If you're having trouble finding a way to organize all your disinfectant and cleaning sprays, try this hack out. Make the most of your under-sink space by adding an adjustable tension pole. An inexpensive addition, you can now access these sprays and bottles in seconds!
Hang Your Mugs
Don't have enough space in your kitchen to fit everything that you absolutely want to? It may seem overwhelmingly impossible to find a space for all those mugs, but have no fear! We are here to tell you that you have options!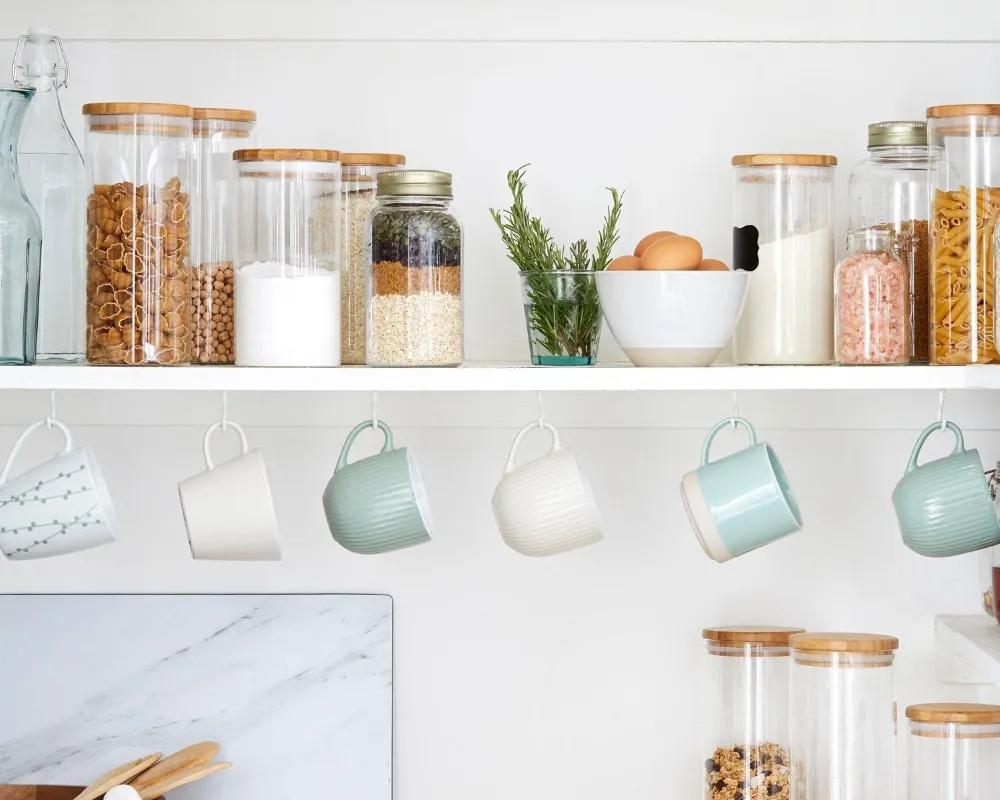 Simply double up on kitchen storage space by screwing unobtrusive hooks onto the underside of wall-mounted shelves. Of course, you don't only have to use these hooks to hang mugs. You can also hang large utensils and other kitchen supplies.
Shower Curtain With Pockets
Finding space in your bathroom for all those toiletries can be a huge hassle. Whether you don't have enough drawers or the cabinet is far too small, it can be a challenge to declutter all those products — until now.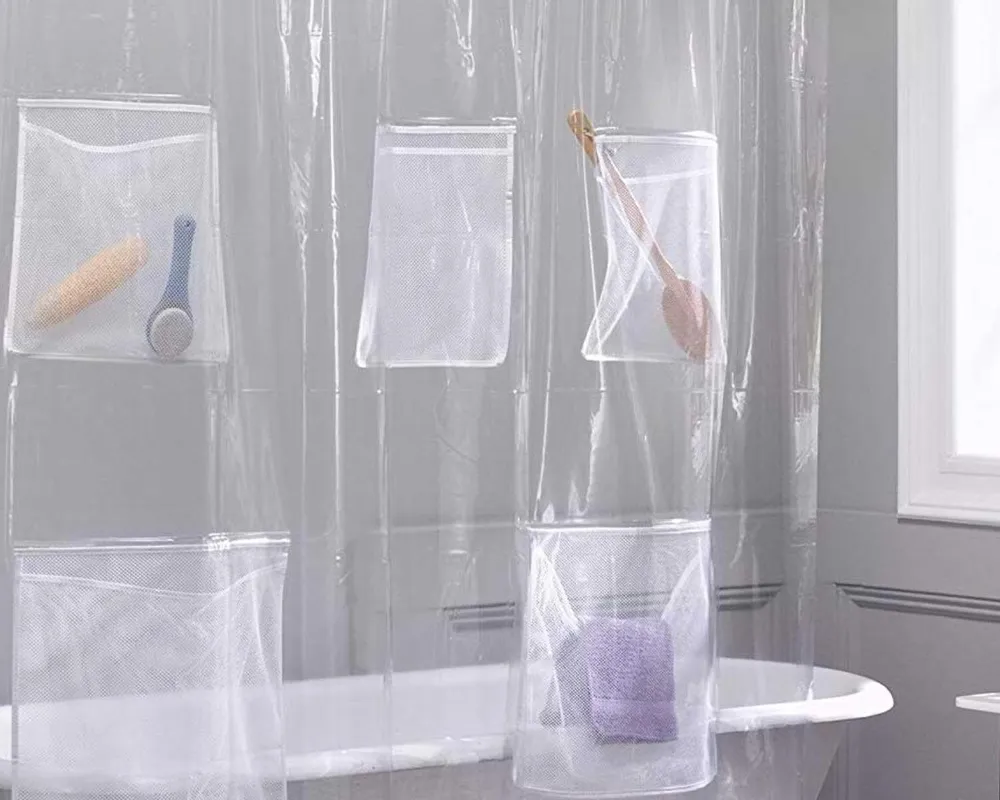 With this shower curtain bathroom hack, you can free up floor and wall space. If you're not keen on buying a new shower curtain, you can also hang a water-proof shoe organizer alongside the curtain or shower door for a DIY version!
Shoe Organizer for Toys
Speaking of shoe organizers, why not try this hack? If you have a young child — or children — running around the house, then there's a good chance your home is filled with an insane amount of toys and stuffed animals.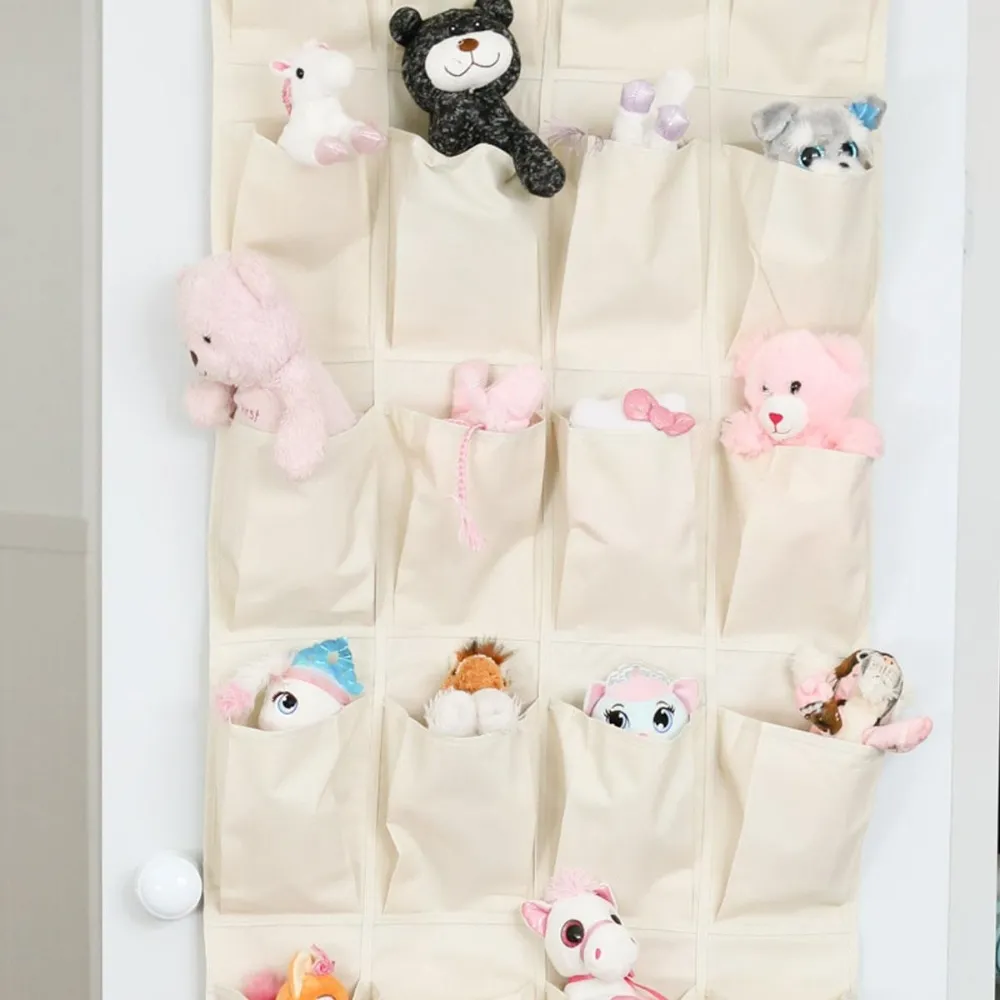 Naturally, finding ways to organize these items can be quite stressful and tiresome. Luckily, though, this space-saving hack will change your life. If you have an empty shoe organizer lying around the house, you can always make use of it by storing all those toys in there!
Store Sheets in Pillowcases
We don't know how we've never thought of this hack, but it's quite useful. If your shelf space is limited and you're looking for ways to make room to fit more, then this may be the perfect solution for you! Bedsheets take up a lot more room than we think.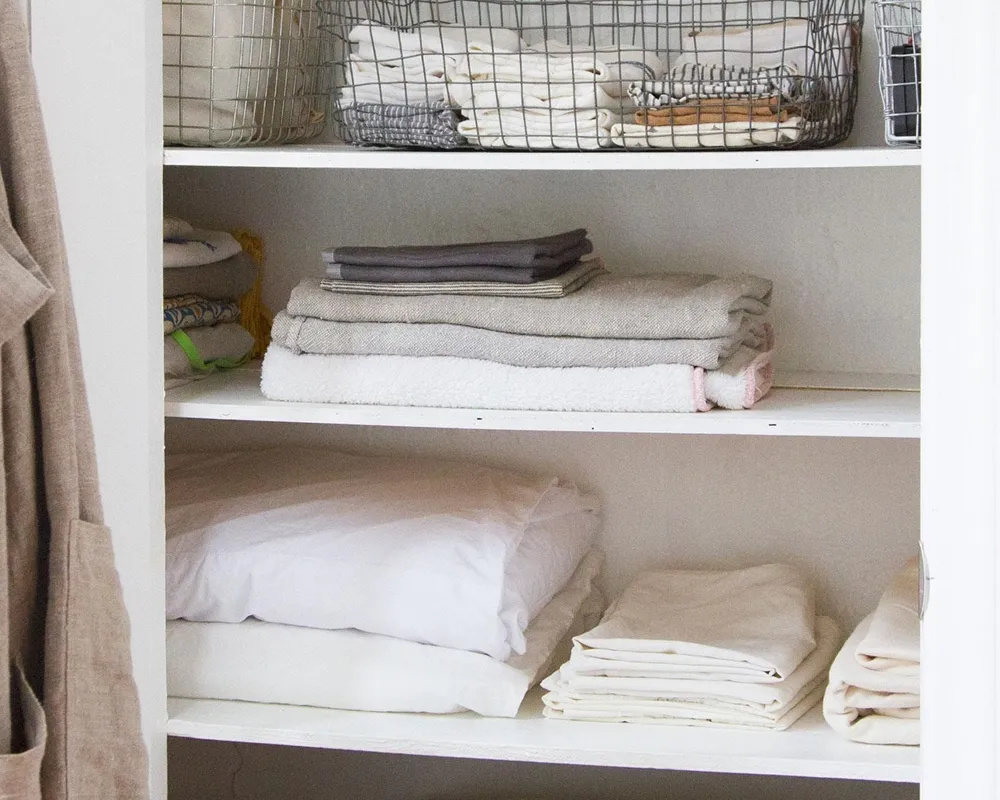 Rather than stacking them up on top of each other, why not try storing those bedsheets in their respective pillowcases? While it's an extremely simple trick, it'll certainly get the job done when it comes to making more space in your home. Plus, you'll no longer have to mix and match different sets of bedsheets!
Make Use of Your Balcony
Do you happen to have a balcony in your home that you're not really making much use of? Well, whether you believe it or not, it can be an instant space-saver!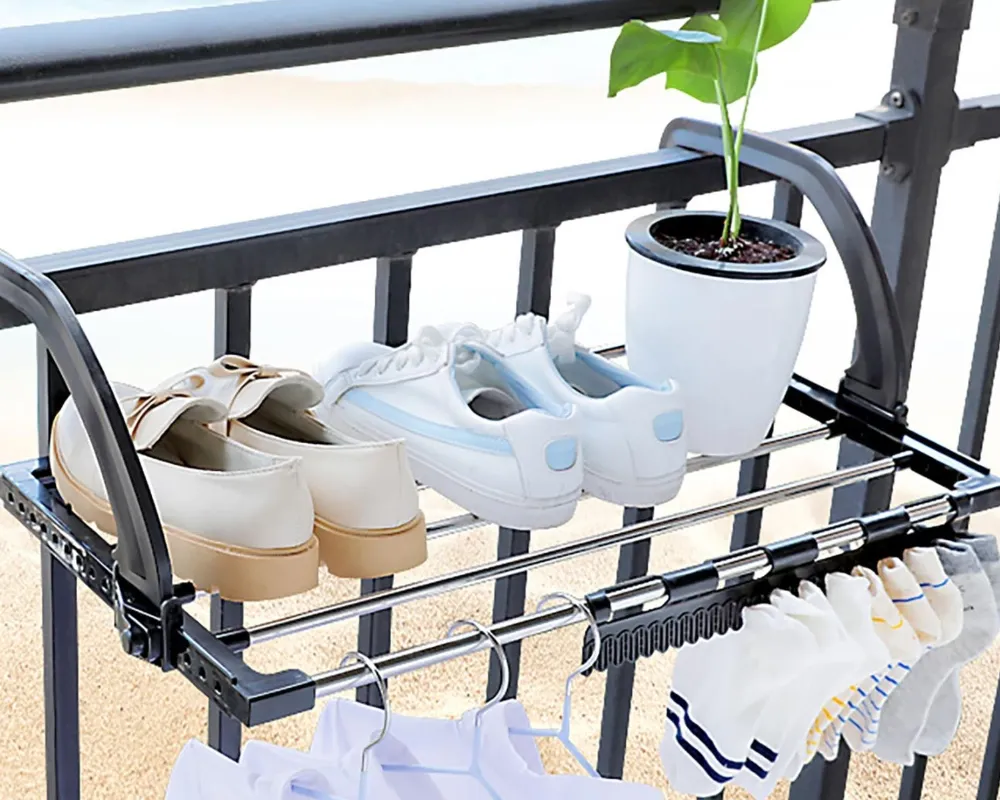 You may need to air out those smelly sneakers or hang out that wet laundry — either way, this extension rack can take care of that, and more! Simply hang it over the balcony railing and voilà! Plus, it folds flat so you can tuck it away when you're not using it!
Ceiling Storage
At this point in the article, we can all agree that finding space in your home to store all those belongings can be quite challenging — that is unless you think outside of the box. Just look up, and you might just discover a whole new world of storage space.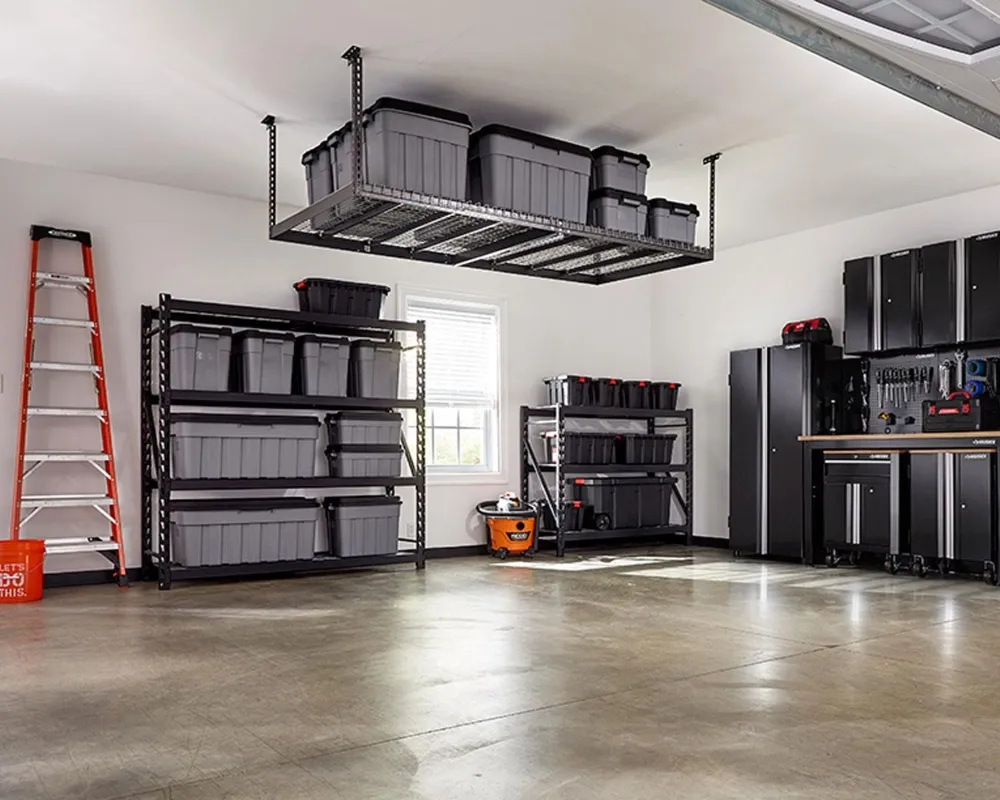 Making use of ceiling space is way too underrated, and we're here to change that! All those storage boxes of miscellaneous items that are lying around in your garage can be attached to the ceiling, which then will free up a ton of floor space.
Vertical Shelves
This hack — vertical shelving — may seem quite simple but sometimes, simplicity is the key. Make the most of your small kitchen space by turning cupboard storage on its head, literally.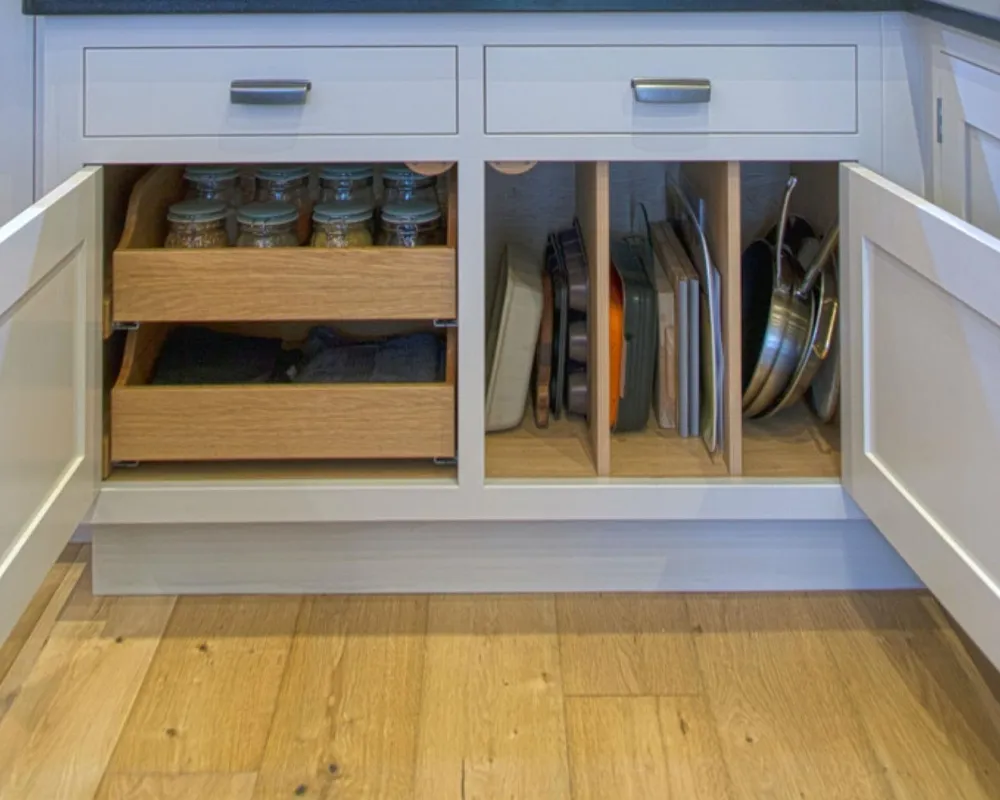 By switching it up and creating vertical shelving for all those utensils that you have lying around, you can fit so much more into your cupboard. You'd actually be surprised by just how much you can fit into this space! It's perfect for stacking platters, chopping boards, or even frying pans!
Attach Lids Inside Cupboard Doors
Do you find that those pan lids of yours are taking up far too much unnecessary space? Rather than setting aside a whole cabinet or drawer just for lids alone, why not try this easy and inexpensive — yet functional — hack?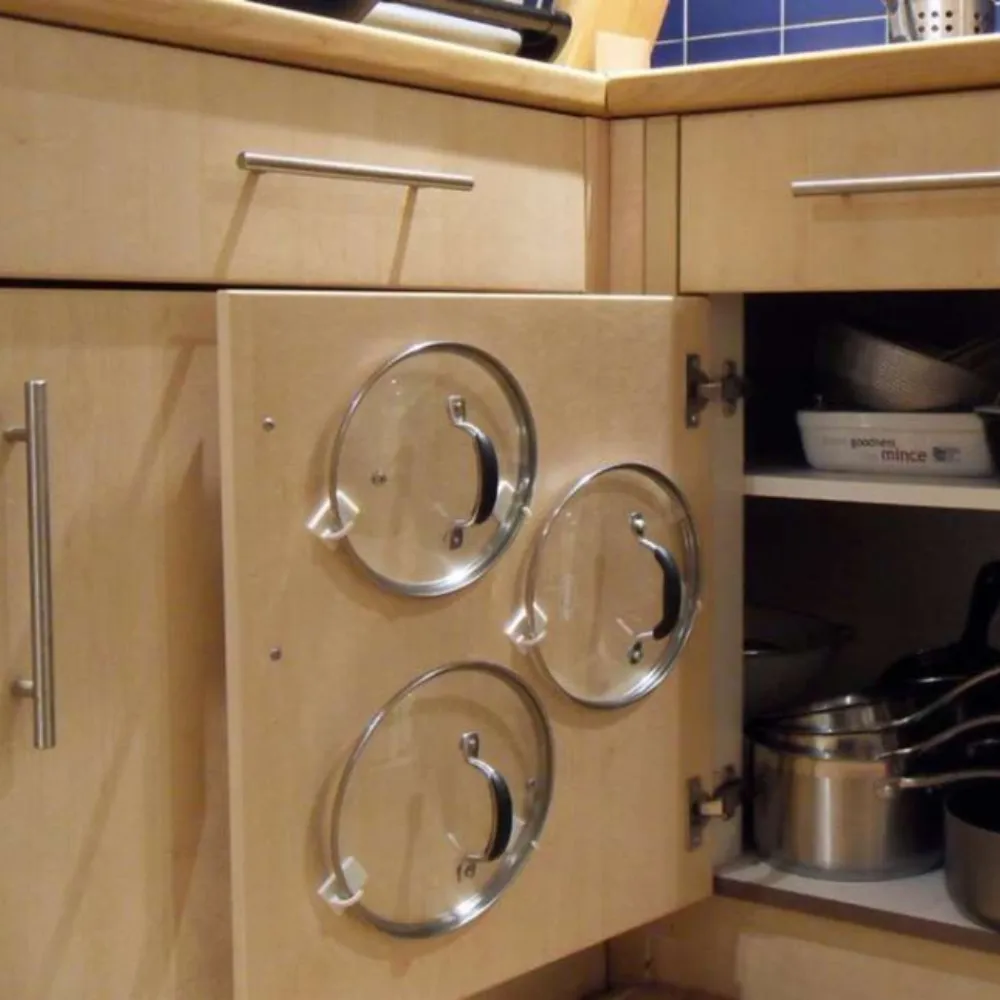 By attaching a few stick-on hooks to the inside of those kitchen cupboard doors and hanging the pan lids on them, you can free up loads and loads of space for almost nothing!
Magnetic Knife Holder
This hack is absolutely genius! Keeping knives in a pot or a container can sometimes ruin their sharpness. Also, knives are rather hard to arrange. By attaching a magnet to your wall and then sticking the knives to the magnet, you can save a lot of space on your kitchen cabinets and your kitchen counter.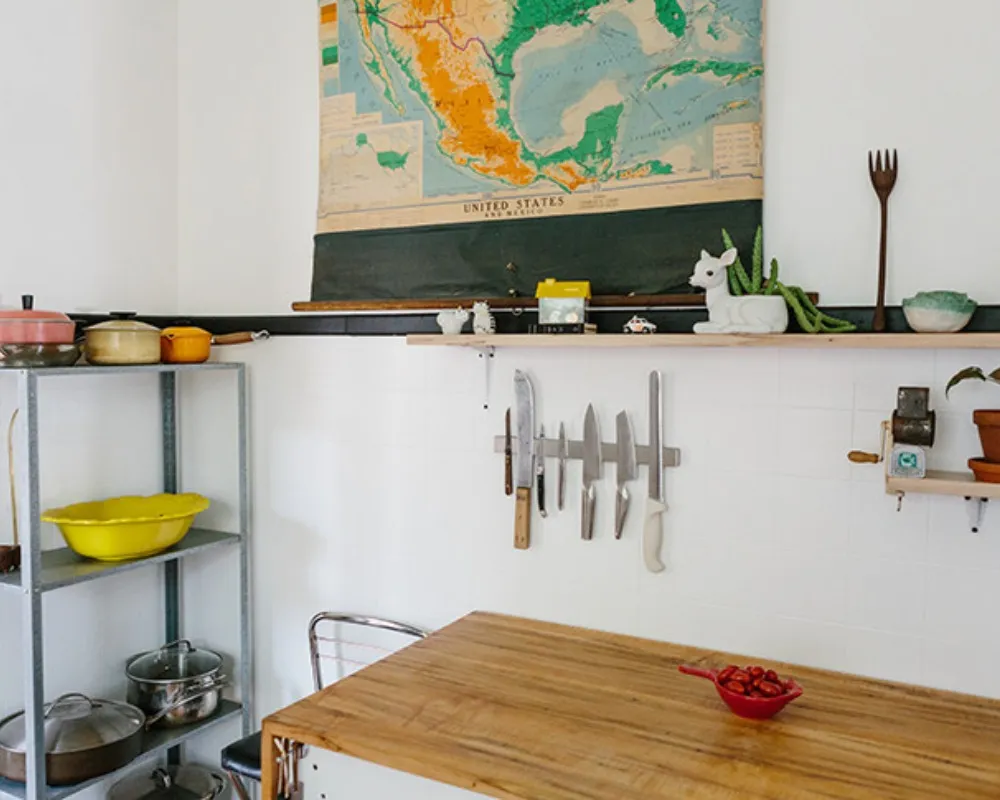 On top of that, grabbing the knives from the wall is much more convenient than finding the right knife from the containers or shelves.
Door Coat Hanger
Along with your cupboard, how about you attach a coat hanger to your room door. It's super easy and convenient. Make sure there is still enough space to open the door properly after hanging the coats and jackets.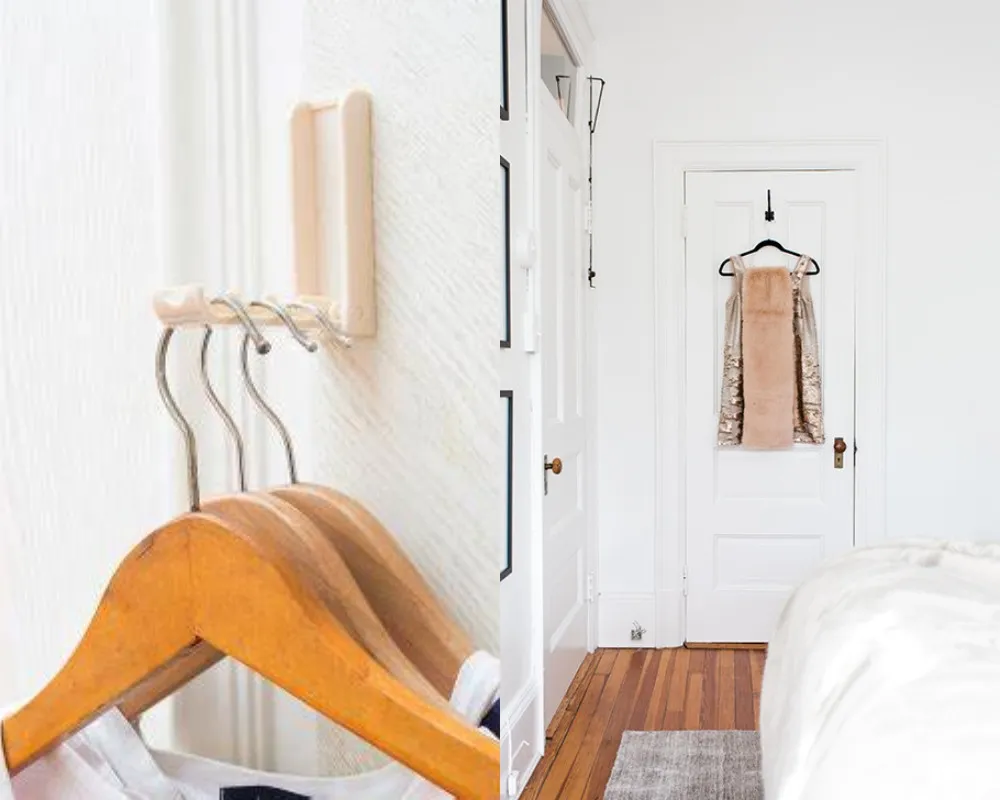 This is convenient because now you can come back home, take off your coats, close the door, and hang it right there on the door. It's as simple as it gets. You don't even have to bother opening your closet.
Shoe Canned Compartments
This shoe rack hack can make organizing shoes and sandals much easier. These can compartments can accommodate a pair of shoes easily. You can attach these cans inside your shoe shelves and put your shoes there.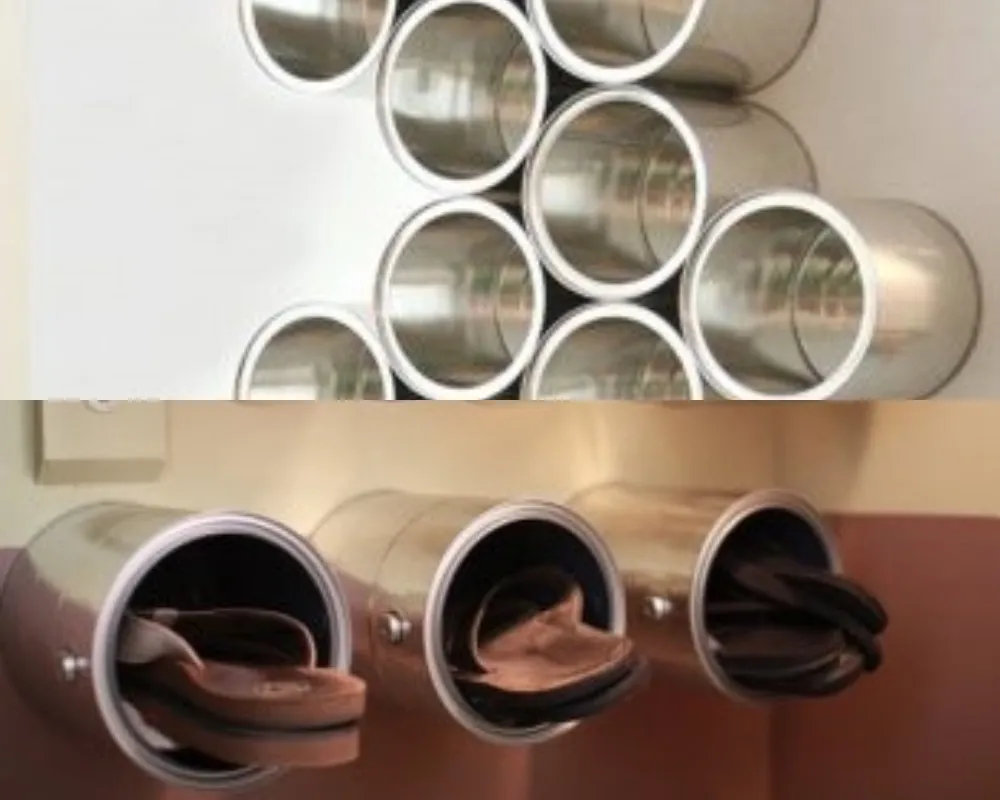 You will be able to store twice as many shoes on that shelf than you typically would have. This is indeed a genius hack! Use this trick and arrange your shoes in a more organized manner.
Storage Bench
Similar to the folder cabinet cum bench, this one is a shoe shelf cum bench. Having a comfy bench where you can sit and also store your favorite shoes is one of the best furniture combinations you will come across.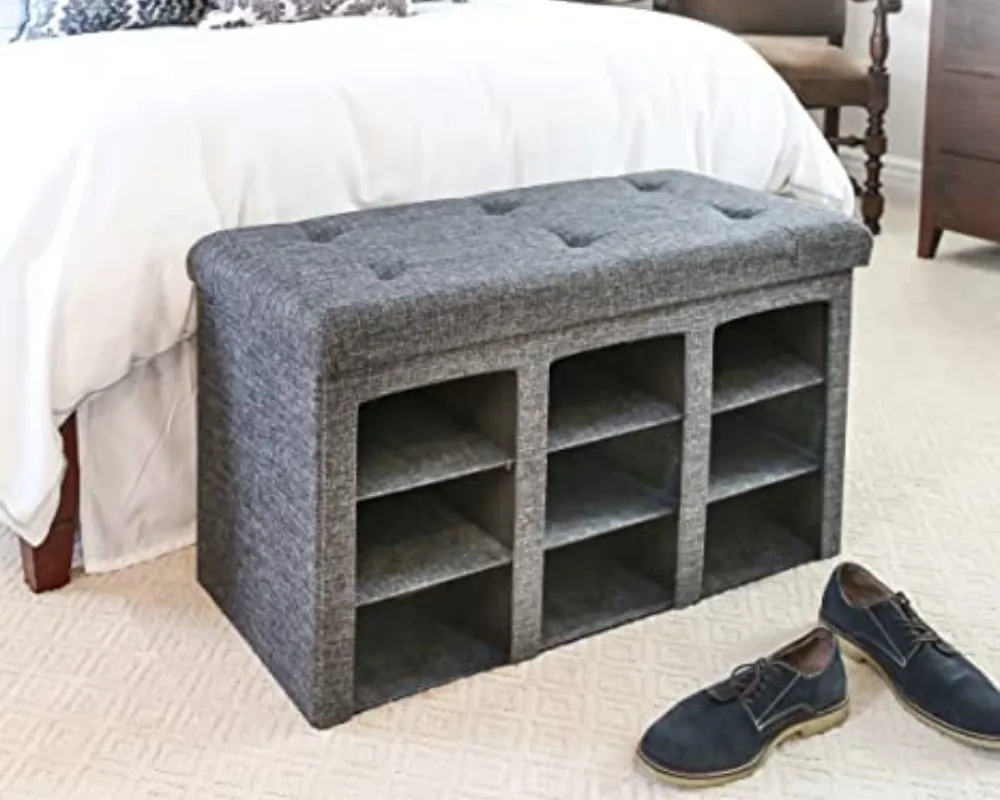 This makes wearing and taking off shoes more convenient and it looks absolutely beautiful. Why not use this furniture hack for your house? Trust us, you will fall in love with how seamless this is.
Hidden Headboard Storages
Love to read books before bed but short on space? Hidden headboard cum shelves might be just for you. These are shelved headboards attached to the bed. You can keep books in the small spaces to grab when you're lying on your bed.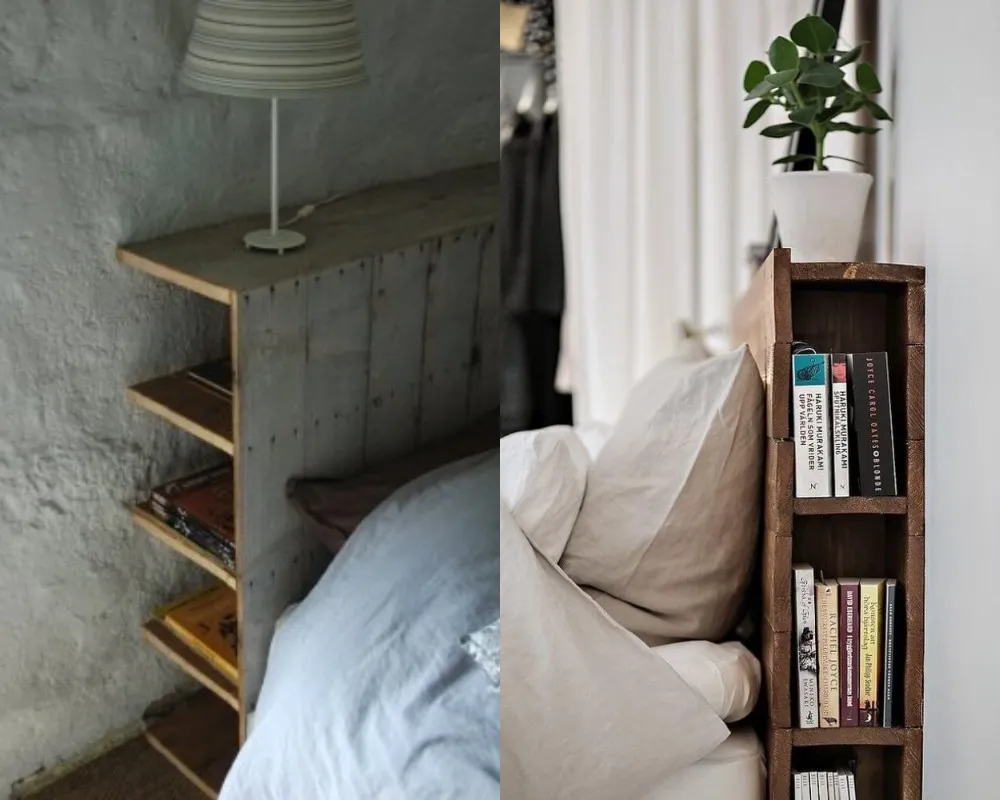 It's a great way to save space that may have been grossly taken up by a whole bookshelf. These headboards are usually made of dark wood and look very elegant.