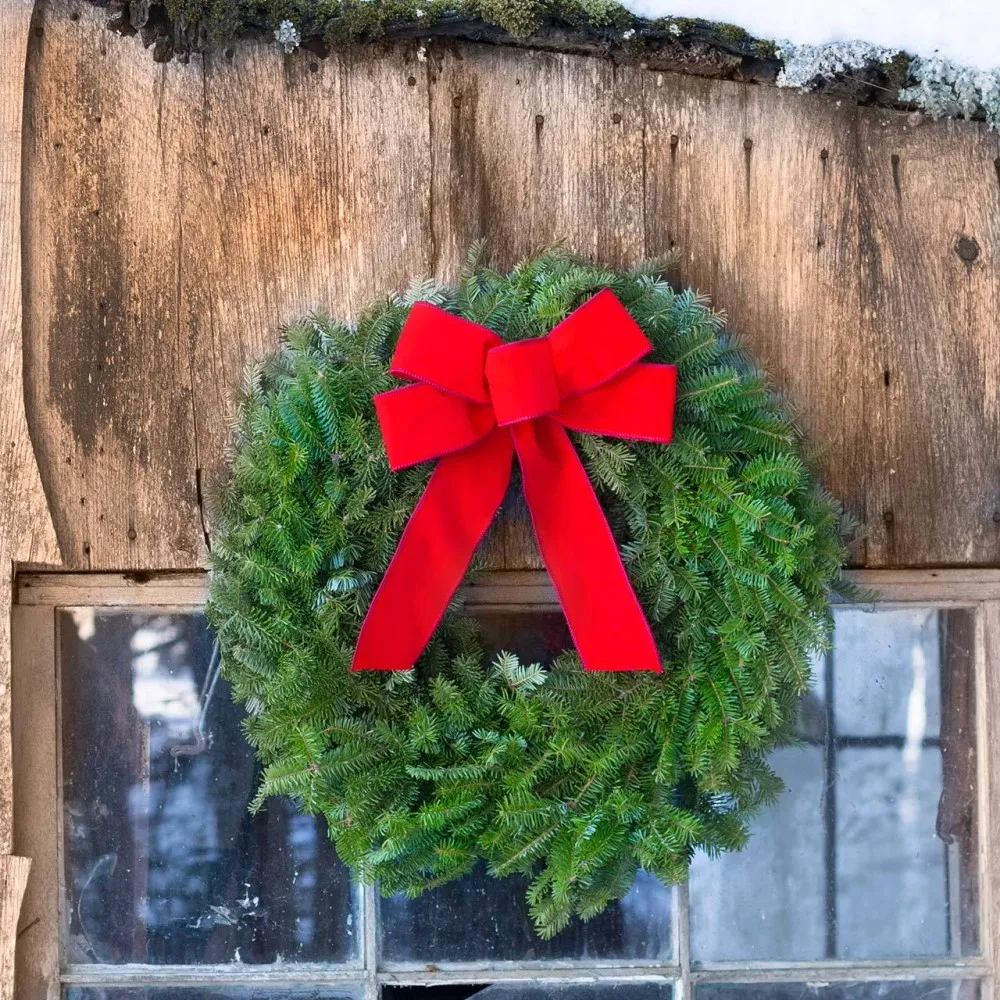 Since it's now officially the holiday and festival season, there are numerous preparations to make. Christmas is the most anticipated occasion of the year, and so it's important to make it exceptional. However, a low budget or imperfect decor can ruin the enjoyment. Therefore, we must use our creativity to find solutions to make the best of the situation.
Lamps of Many Sizes
The centerpiece of Christmas day is undoubtedly the Christmas tree. While some may argue that the enticing aroma of food and the gift exchanges hold significance, the tree remains the primary focus that will capture your attention throughout the day.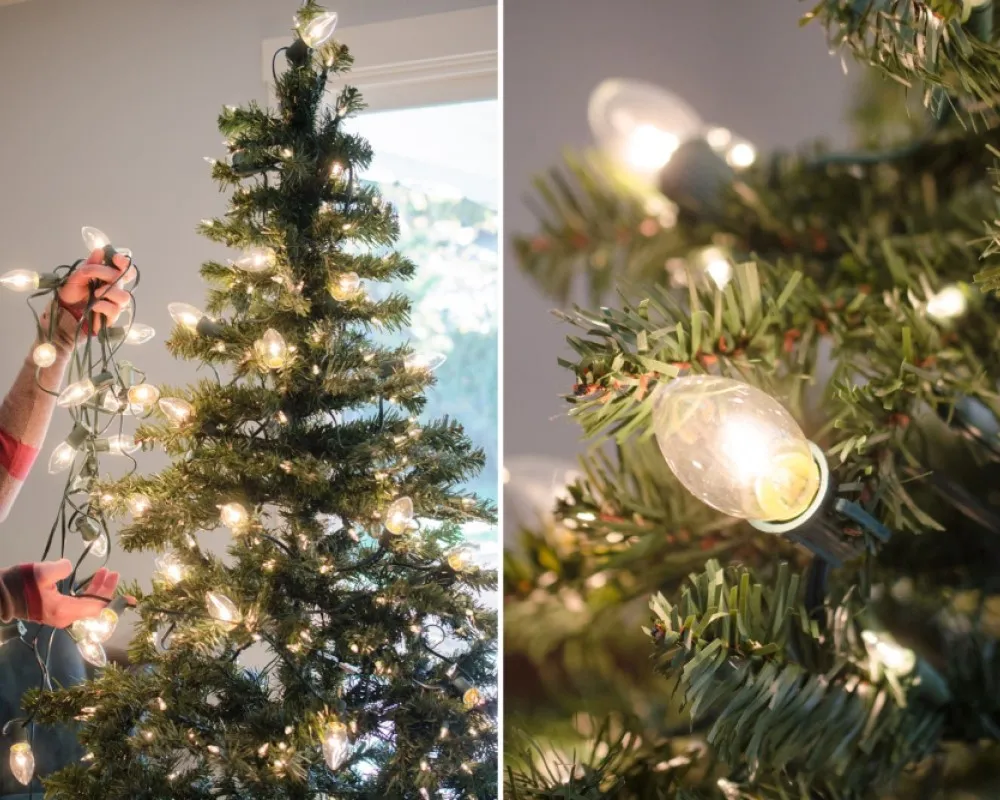 There are numerous distinct ornaments available that can be used to decorate your beloved tree, as well as some useful tips! One good suggestion would be to suspend two sets of fairy lights with varying sizes of lamps in order to illuminate every corner of the tree.
Instant Gift Wrapping
It's perfectly fine to acknowledge that a lot of us have, on occasion, completely overlooked Christmas shopping. It's reasonable, given the amount of planning involved; we won't judge you if you forget to purchase presents for your nearest and dearest.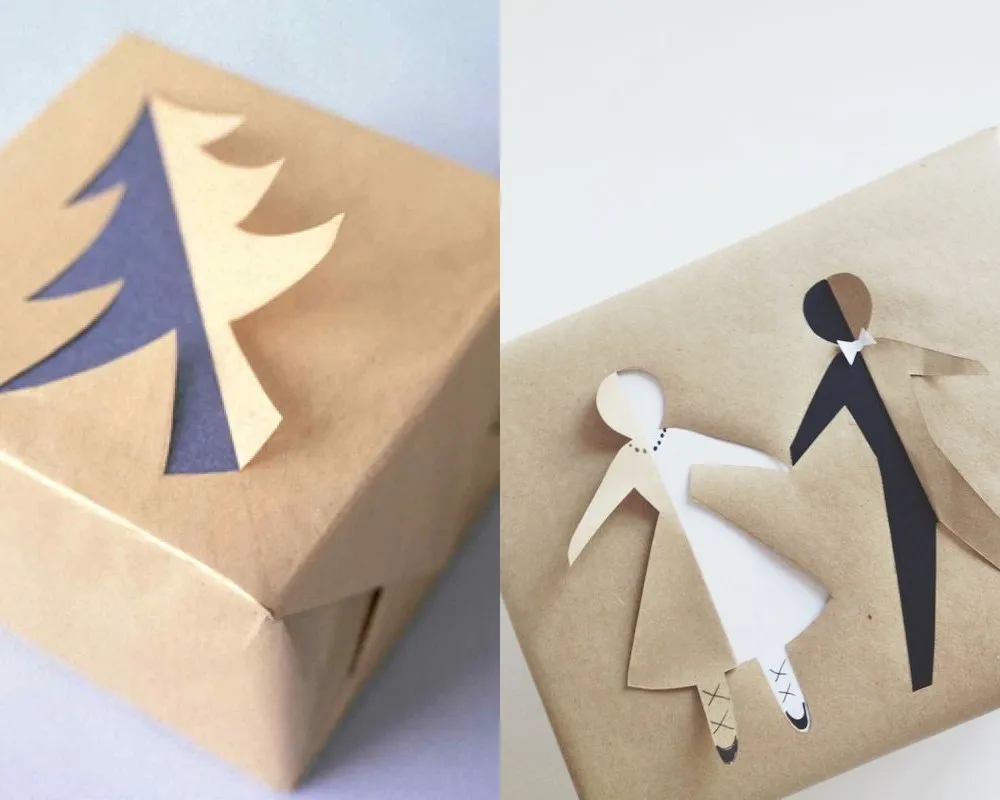 Wrapping gifts can be quite challenging, especially when you have limited time, and lack the skills of a professional. In case you do not have impressive wrapping material to conceal your mediocre skills, you may try a simple hack. Just use ordinary wrapping paper and cut out half of a Christmas tree shape on it, and then fold it outwards to cover the gift.
Making Decorative Snowflakes
Creating paper snowflakes is a widespread and time-honored decoration technique. They are not only ideal for the theme, but they are also incredibly simple to produce. Instead of the same old paper snowflakes, why not experiment with crafting decorative ones from adhesive material?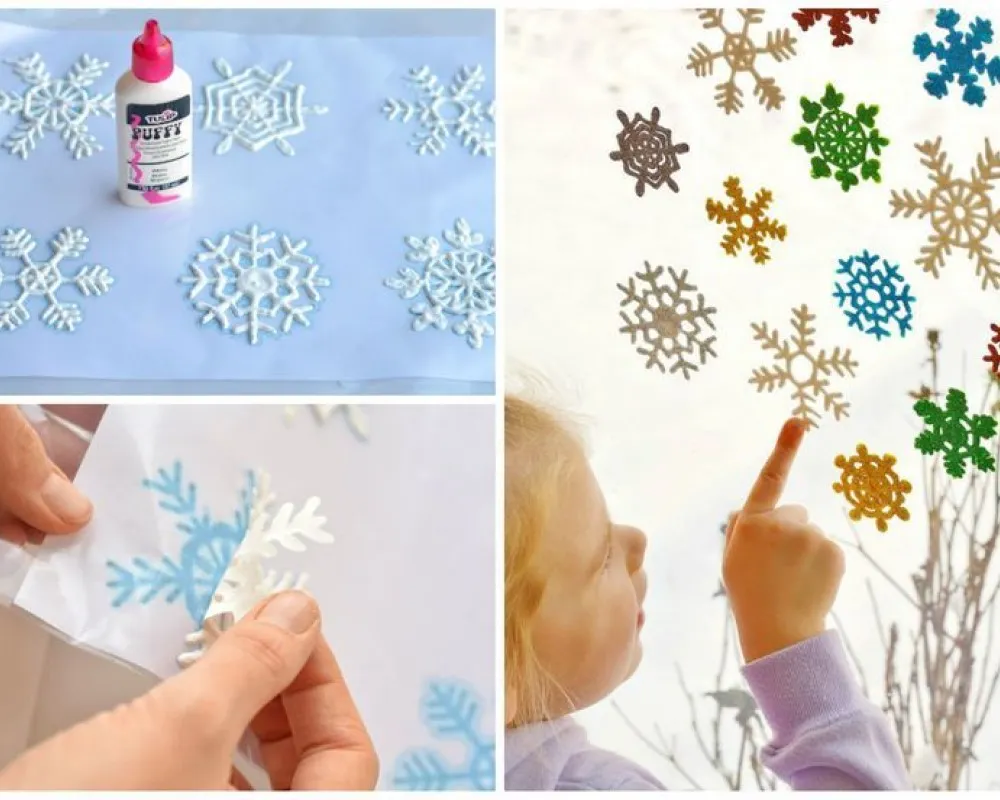 This DIY idea allows for some artistic liberty, as you can play around with the shape, details, and color to make it your own. Additionally, if there are children involved, they are sure to be highly entertained and stimulated by this fun activity that encourages imagination.
Using Leftover Wrapping Paper
Oh, the person who has a lot of extra wrapping paper. It's common to go overboard with buying wrapping paper if you're unsure of how much is needed. As a result, many individuals end up with a surplus of wrapping paper once they finish wrapping their gifts.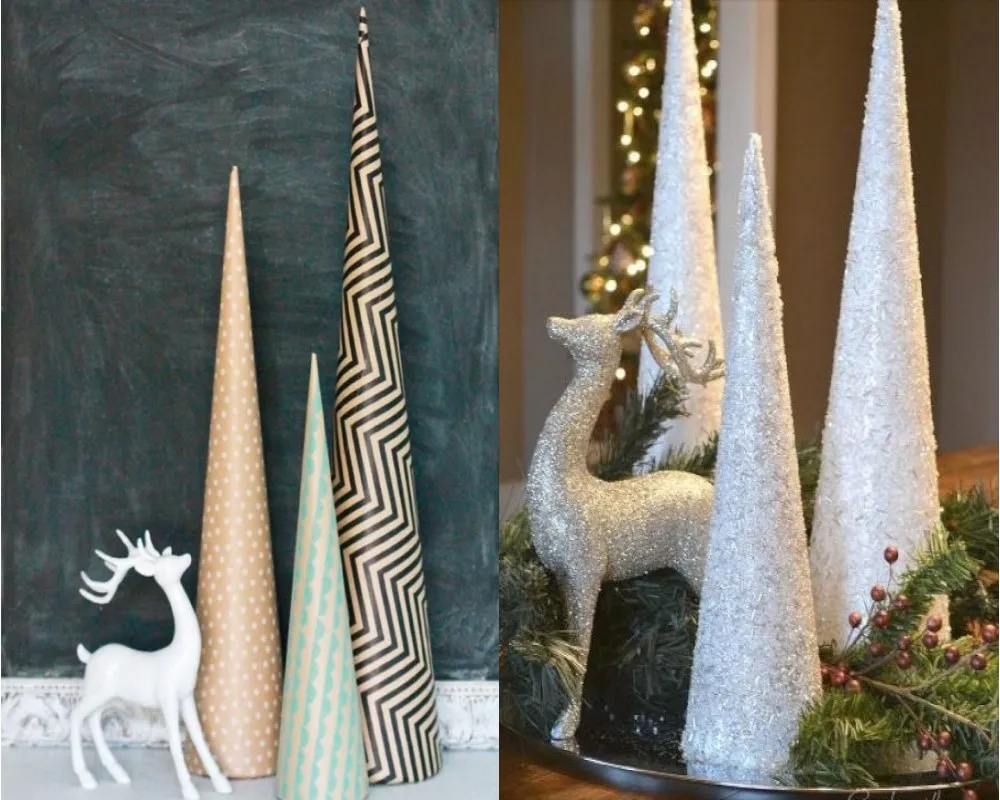 It is definitely possible to unleash your creativity and bring a touch of elegance to your wrapping paper by utilizing some simple steps to create cone-shaped trees which can serve as excellent abstract decorations in any location. Follow the instructions provided here to learn how to make them.
The Right Way
A lot of individuals avoid putting up wall decorations altogether because they're afraid of damaging their costly wallpaper or causing pieces of paint to come off when the decorations are removed.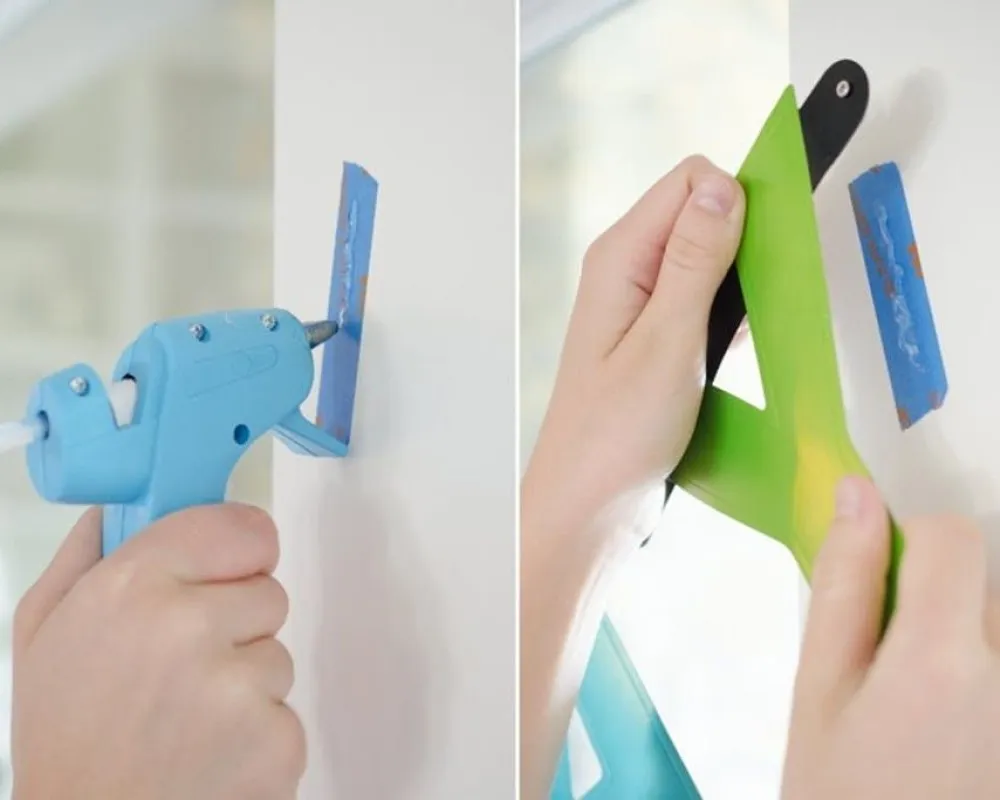 For a while, we had trouble deciding whether or not to sacrifice our decorations, but we have discovered a clever solution. To avoid any damage to our wallpaper, we now affix a piece of sticky tape to the wall before adding the paper decor and apply some glue onto it. This hack enables us to preserve the decor without harming the wallpaper.
Concealing the Base
Some people are not interested in having a real Christmas tree as a part of their decoration. This could be due to environmental reasons or because they do not want to deal with tree needles in their living room. Nevertheless, opting for an artificial tree that looks just as nice is always an option.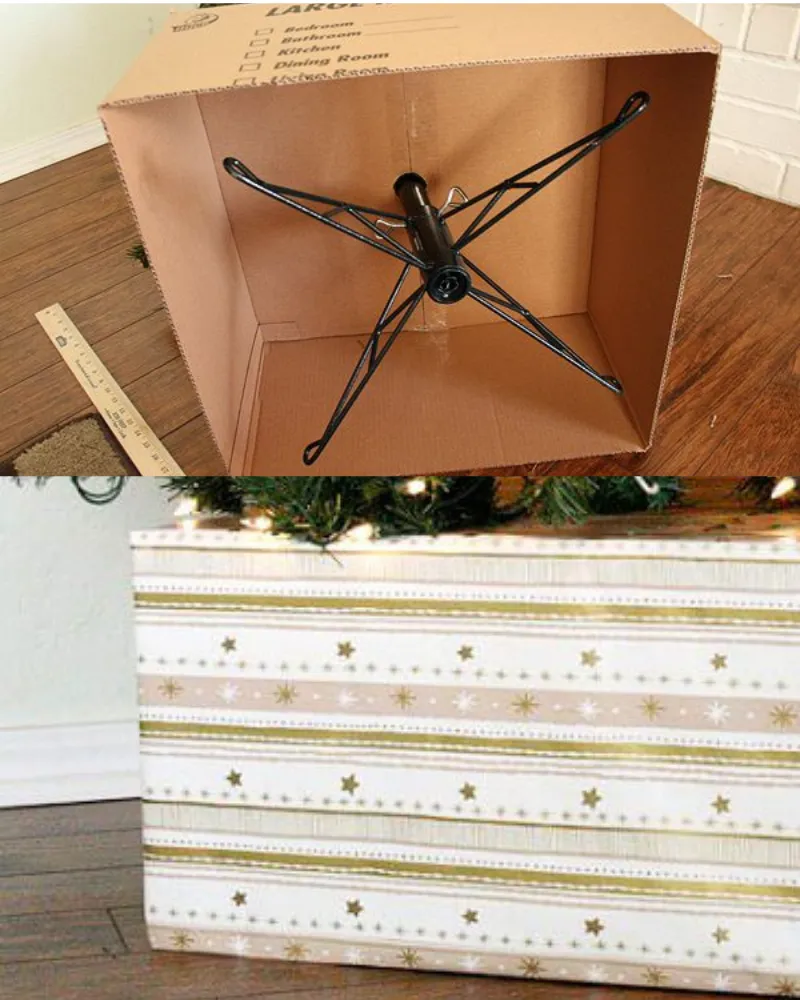 The sole concern could be the slim vertical prop in the center which can be a little bit of a distraction. To cover it up, you can place the tree within an elegant cardboard box. This will add two points for its appearance and five points for the uniqueness.
Dinner Sets in Festive Mood
Do you think you don't have any crockery that's suitable for Christmas? You actually do, you just need to search for it in the right place. Christmas is all about adding a touch of magic to everything, so why not try decorating the old, neglected glasses that have been stored away in your cabinet for a long time?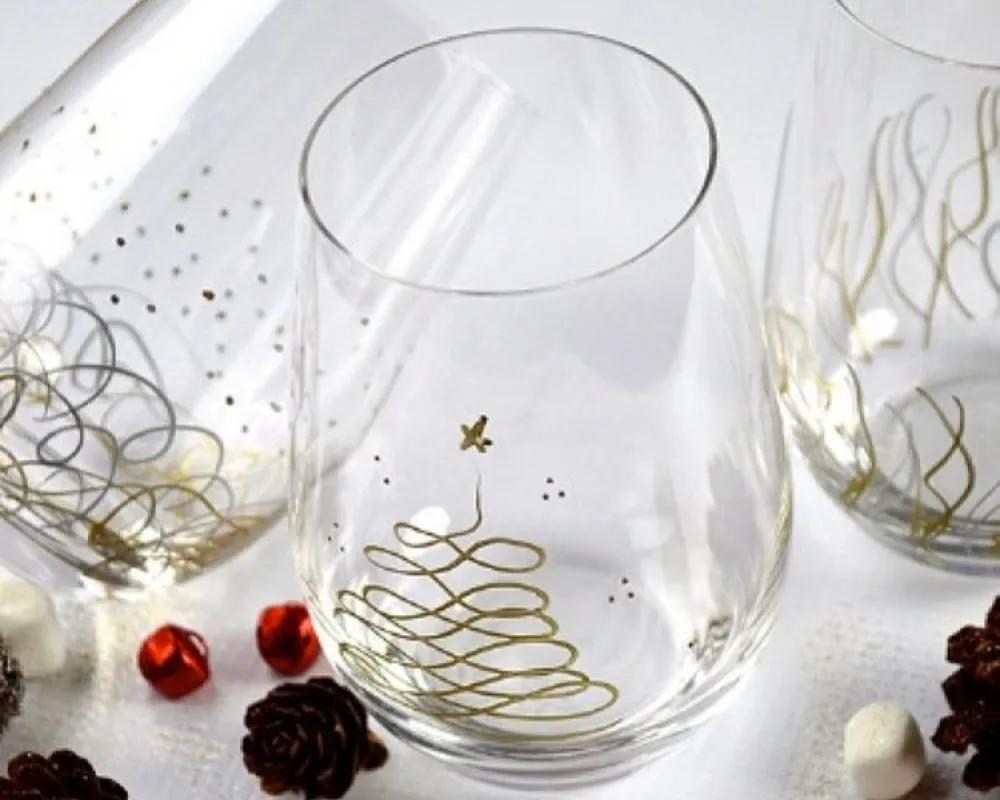 By utilizing a few specialized markers and having some fundamental craft expertise, you could adorn your glasses with a festive flair that everyone will adore! Opt for a Sharpie to garnish the glasses and make them more vibrant for the dining area.
The Skirt
It is common for us to place tree skirts beneath our Christmas trees due to their practicality and snugness; they also prevent Christmas ornaments and needles from cluttering your floor. However, you don't necessarily have to purchase a tree skirt as there might be something suitable already available in your home.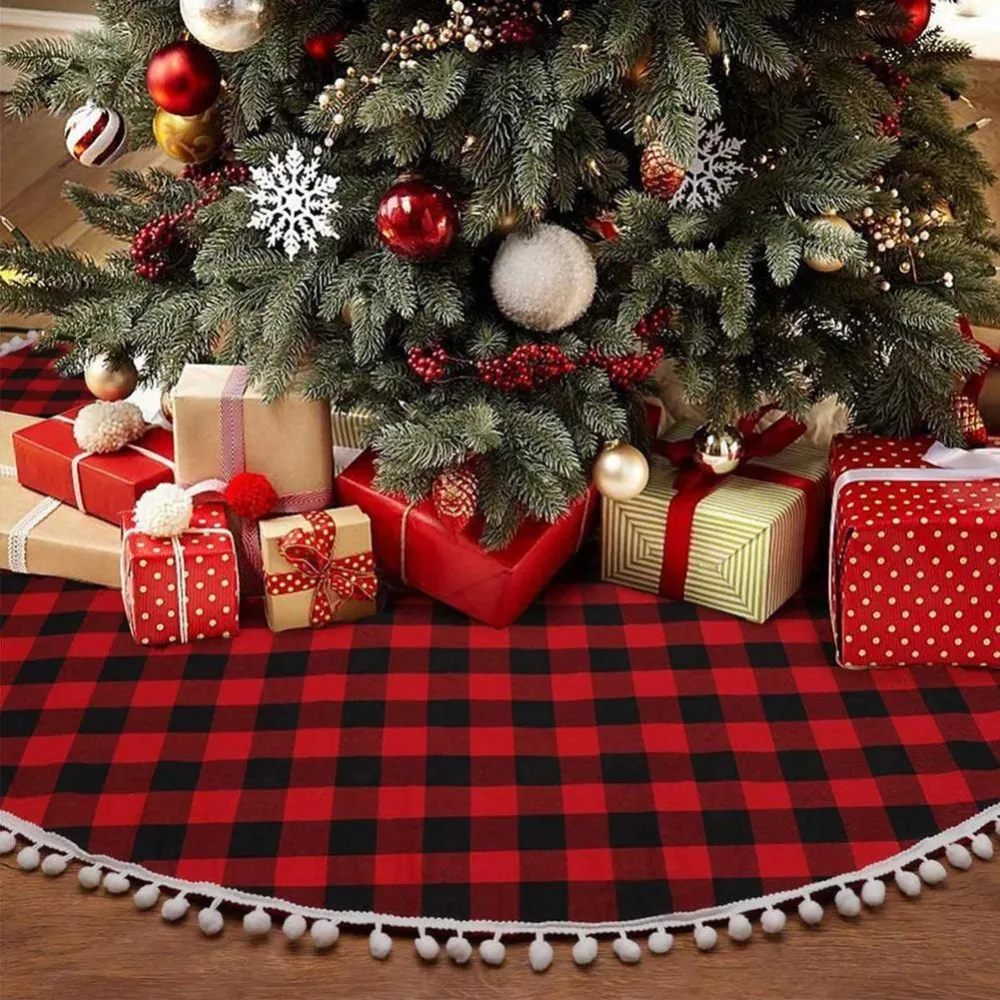 Consider searching through your wardrobe! An elegant circle skirt can serve as an excellent covering for the base of your Christmas tree (it is designed with a hole in the center). You may need to include an extra blanket to make it fluffier. However, if the purpose is solely for decoration, no additional addition is required.
Fairy Lights Turbulence
Hanging fairy lights serves the purpose of attracting attention to the soft and luminous lights that illuminate the night, but this objective is ruined when the green power cable disrupts the display by extending across the area to connect to the electrical socket.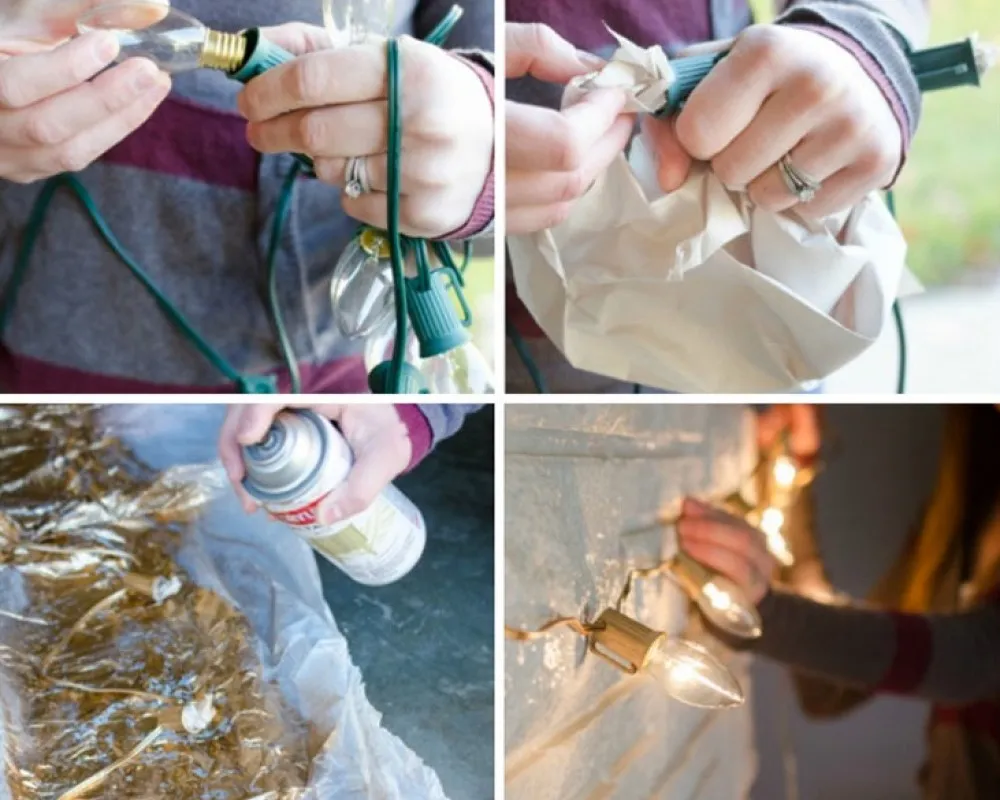 To prevent drawing unnecessary attention, it is recommended to conceal it behind the Christmas tree. If that is not feasible, you may use gold spray paint to integrate the cable into the decorations. This way, nobody will be able to notice it!
Salt Dough Ornaments
You don't have to spend a lot of money on craft supplies for your Christmas decorations. Instead, you can create your own ornaments with materials you already have. This DIY project is perfect for children and the end result is very fulfilling.

Consider creating decorations using salt dough which has a texture comparable to clay and is hassle-free to handle. To make things easy for you, here is a recipe for preparing white salt dough.
Environment Friendly Bows
You don't need to spend a lot to decorate for Christmas and we want to remind you of that! Even if you can't afford expensive decorations like wreaths and bows from the store, you can easily make your own. It's affordable and can be adapted for different seasons by changing the decorations.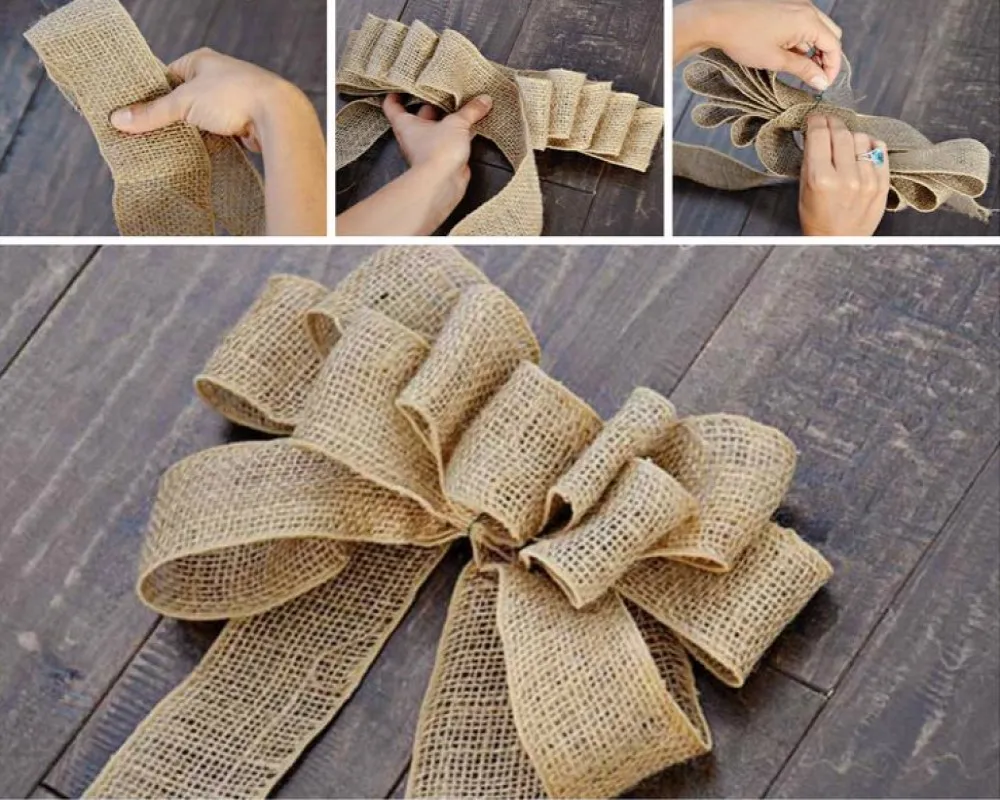 We stumbled upon a remarkably effective DIY trick for creating a bow by utilizing strips of jute. This ornamentation adds a cozy and countryside ambiance to your house, much like the lovely homes found in the prairie.
Reflect, Shine, and Shimmer
When it comes to enhancing your Christmas tree decorations creatively, consider incorporating reflective elements onto the tree. By doing so, it will create the optical illusion of a brighter tree, making the fairy lights even more captivating.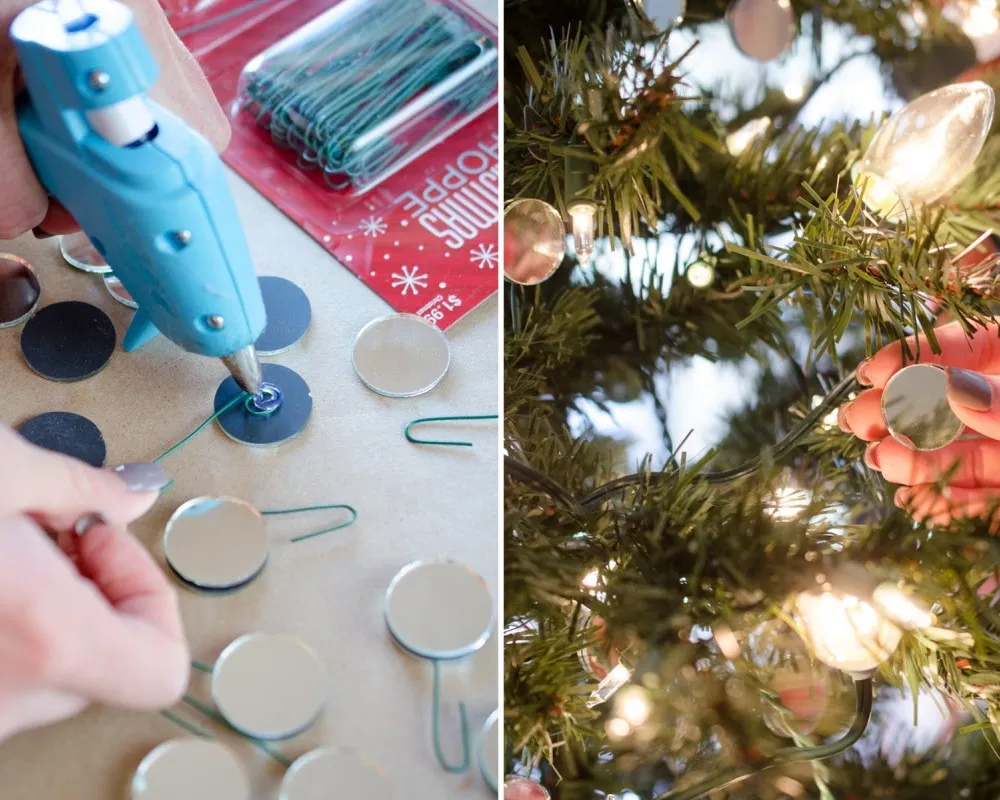 Consider this hack if you're looking for a tree that catches everyone's attention as they enter the house (not in a literal sense, of course). Try out different shapes of mirrors to discover what appears most pleasing.
Mini Christmas Tree
Depending on one's personal preference, Christmas trees can be enjoyable, stylish, or even extravagant. Nevertheless, even if you decorate a small Christmas tree in any way possible, it will always remain cute. Are you one of those people who are extremely thrilled about Christmas and wish to showcase their festive cheer?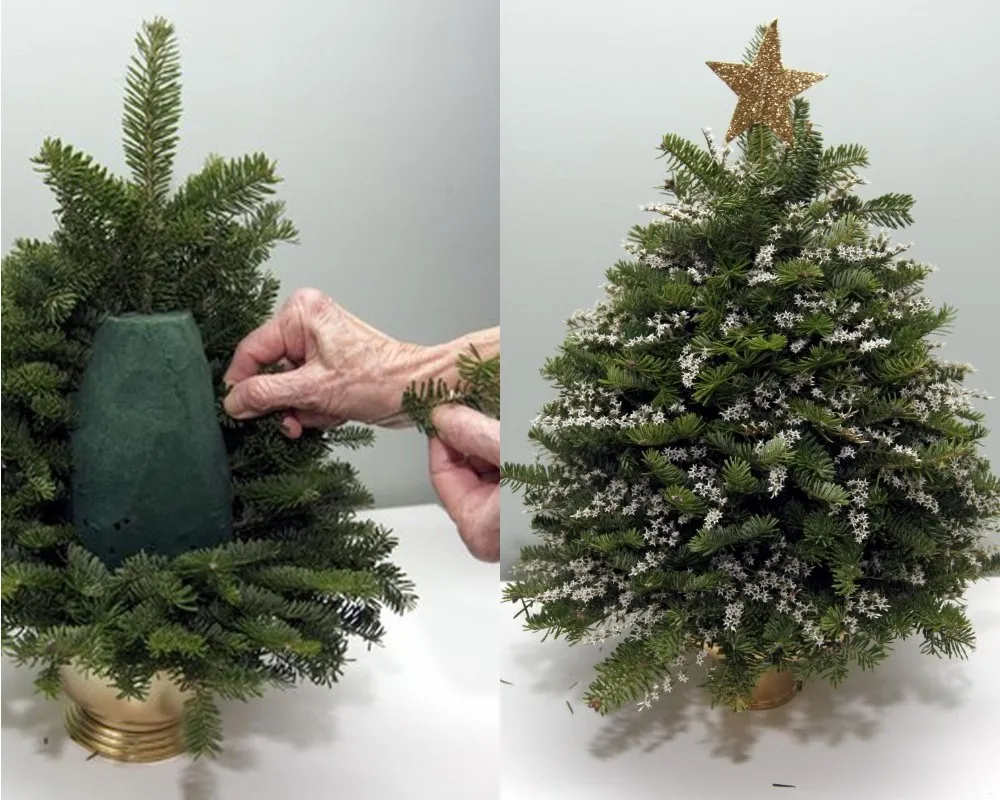 Having a big tree is insufficient, it would be better to have a small one for your desk. All you have to do is take a few branches from a fig tree and put them tidily in a vase. This will give you your own mini Christmas tree to decorate.
Hang the Wreath
Wreaths are an essential part of Christmas, and they can vary from fresh ones made from trimmed foliage to synthetic ones that can be reused. Almost every household decorates their door with a wreath before the arrival of the big day.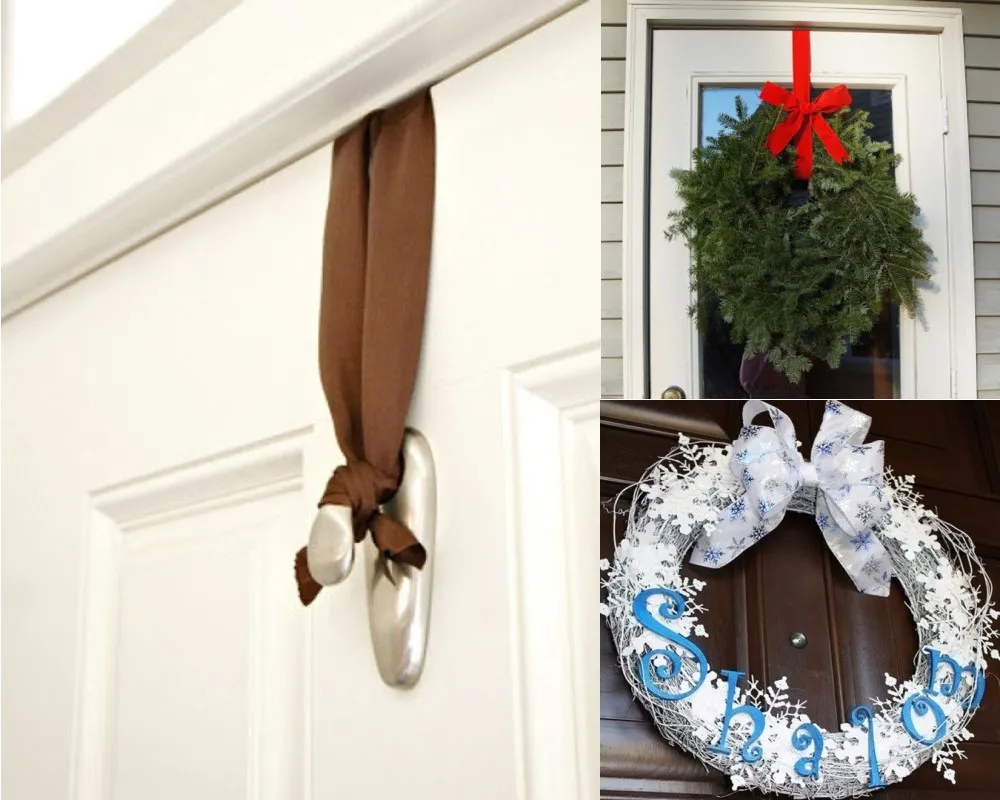 If your door does not have a hook, hanging wreaths can become troublesome. It's not reasonable to think that you should put a screw in your door for this purpose. Instead, you can use a command hook and place it upside-down on the back of the door to hang your wreath conveniently and flawlessly each time.
Clever Candle Trick
Candles can provide a cozy and charming ambiance to your home, however, high-quality ones can be quite expensive. In addition, uneven melting can cause them to become unstable and difficult to position properly.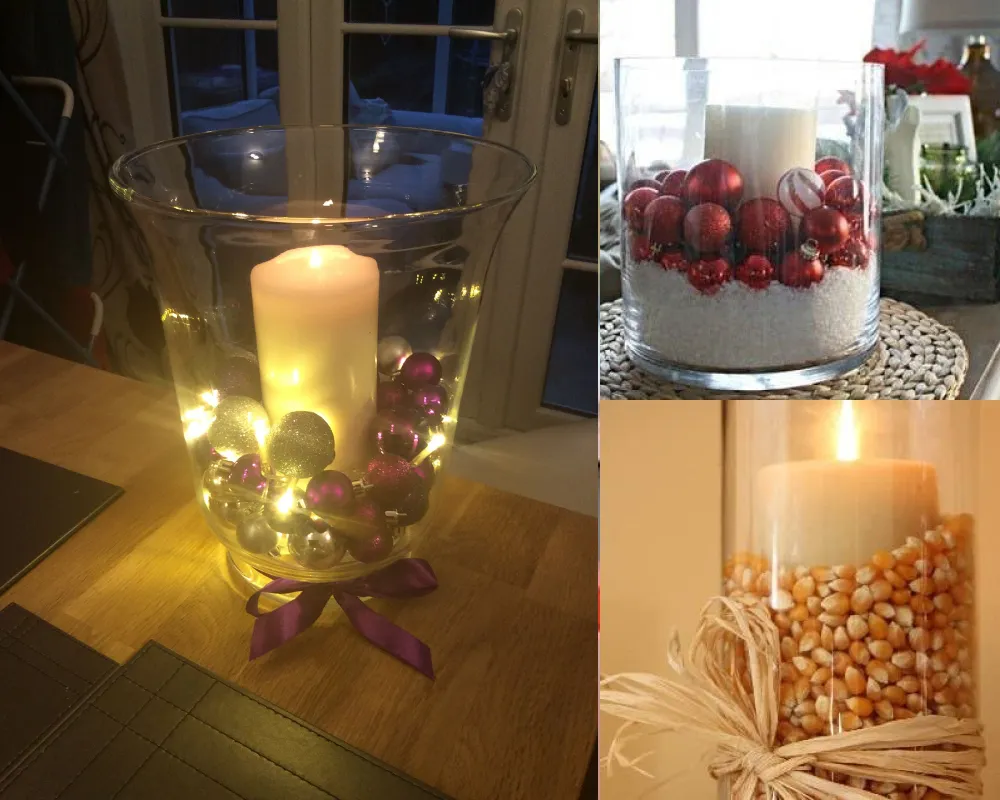 Here's a trick to resolve that issue. Just put your candle inside a hurricane vase and place a can underneath it. This will reduce the usage of filler and allow the candle to sit upright accurately.
Saving More Filler
Using decorative fillers is an excellent method to enhance the appearance of your crystal and glass jars. In situations where you don't have sufficient fillers to fill up an apothecary jar, a smart trick is available to help you out!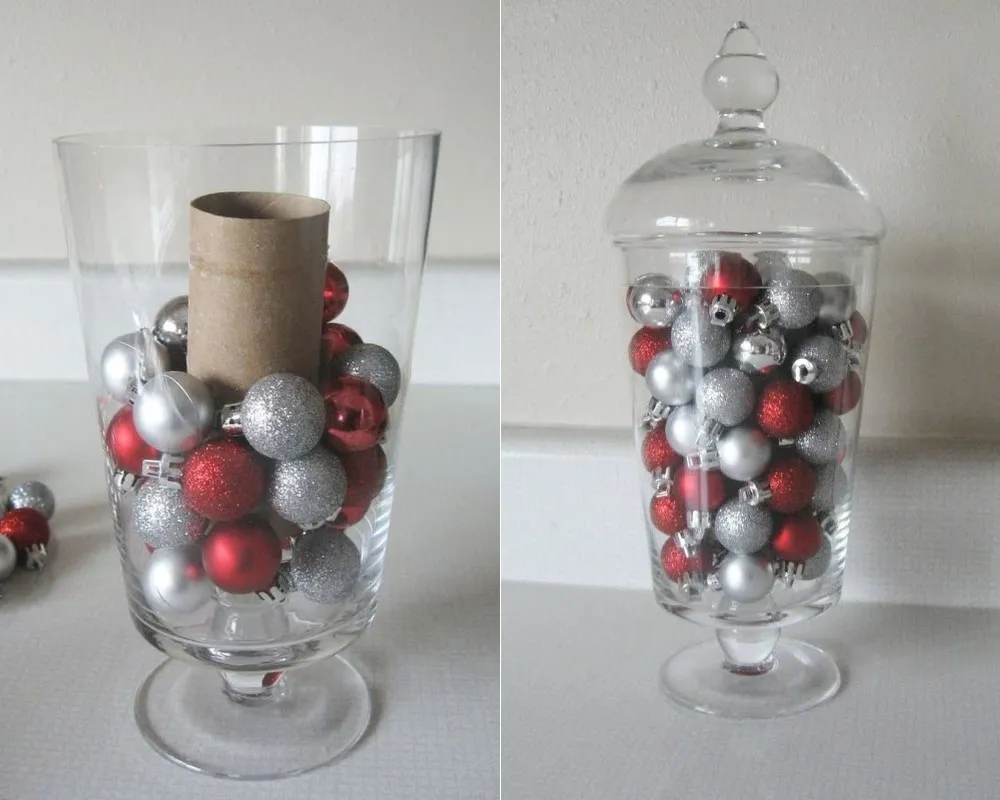 First, fill the jar halfway with the decorative fillers. Then, place an empty tissue paper roll in the center and fill the remaining space in the apothecary jar. This will make it seem like there are more decorations in the jar than there actually are.
Holiday Screen Prints
Do you want to decorate your house with pictures for the upcoming festive season? It's definitely worth doing as it can enhance the ambiance of your home. Are there any specific pictures that you would like to hang on your walls?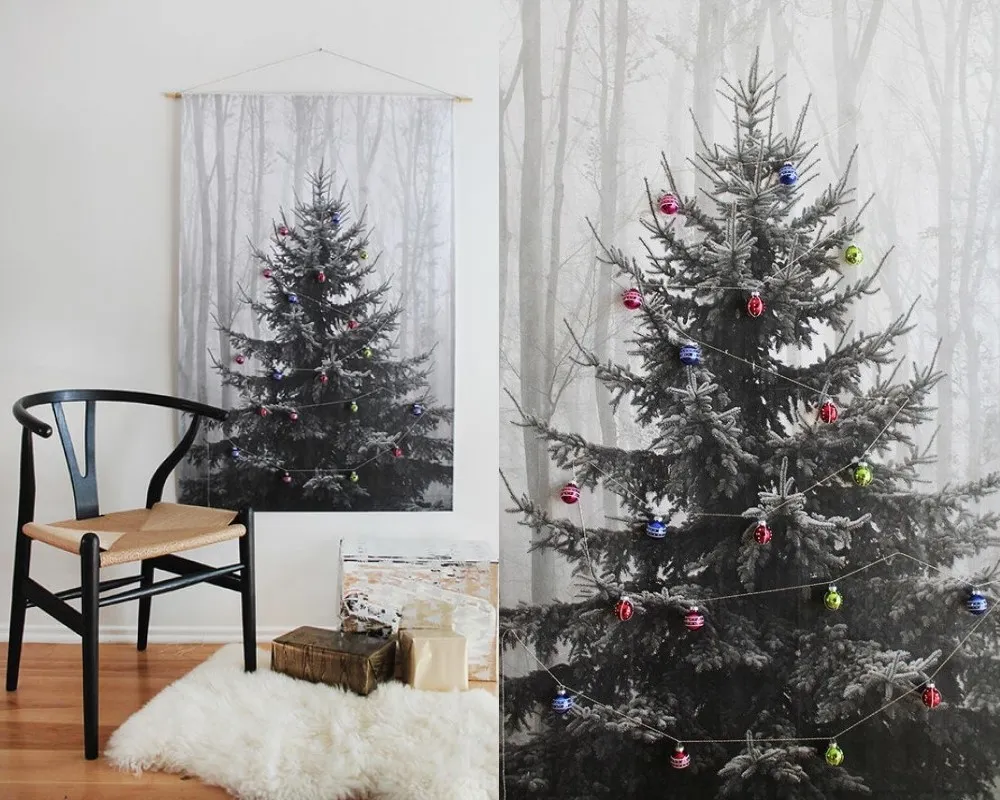 Rather than spending more money on purchasing a physical framed picture, opt for a cost-effective and practical option by printing out your favorite vacation picture and suspending it from a wooden rod. Experiment by combining several small pictures to create a stunning collage.
Revamping the Garlands
Regarding the act of making faux trees look fuller, it can be said that although artificial garlands may not be the most outstanding decorative pieces on Earth, they can still serve their purpose. In case you feel that your faux garlands appear too meager and unsatisfying, here's a clever trick you can attempt.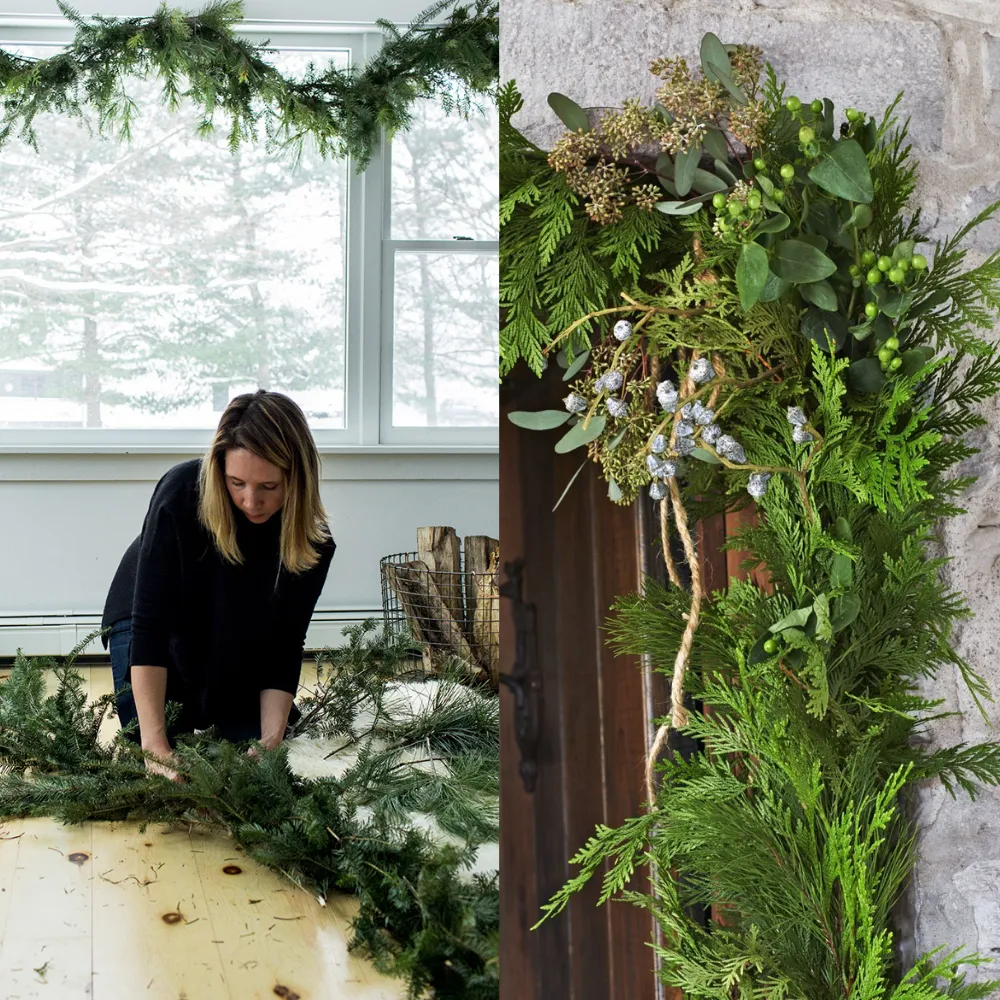 To increase the fullness of the garlands, utilize grass clippings and floral wire. Another option is to visit the shops where you normally purchase fresh trees and select some evergreens for this purpose.
Showing Off Cards
Holiday cards are extremely charming and can be used as an excellent and distinctive decoration. Instead of leaving them lying around, when you have a good number of holiday cards available, display them properly by hanging them up.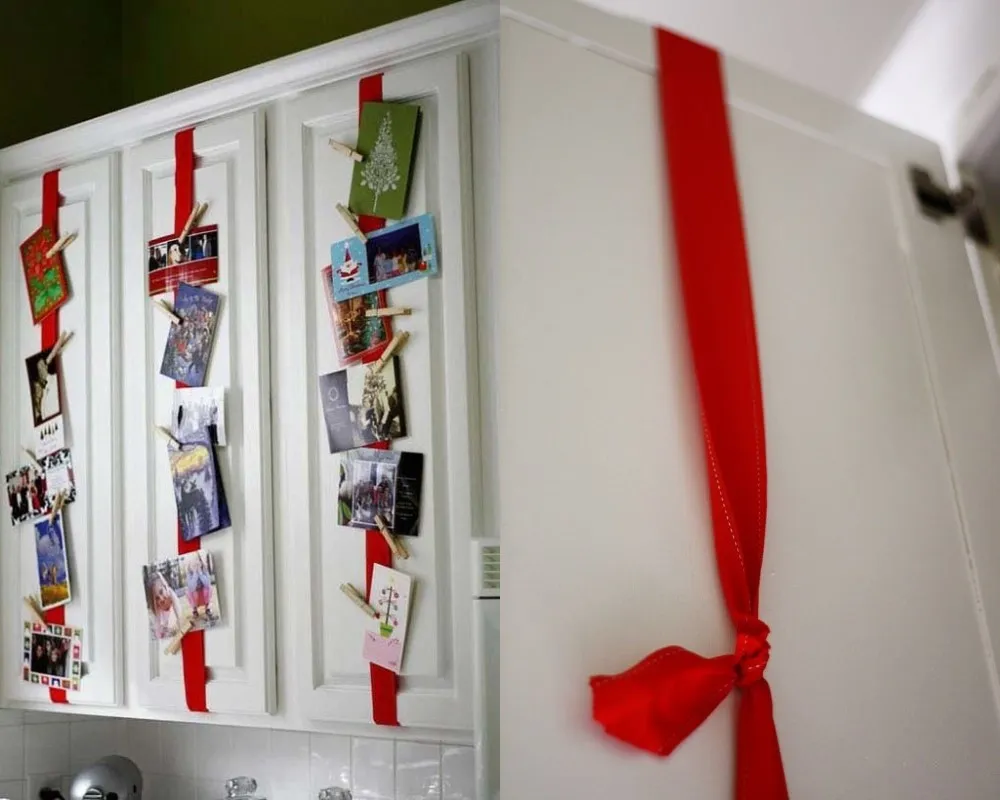 Hang your cards using ribbons in various spots around your home where they can be easily seen. Choose a location where you're likely to pay attention to them. This method is sure to bring joy to you and others who see them.
Affordable Tabletop Trees
Many people believe that Christmas decorations must be costly to be attractive, which can be frustrating. However, it is not necessary to spend a lot of money to demonstrate your enthusiasm for the holiday season; with a creative do-it-yourself project that exhibits your artistic abilities, you can achieve the same effect.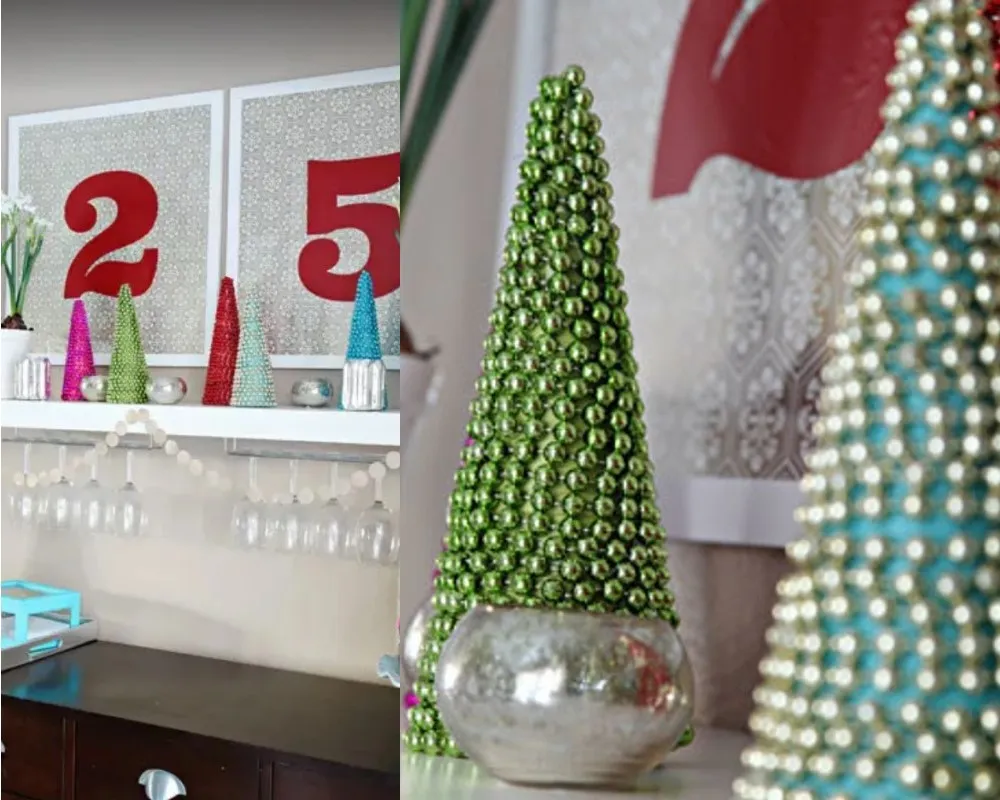 If you're looking for an elegant and affordable substitute for expensive, extravagant tabletop trees, you can utilize your card stocks to create a cone-shaped structure and embellish it with bead garlands that are affixed to the body. You might want to give it a go with your little ones and spark their imagination.
Clean-Up Made Easy
A lot of individuals feel a sense of relaxation while doing cleaning as the process of tidying up and arranging things can be quite satisfying. However, most people dislike it and would try to escape it by any means possible. It can be very annoying when after serving a big meal that everyone enjoyed, you are left to clean up everything – removing crumbs, wiping the table, and so on.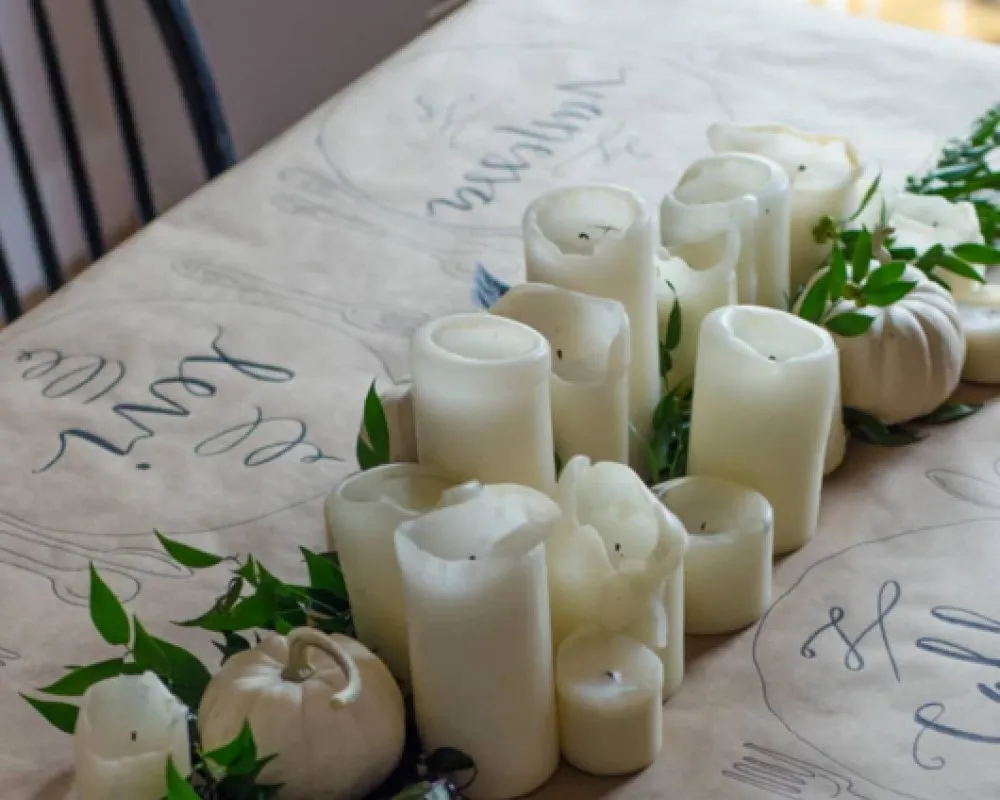 To prevent this entirely, cover your table with brown kraft paper before arranging the food. When the meal is finished, just collect the scraps and throw them away.
Ultimate Fall DIY Centrepiece
Pumpkins are not limited to the autumn season; they are equally suitable for winter celebrations. Although they take center stage during Halloween, they can also serve as an excellent focal point during the Christmas season.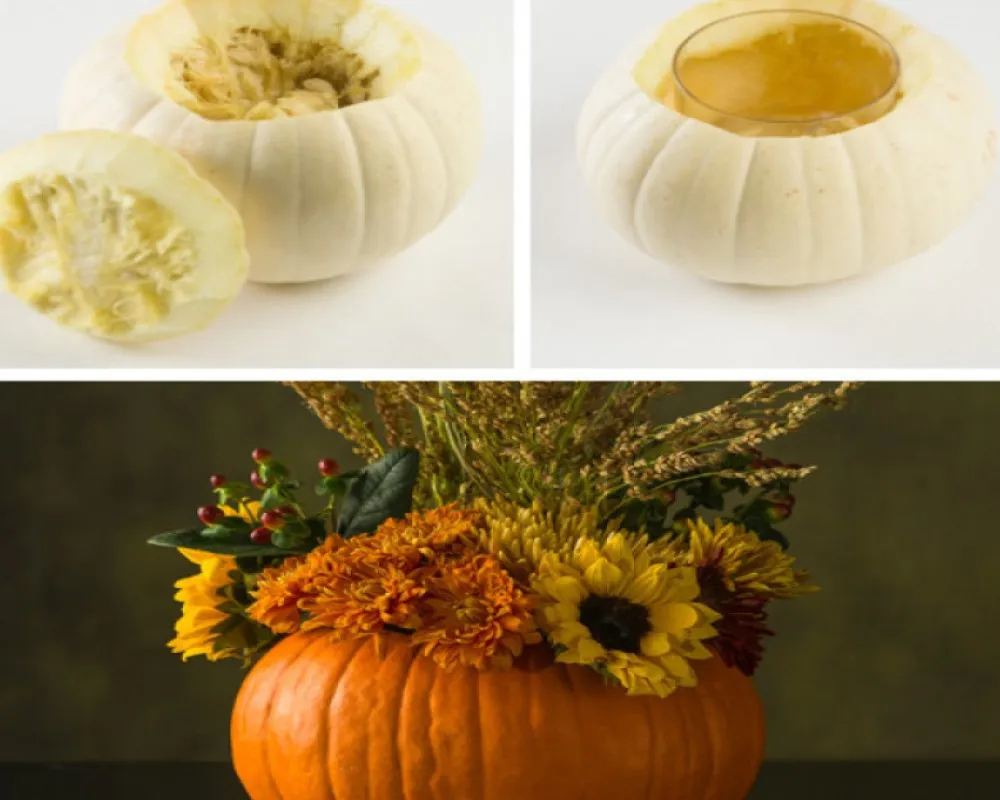 On Halloween, our aim is usually to create an atmosphere of horror, but this year we are attempting to make it more refined. By carving out the inside of a pumpkin and putting a vase in it, we can make an ideal autumnal mantle ornament or centerpiece.
Customizable Illusion Vases
At times, it's necessary to brainstorm unconventional ideas that will astound people, similar to an illusion that tricks our perceptions. To illustrate, you can replicate an illusion vase by finding two vases that have similar shapes but varying sizes and then stack them.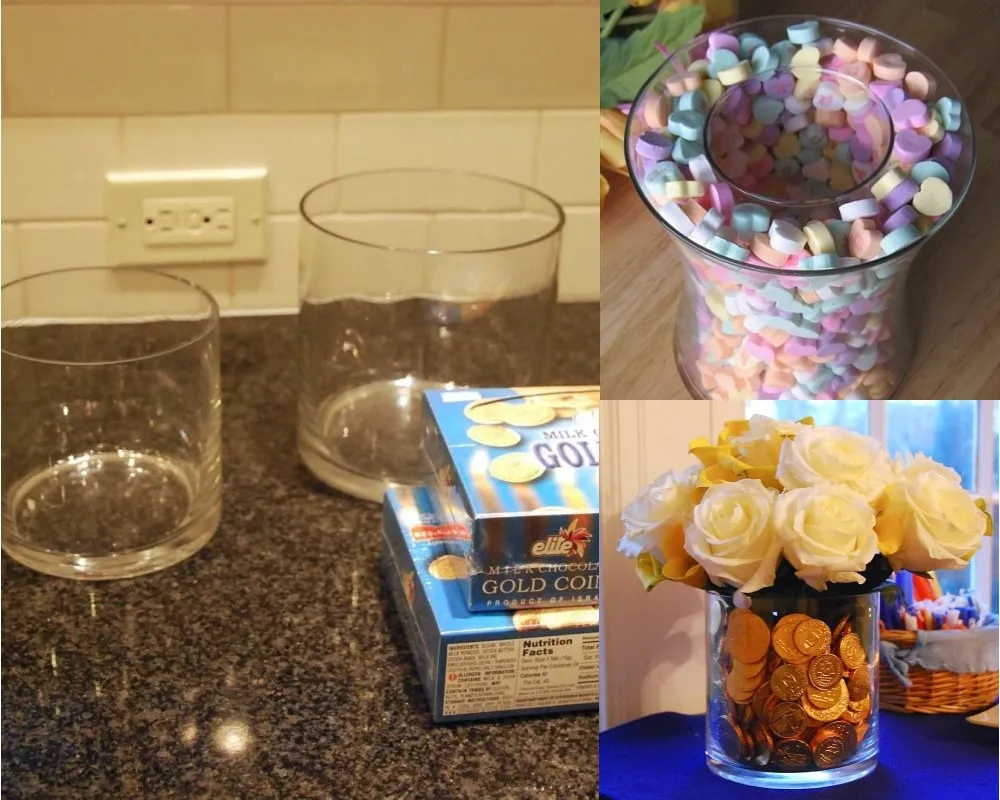 Put some flowers in the smaller container and use the larger one to hold miniature dreidels or gelt. Your guests will be perplexed and take a few glances before comprehending your creative arrangement.
Adding Sparkle to Curtains
Drapes are often overlooked as an essential component of the overall visual appeal of a home, which is a grave oversight. If selected and presented appropriately, curtains have the potential to significantly enhance a house's decorative scheme.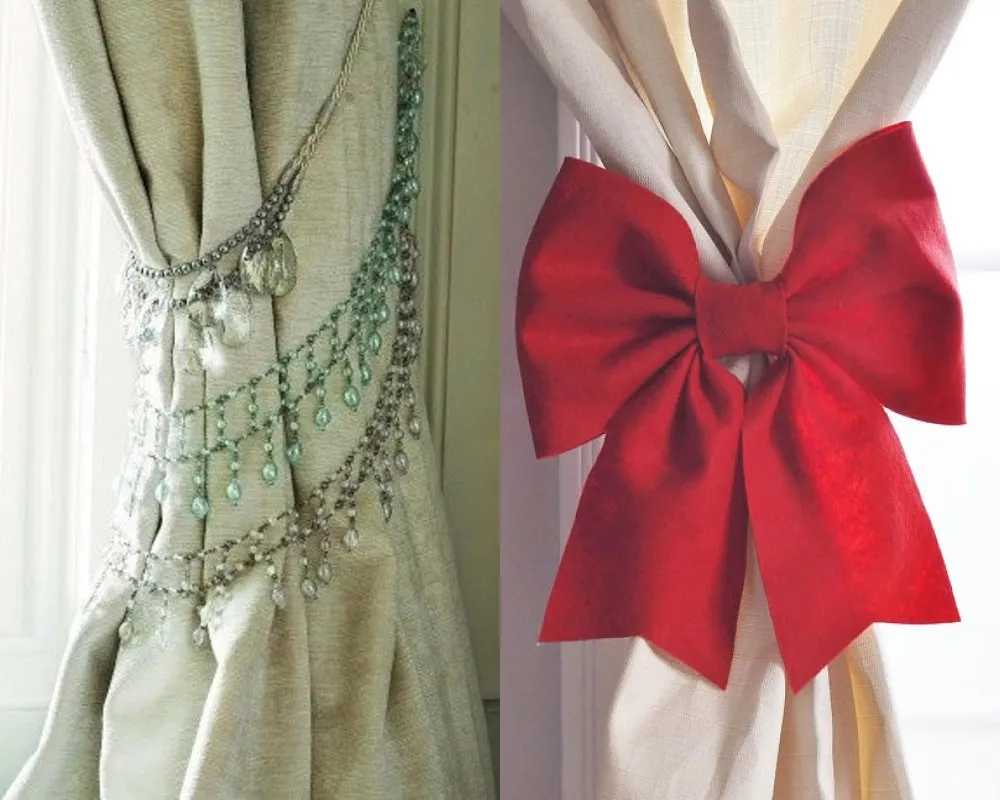 During the holiday season, you can either choose to use your special drapes or opt for your old ones. However, you can make it more interesting by incorporating enjoyable features to it. You can reuse your old decorative bows or sparkly necklaces as a way to tie the curtains back. This can be done in a subtle yet sophisticated way or can be done in a way that is dazzling enough to attract attention.
Tomato Cage to Topiaries
Nowadays, the technique of repurposing has a significant role in the "hack" manual as it is practical, does not involve any expenses, and is remarkably brilliant. It is surprising how tomato cages can be transformed into attractive artificial topiaries with a little creativity. For instance, you can flip the tomato cage upside down and adorn it by placing some small fairy lights around it.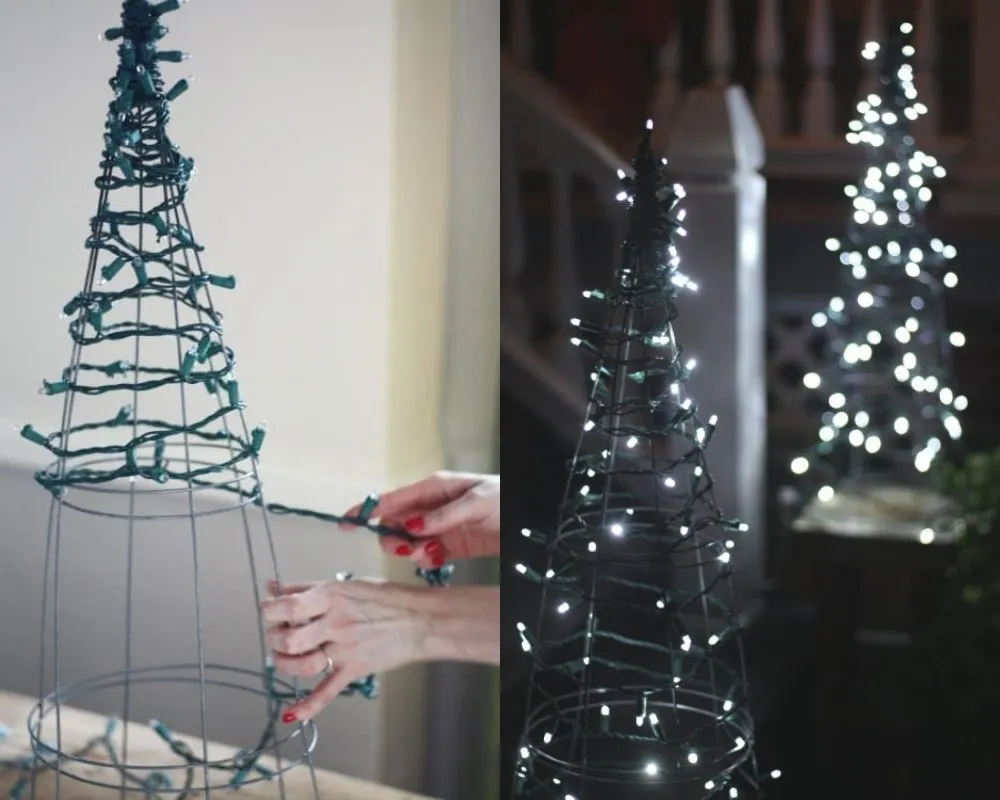 You may have done something that nobody will know about, but it perfectly reflects the festive atmosphere. By using fairy lights in different colors, you can transform an ordinary tomato cage into a magnificent decorative item.
One With All the Candy
If you understood the Friends reference, you'll enjoy the benefits. Edible Christmas tree decorations are even better than regular ones. It's a nostalgic childhood memory for some of us, and now you have the opportunity to relive it.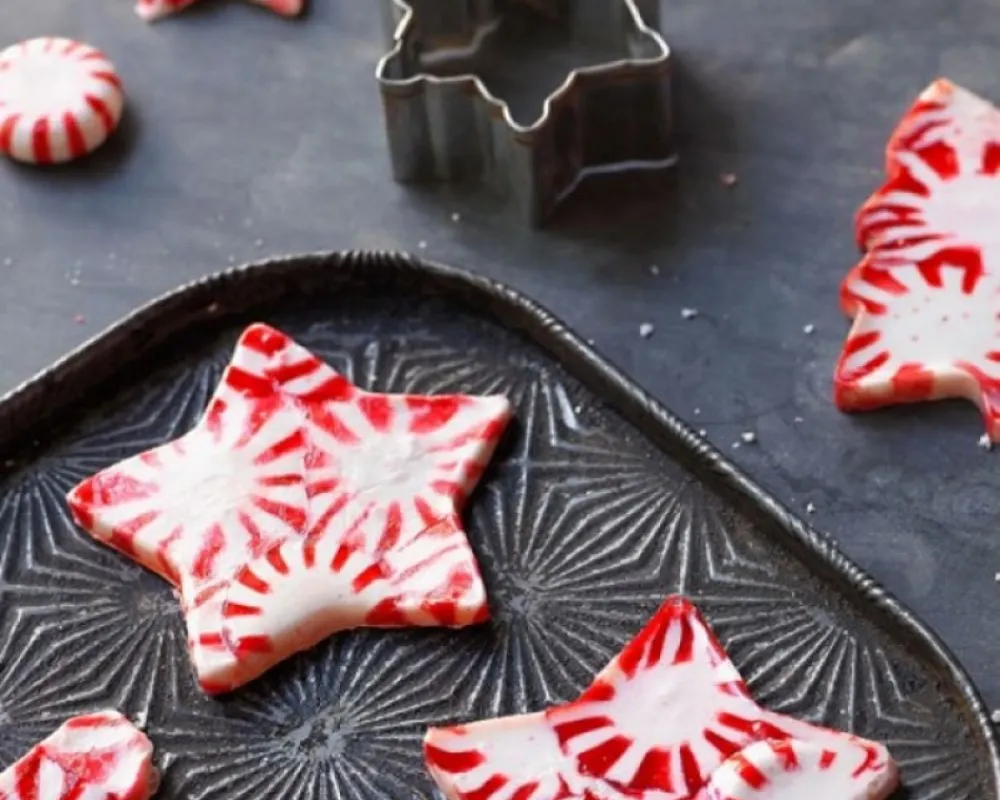 As we're focusing on more ingenious ideas today, here's an updated approach to making candies with melted hard candy and cookie cutters to create fun shapes. You can find the step-by-step guidelines at this link.
Making Cups Festive
Although cups may not be the most imaginative objects out there, they are incredibly useful. Therefore, when the Christmas season is approaching, we become fixated on ensuring that everything exudes the perfect festive spirit.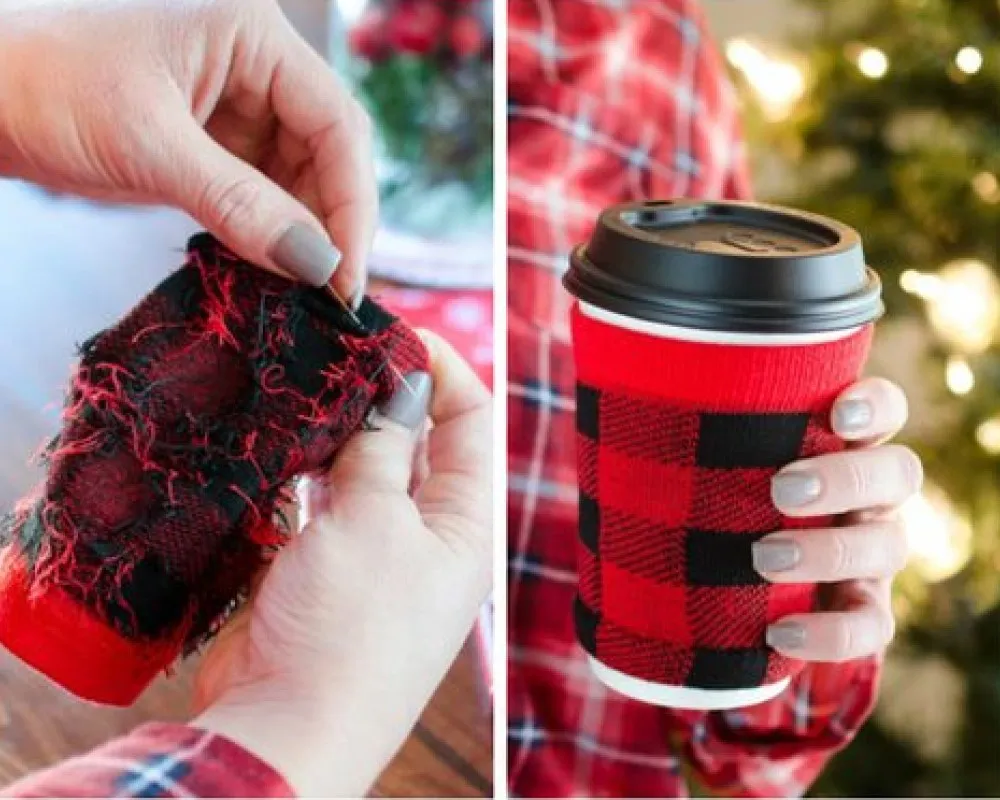 Give your cup an awesome festival makeover with this hack. Buy a nice pair of festive socks, cut them out to fit the cup, sew around the edges, and voila! You have a cup that's as much Christmas ready as your tree.
Instant Removable Wallpaper
The holiday season has approached and the wallpaper/color in the room is doing nothing to add to the holiday vibe? We've all been there and gotten over the idea super quick. It's not practical to change your room's wallpaper into something super bright and fun just for a holiday, and putting up new wallpaper isn't any better either.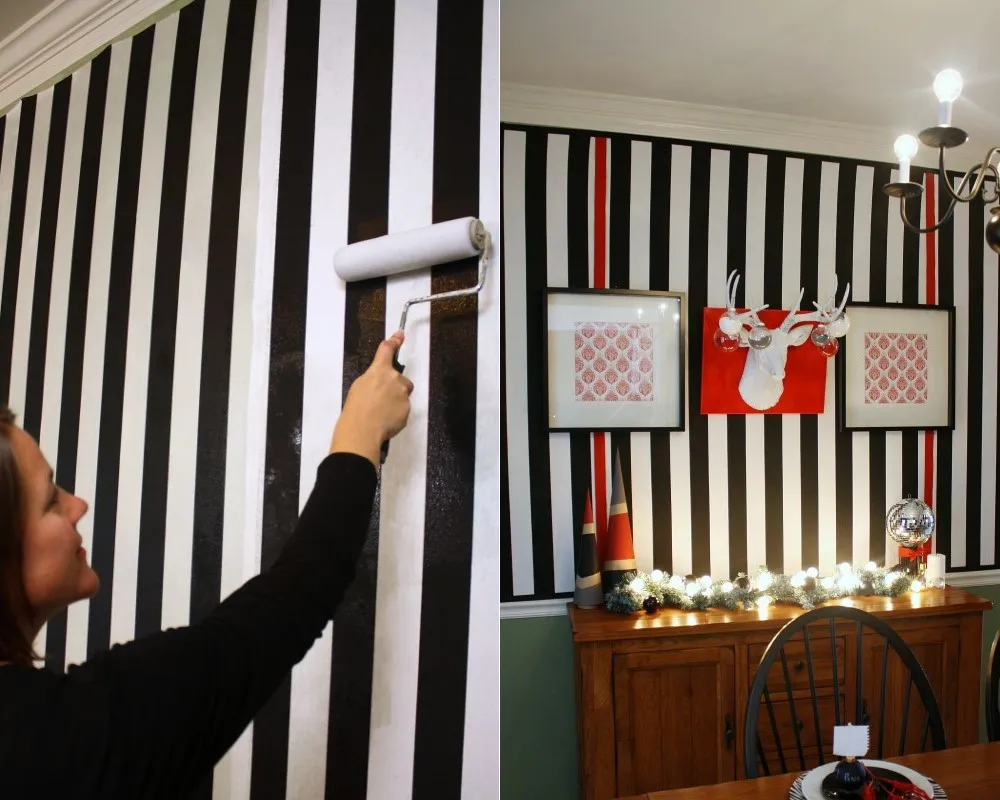 However, if there is a fabric that you like, make a mixture of water and corn-starch to turn it into a removable wallpaper instantly.
That's a Unique Garland
There's a wide variety of garlands available in the market to suit any holiday theme, but on a budget, they might not be the best option. Why not make your own garland out of ribbons? It's possible and we approve of the looks.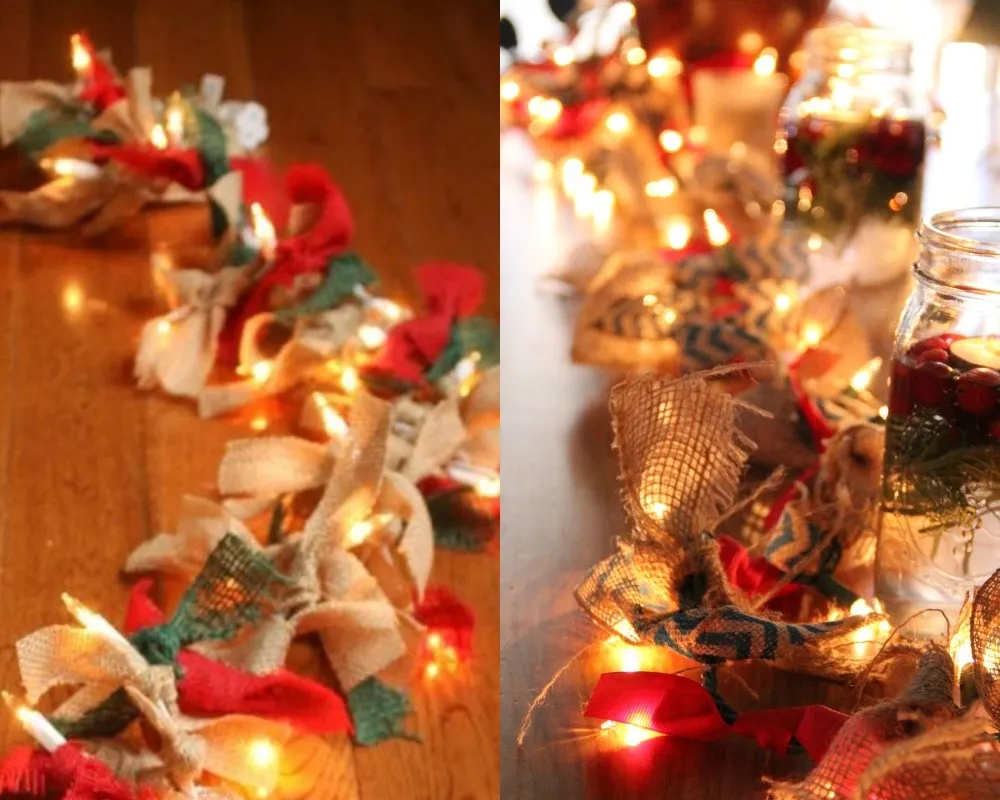 Cut out strips of ribbons in any color you want and tie them together onto a string of fairy lights. You now have a DIY garland that's cute enough to be draped anywhere in the house.
Holding the Lights in Place
Outdoor lights are all sparkly and magical until you have to attach them to the wall. Tape just doesn't cut it and the string will often get loose, causing it to move of its own free will.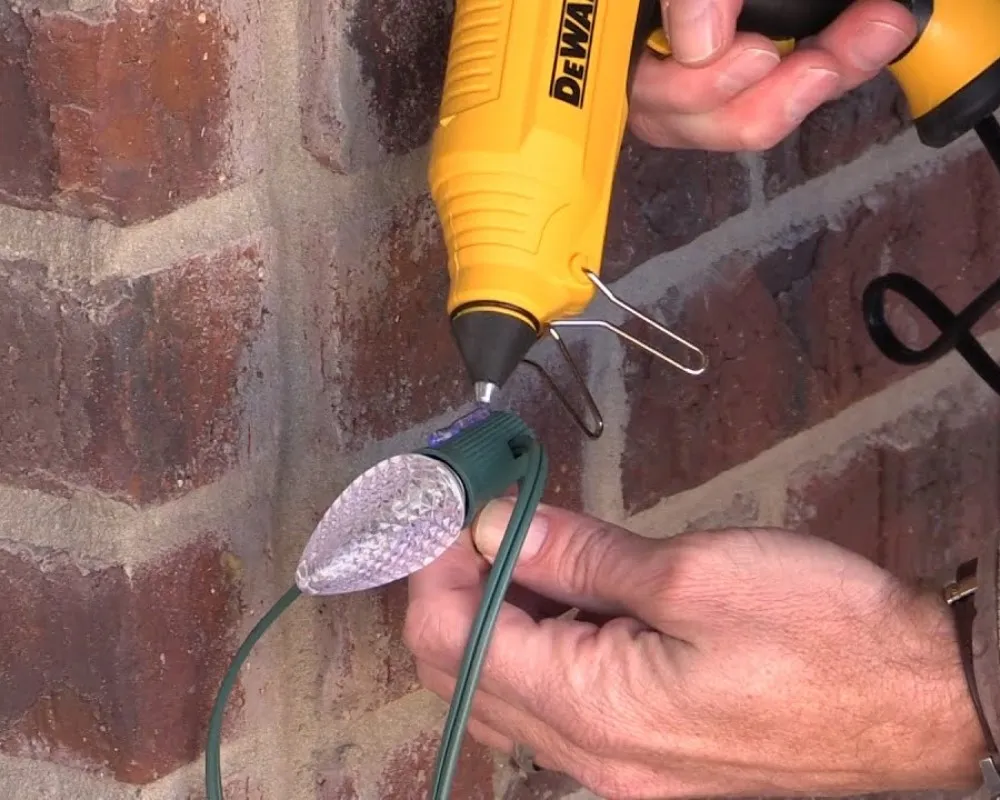 Using glue to tape the lights down when they're being unruly is a smart hack indeed. Apply hot glue to the light side's socket and stick it where needed. Hold it like that for a few seconds till the glue dries completely and you're done!
Fake but Real
Faking enthusiasm for your faux Christmas tree for too long? Of course, you want it to look better and not some cheap plastic tree that you picked up at a local supermarket. Give your artificial Christmas tree the look of a real one by making it stand atop a real tree trunk.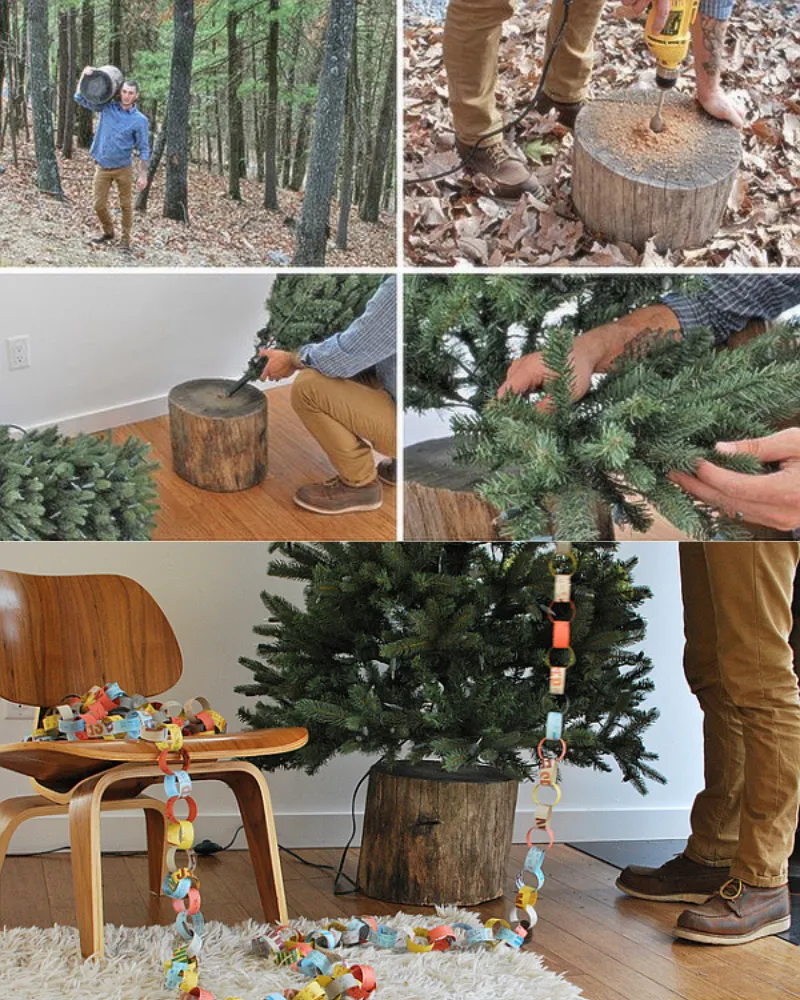 Check out your local tree service for a tree stump and carve a hole in the middle to fit the faux's base. Easily incorporate the goodness of nature with your interior decor.
How to Hang Banners?
Just like wreaths, banners are an absolute annoyance to hang up. However, they're quite festive and show purpose, so we'll give them a pass. Banners are perfect for any occasion, not just the holidays.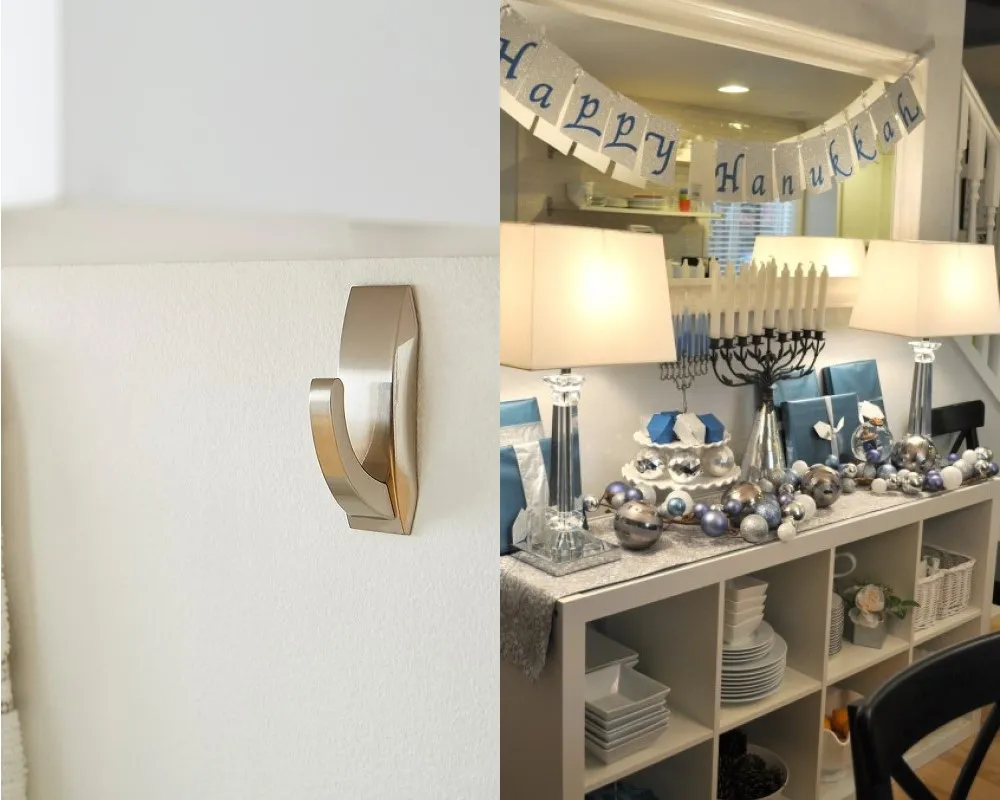 Available in many colors, patterns, designs, and writings; they're an affordable way to spruce up the house. Hang them using the same way as wreaths – get mini commander hooks on your mirrors or the top of your door frame.
It's a Snowy Miracle
Art supplies are so yesterday! Normal coffee filters can be transformed into delicate snowflakes decorations for your home. For this heart-warming holiday season, make yourself a cup of coffee and keep the filter paper. Flatten it out and fold a few of them.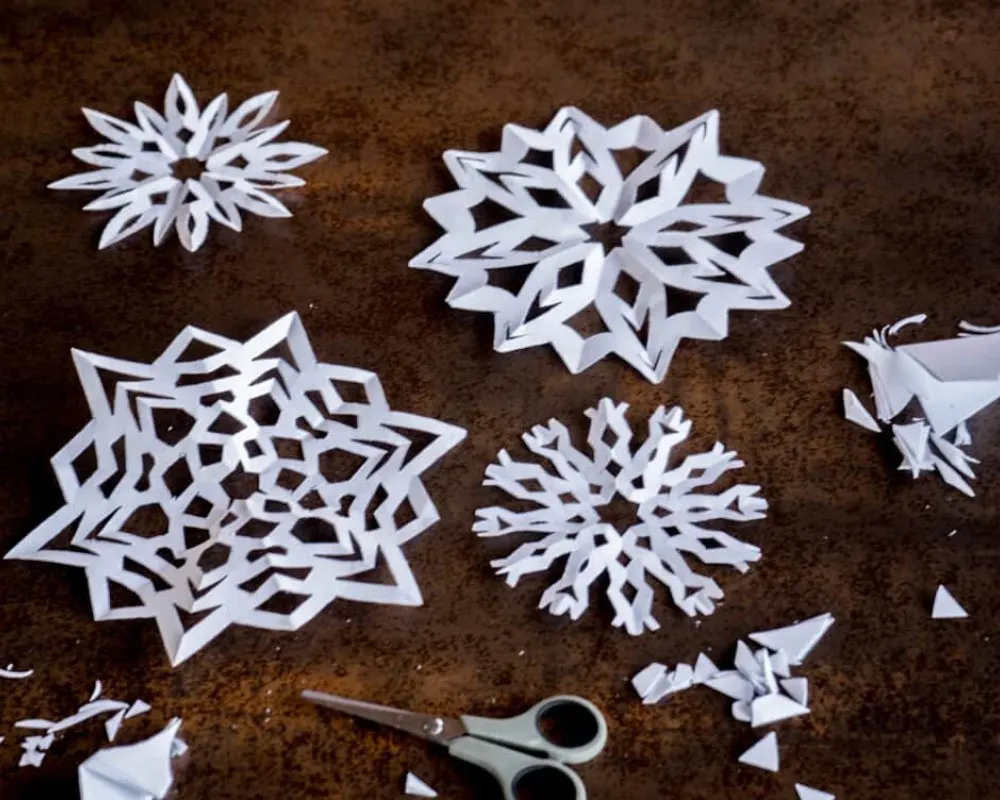 Bring out a pair of scissors and cut them into any snowflake pattern you like. Your innovative paper creations will come out symmetrical and perfectly round each time – but there will be no two alike!
Tie it Up
Red fabric captures the essence of the holiday season, and red bows are everything we love captured into one giant knot for this time. Deck the doors with this artful idea of DIY bows. We prefer a mixture of dark and light red organza, but you can pick out any festive fabric that you like.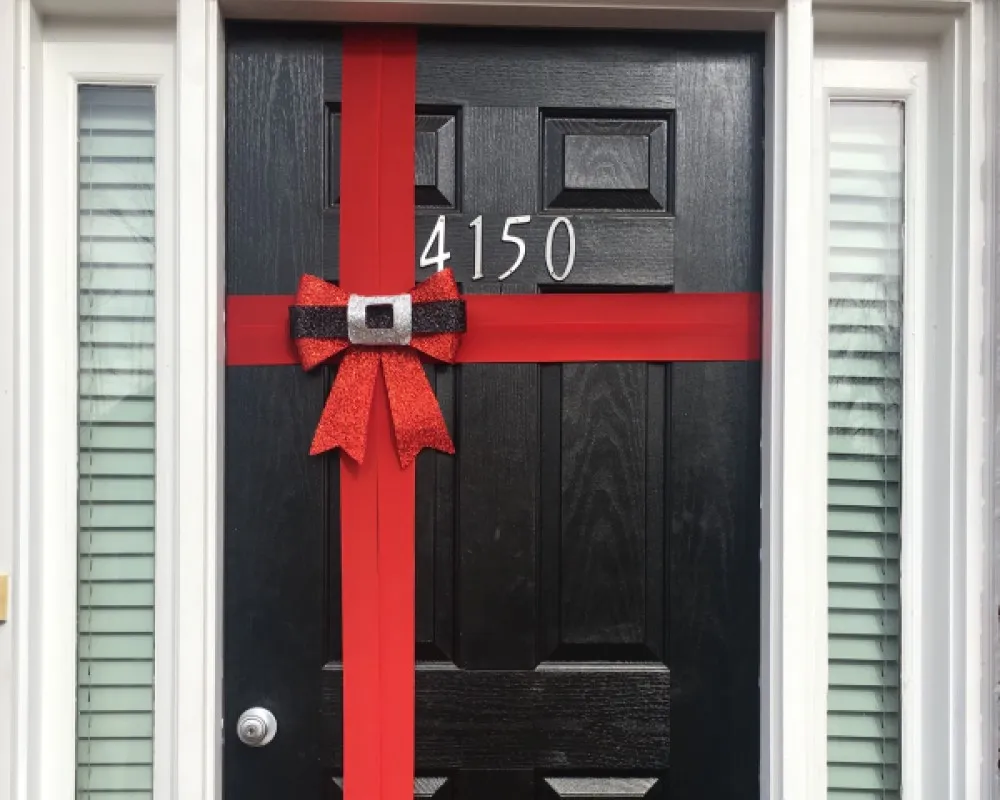 Cut-up bed sheets too! Wrap the fabric around the desired door and affix them in place with staples. Your guests will be pleasantly surprised with the stunningly bright decor.
Festival of Scents
Why should only a master chef's home smell of the unforgettable aroma of the most delicious festive foods? You can do it too, and it's super simple. Fill a pot with juicy oranges and lush cranberries – don't forget the fragrant herbs and spices like nutmeg, cinnamon, and cloves.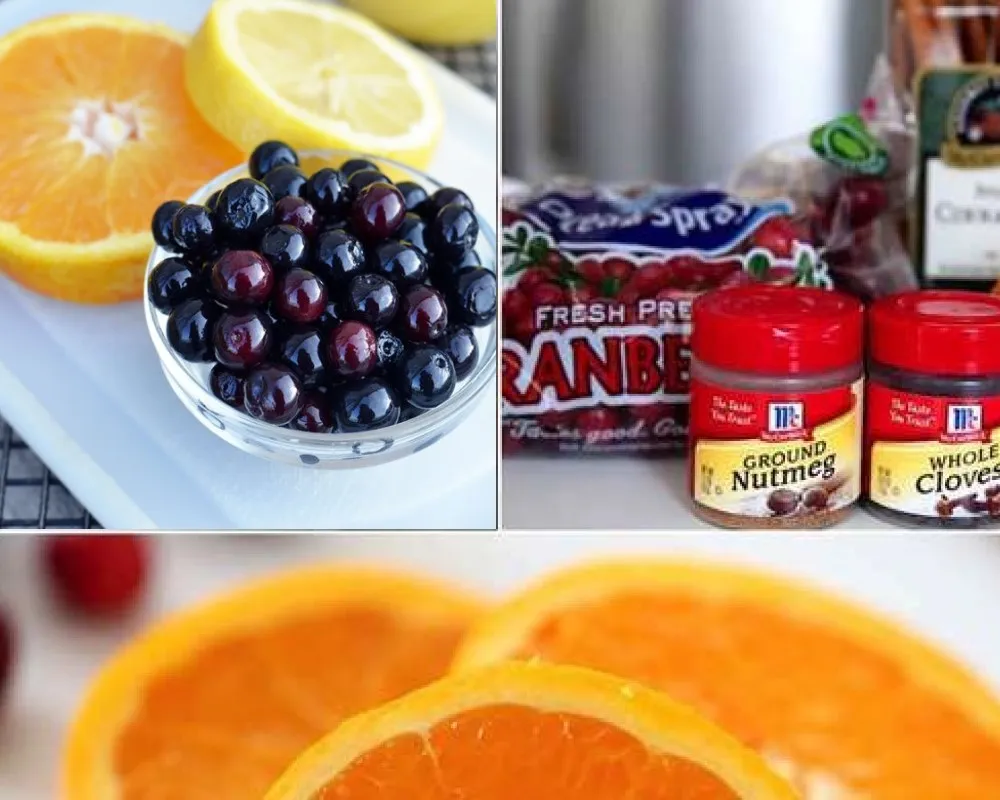 Have any other ingredients that you adore? Drop that right in. Let the combination simmer away on the stove, filling the sense with a spiced potpourri. Don't blame us if everyone on the streets knocks to take a sniff!
Minty Fresh and Crunchy
A short and sweet twist on table settings; these adorable little candy-cane place holders are everything you need to make your dinner time the best (and most Instagram friendly). Candy canes are a necessity in this season, so most people stock up on them.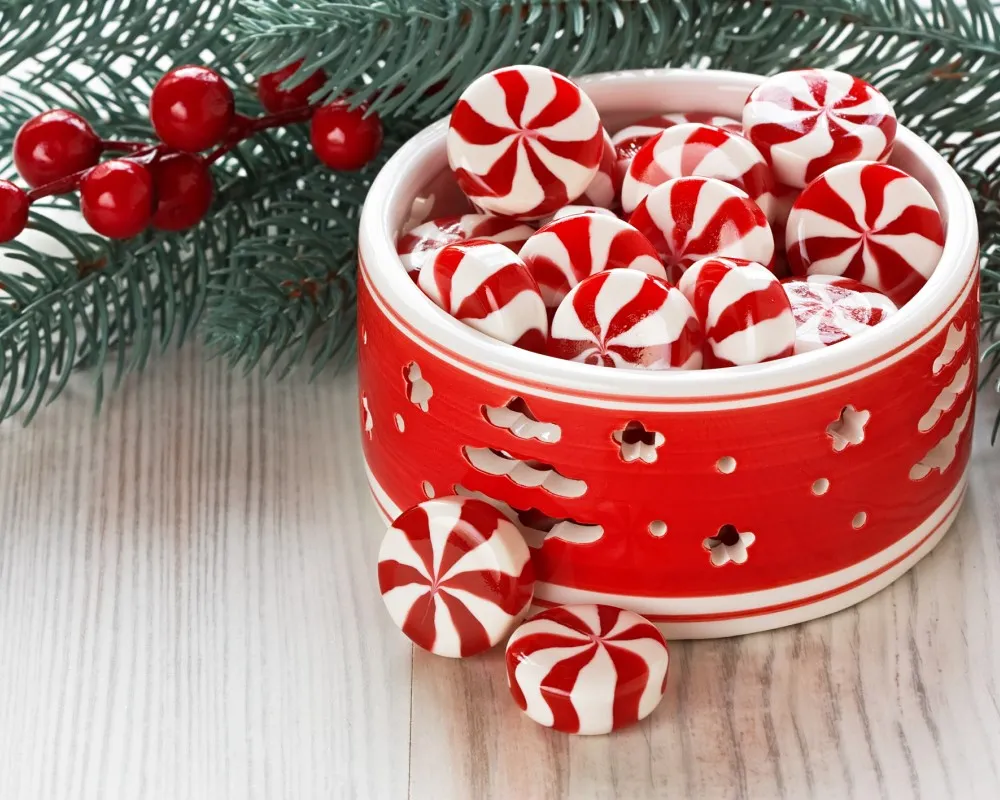 Glue together two pieces of upside-down canes and place food labels or name cards inside the two front "hooks." Your holiday dinner table will be like a photo out of Pinterest.
Very Own Personalized Wreath
The most impressive statement-piece wreaths are shockingly expensive, but this shouldn't curb your holiday excitement by leaving your front door bland. No need to splurge on a wreath when you can DIY a nice one with two old/new ones.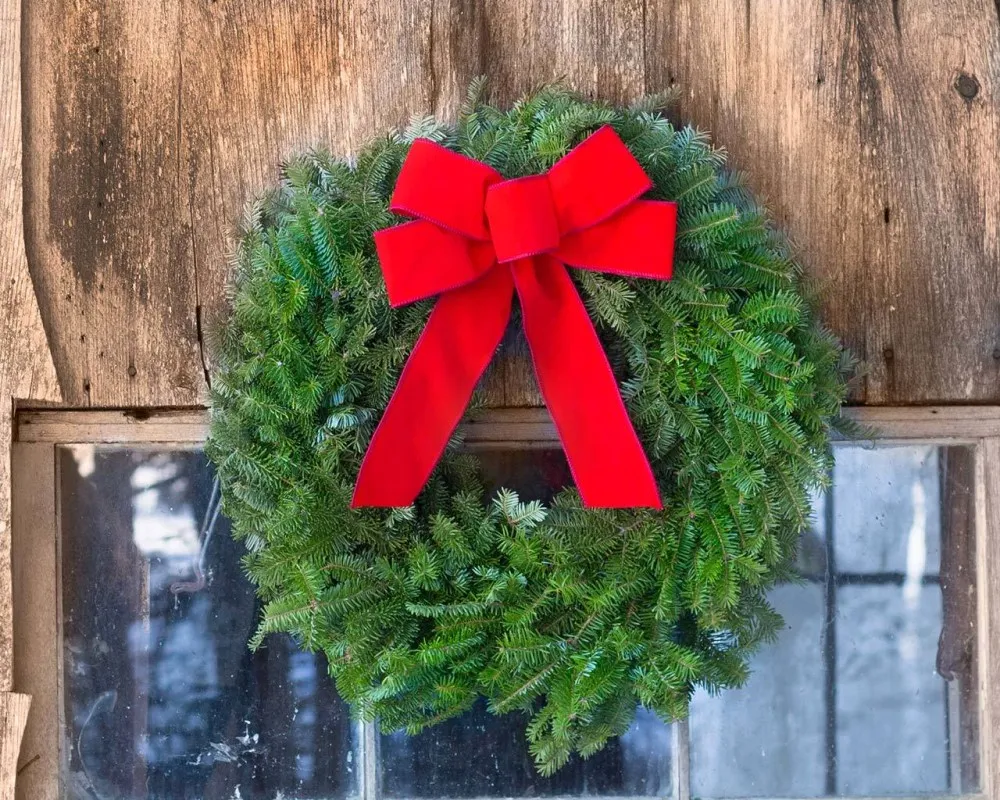 All you have to do is nestle a smaller wreath inside a bigger faux one, use a pretty, decorative ribbon to tie it, and hang as one unit. Will anyone ever be able to tell? Perhaps not.
Fluffy Christmas Tree
It's safe to say that artificial Christmas trees don't even come close to the original ones, unless they're super expensive. However, since they're feasible for a lot of homes, they've quickly gained popularity.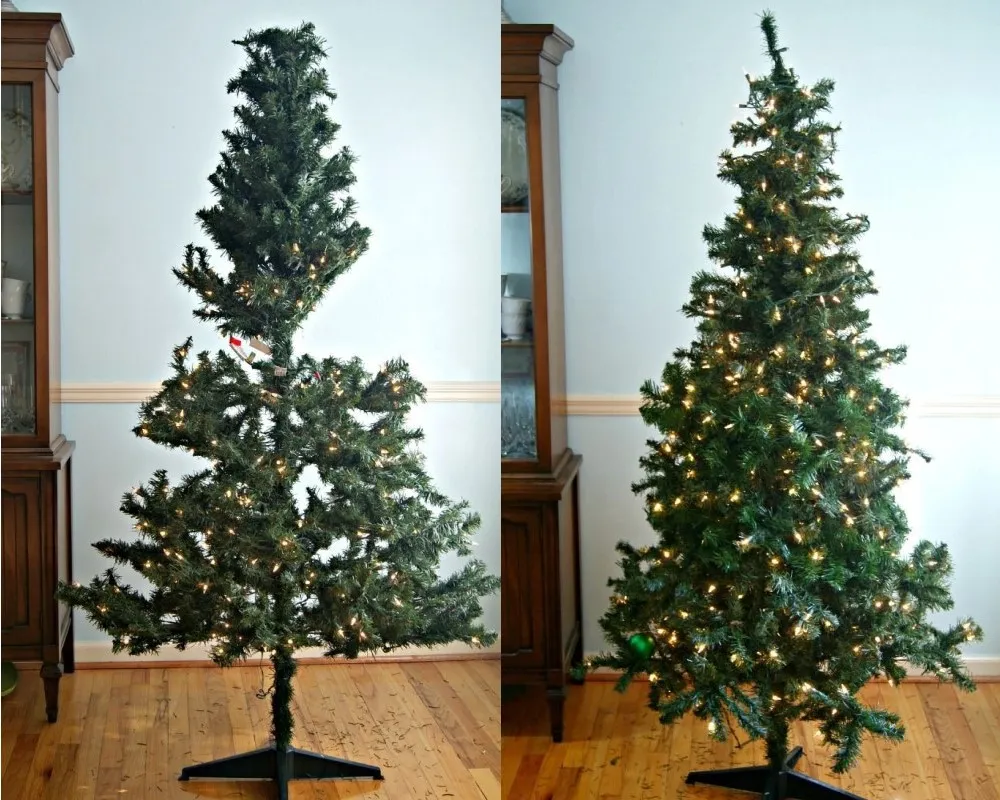 One of the common complaints with these faux trees is how skinny and underwhelming they look. No fear! Layer two artificial, inexpensive wreaths and give your faux tree the desired volume and fluff. It'll definitely look much more presentable.
Pine Cone Bug Repellent
Did you know that pine cones can be used to keep your home secure from all the pesky bugs? During the holiday season, with all the amazing aroma of food filling the air, it's easy to attract a lot of unwanted guests.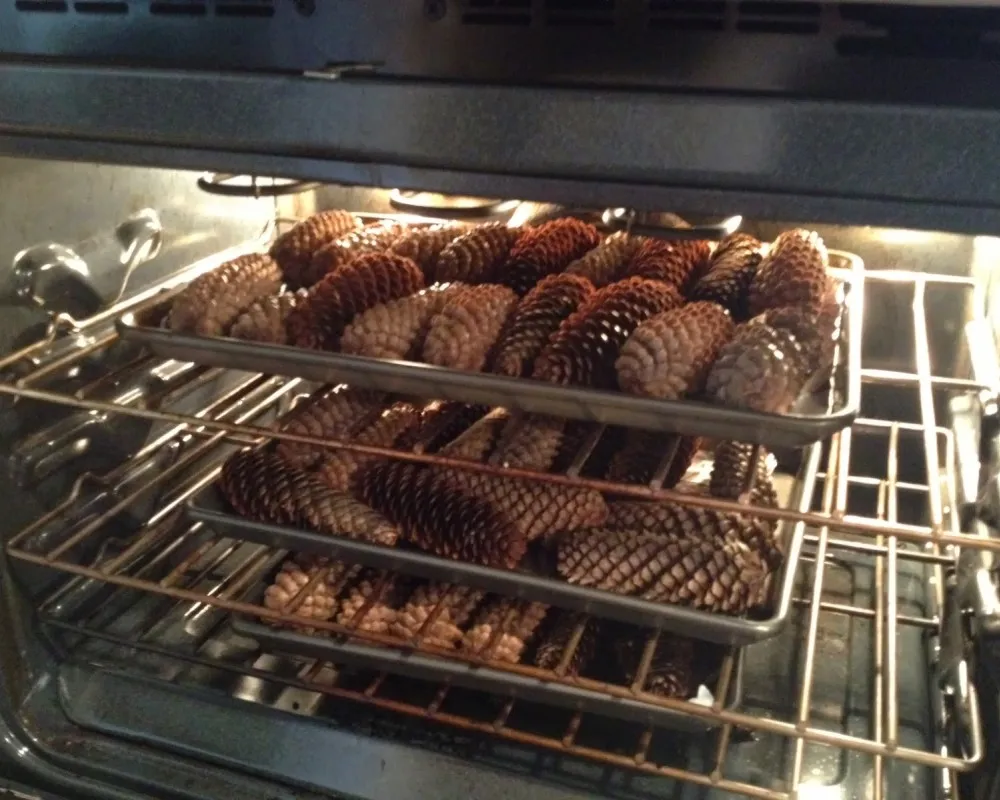 The best part is, you can simply hang them as decor to drive bugs away. Clean the pine cones and dry them. You can do this by cooking them in the oven at 200 degrees for half an hour. This also prevents excess moisture from entering the home.
Top of the Tree
A topper is what completes the Christmas tree. Thanks to a wide array of customized options available in the market, these toppers define the entirety of one's Christmas decorations, so can't skimp out on this step. Finding a tree topper that matches all your requirements isn't easy.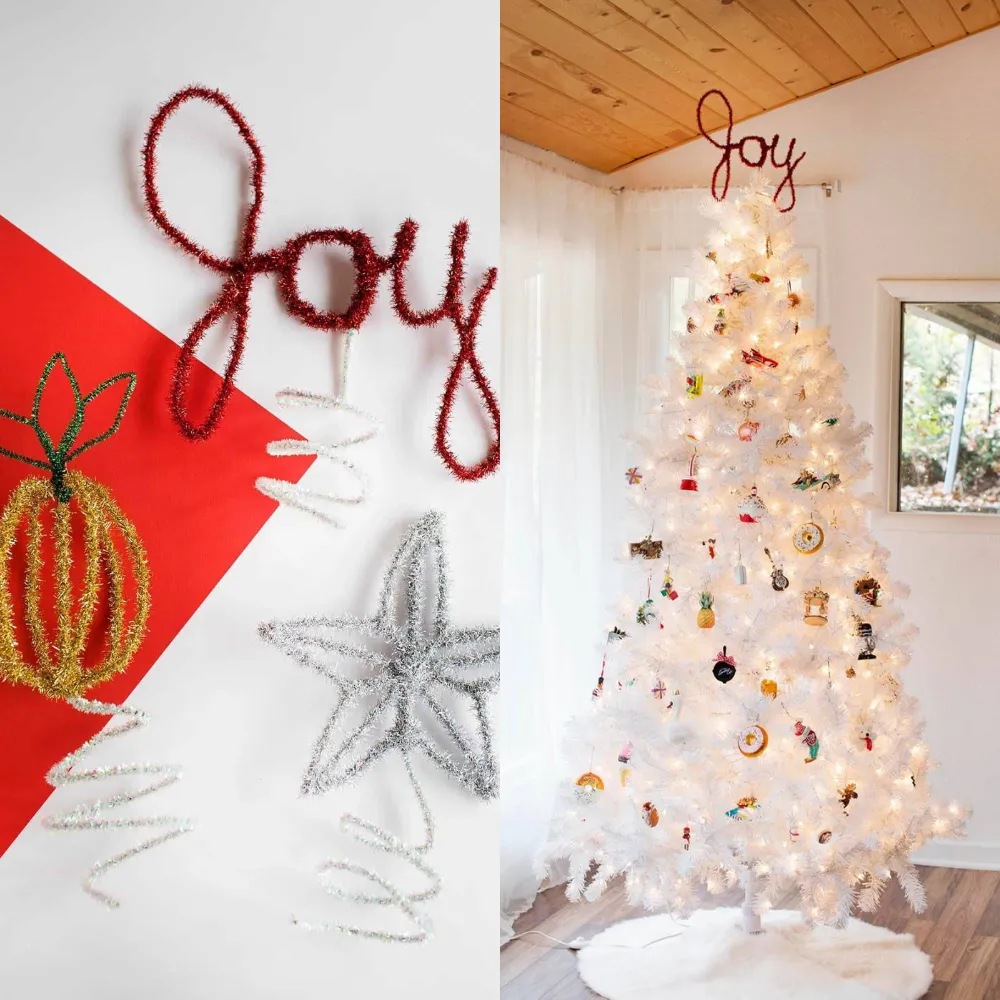 Too heavy and it burdens the branches; too tall and it hits the ceiling, and the design is one more concern. Make a personalized pipe cleaner topper that's lightweight, simple, cheap, and fully unique!
Remembering Where Everything Went
The toughest part of any holiday is undoubtedly the post clean-up session. All the reusable decor needs to be taken out and stored in boxes for the next time.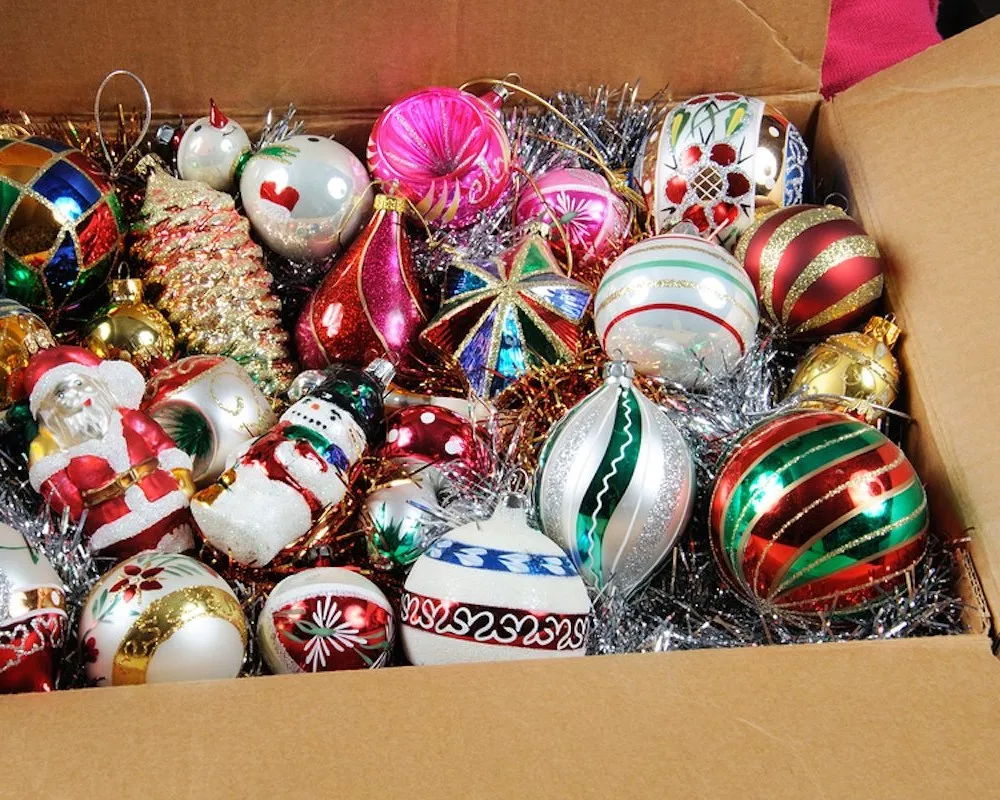 There's this common phenomenon when you take something out of a box, use it, and by the time you want to put everything back, it seems like the box has shrunk! Don't panic. Before taking the decorations out, simply snap a photo of the entire box and use it as a reference for when you need to put it all back.
Stair Slide for Penguins
When it comes to decorating for the holidays most people focus on the front entrance of their homes, living rooms, or whichever room they will be hosting guests in. One area of the home, however, is often neglected – the stairwell.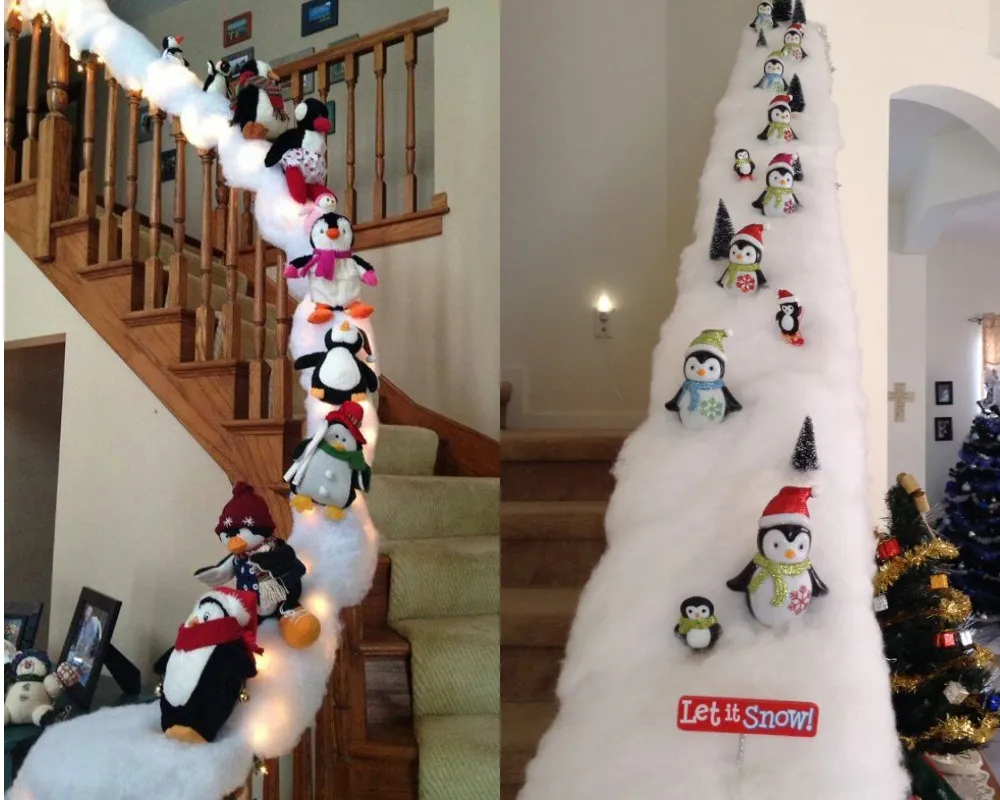 As one of the most used parts of a home, the stairwell should be part of any holiday decoration plan. This person turned their stair's handrail into a slide for a family of penguins and their friends. Using dolls, fake snow, and fairy lights, this person created a playful winter wonderland.
An Impressive Centerpiece
Everyone wants to have a perfectly Instagram-worthy house for the holidays, and a big component of that is having a beautiful centerpiece in the middle of your perfectly set table. Thankfully, it's not actually that difficult to make.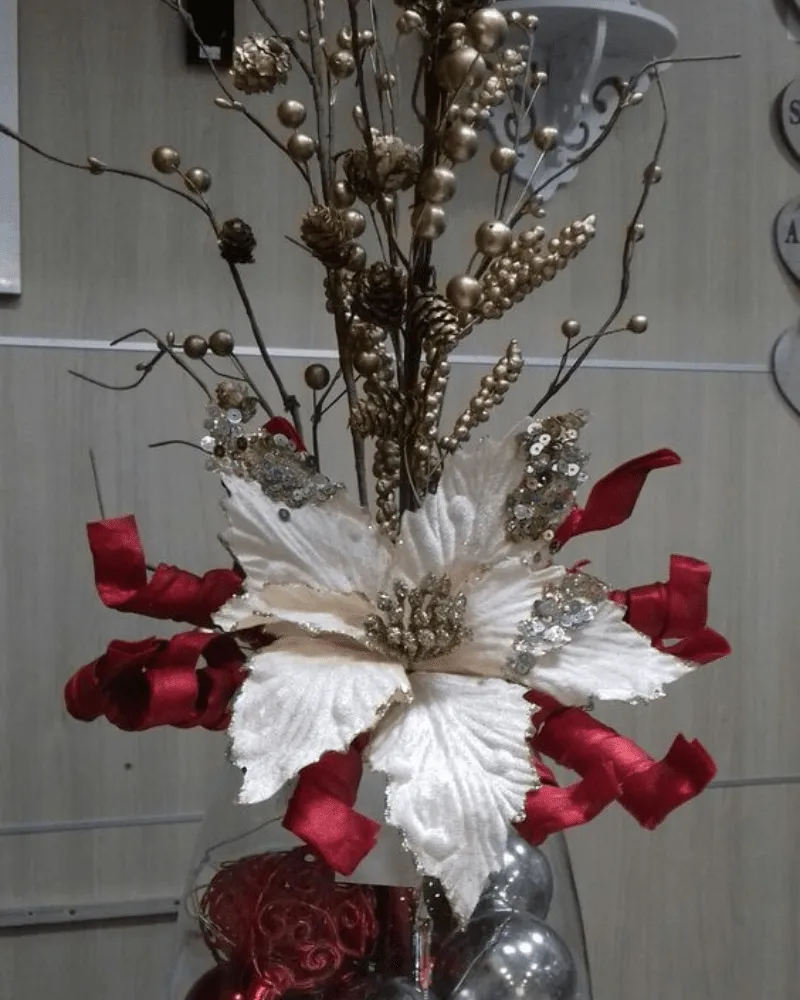 Find some fancy branches and spray-paint them in fun and festive colors — for Halloween go with black and orange (or more subdued autumnal colors), and for Christmas, you can go all out with red and gold to show off your holiday spirit.
Salt Dough Hands and Feet
Salt dough is one of the easiest and least expensive crafts to make. The non-toxic ingredients mean you don't have to worry about your little ones getting hands-on with this dough.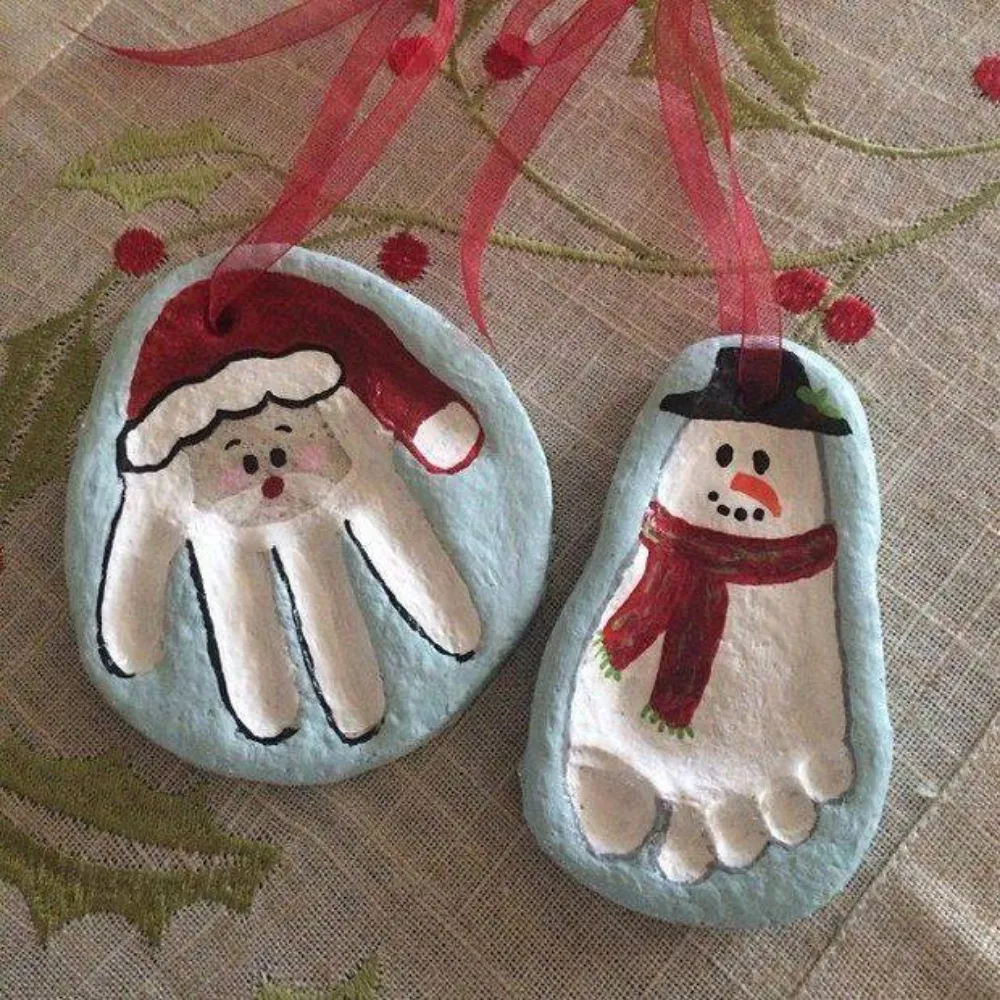 Once the dough has been prepared, gently press the child's hand or foot into the dough to create an imprint. When finished, bake according to your salt dough recipe's instructions. Once cool, add paint. These ornaments will help capture those precious moments long after your child has grown.
Hand Wreaths
Another way to celebrate the holidays with your family is by creating a wreath made of paper cutouts of hands. Using a pencil, trace the hands on green construction paper and then carefully cut them out.

Cut out a ring-shaped piece of paper, which will be the base of the wreath. Layer and glue the cut out hands around the wreath base, making sure to cover it while keeping the circular shape. At this point, you can add additional decorations like sequins, other paper cutouts, or bows.
All Aboard the DIY Express
From elaborate model train sets to popular films like The Polar Express, many people associate trains with the holiday season. Now, thanks to this clever DIY hack, you can surprise your loved ones with a train full of presents.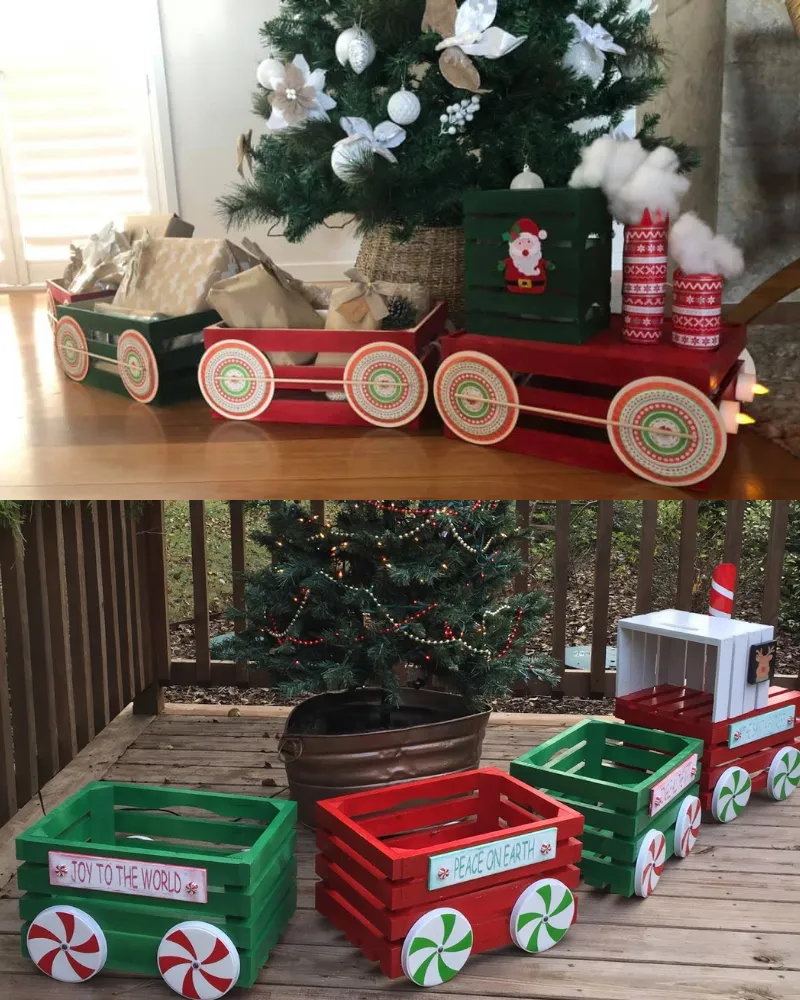 Start by painting several milk cartons in festive colors, then add additional train accessories like wheels and lights. Not only is this train a fun way to store gifts, but the boxes can be reused for future purposes.
Gingerbread House Party
Building a gingerbread house is one of the most memorable parts of the holiday season. This edible engineering activity can be a great way for families and friends to bond. One of the downsides to this activity, however, is that it can get messy.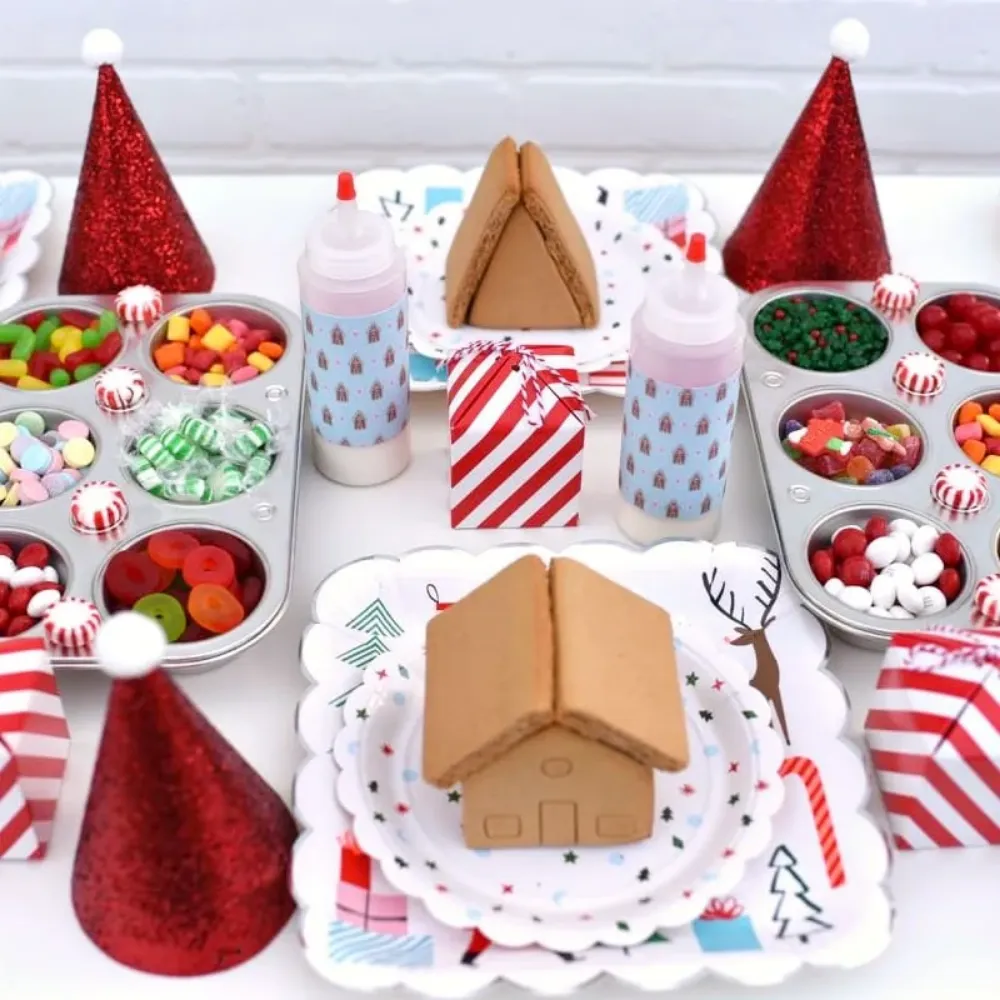 This holiday hack shows us that gingerbread house construction doesn't have to turn into a sticky disaster if you organize your workstation properly. This person gave each builder their own section equipped with frosting "cement" and access to all of the candy decorating supplies.
From Pool to Table
Decorating costs during the holidays can quickly add up, making it hard to find space in your budget for centerpieces. This clever holiday decorating hack shows that pool noodles are not just for aquatic activities – they can help you create a beautiful centerpiece for very little money.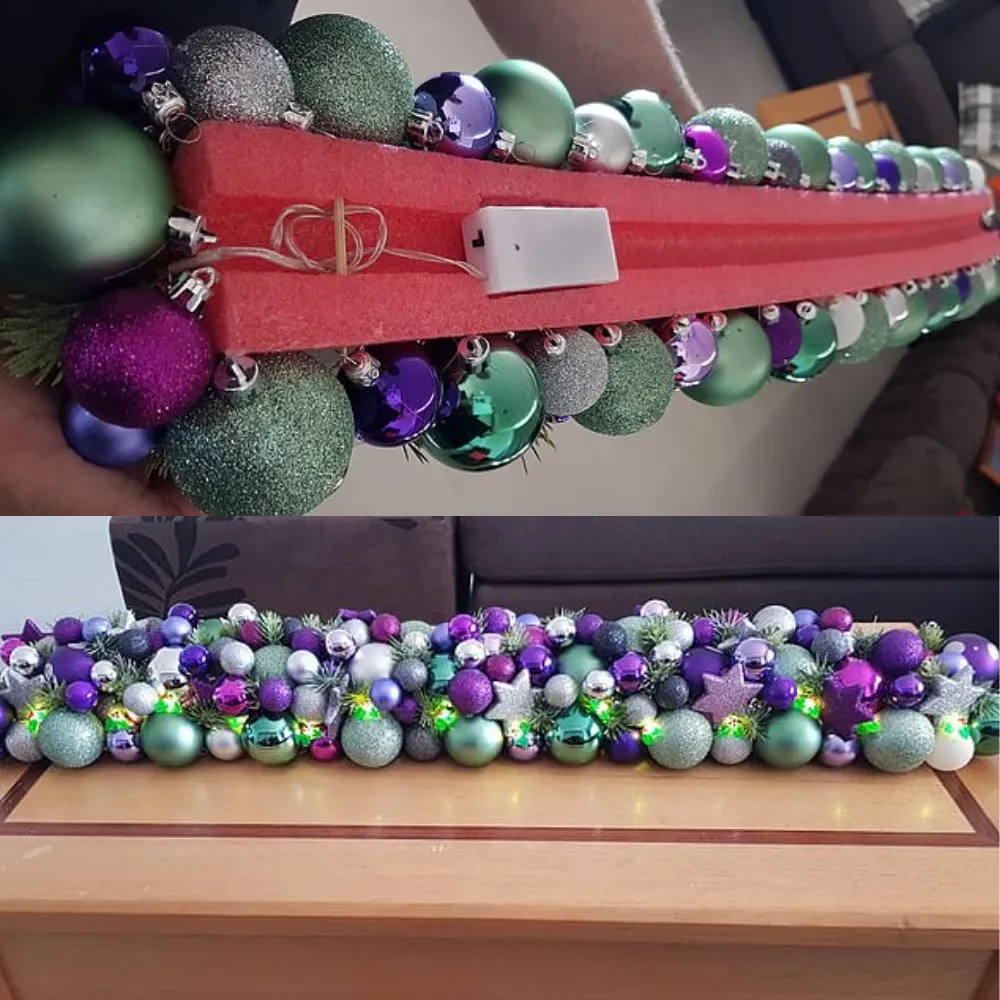 Simply cut the pool length-wise so that the base is flat. Using wire, attach ornaments, fake flowers, lights, and other decorations until the noodle is completely covered. This decoration hack has gone viral because of how easy and inexpensive it is to make.
A Bright Idea
Recycling is always important, especially around the holiday season when so many things can be repurposed into holiday decorations. This interesting hack shows us that lightbulbs don't have to be thrown out once they burn out.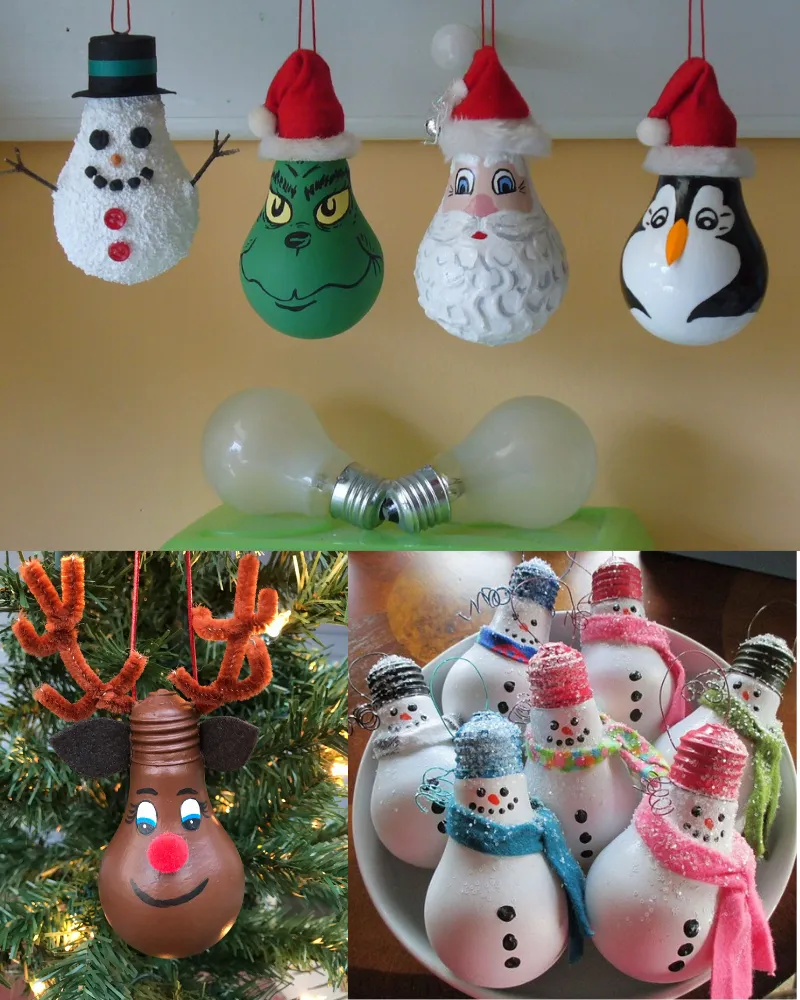 This person took a variety of differently shaped light bulbs and transformed them into adorable ornaments using paint and other crafting materials. These lightbulb ornaments can be made using simple or more elaborate designs. This flexibility ensures that people of all ages and artistic abilities will have fun making them.
DIY Snow Globe
For many people, snow globes carry a special significance. Whether a souvenir from a memorable trip or a gift from a loved one, seeing a snow globe on a mantel can fill you with a certain type of joy.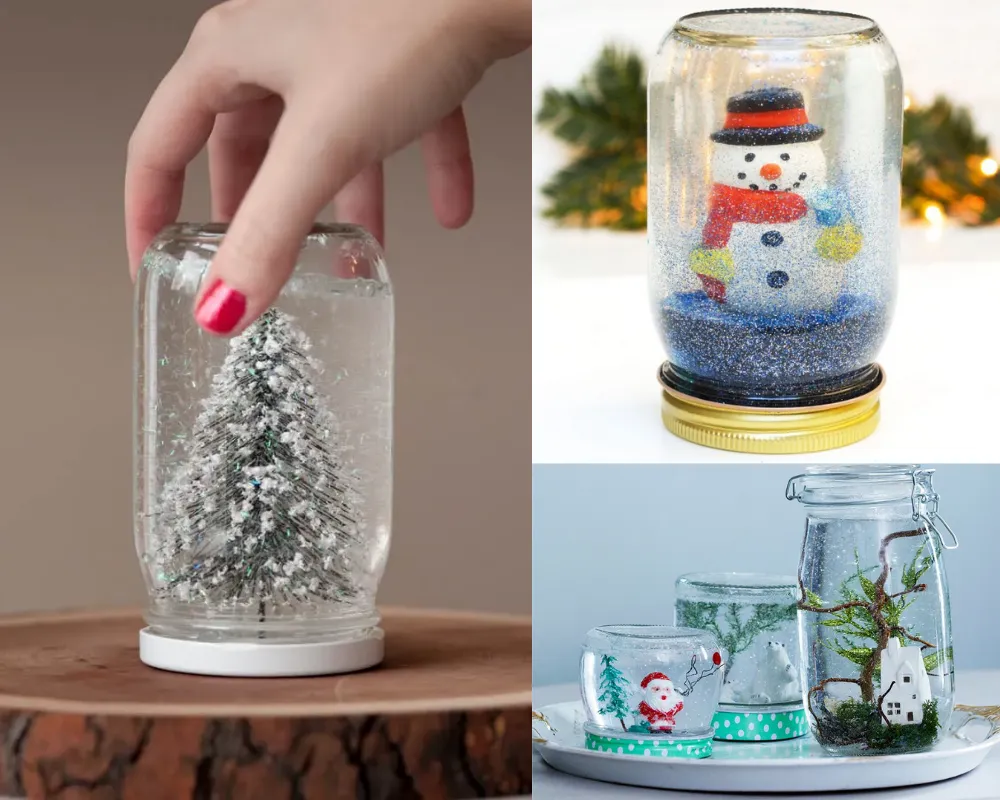 Simply glue the desired item to the underside of a mason jar lid. Fill the mason jar with water, a drop of glycerin, and glitter. Once the glue has completely dried, carefully screw the lid with the glued item onto the jar. Seal tightly and enjoy!
Clever Ornament Storage Solutions
One of the most exciting parts about decorating for the holidays is choosing the ornaments to adorn your Christmas tree. Some holiday decorators choose to stick with a specific color scheme, while others reuse the ornaments that have sentimental value.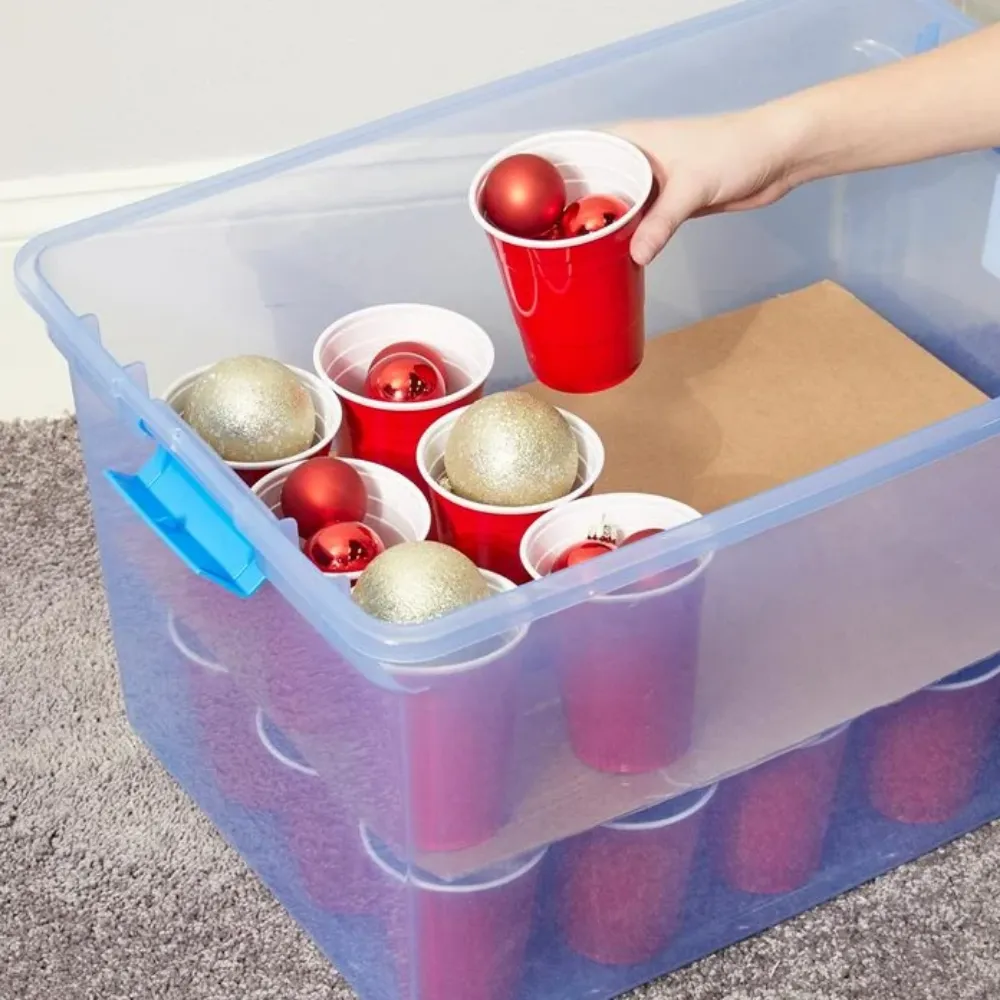 Whichever ornaments you choose, one thing is true – storing these precious baubles can be difficult. Many ornaments are made out of thin glass, metal, or other fragile materials. This holiday hack allows you to safely store your ornaments so that they'll be the highlight of the holidays for years to come.
Painted Windows
There's nothing quite like looking outside of your window to see the season's first snowflakes fall. While not everyone has the luxury of seeing this firsthand, painting your own snowflakes on your window can be the next best thing.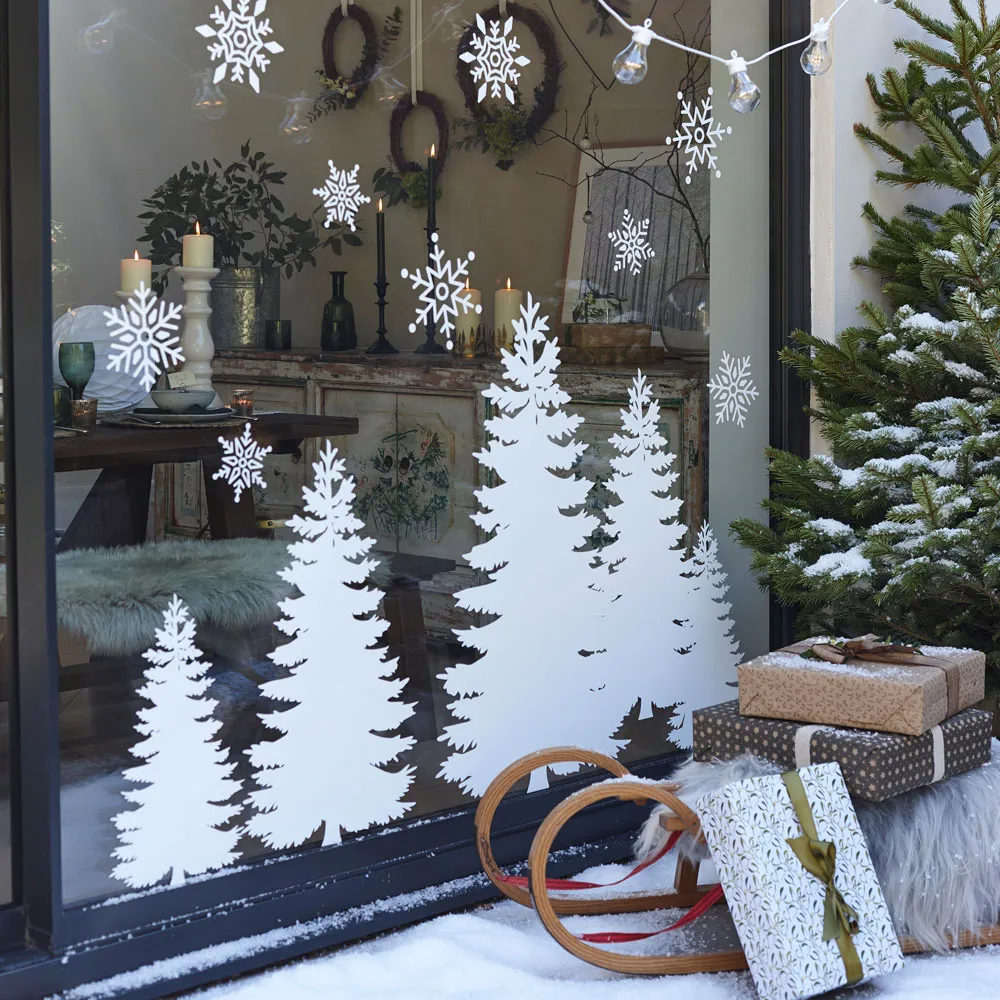 This hack allows you to be reminded of the holiday season, every time you look outside of your window. Using acrylic paint, or other easily removable glass-safe paint, add messages or pictures to your window. Not confident in your artistic abilities? Holiday-themed stencils are readily available and easy to use.
The Cutest Cup of Cocoa
While flashy and expensive gifts are always popular, many would argue that some of the best gifts are actually homemade. This adorably easy gift will leave the recipient smiling while keeping them warm.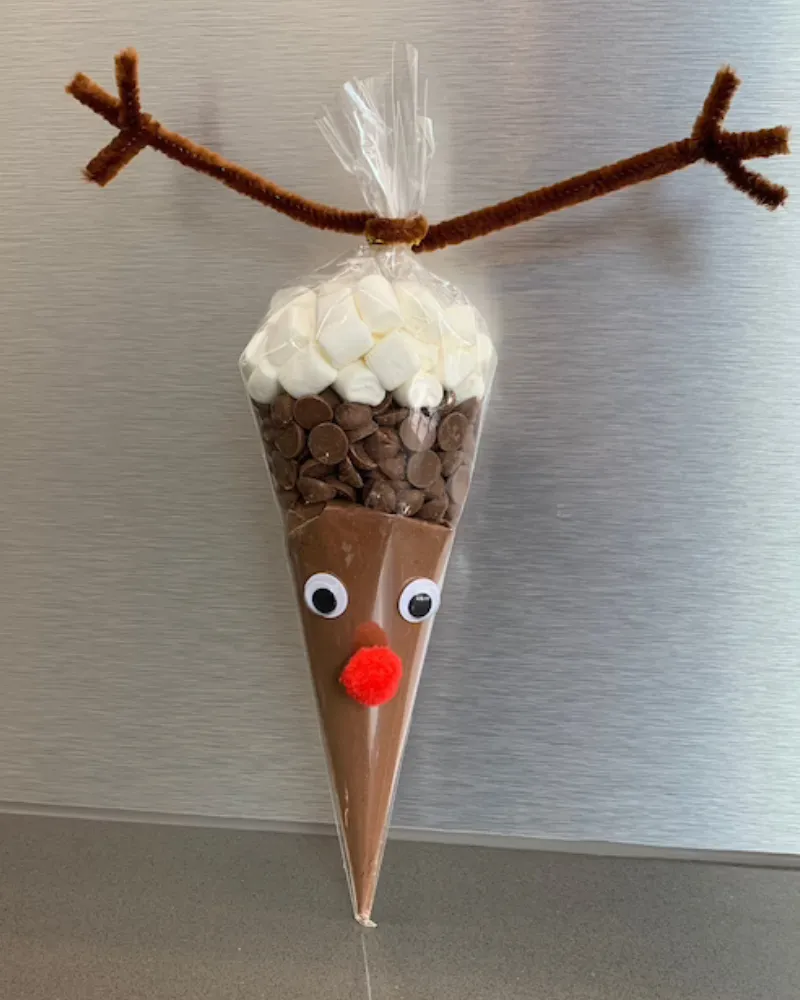 Fill a triangular-shaped bag with basic ingredients for hot cocoa, making sure to layer the ingredients to resemble a reindeer. Tie the bag shut and add a brown pipe cleaner to serve as the bag's "antlers". Add googly eyes and a red pompom for the reindeer's nose. We're sure the recipient will think of your kindness with every sip of cocoa.
Rustic Touch
While many holiday decorations tend to include bold colors or lots of glitter, this holiday decoration offers a refreshing twist on traditional holiday decor. Using a piece of driftwood or a branch, add natural rope to hang neutral-colored ornaments.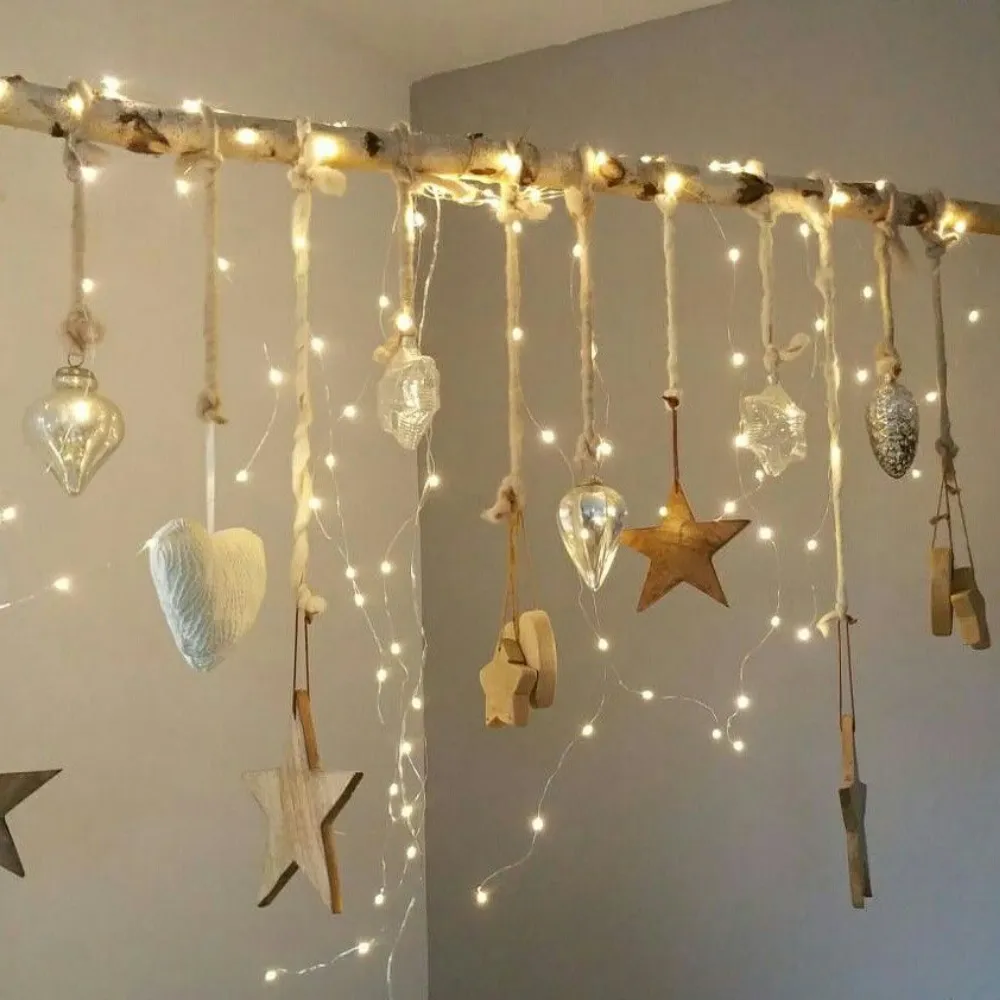 Ornaments made from natural materials like wood, glass, and cotton give this piece of decor a more rustic appeal. For an added touch, string thin fairy lights between the wood and ornaments. This nature-inspired decoration looks so beautiful that you may want to keep it up even after the holiday season.
Hot Cocoa Bar
Even if you're spending the holiday season in a tropical location, nothing says "holiday season" like a cup of hot chocolate. This warm and chocolatey drink is the perfect way to welcome the winter season.

This holiday season party hack will be a hit with guests as they customize their own cup of hot chocolate. Guests can choose from a variety of toppings, syrups, and flavors. The best part of this hack is that it can be customized according to your own preferences. Guests will love this interactive and customizable beverage bar.
Clever Card Tree
Exchanging greeting cards during the holiday season is a time-honored holiday tradition. One of the biggest challenges with receiving cards, however, is deciding where to store them. While some people place these sentimental notes in shoe boxes or drawers, this holiday decorator chose to incorporate them into their Christmas decorations.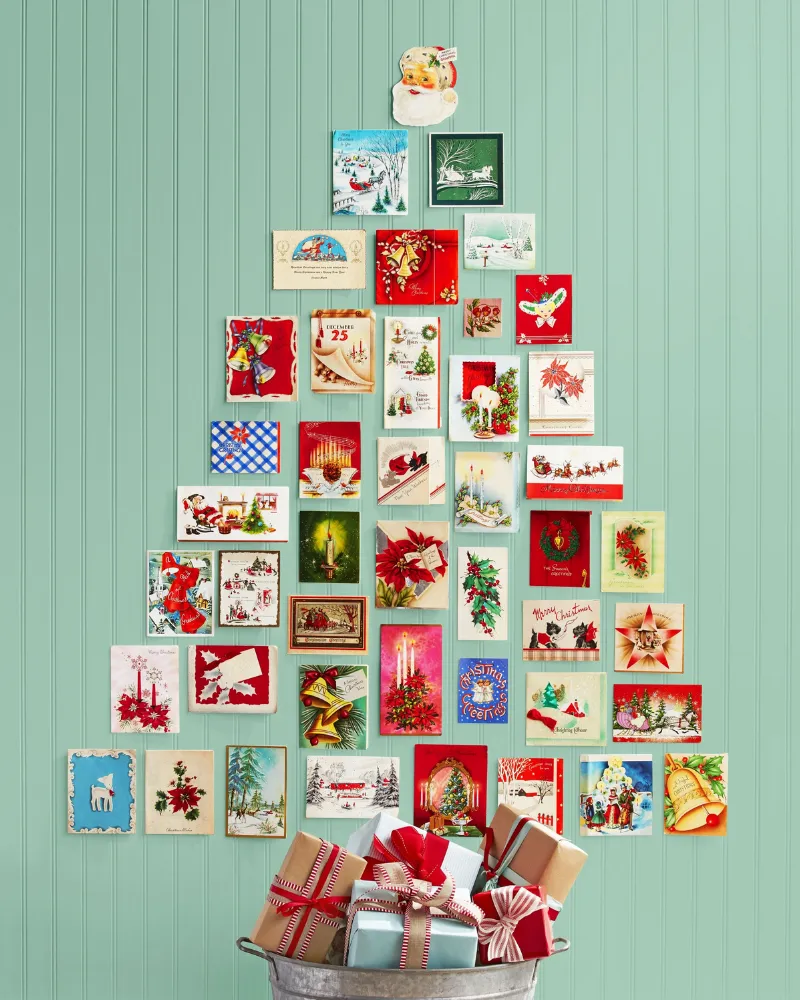 Show off your collection of holiday greeting cards by arranging them into the shape of a Christmas tree. Guests will love seeing their touching messages displayed in such a creative way.
Stemware Snow Globe
Elegant holiday decorations don't have to be expensive. These DIY decorations can be created using simple stemware and ornaments, or other items. Simply fill the wine glass or other type of stemware with your desired decorations, and carefully flip it upside down on a base.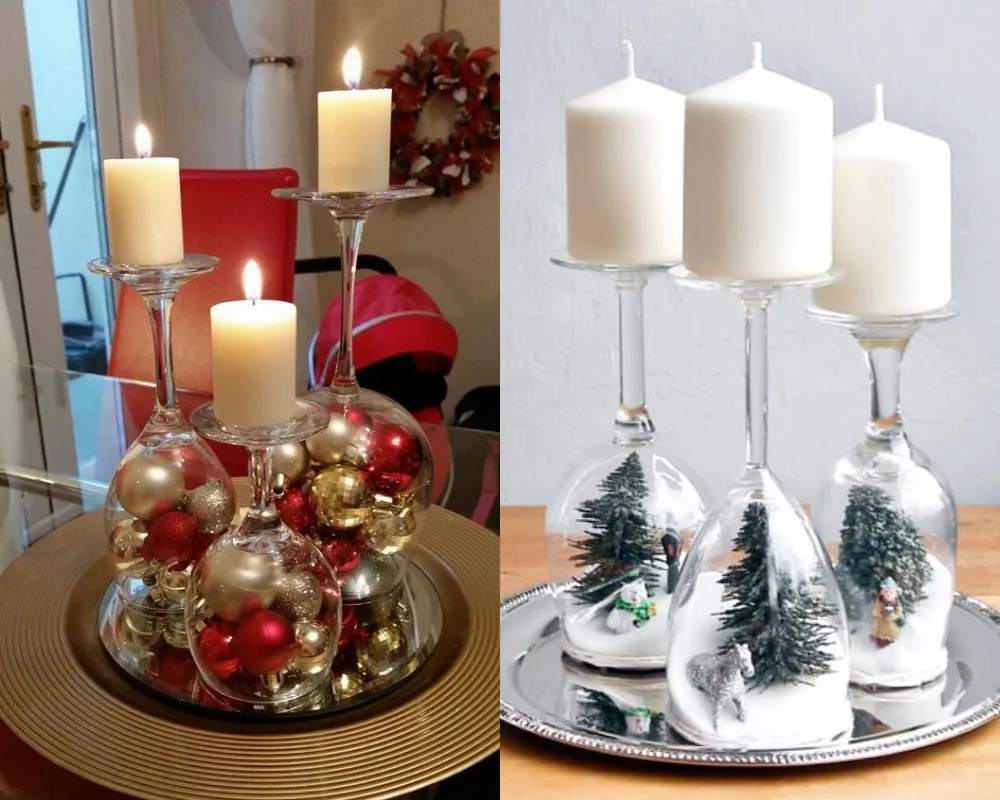 The base of the stemware can be used to support a candle, giving the decoration a sophisticated look that is perfect for dinner parties. This holiday hack is also a great way to use mismatched or extra stemware you may have laying around the house.
Cleaning Wax Off the Menorah
Over the years, Menorahs may have lost popularity in certain homes during Hanukkah, but it still remains one of the most religiously significant bits of the festival. All the candles look incredibly nice standing on any shelf. Cleaning one is a whole different story.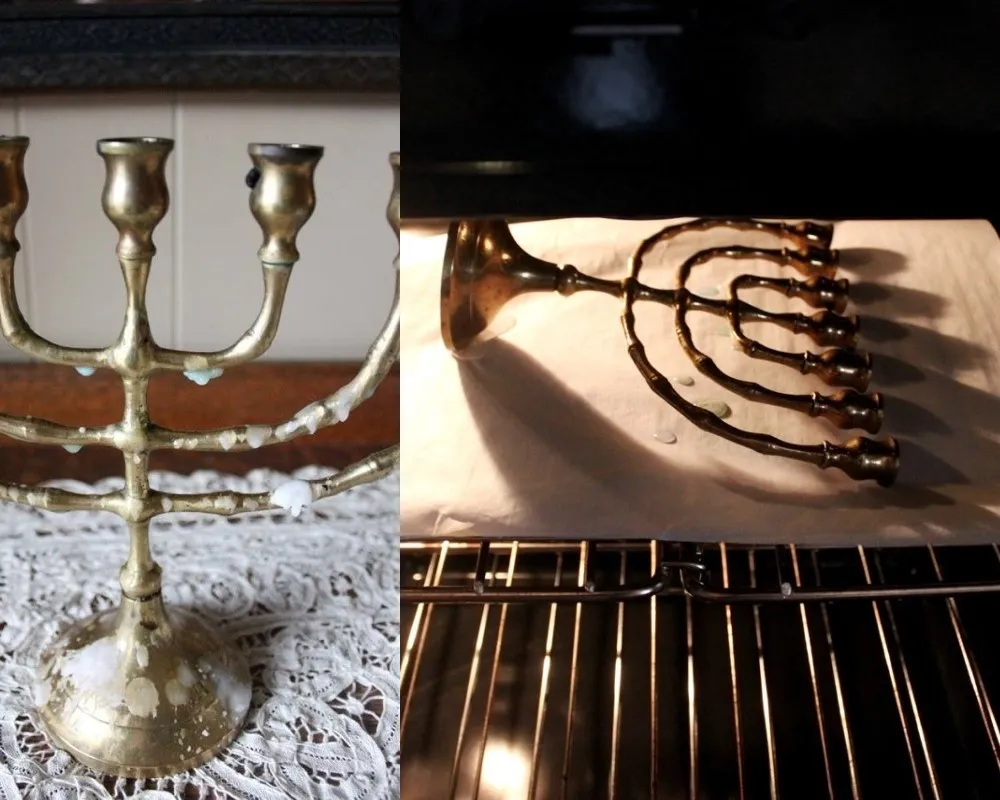 All the bits of melted and cooled wax dispersed around the body – quite annoying. Make your life easier by placing the menorah face down on a baking tray and putting it in the oven at a very low temperature. No scraping needed!
Vase Cookie Stamp
Cookies can be considered as an indispensable part of the holidays (if you ask us, it should be like that every day of the year!) Whether you're gifting cookies to family and friends, or filling sheets of cookies for your daily cravings, make them a bit fancier to complete the overall vibe.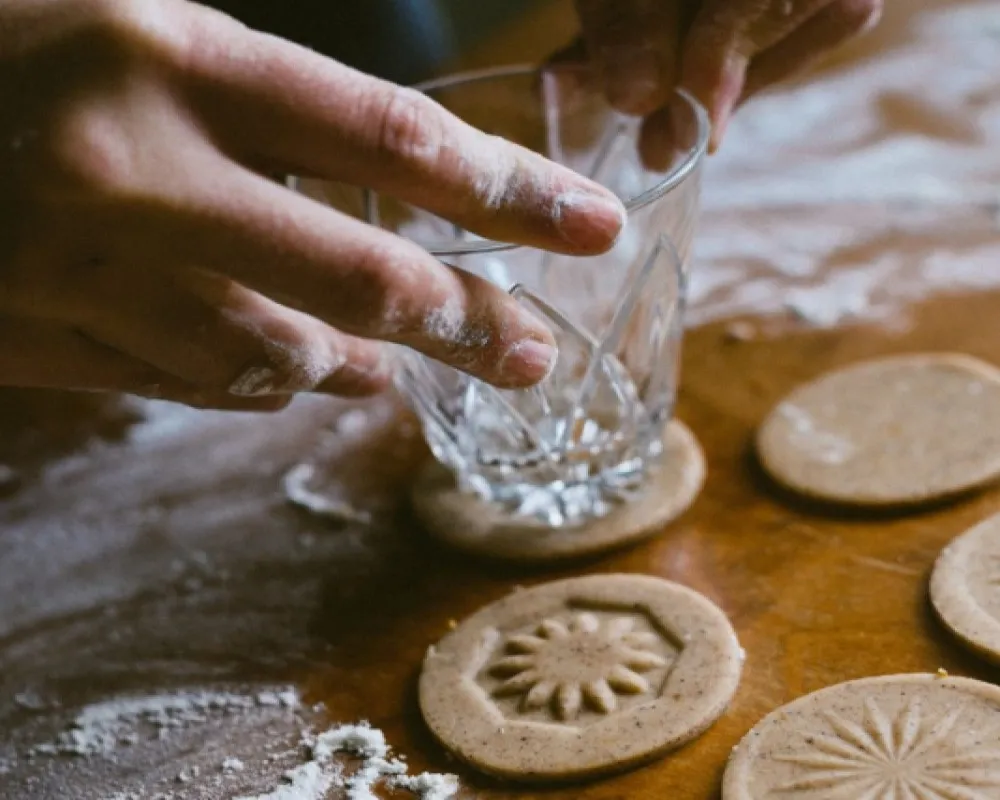 Find a crystal vase with a neat design and use the base as a stamp for the cookie design. You'll leave everyone wondering where you got it. Plus, it's simply fun to do, so why not?
Secure the Gingerbread House!
It's all fun and games until the gingerbread house starts collapsing and the kids start crying their heads off. Or maybe you're crying because you're an adult and still fail to assemble a proper gingerbread house. Kind of ruins the entire day, right?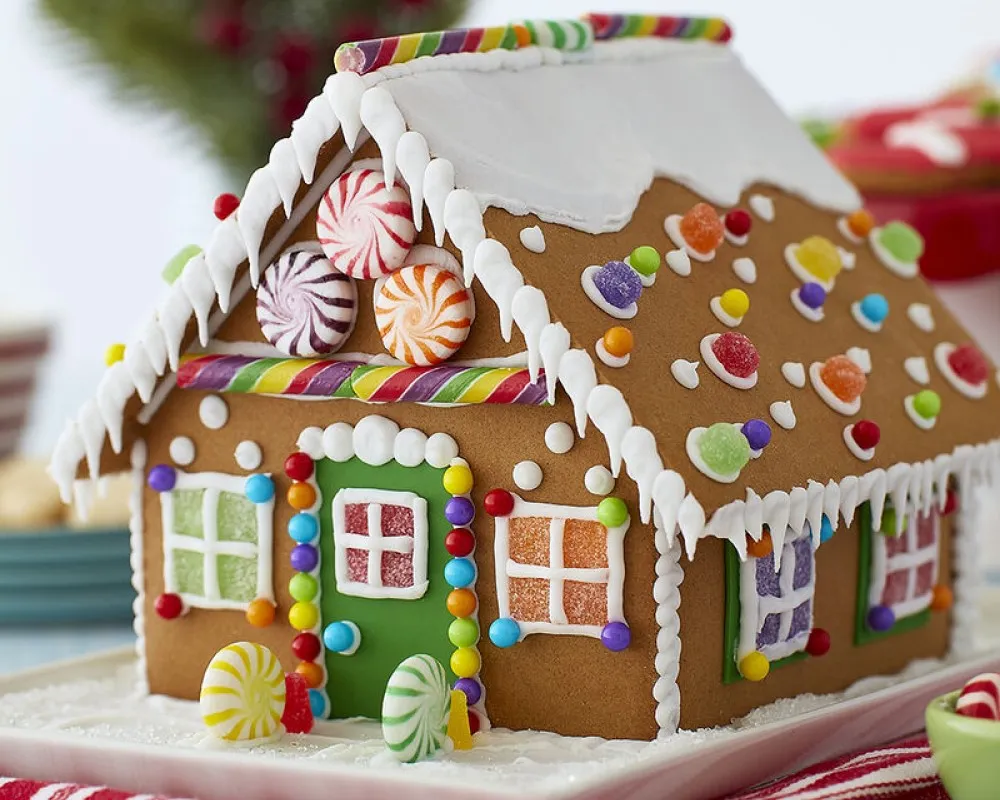 Prevent a massive collapse (and mess) by building the yummy house around a big goldfish box. The shape is great, and the rigid cardboard will make sure building the scrumptious house is a total breeze.
Hang from the Chandelier
Wreaths, wreaths, wreaths! We absolutely can't get enough of them during the holiday season and we know you can't either.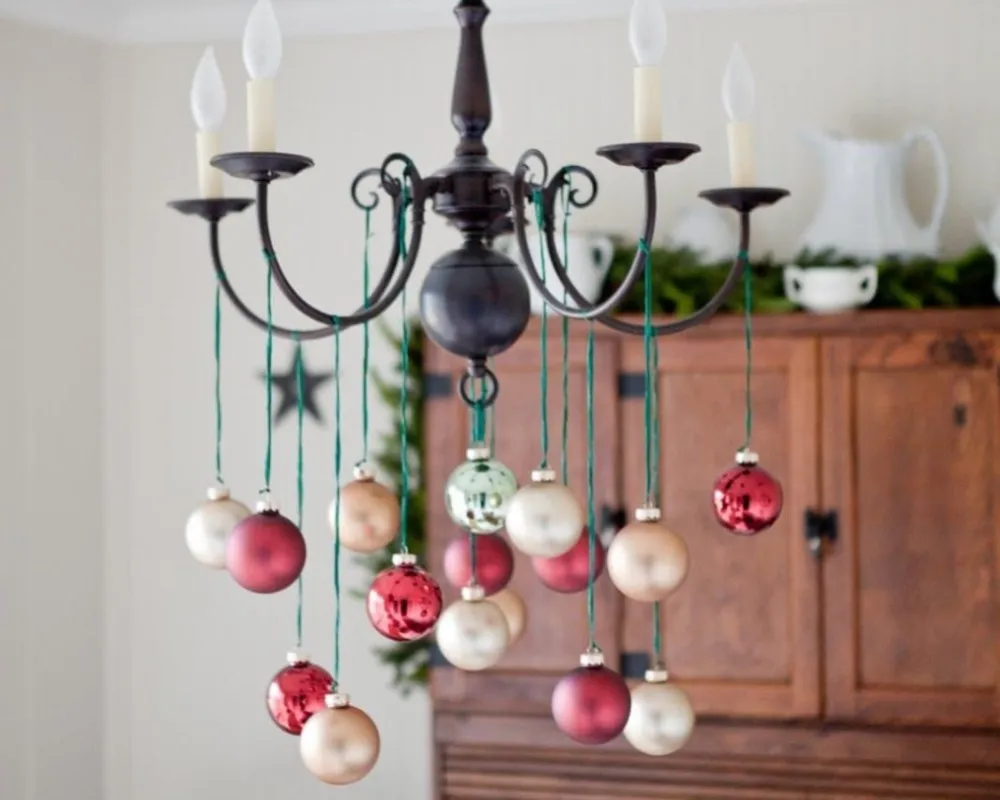 If you've already hung some up on the front (and back) door and now wish to bring the sparkle inside, try hanging the ornaments from your dining room light attachments; or better yet, the chandelier! Use a ribbon to tie the ornaments in place at varying heights to make a distinct decor piece that will entertain you all season long.
Adorable Pumpkin Bowls
Pumpkins are such multipurpose veggies (read ornamental pieces) that we're confused why they're only Halloween essentials. They're just as amazing for Christmas or Hanukkah decor and here's a fun way to utilize them.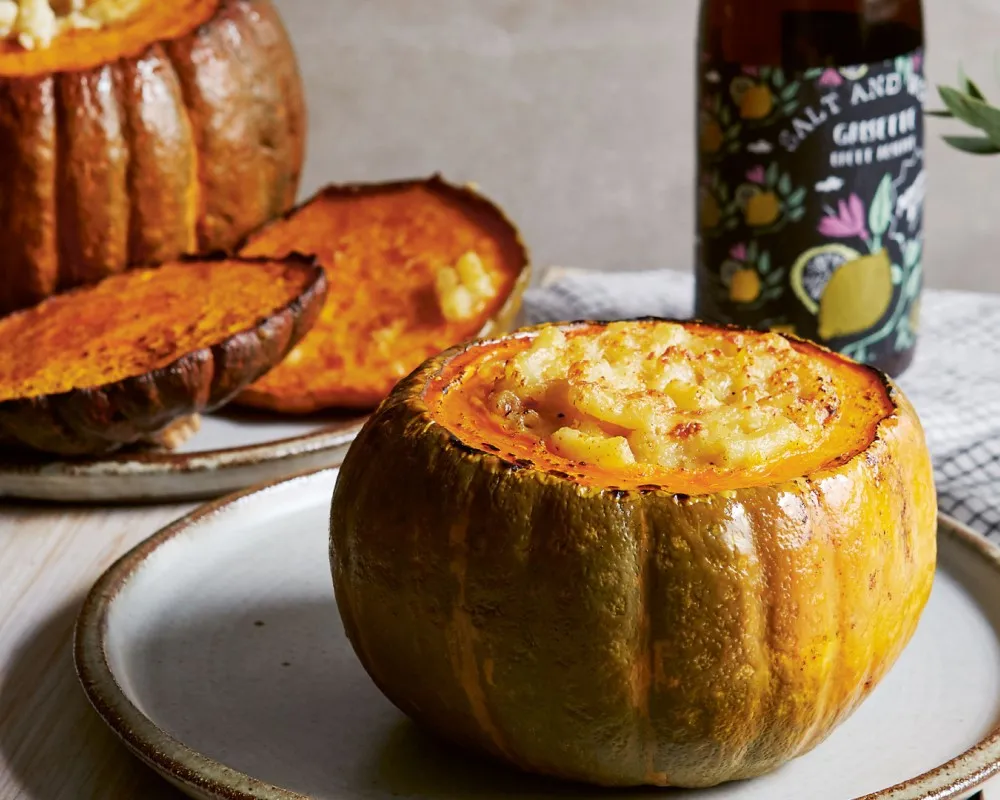 Create bowls by carving out small pumpkins that can be held within the palms of your hand and use it to serve dip, soup, or maybe as an ice chest! These could also be a splendid addition to your Thanksgiving dinner next year, so make sure to try it out.
Get a Perfect Roof Line
Ever wondered how your neighbors managed to perfectly align their Christmas decorations on the roof without them falling away or flying off? Look no further. This one, though, might be difficult to create perfectly with stuff you have at home.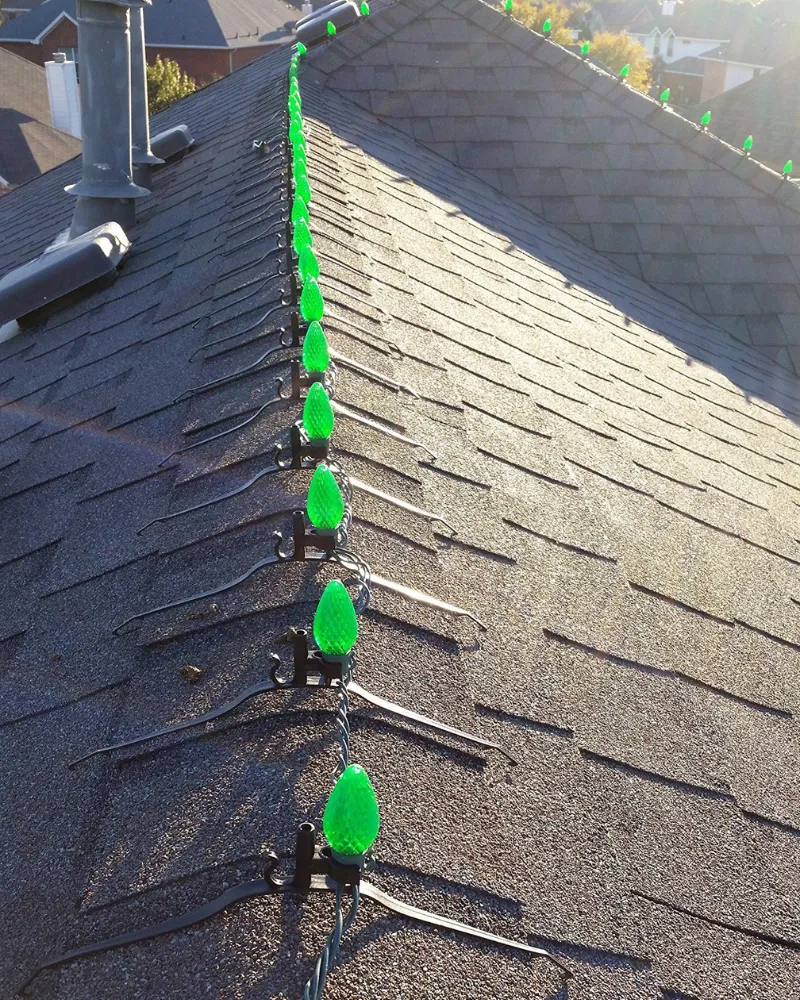 Thankfully, you can just buy a roof ridge clip system which you can get at most online mass sellers like Amazon for a pretty reasonable price. They're perfectly designed to hold your lights in place. Plus, if you're careful, you can save them for next year, too!