Blonde hair with purple highlights is a striking and trendy hair color combination that can add depth, dimension, and a touch of boldness to your look. Whether you're a natural blonde looking to enhance your locks or you're ready to make a bold statement with a new hair color, this ultimate guide will walk you through everything you need to know about perfecting blonde hair with purple highlights.
Blonde hair comes in a spectrum of shades, from icy platinum to warm honey. Choosing the right shade of blonde is crucial as it forms the canvas for your purple highlights. Similarly, purple highlights can range from delicate lavender undertones to vibrant magenta streaks. Consider your skin tone and eye color to find the perfect balance between your blonde base and purple highlights, ensuring a harmonious and eye-catching result.
Preparing for the Transformation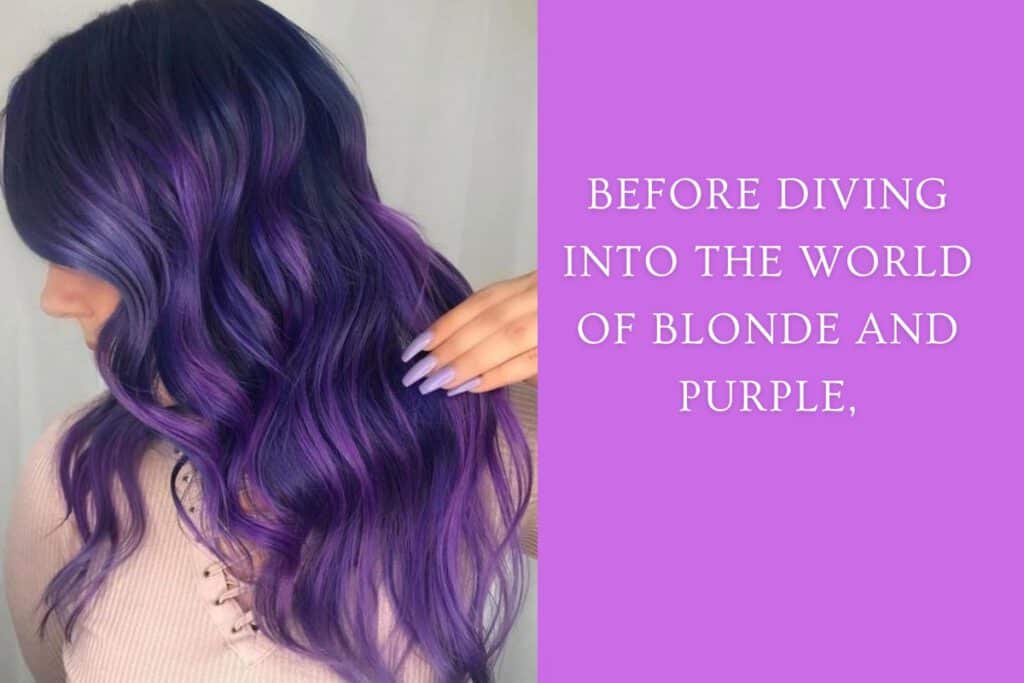 Before diving into the world of blonde and purple, it's essential to ensure your hair's health. Deep conditioning treatments, regular trims, and minimizing heat styling can all contribute to a healthy base. A consultation with a professional stylist is a must. They'll help determine the best approach for your hair type, the level of lightening required, and the placement of purple highlights. Additionally, perform patch and strand tests to check for any allergic reactions or unwanted color outcomes.
Achieving the Perfect Blonde Base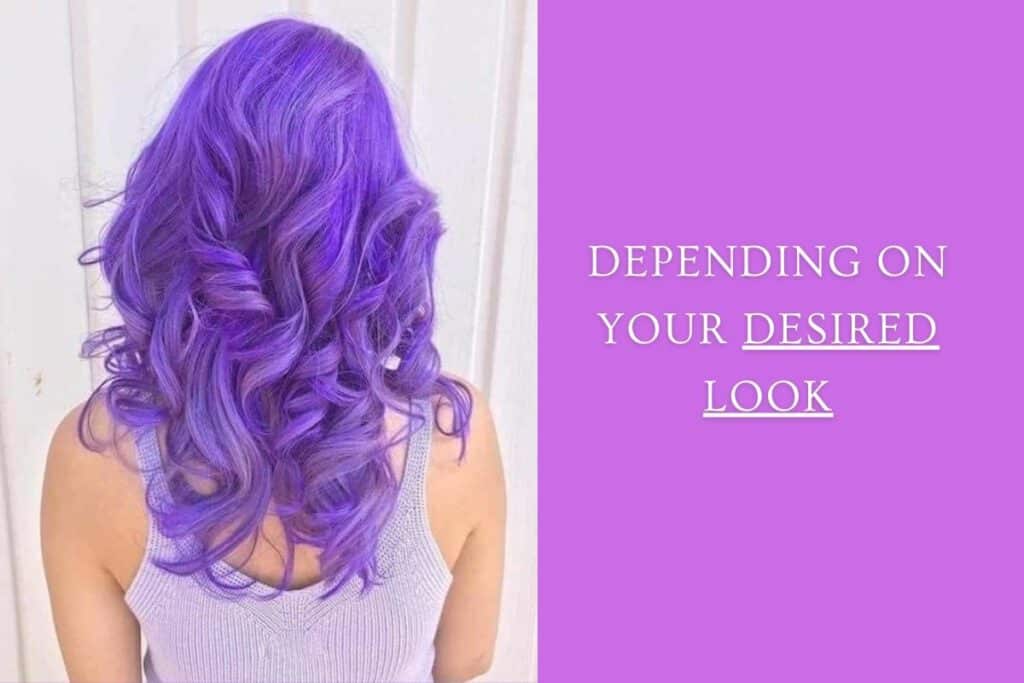 Depending on your desired look, you can opt for full bleaching or partial highlights. A step-by-step bleaching process may include pre-lightening, toning, and conditioning to achieve your chosen shade of blonde. Toners help neutralize any unwanted undertones and ensure a flawless blonde base that complements the purple highlights.
Adding the Purple Highlights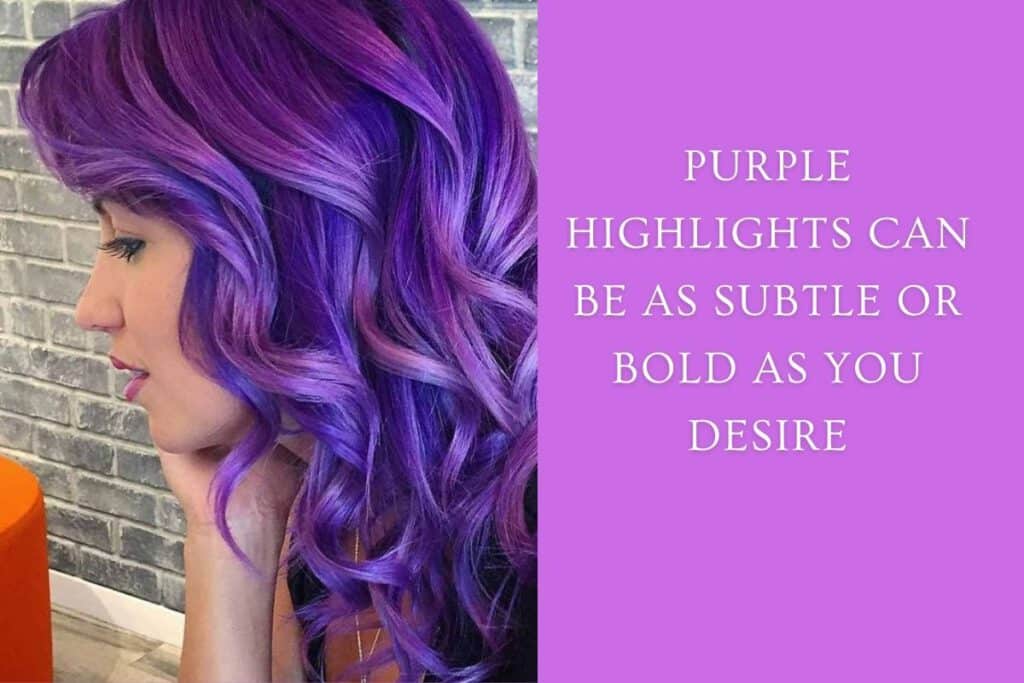 Purple highlights can be as subtle or bold as you desire. Subtle highlights can be achieved through a balayage technique, while foiling creates more distinct and defined streaks. Section your hair and carefully apply the purple color, focusing on the chosen placement. The result will be a dynamic blend of blonde and purple that enhances your overall appearance.
Caring for Your Blonde Hair with Purple Highlights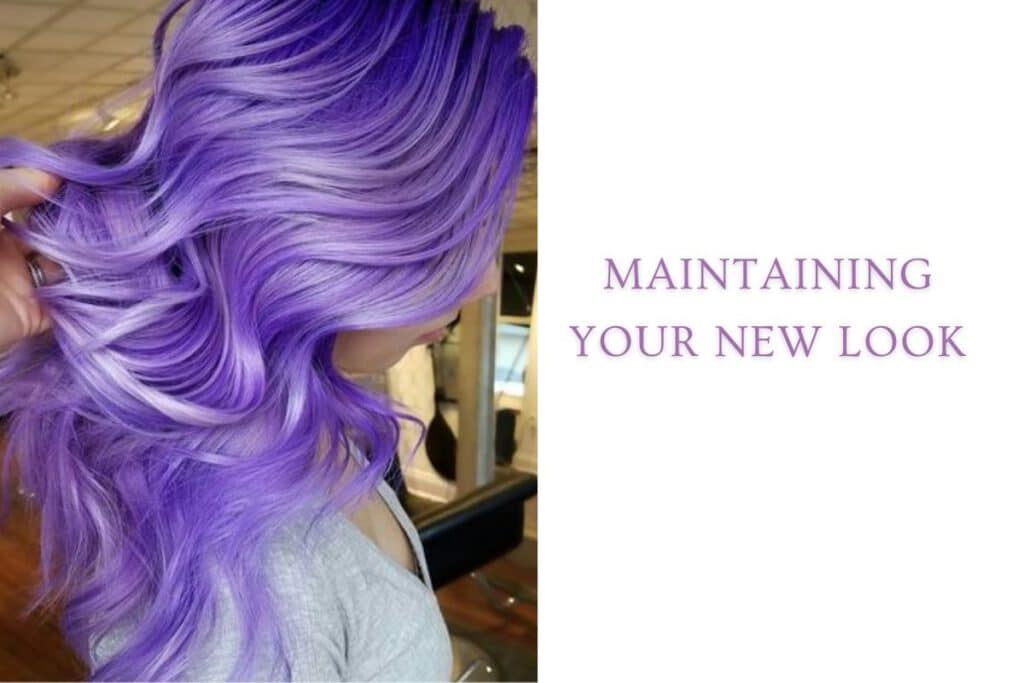 Maintaining your new look requires proper care. Opt for color-safe shampoos and conditioners to preserve the vibrancy of both the blonde and purple hues. Regular deep conditioning treatments and hair masks help keep your locks nourished and hydrated. Additionally, shield your hair from sun and heat damage by using protective products and limiting exposure to harsh elements.
Maintenance and Upkeep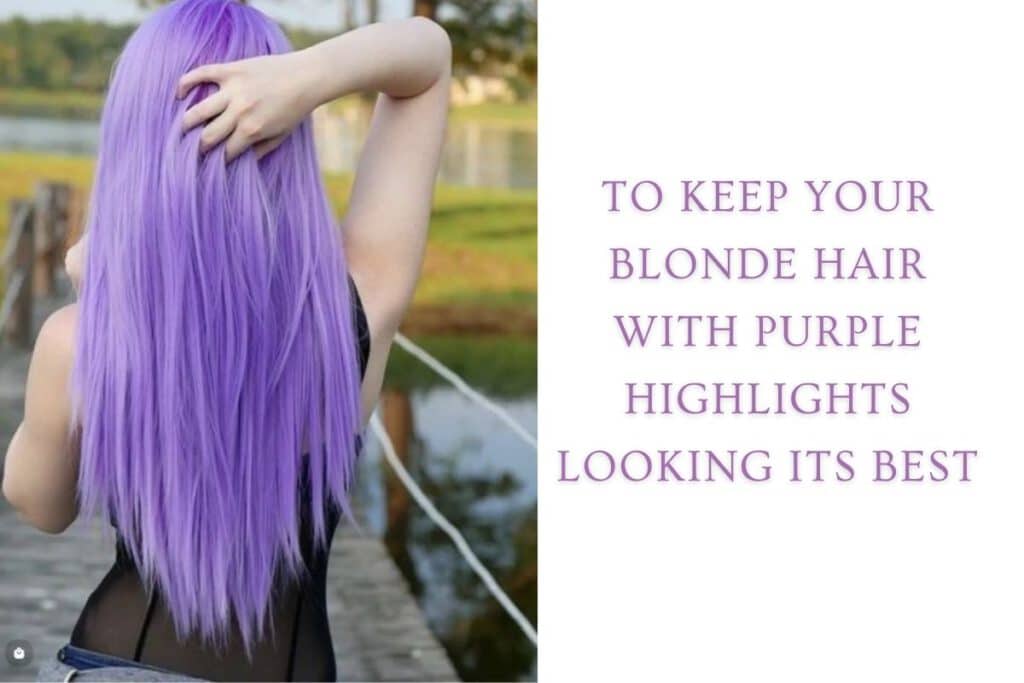 To keep your blonde hair with purple highlights looking its best, schedule regular touch-ups and color refreshing appointments with your stylist. Purple-enhancing products and glosses can help revive the purple highlights between salon visits. Prioritize overall hair health by maintaining a balanced diet, staying hydrated, and avoiding excessive heat styling.
Styling and Showcasing Your New Look
Experiment with different hairstyles to showcase your vibrant hair color. Waves, braids, and updos can highlight the contrasting shades beautifully. Consider adjusting your makeup and fashion choices to complement your new look. Capture stunning photos for your social media by finding the right lighting and angles to truly capture the essence of your blonde hair with purple highlights.
Read More: Why is Gemini Hair the Hottest Colorful Trend Right Now?
Removing or Changing Purple Highlights
If you decide to transition to a new color or remove the purple highlights, consult a professional stylist to avoid potential damage. They can guide you through the fading process or suggest alternative options based on your preferences.
Frequently Asked Questions
Can I DIY the Process at Home?
While DIY is possible, achieving the desired results with blonde hair and purple highlights often requires professional expertise to ensure color accuracy and minimize damage.
How Long Will the Color Last?
The longevity of your blonde hair with purple highlights depends on various factors, including hair care, maintenance, and your hair's natural growth cycle.
Will Purple Highlights Work for Short Hair?
Absolutely! Purple highlights can add flair and personality to short haircuts, creating a bold and stylish look.
Does purple go with blonde hair?
Using bright purple with blonde hair can make a strong difference. To achieve a "lavender-vanilla latte" appearance, like the example you mentioned, your hair color specialist will put in sections of lavender dye.
What hair color looks best with blonde?
Hair that is darker in color looks thicker than lighter shades, so incorporating low-lights into your blonde hair can create a denser effect. To achieve a more voluminous appearance, opt for a brown, red-brown, or black shade that complements your blonde hair color.
What hair color looks best with purple?
For a bold and unique appearance, consider adding platinum highlights with purple tips. The platinum highlights create a striking contrast when paired with the vibrant purple ends. This color blend complements cooler undertones effectively.
Conclusion:
Blonde hair with purple highlights is a captivating and vibrant choice for those looking to experiment with their hair color. By following this comprehensive guide, you'll be well-prepared to embark on your hair transformation journey. From choosing the right shades to maintaining your stunning new look, you'll have all the tools and knowledge needed to perfect your blonde hair with purple highlights. Get ready to turn heads and make a stylish statement with your gorgeously colored locks!