Guess what? Today at college, I saw this amazing girl with a super cool hair makeover! She had her hair colored in two different shades. It totally took me by surprise, and you know what's even more interesting? This trend is totally in right now, which is Gemini Hair. Even famous celebrities are rocking this style! It's so awesome how fashion trends spread, right?
So, guess what? I did some digging, and turns out the girl with the cool two-tone hair makeover had a pretty cool reason for it. She's getting all set to strut her stuff on the college modeling ramp! Yep, that's right – her hair isn't just a style, it's like her way of showing off her creativity and making a splash on the runway. And the coolest part? This trend isn't just a college thing – even famous celebs are jumping on the bandwagon, making it a big deal on and off the red carpet. It's like fashion is a cool way for us to say who we are, and it's spreading like wildfire!
So, when I got back home, I went online to check out more about this trend, right? And whoa, let me tell you, it's like a super big deal! Here's what I dug up during my little online adventure.
What Is Gemini Hair?
So, as I continued my online journey into the world of fashion trends, I stumbled upon something called "Gemini Hair." It's like this cool and edgy hair trend where you rock two different shades in your hair, just like that girl I saw at college. The name "Gemini" totally fits because it's like your hair has two personalities, you know? One color on one side and another on the opposite side. It's a bold way of showing off your unique style and making a statement. Turns out, it's not just a random thing – it's becoming a real sensation, even catching the attention of famous celebs. Imagine that! It's pretty wild how fashion can spread and become this whole movement, right? So, let's dive into the world of Gemini Hair and see what all the fuss is about!
Well, I found out some awesome stuff! Turns out, this trend has been around for ages, but now it's making a comeback with a modern twist, thanks to folks like Jonathan Colombini, who's a big deal in hairstyling. Back in the '90s, it had that grunge vibe, and now it's all elevated and cool again, especially 'cause celebs are totally into it these days.
So, get this – Nikki Lee, who knows hair stuff at Nine Zero One Salon, spilled some more secrets. She says people are loving Gemini hair 'cause it's like trying out two hair colors at once. Imagine it like changing wigs to match your mood and outfits, but with your own hair. It's all about having fun and showing off your style in a fresh way.
So, yeah, "Gemini Hair" isn't just about hair, it's about history, celebs bringing it back, and having a blast with your look. Super cool, right?
How to Try the Gemini Hair Trend?
Now, let's talk about how you can totally rock the Gemini Hair trend, just like that girl I spotted on campus. It's actually pretty simple and loads of fun! You basically pick two hair colors that you're totally vibing with – think bold and contrasting. You can go for something wild like blue and pink or keep it subtle with blonde and brown. It's all about your style, no rules here! Once you've got your colors, you split your hair down the middle, with each side flaunting a different shade. It's like having two personalities for your hair, and it's seriously cool. So, whether you're feeling adventurous or just want to switch things up, give Gemini Hair a shot and let your hair do the talking!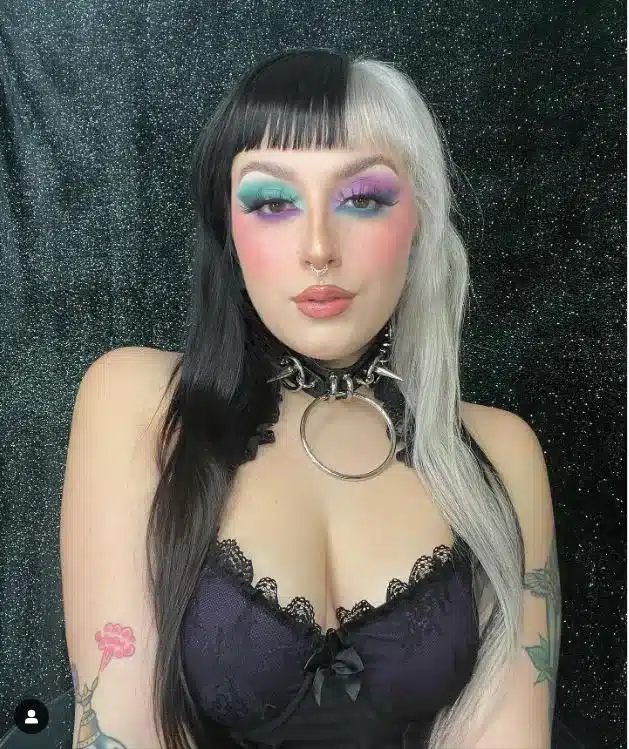 What You Need to Know Before Trying Gemini Hair
Before you dive in, here's the scoop. Step one, find a top-notch salon close to you that's got plenty of experience with Gemini Hair. Check out their reviews, and if you know someone who's been there, even better – ask them for the lowdown. Getting some info beforehand can make all the difference.
Note: Remember, don't break the bank for this. Keep in mind, you've got other important stuff to save up for. So, make sure the Gemini Hair adventure doesn't cost you an arm and a leg!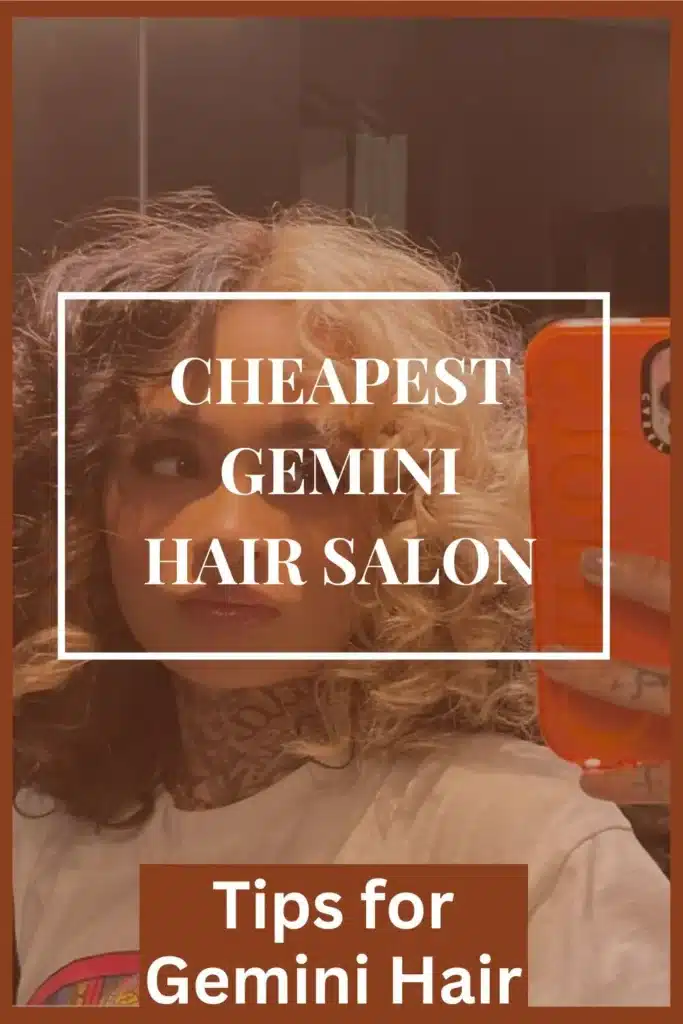 Don't Do After Getting Gemini Hair
Once you've got that fabulous Gemini Hair from the salon, taking care of your new look is key. First things first, always stick to washing your hair with cold water. Hot water can mess with the color shades and make them fade faster. Keep it cool for that vibrant look!
Also, keep in mind, it's a good idea to give your hair a break from the hair dryer. Using it too often can actually speed up the fading of your awesome Gemini Hair colors. So, let your hair air-dry naturally whenever you can – it's a simple way to help those colors stay vibrant and looking their be.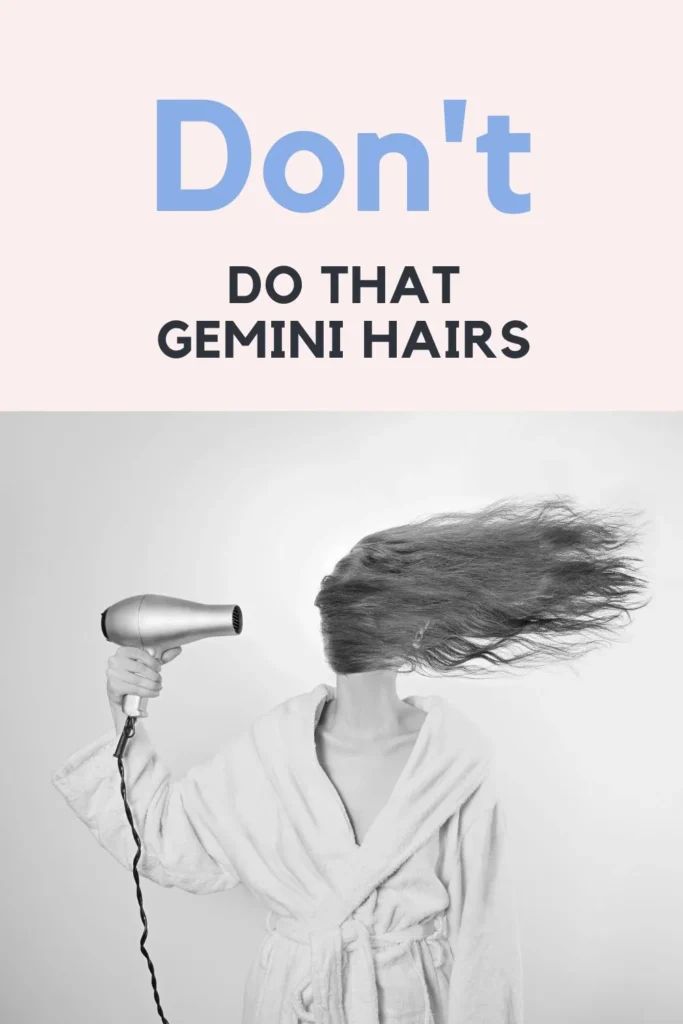 To give your hair the attention it deserves, a deep-conditioning treatment is your go-to. Something like the Bleach Reincarnation Mask works wonders. In just 20 minutes, it's like a power-packed punch of goodness. Packed with protein, sunflower oil, and lactic acid, it's basically a superhero for your hair. It strengthens and hydrates, making sure your hair stays healthy despite all the excitement. So, remember, after some intense color adventures, a little TLC goes a long way!
Fade alert! Gemini Hair
If you hopped on the Gemini Hair train because you're all about trying new things, this might not bother you too much (since you're always up for the next adventure). But it's worth knowing that those vibrant colors you love can fade pretty fast. Along with the cold water trick, here's another tip: don't go overboard with washing. Santo, the expert, says the more you wash, the more color says goodbye.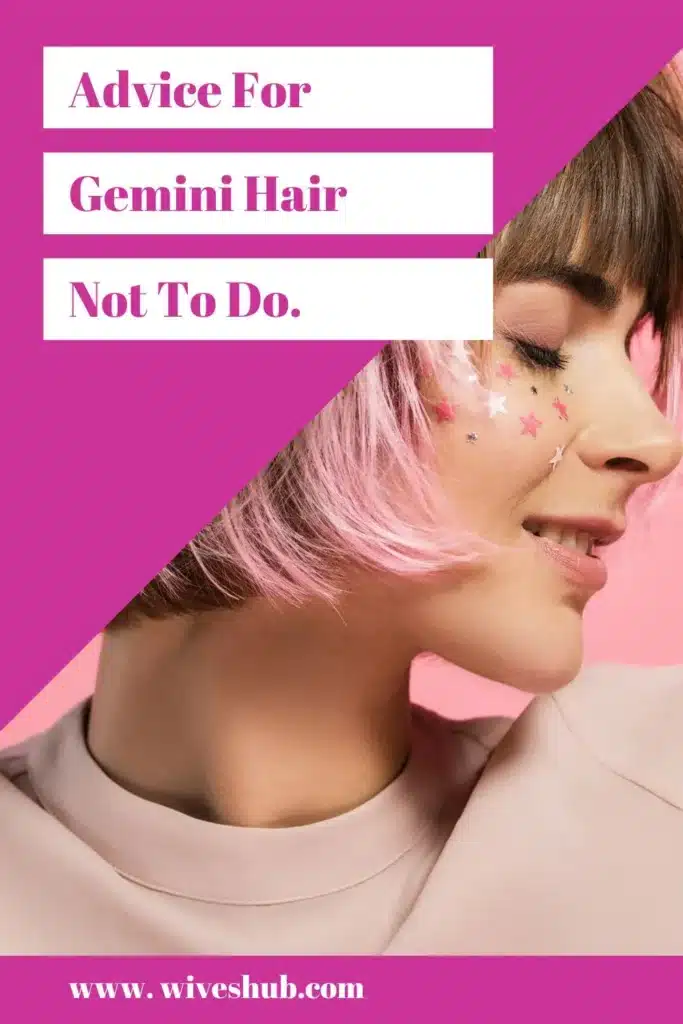 To keep your shades bold and vibrant, there's a cool trick you can try. Go for color depositing masks or conditioners. Brands like Moroccanoil and Overtone have some awesome options. They basically help pump up the color and keep it looking fresh and fab. So, whether you're an adventure seeker or just want to rock your vibrant look for as long as possible, these tips will have your back!
A temporary Toch to Gemini Hair
If you're keen on attempting this trend but not too thrilled about making a major commitment, give temporary a go. Not only is it not forever if you wind up not liking it, but if you do, it can help you decide which colors to go for. Good Dye Young offers several formulas like its I'm Bored semitemporary color, which is basically like makeup for your hair. It lasts two to six washes and gives you a nice taste of what living the Gemini hair life would be like.
Why is Gemini Hair so hot right now?
Gemini Hair is awesome because you can have colorful hair that's all you. Celebrities like it too, and it's a fun way to change how you look. That's why everyone's into it right now!
What's driving the popularity of Gemini Hair?
Lots of people like Gemini Hair because it's a cool and colorful way to stand out.
Why is Gemini Hair the top colorful trend?
Gemini Hair rocks the colorful trend because it's all about personal style and fun. Celebs love it too!
How did Gemini Hair become a trendsetter?
Gemini Hair became a trendsetter because it's a cool way to show your style. Celebrities liking it made more people try it too!