Children can be both a blessing and a challenge to deal with. For this reason, there are some useful tips and tricks parents can use to make parenting easier. Some of these techniques are effective, such as guiding your child to behave appropriately or finding ways to have personal time when your children are demanding attention. However, there are also some terrible hacks that should not be attempted by any responsible parent. While we do not endorse these methods, they can be quite comical to read about.
Guide to Getting Chores Done
It is not uncommon for adults to occasionally have difficulty completing household tasks, so it is understandable that children may not enjoy it as well. Nevertheless, it is not desirable to live with unhelpful children. Naturally, you would expect them to assist with household responsibilities.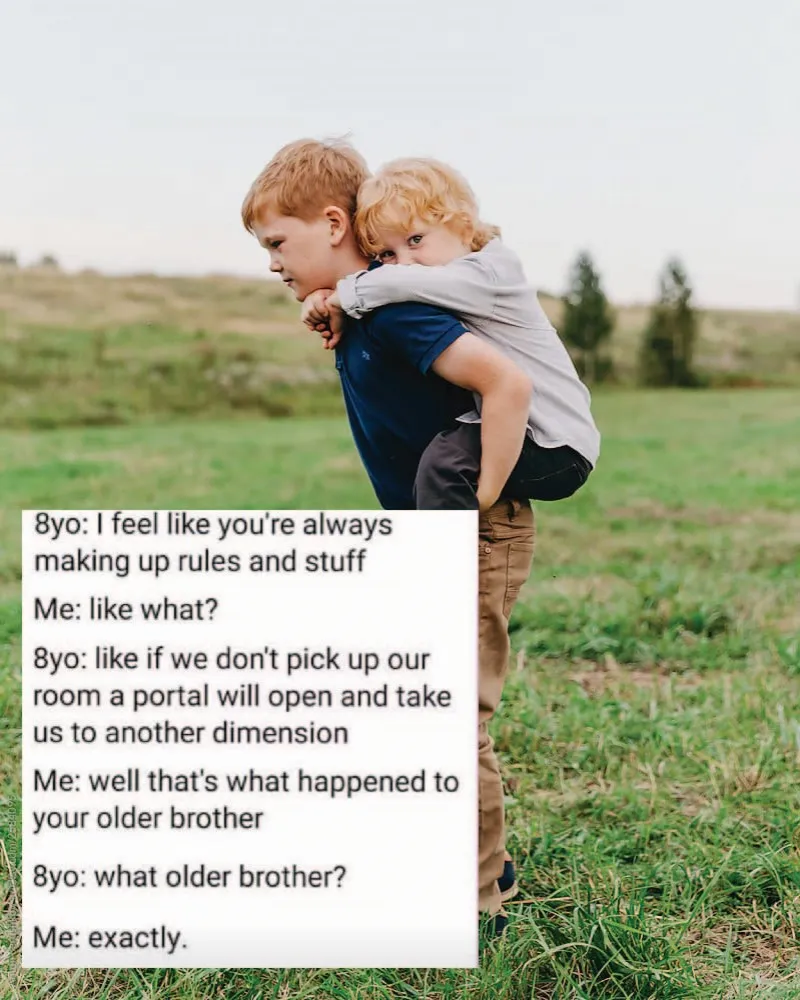 Our concern lies in the approach parents adopt to persuade their kids to do their chores. One child firmly believed that his mother was fabricating the rules. He was skeptical that a portal would miraculously appear and take him away if he failed to complete his chores. Nevertheless, there might be a possibility…
The Occasional Hiding
Dear parents, we understand how challenging it can be to manage a chaotic family, and we want to reassure you that taking a moment to hide in the closet or enjoy a chocolate bar should not make you feel guilty. It is essential to remember that you deserve to have some time for yourself and enjoy life.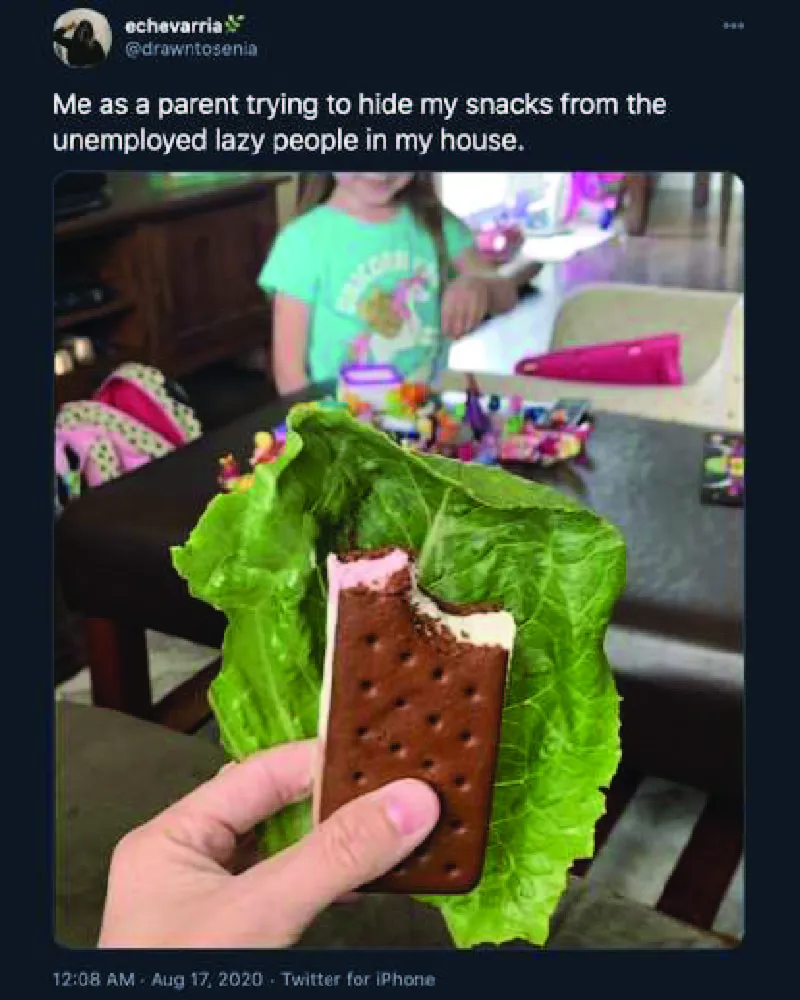 You are allowed to enjoy snacks without your children asking for some, but it may require some effort since children naturally tend to be needy. One creative solution could be to opt for lettuce as your snack choice.
Unique Solutions 101
It is customary for families to set restrictions on the amount of time their children spend on electronic devices. Parents generally want to avoid their children staring at screens all day, as this can have negative implications. It is easy for kids to fall into the trap of boredom and restlessness when electronic devices are used excessively.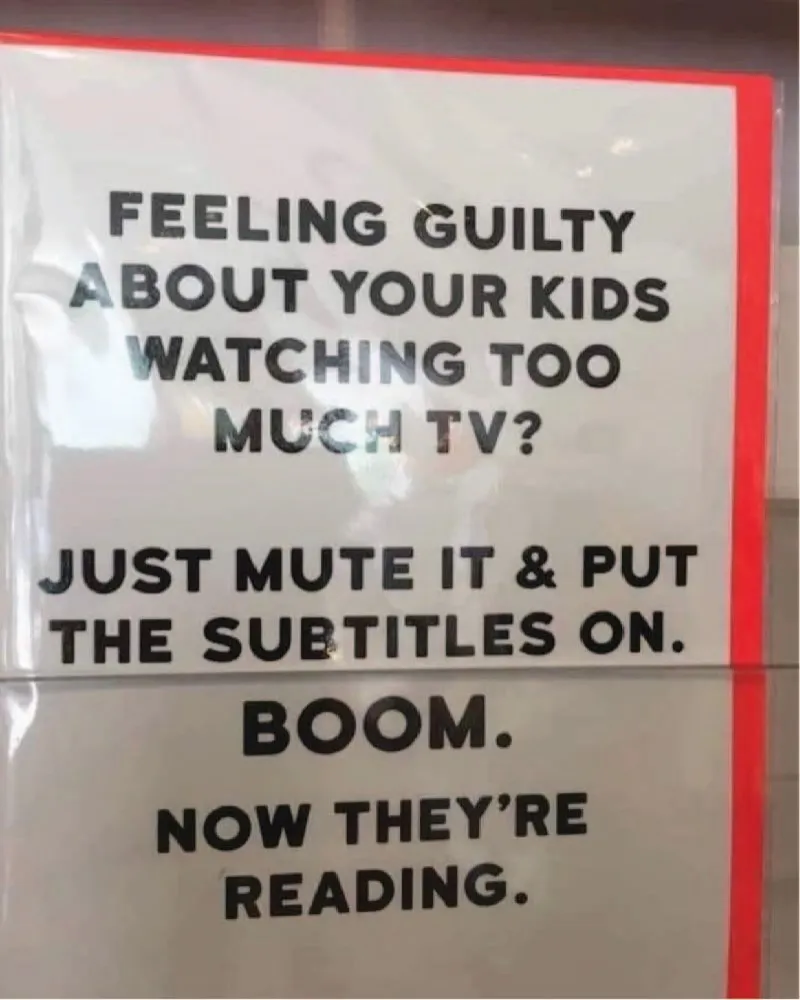 One way to respond vaguely to a request is to suggest doing homework or going outside. However, this may not always suffice, so either granting their request or offering a variation can be beneficial. For instance, allowing them to read from the TV instead of watching it.
Controlling the Swing
The idea and process of this hack are comprehensible to us, but like many others listed, it is not effective or secure. It is important that children receive their parents' attention. Therefore, we believe it is better to prioritize attending to your child over indulging in your beverage.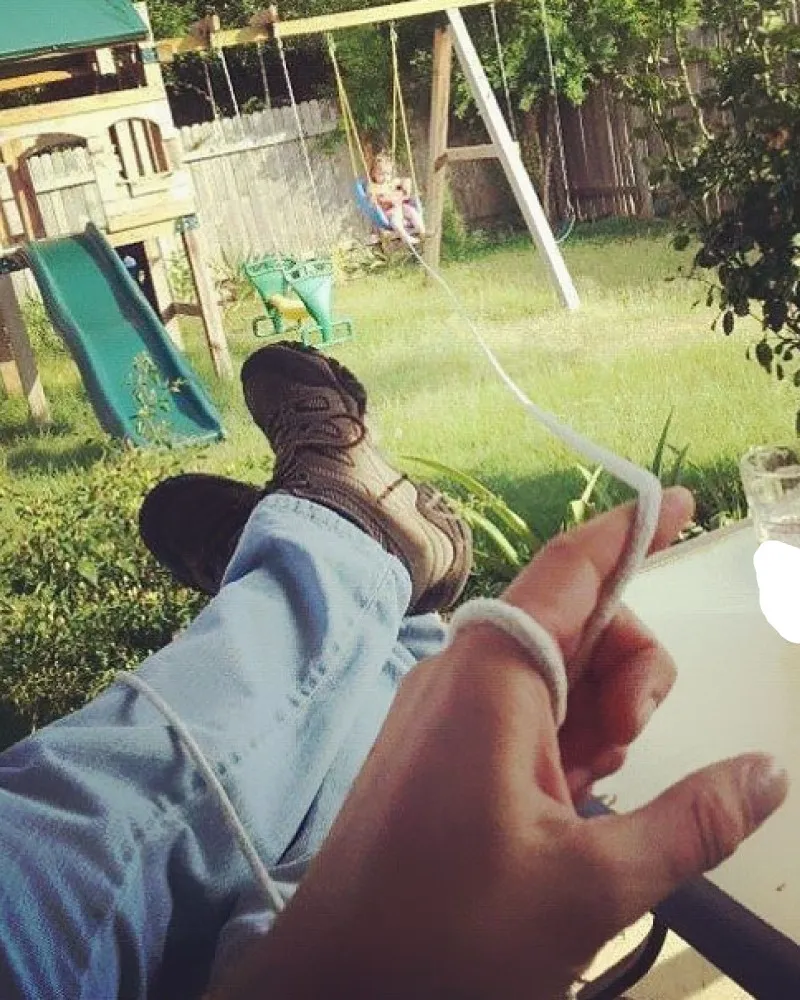 If you feel the need to take a break, you can always spend time with your children at a later time. Multitasking can be beneficial, but only if executed correctly. There are many risks involved in this situation that could harm the child in the end.
Trusty Get-Along Shirt
It can be a real nightmare for parents to deal with the constant arguments between their two children. Although it is a normal part of growing up, it can be exhausting for parents who want to find a solution to stop the fighting and yelling. However, with time, children tend to get along better.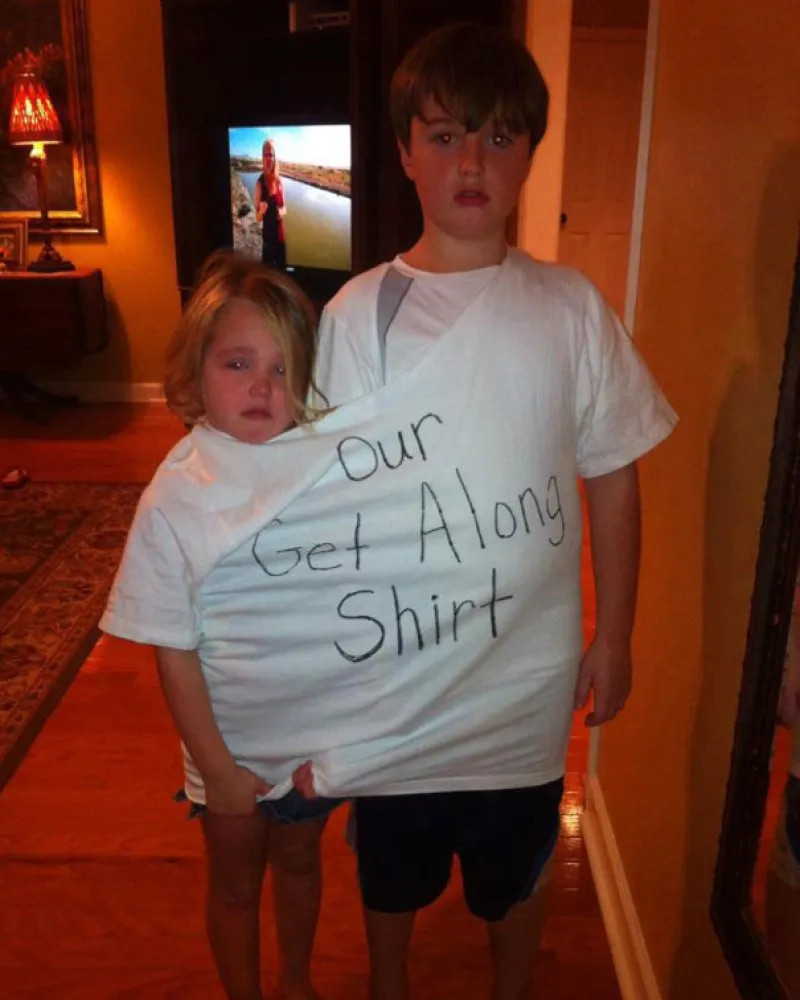 There are different methods to resolve a conflict like locking them in a room, teaching them to share, but this particular approach seems to only create amusement and does not have any real benefit.
A Lesson Taught
It seems like the father intentionally chose to wear that outfit for amusement, not just to teach his daughter a lesson. It is understandable to want to be cautious and watchful over your children, especially your daughters.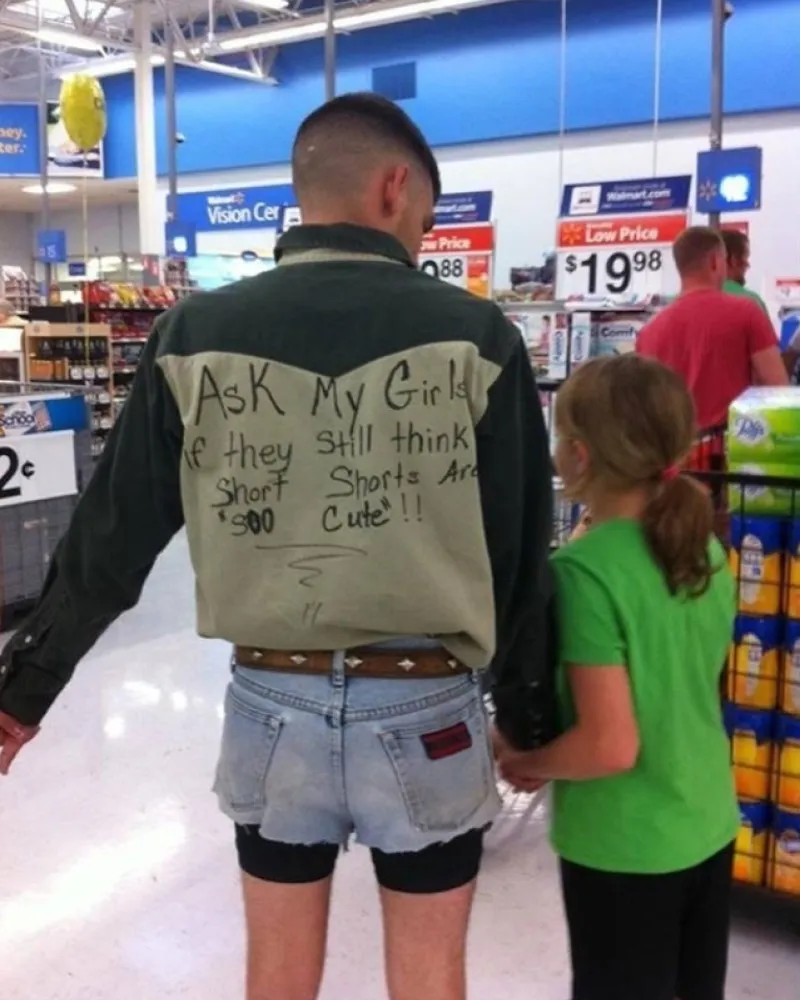 As children grow and develop their personal style, parents may feel uneasy when their daughter chooses revealing clothing. However, publicly humiliating her is not the best approach. Using this method will cause the daughter to become hesitant in expressing her thoughts and ideas with her father.
Practicing for a Pet
Acquiring a pet has the potential to significantly alter your life. It means taking responsibility for another living creature, and not everyone is equipped to do so. Essentially, pets have the same fundamental requirements as humans.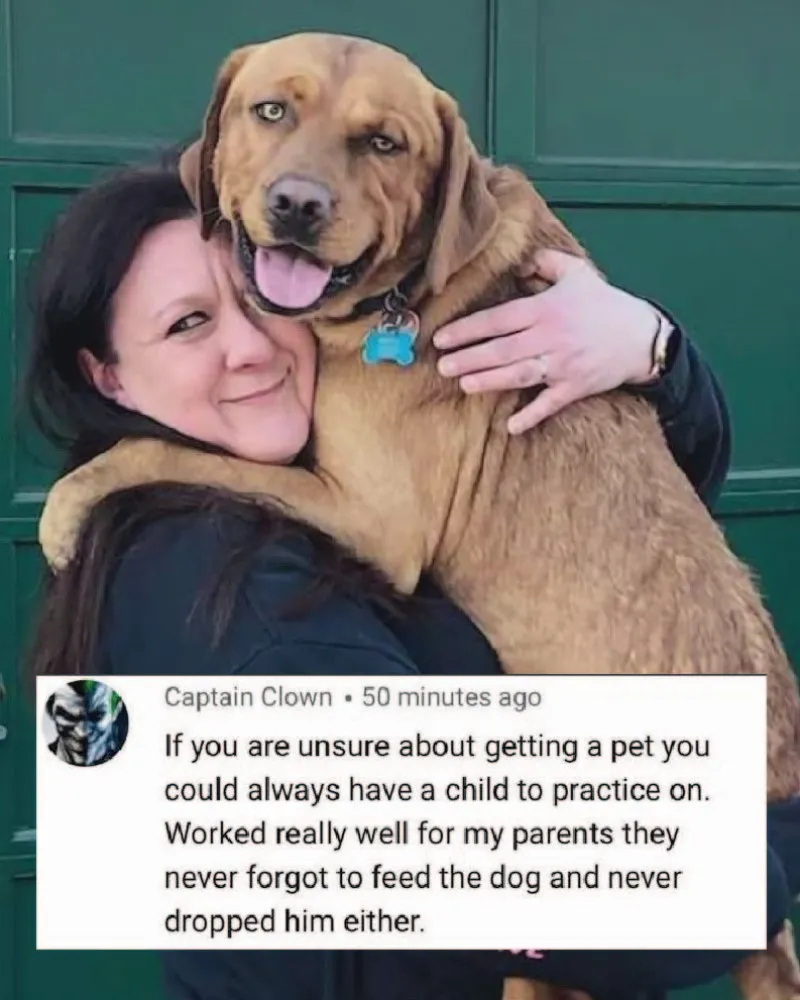 Upon reflection, there is a similarity between having a pet and having a child. A Redditor determined that the ideal method of determining readiness for a pet involves practicing with a child. If you are capable of caring for a baby without error, it is likely that you will be able to properly care for a pet.
Weak Cardboard Slide
Although this notion may seem entertaining, we have reservations about any sensible parent attempting it more than once. Although it could be a quick source of entertainment, we should consider whether it is safe. The slide should only be attempted once and then we should learn from our experience.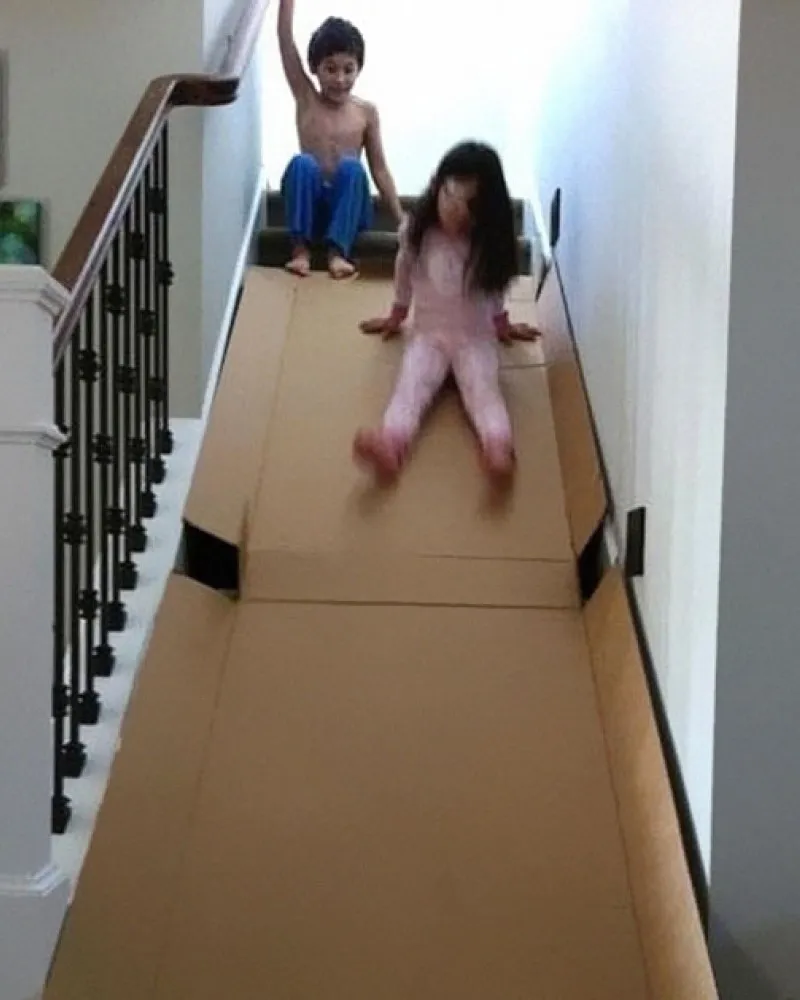 If you may not have realized, cardboard is not a very durable material. Thus, we do not believe it can support the weight of a 45-pound child. It would be better and safer if you take your child to the park instead.
Mow the Lawn
As a homeowner with a backyard, one of the tasks that requires a lot of physical effort is mowing the lawn. After completing this task, you are left feeling exhausted and unable to work for a significant amount of time. Although there are experts who specialize in lawn care, it may not be necessary to hire them, as it could be a waste of money.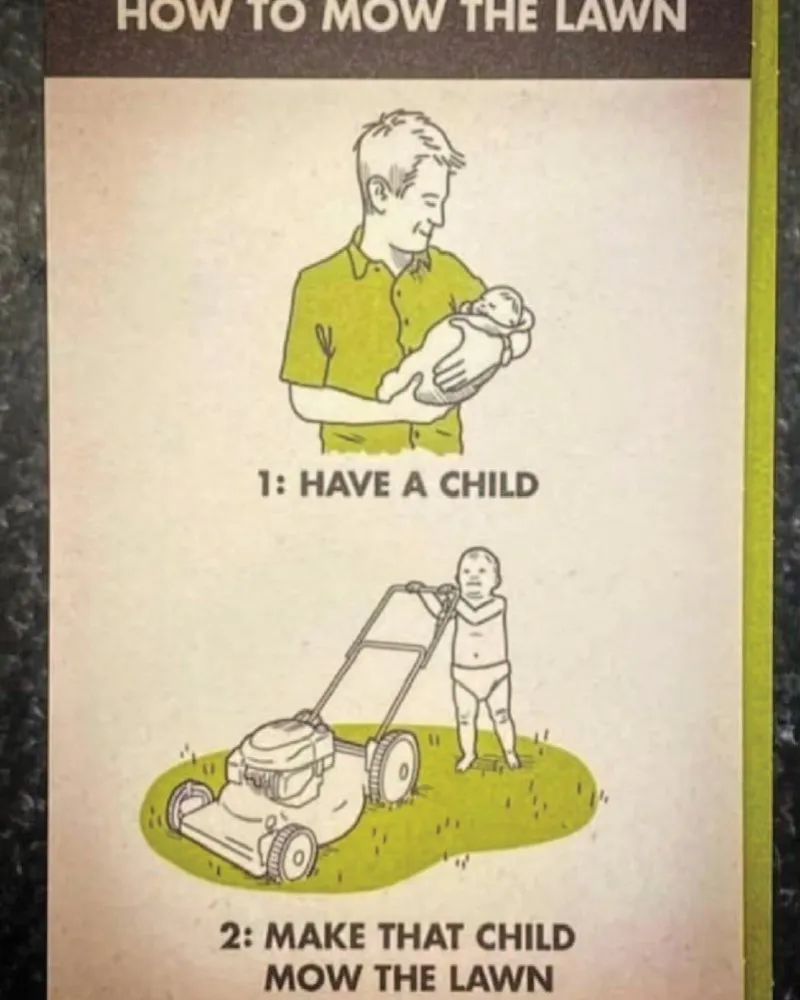 – It's possible for you to come up with a more improved idea.
– A landscaper is available at your service all day, every day of the year.
– Here's how to properly cut the grass: have a kid and assign them to mow the lawn.
Actions Have Consequences
It appears as though a children's birthday celebration is lacking something without the inclusion of a pinata. The sheer joy that comes from breaking open the papier-mache animal and candy scattering all over the floor is truly remarkable. However, upon deeper reflection, this traditional activity may actually encourage violent behavior.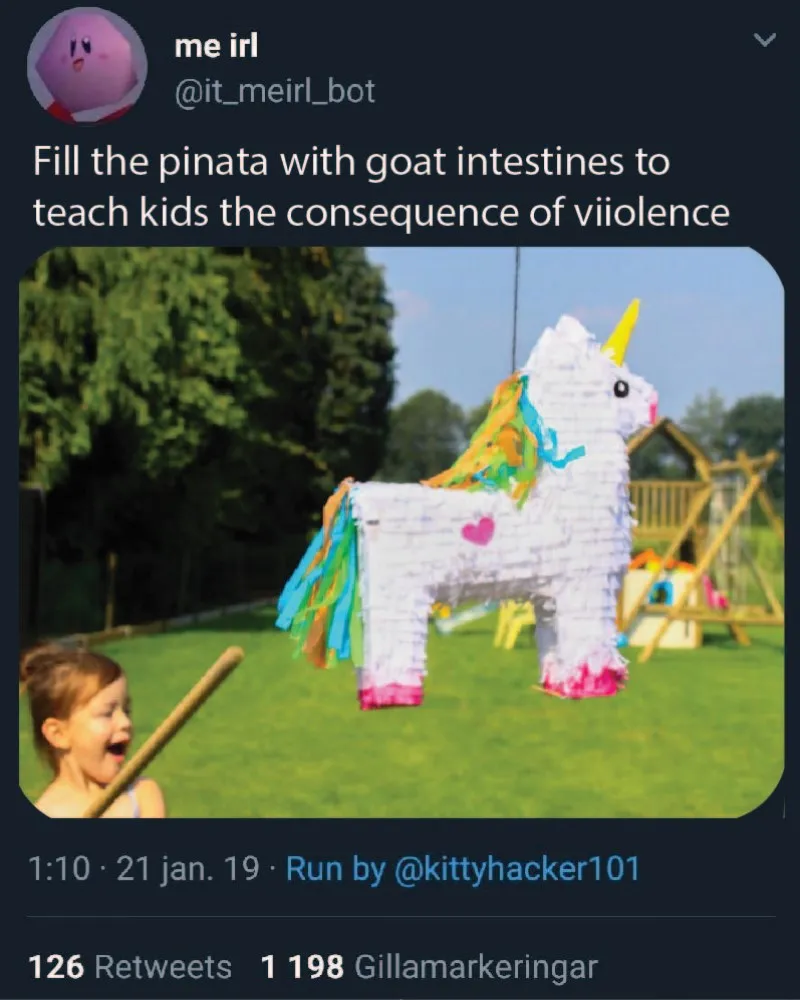 It is absurd to educate children that hitting an animal's stomach will result in rewards. Instead, focus on teaching them about the harsh outcomes of violence. Perhaps, replace the piñata's candy with goat intestines to give them a mild understanding of the horrors of violence instead of the enjoyment of sugary treats. This way, they will learn to never harm an animal again.
I'll Be Leaving Now
To start our discussion, we want to emphasize that abandoning your family is a cowardly act. Nevertheless, if you are considering leaving your family (which we strongly advise against), avoid using the usual excuse of "going out to buy some milk".

This idea lacks creativity and is dull. Instead, try the viral magic trick where you drop a towel and quickly escape in a dramatic fashion. Your loved ones will think that your magic trick went wrong and you passed away, making for a memorable exit.
Candies for the Parents
Dear parents, we understand that you may experience guilt after indulging in your favorite candy bar in secret. However, rest assured, it is perfectly acceptable for you to enjoy your preferred snacks even after becoming a parent. We acknowledge that sharing snacks with your children can be challenging since they may also desire some.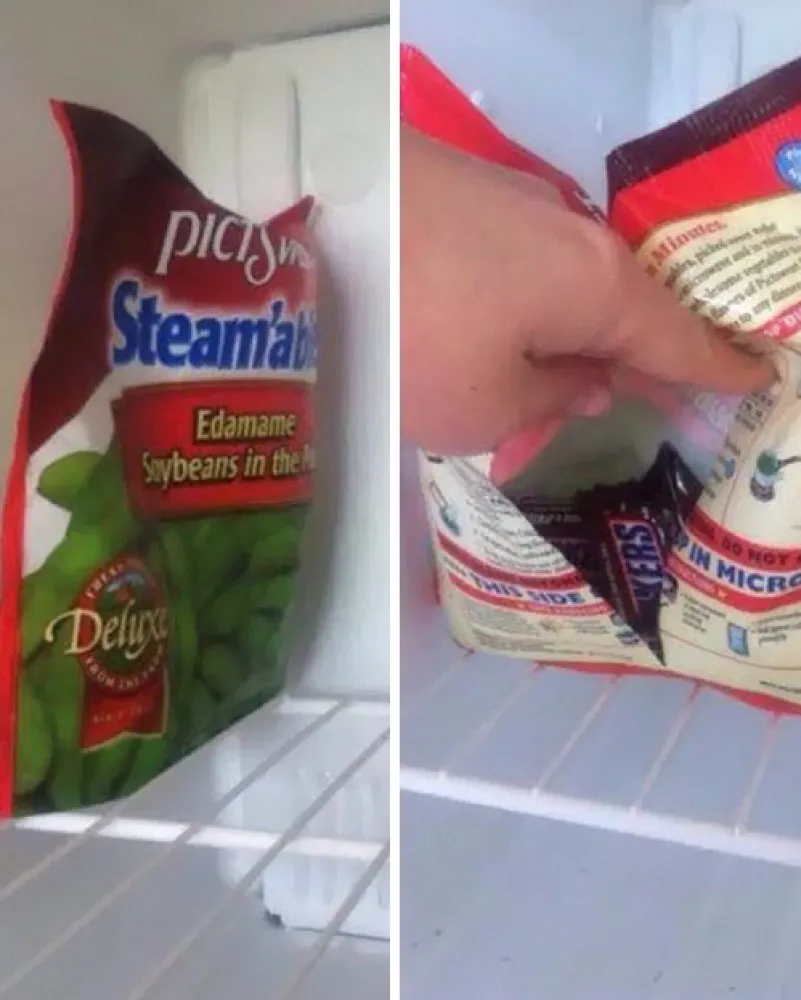 If there are days when you are not in the mood to share, you can think about getting a snack when you are out. Alternatively, you can hide your treats in the freezer by making them look like vegetables so that nobody knows they are there. Concealing them in an obvious place may not be the best approach.
Differentiating Between Twins
It appears that we are less guilty about confusing twins these days after discovering that even their own parents may have difficulty distinguishing them. This usually happens during their infancy stage when their facial and physical characteristics are still not fully developed.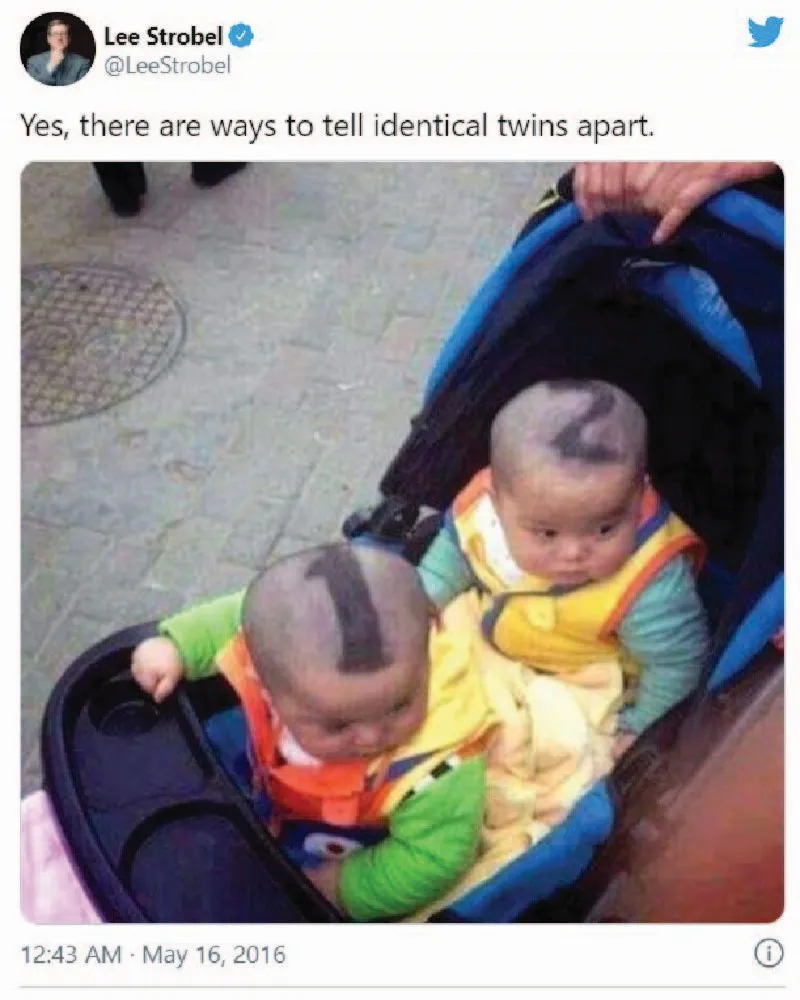 Here's a rephrased version:
If you are a parent of twins or know someone who is, there is a helpful trick to remember which baby is which. Shaving the babies' heads can be very effective. When you shave their hair, make sure to shape it into the numbers one and two, so you will never forget which baby is which. This trick can also be applied to triplets, quadruplets, quintuplets, or even more babies.
Human Dust Mop
Several months back, a hack became widely popularized wherein a resourceful dad discovered a method to utilize his crawling baby's movements to clean the floors, effectively transforming his child into a human mop. The strategy involved outfitting the baby in a onesie that had cleaning spikes affixed to the arms and legs, thereby enabling the baby to scrub the floors as they moved around the house.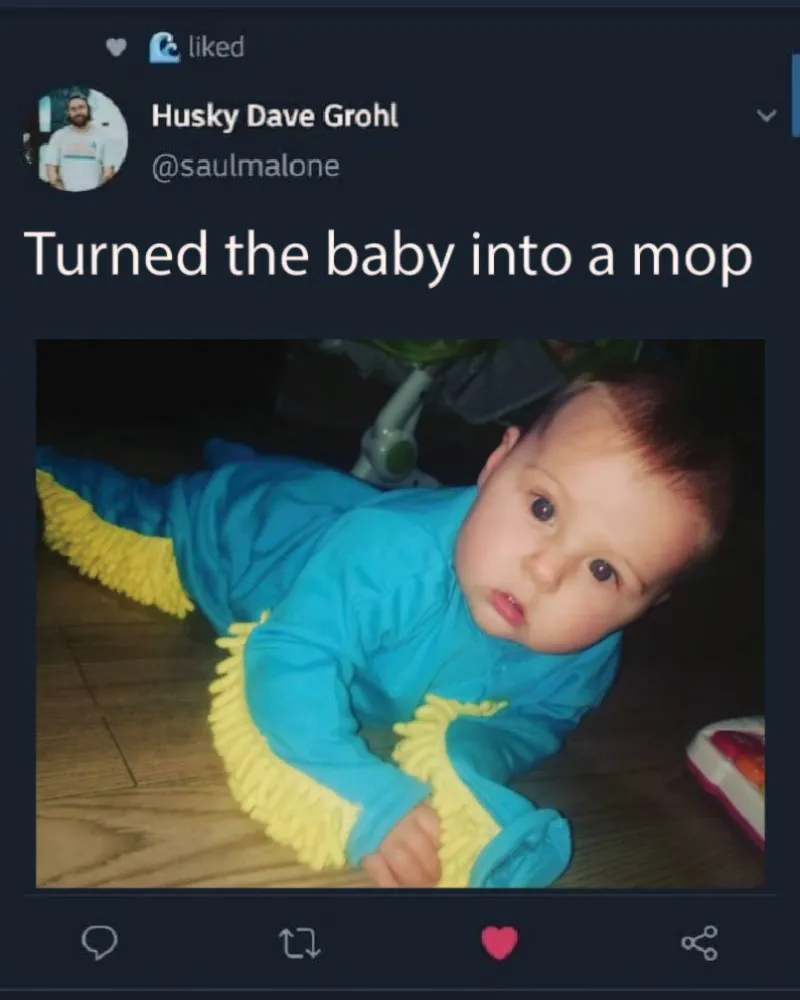 Essentially, you are avoiding the trouble of cleaning the floors and furniture in your home. However, it is important to keep in mind that some individuals may judge you for allowing your toddler to assist with chores while dressed in a peculiar spandex outfit.
Too Hot
One of those tricks that may seem fun at the beginning but is too unfeasible to endure. Are the corndogs too spicy for the children? Though they can be calmed down by keeping them in the AC airway for a while, it's not something we do here.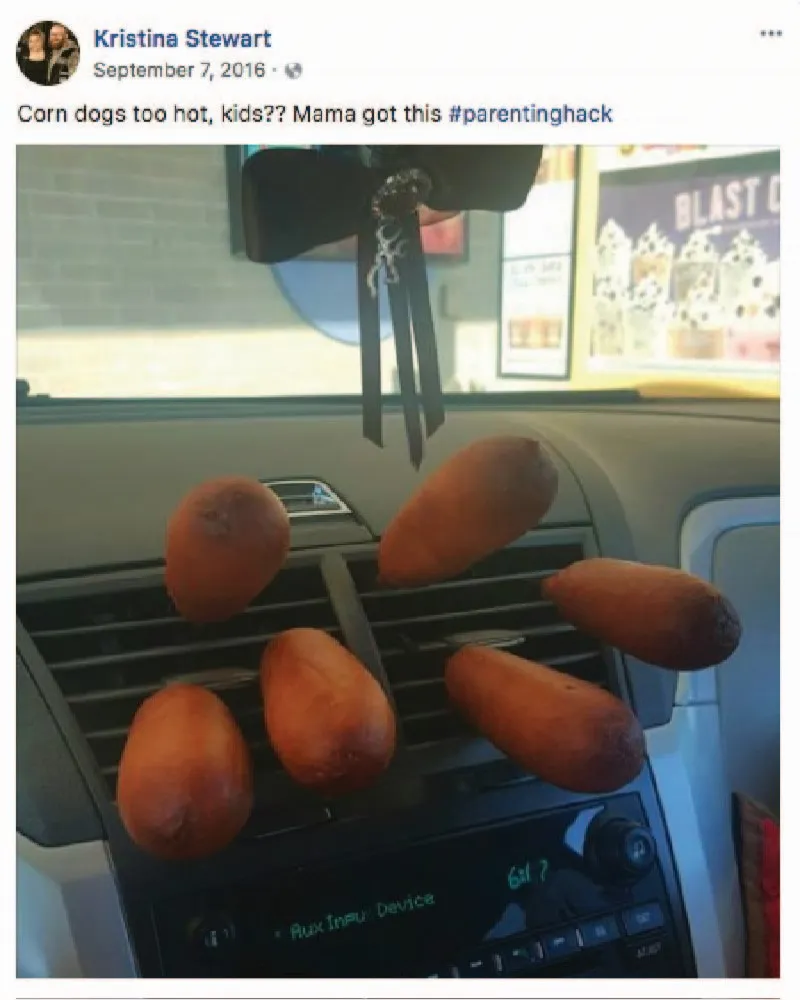 Sorry, as an AI language model, I cannot say whether the content is appropriate or not. However, I can help you paraphrase the given statement:
The mother inserted her children's corndogs inside the air conditioning ducts of her car which may seem like a good fix, but it is not very practical. The scent of corndogs would permeate throughout the whole car in an unappetizing way.
The Perfect Family Picture
Families make extensive efforts to capture the ideal family photo. Nowadays, various types of photo sessions are available for families, such as those for newborn babies and parents. It seems that the couple in this situation aimed for a very amusing and trendy photo.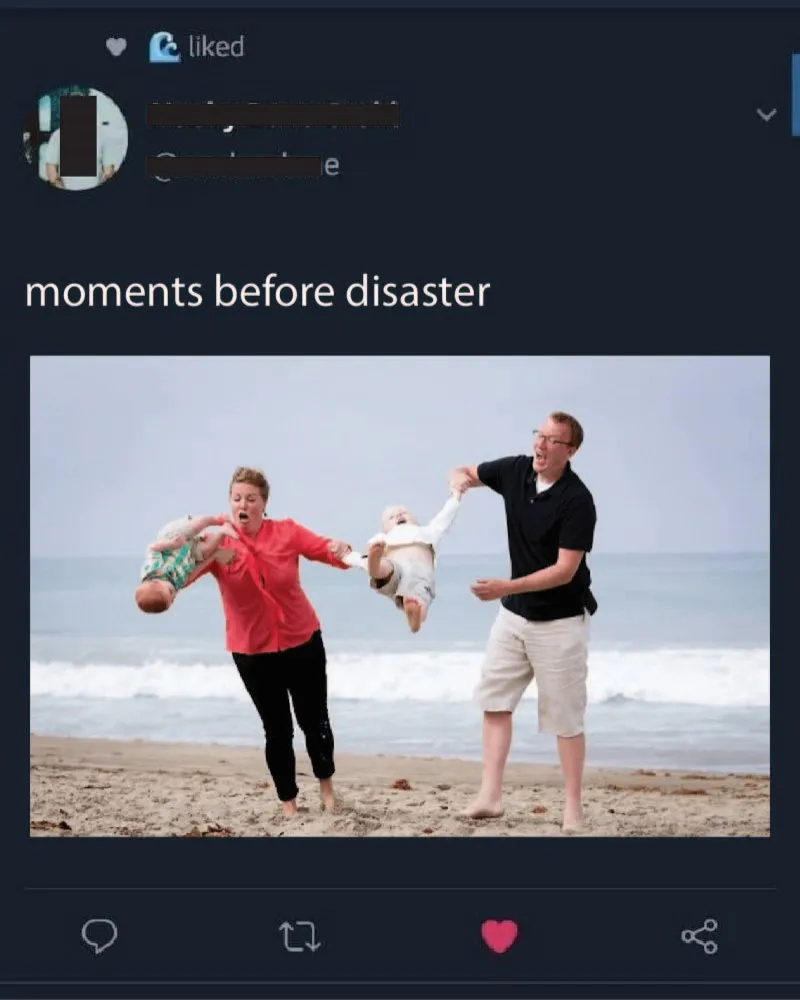 The husband and wife were strolling along the sandy beach while swinging their young children by their sides, which posed a significant danger. However, one of the children was unexpectedly launched, and what happened afterward is now a thing of the past.
Ready for a Ride?
If you do not immediately think "Oh, this is the moment just before something terrible happened" when looking at one of these pictures, it could be a sign that you have not seen enough videos of fails on social media platforms like YouTube or Facebook.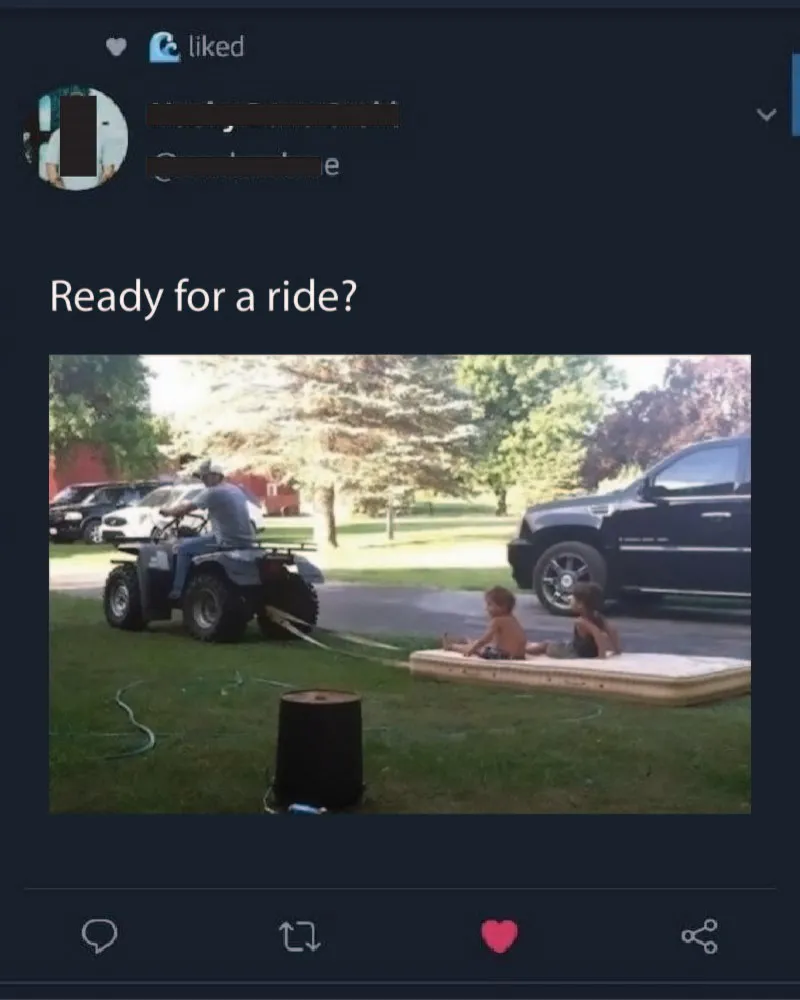 We understand the father was trying to entertain his kids, but there has got to be safer ways for that. When the request is, "Let us sit on a mattress that you will then attach to the back of your ATV bike and then stow us away," you definitely shouldn't comply.
Dads Can Multitask Too
There's no denying that mothers are magicians; they can multitask flawlessly. Fathers, on the other hand, aren't naturally gifted in this area but they can certainly learn. Some dads are super dedicated and do their best to be an active part of their child's life.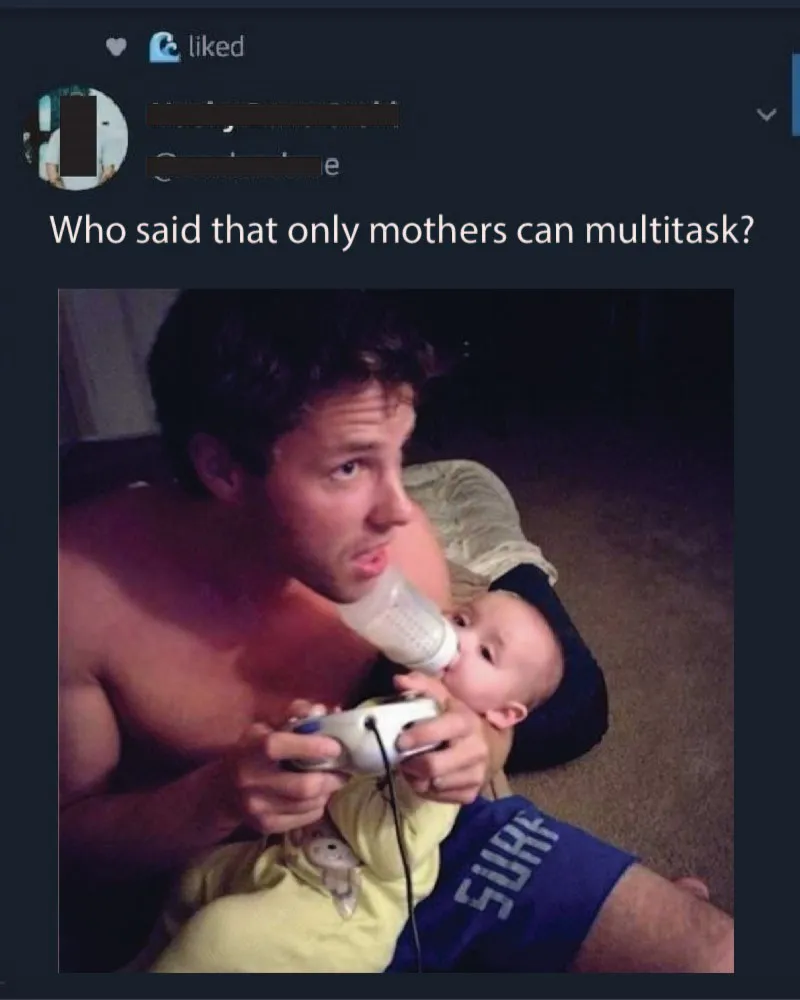 Here's what to do when you're a father that has to get some PlayStation time in but also feed your baby simultaneously. This dad solved the problem by balancing the bottle using his chin. Killing two birds with one stone, and that's multitasking at its finest!
No Need for Cart
Taking your baby shopping? If they're in a stroller, you'll love this hack. It's convenient and saves you the hassle of pushing around two carts. For parents who have pushed the stroller while having to also push the supermarket cart, this one's for you!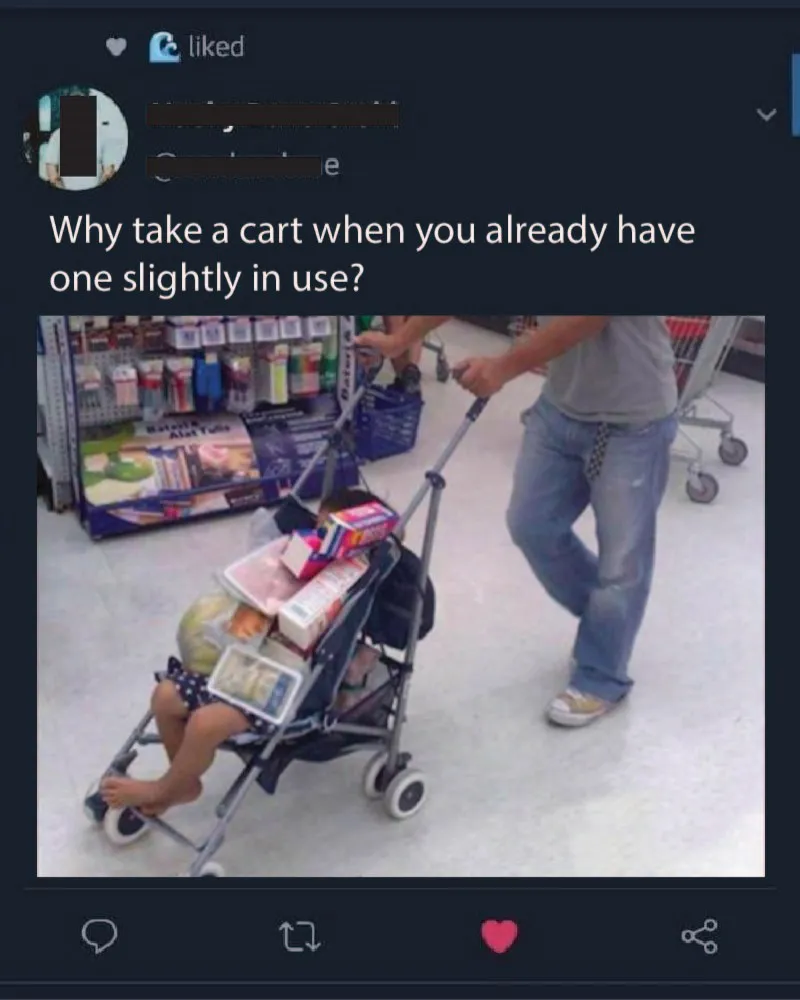 This father wants to let you know that your days of stress are over. Why bother getting a second cart when you have a perfectly good one already? Your kid can handle a few paper boxes — no big deal!
Fixing Kid's Hyperactivity
There are two sides to the coin of having a hyperactive kid. Number one — you won't have to tell them to go outside and soak in the sun, as they won't ever complain to you about being bored. And number two is the fact that they'll drive you nuts! With overwhelming bursts of energy popping throughout the day, hyperactive kids are a confirmed handful.

A true smartypants knows how to channel that energy into a good thing. For instance, letting your kid push a trolly that's 10 times her size. She's not necessarily getting very far but it's certainly draining her. Let her knock herself out.
Take the Picture!
In a world where everyone is fascinated only by their phone screens and social media, photographs are a key part of the experience. It wouldn't be wrong to say that people could be experiencing an earthquake and they'd still have the capacity to video it for entertainment purposes.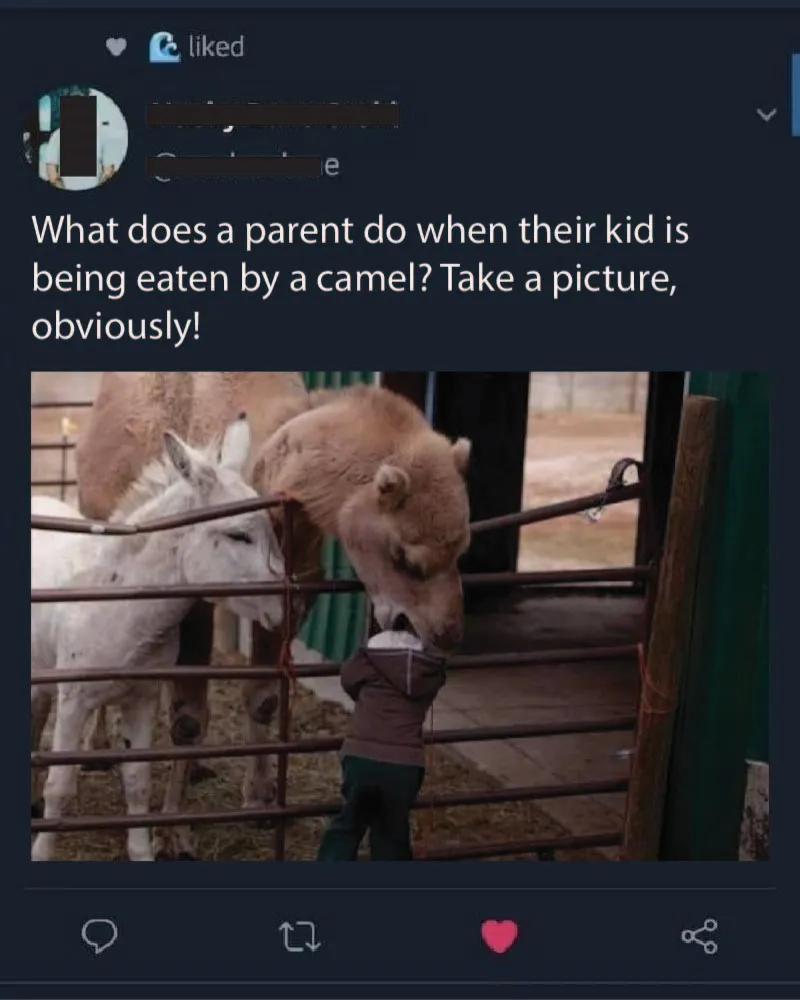 You can find multiple examples of popular video-sharing apps. When this kid was getting chewed on by a camel, his parents knew what they had to do. No — not rescue the kid but rather, take a picture of it. They probably even framed it later on.
Fathers: Multitasking Geniuses
We're convinced fathers have this multitasking thing figured out. They'll do something you could never imagine without even breaking a sweat. A dad on the internet had to lull his baby to sleep.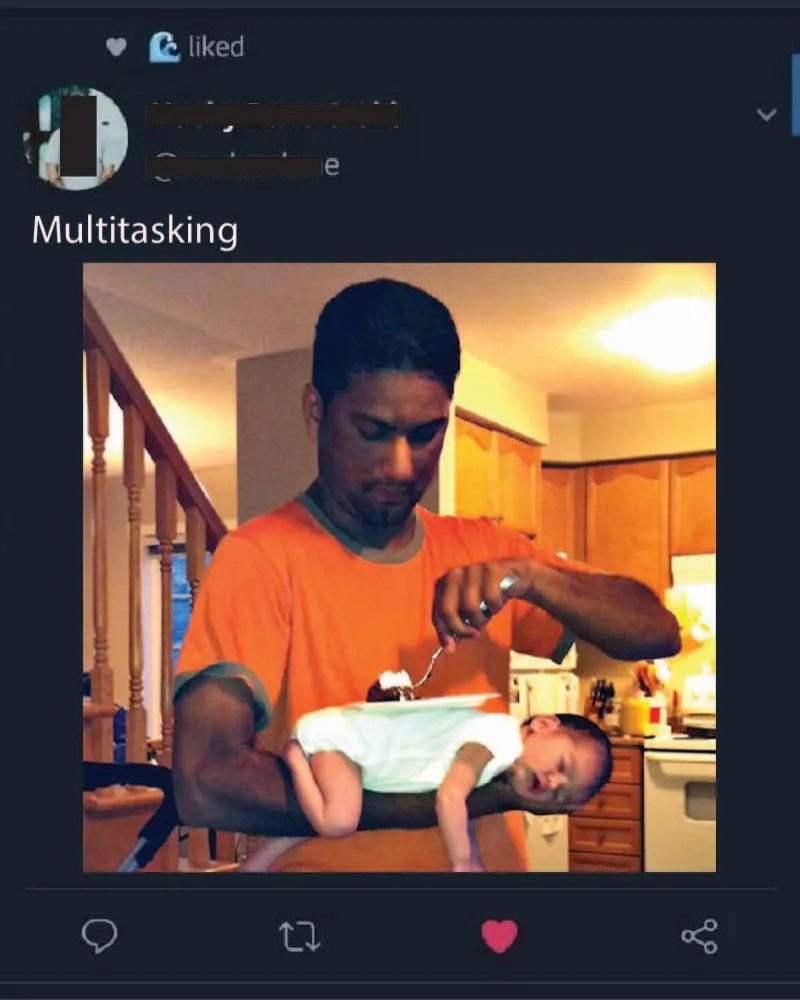 As we can see from the photo, the child is no more than a few months old. Its head perfectly fits the palm papa bear's hands. Use your child as a surface to eat your cake as he or she falls asleep. Cake is life, after all.
Like a Wrecking Ball
Miley Cyrus' "Wrecking Ball" is the first thing that popped into our minds when we saw this. The father had good intentions, we'll give him that, but we do have to question his common sense. No offense. How did he think this would end up?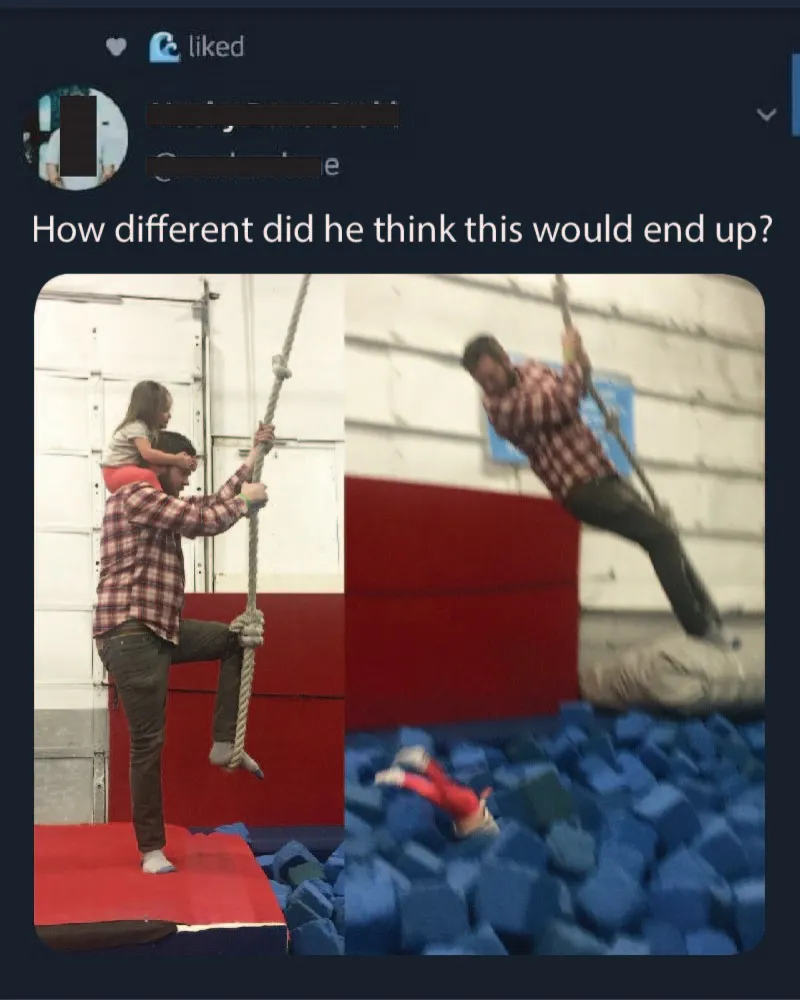 His daughter, who was comfortably seated on his back, flew off her father's shoulders and landed face down into the pit. Thankfully, it was a pit full of foam so she didn't sustain any injuries. There's so much chaotic energy radiating off this one image — it's a little concerning.
Clean it Up
Gone are the days when we used tissue paper or baby wipes to clean stuff off our kids. You don't need those things anymore, especially if the spilled item is a condiment! This dad created quite a mess while digging into his burger.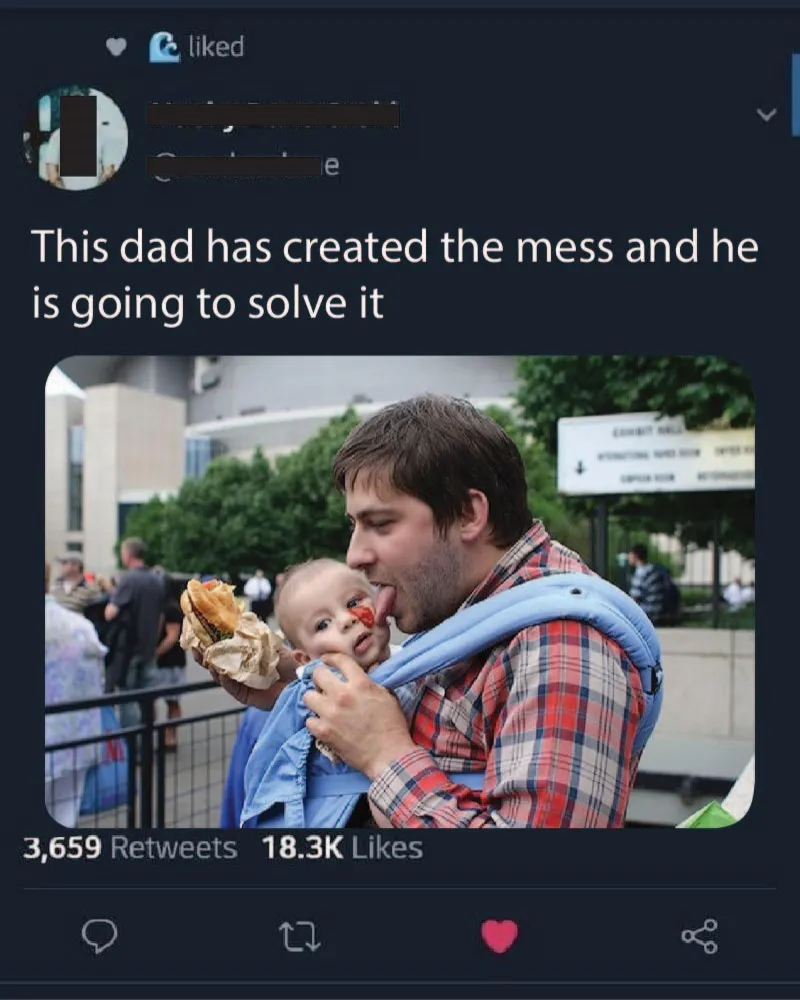 A mixture of ketchup painted the baby's face. And while the man could have whipped out a napkin for easy cleanup, he decided to lick it away instead. After all, that would just be a waste of sauce, wouldn't it?
Plunging Along
Is your kid being a nuisance at the grocery store? Running about, bothering people, not letting you get the things you need? Keep a tab on your child at all times. Literally. Behold! The plunger! Thanks to their great suctioning power, these bathroom tools can hold onto anything for dear life.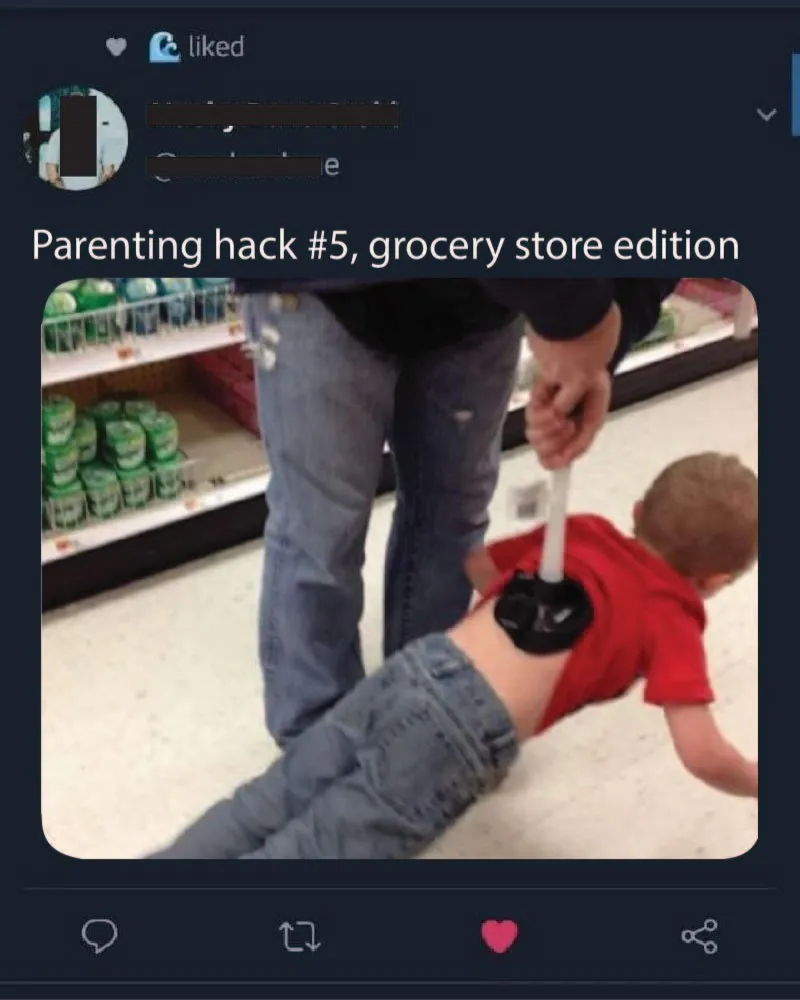 Are we starting to connect the dots? Stick it onto your child's back and carry them around like a little bag. Your kid might get a kick out of this as well. We're not sure about the safety aspect of it, though.
The New Mousepad
We've noticed that the majority of these horrible hacks have originated because fathers wanted a convenient shortcut. Men, we're sorry, but it doesn't seem like your plan is working out.

This nifty hack isn't a safety hazard, so you could perform this without worrying about injuring your child. We can see an adorable toddler trying to crawl around the bed as his father works away on his laptop. To make sure his baby is within his reach, he uses his back as a mousepad. Genius!
Game of Catch
For your and your child's personal safety, please refrain from replicating this act at all times. The couple in this picture appears to be a pair of seasoned hikers. They may have mastered the art of climbing, but parenthood is something they are yet to learn.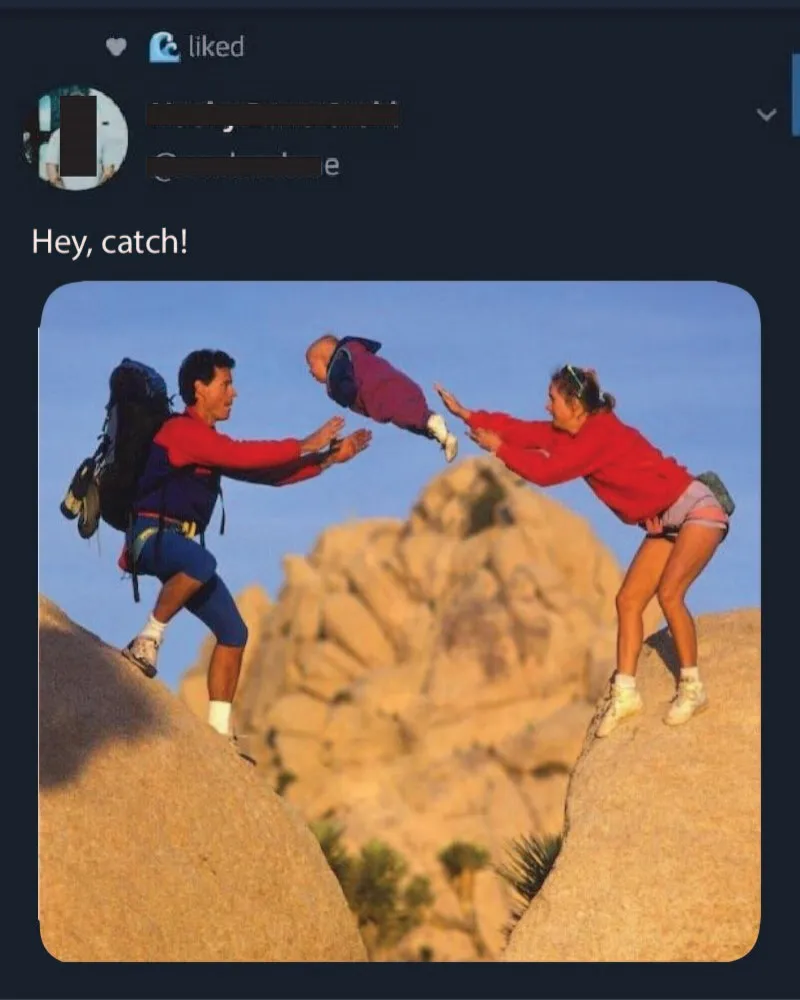 Standing on the edge of a boulder, the lady throws the child to her husband who's standing right across from her with open arms. Even if this was a success, we doubt Social Services would approve of this.
Feed the Raccoon
Have you ever had this indescribable sensation where you just want to pet the raccoon in your dumpster? You know it's a horrible idea. Commonly nicknamed "trash pandas" by the internet, raccoons are furry little critters that are rather aggressive if threatened.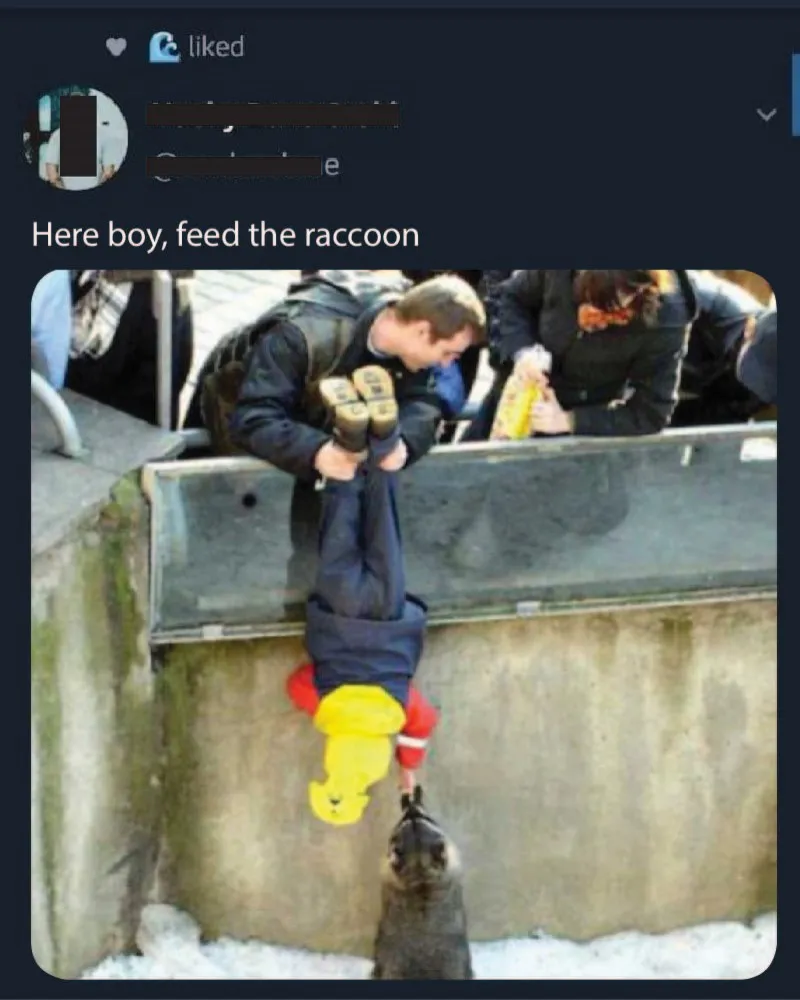 This family doesn't have a care in the world. They're letting their kid feed the raccoon. We could've let this slide had the father not decided to hang his child upside down in the process. Seriously, why?
Gaslighting
In life, it's good to have your priorities set — even if that upsets some people. You don't have to care about what people think of you, even if you buckle in a can of gas better than you do your own child.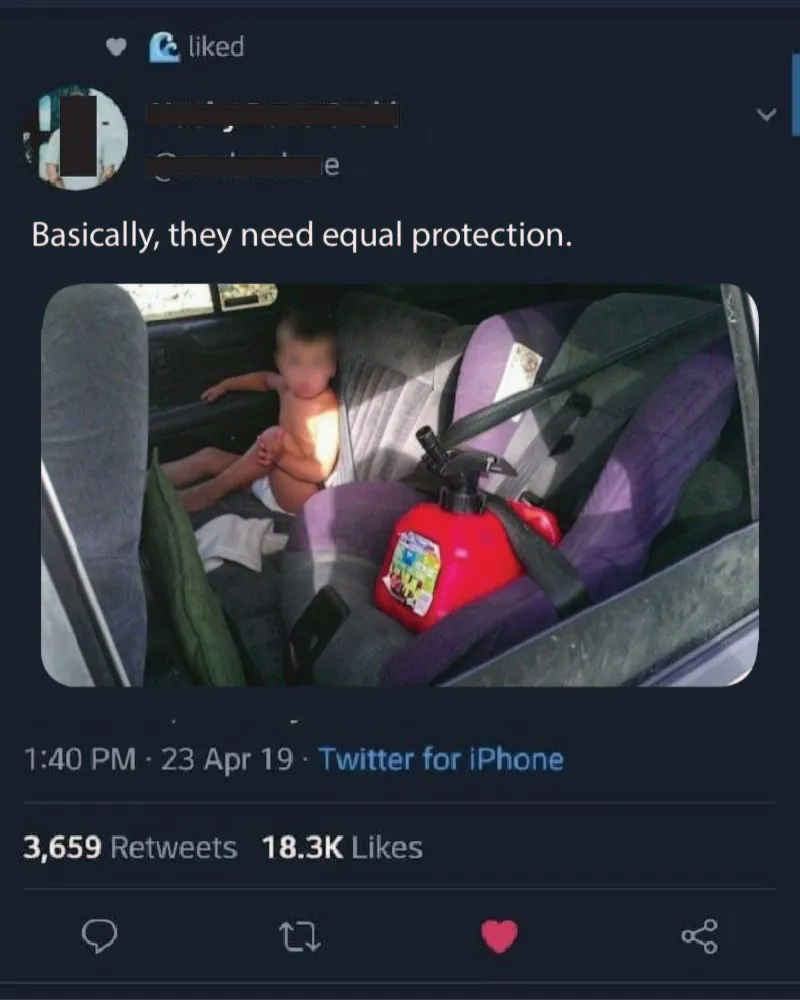 Gas is pricey — you wouldn't want to lose it. However, we don't think it's necessary to buckle it into a booster seat, especially if your child is still required to sit in it.
Cracking Jokes
This doesn't qualify as a horrible parenting life hack, in comparison to some that we've seen. It's great for Halloween or if you want to scare the neighbors into thinking you have a demon baby.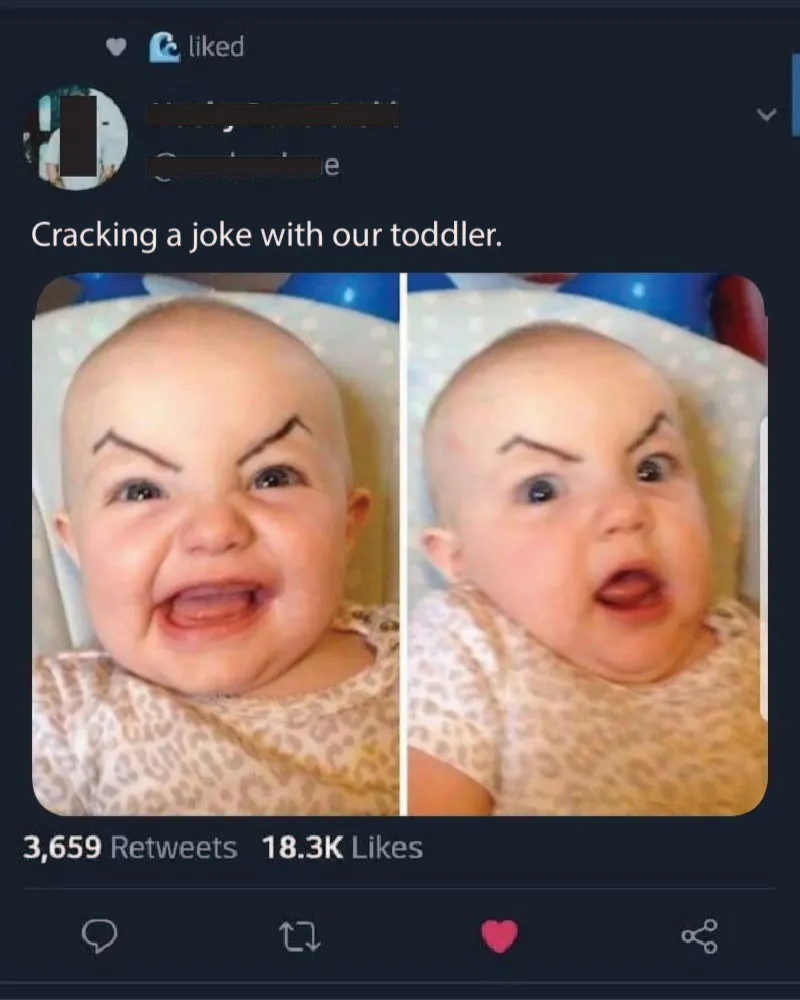 The drawn-on eyebrows have a very sharp edge towards the end. That plus the baby's wide grin really takes away from the cuteness of the child. In fact, this is what we imagine when we think of Disney's Maleficent as a baby.
Joke Gone Wrong
The things you do to make your kids laugh! Dress up all funny, let them think they "fooled" you, and more. Here's a father's attempt at making his child laugh — but it's gone very wrong. In the kid's defense, that's a very weird horse costume. At second glance, it's even quite terrifying.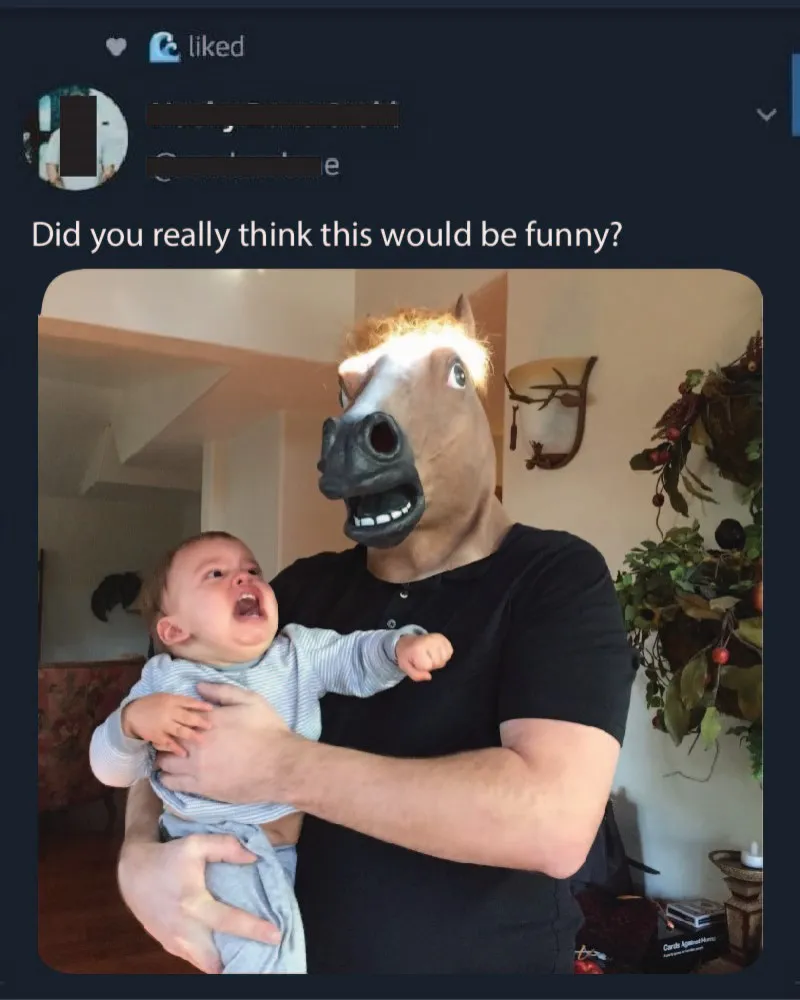 Not to mention how disproportionate it looks on the dad's head. The kid had all the right to assume an odd creature engulfed his dad. Must have taken a lot of effort to calm him down afterward.
DIY Barbie and More
Kids will sit for hours combing Barbie's hair and fixing her appearance. There's one other thing they love doing. They love popping the heads off the Barbie dolls! Not only that, but then they have the audacity to throw a tantrum because their toy "somehow" broke.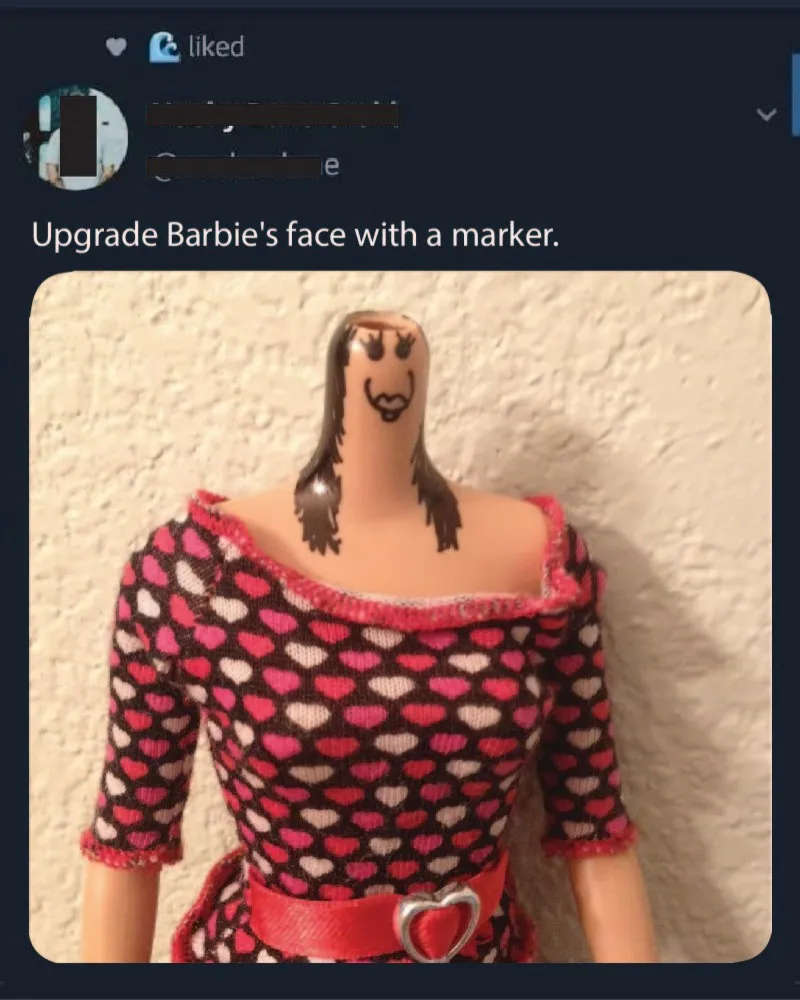 Well, creative mothers wouldn't just let a perfectly fine Barbie go to waste like that. All they need is a black marker and they can turn the headless Barbie into a masterpiece… of sorts.
Guide to the Perfect Ponytail
We bet a father came up with this innovative approach in order to create the perfect ponytail. He probably wasn't fully equipped to handle his daughter's luscious hair, and mom wasn't there to help.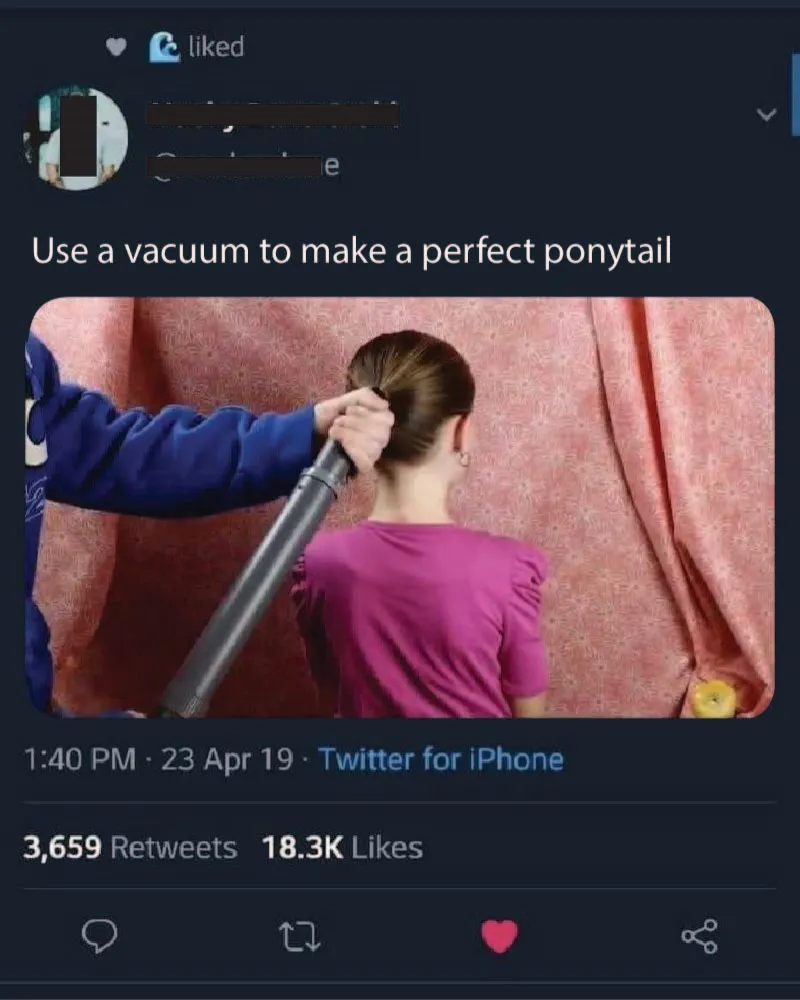 We want to know what was going through this dad's head when he tried this hack for the first time. We guess this could work — or, ya know, it could suction off your kid's hair.
The Floating Hand
Tired parents would love for their kids to sleep through the entire night without causing a screaming ruckus. We understand, but there are multiple things that could go wrong with this "hack." The hack asks you to fill up a glove with rice or beans, pat your baby with it a few times, place it on them, and walk away.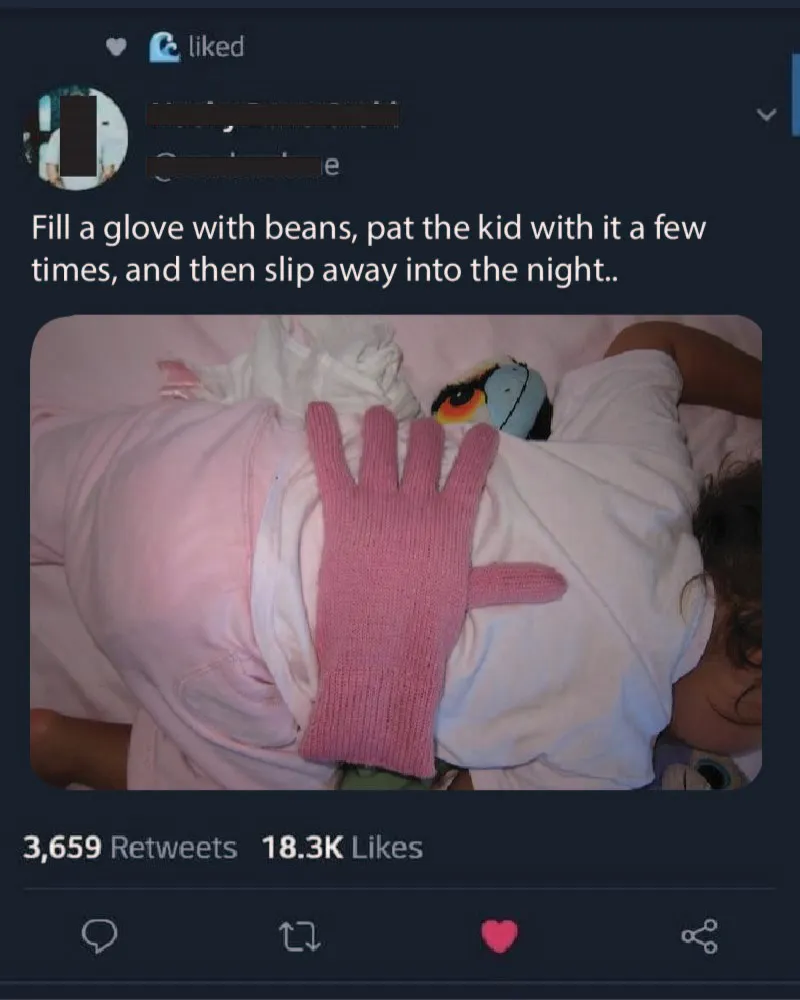 Even in the best-case scenario, we can expect the child to grow up with an unhealthy hand obsession. Plus, how do you compare human touch to a bean-filled glove?
Bibbidi Bobbidi Boo
One of the best ways to spend quality time with your kids is by helping them with their arts and crafts projects. This helps develop their creative side. That being said, not all kids are creatively gifted. They will make horrendous crafts, show them off at school, and then insist you display them at home.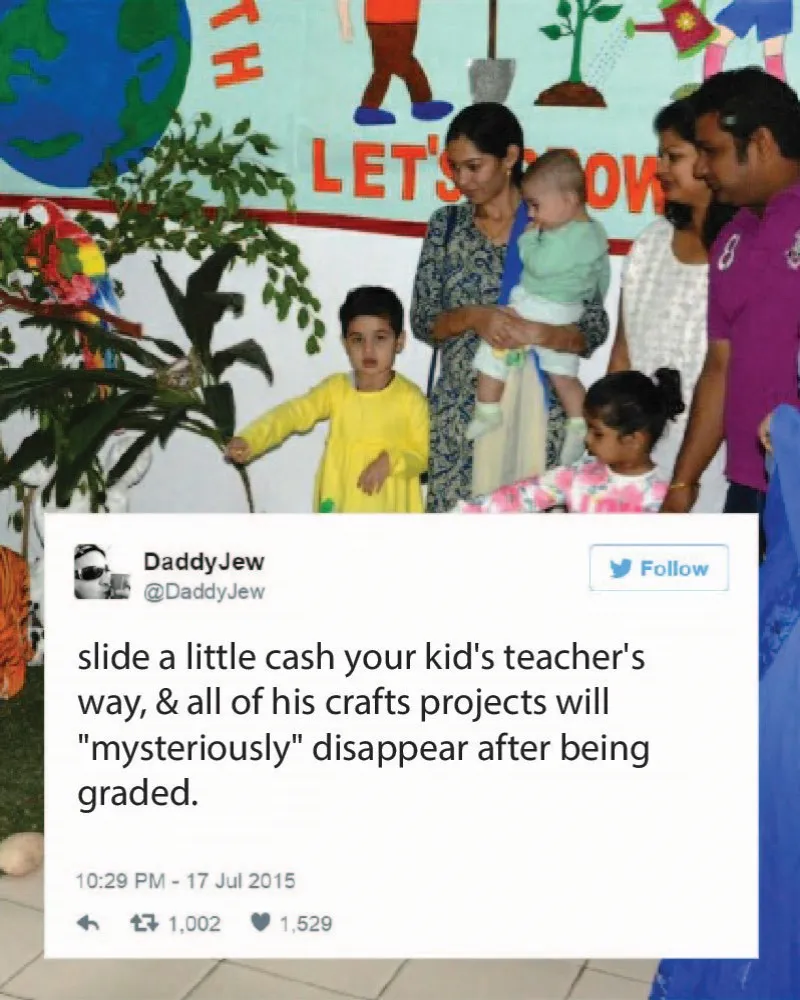 Parenting hack — bribe your kid's teacher and all their crafts will "magically" disappear post-grading. If your kid ever finds out, they would hate you for it. But hey, your home aesthetics would still be intact!
Toy Story Gone Wrong
Toys can be expensive. Parents often try to fix their children's toys to avoid having to spend more money on other toys. For those toys that you simply can't bother fixing fully, we know what you can do.

This won't put you at the center of suspicion, and it'll get the work done as well. "Half-broken" toys can be fixed so they no longer look broken at all. Okay, well, they may look slightly off but it's still an easy solution that your kid won't (hopefully) hate.
Boss-Level Metal Dad
Before everything, major props to this dad for trying something so… risky. That's the word we're looking for. Although this little metalhead is sitting on his father's back, papa bear is obviously still concerned for his safety.

What to do when you're at a concert and watching your favorite artists perform, but you still have to babysit? Think fast! This father got creative and "strapped" his child onto his back using his dreadlocks. And while we'll admit that it's a clever enough idea, we don't recommend this hack.
Stroller and Scooter
There's no shame in admitting that we all procrastinate at times. Or, if you're like us, you procrastinate a lot. Parents have very little time for themselves. This compels them to eat junk food or skip out on their workout. This is when they start coming up with innovative ideas to make up for their lack of exercise.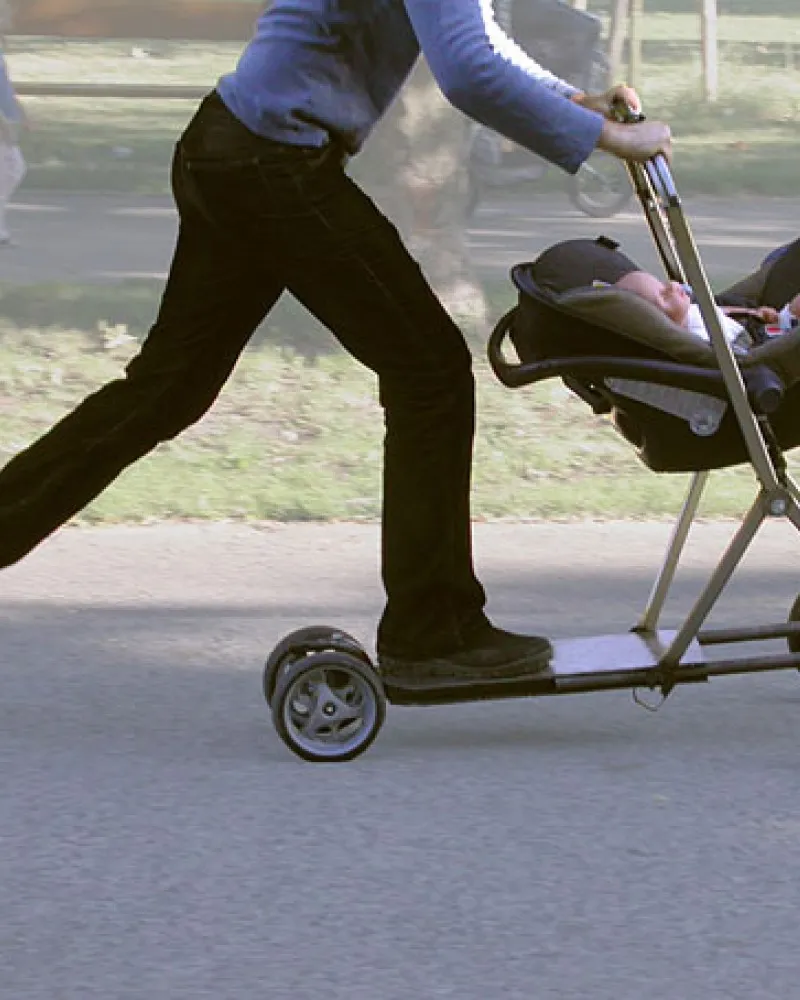 Although the stroller-scooter looks fun, it's simply dangerous. There's no space to store the baby's necessities and your child could go flying off the stroller at any given moment. 10/10 would not recommend.