A princess wedding dress can be perfect for a petite or plus size bride.
The ideal dress for people who want to make their big day unique is princess wedding dress. Wearing this clothing will make you feel as though you are in a fairy tale. Princess wedding dresses are classic and will always be. Over time, they changed and acquired a fascinating quality. The princess wedding dress came in a wide variety. Because there is a whimsical dress that is ideal for you whether you have a modern, boho, or romantic aesthetic style.
Following are the types of princess Empire waist style wedding dresses
Types of Princess Wedding Dress
There are different types of wedding dress
A- line Princess wedding dress
Princess Ball gown wedding dress
Empire waist style wedding dress
Lace princess style wedding dress
Column princess style wedding dress
Long sleeve style wedding dress
Trumpet style wedding dress
Mermaid silhouette style wedding dress
A- line Princess Wedding Dress
An A-line dress is one of the most stunning wedding dress styles. It features a tight waist and a flared skirt. One of the simplest looks a bride can select on her special day is an A-line wedding dress. A-line wedding dresses come in a range of necklines and sleeve lengths, from strapless sweetheart necklines to lengthy lace sleeves.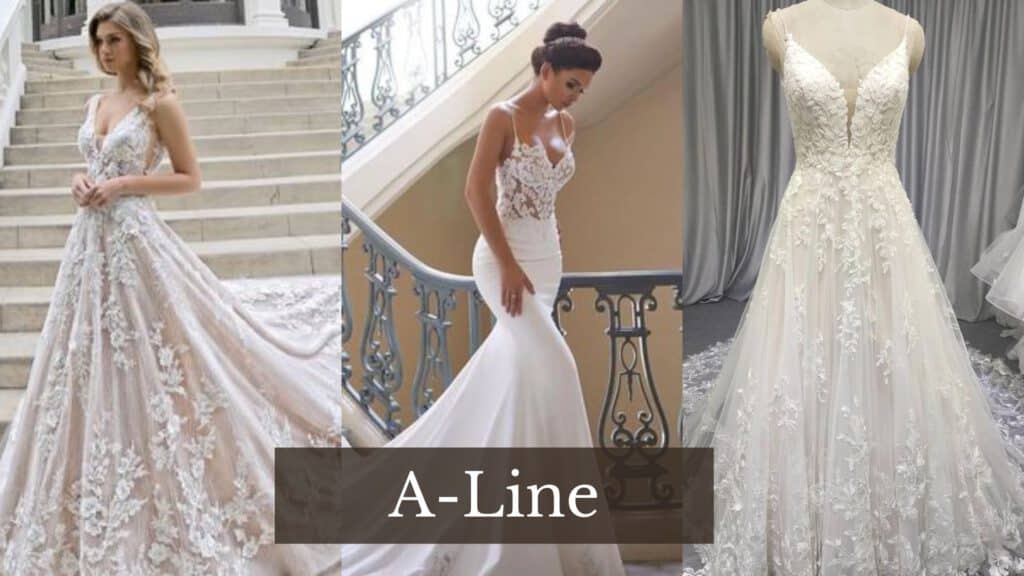 Princess Ball gown wedding dresses
A ball gown wedding dress has a fitted bodice and a flared waist. Of all wedding dress designs, a ballgown features the biggest skirt.One of the most popular silhouettes for princess wedding dresses is the ballgown. This magnificent attire was especially designed for your wedding, not a fairy tale ball. It has a voluminous, full skirt.
Types Of Ball Gown  Wedding Dresses
Floral Fitted Ball Gown
Almond Taffeta Ballgown
Long Puff Sleeve Ball Gown
Chic Princess Ball Gown Wedding Dress
Swiss Dot Tulle Princess Ball Gown Dress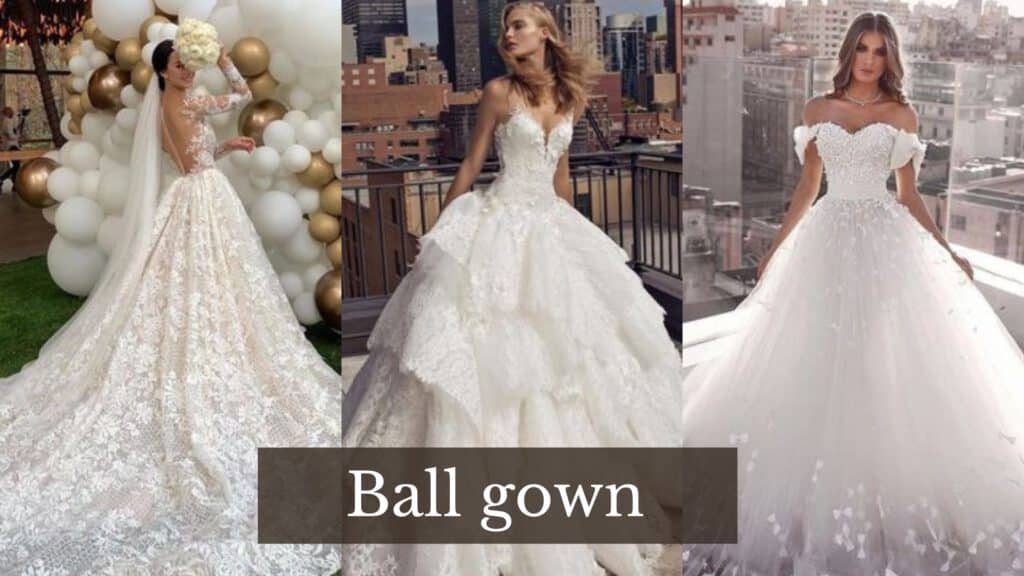 Empire Waist Style Wedding Dresses
For both indoor and outdoor weddings held in a church or cathedral, empire wedding dresses are ideal. They are designed to draw attention to the breast region without being too sexual or exposing. This is a fantastic alternative for you if you dislike motion-restricting, form-fitting sheath wedding dresses. Pregnant brides prefer empire wedding dress because they are the most comfortable to wear while carrying a bump.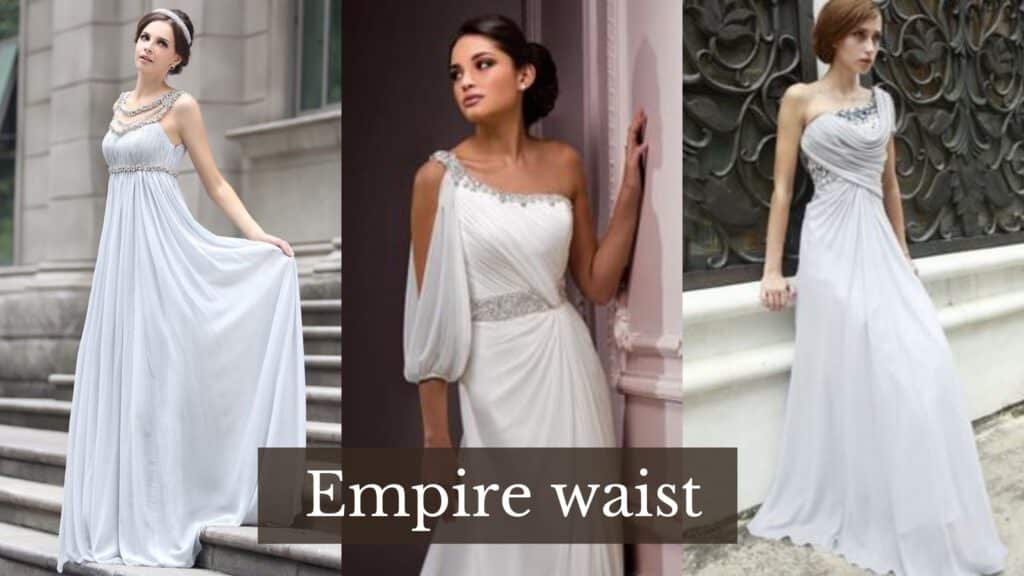 Lace  Princess Style Wedding Dresses
The Lace is one of the most regularly used patterns and is typically associated with bridal gowns due to its delicate and feminine appeal. The lace wedding dress is one of the most well-liked styles of bridal gown. Wedding dresses made of lace are elegant, feminine, and refined.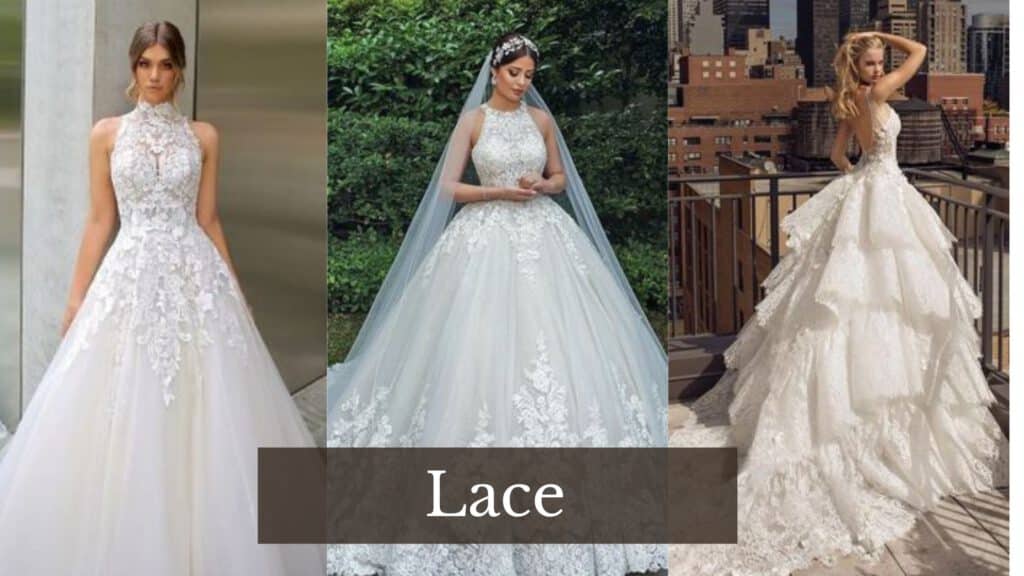 Column Princess Style Wedding Dresses
The term "column" describes wedding dresses with either a slightly fitted or loose waist and a straight, unflared bottom. Because they feature the least amount of fabric and won't overpower their smaller frames, these wedding dresses are ideal for petite brides. Whatever the style of your wedding dress, it should make you feel stunning, assured, and comfortable. Don't worry about following fashion trends or dressing in shapes that flatter your figure.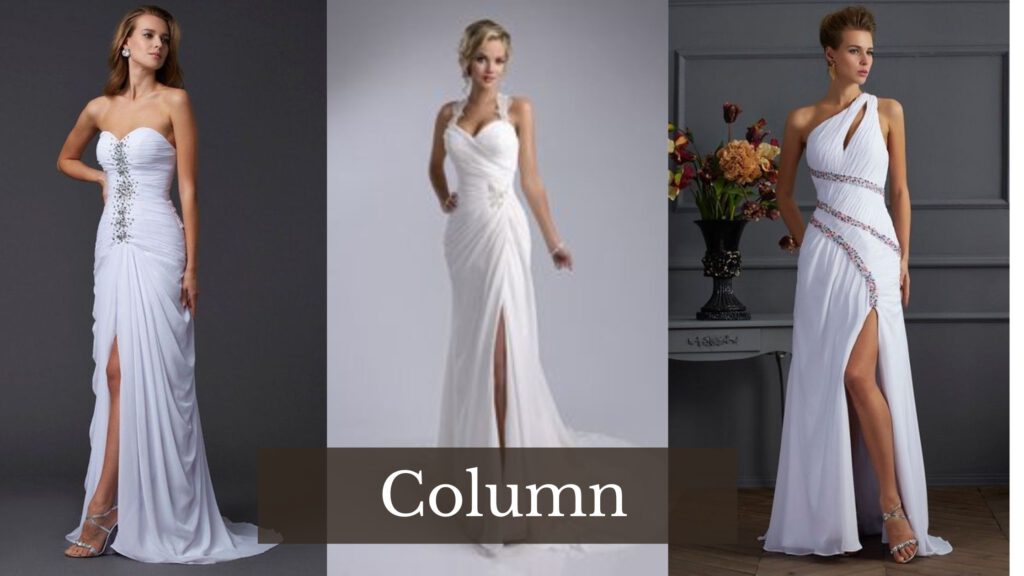 Long Sleeve Style Wedding Dresses
The two most important qualities to look for in long sleeve wedding dresses are comfort and fit. You want to make the most of your special day and the last thing you want is scratchy fabric or restricted arm movement.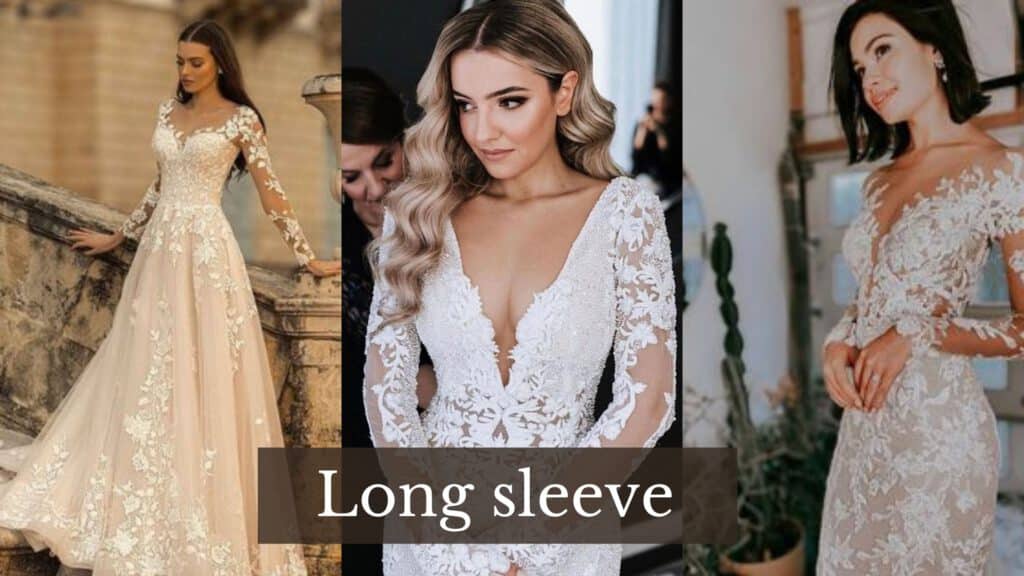 Elegant Long Sleeve Wedding Dresses
Types of Elegant long sleeve wedding dresses
Elegant Long Sleeve Wedding Dress With a Plunging Neckline
Romantically Elegant Wedding Dress With Pearl and Floral Appliqués
Off-the-Shoulder Elegant Long Sleeve Wedding Dress
Elegant Long Sleeve Wedding Dress With Floral Lace
Floral and Sparkling Elegant Long Sleeve Wedding Dress
Elegant Form-Fitting Long Sleeve Wedding Dress
Elegant Wedding Gown With Illusion Bell Sleeves
Leafy and Floral Elegant Long Sleeve Gown
Celestial Elegant Long Sleeve Wedding Dress
Beaded Long Sleeve Sparkly Wedding Dress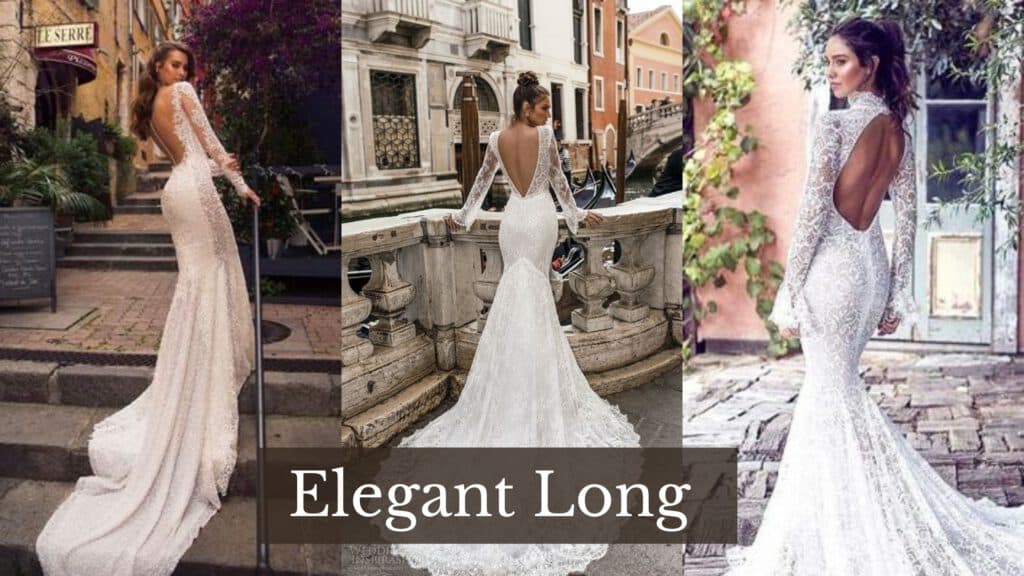 Trumpet Style Wedding Dress
The Trumpet wedding dress flare at the thigh to elongate the legs.
The third type of wedding dress with a flared skirt is the trumpet style. The trumpet silhouette truly embodies its name with a trumpet-like shape that swells at the mid-thigh. The flared skirt is where it's at! In bridal gowns with trumpet sleeves, thigh-high slits are employed to elongate the legs.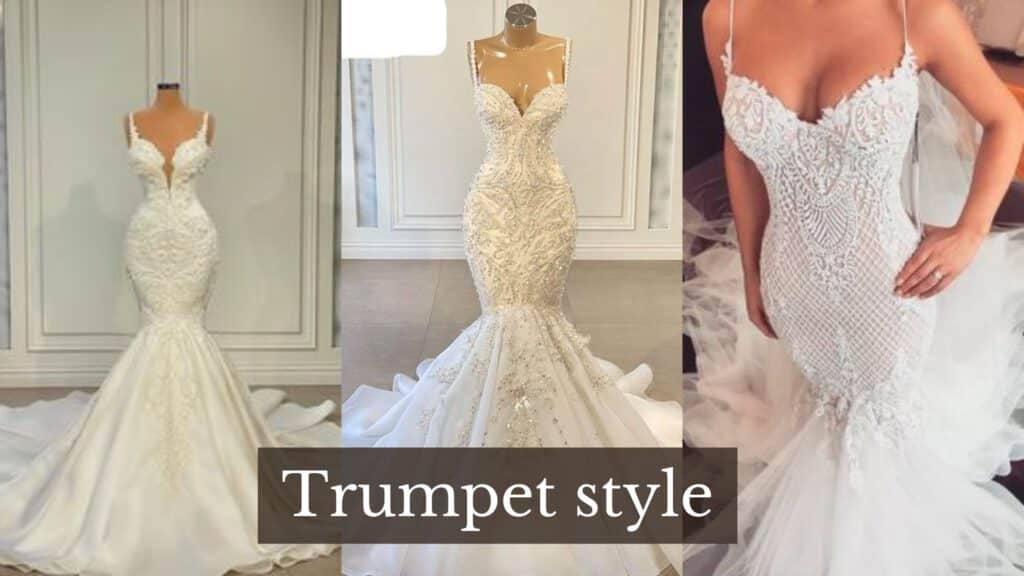 Mermaid Silhouette Style Wedding Dress
The Mermaid wedding dress flare at or below the knee.
A mermaid wedding dress has a fitted bodice, waist, and hips, and a long skirt that stops at or just below the knee. The thigh-flaring trumpet and mermaid gown styles are marginally different from one another. Since both the hips and the bodice come under the "fit-and-flare" dress category, the objective is to cut them out in form-flattering shapes.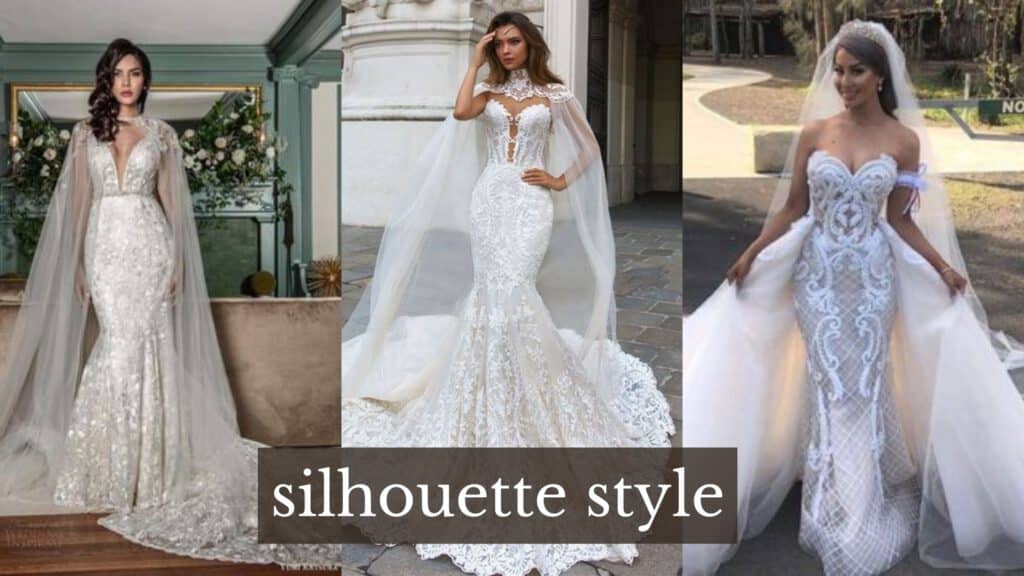 Are mermaid wedding dresses uncomfortable?
Mermaid wedding dresses don't necessarily have to be unpleasant, despite being known for having a more constrained and form-fitting shape. Simply put, everything depends on perspective.
Mermaid wedding dress will restrict your movement in comparison to a flowy skirt, but this is one of the ways they achieve their mesmerising appeal.
Types Of Mermaid Wedding Dresses
Halter Dress With Embroidery Detail
Notch-Neck Lace Corset Dress
Lace + Tulle Mermaid Gown
Flare Sleeve Lace Mermaid Dress
Lace Boho Mermaid Wedding Dress
Floral Illusion Lace Mermaid Wedding Dress
Trumpet Style vs. Mermaid Style
The starting point of the flare is the main distinction between these two.
The strength of the flare is another significant, if slightly less evident, distinction between the two.
Trumpet style Mermaid style
| | |
| --- | --- |
| Compared to the mermaid style, the trumpet flare starts higher up, at mid-thigh | a silhouette resembling a trumpet is formed, which is often thought to be a little more mobile than the other variant. |
| wedding dresses in the trumpet type have a more modern one. | Wedding dresses in the mermaid style have a more dramatic flair |
| trumpet dresses flare at the thigh, they create the illusion of longer legs. | Full and prominent the skirt can continue to flare out into a train of any length. |
Sheath Wedding Dresses
The Sheath wedding dresses always give the wearer the appearance of being taller due to their longer torso and legs. This is because the gown has a long, slender form, especially if you keep the embellishments to a minimum. Sheath wedding dresses may typically be cut shorter without paying a seamstress, saving you money. Sheaths are always internally well-supported for a slim profile.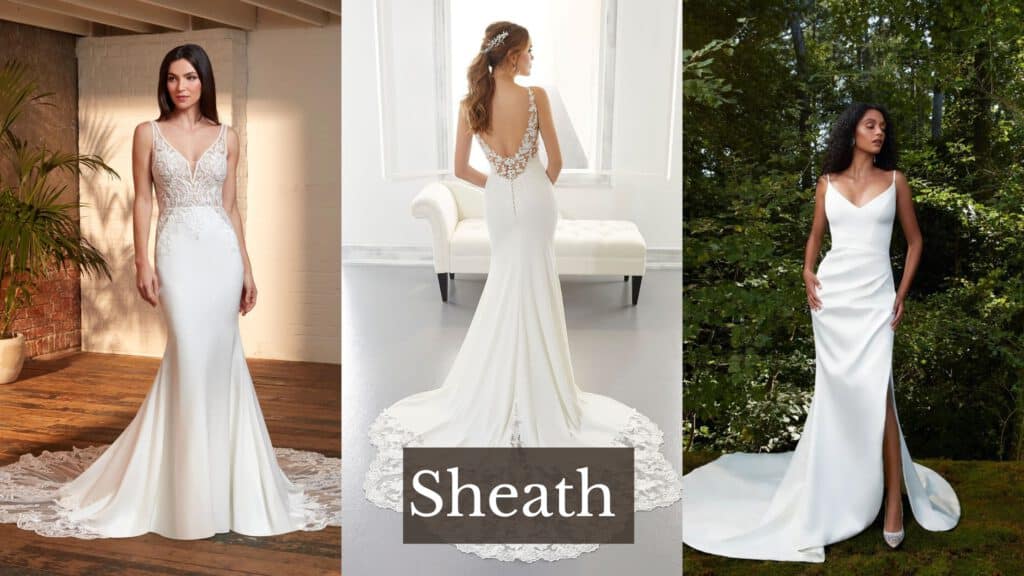 What Do You Wear To A Fairy Theme Wedding?
The fairytale wedding theme is one of those gorgeous wedding themes that we always imagined as young girls. Most of us imagined Cinderella in her white gown or our own favourite "princess" in the same attire. It makes sense that we would want to maintain the appeal of our wedding attire as adults while adding a more sophisticated touch.
The properties of white are innocence, virginity, purity, brightness, and righteousness. It is thought to have the most attractive shade. This colour has always been and always will be a conventional option for the traditional bride.
With 34% of couples choosing it, white is the second most popular wedding colour in 2021. This decision is not particularly surprising given how well-liked the minimalist aesthetic is right now. White, like gold, complements other colours beautifully but need not be boring on its own. White may be incorporated into any event's décor by using a variety of textures, regardless of the season or wedding craze.
Why Are Wedding Dresses So Important?
For many would-be brides, the wedding dress is the stuff of dreams.
Though traditions vary between nations, religions, and socioeconomic groups, bridal wear has been worn since the beginning to make the bride look her best for a big life event.
Poorer brides generally wore their best church dress, in contrast to wedding dresses in rich, brilliant colours and exquisite fabrics, which typically represent the bridal family's affluence and social standing.
Most women today have the freedom to select the colour, fabric, shape, and style of their dream wedding gown. A marriage still depends on the wedding gown, though.