If you're on the hunt for #BrowGoals, hold up for a moment! Before diving headfirst into the world of microblading, it's crucial to take a step back and make sure you're well-informed about the essential precautions. Educating yourself on these important guidelines will not only help you achieve the brows of your dreams but also ensure a safe and successful microblading experience. So, don't rush into it blindly—take the time to equip yourself with the necessary knowledge and precautions to make the most out of your microblading journey!
Hey, have you been scrolling through Instagram lately? If so, you've probably noticed all the buzz about microblading. But hold on a sec:
What is this Microblading Thing Anyway? And More Importantly, Do You Really Need It?
Well, let me break it down for you in plain and simple terms. Microblading is a technique used to enhance your eyebrows, giving them a fuller and more defined look. But whether or not you need it is entirely up to you! It all depends on your personal preferences and the look you're going for. So, take a moment to explore what microblading is all about and decide if it's something that aligns with your eyebrow goals.
A Tiny Intro
You Know microblading! Originating from Asia, it's a modern take on permanent makeup. Unlike traditional methods, microblading is done manually by hand instead of using a machine. But here's the deal: don't confuse it with "microshading." Microshading is another form of permanent makeup that involves using a machine to implant color pigments beneath the skin. So, if you're considering enhancing your brows, remember to choose the right technique. Stay informed and slay those brows like a boss! 💁‍♀️✨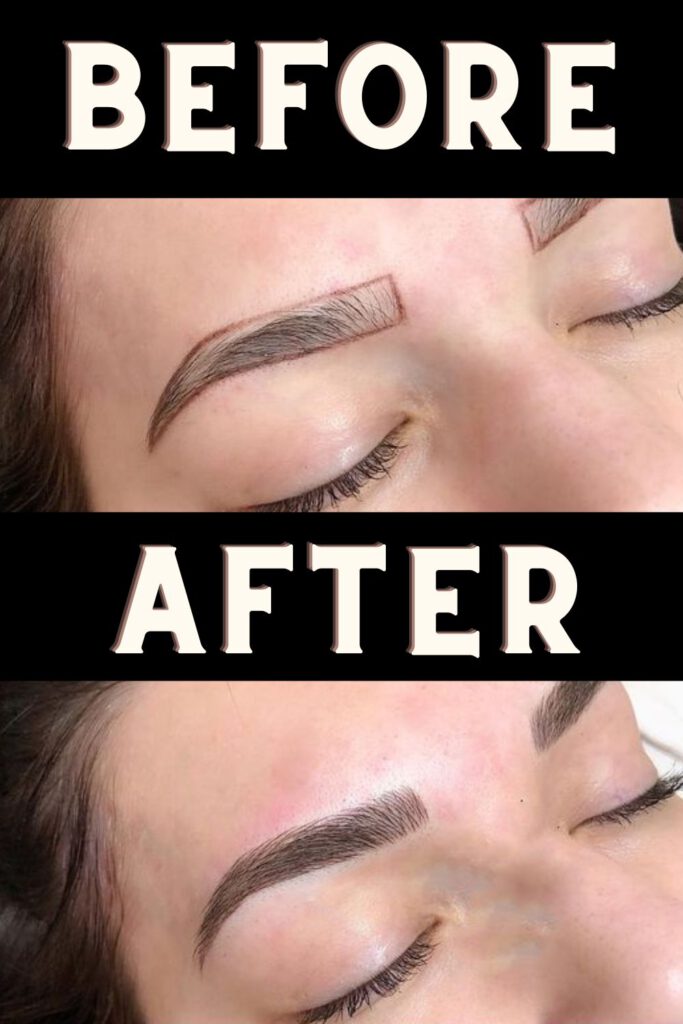 Is Microblading the Right Choice?
🌟 Want to wake up with flawless eyebrows? Tired of endless touch-ups and powders? Look no further! Microblading is the answer you've been searching for. It's perfect for those who crave effortless mornings and ideal for individuals experiencing hair loss due to illness. Say hello to your dream brows! 💁‍♀️💖
Request: 💫 Keep in mind, if you're aiming for a highly vibrant result, microblading may not be your top pick. Additionally, for the safety of both mom and baby, pregnant and breastfeeding women are advised to hold off on the treatment. Safety first, gorgeous! 💕🤰

wiveshub
Medical Precautions
I have some important advice to share about the medical aspects of microblading. Your safety is of utmost importance, so before embarking on this brow-transforming journey, there are a few key things you should know. Make sure to inform your microblading artist about any existing medical conditions, allergies, or medications you are taking. Discussing your medical history is essential to ensure a smooth and worry-free experience. Your well-being is my priority, and together, we can create beautiful brows while keeping you healthy!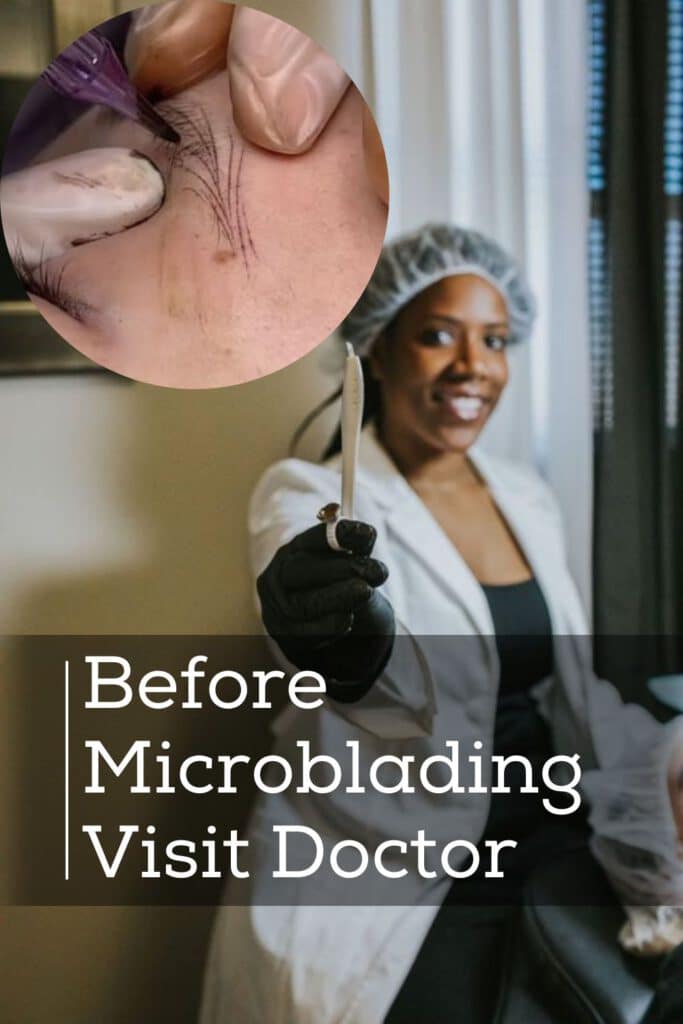 Below are some key points you should be aware of first:
Potential Risks: Like any cosmetic procedure, there are risks involved. These include infection, allergic reactions, scarring, and keloid formation. Make sure to discuss these risks with a qualified professional and ensure proper hygiene and safety protocols during the procedure.
Skin Conditions: Individuals with skin conditions like eczema, psoriasis, acne, or excessively oily skin may not be suitable candidates. Inform your microblading technician about any existing skin issues to minimize complications.
Allergies and Patch Tests: Allergic reactions to pigments used in microblading can occur. A patch test may be recommended to detect any adverse reactions within 24-48 hours before the procedure.
Pre-Existing Medical Conditions: It's crucial to disclose any pre-existing medical conditions and medications to your microblading technician. Conditions like blood disorders, autoimmune diseases, diabetes, or the use of blood-thinning medications can affect healing or increase risks.
Post-Procedure Care: Follow the provided aftercare instructions diligently to minimize infection risks, promote proper healing, and achieve the best results. Regular follow-up appointments may be necessary for touch-ups or adjustments.
Remember, this overview provides general information about microblading's medical considerations. Consult with a qualified professional for personalized advice based on your medical history.
Is Microblading Bloody Or Painfull? Let's Find Out!
One common concern about microblading is the level of blood involved. Here's what you need to know:
During the microblading procedure, a handheld tool with tiny needles is used to create hair-like strokes in the skin. While it is normal to experience minimal bleeding, it is generally not considered a highly bloody procedure. The needles used are very fine and typically only penetrate the superficial layers of the skin.
However, everyone's skin is different, and the amount of bleeding can vary. Factors such as skin sensitivity, individual skin characteristics, and the technician's technique can influence the level of bleeding. In some cases, you may experience slight bleeding or spotting during the procedure, but it is typically minimal and manageable.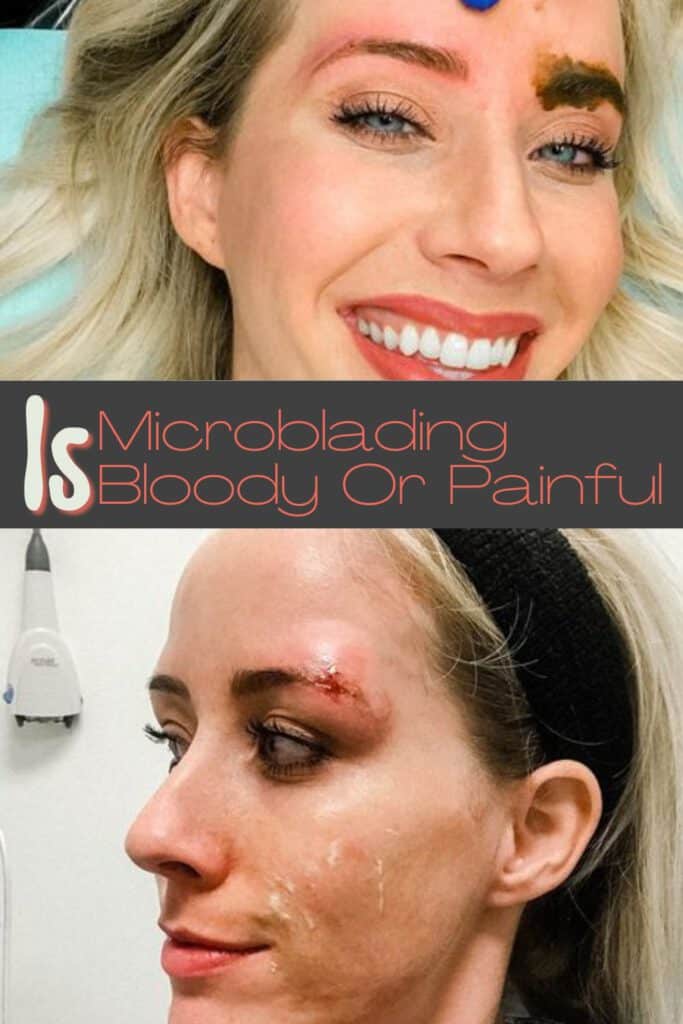 To ensure a safe and comfortable experience, qualified professionals take precautions to maintain a clean and sterile environment. They follow strict hygiene protocols and use disposable tools to minimize the risk of infection.
If you have concerns about the level of bleeding during microblading, it's best to discuss them with a qualified microblading technician. They can provide you with more specific information based on your individual circumstances.
Get Ready for Darker Brows!
After your microblading appointment, get ready to see your brows darken within the first 24 hours. Here's what you can expect:
Following the procedure, your newly microbladed eyebrows may appear darker than you anticipated. Don't worry! This is a normal part of the healing process. The pigment initially appears more intense due to the color settling into the tiny incisions made during the procedure.
Over the next few days, as your skin heals and the superficial layers exfoliate, the color will soften and lighten. It's important to remember that the final result of your microbladed brows will gradually emerge after a few weeks.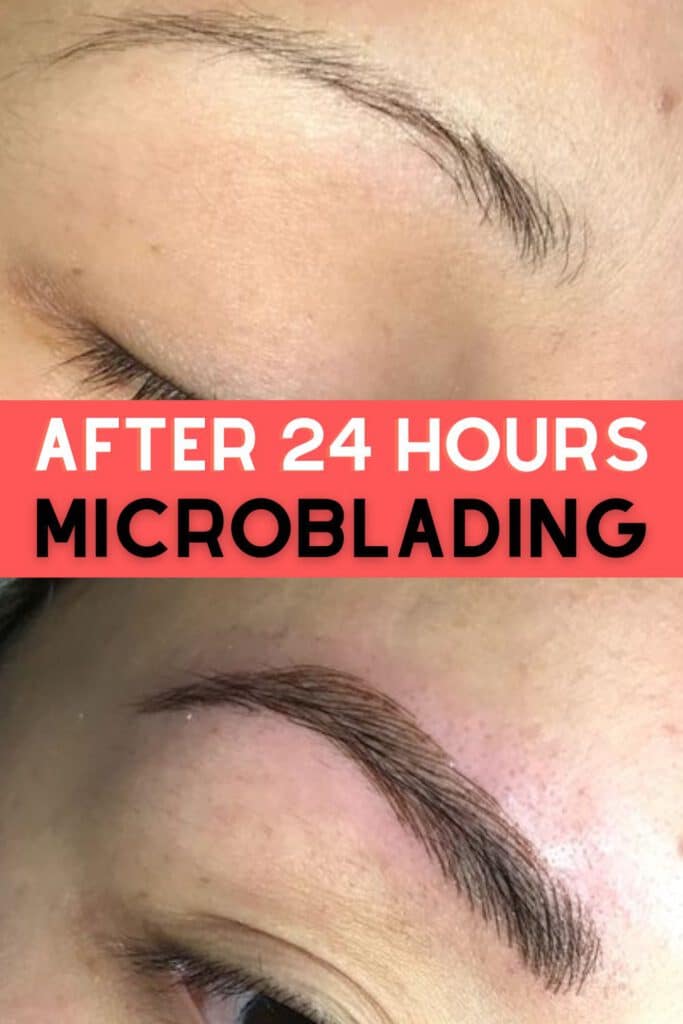 During the healing process, it's crucial to follow the aftercare instructions provided by your microblading technician. These instructions typically include avoiding excessive water exposure, sun exposure, and picking at the scabs or flakes that may form.
In the meantime, be patient and trust the healing process. As your skin recovers, the color of your brows will settle into a more natural shade that complements your features. Remember, the initial darkness is temporary, and the end result will be worth the wait!
If you have any concerns about the healing or color of your brows, reach out to your microblading technician. They will be able to provide guidance and reassurance based on their expertise.
Get ready to embrace those beautifully defined eyebrows! 😍💁‍♀️
The Best Season for Microblading: All-Year Beauty!
When it comes to microblading, there isn't a specific "best" season. You can enhance your brows and enjoy beautiful results any time of the year! Here's why:
Spring: As flowers bloom and nature rejuvenates, spring can be an ideal time for microblading. The mild temperatures and comfortable weather make the healing process more pleasant.
Summer: If you want to flaunt perfect brows during beach trips and summer adventures, microblading can be a great choice. Just remember to follow proper aftercare instructions, including sun protection for your healing brows.
Fall: As the leaves change color, fall offers a cozy atmosphere for microblading. You can enjoy the gradual healing process while embracing the autumn vibes.
Winter: The colder months can be a convenient time for microblading, especially if you prefer to avoid sun exposure during the initial healing period. Cozy up indoors and let your brows transform while the snow falls outside.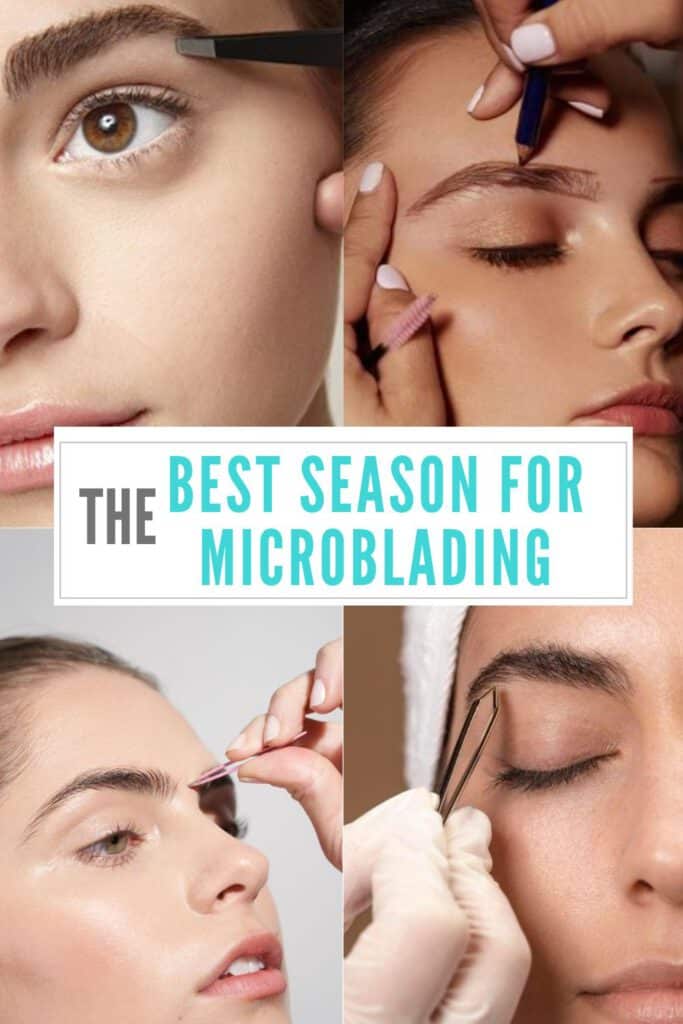 Ultimately, the decision of when to get microblading depends on your personal preferences and lifestyle. Consider factors like your schedule, desired healing process, and any upcoming events or trips.
Regardless of the season you choose, it's crucial to find a qualified and reputable microblading technician who will prioritize your safety and provide the best results.
So, whether it's spring, summer, fall, or winter, get ready to enhance your brows and enjoy long-lasting beauty throughout the year!
Before and After: Embracing the New You!
Microblading can truly transform your brows and give you a stunning new look. Let's explore the journey from "before" to "after" and how you'll adjust to your fabulous new brows:
Before 🔍: Picture yourself with sparse, uneven, or shapeless eyebrows. Maybe you spend precious time each day filling them in or feeling self-conscious about their appearance. That's where microblading steps in to make a difference!
After ✨: Once you've undergone microblading, you'll be amazed at the results. Your brows will be beautifully defined, with perfectly shaped arches and hair-like strokes that mimic natural brows. You'll wake up every morning with effortlessly gorgeous brows, saving time and boosting your confidence.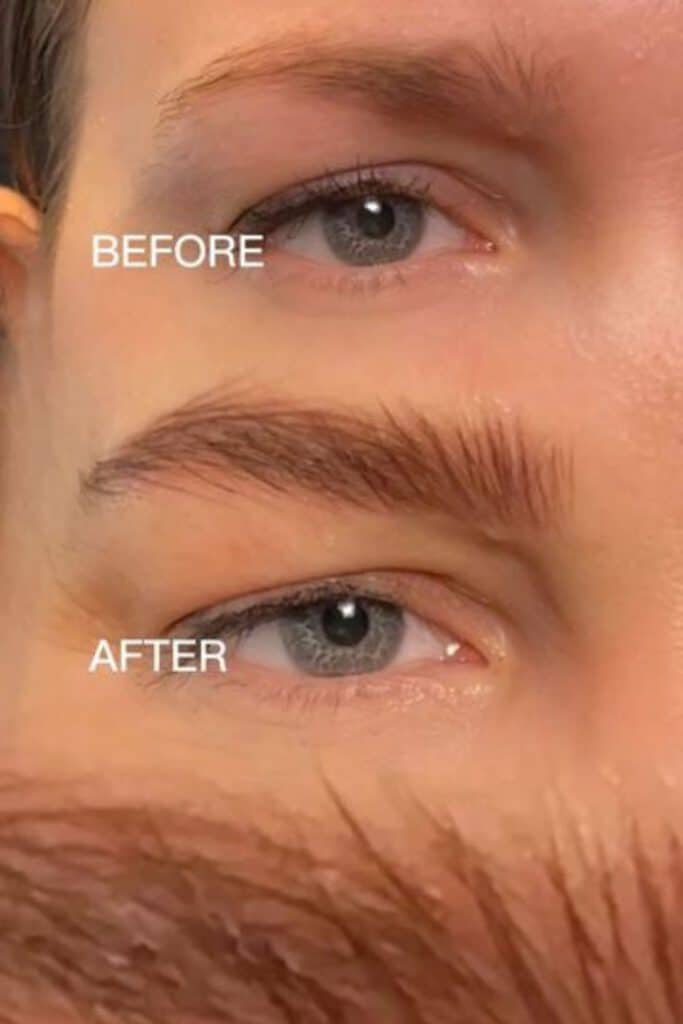 Getting Used to It ⌛: Adjusting to your new brows may take a little time, but it's an exciting journey. Initially, you might notice that your brows appear darker or bolder than expected. Don't worry, as this is a temporary phase. As your skin heals, the color will soften, giving you a more natural and subtle look.
Embracing the Change 💖: Over time, you'll grow accustomed to your enhanced brows and fall in love with the results. The convenience of waking up to beautiful brows without the need for daily makeup application is truly liberating. Enjoy the confidence that comes with having perfectly shaped and defined brows.
Remember, proper aftercare is crucial in achieving optimal results and ensuring long-lasting satisfaction. Follow the guidelines provided by your microblading technician, including protecting your brows from excessive sun exposure and avoiding harsh skincare products in the treated area.
So, get ready to say goodbye to your old brow struggles and embrace the new you with fabulous, hassle-free brows. It's time to shine and show off your beautiful transformation!
Your Second Appointment: A Step Towards Perfection! 💖
Your second microblading session is not just an ordinary appointment—it's a crucial step in achieving eyebrow perfection! Here's what you can expect during this important visit:
Assessing the Results: During your second appointment, your microblading technician will carefully assess how your brows have healed and how the pigment has settled. They will analyze the color, shape, and overall appearance to determine any necessary adjustments.
Touch-Ups and Refinements: Based on the assessment, your technician will perform touch-ups and refinements to enhance and perfect your brows. This may involve adding more hair-like strokes, adjusting the color intensity, or refining the shape to ensure your desired outcome is achieved.
Addressing Feedback and Concerns: If you have any feedback or concerns about your initial results, this is the perfect time to discuss them with your technician. Open communication allows them to address your specific needs and make any necessary modifications to ensure your satisfaction.
Finalizing the Look: The second appointment aims to finalize your microblading journey. With the touch-ups and refinements, you'll leave the session with brows that beautifully frame your face, enhance your features, and boost your confidence.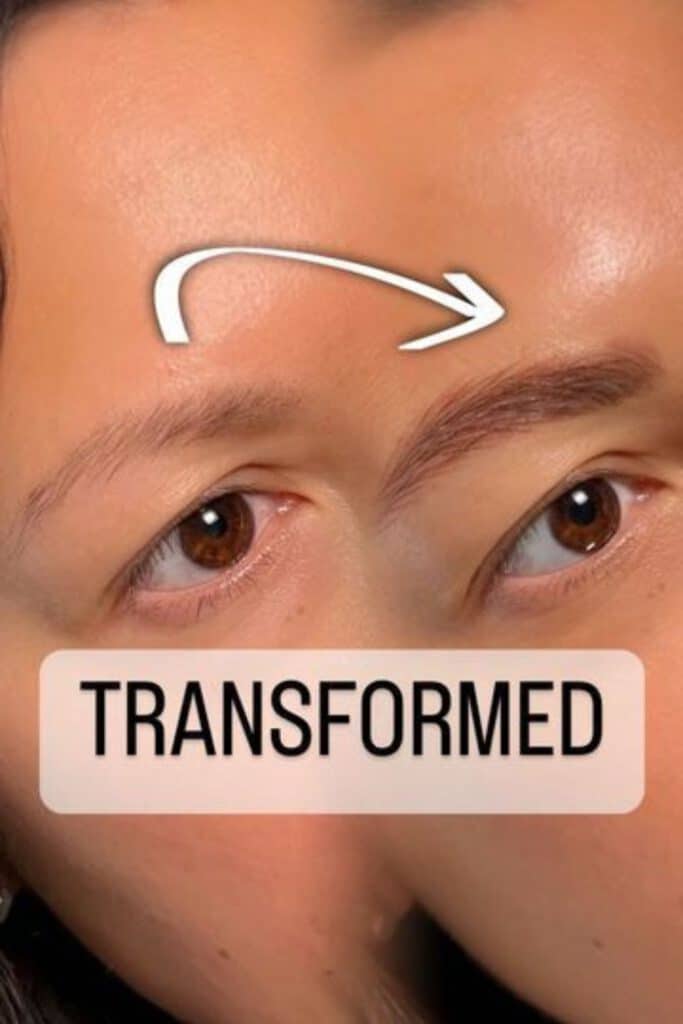 Remember, the healing process continues after the second session, and it's important to follow the provided aftercare instructions diligently. Your technician may schedule a follow-up visit to monitor the final healing and make any additional adjustments if needed.
Embrace this second appointment as an exciting opportunity to refine your brows and achieve the perfect look you've been dreaming of. Trust in your technician's expertise, and together, you'll create brows that truly complement your unique beauty.
Post-Microblading Care: Nurturing Your Beautiful Brows! 🌼
Proper aftercare is essential for ensuring optimal healing and long-lasting results after microblading. Here are some important care instructions to follow:
Keep it Clean: Gently clean your eyebrows using a mild, non-abrasive cleanser and lukewarm water. Use a clean, soft cloth or cotton pad to pat them dry. Avoid excessive water exposure, especially in the first week, to prevent pigment loss.
Hands Off: Avoid touching or picking at your healing brows. Let the scabs or flakes naturally exfoliate. Picking can lead to pigment loss and potential scarring.
Avoid Makeup and Harsh Products: For at least two weeks, refrain from applying makeup, especially in the brow area. Avoid using skincare products containing exfoliants, retinol, or acids near your brows, as they can fade the pigment.
Shield from the Sun: Protect your healing brows from direct sunlight and tanning beds. UV rays can fade the pigment and hinder the healing process. Apply a gentle sunscreen to the area when going outside, making sure not to get it directly on the brows.
Be Patient: Remember, the healing process takes time. Your brows will go through various stages, including slight darkening, scabbing, and flaking. Allow the color to settle and the skin to fully heal before evaluating the final results.
Follow Up: Attend any scheduled follow-up appointments with your microblading technician. They will assess your healing progress, make any necessary touch-ups, and address any concerns you may have.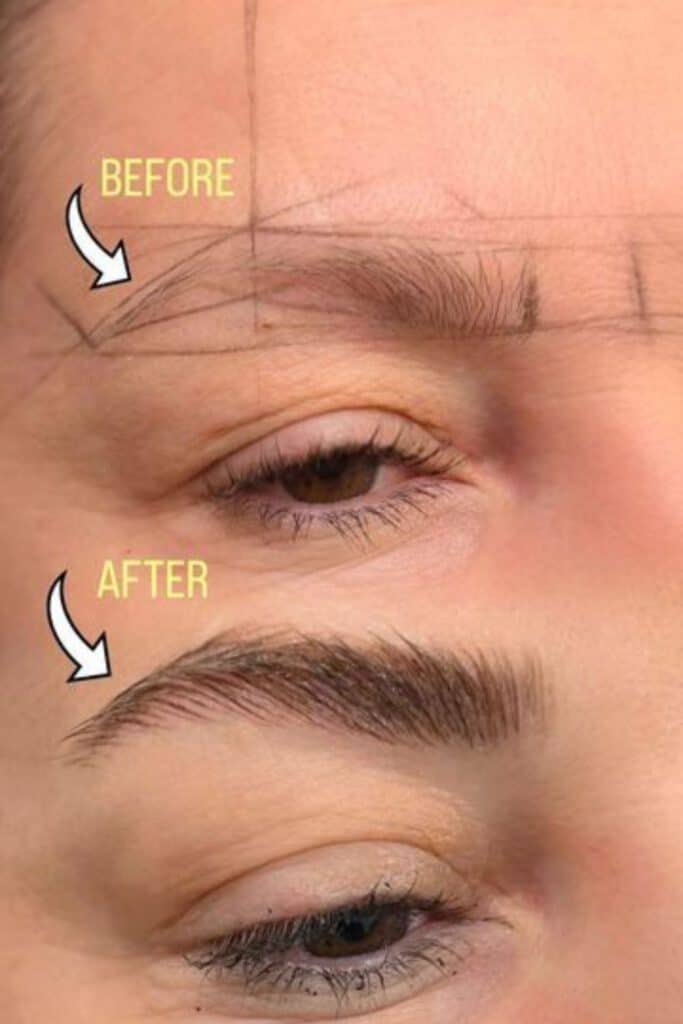 By following these aftercare guidelines diligently, you'll ensure the best possible outcome for your newly microbladed brows. Enjoy the transformation and revel in the beauty of your enhanced eyebrows!
If you have any specific questions or concerns during the healing process, don't hesitate to reach out to your microblading technician for guidance and support.
Durability 💪: Long-Lasting Beauty for Your Brows! 🌟
Microblading offers a semi-permanent solution for beautifully defined brows. While the exact durability varies from person to person, here's what you can generally expect:
Longevity: Microblading can typically last anywhere between one to three years. Factors such as skin type, lifestyle, and aftercare can influence how long the results will endure.
Touch-Ups: Over time, the pigment will naturally fade. To maintain the desired look, periodic touch-up sessions are recommended. These touch-ups help refresh and enhance your brows, ensuring they remain on point and beautiful.
Color Fading: The color intensity of your microbladed brows may fade gradually over time. This is normal and can be influenced by factors like sun exposure, skincare products, and your body's natural regeneration process.
Aftercare Matters: Following the provided aftercare instructions diligently will help extend the lifespan of your microblading results. Protecting your brows from excessive sun exposure, avoiding harsh products, and maintaining a healthy skincare routine can contribute to their longevity.
Individual Variations: It's important to note that everyone's skin and healing process are unique. While some individuals may experience longer-lasting results, others may require more frequent touch-ups due to factors specific to their skin and lifestyle.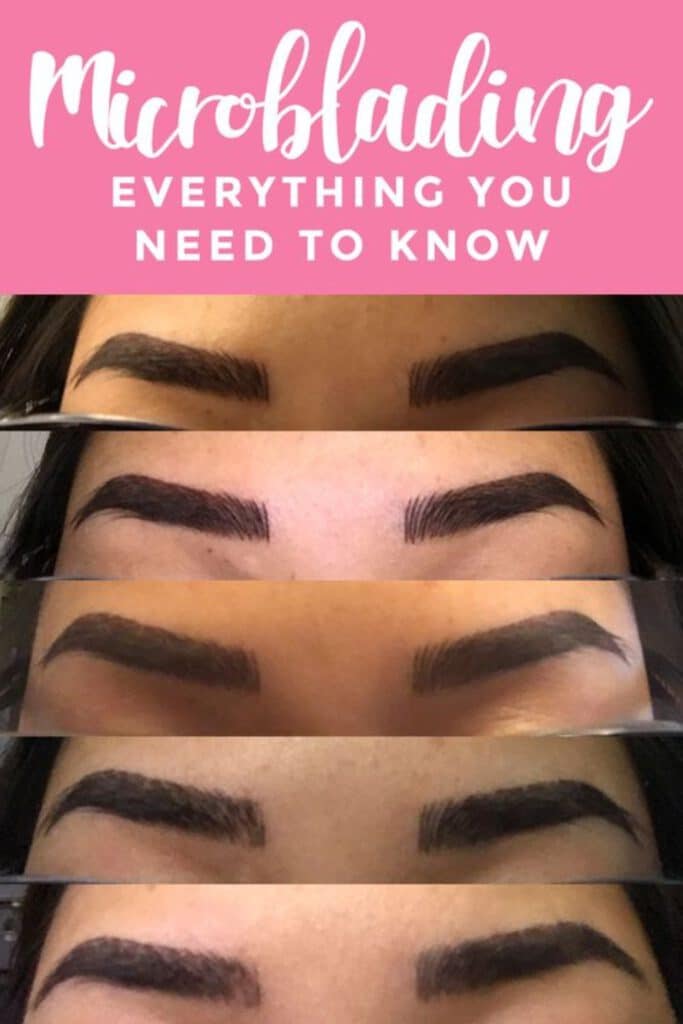 To ensure your brows maintain their beauty and durability, it's recommended to schedule touch-up appointments as advised by your microblading technician. These sessions will help refresh the pigment and make any necessary adjustments to keep your brows looking flawless.
By following a proper aftercare routine and staying in touch with your technician, you can enjoy the benefits of microblading for an extended period, flaunting your perfectly sculpted brows with confidence!
Our Tip 🌟: Show Some Love to Your Microbladed Brows! 💖
Taking care of your microbladed brows doesn't end with the initial healing process. To maintain their beauty and prolong their durability, here's our special tip:
Moisturize Regularly: Keeping your brows well-moisturized is key to their long-lasting vibrancy. Apply a gentle, oil-free moisturizer to the brow area daily, especially after the initial healing period. Moisturizing helps nourish the skin, prevent dryness, and preserve the color intensity of your microbladed brows.
However, it's essential to use a moisturizer specifically formulated for the face and brow area. Avoid applying heavy creams or oils directly on the brows, as they can cause the pigment to fade prematurely.
By incorporating this simple step into your routine, you'll give your microbladed brows the extra TLC they deserve, ensuring they remain stunning and luscious for an extended period.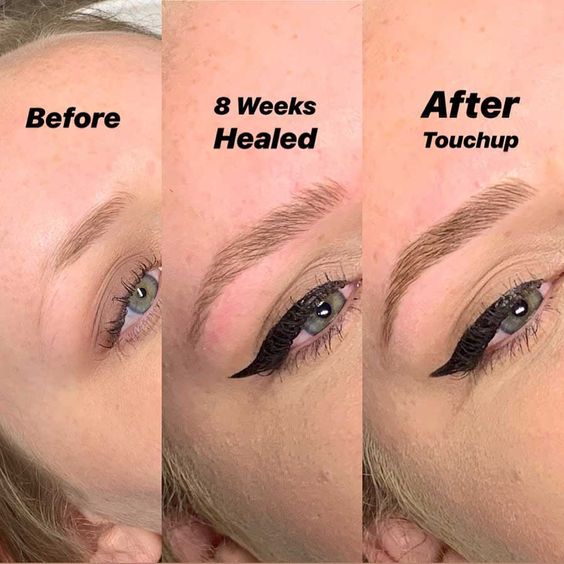 Remember, maintaining a healthy skincare regimen and protecting your brows from excessive sun exposure and harsh products will also contribute to their long-term durability.
If you have any specific product recommendations or questions about moisturizing your microbladed brows, consult with your microblading technician. They can provide personalized advice based on their expertise and knowledge of your unique skin type.
So, go ahead and give your brows some extra love! Embrace the beauty and convenience of microblading for years to come.
Frequently Asked Questions about Microblading and Their Answers! 📚 🔎
Is microblading painful?
During the procedure, a numbing cream is applied to minimize any discomfort. While some clients may feel a slight sensation or pressure, most report little to no pain during microblading.
How long does microblading take?
The initial microblading appointment usually takes around 2-3 hours. This includes the consultation, designing the brows, and the actual procedure. The duration may vary depending on individual factors.
How long is the healing process?
The initial healing process typically takes 4-6 weeks. During this time, your brows will go through various stages, including slight darkening, scabbing, and flaking. The final results will gradually emerge during this period.
How long do microbladed brows last?
Microbladed brows can last anywhere from 1 to 3 years, depending on factors like skin type, aftercare, and individual variations. Periodic touch-ups are recommended to maintain the desired look.
Can I choose the shape and color of my microbladed brows?
Yes, absolutely! During the consultation, your microblading technician will discuss your preferences and help design brows that suit your face shape and desired aesthetic. The color will also be chosen to match your natural hair color and skin tone.
What are the risks and complications of microblading?
Like any cosmetic procedure, microblading carries certain risks. Potential complications include infection, allergic reactions, scarring, and keloid formation. It's crucial to discuss these risks with a qualified professional and ensure proper hygiene and safety protocols are followed.
Can I get microblading if I have certain skin conditions?
Individuals with certain skin conditions or sensitivities may not be suitable candidates for microblading. Conditions like eczema, psoriasis, active acne, or excessively oily skin can affect the healing process and results. It's important to inform your technician about any existing skin issues.
These are just a few common questions about microblading, and there may be more specific queries based on individual circumstances. It's always recommended to consult with a qualified microblading technician who can address your concerns and provide personalized guidance.