French fashion designer Marcel Rochas created the mermaid wedding dresses in the 1930s. The trumpet form or fishtail form are other names for it. The aim  of mermaid dresses is to establish a balance between sexiness and delicacy. On women with smaller busts, mermaid-shaped wedding dress are also attractive. Your hips rather than your chest will be the focal point of this style. This look is also perfect for those of you who are on the shorter side. The form-fitting bodice that reaches your waist will make you appear longer.
A mermaid wedding dress is a classic choice if you're striving for a more feminine or sexy image. The dress, one of 2021's most gorgeous dresses, brings out the best in your body's beauty. The skirt notably draws attention to your hips.
The dress's low back reveals your shoulder blades. There are many different variations of the mermaid dress, including ones with long sleeves, short sleeves, a V-neck, a lace back, and others.
Why are mermaid wedding dresses one of the most popular dress silhouettes?
Because of their naturally dramatic design and ability to draw attention to your best features, they are ideal for the glitz and formality of a big occasion like your wedding. Mermaid wedding dresses come in a wide range of options, including opulently beaded forms that shimmer, romantic looks with tons of fluffy organza, and more muted crepe variations.
The Best Mermaid wedding gown
Mermaid Open Back Wedding gown
Sexy Mermaid Wedding gown
Simple Mermaid Wedding gown
Mermaid Lace Wedding gown
Mermaid Long Sleeve Wedding gown
Sweetheart Mermaid wedding gown
There are no straps on the hot mermaid wedding Dresses
A mermaid wedding dress is fitted throughout the bodice, waist and hips and typically flares out just below the knees. Elegant, sensuous, and flattering silhouettes can be found in the seductive mermaid wedding dress. Mermaids have tight, tapered, knee-length bodies that are slender. They achieve this by drawing attention to features of your body including a tight waist, projecting hips, and firmer busts. See the ideas below and find your favorite style!
Mermaid Lace Wedding gown
Low Back Mermaid Wedding gown
Mermaid Long-Sleeve Wedding gown
Sexy Mermaid wedding gown
Simple Mermaid Style Wedding gown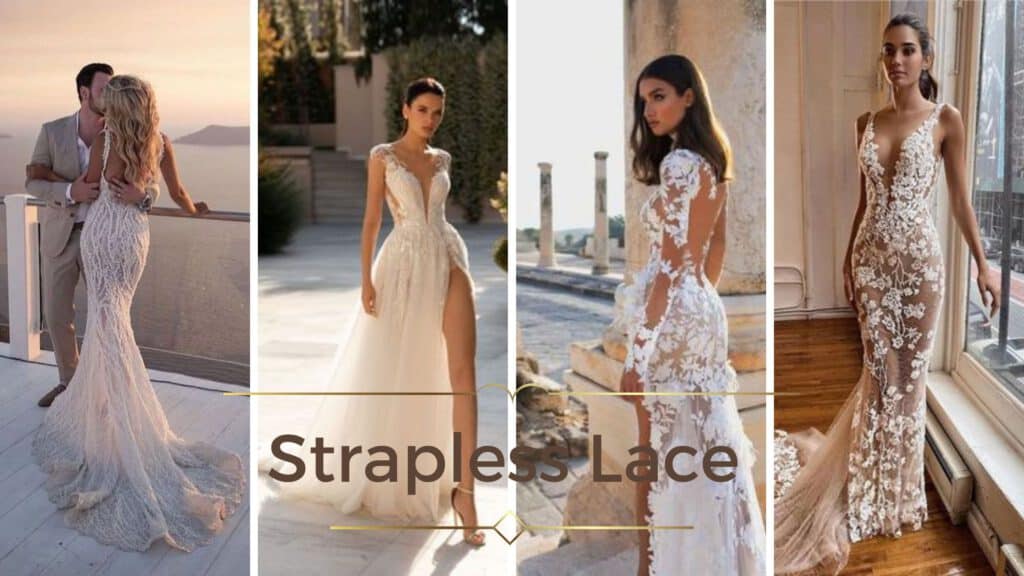 Open-Back Beautiful Mermaid Wedding Dresses
The open back wedding dress is the perfect option for individuals who value sexiness. Every bride wants to wear a dress that shows her individual sense of style. As demonstrated by Moonlight Bridal's line of backless wedding dress, finding the proper balance between traditional splendour and modern refinement enables you to choose a dress that is attractive and appealing but still exposes some skin.
Consider a stunning option with a low-back mermaid wedding dress when organising your wedding. The gorgeous mermaid wedding dress would look lovely for girls who stand tall. If you want to highlight this wonderful area of the body, make sure an open back looks gorgeous sexy mermaid wedding dresses comes in different silhouette and styles
Square Neck Backless Mermaid Wedding Dress with Lace Detail
Backless Mermaid Dress with Ruffled Organza
Backless Mermaid Dress with Floral Lace
Modern + Romantic Backless Mermaid Wedding Dress
Sexy Backless Mermaid Wedding Dress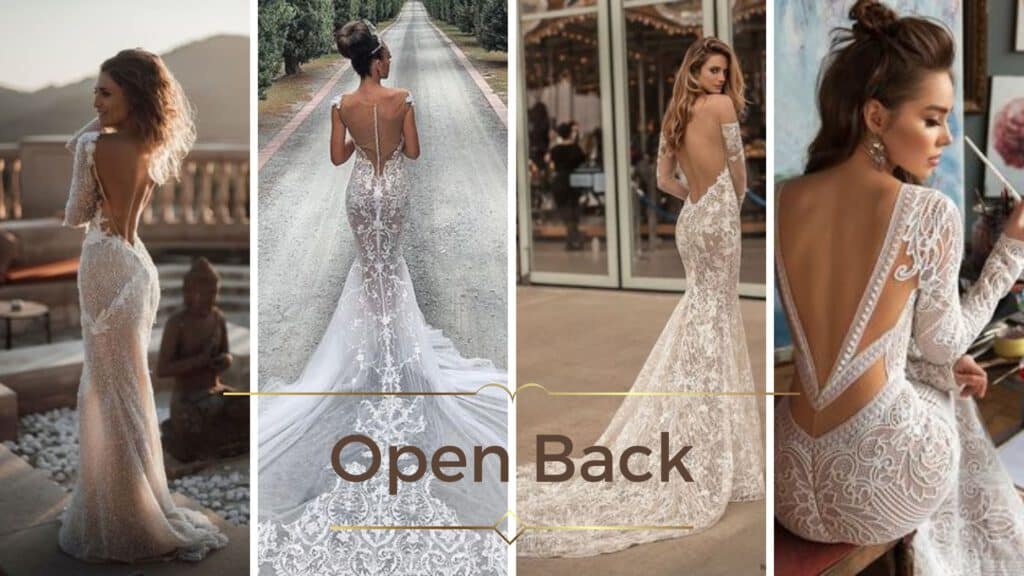 attractive mermaid catsuit
In sexy mermaid wedding dresses, your natural waist and hips will be on display, which will make you stand out. These dresses nicely accentuate every form. For the bride who wants to feel alluring on her wedding day but yet preserving her sense of distinctive flair, sexy mermaid wedding dresses are perfect. The voluminous skirt and train of a mermaid wedding dress, which will make both your entrance and exit breathtaking, are its major qualities regardless of your personal style. This look is ideal for showing your shape because it can be anything from simple and elegant to sensuous and breathtaking.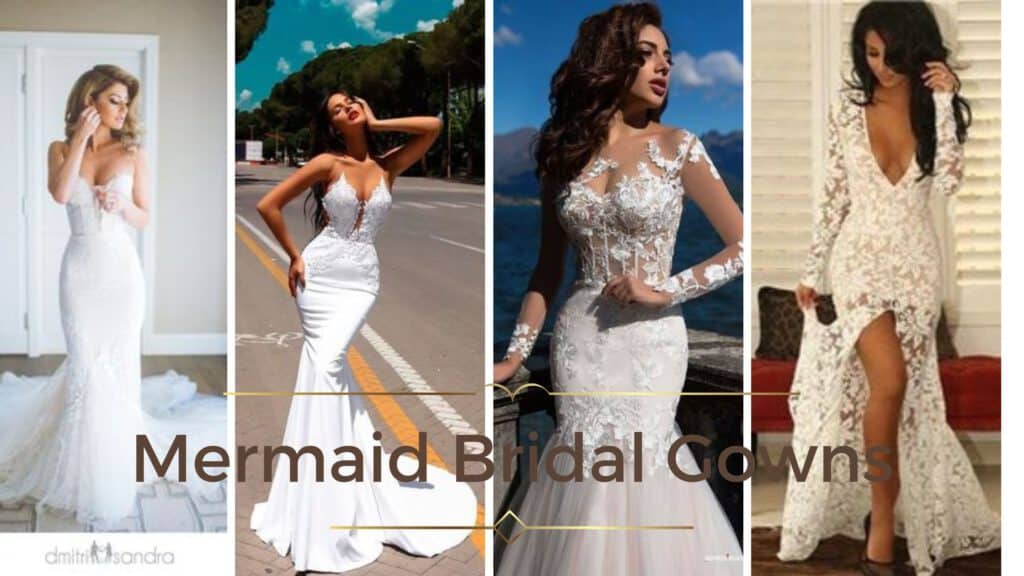 Simple Beautiful Mermaid dresses
There are many variables that make wedding dresses complex or simple. A modern fashion trend favours plain clothing over ornate traditional attire. Simple wedding dresses only call for pure fabric, pure lines, and a tiny bow or speck of lace. Contemporary brides choose simple mermaid wedding dress. They blend charm, simplicity, and compassion. Women try to dress in flamboyant, incredibly uncomfortable dress. They discover too late how crucial comfort is on such an important day. In one of our stunning, simple, sexy wedding dress, you may relax. Because they are sick of wearing wedding dresses that screams grandeur, tragedy, and enormous wealth, many ladies choose simple dresses. However, while being simple, modest clothing from designer collections represents the height of sophistication, grace, and elegance.
Therefore, we have discovered several different styles of simple wedding dresses.
Simple Beach Wedding gown
Simple Wedding gown With Sleeves
Simple A-Line Wedding gown
Lace Simple Wedding gown
Strapless Simple Wedding gown
Simple Bohemian Wedding gown
Sexy Backless Wedding gown
Simple Elegant Wedding gown
Short Simple Wedding gown
Plus Size Simple Wedding gown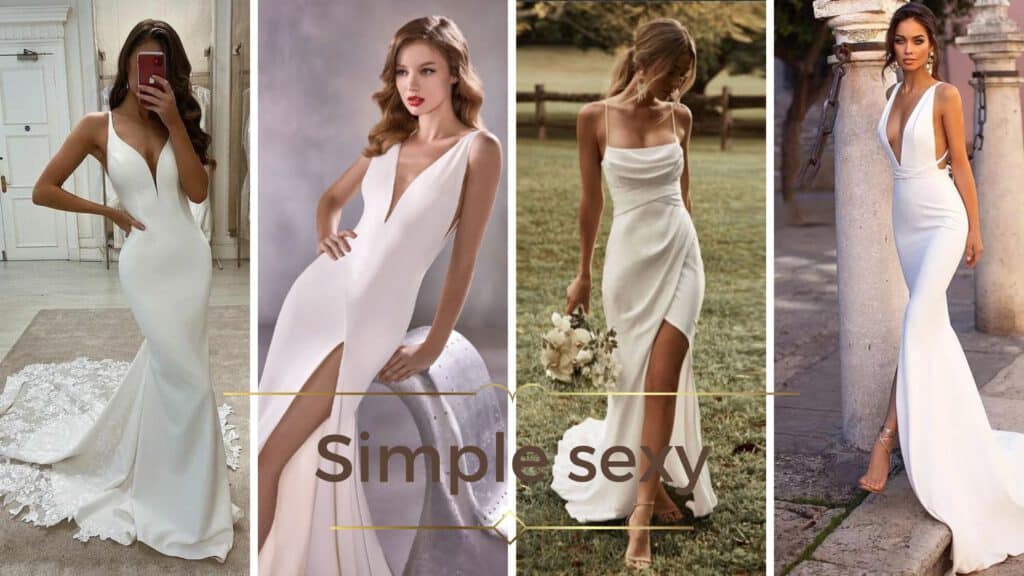 enticing mermaid lace wedding dresses
Lace has the ability to elevate a wedding dress into something that is magical and memorable. Without classic lace components, a traditional wedding look would be incomplete. But who is to say that it won't be hot? Lace wedding dresses can be rather pricey. You can strategically use various kinds of lace on your dress to highlight your figure and enhance your beauty on your special day. Wedding dress made of lace and featuring exposed backs are captivating and sexy. Numerous wedding dress designs feature open or lace-backs.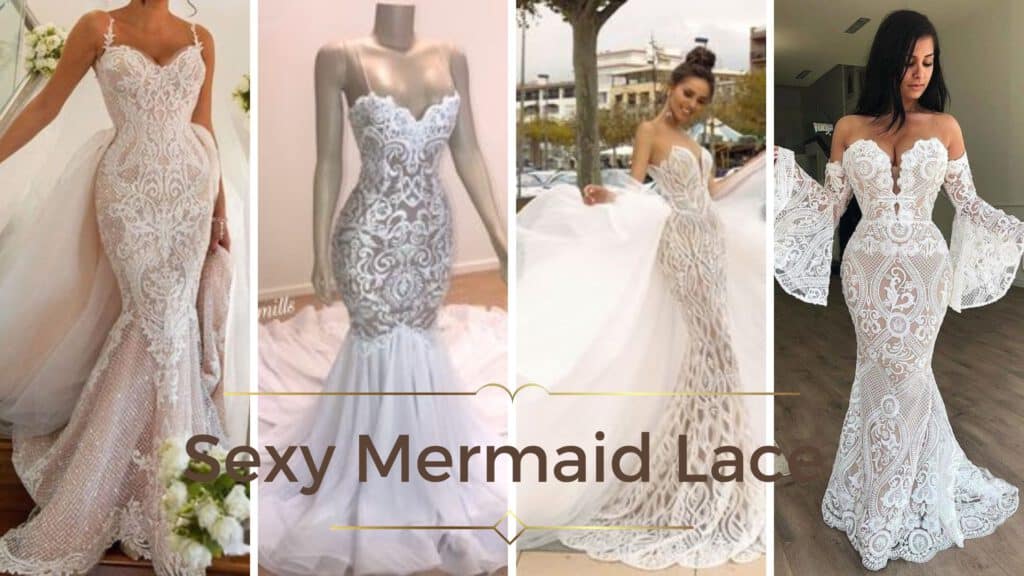 Long sleeves and mermaids for wedding clothing
During the colder months, simple dresses with sleeves can be highly popular choices. Long-sleeved mermaid wedding dresses are quite popular right now. Taking into account the different ways that sleeves can be incorporated into mermaid . Long sleeves, three-quarter sleeves, elbow sleeves, short sleeves, puffed sleeves, flared. Using sleeves is a terrific alternative, even if your goal is to appear sexy. Some of the more flowing options significantly up the drama of your movements, adding another degree of appeal. Sleeves, raglan sleeves, and cut sleeves are just a few of the many variations that they can have.
Straight long sleeves are typically made of transparent fabric with lacy patterns.
The long bell sleeve is a very attractive sleeve style with a complete flare at the hem.
The puff sleeve, which is a snug sleeve with a puff at the top, gives the bridal ensemble a wonderful scent.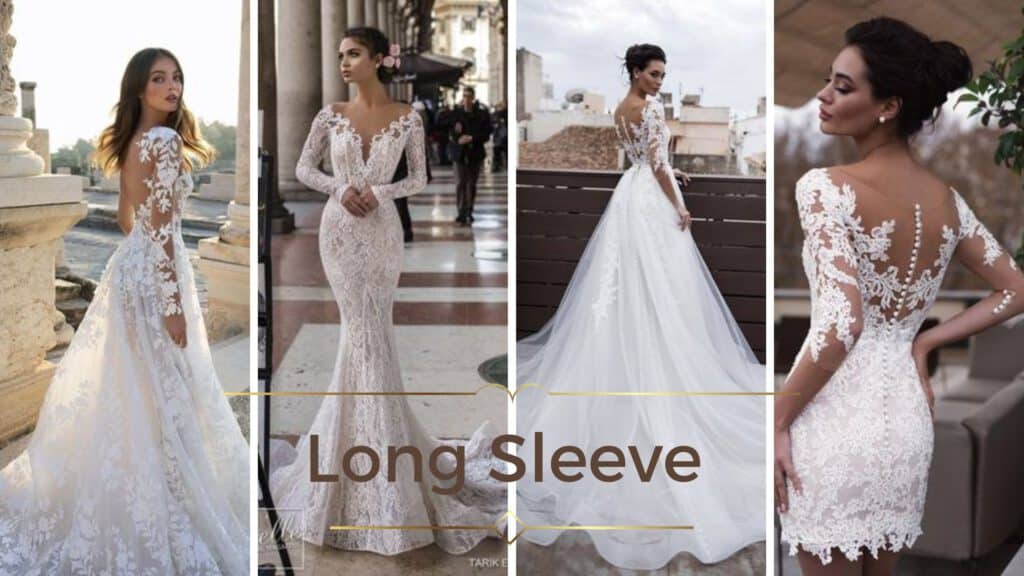 Sweetheart Sexy Mermaid Wedding dresses
Sweetheart necklines are attractive due to their desirable shape and capacity to shrink larger busts. When mixed with lace and tulle, as on this dress by Essense of Australia, the effect is ultra-chic.The sweetheart neckline will catch your eye if you're seeking for very attractive sexy wedding dresses. The master of camouflage for this body type also happens to be fashion. It highlights your best traits while reducing or hiding your flaws. With these designs, a variety of alternatives are available, ranging from the simple sheath to voluminous skirts and opulent wedding dresses.See the ideas below and find your favourite style!
A Line Sweetheart Wedding gown
Lace Sweetheart Neckline Wedding Dress Ideas
Sweetheart Mermaid Wedding Gowns
Wedding Gowns With Spaghetti Straps
Ball Gown Wedding gowns
Strapless Neckline Wedding gowns
Long Sleeve Sweetheart Neckline Gowns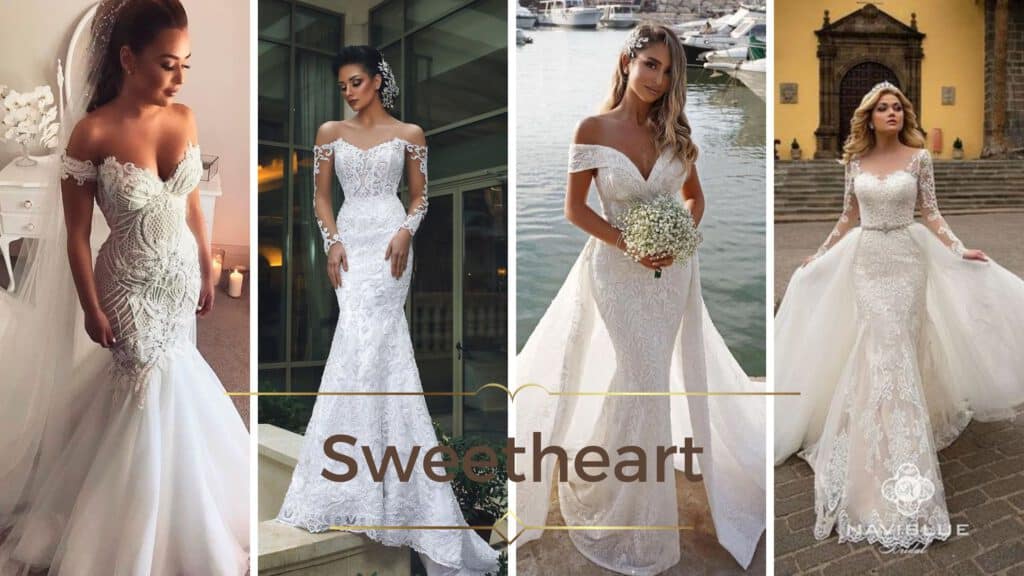 What is the difference between trumpet and mermaid gowns?
The main difference between the two silhouettes is where the dress begins to flare out near the bottom.
| | |
| --- | --- |
| Mermaid wedding dress | Trumpet wedding dress |
| mermaid wedding dress flare out just below the knee | Trumpet wedding dress flare out just above the knee |
| The mermaid features a fitted bodice that closely curves along the natural body shape. | The bodice in the fit and flare gown is straight |
| . Mermaid wedding dresses are the ideal choice if you're looking for a dramatic and eye-catching bridal look. | Use trumpet silhouettes for their more subdued flare if more drama isn't your style. |
Can you walk in a mermaid dress?
You can still move around and walk in a mermaid wedding dress even though it won't provide you the same range of motion as an A-line or ball gown wedding dress.You can't possibly raise up a fitted wedding dress, like a trumpet, mermaid, or fit and flare, to use the restroom. It is better to take off your wedding dress, use the restroom, and then put it back on.
There are numerous styles of standard wedding dresses, as well as recommendations for the occasions and themes in which these gowns work. Follow the suggestions to make the best choice possible.