Embark on a journey into the world of 13 iconic celebrity couples – enduring love stories that shine in the public eye.
Embarking on a journey into the lives of the rich and famous, we delve deep into the captivating world of 13 iconic celebrity couples. These dynamic duos have not only graced the silver screen but have also penned love stories that have captured the hearts of millions around the globe. From Hollywood's red carpets to real-life fairy tales, the stories of these enchanting pairs are a compelling blend of glitz, glamour, and enduring love. Join us as we venture into the appearances, beginnings, and remarkable journeys of these beloved celebrity couples who have not only survived the test of time but have also thrived amidst the bright lights of fame.
1 : David and Victoria Beckham have been married for 24 years.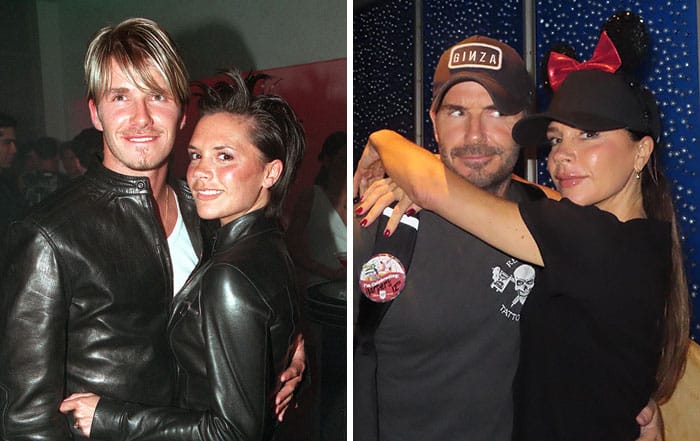 "Rumor has it that David Beckham used to watch Spice Girls music videos and tell his soccer buddies about his crush on Victoria. But Victoria didn't really know who he was at first, as she wasn't into soccer.
Their first meeting wasn't a love story either. Victoria saw David at a soccer game in London but didn't say much. David, feeling shy, felt upset that it didn't go well.
Their luck changed a week later at another game when Victoria and another Spice Girl were there. David got the courage to ask for her number, and she wrote it on a plane ticket. They married in 1999, just four months after the birth of their first child.
2 : Hugh Jackman And Debora-Lee Furness Have Been Married For 27 Years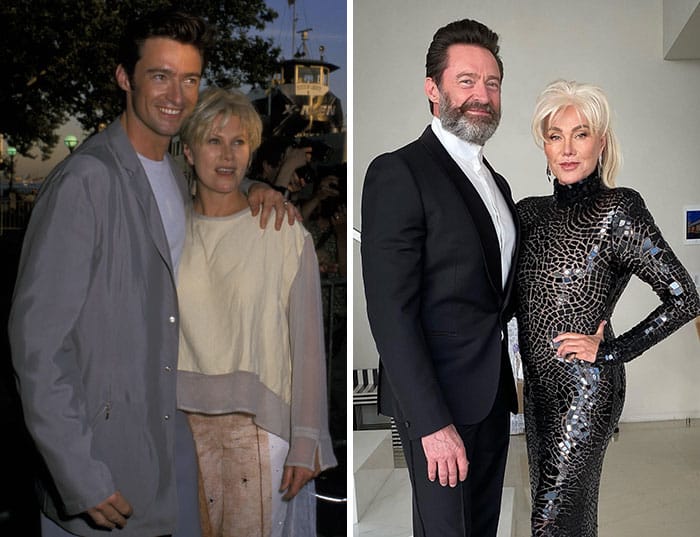 "Enter the world of Hugh Jackman and Debora Furness, where love conquered doubt. They met on the set of "Corelli" in 1996, he confessed his feelings, and she felt the same despite competition. Despite facing obstacles, including two miscarriages, they adopted two children, Oscar Maximilian and Ava Eliot. Debora is now an advocate for international adoptions."
Beyoncé And Jay-Z Have Been Married For 15 Years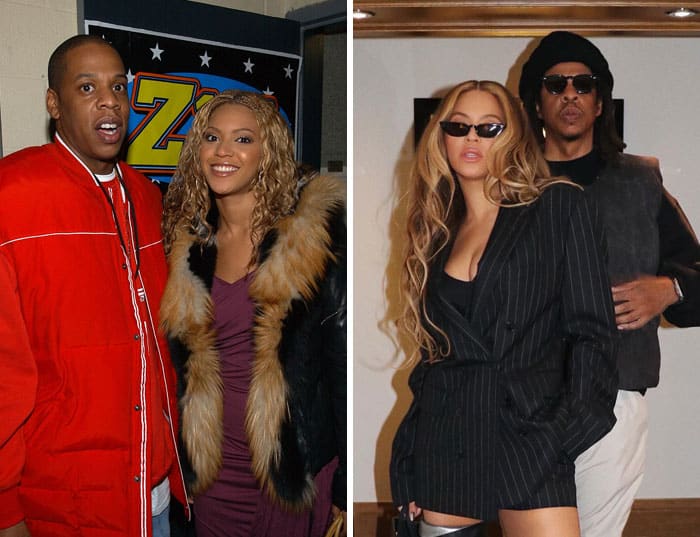 "Remember Beyoncé's iconic 2011 VMA performance when she announced her first pregnancy? She and Jay-Z, one of music's beloved couples, are proud parents to Blue Ivy (2012) and twins Sir and Rumi (2017). Their love story began in 2000, where a year-and-a-half of friendship over the phone laid the foundation for their enduring relationship."
3 : Ozzy And Sharon Osbourne Have Been Married For 40 Years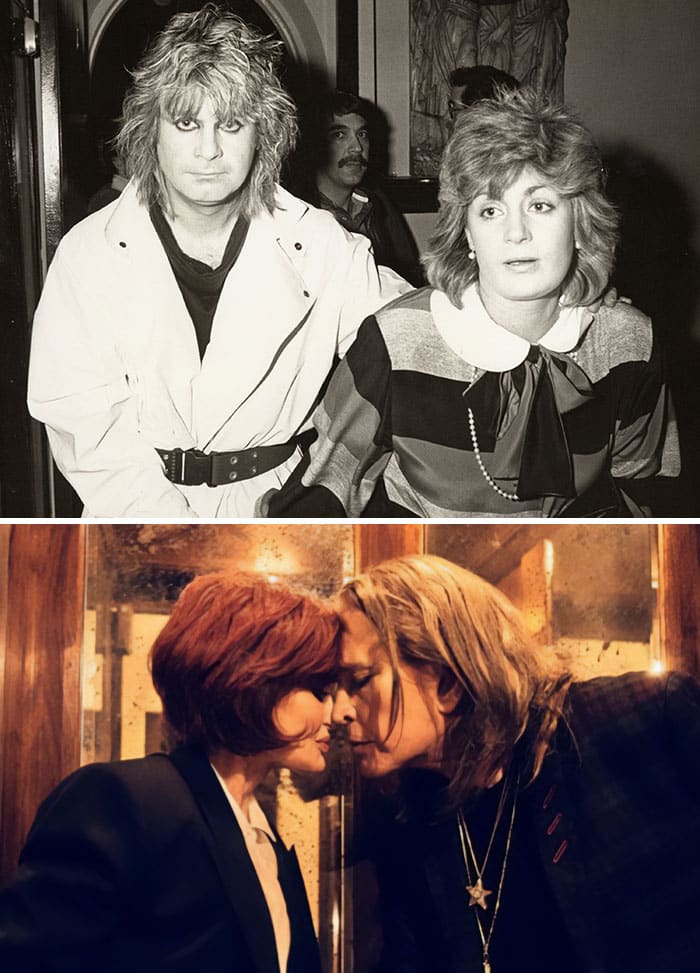 "Ozzy fell for Sharon while she worked as a receptionist for her dad, music manager Don Arden. Despite his 'lunatic' reputation, love bloomed. She stood by him through addiction, managing his career and saving his life. In the 2000s, their reality show 'Meet the Osbournes' became a massive hit on MTV, giving fans a glimpse into their unique family life. Such a nice couple
4 : Kevin Bacon and Kyra Sedgwick celebrated their 35th wedding anniversary.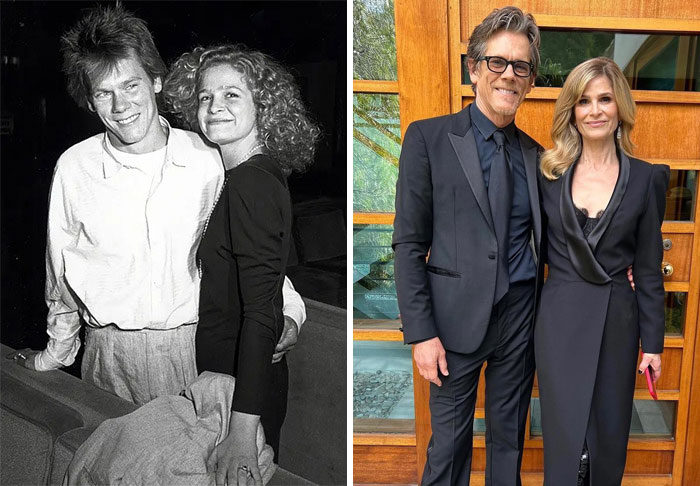 "Kevin Bacon and Kyra Sedgwick's love story began during a challenging time in Kevin's life. They met while working on "Lemon Sky" in 1988 and went on to collaborate in several films. Their enduring connection even extended to a music video appearance in William's 'It's a New Day.
5 : Meryl Streep and Don Gummer have been married for approximately 45 years.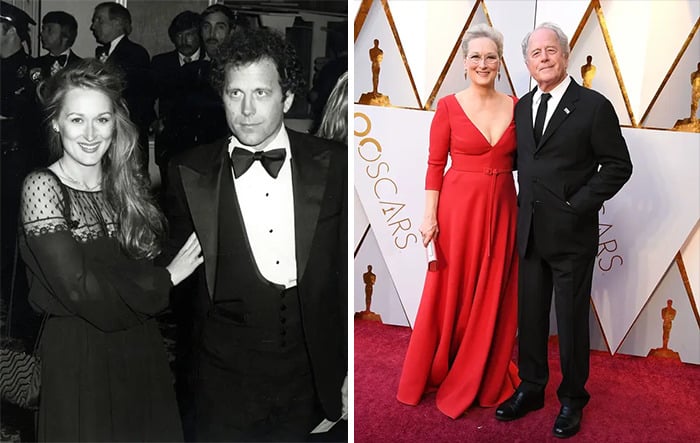 "Meryl Streep's 45-year relationship with sculptor Don Gummer began when they met in his New York loft, suggested by Meryl's brother. They married six months after she lost her former boyfriend, John Cazale, to lung cancer. They have four children: Henry Wolfe, Mary Willa, Grace Jane, and Louisa Jacobson."
6 : Tom Hanks and Rita Wilson celebrated their 35th wedding anniversary.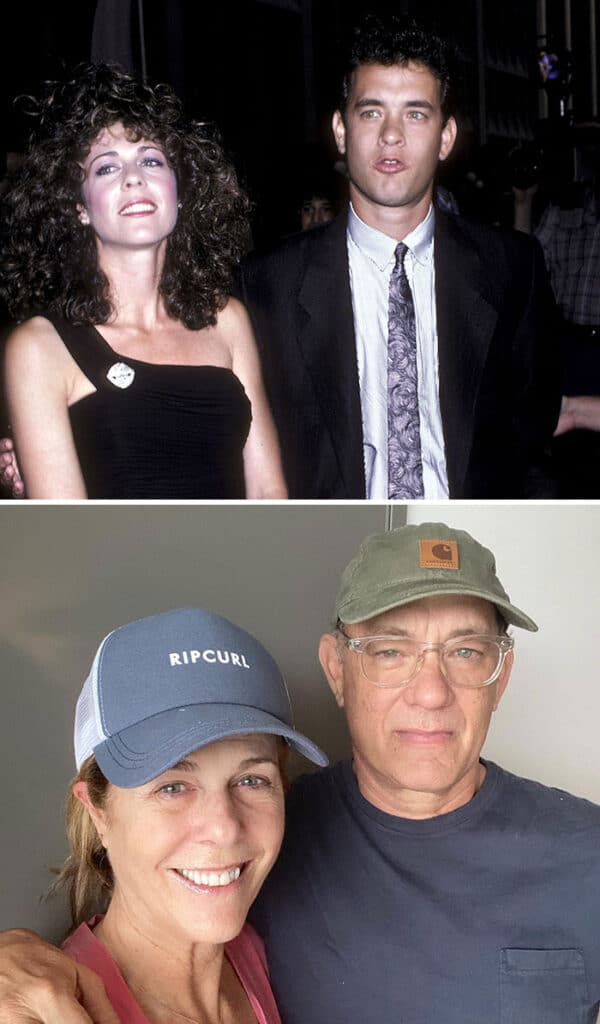 "Tom Hanks and Rita Wilson first met on the sitcom 'Bosom Buddies' in 1981 and reunited for the film 'Volunteers' in 1984..
A unique twist to their story was Tom's conversion to Rita's Greek Orthodox faith before they wed. It's a testament to the depth of their commitment and the rich tapestry of their shared life."
7 : Christopher Guest and Jamie Lee Curtis celebrated their 38th wedding anniversary.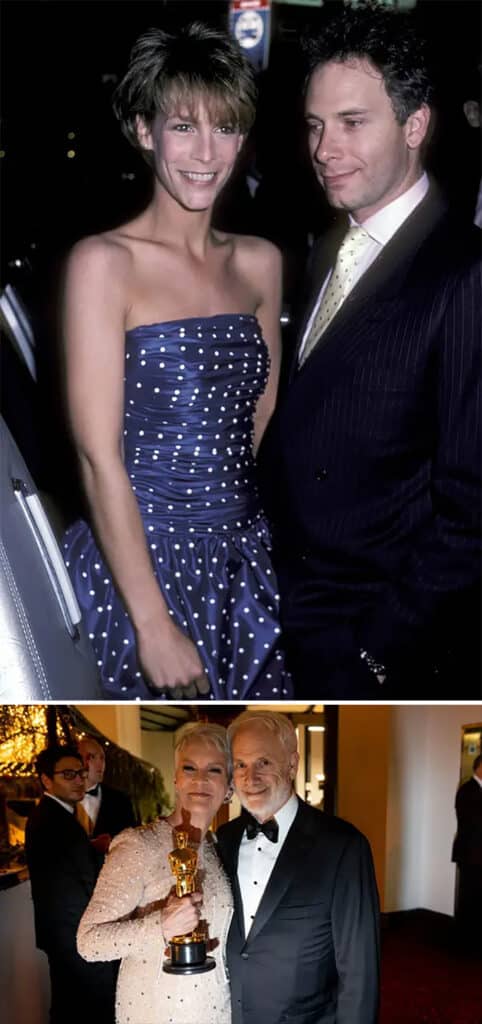 "Jamie Lee Curtis knows how to make things happen. She saw a photo of Christopher Guest in Rolling Stone magazine promoting his 1984 film 'This Is Spinal Tap' and confidently told a friend, 'I'm going to marry that guy.' Just five months later, they tied the knot.
At first, Curtis tried to give Guest her number through his agent, but he never called. Luckily, fate stepped in when they bumped into each other at a restaurant. He shyly waved from across the room, and from that moment, he decided to reach out.
Their love story led to a beautiful family with two adopted children, Annie and Ruby."
8 : Keith Richards and Patti Hansen celebrated their 39th wedding anniversary.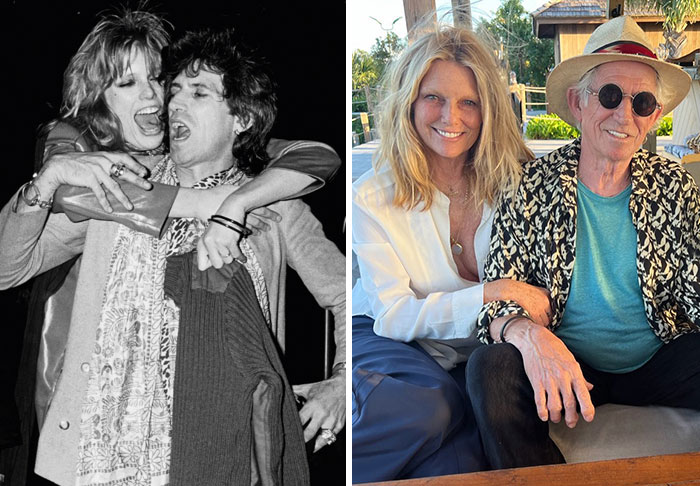 The love story between the Rolling Stones guitarist and the model is a tale of rock 'n' roll romance. In 1983, they decided to tie the knot in a beautiful ceremony held in the picturesque setting of Baja, Mexico. Their union was not merely the merging of two hearts but also a harmonious blend of music and glamour, resulting in a love story that has gracefully weathered the test of time.
9 : Bono And Ali Hewson Have Been Married For Over 40 Years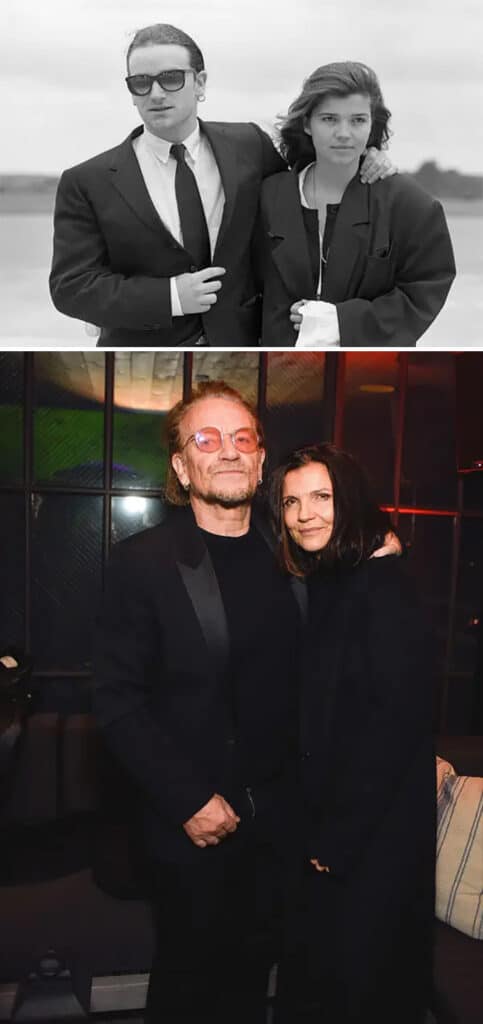 Bono and Ali first met at Mount Temple Comprehensive School when they were just thirteen and twelve years old, respectively. Their childhood friendship blossomed into a lifelong romance, culminating in a wedding ceremony in Ireland in 1982. This marked the beginning of their journey as a married couple, and they've since navigated life's ups and downs together. Their enduring love story is a testament to the strength of their bond. Much nice bonding of this couples
10 : Michael J. Fox And Tracy Pollen Have Been Married For 35 Years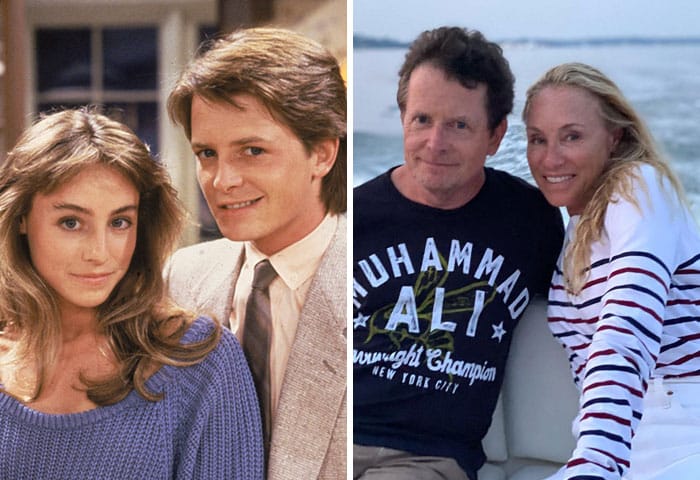 Pollan, Michael's on-screen girlfriend in "Family Ties," transitioned to real-life love with Michael J. Fox.. Fox decided to tie the knot in 1988. They wed while the show was ongoing, marking a pivotal moment in their personal journey together.
11 : Sarah Michelle Gellar and Freddie Prinze Jr. celebrated their 21st wedding anniversary.
Gellar and Prinze's love story unfolds like a reel of their own movies. It all started on the set of the 1997 teen horror film "I Know What You Did Last Summer." Little did they know, that was just the beginning of their on-screen and off-screen connection.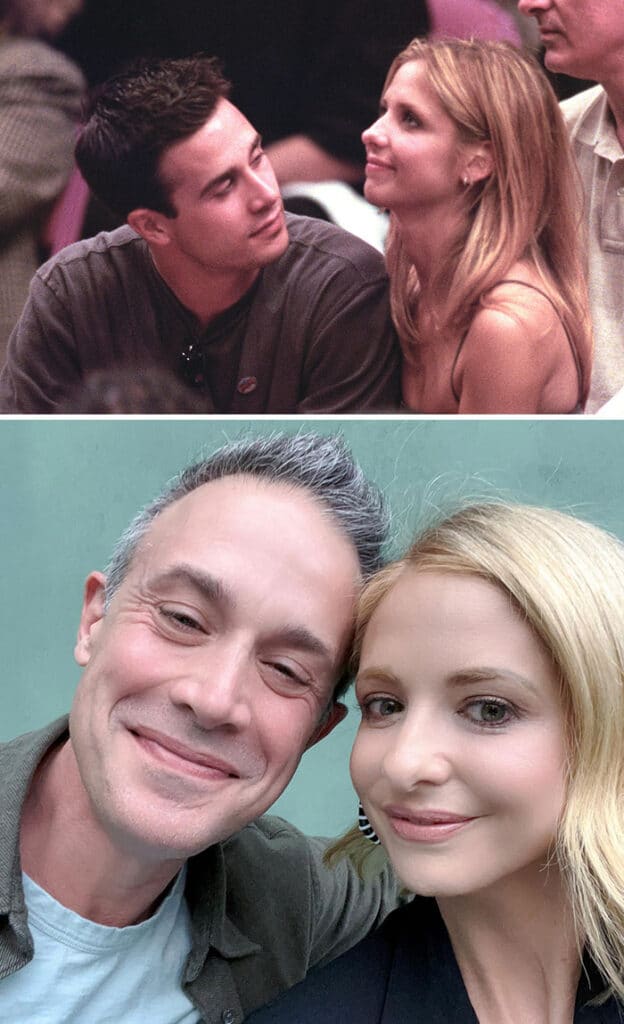 A few years later, they reunited professionally as they portrayed the iconic love interests Fred and Daphne in the 2002 "Scooby-Doo" film. Their journey from co-stars to real-life lovebirds adds an enchanting layer to their Hollywood romance.
12 : Michelle Pfeiffer And David E. Kelley has been married for 30 years.
In 1993, Kelley's life took a cinematic turn when none other than Michelle Pfeiffer set him up on a blind date. Their first movie together was "Bram Stoker's Dracula," and little did they know, it marked the beginning of a lifelong love story filled with shared movie dates and unforgettable moments.
13 : Sting and Trudie Styler celebrated their 31st wedding anniversary.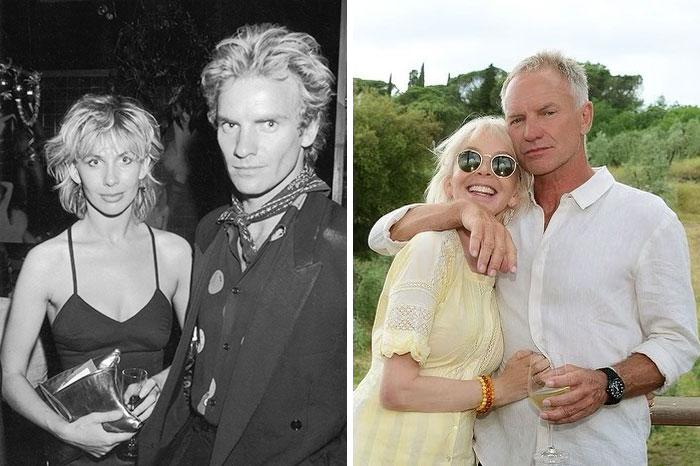 They married in the beautiful 12th-century St. Andrew's church in Wiltshire, England, adding romance to their wedding story. Most cute couples in world.
Conclusion
In summary, as we've delved into the lives of these 13 famous celebrity couples, we've uncovered a world of enduring love stories that transcend fame and continue to captivate our hearts.. From the beginnings of their relationships to their enduring partnerships, these couples have shown us that love transcends fame and time.