Makeup is like a trusted friend for many women, helping them highlight their natural beauty when applied correctly. There's a wide array of makeup styles and products to choose from, allowing you to tailor your makeup to suit different occasions or your personal preferences.
If you're looking for a speedy and effortless makeup routine, you can take inspiration from celebrities and follow these 5-minute casual makeup tips. These tips are designed to help you save time while ensuring you still look fantastic. It's all about striking the right balance between enhancing your features and maintaining a natural, everyday look.
Even as we prioritize comfort in pajamas and nourishing drinks, our creativity can still flourish. With more free time on our hands, it's an excellent opportunity to delve into your makeup collection and try out looks you may not have had the chance to before. You can experiment with a bold red lip like Sonam Kapoor Ahuja or explore Rihanna's radiant all-over-pink makeup style. To help you get started, we've compiled a list of tutorial videos for you to enjoy and gain inspiration from throughout the week. So, have fun, get creative, and embrace the joy of makeup!
Selena Gomez Casual Makeup Look!
Natural makeup, as seen on celebrities like Selena Gomez, isn't about going completely without makeup. It's all about simplicity, subtlety, and comfort while enhancing your individual beauty. You can use your preferred makeup items to achieve a natural prom makeup style. The aim is to gently hide any flaws you may not be pleased with while emphasizing your innate beauty. Rather than completely covering your features, you're elegantly defining them. To achieve this, begin by applying light layers of makeup until you achieve the desired level of coverage.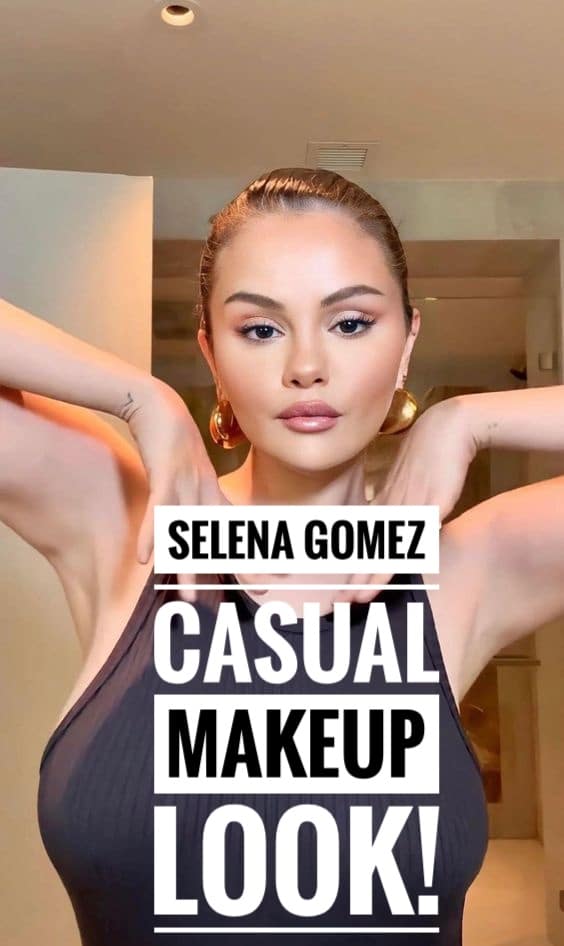 Begin with skincare.
Apply moisturizer and foundation (choose from tinted moisturizer, BB cream, or full-coverage foundation).
Highlight your eyes and lips with colors that suit your skin tone.
Use gentle touches for highlighting and contouring.
Finish with mascara for your lashes and tinted or clear eyebrow gel for a natural, full-brow look.
Jessica Alba Casual Makeup Look!
Before sharing her eye makeup tutorial, Alba takes us through her extensive skin preparation routine, which is quite detailed. Here are the steps she follows:
She starts with a shea butter antioxidant mask.
She uses a technique called "beating" on her face, which she learned from a Korean friend. This technique likely involves tapping or massaging the skin to enhance circulation and product absorption.
Alba incorporates high-tech devices to improve blood circulation on her skin.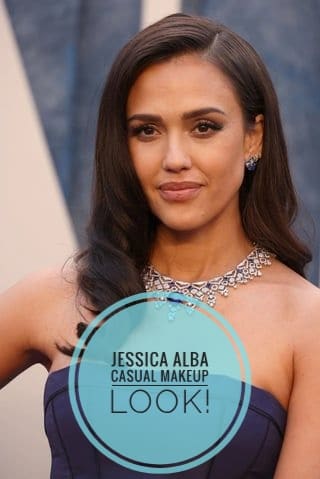 After the skincare routine, she moves on to her eye makeup tutorial, creating a subtle and sexy smokey eye that's shiny but not overly glittery and smoky without being too dark. In essence, she covers everything you should be doing right for your skin and makeup in this video.
Rihanna Casual Makeup Look!
Whenever Rihanna showcases a makeup look featuring pink eyeshadow, many people take inspiration from her and decide to incorporate pink eyeshadow into their own makeup routine. They follow her lead and aim to recreate the same stylish look.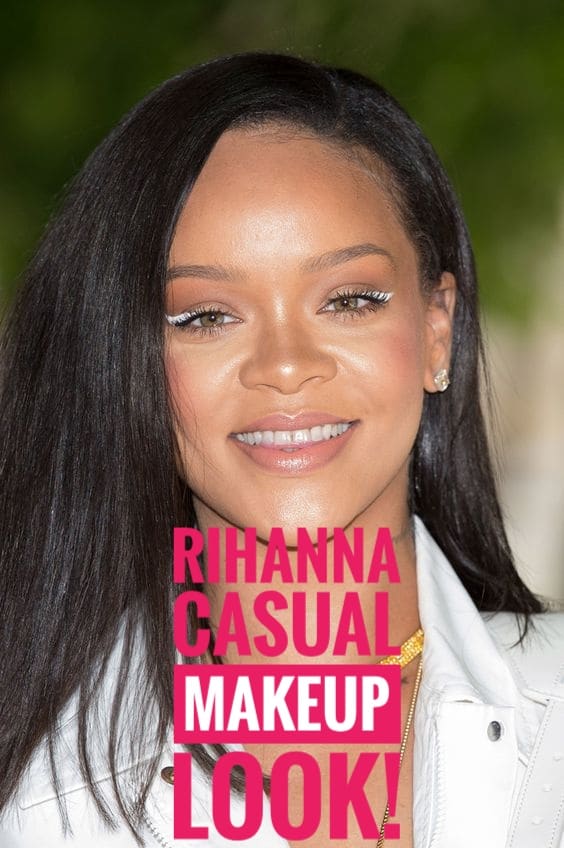 Additionally, Rihanna's signature glossy golden-pink lip gloss has garnered a lot of attention for its remarkable shine. It's so shiny that even Rihanna herself was impressed by it. Fans and makeup enthusiasts love the product not just for its quality but also because it's associated with Rihanna's #badgalriri persona, adding an element of fun and glam to their makeup routine.
Kendall Jenner's Cute Girl Casual Makeup Look!
If you're aiming for a sweet and natural "girl next door" makeup look, take inspiration from Kendall Jenner's cute girl makeup. This style of makeup suits individuals with a medium fair complexion. Here's how to achieve it:
Start with a tinted moisturizer to even out your skin tone.
Apply a lovely shimmery beige eyeshadow to your eyelids for a subtle, radiant look.
Use a black-colored pencil eyeliner on your waterline to define your eyes.
Coat your eyelashes with mascara to enhance your lashes.
Bring out your cheekbones by dusting a touch of rosy or peach-colored blush onto them.
For your lips, apply a clear lip gloss to give them a luscious but still natural appearance.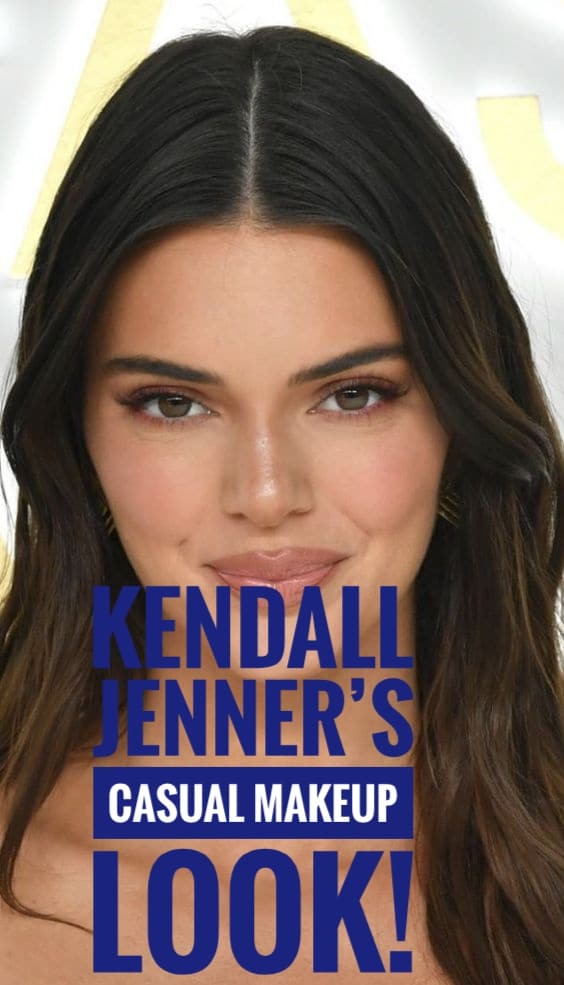 This makeup style will help you achieve a fresh and youthful look, perfect for everyday wear or when you want to exude a charming and approachable vibe.
Kim Kardashian Casual Makeup Looks!
You can make yourself look pretty with makeup even without going out. Follow Kim Kardashian's makeup tutorial for a glamorous at-home look. It might involve a few makeup steps like contouring and concealing, but the end result is beautiful smoky eyes that can make your ordinary night at home feel special. You'll also learn about the makeup brushes she's been using since college, adding some fun and useful tips to your makeup routine.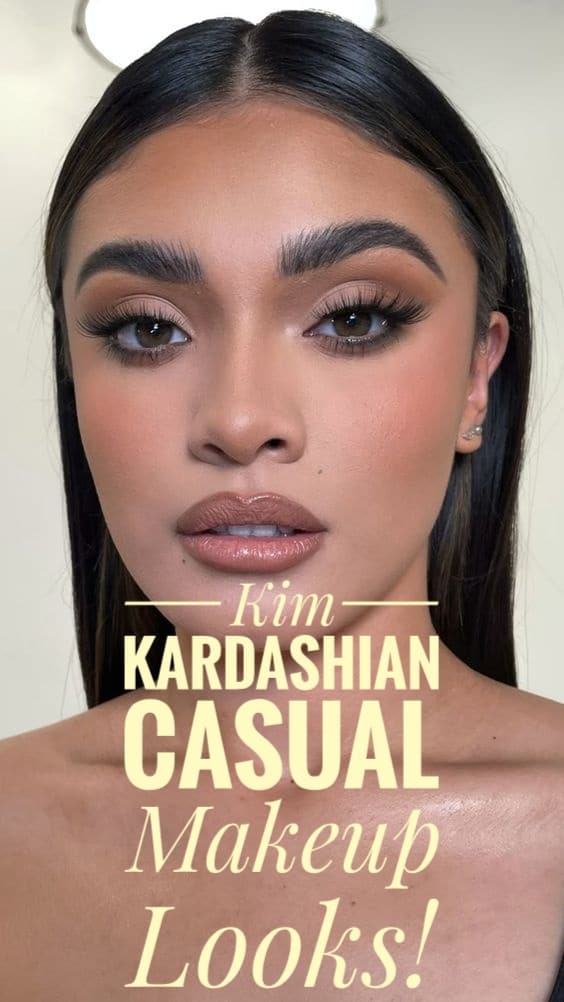 Keira Knightley Casual Makeup look!
To achieve a natural makeup look like Keira Knightley, follow these steps:
Base: Begin with a tinted moisturizer to create a smooth and even base for your makeup. This will provide light coverage and keep your skin looking natural.
Eyeshadow: Apply a brown eyeshadow to your eyelids. Choose a shade that complements your skin tone and enhances the natural beauty of your eyes.
Eyeliner: Line the inside corner of your waterline (the lower rim of your eye) using a brown eyeliner pencil. This adds a subtle definition to your eyes. For the rest of your waterline, switch to a black eyeliner to make your eyes stand out a bit more.
Mascara: Coat your eyelashes with mascara to give them a natural, understated volume. Avoid heavy application; the goal is to enhance your lashes without making them look too dramatic.
Blush: Add a touch of blush to your cheeks. Choose a shade that mimics a natural flush, like a soft pink or peach. Apply it lightly to the apples of your cheeks for a healthy, rosy glow.
Lipstick: Finish the look with a lipstick in a lip color that closely matches your natural lip shade. This will give your lips a polished appearance without drawing too much attention.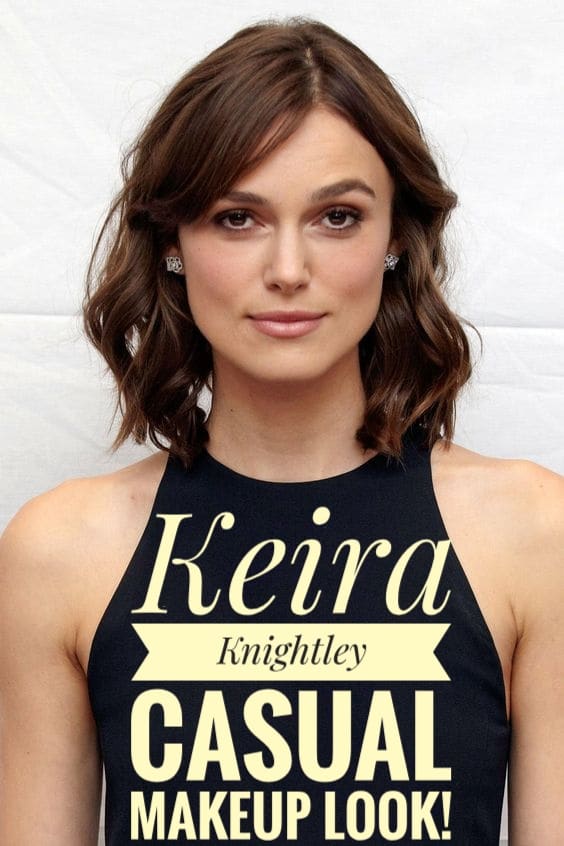 The overall result will be a makeup look that enhances your features while keeping a natural and understated appearance, similar to Keira Knightley's style.
Jennifer Aniston's Casual Makeup Looks!
Jennifer Aniston's makeup style is known for its simplicity and timeless elegance. Here's how to achieve a makeup look inspired by her:
Base: Start with a lightweight foundation or tinted moisturizer that matches your skin tone. The goal is to create a flawless but natural-looking complexion.
Eyes: Emphasize your eyes with neutral eyeshadows in shades like taupe, beige, or soft brown. Apply a light shade on your eyelids and a slightly darker shade in the crease for 3.subtle definition. Don't forget to curl your lashes and apply mascara to open up your eyes.
Eyeliner: Use a brown eyeliner pencil to line your upper lash line. Keep the line thin and close to the lashes for a natural look. You can also apply a little kohl or eyeliner to your lower waterline to define your eyes further.
Brows: Groom your eyebrows to maintain a natural shape. Fill in any sparse areas with a brow pencil or powder for a polished appearance.
Blush: Apply a soft, rosy blush to the apples of your cheeks. Smile to locate the apples of your cheeks and blend the blush gently for a healthy flush.
Lips: Jennifer Aniston often opts for nude or rosy lip shades. Choose a lip color that enhances your natural lip tone. A tinted lip balm or a neutral lipstick works well.
Finishing Touch: Set your makeup with a light dusting of translucent powder to control shine. Keep it minimal to maintain a fresh, dewy look.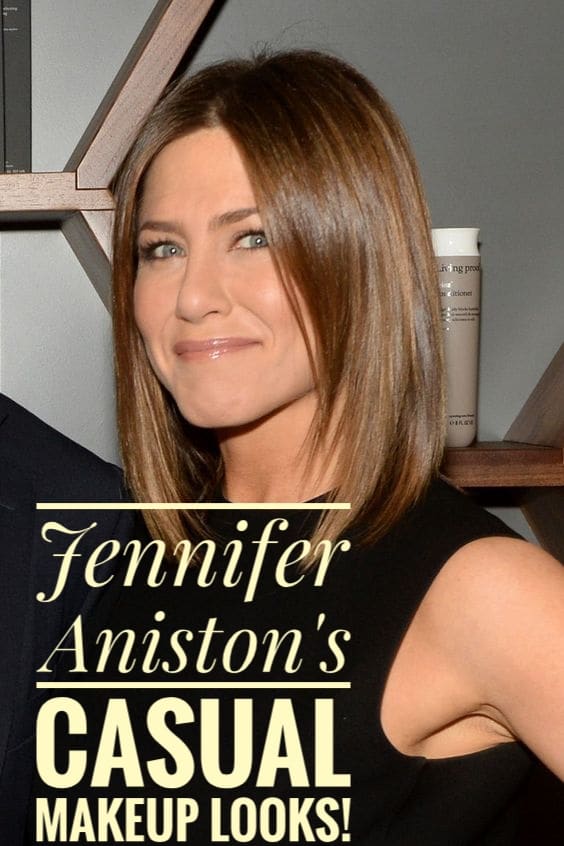 Jennifer Aniston's makeup style is all about enhancing your natural beauty with understated elegance. It's a timeless and versatile look suitable for various occasions.
Khloe Kardashian's Makeup Casual Looks
Khloe Kardashian's makeup style often features a simple and glowy look, emphasizing her natural beauty. Here's how to achieve a makeup look inspired by her casual and radiant style:
1.Complexion: Start with a hydrating primer to create a smooth base. Use a medium-coverage foundation or tinted moisturizer that matches your skin tone. 2.Apply concealer to any areas that need extra coverage, like under the eyes or blemishes.
3.Eyes: Khloe often emphasizes her eyes. Apply a neutral eyeshadow all over your lids as a base. Then, use a darker shade in the crease to add depth. Apply eyeliner to your upper lash line, keeping it close to the lashes for a subtle effect. 4.Finish with mascara to make your lashes pop.
5.Brows: Khloe's eyebrows are typically well-defined but not overly dramatic. Use an eyebrow pencil or powder to fill in and shape your brows, following your natural arch.
6.Cheeks: Achieve a healthy glow with a soft blush applied to the apples of your cheeks. Blend it outward for a natural flush. You can also add a subtle highlighter to the high points of your cheeks for extra radiance.
7.Lips: Khloe often goes for nude or soft pink lip shades. Choose a lip color that compliments your skin tone. A nude lipstick or gloss is a great choice for this look.
8.Setting: Set your makeup with a setting spray or translucent powder to ensure it stays in place throughout the day.
Khloe Kardashian's makeup style is all about enhancing your natural features and achieving a radiant, glowing complexion. It's a versatile look that can work for both everyday wear and special occasions.
Kendall Jenner Casual Makeup Looks
Kendall Jenner's makeup varies, and she looks great in both understated and bold styles.
1. Smoked-Out Eyes with Nude Lips:
Apply neutral eyeshadows, like grays and taupes, for a smoky effect.
Line your upper lash line with black eyeliner, smudging it slightly.
Finish with mascara.
Keep your lips natural with nude lipstick or gloss.
2. Simple Look with Bold Red Lips:
Use neutral eyeshadows and minimal eyeliner.
Emphasize your lips with bold red lipstick.
Kendall Jenner's makeup is versatile, suitable for different occasions and moods.
Shakira's Casual Makeup
Shakira is naturally beautiful, and her makeup style typically reflects simplicity and elegance. She doesn't need to put in much effort to enhance her features because her natural beauty is already stunning. However, when she's performing on stage, she sometimes chooses dramatic makeup to create a more impactful look that complements her performances and stage presence. This versatility in her makeup choices allows her to adapt to different situations while always looking fabulous.
Ariana Grande's Makeup Casual Looks
Ariana Grande is not only renowned for her music but also for her celebrity casual makeup looks. One of her most beloved makeup looks is from 2016, featuring an oxblood lip paired with a well-defined cat-eye. Fans adore this makeup style. Another popular Ariana Grande makeup look includes smoked eyes, which beautifully accentuate her small eyes and contribute to her signature style. Her makeup choices often receive high praise from her dedicated fan base.
 Taylor Swift's Makeup Casual Looks
Taylor Swift occasionally opts for a bold red lip, which stands out and complements her complexion remarkably. Her makeup casual look often includes dramatic eye 
makeovers, such as smoked-out eyes and cat eyes, showcasing her versatile makeup style and adding to her overall charm.
Cardi B Makeup Casual Looks
Cardi B's makeup looks are known for their bold and dramatic style, which perfectly complements her vibrant personality. She often embraces a wide range of colors, accessories, and makeup elements to create eye-catching celebrity makeup looks that reflect her unique and extraordinary character.
Emma Watson's Makeup Casual Looks
Emma Watson's makeup looks are celebrated for their elegance and simplicity. Whether she opts for a classic red lip or focuses on enhancing her eyes with makeup, her beauty shines through, emphasizing her intelligence and grace.
Lucy Hale's Casual Makeup look
Lucy Hale is undeniably one of the industry's most beautiful faces, and her makeup looks consistently showcase her beauty. She has a penchant for glamorous eye makeup and occasionally rocks dark lipstick, but she can also effortlessly pull off a natural look with nude lips and enhanced eye makeup. Lucy Hale's makeup looks are known for their simplicity and elegance.
Chrissy Teigen  Casual Makeup look
Chrissy Teigen has a signature makeup style that suits her perfectly. She frequently sports winged eyeliner and dark-colored lips, typically with her hair down. This look is her trademark, but she also enjoys experimenting with different hairstyles to keep things fresh and exciting.
Hilary Duff Casual Makeup Looks
Hilary Duff's best feature is her wide and radiant smile, which shines whether she's wearing makeup or not. Her makeup look often includes nude lips and stylish eye makeup to create a balanced and flattering appearance.
Victoria Beckham  Casual Makeup Looks
Victoria Beckham, a prominent figure in the fashion world, consistently impresses her audience with her well-maintained appearance. Her signature makeup look often features smoked-out eyes, lip gloss, and a flawlessly contoured face.