Looking for tips on dressing to appear thinner and more flattering in photos? You're in the right place! It's completely normal if you can't always commit to strict diets or rigorous workout routines. The key is to find a balance that allows you to live your best life. Remember, not everyone is meant to be a size 00, and that's okay. Embracing and loving the body you're in is crucial for your happiness.
Whether you're a curvaceous, plus-sized woman with a stunning hourglass figure, a broad-shouldered individual with minimal curves, or a petite person who has veered off track with weight loss goals, we've got you covered. We're here to share simple ideas to help you dress in a way that creates a slimming effect and accentuates your most attractive features. By learning how to dress to look thinner, you can boost your confidence and showcase your unique beauty in the best possible way.
Introduction
In a world where trends come and go, there's one timeless desire that transcends the ever-changing fashion landscape: the quest to look effortlessly slim and stylish. We've all experienced those moments when we stand in front of the mirror, hoping to find the perfect outfit that flatters our figure and boosts our confidence. Well, fret not, for the secrets to dressing to look simple and effortlessly slim are within your reach.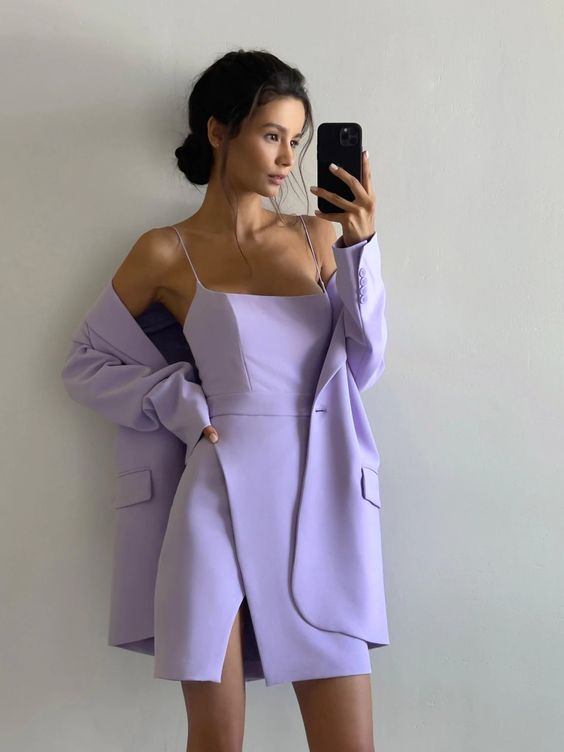 Imagine stepping into your closet each morning and effortlessly pulling together an ensemble that not only showcases your personal style but also creates a visually stunning illusion of a slimmer silhouette. Picture the satisfaction of receiving compliments on your radiant appearance, as people wonder how you manage to look so effortlessly put-together. The art of dressing to look simple is a powerful tool that allows you to embrace your body, highlight your best features, and exude an aura of confidence.
Tips that Work
In this guide, we'll delve into the transformative world of fashion and reveal expert tips, tricks, and styling secrets that will revolutionize the way you dress.
Define your waist
To appear slimmer with your attire, focusing on accentuating your waist is an excellent initial approach. This technique generates the optical illusion of an hourglass shape, even if you don't naturally possess curves in those specific areas. Select high-waisted garments crafted from firm materials, neatly tuck loose-fitting tops into trousers or skirts, use a slim belt to tighten dresses, and contemplate wearing shapewear underneath your clothing to enhance your waist definition.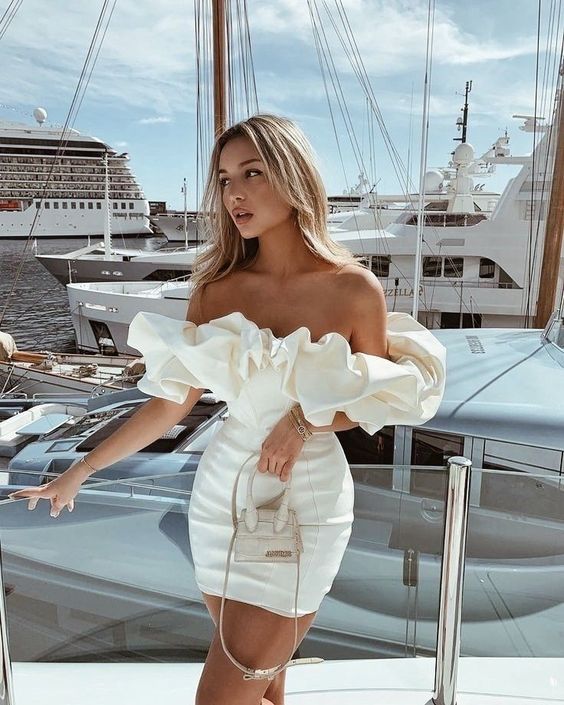 Many people mistakenly believe that wearing oversized or undersized clothes will make them appear slimmer. However, the reality is quite different. Baggy attire often has the opposite effect, making you look larger than your actual size. On the other hand, squeezing into smaller sizes tends to highlight areas like back fat, muffin tops, and cellulite, drawing unwanted attention to them.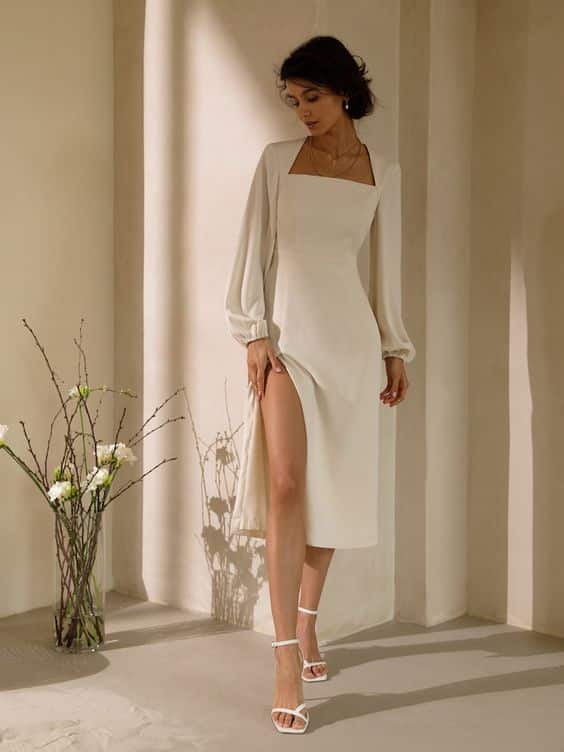 "What strategic fashion choices can you make to create the illusion of a slimmer silhouette and enhance your overall appearance?"
Therefore, it's crucial to opt for clothing that fits you properly and is true to your size, as this will flatter your figure and enhance your overall appearance.
Choose the right undergarments
When aiming to discover clothing that creates a slimmer appearance, don't underestimate the significance of your undergarments—they can be just as crucial, if not more so, than your actual outfit. Wearing bras that are overly tight can draw attention to any back fat you may have, while snug panties might accentuate rolls, muffin tops, and cellulite, making them visible beneath your clothes. It's important to invest time in getting properly fitted undergarments.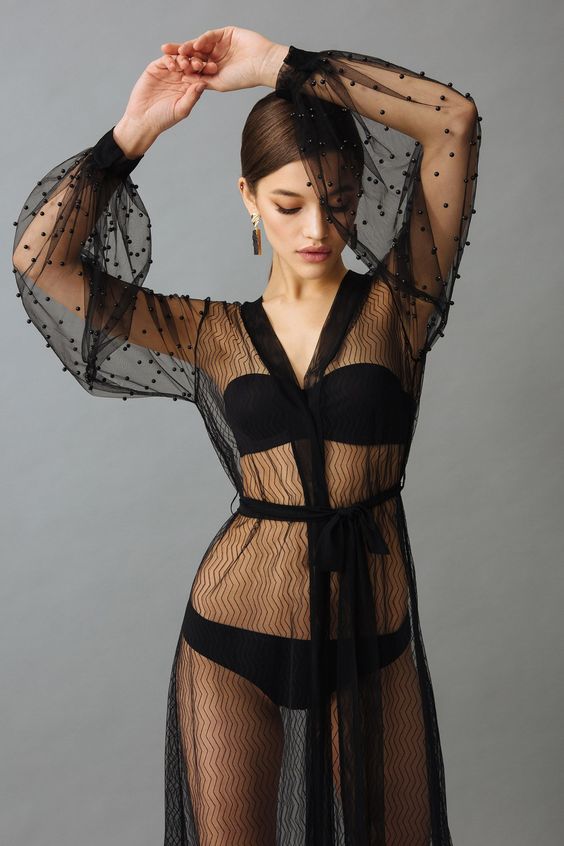 Additionally, if you happen to be wearing a fabric that doesn't leave much room for forgiveness, don't hesitate to forgo your underpants altogether. After all, it's your little secret that nobody needs to be aware of!
Avoid rounded shoes
Although rounded-toe shoes may have their charm, they unfortunately have a tendency to make your legs appear shorter and stubbier.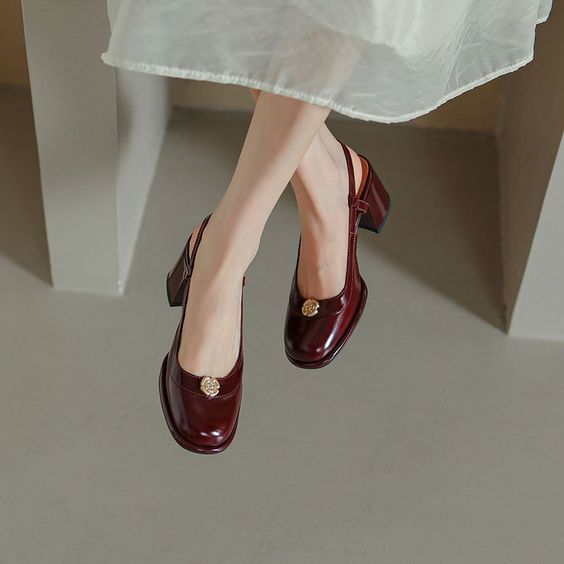 Instead, consider choosing pointed-toe shoes, as they have the ability to elongate your legs and create the illusion of greater length. By opting for this style, you can make your legs look longer than they actually are, adding an elegant touch to your overall appearance.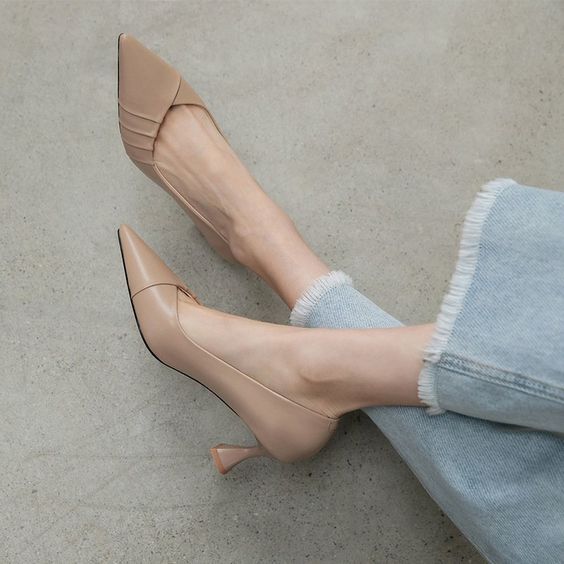 Wear heels with skinny jeans
If you adore skinny jeans but worry about the width of your legs, it's best to steer clear of flats and flip flops. To create the illusion of longer legs, opt for ankle-length denim or slightly longer, and pair them with a stylish and alluring set of pointed-toe heels.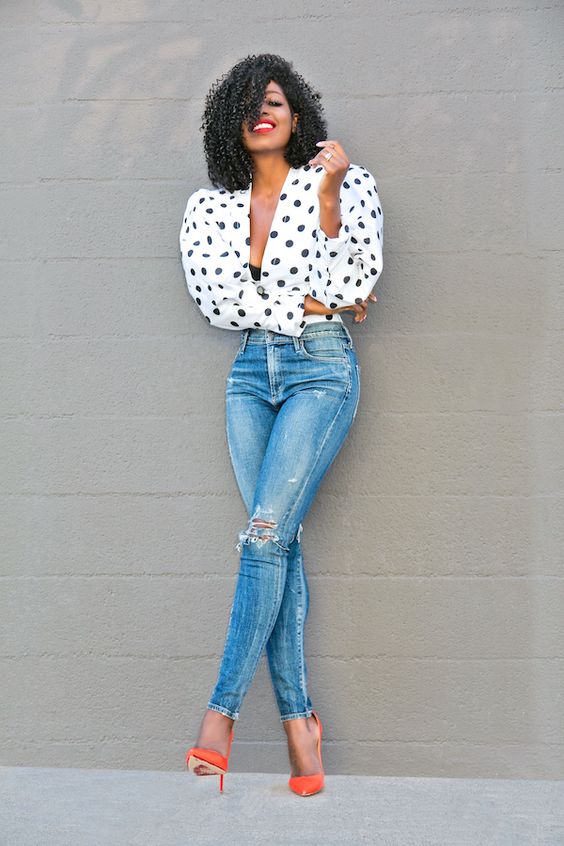 This combination not only adds a touch of sexiness but also elongates your legs, giving them a visually lengthened appearance. By choosing the right footwear and denim length, you can confidently rock your favorite skinny jeans while enhancing the overall proportions of your legs.
If you're seeking advice on how to dress to appear slimmer, let me introduce you to a game-changer: shapewear. While many women reserve it for special occasions, there's no reason why it can't become a daily essential in your wardrobe. Shapewear goes above and beyond regular undergarments, providing enhanced support while effectively concealing bulges and imperfections like cellulite, all while giving you an overall slimmer look.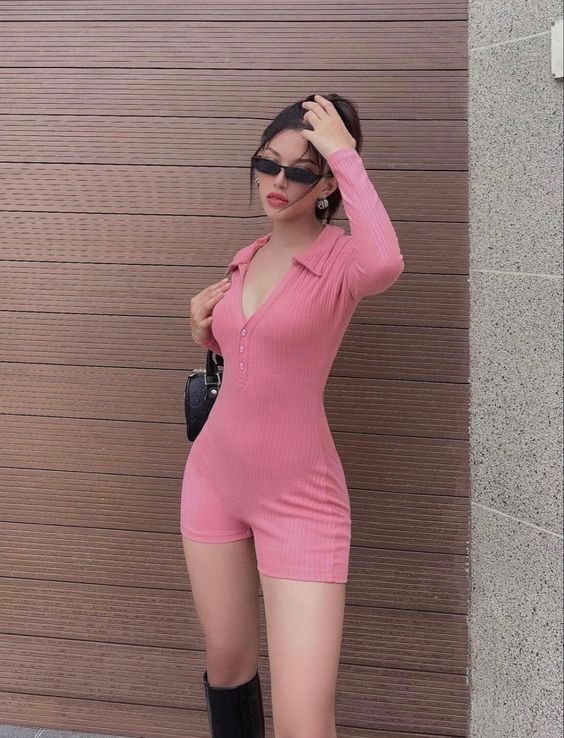 For instance, control camis offer seamless coverage from your breasts to your waist, corsets help cinch your waist and accentuate your hip curves, and control tights work wonders by slimming your tummy, bum, and thighs. Of course, there are various other types of body shapers to explore, but based on my experience, these three options will cover all your bases splendidly! Embrace the power of shapewear and feel confident in your outfits every day.
Dress in one color
Choosing contrasting colors or prints when putting together an outfit can have a significant impact on your overall appearance. When two contrasting elements meet, such as colors or prints, the eye is naturally drawn to that point of convergence, which often falls on the waistline. This can be advantageous if you already possess an hourglass figure, as it accentuates your curves.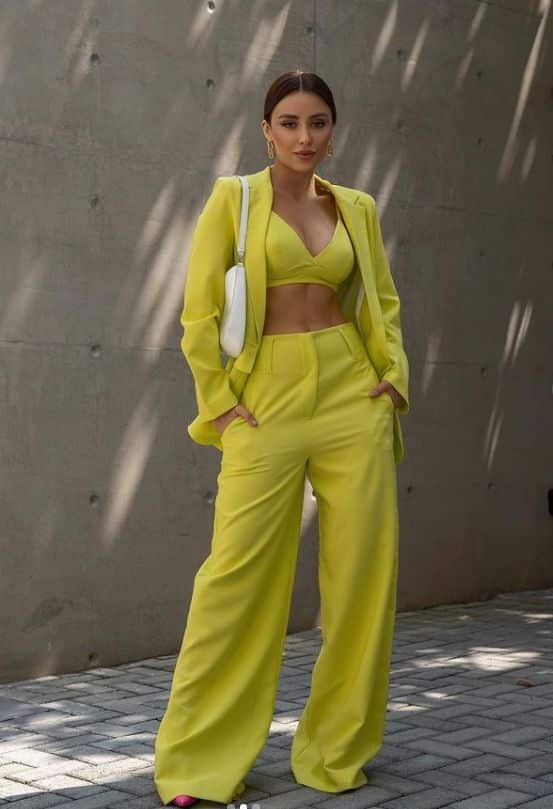 However, if you wish to elongate a boxy frame or create a lengthened silhouette, opting for a monochromatic look can work wonders. By dressing in a single color from head to toe, you create a seamless and uninterrupted visual line, giving the impression of a longer body. This straightforward technique allows for a sweeping and cohesive aesthetic, lending an illusion of elongation to your overall appearance.
Cover up with long outwear
Living in a cooler climate presents a challenge when it comes to staying warm without compromising your style with bulky layers. Fortunately, there's a solution that can help elongate your frame while keeping you cozy: long sweeping outerwear. Opt for coats or jackets with longer lengths that gracefully drape over your body. When styling your outfit, consider pairing them with skinny jeans and pointy-toed heels or boots for added sophistication. To maintain a streamlined appearance, leave your coat open, allowing it to flow naturally.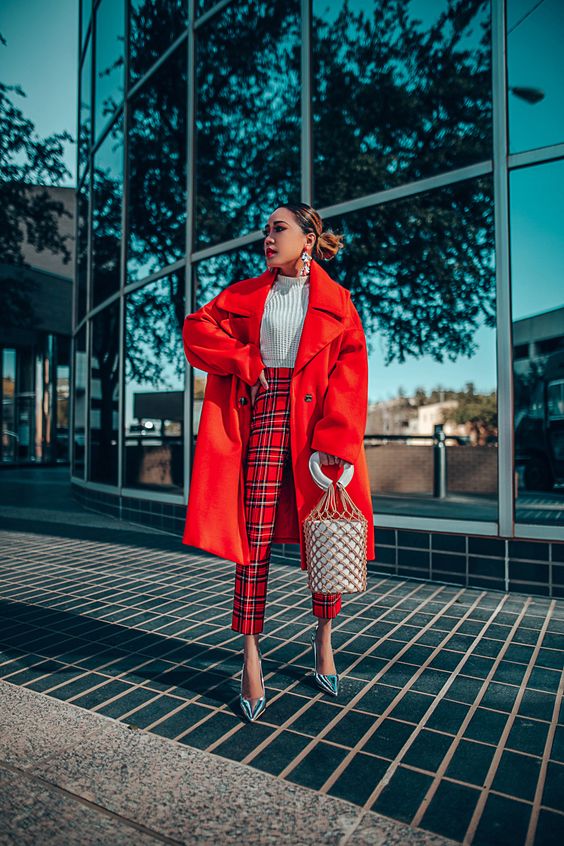 However, on those extra chilly days when bundling up is a must, you can still achieve a flattering look by cinching the outerwear at the waist with a belt. This helps maintain a defined silhouette while providing the warmth you need. With this approach, you can effortlessly navigate the cooler climate while staying both stylish and snug.
Wear clothing with vertical stripes
It's no secret that horizontal stripes can make us look wider, but that doesn't mean you need to avoid stripes completely. You just need to be a bit more strategic when wearing them. Remember that stripes tend to stand out, so if you're trying to figure out how to dress to look thinner, opt for smaller, vertical stripes in dark colors and avoid dressing yourself in the same pattern from head-to-toe. While stripes can certainly be slimming, you want to accentuate your waistline. For example, a black top tucked into a pair of pin-striped pants can elongate your legs and make you look slimmer instantly.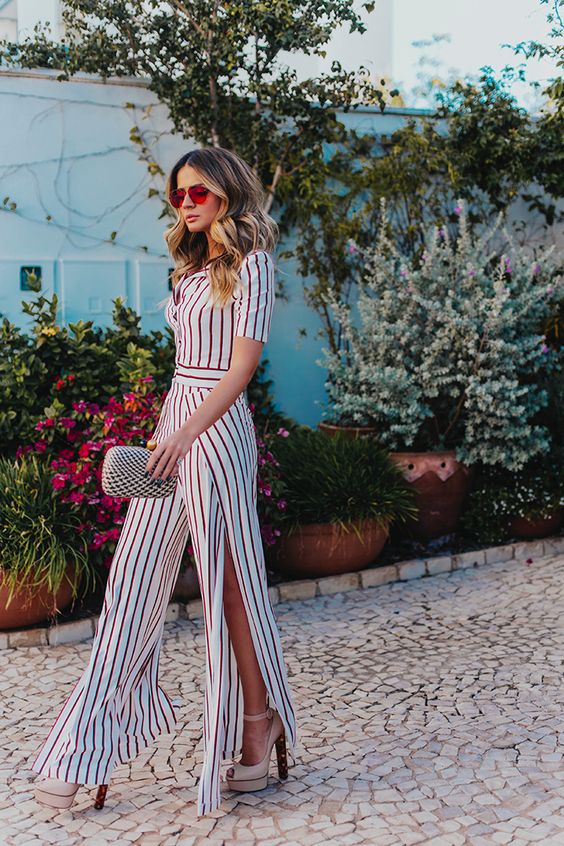 "How can you use color and pattern combinations in your outfit to visually slim down your figure and create a more flattering look?"
Avoid pleated skirts and dresses
When it comes to pleats, they can undoubtedly exude a sexy and feminine vibe when worn in the right way. However, it's important to note that once pleats start to separate and open up, they tend to add visual bulk to your frame. While there are techniques to mitigate this effect, some of them have the potential to make your waist appear thicker.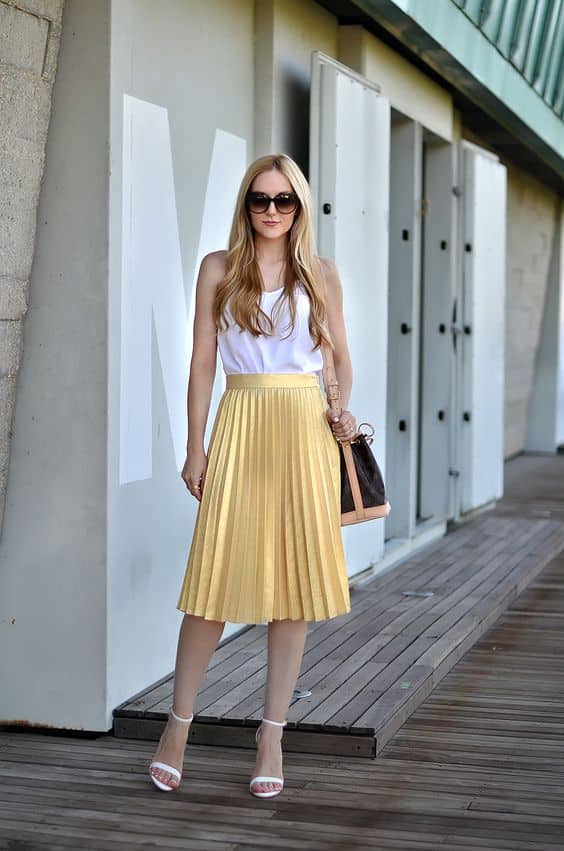 Therefore, if your goal is to find clothing that creates a slimmer appearance, my advice would be to steer clear of pleats altogether. By opting for other styles without pleats, you can avoid any potential issues and focus on finding garments that flatter your figure and help you achieve the desired slimming effect.
Swap skinny jeans for boot cut jeans
If your goal is to divert attention from your tummy and thighs, consider swapping out your skinny jeans for bootcut jeans to create the illusion of added height. Opt for a dark wash with a high waist, as this helps create a flattering silhouette. To enhance the overall effect, pair your bootcut jeans with pointy-toed heeled shoes or boots.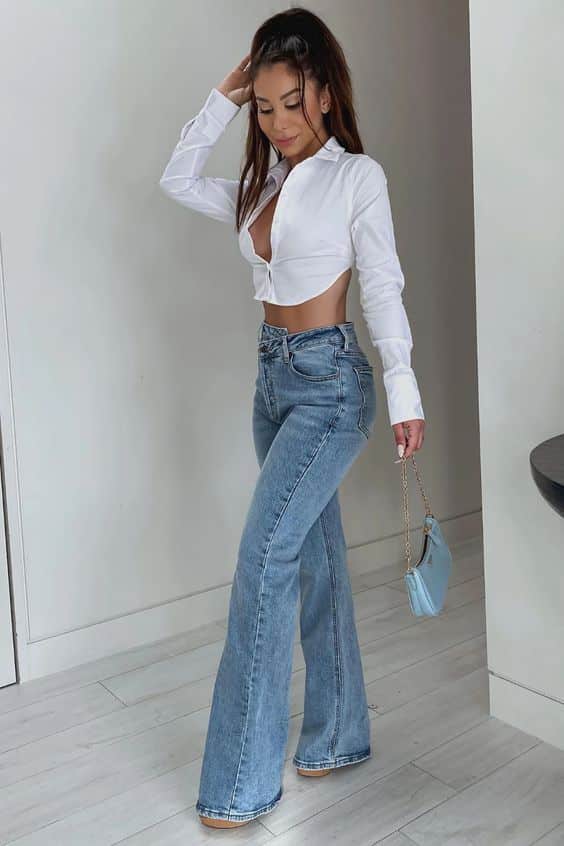 Make sure the bottom of the jeans gently grazes or slightly covers your footwear for maximum impact. This combination of bootcut jeans, a dark wash, a high waist, and pointy-toed heels or boots works harmoniously to create a visually elongated appearance and draw attention away from areas you wish to minimize.
Wear v-neck tops
Here's another valuable tip on how to dress to appear thinner: opt for v-neck tops. These tops work wonders by elongating your upper body and adding a sense of balance to your hips and thighs. This tip is particularly beneficial for those with a larger bust, as v-neck tops naturally divert attention away from areas you might want to downplay and instead draw the eye towards the cleavage.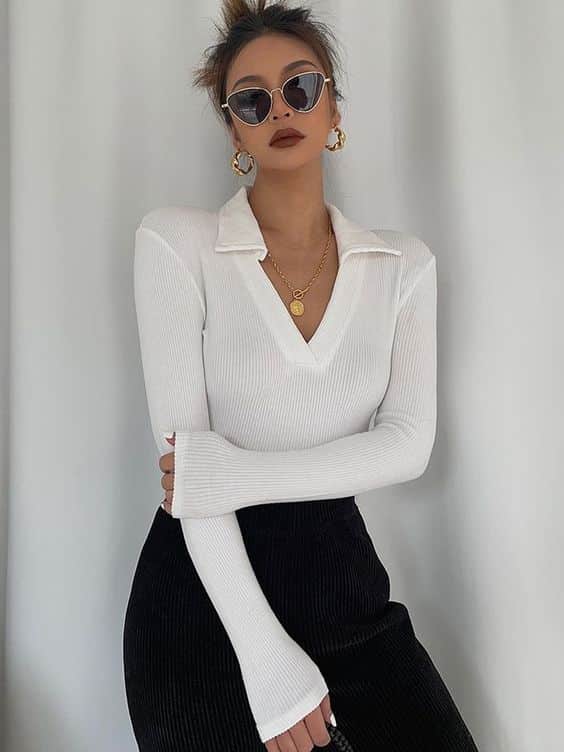 But fret not if you don't have a generous bust size. I can personally vouch for the power of a good push-up bra, as it can significantly enhance your figure and create a more pronounced silhouette. So, whether you're blessed with a fuller bust or not, incorporating v-neck tops and a well-fitting push-up bra can go a long way in helping you achieve a slimmer appearance while feeling confident in your own skin.
Choose your accessories wisely
My last tip to teach you how to dress to look thinner is to accessorize. Necklaces, earrings, belts, and bracelets can help draw the eye away from problem areas while accentuating your best features. For example, long necklaces take the focus away from the hips, big earrings draw attention away from the upper body and towards the face, big bracelets are great at hiding big upper arms by bringing the eye towards the wrists, and belts help define the waist. Just be sure to avoid thick belts as they can cut your torso in half and have the opposite effect you're looking for!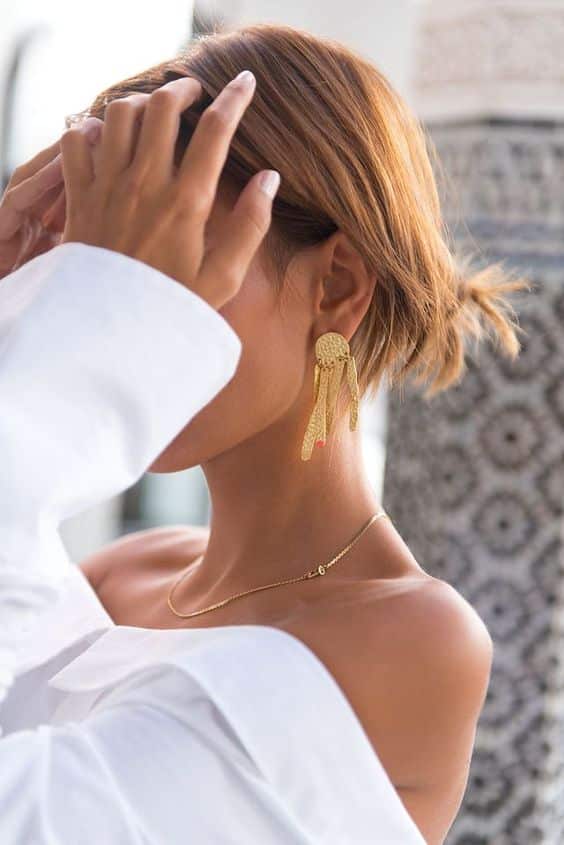 Conclusion
In conclusion, achieving a slimmer appearance through fashion is all about understanding and embracing techniques that flatter your unique body shape. By making strategic choices in clothing styles, colors, and proportions, you can create the illusion of a more streamlined silhouette.
Remember, looking skinny is not about conforming to societal standards, but rather feeling confident and comfortable in your own skin. So embrace your individuality, experiment with different styles, and focus on highlighting your best features. The key lies in finding what makes you feel fabulous and embracing your unique beauty.
What role can shapewear play in achieving a slimmer appearance?
hapewear provides support and helps hide bulges or imperfections, giving an overall slimmer look. Control camis, corsets, and control tights are some options that offer seamless coverage and waist definition.
How can v-neck tops contribute to a slimmer look?
V-neck tops help elongate the upper body, adding balance to the hips and thighs. They can also draw attention to the cleavage, diverting focus from other areas.
What type of jeans can help create a slimmer appearance?
Bootcut jeans, particularly those with a dark wash and a high waist, can add height to your frame and draw attention away from your tummy and thighs.